Exciting vegan food on Virgin Voyages Scarlet Lady – August 2021 review
This weekend my blog was treated to this following Virgin Voyages vegan food review, from Scarlet Lady's inaugural cruise. Blogging friends of mine, Mike & Nicole, were onboard from Portsmouth, UK for her August 6th 2021 first-ever cruise with paying customers. Please feast your eyes on the plantbased choice featured below. Even with the few issues noted by the guest reviewers, I am still convinced. We're now looking to book Virgin Voyages for a vegan cruise adventure in early 2022. Perhaps this will convince you too! – Sanna
We have recently returned from a 3-night cruise on Virgin Voyages Scarlet Lady, the vegan-friendly claims by the cruise line were what initially drew our attention to this cruise. The following information is our own personal experience of what we found. Please also take into consideration that this was the first time Scarlet Lady had taken on any fare-paying passengers. We were quite prepared for it to be a bit of a shakedown cruise.
I think the easiest way to attack this is by running through each mealtime in chronological order from when we first boarded.
Day 1 – Friday 6 August 2021
Our first meal on board was in a restaurant called Razzle Dazzle which is what VV herald as their veggie-forward venue with something for everyone. So, with Nicole's and my different eating preferences, this seemed like an ideal place. We pre-booked this on their app prior to boarding and opted to dine there at the first opportunity.
It's not an extensive menu but there are plenty of vegan choices. We set off with the intention of having 3 courses, both of us choosing the same starter which was mushroom "tartare" (tarragon salsa verde & house-made crostini) which was really delicious and fresh tasting great first course.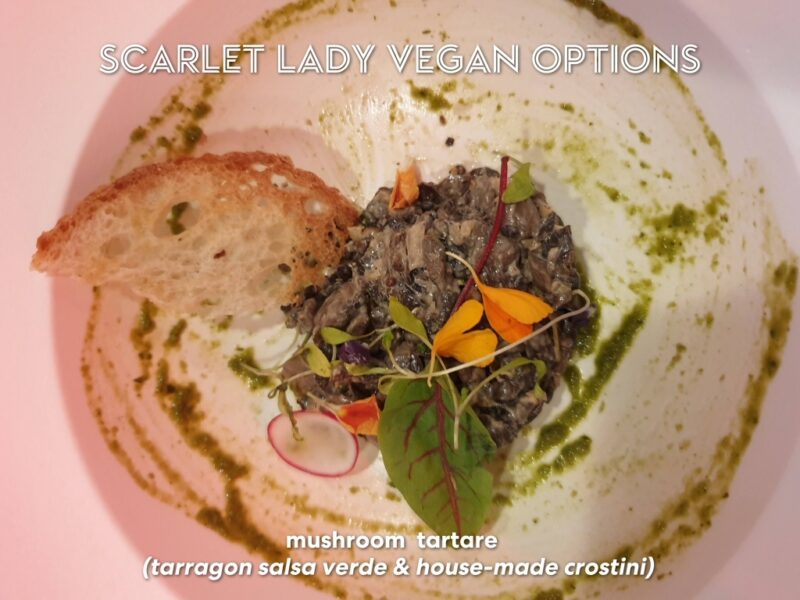 Nicole then opted for an Impossible burger (poblano salsa, paprika Vegenaise, avocado, choice of green salad or fries) her choice being the fries on this occasion. I, on the other hand, chose a whole roasted heirloom cauliflower (vadouvan curry sauce, pistachios, sesame seed, pomegranate).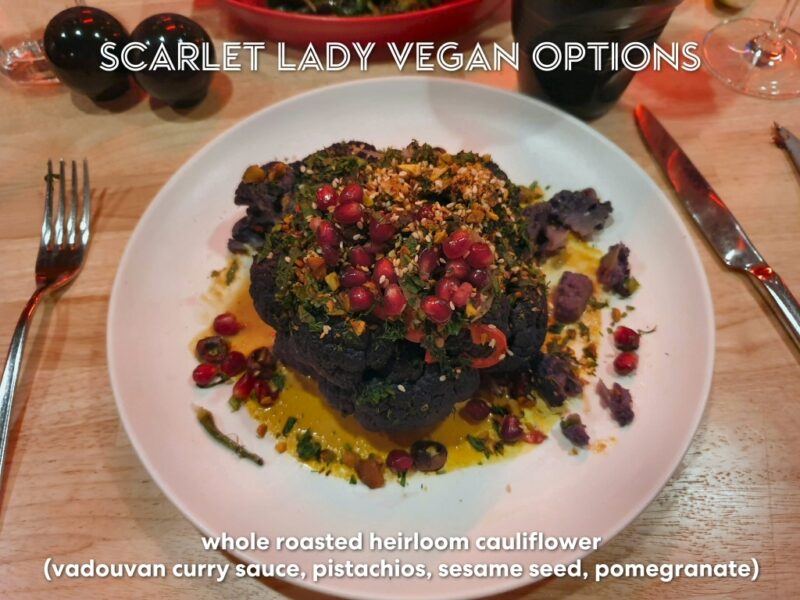 We also selected a side of blistered shishito peppers and extra fries to share. Because both mains were vegan, we were able to taste each other's dishes and we both agreed my cauliflower was sensational.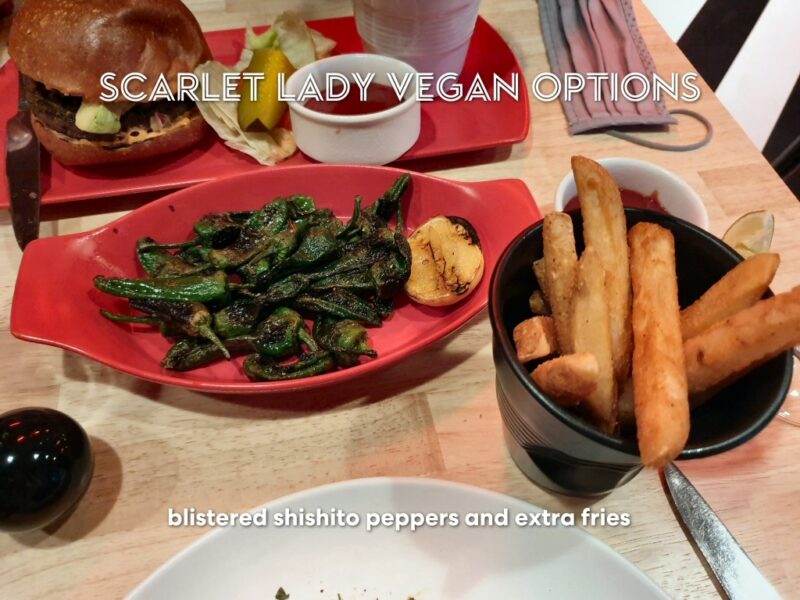 I felt too stuffed for dessert but Nicole soldiered on and had a blueberry-green tea cheesecake (pistachio crust & lemon "cream"). Our conclusion was it was a great feast and the food was amazing and to top it all we were actually onboard a ship.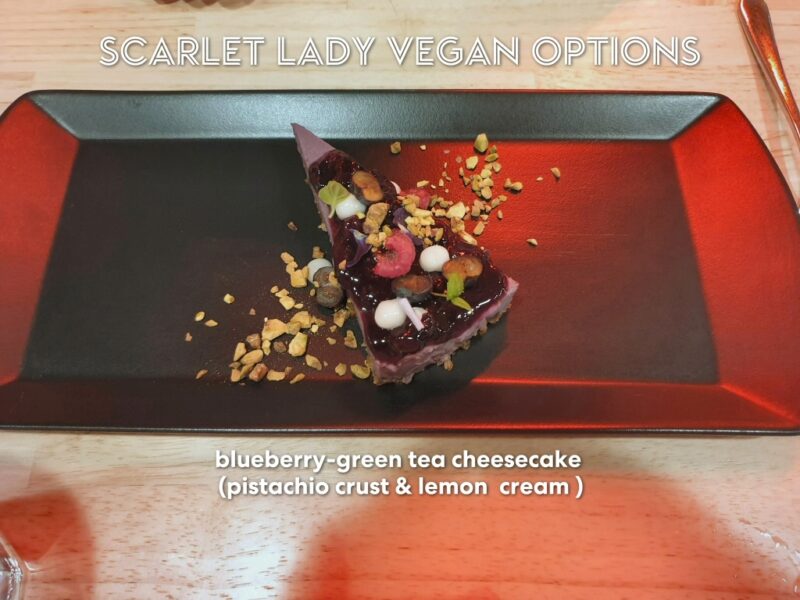 Day 2 – Saturday 7 August 2021
At this point, we were still being encouraged to use the Virgin Voyages App and were struggling to see everything on the menu satisfactory.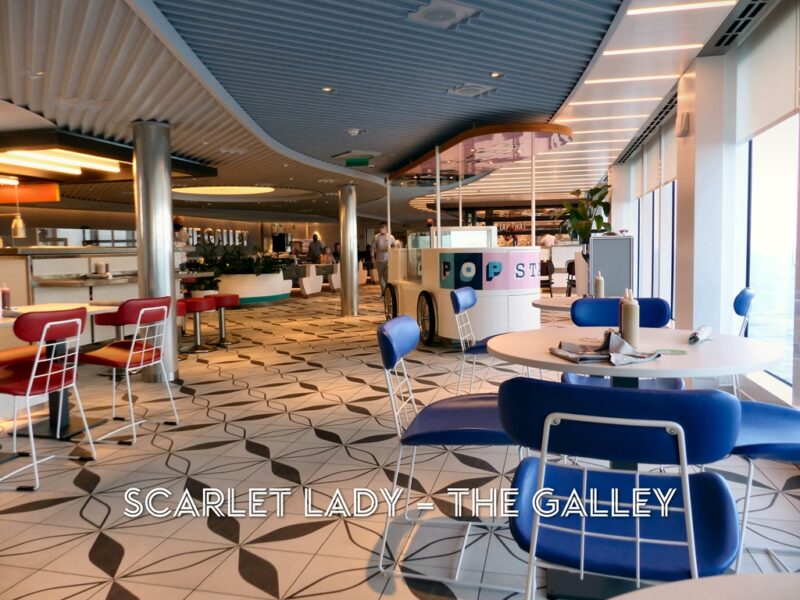 So, Saturday morning we decided to try The Galley out as I fancied eating something non-vegan and it seemed the obvious place where we should be able to cater for both of us. We will ignore my choice here and concentrate on what Nicole had, this ended up being a couple of slices of sourdough topped with vegetables which ordinarily have been added to an omelette. As we were struggling with seeing everything that was available due to having to view everything via the app then order through a server, we missed quite a few options. Not a good start to the day after the amazing evening before. Paper menus became available not long after this and we were able to see the full extent of vegan options.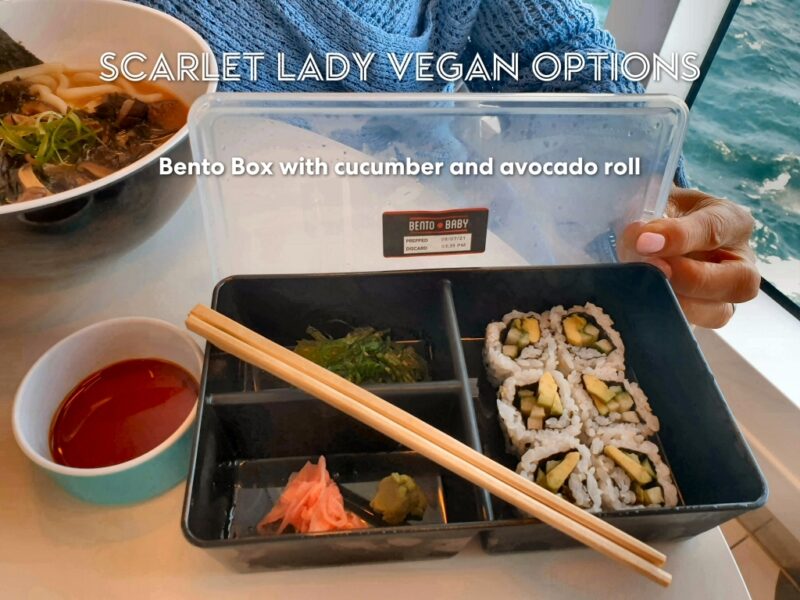 Lunch was again in the Galley. We could have gone to The Wake but were going there in the evening. We could have also gone to Razzle Dazzle but were only there last night. None of the other eateries were open for lunch so we found ourselves back in the Galley. Nicole had Miso Udon which she thoroughly enjoyed and also a Bento Box with cucumber and avocado roll. It wasn't listed as vegan on the first day but after Nicole questioned the fact that should be labelled thus, we noticed that the VV vegan label was there for the following two days.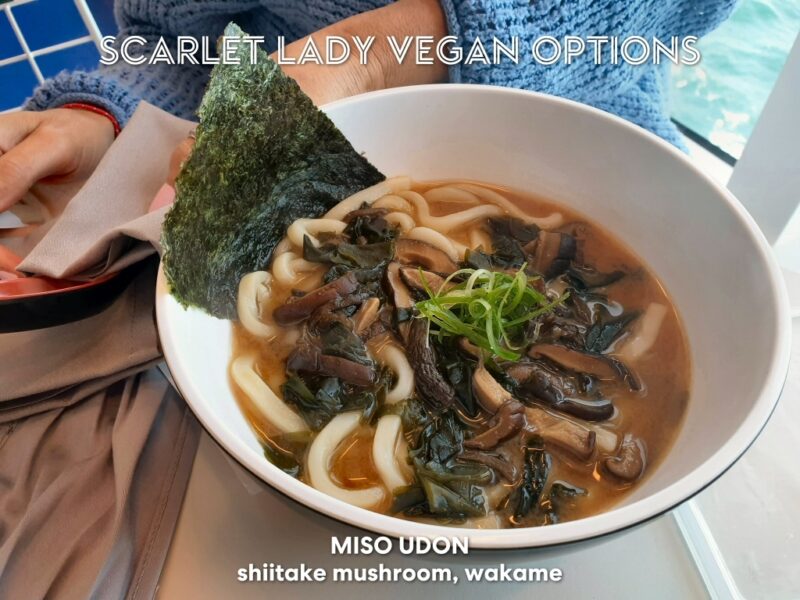 In the evening we were booked in The Wake which is a Steak and Seafood restaurant and prior research and an Instagram post saying there were vegan options available, we decided to give it a go.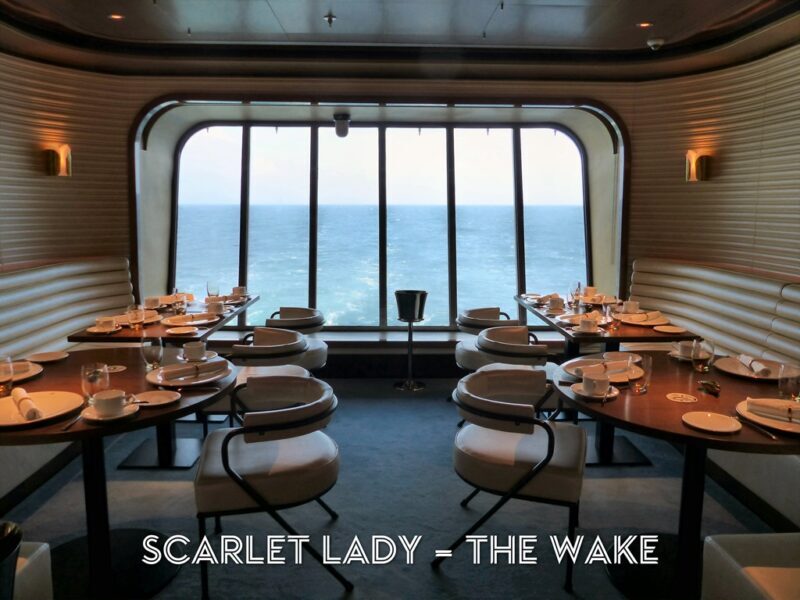 To start with Nicole had a salad with an avocado dressing that was not on the menu which she really enjoyed. This was followed by Crispy Polenta (slow-roasted bell pepper, arrowleaf spinach, vegan crème fraiche) which again she again really enjoyed. To finish we shared a coconut panna cotta (fresh berries, candied orange, pinenut granola) which went down rather well. Considering this was primarily a steak and seafood restaurant, Nicole ate really well.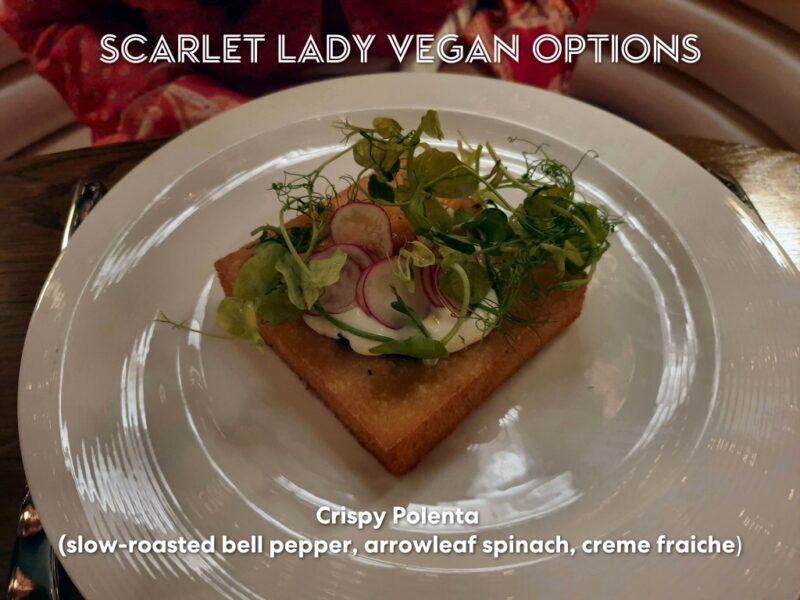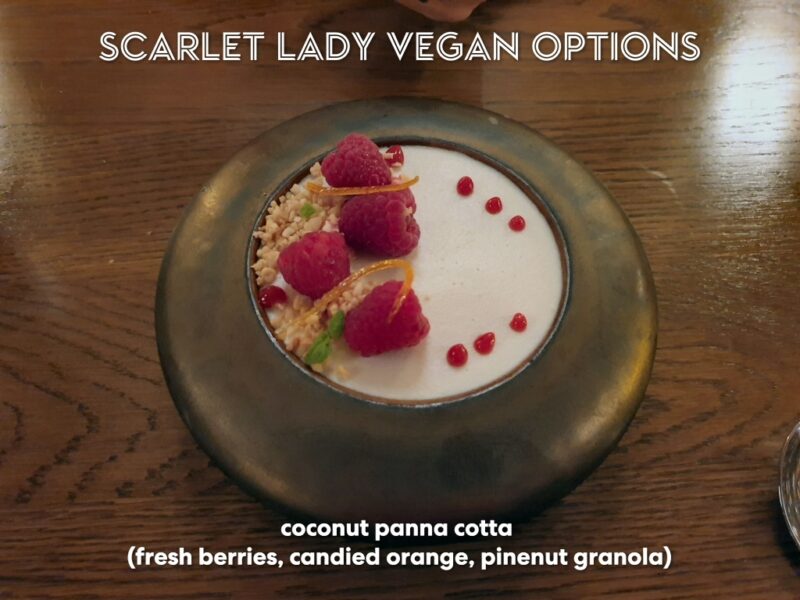 Day 3 – Sunday 8 August 2021
Paper menus were now evident all around the ship which was making selection and awareness much easier.
Sunday morning, we again visited The Galley, and by now we were getting to grips with what was available. Nicole was so taken with the Miso Udon, she decided to have for breakfast this morning along with a different Tropical Bento box which contained mango, kiwi, pineapple, red grapes & orange. This morning it was much better than the previous visit. We spotted other items Nicole could eat such as the Avocado on toast from The Hot Press, and a variety of cereals from The Daily Mix area. But such was the draw of the Miso she never bothered with anything else.
We had booked a second visit to Razzle Dazzle for lunch because we had spotted a vegan fish and chips on the menu. But when we sat down there was a separate menu for lunch which did not include this item, nor the cauliflower. I was really disappointed with this because I had asked on the first night if the menus changed and was told no, there is only one menu, no mention that there was on one menu for brunch and another for dinner.
So, in the end, we both opted for the Impossible Burger, we have no complaints about it but a vegan burger does seem to be the one thing everybody does and after having the whole roasted heirloom cauliflower it's a bit of a comedown. Also not having the fish and chips as a lunch option was a bit of a let-down.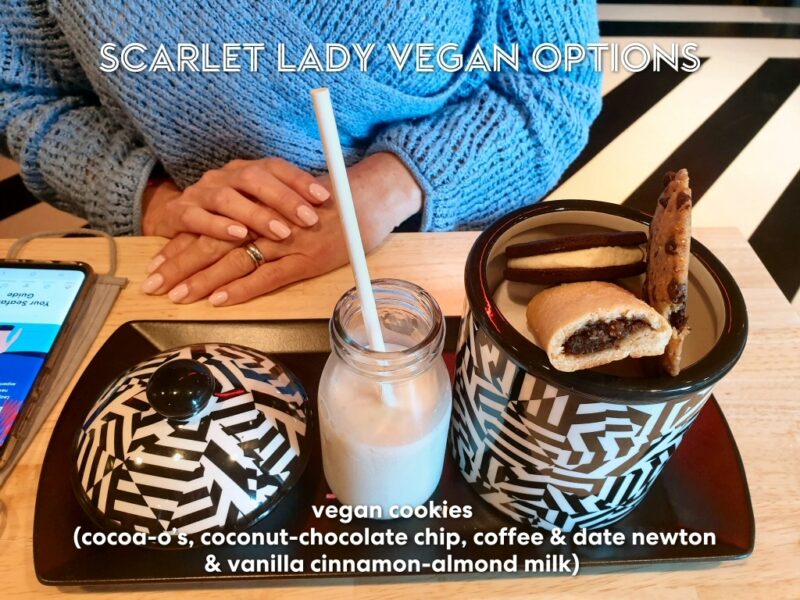 Nicole had dessert here again and opted for the vegan cookies (cocoa-o's, coconut-chocolate chip, coffee & date newton) She also tried the vanilla cinnamon-almond milk which we were told was made from scratch onboard and I am reliably informed it tasted as if it had too. It received a big thumbs up.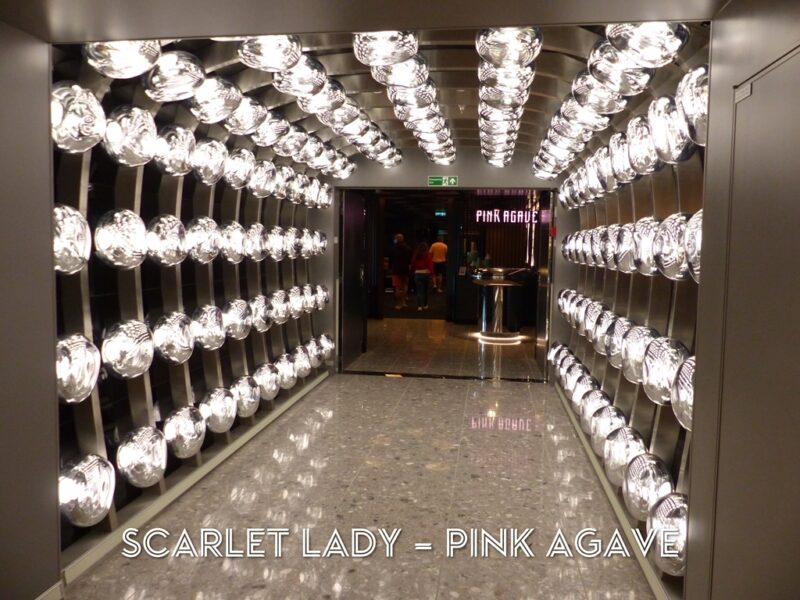 The Pink Agave was our destination for the evening meal and prior research had shown there to be vegan options, however, real-life and menu descriptions can sometimes be a little incongruous and Nicole came away from here feeling disappointed.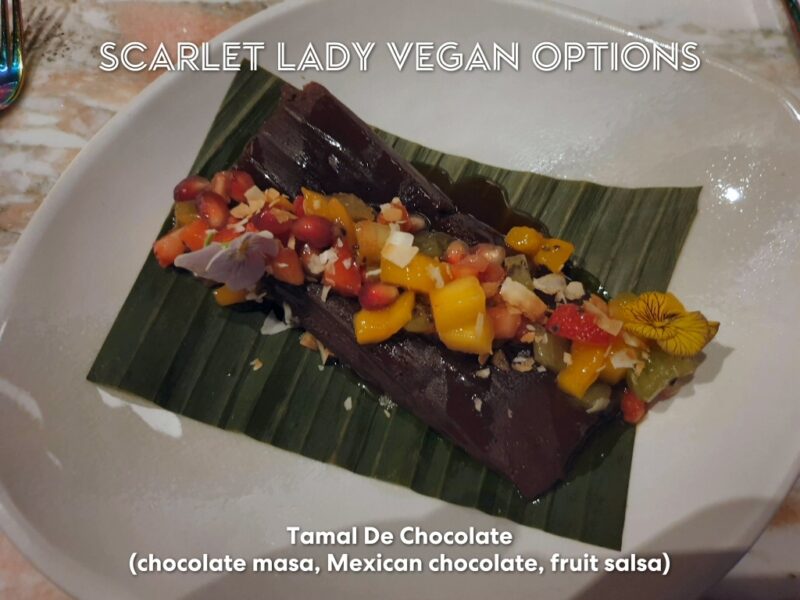 The method of dining here is primarily about starting with some small plates to share so, with one diner vegan and one not, isn't really going to work too well. While I enjoyed two medium plates, all Nicole had for choice was some Guacamole (pomegranate seeds, jalapeño, totopos) and Chayote Yucateco (Mexican squash, habanero pepper & baby carrots. Except the baby carrots weren't actually baby carrots).
For her main, she decided on the only option which was Relleno Vegano (russet potato and roasted corn stuffed pepper) in her words a very disappointing dish. We both finished with Tamal De Chocolate (chocolate masa, Mexican chocolate, fruit salsa) which was not too bad.
Day 4 – Monday 9 August 2021
Breakfast this morning was identical to Sunday morning such was the draw of the Miso again. This is exactly the sort of thing Nicole enjoys hence her 3rd sampling.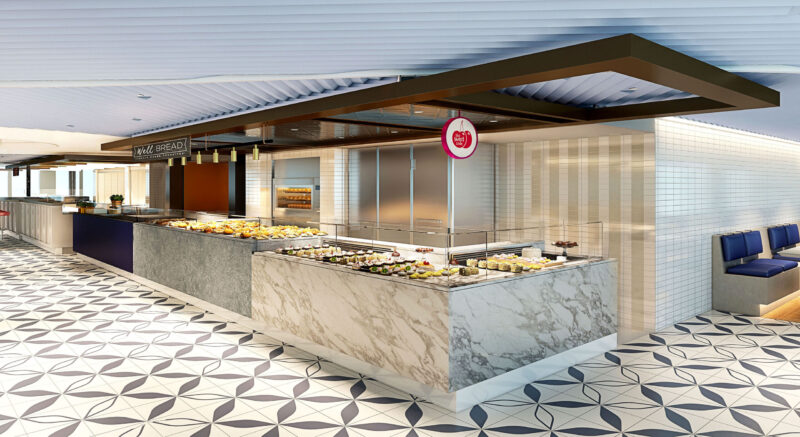 Lick Me Till (Ice Cream)
There is one token vegan ice cream available at Lick Me Till (Ice Cream) and it is really good. I can vouch for that too. It is labelled as Green Machine and is flavoured Kiwi & Green Apple.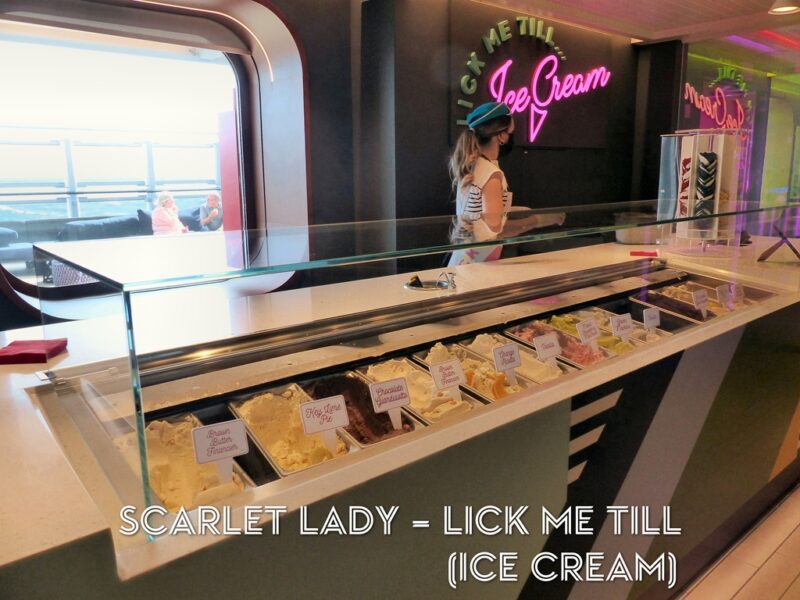 Quickeze
At the entrance to both sides of The Galley there are a couple of open-fronted refrigerators with quick to-go items. We did spot one or two items in these that were vegan, but my memory escapes me as to what they were.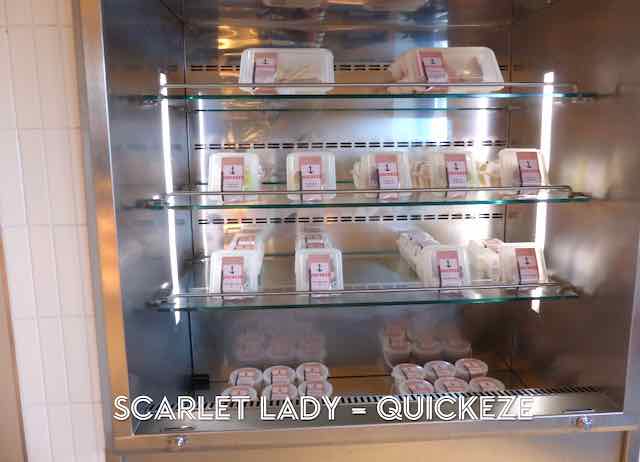 Grounds Club & Grounds Club Too
These are 'pay for' coffee stalls where Nicole was able to enjoy a soy cappuccino. She did have one in a bar called Sip but the milk separated so she returned it for a regular black coffee.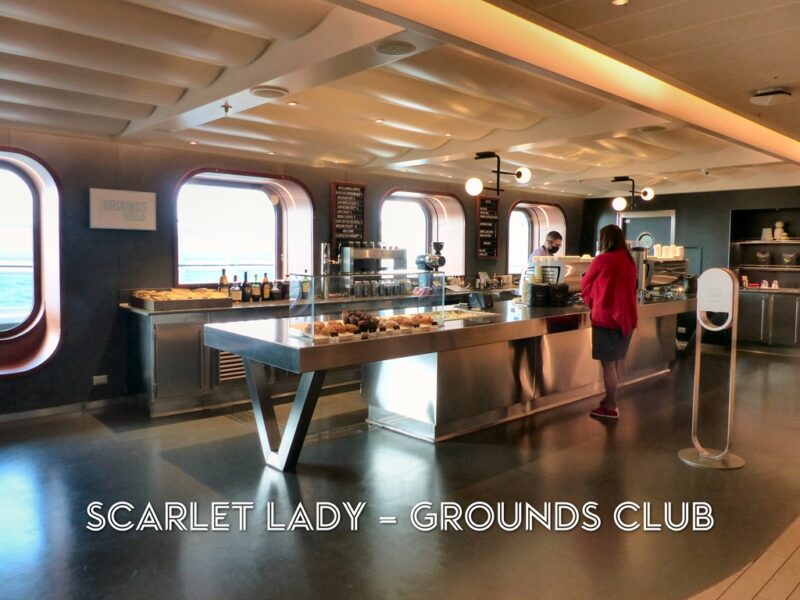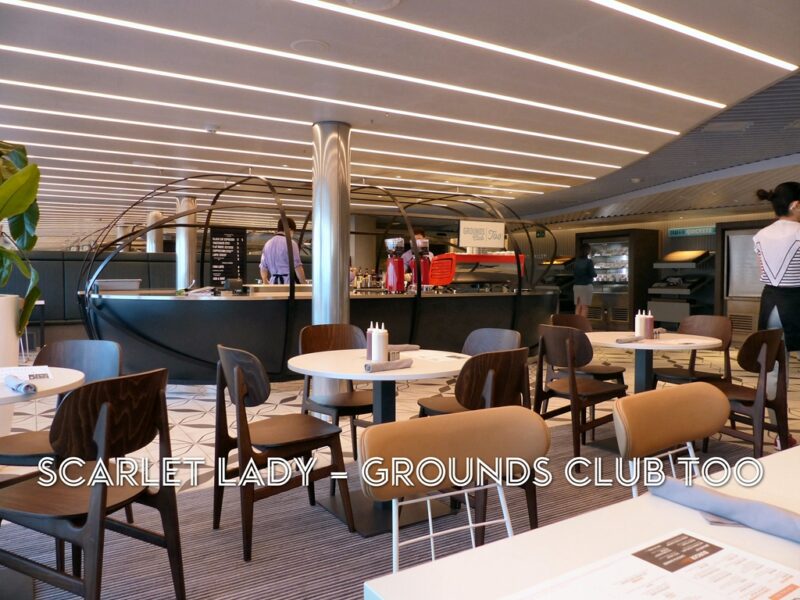 Final thoughts on vegan food on Virgin Voyages
Despite one or two hiccups, our first venture with them was most enjoyable. However, their insistence on making everything focused towards the app is letting them down. When we first boarded the only way to access any menu was via the app. Even when logging onto the website there wasn't even anything to view which prevented us from getting a complete picture.
Once on-board there were no menus displayed at the entrance to any of the restaurants, or even via the TV. Unless you scrolled continuously through every eatery menu on your phone you would be blissfully unaware of the full extent of what was available. I was even surprised by the opening times of some of the venues, not clearly knowing what was open & when had a huge impact. It was not until we got home and started reading other people's experiences that we realised The Wake had a vegan option for breakfast.
We never realised that The Dock House had vegan options either, we had a drink there one morning and a menu was placed on our table with nothing vegan or note to say there were additional choices such as Falafel, Black Baba Ganoush, Cauliflower Couscous & Chocolate Hummus.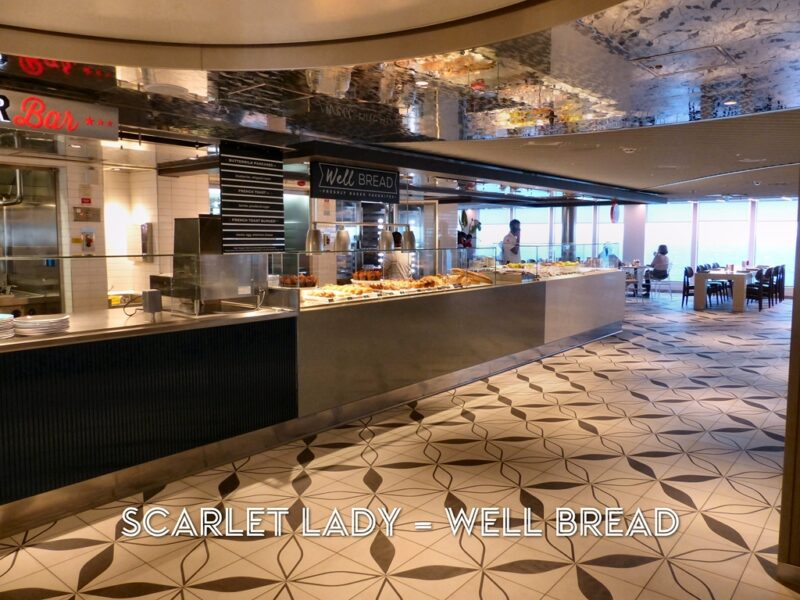 We also spotted some vegan chocolate tarts in the Well Bread area of the Galley so took a couple back to our cabin, Nicole ended up eating both so the fact she did that speaks well of them.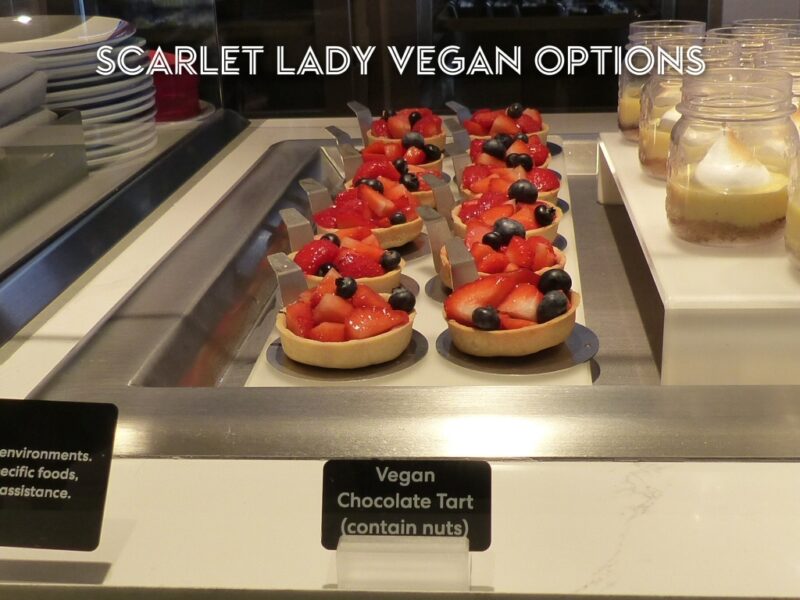 I will conclude that Virgin Voyages failure to communicate efficiently with its "Sailors", or trying to be too clever with technology, has not enabled all "Sailors" to get the most out of their cruise. Yes, you can eat vegan really well at times but you really do need to plan things and do as much research as possible before you board. We were guilty of following the hype.
I have had to enlist the assistance of others after returning home because I had wrongly assumed the ship information would still be on the app, but it all disappears once your booking has finished so, a big thanks to Gary Bembridge (Tips For Travellers) with his menu assistance which enabled me to correctly label the photos. Thanks to BritsOnAShip for the avocado toast image as well.
What a amazing Virgin Voyages vegan food review and great photos, right? Thank you so much for the above, Mike & Nicole! Do check out all of their cruise travels and extensive photography in their own blog – you'll find it at Wansbrough's Cruise Blog.

Am excited to see how much easier it was to get vegan food on Virgin Voyages though there clearly were issues like the lack of menus and random opening times for venues. Also disappointing to hear that staff themselves would incorrectly state there is just one menu for Razzle Dazzle as it became evident from the 2020 UK launch events that there are two. Andrew's photos helpfully pointed this out on Jenni's Virgin Voyages 2020 launch guest review. At least on a longer cruise one will be able to sample all of the plantbased Virgin Voyages options, and both Razzle Dazzle menus. Guess with time the waiting staff will have the correct information to give the guests.

Guess even with the extensive vegan menu choice the old advice regarding vegan cruising still stands – always be prepared and do your research. Nicole missed out on the Dock House vegan mezze options – I presume she'd either missed or forgotten about my original Virgin Voyages post on the promised vegan options on Virgin Voyages' menus. Hopefully this review addition will further help future vegan cruisers to navigate the actual choice onboard Virgin Voyages' fleet.

As mentioned. this was the first cruise with paying customers so service onboard will no doubt improve. Am still happy to find a cruise line that provides exisisting vegan options, including desserts. No longer having to negotiate and pre-order meals the night before sounds like a dream. Thank you, Virgin Voyages!

What say you? Would this tempt you to book? Make sure to check out the sister ship Valiant Lady form Portsmouth next spring, 2022. Selection of no-fly cruises from the UK now available! Rgds, Sanna
For more on Virgin Voyages, see my past blog posts on Virgin Voyages: the original menu reveals (click on the photo below) and the 2020 UK launch guest post by Jenni. And while neither Scarlet nor her sister Valiant are LNG ships, they are probably the best or certainly among the most sustainable cruise ships out there right now – see a post on all their eco-credentials here!