P&O Iona vegan staycation surprise: amazing plantbased options (part 1)
This August (2021) I had the pleasure of having an amazingly vegan-friendly cruise onboard P&O's newest ship the Iona. Out of all the mainstream cruise lines, they made my stay exceedingly easy, and getting plantbased meal options wasn't difficult at all. In fact, I had amazing vegan options on P&O Iona. And my special meal request had indeed been passed onto the ship as I had a dietary welcome letter waiting for me in the cabin. I was expecting a dietary meeting session as P&O have done these in the past, but there was no time was set aside with the chefs. But my week onboard showed me it wasn't required. P&O Iona has a wide range of options for those who seek meatfree or plantbased/vegan meals.
There is a Youtube review out by two newly-plantbased cruisers who weren't too complimentary, lamenting the lack of plantbased options. Having cruised vegan for the last 6 years I would stay Iona offers plenty of easy vegan food choices. Perhaps being new to plantbased living, their expectations were too high, presuming a cruise ship would meet the variety of options available at many UK high street restaurant chains. One of the complaints the couple had was about the main dining room (MDR) not having a vegan option at lunchtime. As a long-time vegan cruiser I would have avoided this surprise. I would have asked to see see the following day's lunch menu the night before to ensure I would have a meal choice. This allows you to preorder a special request meal if the menu has nothing vegan. Or you can always adapt one of the veggie options. Like vegan dining on cruise ships used to be like before vegan menu options were included. While Iona has options, it is always good to be prepared! With the following pictures, you should have a good idea of what choice you have over a week.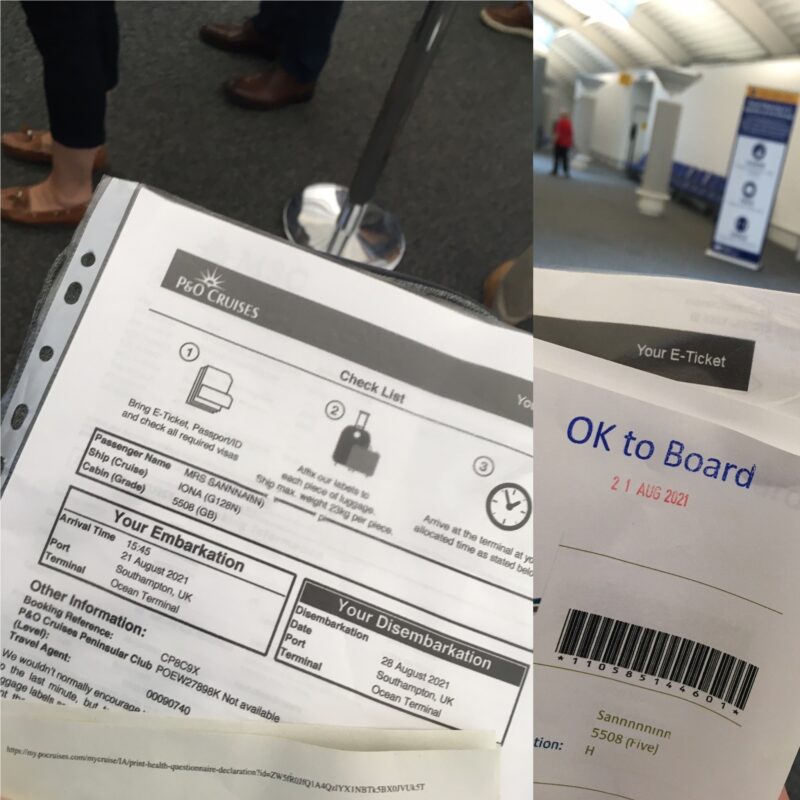 Vegan options on P&O Iona – boarding day 1
Due to current restrictions boarding has been spaced out. Passengers have been given allocated port arrival times well past the traditional embarkation times. Ours was for 15.45 and we didn't get onboard until about 16.40. Though considering we'd had our Covid test, baggage scanned and paperwork checked all in that time, it was still good going. But it meant that we'd missed most of the first cruise day. At least our sailaway wasn't until 9pm there was time to get everyone onboard.
It was nearing dinnertime already but there was always time for a wee cuppa. We made our way to the Horizon buffet upstairs for a refreshing coffee. A selection of dairy alternatives are available, you just have to ask. And to my excitement, there was vegan carrot cake to go with the coffee! Getting vegan cake on cruise ships is rare, yet on Iona that first late afternoon I found vegan cake!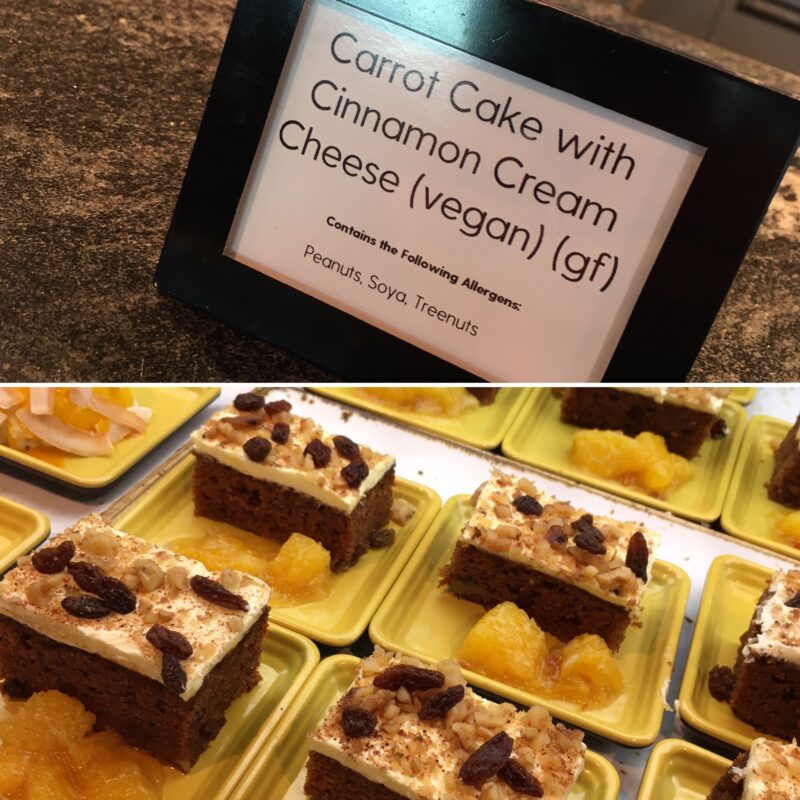 Main dining room dinner – day 1
Dining room menus are clearly labelled for vegetarian (v), vegan (vegan) and gluten-free (gf) options. On the first night, there were three starters for those who don't eat meat – but just a salad for us vegans. Most nights the starter was a salad, no warm starters were listed. I know I could have requested and pre-ordered a vegan soup but I wanted to keep ordering simple so stuck to the menu as is. Requested the salad as my vegan starter. Apple & sweetcorn was a little more interesting than the fail-safe many other companies provide: iceberg lettuce, cucumber and tomato.
I requested vegan-friendly spread, and was brought a roll and separate side dish of margarine that had been scooped up from a larger container. I had to trust the staff knew what they were bringing me was indeed vegan. It certainly wasn't butter.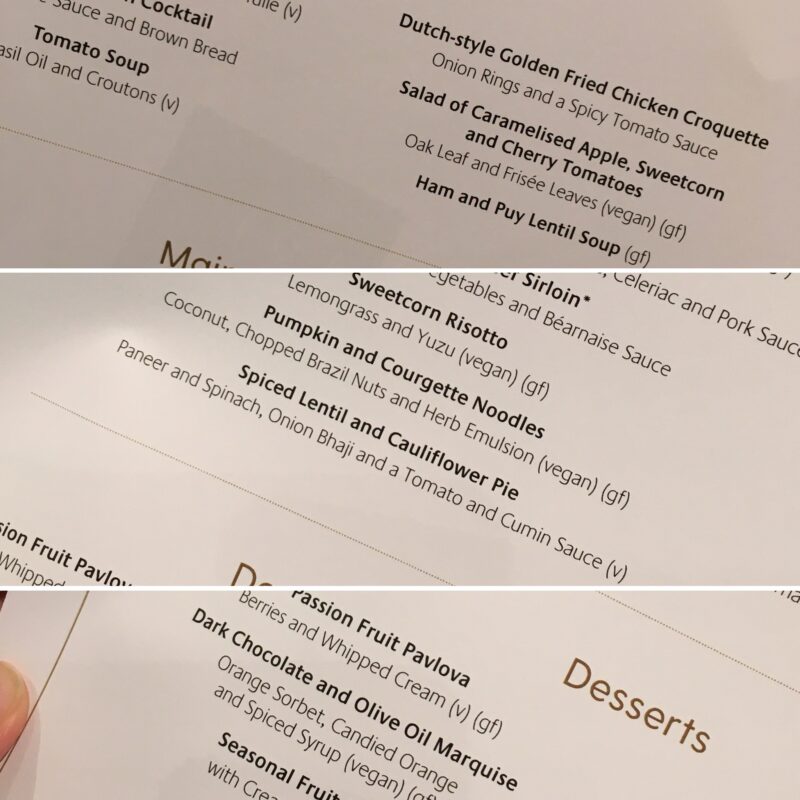 It was exciting to see two plantbased main courses on the menu, and not just one. Those who know me won't be surprised I skipped the pumpkin and courgette noodles as my main. I firmly believe that vegetables should never masquerade as noodles. No carbs, no way. Sweetcorn, lemongrass and yuzu risotto sounded quirky but a safer, more filling alternative. And it was perfectly edible, tasty and more importantly filling. And curious it was too, with the decorative popcorn. It did work, just looked funny.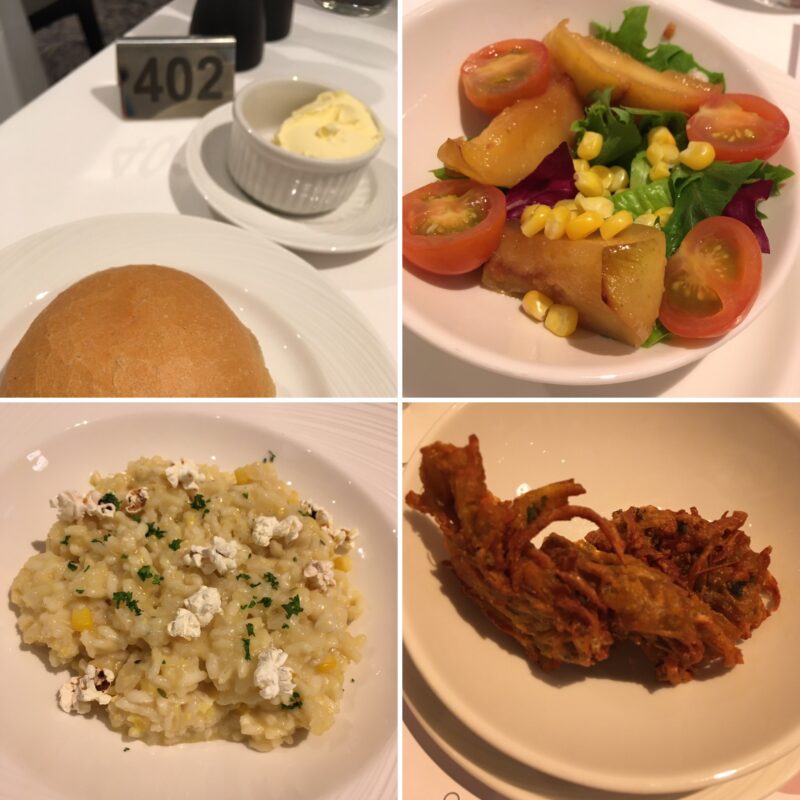 I had been a little suspicious of the risotto and had asked if I could have a part of a vegetarian dish delivered as a side dish, if it was suitable for vegans. As you can see, the menu above has a paneer cheese-containing curry dish served with a side of onion bhajis. I queried if the bhajis were suitable for vegans and indeed they were. So I had a perhaps random side of onion bhajis to go with my risotto, in case I didn't enjoy my main.
Only one vegan dessert on the MDR menu but they had me at chocolate. I mean, Iona couldn't have courted me any harder. First cake in the buffet for afternoon tea and then a chocolate-laden vegan dessert for dinner? Again, the description left me bamboozled (olive oil?) but my goodness, the dish was a heavenly sticky rich dollop of chocolate. It came with a refreshing zesty orange sorbet.. absolutely divine. Chocoholic must!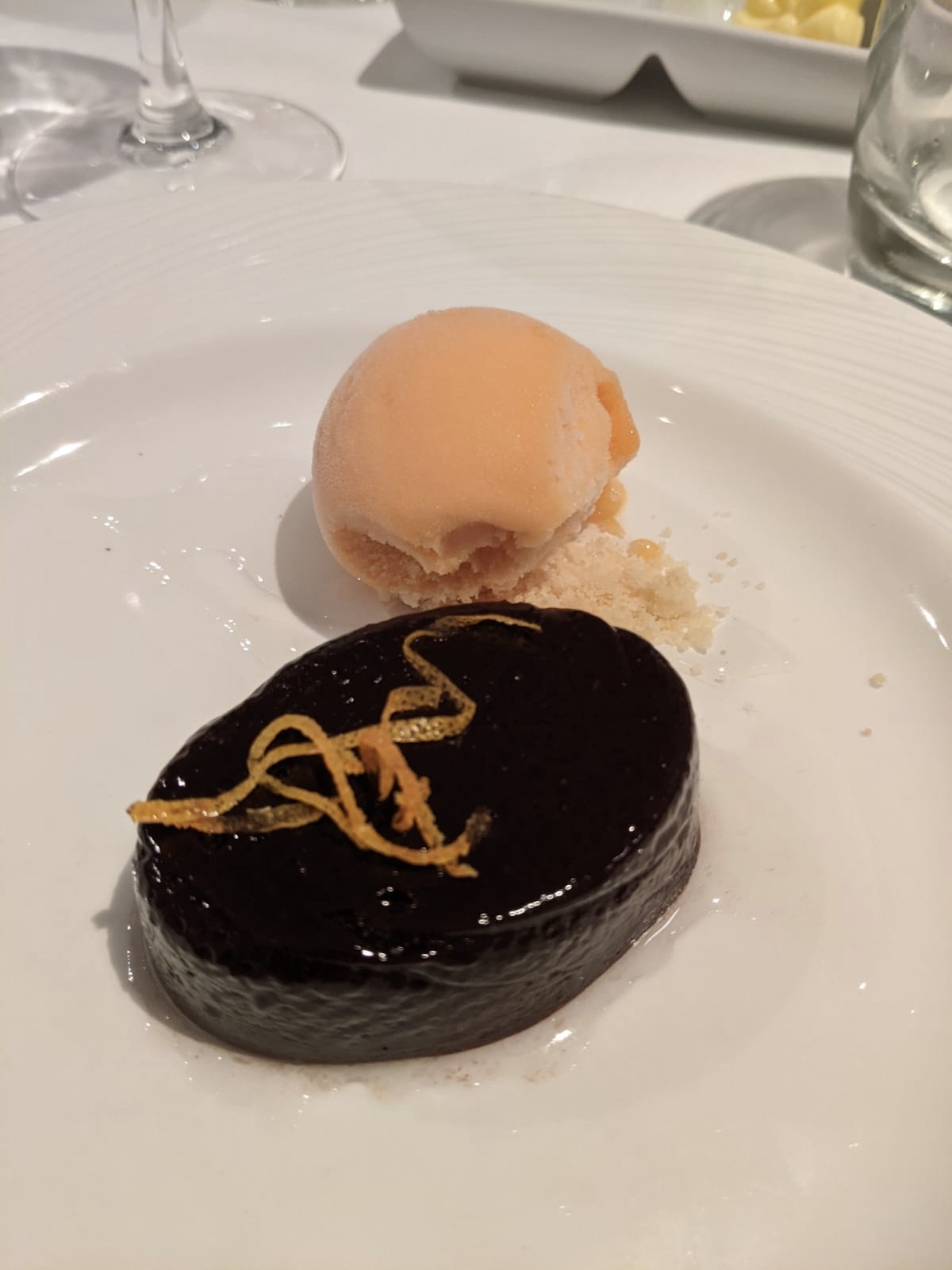 It was wonderful to see that the MDR wine menus clearly label vegan and vegetarian wines for those of us who care what our tipple is filtered with. One leaf for veggie, two for vegan wines. Instead of an all-inclusive drinks package of £40 per person per night, we opted for a wine package instead. Ours was a 6 bottle wine deal for £129 aka the Captain's Collection. A higher tiered package is called Commodore's Collection but from my wine retail past I could tell the Captain's Collection featured perfectly beautiful bottles of wine which we got at a good discount. Set price for 6 or 12 bottles gives you either 6 or 12 vouchers to exchange for wine.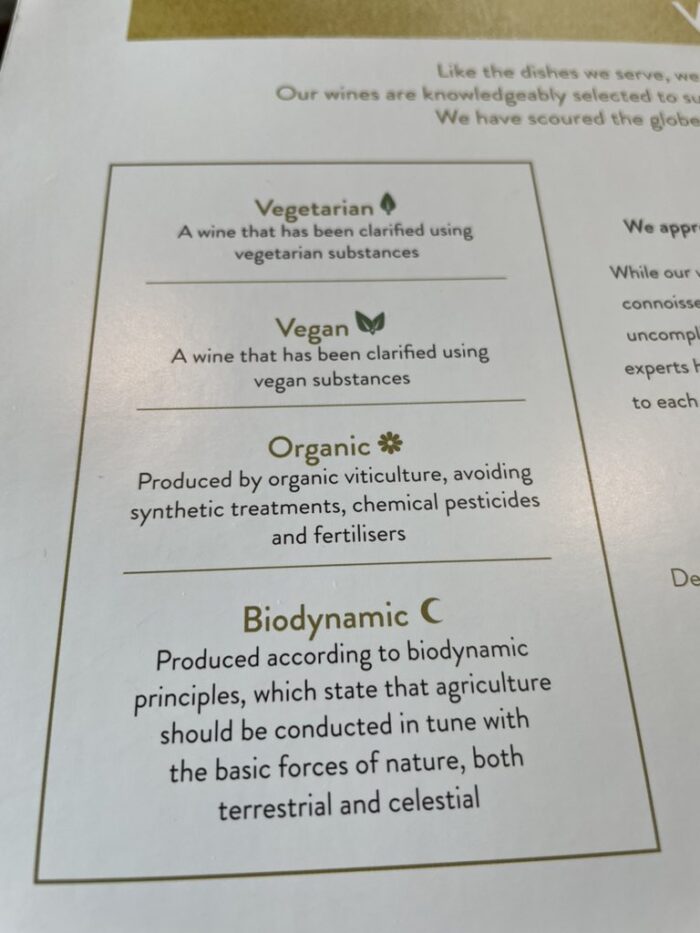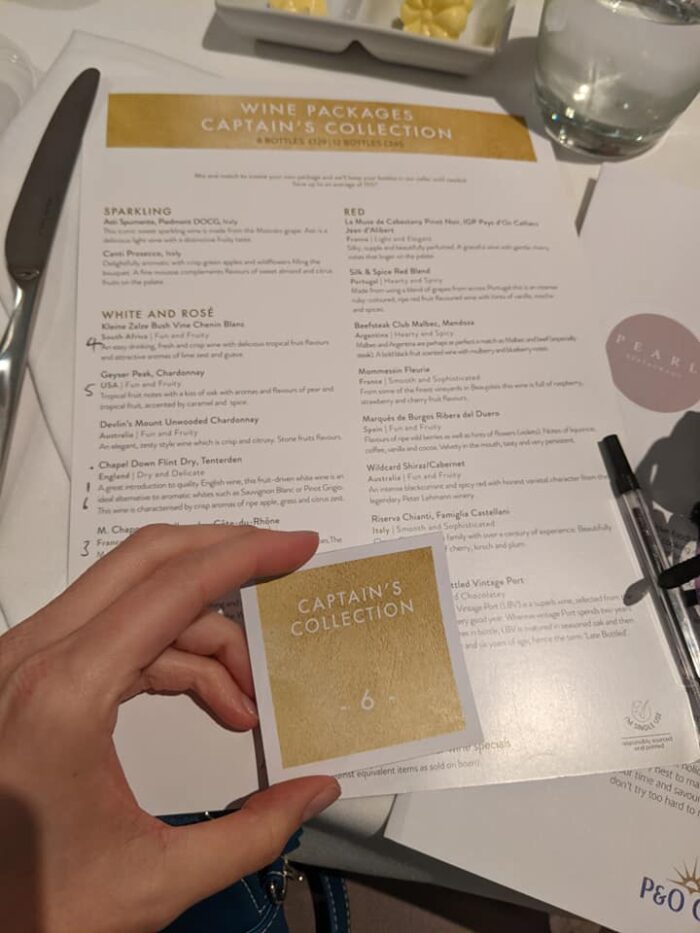 Buffet breakfast vegan option on P&O Iona – day 2
We like to stay up late and explore the ship on the first night, so subsequently day two never has an early start. This means that we generally miss the sit-down MDR breakfast offering. On Iona MDR breakfast is available from 7.30am to 10am. The Horizon buffet serves theirs from 6.30am till 11am.. giving late risers a chance to obtain breakfast.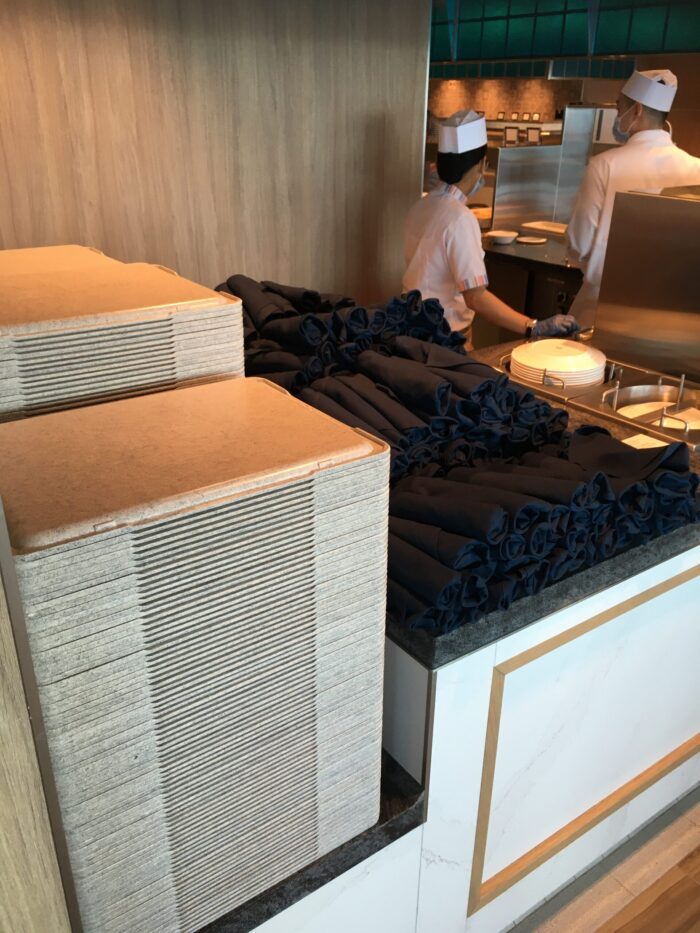 On our sailing, the buffet was still served to you. You collected a tray and the wrapped cutlery, followed the line and told the staff what items you would like. They would plate your chosen dishes for you, and once the plate was full, it was given to you. It felt safe and queues, if any, moved promptly. I was pleasantly surprised to see a separate section of vegetarian breakfast items, clearly labelled, but unfortunately neither the sausages nor the rashers were vegan. Disappointing, as a vegetarian can always eat a vegan version, but not the other way around.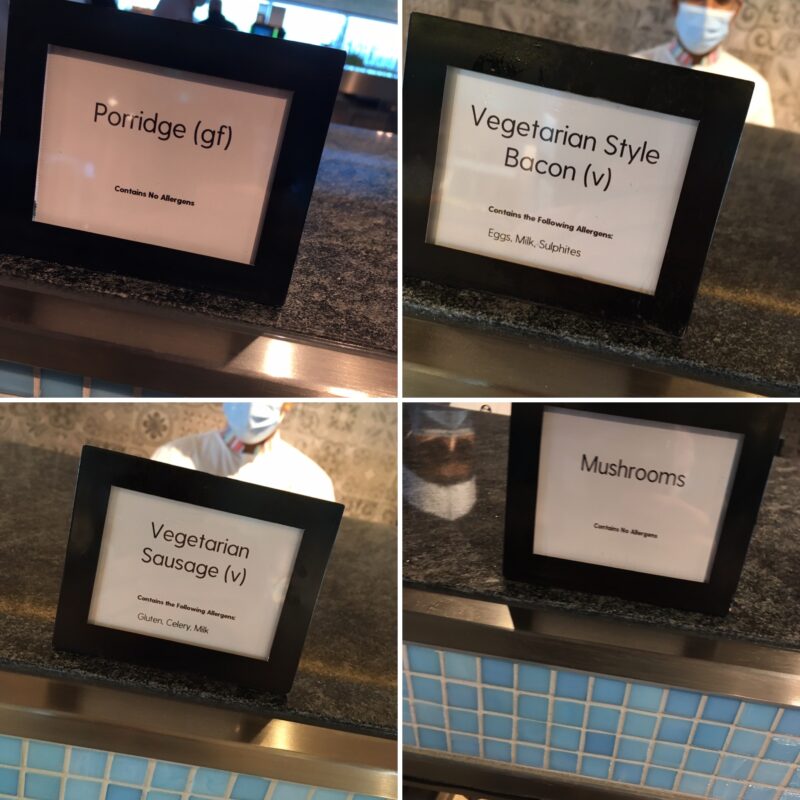 I asked one of the staff with 'here to help' aprons if chefs had any vegan options in the galley. A sous chef was brought over to talk to me but he was only able to confirm that the above was the meatfree selection. He didn't have vegan options to cook to order. He did offer to get me a vegan yoghurt from the galley store, which I gladly accepted. It turned out to be an Alpro Vanilla pudding, not a yoghurt but I was happy to have it to use as a custard replacement on another occasion. And of course, had toast to go along with the fried mushrooms and the spicy Ful Medames bean dish. Unfortunately, the hash browns served on Iona weren't vegan friendly. A rare occurrance, and so annoying.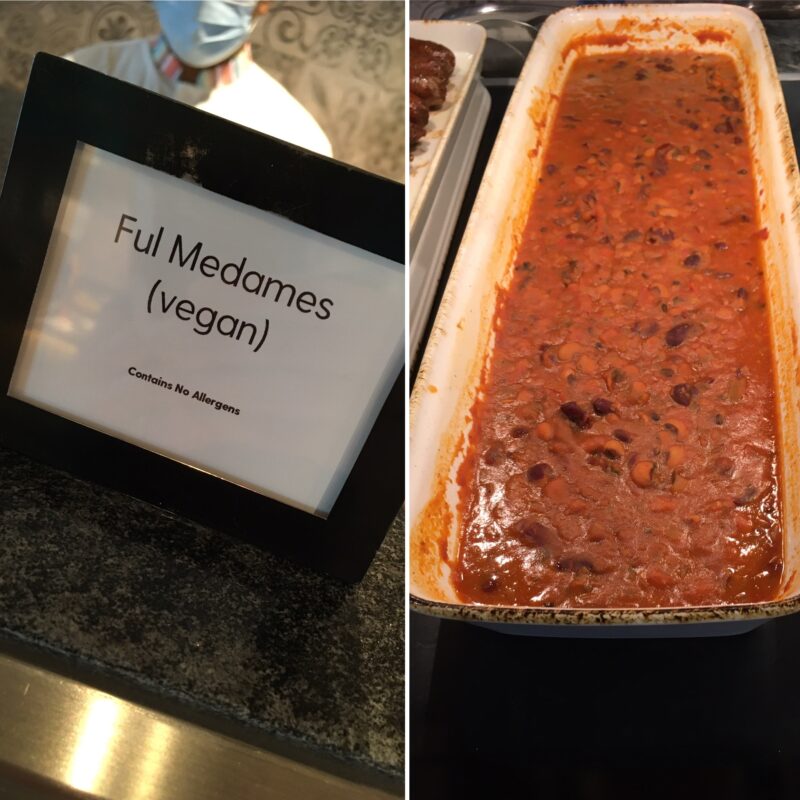 Non-dairy porridge (oatmeal) is served every morning. A selection of plant milks are available at counter with other animal milks, I spotted at least soya, rice and oat. Dairyfree spread is kept under one of the other counters (not where butter & jam is located) and staff will portion some from a larger tub for you. Please do pay attention, as at least once during the week staff tried to offer me Becel thinking it was plantbased. I had to point out this could be issue as it has buttermilk: it is not vegan or suitable for anyone looking for dairyfree spread. For someone with a dairy allergy, it could even be dangerous.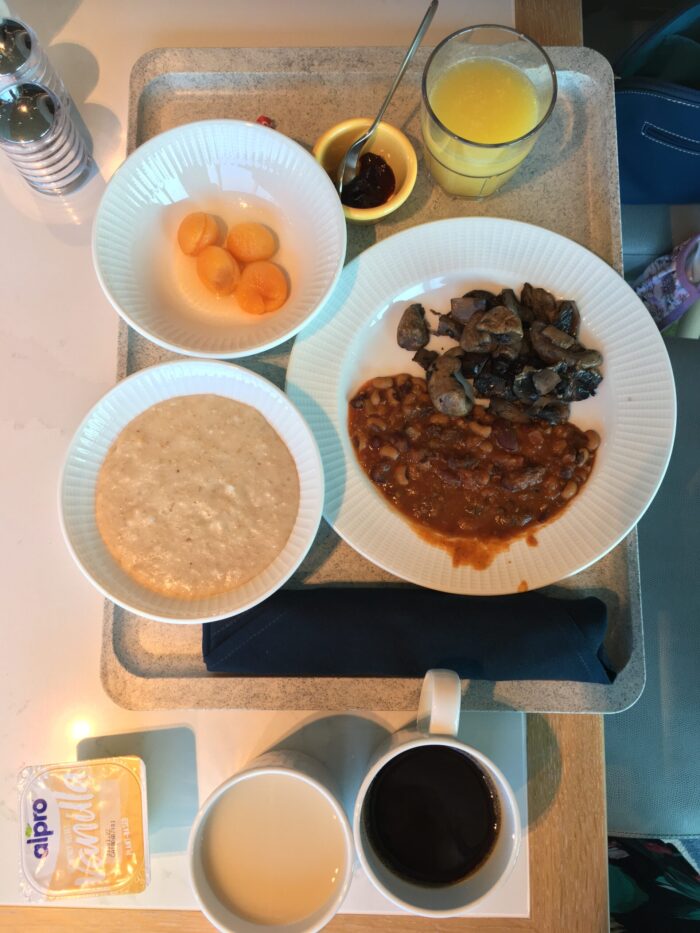 Buffet lunch – day 2
It wasn't too long till lunch was served. We decided to check out the onboard shops to check out the merchandise to see what to spend our OBC on, and to make space for the lunch offering. It wasn't the biggest of ranges I have seen, but there was variety and I was pleased to see a vegan-marked curry dish. Oh how life can be easy if galley teams just mark items so.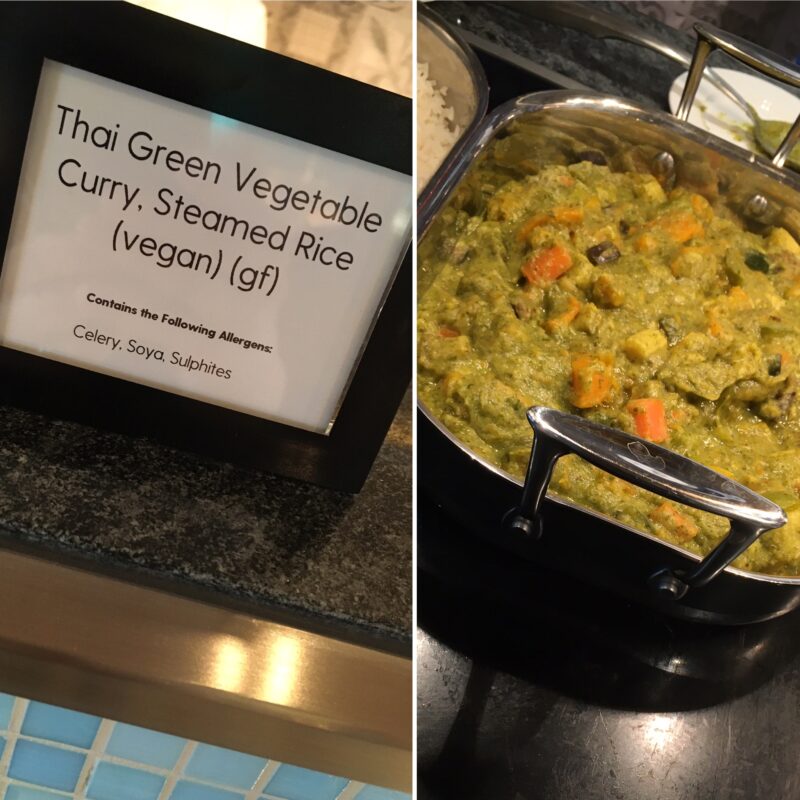 As usual, there were some pre-plated salad bowls so picked up the most interesting vegan one, and some kimchi. Unlike on some cruises, I always had at least a few vegan salad options. It was good to see that not every item was contaminated with mayonnaise, cheese or meat.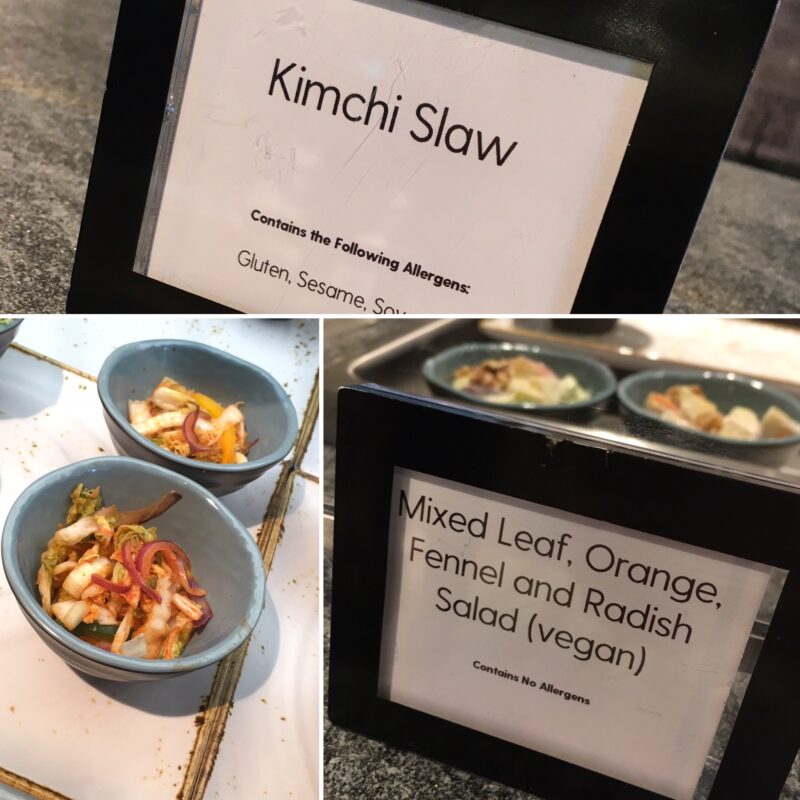 And like on embarkation day, the Horizon buffet offered something sweet for dessert. I could've kissed the chefs at this point. First cake on embarkation day and then the chocolate dessert at the MDR. And now a vegan cheesecake in the buffet? I am not even a fan of cherries but my goodness, I had to have one, and I truly enjoyed it.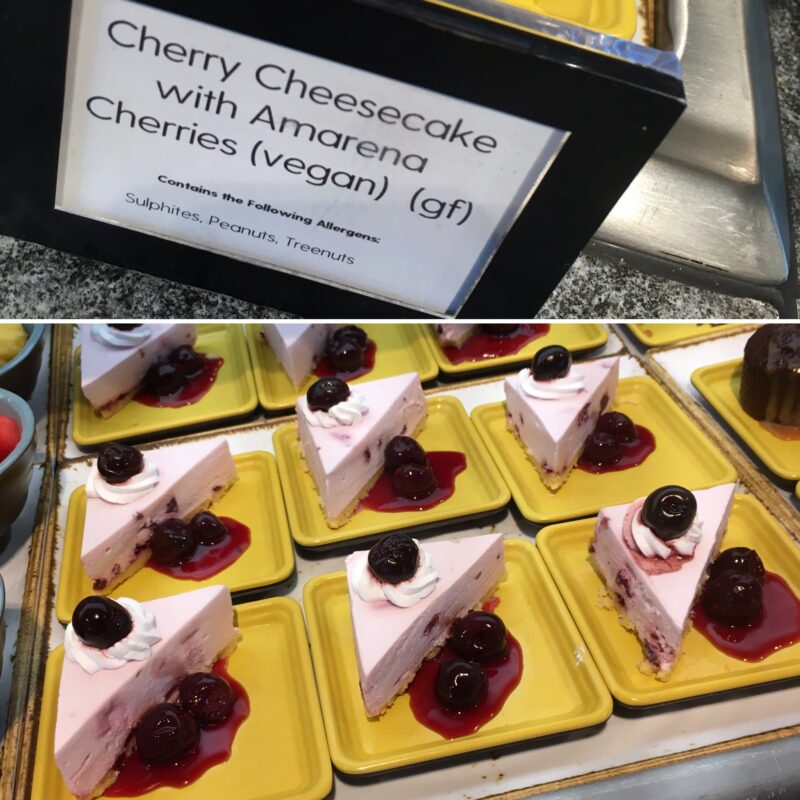 The beauty of buffets is that you can pick and mix and sometimes make odd food combinations but guess what. It all worked. It was all tasty. And it was all vegan. I did not have to spend any time enquiring if something had hidden dairy or meat stock etc. What a joy.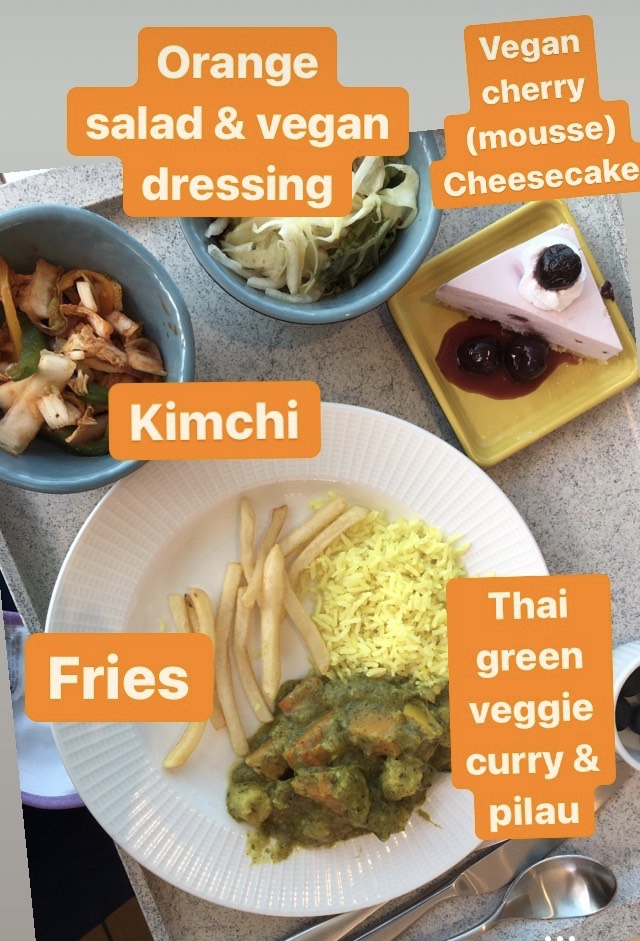 P&O Iona buffet afternoon tea vegan options – day 2
Not soon after lunch service finishes, the afternoon tea service opens. For omni guests there obviously is a whole ranges of cakes, pastries, cookies, tarts and various filled sandwiches. I have struggled to find anything on other ships, other than perhaps fruit to enjoy with a coffee. But again, Iona's galley team showed their excellence. Yes, it's not a lot. But it is much better than nothing. Every day at Afternoon Tea service I could get a vegan filled roll and something sweet.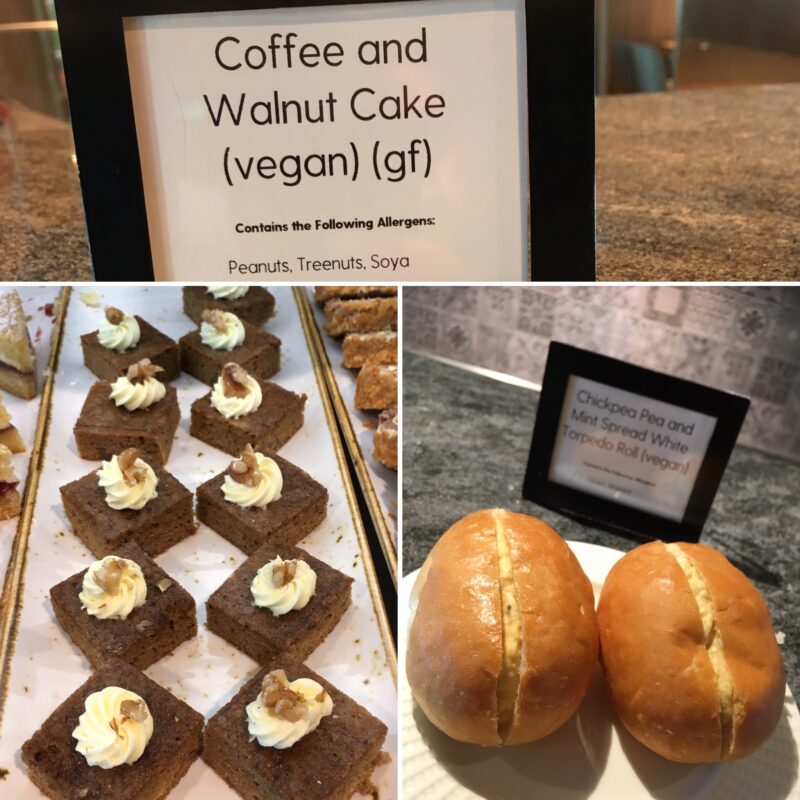 On our first afternoon tea (as we boarded near 5pm and had missed day 1), Horizon buffet served a vegan Coffee & Walnut cake (also gluten-free). For a savoury option I could have a chickpea, pea & mint filled white torpedo roll.
The vegan savouries for afternoon tea were kept in a chiller underneath display line, near the non-dairy spread. At times there was a sign on the top of the line highlighting the vegan option, but you always had to ask for it specifically.
Dinner in the MDR – Day 2
For the second day, the vegan starter was a salad. And it was the same orange and fennel salad I had already enjoyed in the buffet at lunch – but as I had liked it, I ordered it again. For the main course I had just the one option, as I didn't fancy building a meal out of side dishes. I ordered the vegetable stew with dumplings and wondered what might appear.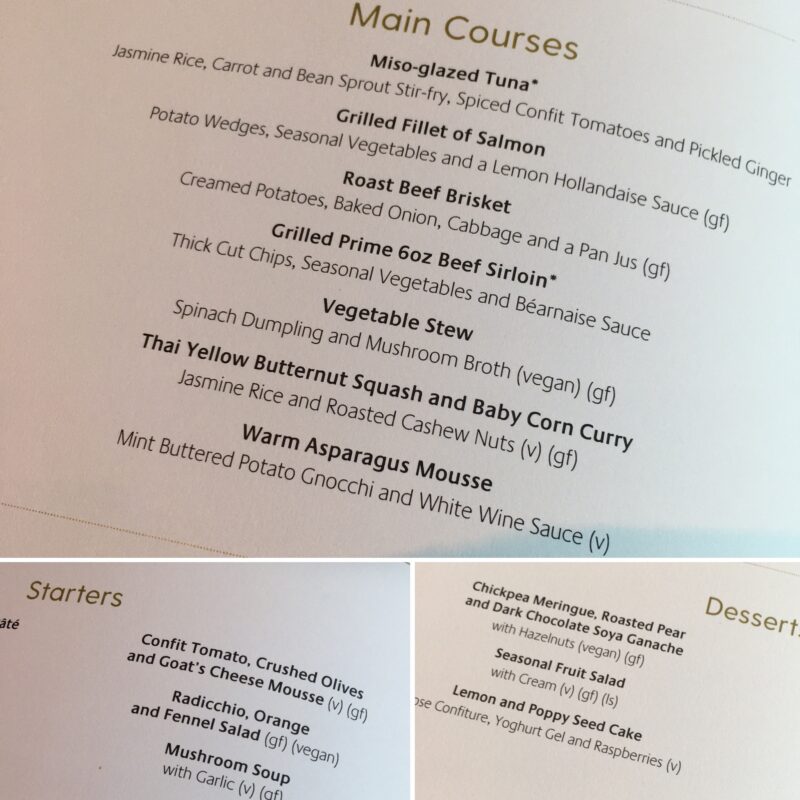 For my dessert, I couldn't believe the ship could whip up chickpea meringue but there it was, on the menu. And I was excited to try it out – while being cautious about the main course. The salad arrived, as a larger portion and better presentated than the buffet ones. Nice but a little dry so I asked for a vegan vinegarette on the side for any future salads.
The stew with root veg, button mushrooms, broccoli and cauliflower was an oddly wintery dish choice for a summer menu, I felt. But there were no potatoes to make it a comfort food dish. And the doughy dumpling I was expecting turned out to be a rice paper spring roll of quinoa, spinach and something else absolutely amazing to make the flavours burst. When our waiter came to see if we were happy with our meals I just had to enthuse about the 'dumpling' and ask for another one. What arrived, was a bowl of two extra rice paper parcels and I devoured them with delight. Do not be put off by the odd description. It is a lovely dish.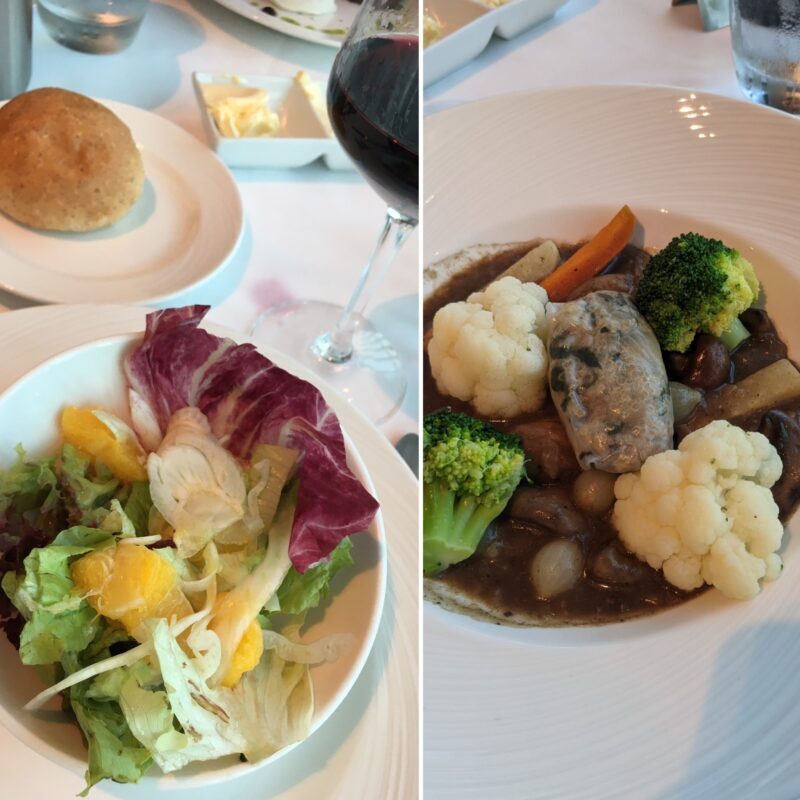 And that can be said about the vegan dessert option too: vegan chickpea meringue, roasted pears and chocolate ganache. Then again, I have cruised for many years where vegan dessert was fruit, berries or lemon sorbet and I may be easy to please… but P&O Iona did us good on night no2 too.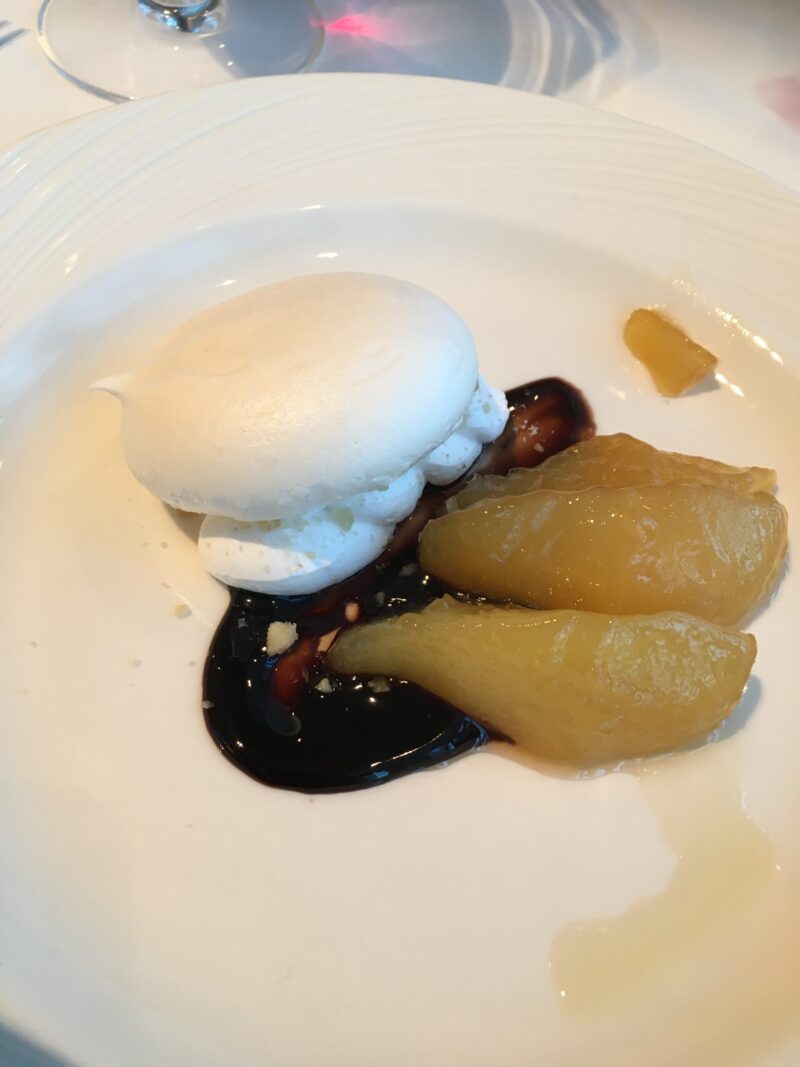 Breakfast in the MDR – Day 3
We made a point to visit one of the dining rooms for sit-down, served breakfast, especially as galleys sometimes have different stock. Or that is what staff have told me why I couldn't have something in the MDR that I had seen in the buffet etc. In any case, we were up early enough to try MDR breakfast and that was deeply disappointing. While the buffet upstairs had an extra vegan hot breakfast option (to offset the fact the sausages, rashers and hash browns were vegetarian only), it transpired that the MDR had nothing. I asked for a vegan breakfast and this is the sorry plateful I received.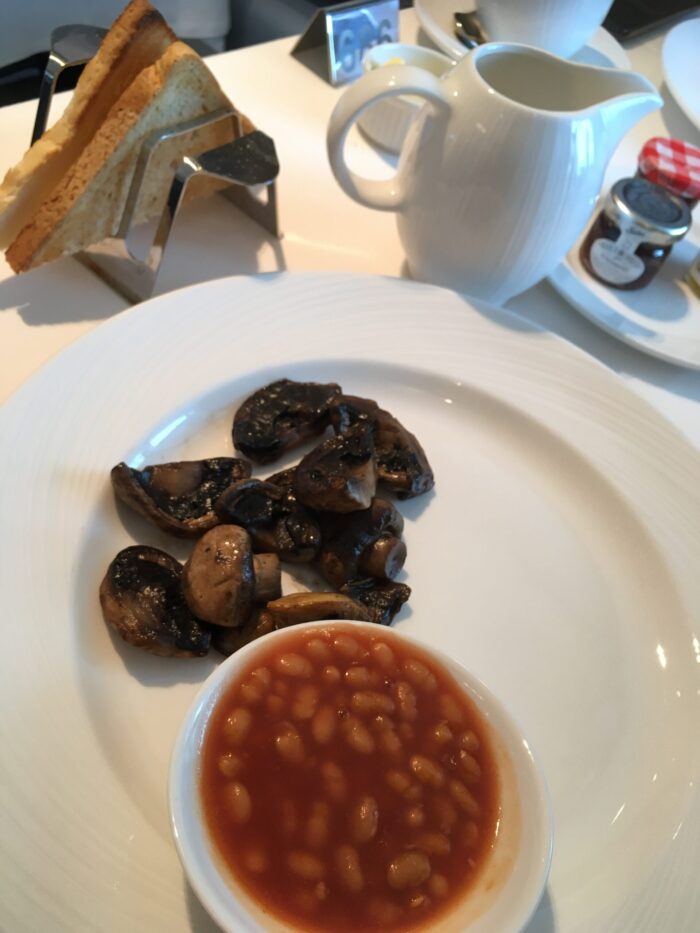 A few mushrooms, a small portion of beans, and some shared toast with non-dairy spread. No scrambled tofu, nothing else 'off menu' chefs could've done. On Marella I was able to get vegan sausages in the MDR even if the buffet galley didn't keep any.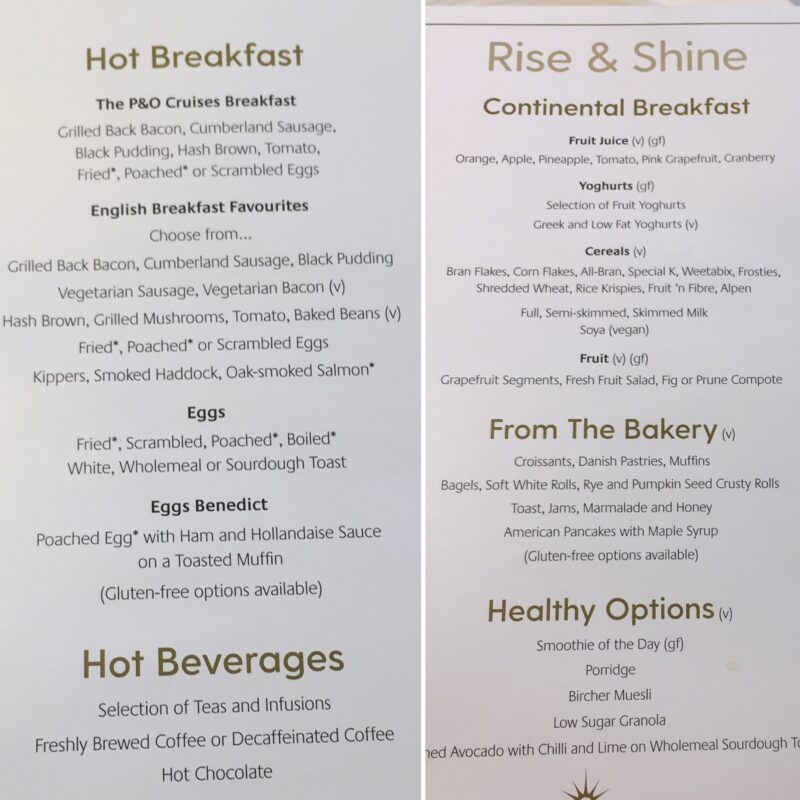 My friend pointed out to me that the menu, under Healthy Options, had a smashed avocado sourdough toast they surely could've provided. But I didn't want to request something else to arrive later and ate my tiny breakfast thinking there would be something else up Horizon buffet to fill me up. A bowl of porridge, even. And sure enough, next to the veggie rashers and sausages I found this. Individual portions of vegan bubble & squeak.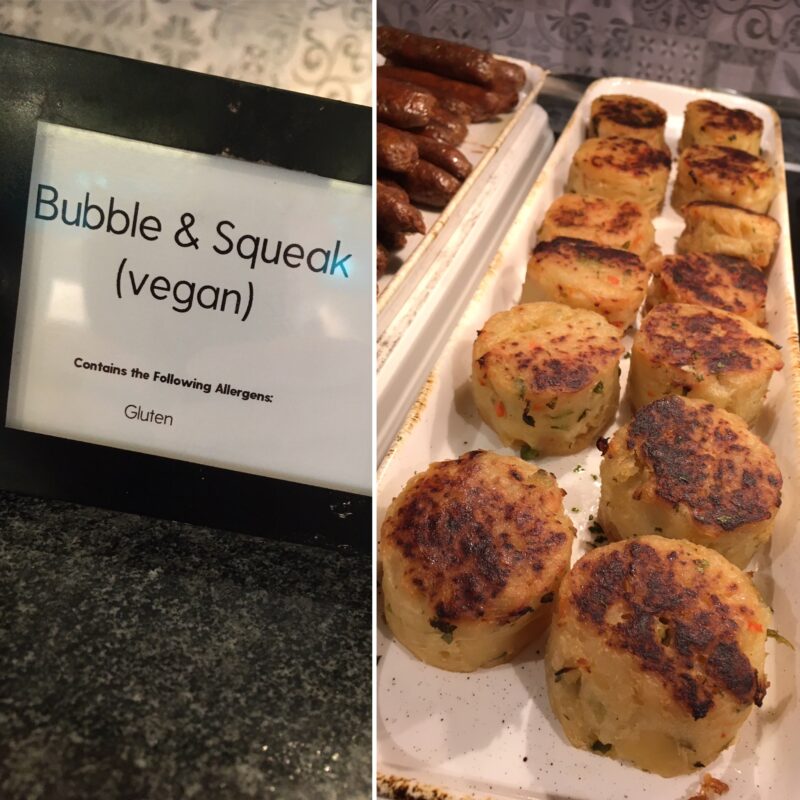 I learnt from that day not to bother with the MDR for plantbased breakfast choice as the buffet always offered something else vegan in the hot breakfast section. And you can get more mushrooms and beans than what the MDR plated.
Lunch vegan options at the Quays food court – Day 3
Iona is a big ship so we had managed to miss the Quays food court completely until day three. It is open for breakfast too but looks fab for omnis only. But at lunch, it appeared to have options near every day. The Hook, Line & Vinegar gourmet chippy doesn't do vegan fish alternatives but does really nice chunky chips. Fusion Asian Kitchen has a vegetarian dish each day and only once I wasn't able to have it, for them using vegetarian Quorn pieces, not vegan kind. The Boardwalk Diner burger joint had nothing I could have – although the Taste 360 in the Skydome had a veggie burger available on request. But I didn't mind.. have had vegan burgers a plenty and the Fusion curries were tasty.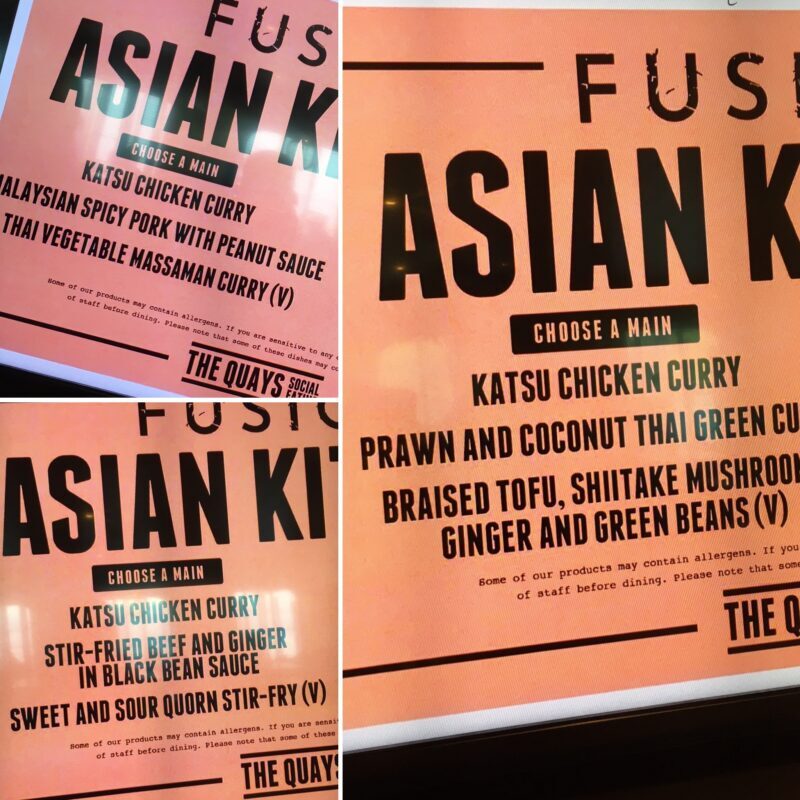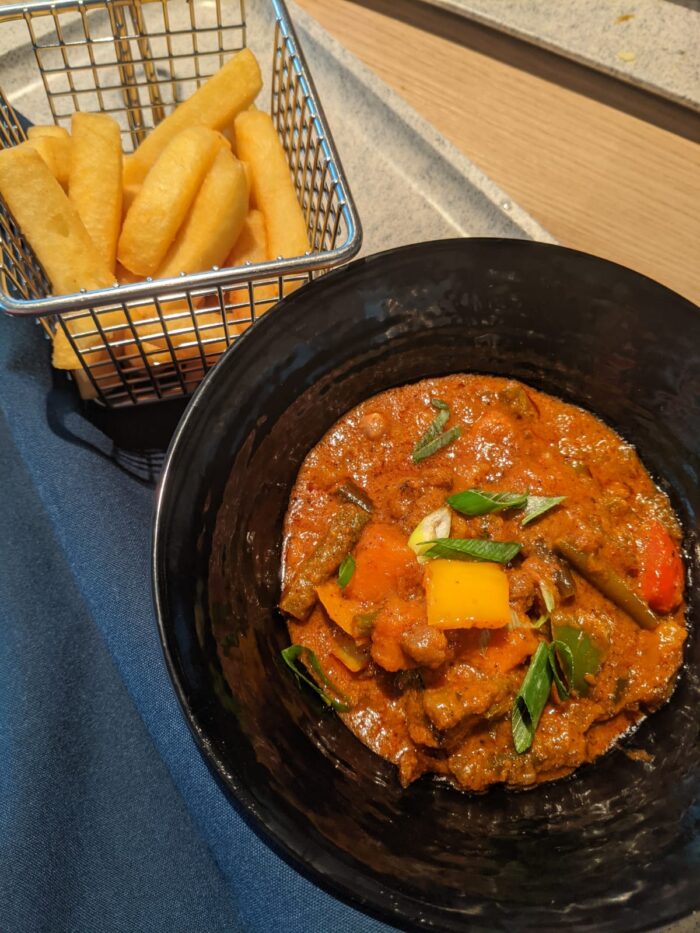 In addition to my chips and Thai Massaman curry, I was able to pick up a vegan tempeh salad from the salads & desserts section round the corner from the three food court counters. There is also water, tea and coffee and breakfast juice dispensers available. Just like in the Horizon buffet upstairs.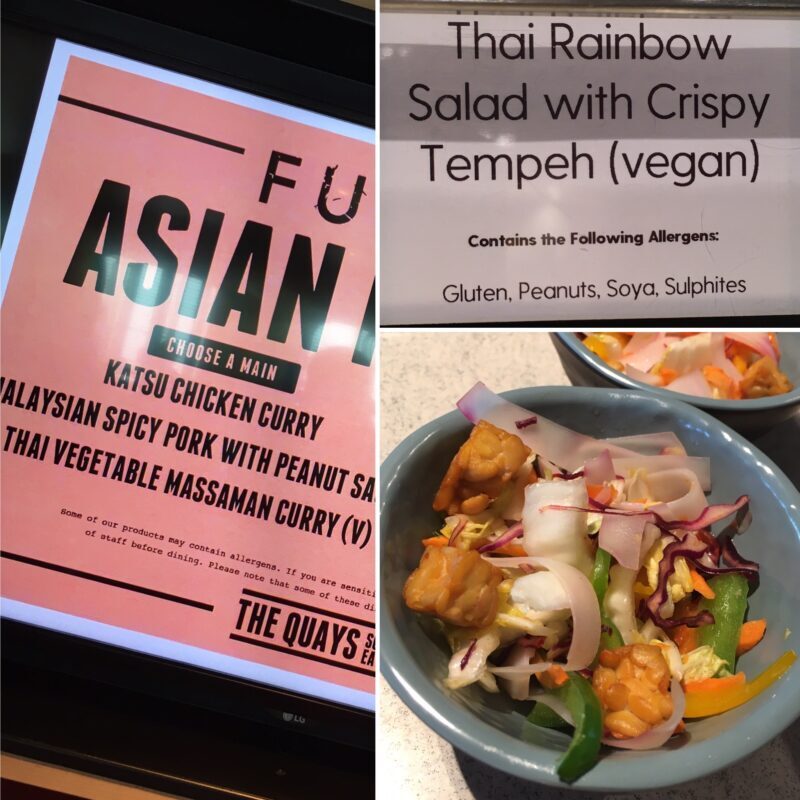 On this occasion the Quays dessert section didn't have anything vegan to finish with, so we headed up to the Horizon. As expected, the buffet had a vegan curry dish and a vegan dessert option.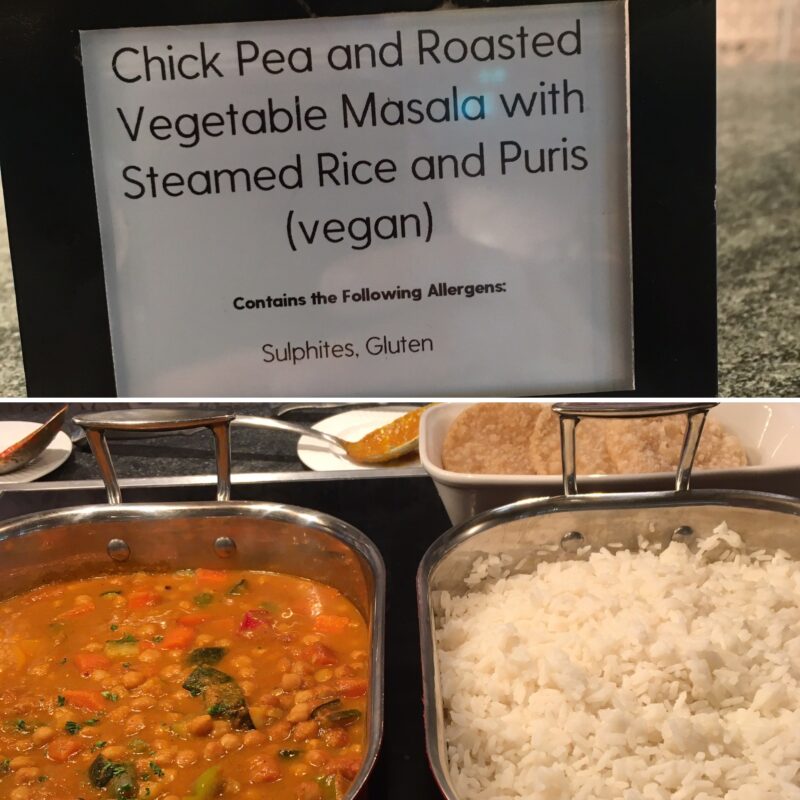 The buffet lunch dessert was the same chocolate marquise I had been served on the first night at dinner. Normally that might be a little annoying but I loved this rich chocolate dessert. Plus this time it was paired with some peanut butter & banana for even more gooey yummyness.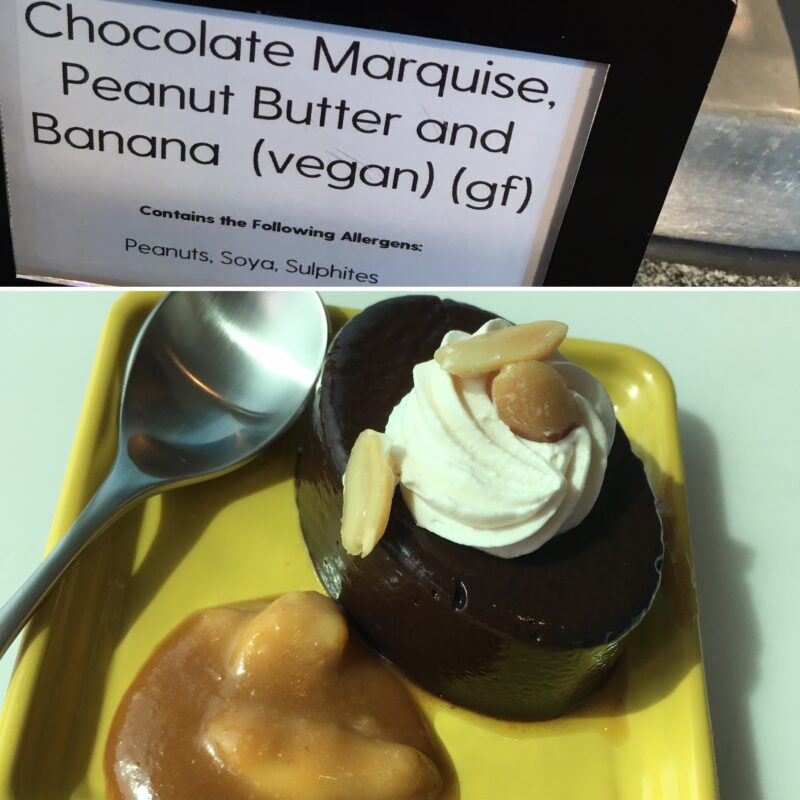 P&O Iona Sindhu specialty dining dinner – Day 3
Everyone raves about Sindhu online saying one must book it. So we did. As soon as we were free on the first night, we went to the desk at Sindhu to enquire about a table reservation. I had heard a rumour that on the first and second night it would be half-price, but we could only get a table for day three. But as prices were affordable (per menu item, not set price) we didn't mind paying the full menu price.
On most other cruise lines it is always one to request in the MDR as it is common to have a separate Asian/Indian MDR menu. Always worth checking what the veggie Indian dish is for the day. I didn't ask if P&O have one for their MDR as I knew we'd be dining in Sindhu.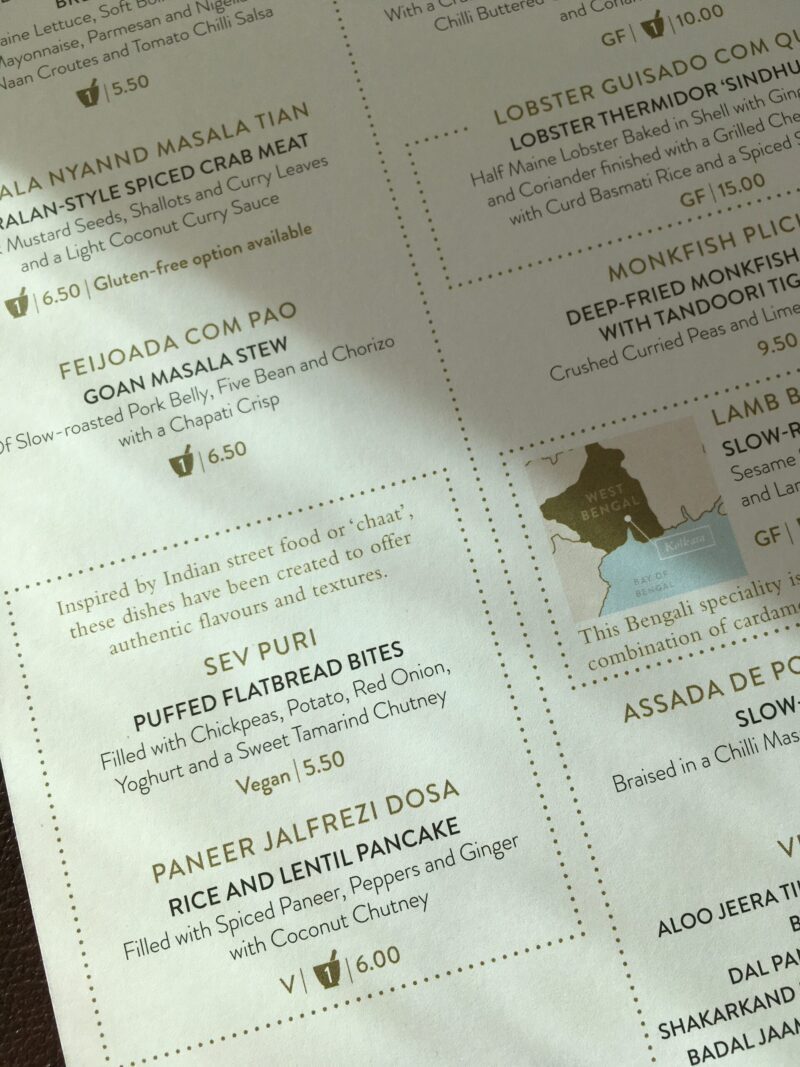 Beautiful interiors, attentive service and so wonderful to have vegan menu options. The Sev Puri starter (menu shot above) was already vegan but main vegetarian which could be served vegan. (Menu crop below).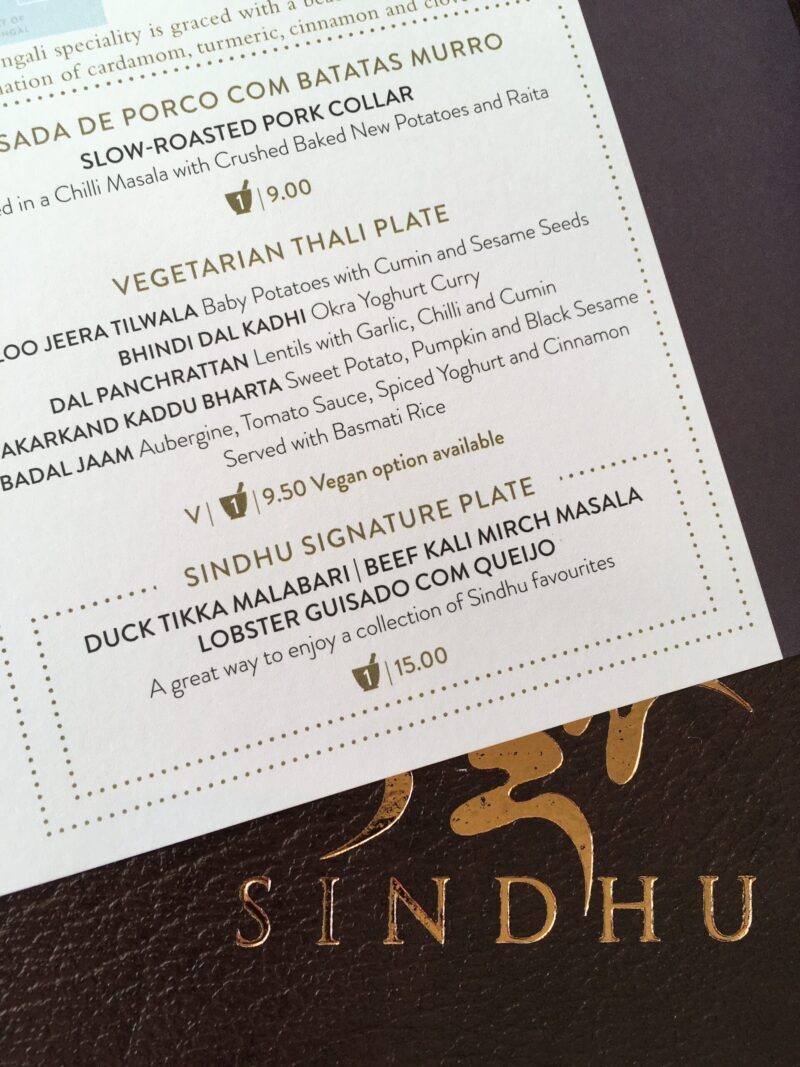 The amuse-bouche style Sev Puri starter were lovely, aromatic rather than spicy. I couldn't imagine what the dish would be like but it was beautifully presented, modern Indian food. Such cute little puffed up pieces of bread.
The vegetarian main course could be made vegan by removing the dairy containing Okra dish. No vegan alternative was offered.. so you get one thali dish less. There was more than enough to eat, however, so I didn't feel too cheated and couldn't finish my plate. We paired our meal with another lovely Chapoutier Belleruche Rhone white. Aromatic and full-bodied, to match the dishes we enjoyed.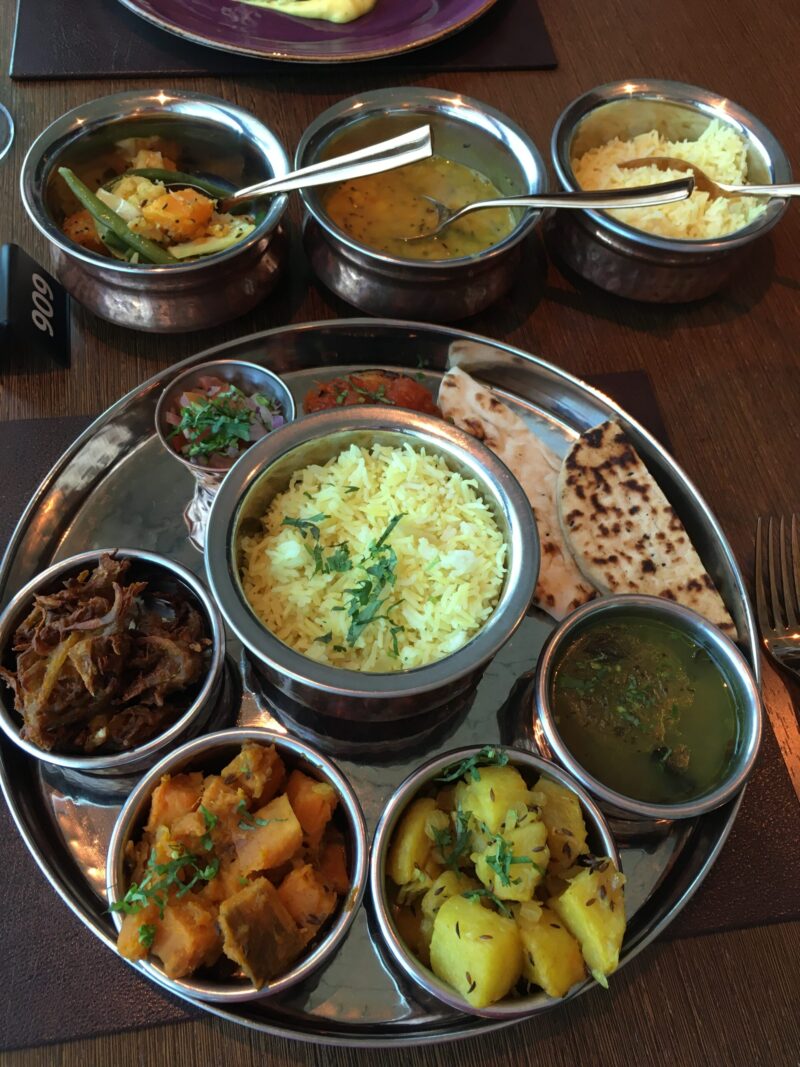 Breakfast in the Horizon Buffet – Day 4
By day 4 I had a routine down. Coffee with oat milk. Dairyfree spread, some toast, beans, mushrooms and whatever else vegan chefs had made for the line. On day four I was rather excited to see that the option was a scrambled tofu dish.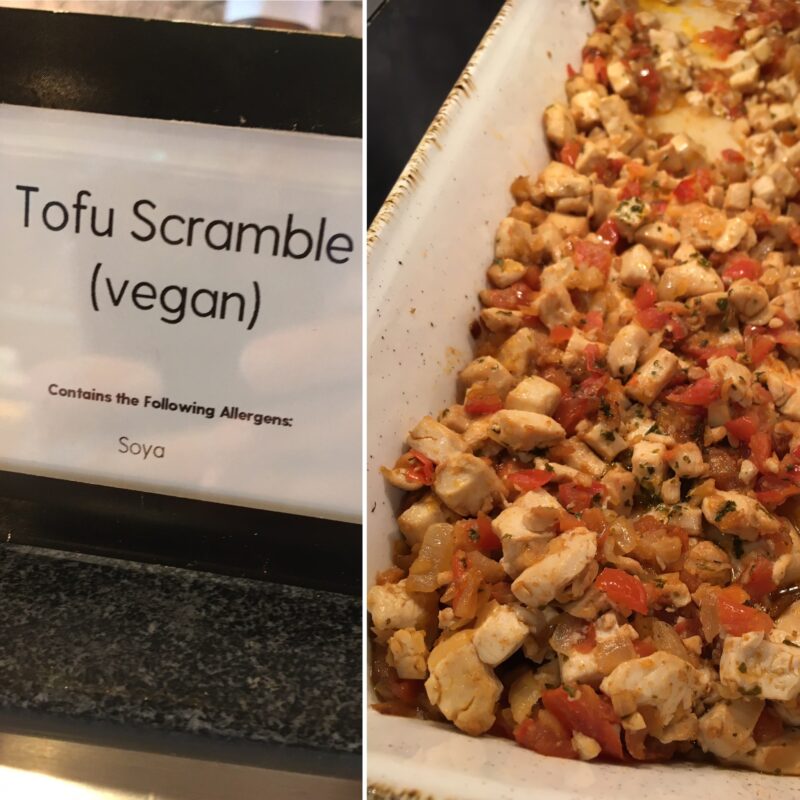 Oddly though, it had tomatos though it.. and no kala namak but I had brought some of my own with me just in case I could get a scramble one morning. Just a habit, like I used to carry my own spread and vegan cheese. I knew on P&O I didn't have to bring spread. Plus on Iona they also kept egg-free vegan mayo behind the counter, you just had to request it.
Lunch in the Olive Grove – day 4
Olive Grove is the Mediterranean specialty dining venue that is mostly inclusive, but has a few items on the menu with a surcharge. My friend wanted to try their pizza, it comes highly hyped, so we booked a table to be able to do lunch here. I explained at reservation that I was vegan, and how their menu has no vegan options. I was told it wouldn't be a problem and that the chefs would cater.
It wasn't quite so easy we learnt when we sat down to lunch. Team had prepared no vegan suggestions and asked if I could pick and mix items from the menu. So I requested a vegan mezze platter for one. As the menu had a vegetarian sharing mezze. This they provided. I think it was hummus and baba ganoush, with olives and grilled vegetables.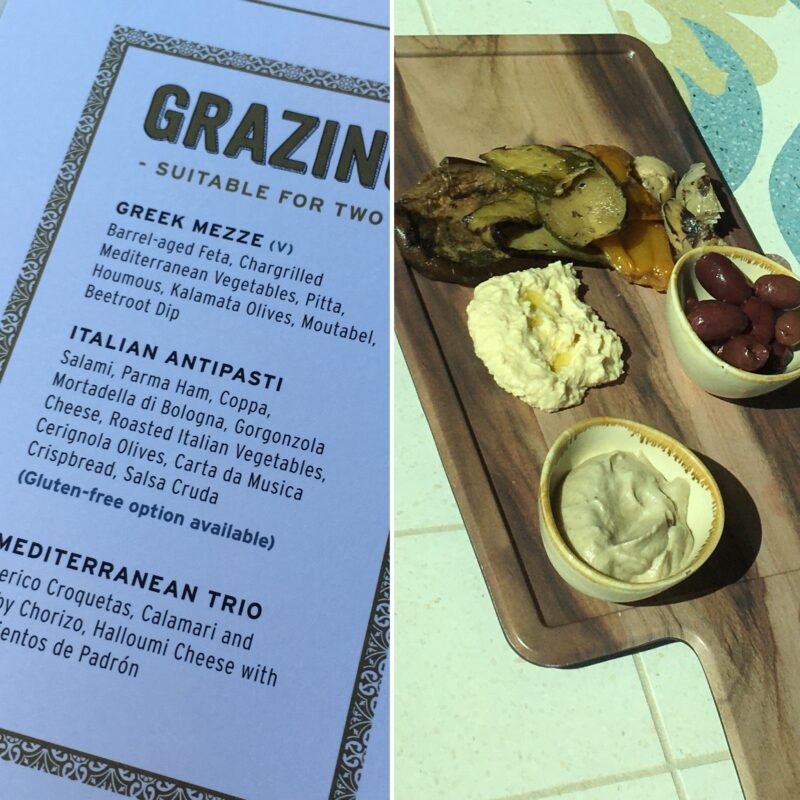 For my main, I believe I was offered a tomato pasta and point-blank refused. It is such a lazy option and boring, so I firmly rejected that one, and asked if they could cook anything else vegan for me.
The waiters brought over a small cast iron pot of ratatouille. Looked lovely but was not that flavoursome. Nothing else came with it.. no bread for carbs etc. I considered ordering a portion of chips but those come with an extra charge in Olive Grove. Meanwhile, as soon as you step outside into the Quays, chips are available for free from 'the chippy' Hook Line & Vinegar. I decided to wait and fill up in the Quays or the buffet if must.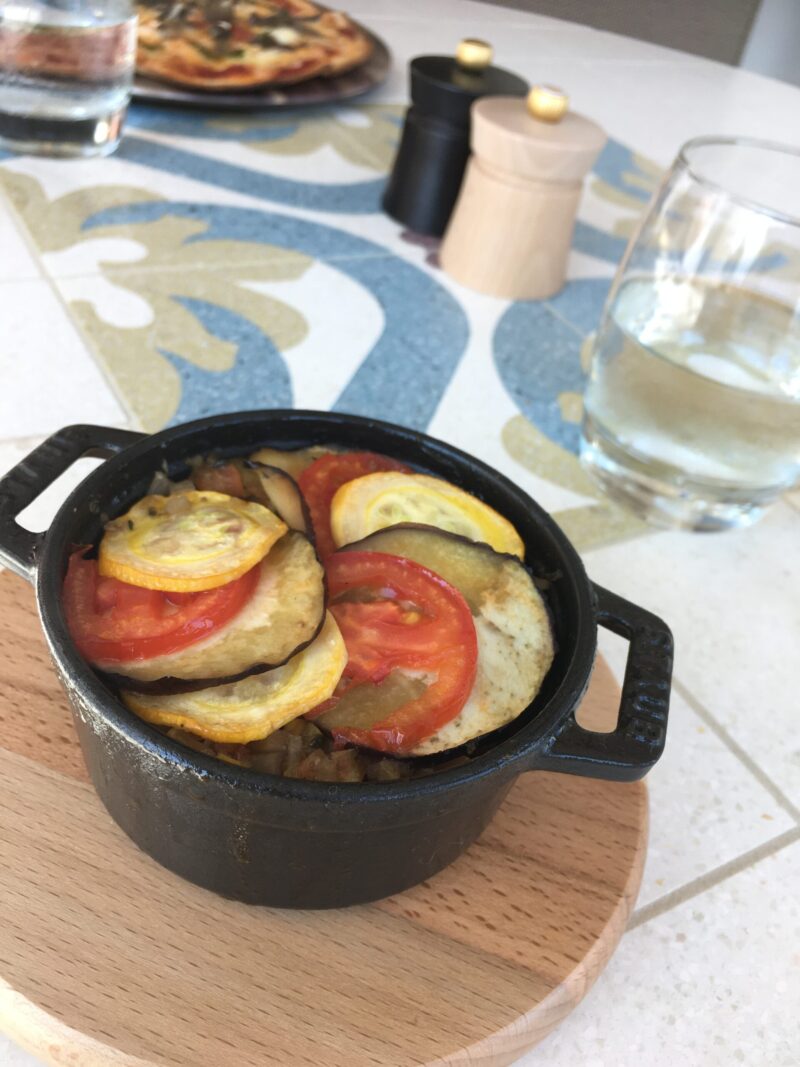 None of the desserts on the Olive Grove menu were suitable for vegans either, so we left after our mains and went to see what rest of the ship had to offer. And sure enough, as soon as we stepped out of Olive Grove, the Quays' self serve salad and dessert bar had options: a vegan carrot cake and a kale side salad. Which I sampled, after my light lunch.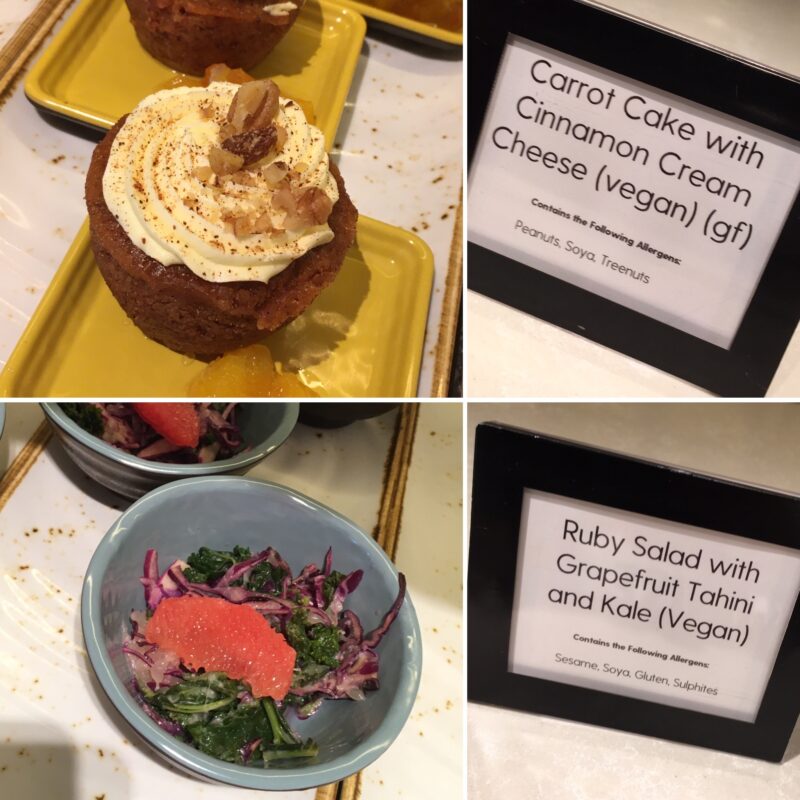 Out of curiosity, we also popped upstairs to the buffet to see what they had to offer. And again, there was vegan dessert choice. Vegan coconut and lemongrass pannacotta.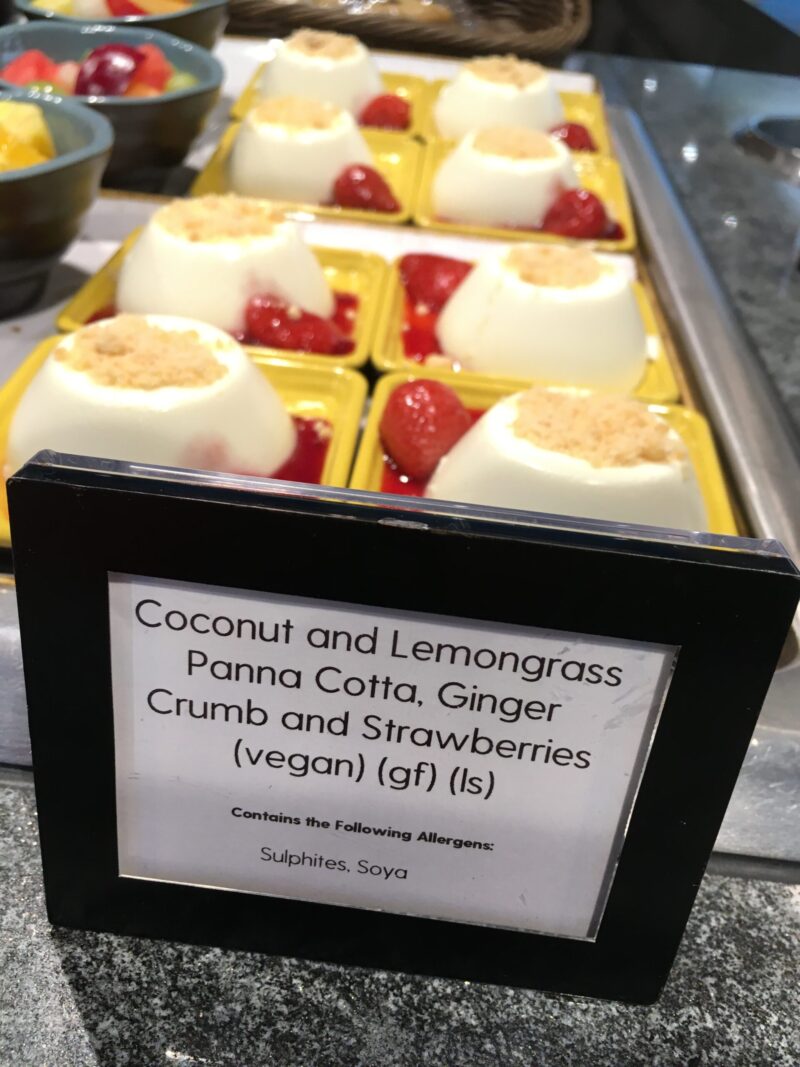 Formal night dinner in the MDR – day 4
One thing that surprised me over the week was the proportion of veggie dishes on the menu. Below you'll see the formal night menu from the MDR.
Three starters: one meaty, second veggie, third vegan. Soup course there is just the meaty kind. But for mains, there are two meat containing options, two vegetarian and one vegan main. The majority being meatfree, that is something! No wonder I have seen some omnis complaining on a P&O Iona Facebook group about vegetarians getting more choice than them. This I find hilarious, as omnis can eat everything on the menu, all five mains. Veggies have three. Us vegans – one main, take it or leave it. Unless we preorder something else the night before.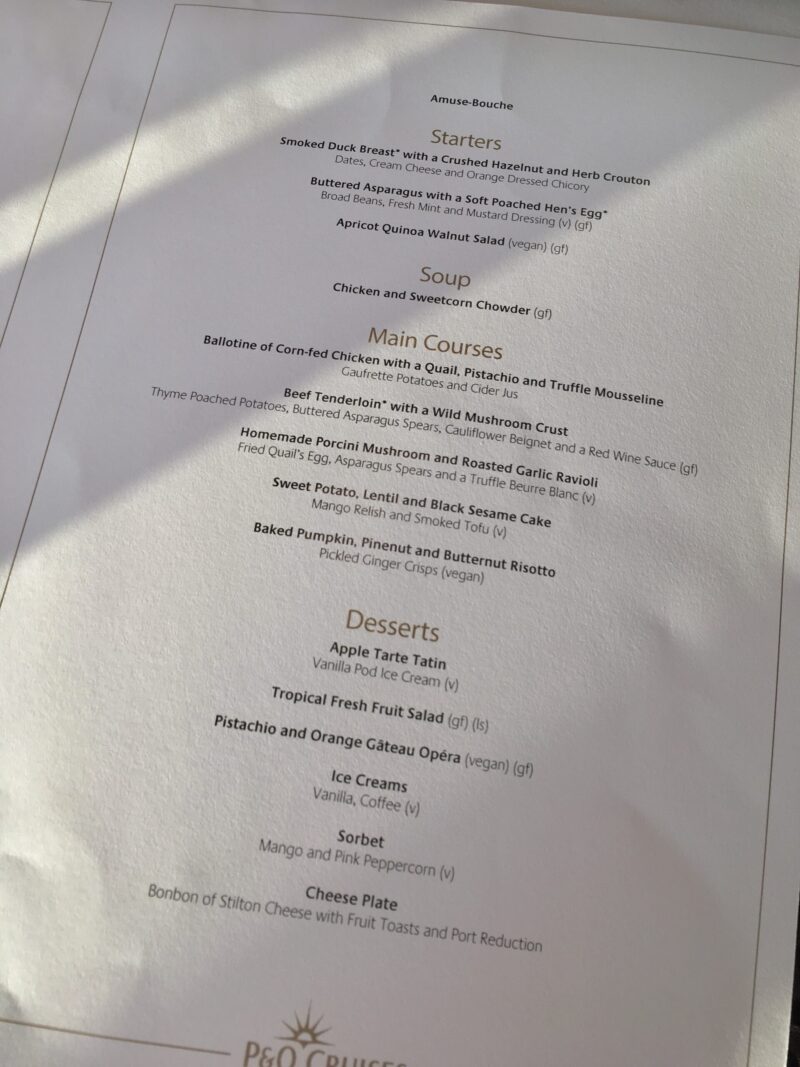 Once again, the MDR vegan starter option was a salad, again. But at least this time it was an upgraded one, a lovely couscous & pomegranate one. It was beautiful, I must admit.
For the plantbased main course the formal night menu offered a vegan pumpkin & butternut squash risotto with vegan parmesan. I couldn't really tell it had cheese through it except for the vegan cheese curls on the surface. The vegetarian main course one the menu had a side of smoked tofu and mango salsa, so I asked if I could have that as a side dish. Wanted a good protein source to go with the risotto. I did find it frustrating that a tofu containing dish was vegetarian, and not vegan. But at least I was able to order it as a side dish.
Don't be afraid to ask for any accidentally vegan sides from other dishes to bulk up your meal. Like the pakora I asked for on the first night.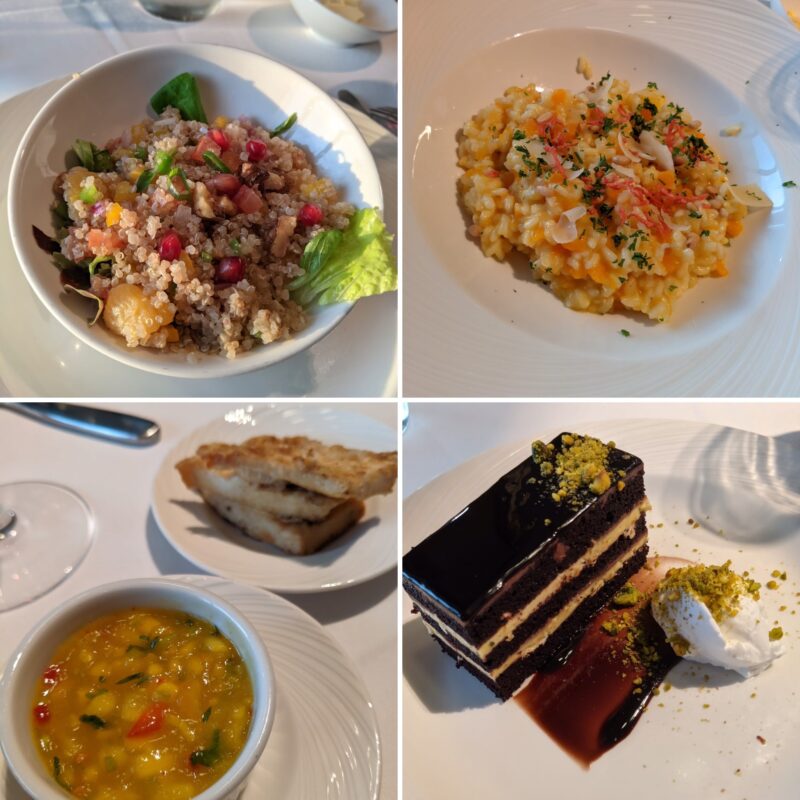 The vegan dessert option was also the gluten-free one but it was amazing. Chocolate and orange gateaux and it was, again, fantastic. I do compare everything against fruit salad and lemon sorbet though, having endured many over the years. After a little disappointing lunch, the main dining room dinner was a win. Olive Grove may be great for omni quests and can suit vegetarians,I would advise vegans to stay clear. There are better options available elsewhere onboard Iona (buffet, the Quays, MDR).
That's been a fair bit of food information for you to take in! You'll find days 5 to 7, plus a few extras in part 2 post to follow. If part one doesn't convince you, after part 2 I am sure you'll agree that P&O Iona is a vegan friendly ship
Any questions, please do not hesitate to ask! I'll share a separate post on the ship, the app use and our wonderful cabin too on another post. And if you're wondering how to book the best value cabins, check out my helpful post on picking a bargain here. And of course, to book your own P&O vegan-friendly cruise, see their site.