P&O Iona vegan staycation surprise: amazing plantbased options (part 2)
This summer (Aug '21) I had the pleasure of having an amazing, vegan-friendly cruise onboard P&O's current flaghip Iona. Of all the mainstream cruise lines I have sailed with, I found it super easy to obtain vegan meals onboard. Near every venue onboard Iona offers plantbased meal options on their menu. The only exceptions I found on our cruise were three specialty restaurants; the Epicurean & Chef's Table (set menu) and Olive Grove (a la carte, some items chargeable). The first part of my wonderful plantbased cruise experience is here, in case you missed it, covering days 1 to 4. My remaining week is documented below. I am sure after you've scrolled through my evidence, you too will agree that P&O Cruises are exceedingly vegan/plantbased friendly. Not to the standard, you would expect of a UK high street, but the cruise industry does run behind, and what Iona offers is among the best out there in terms of ease. No pre-ordering of meals is required.
Vegan options on P&O Iona days 5-7
For the three remaining days, we wanted to try some other inclusive options, outside those we'd sampled plenty already. We decided to try Taste360, the fast food venue up in the SkyDome. It serves burgers, fries, pizza slices etc. Standard poolside fast food.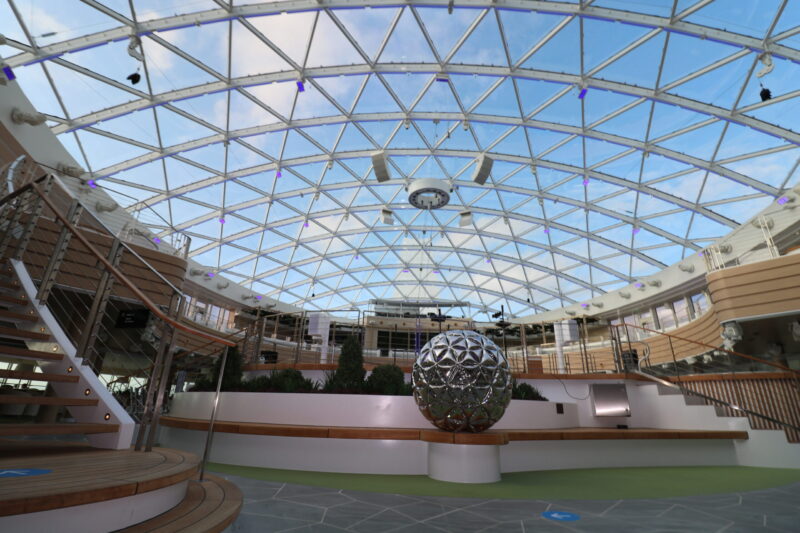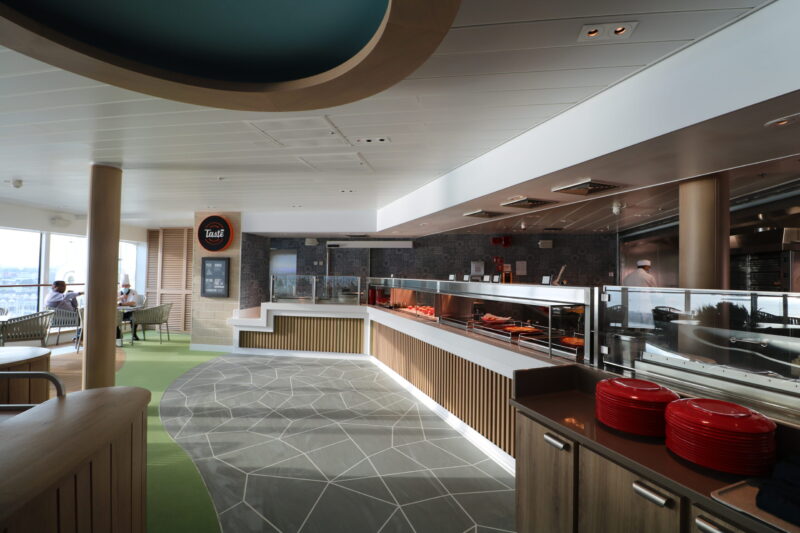 I spoke to a sous chef in the Marketplace buffet earlier in the week and he said if I wanted he could arrange vegan cheese, just let him know when we were planning to go. I did notify him and arranged our pizza dinner.
Unfortunately, the vegan cheese P&O stocks was the melting plastic kind (shrivels up into dry shreds) so the pizza wasn't nice at all. Plus the pizza chefs' idea of vegan pizza was tomato with huge chunks of mushrooms.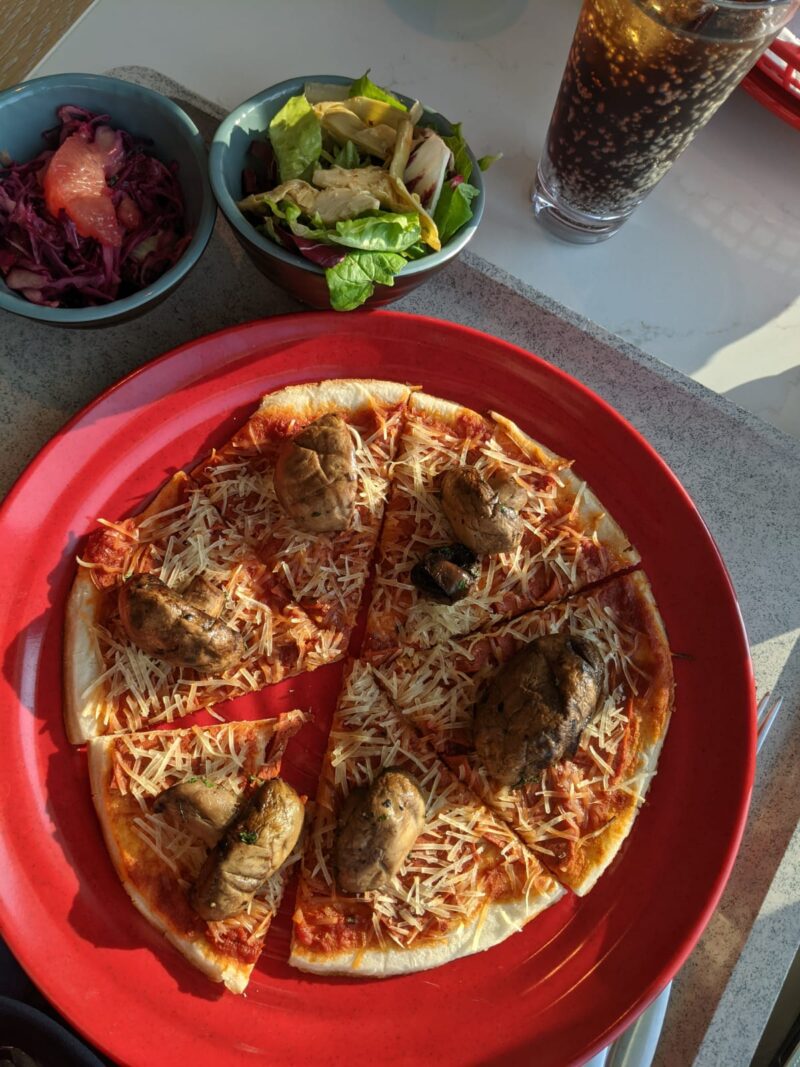 The base was pale, dry and crumbly, and made me wonder if they had given me a GF base too, on top of the lazy topping choice. It wasn't much to be excited about and I didn't finish said pizza. It just wasn't good, so we moved onto the buffet for a top-up meal and the MDR for the pannacotta dessert.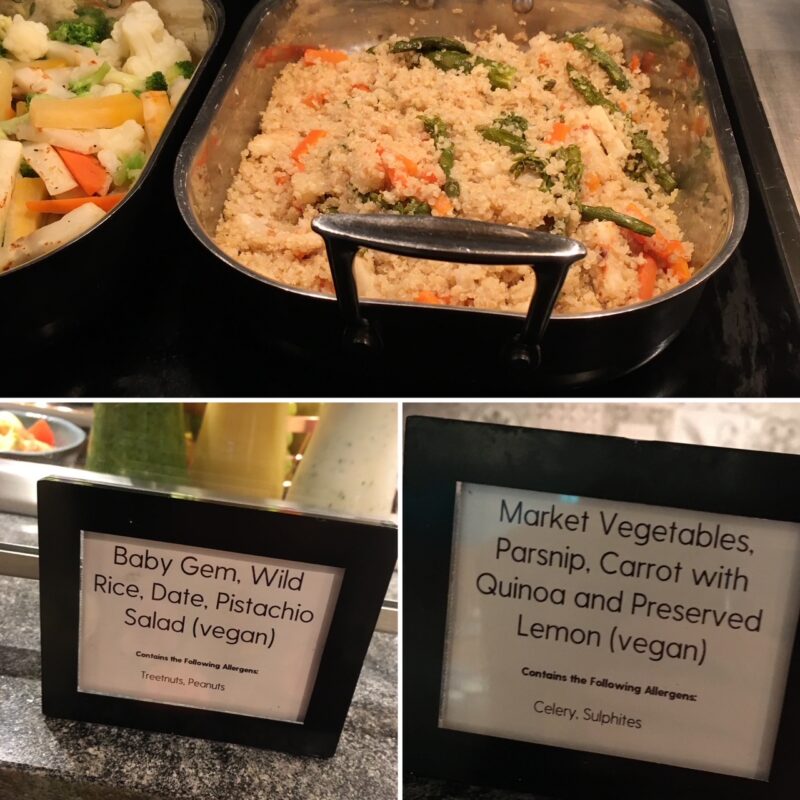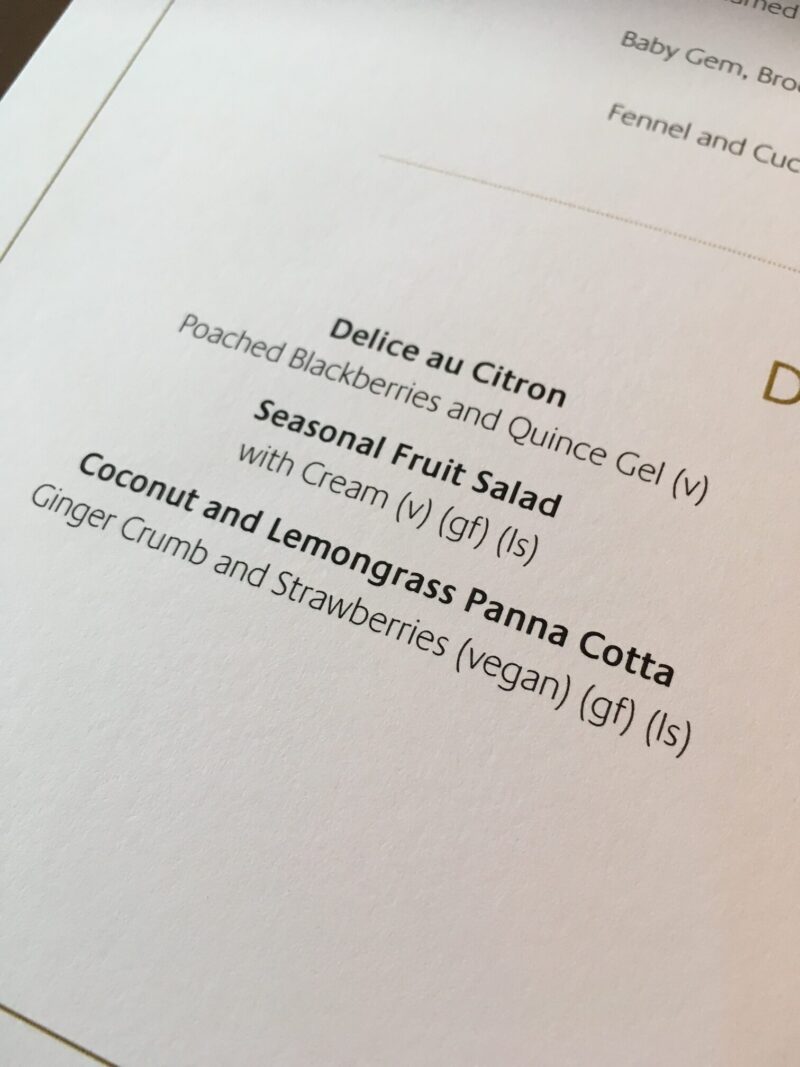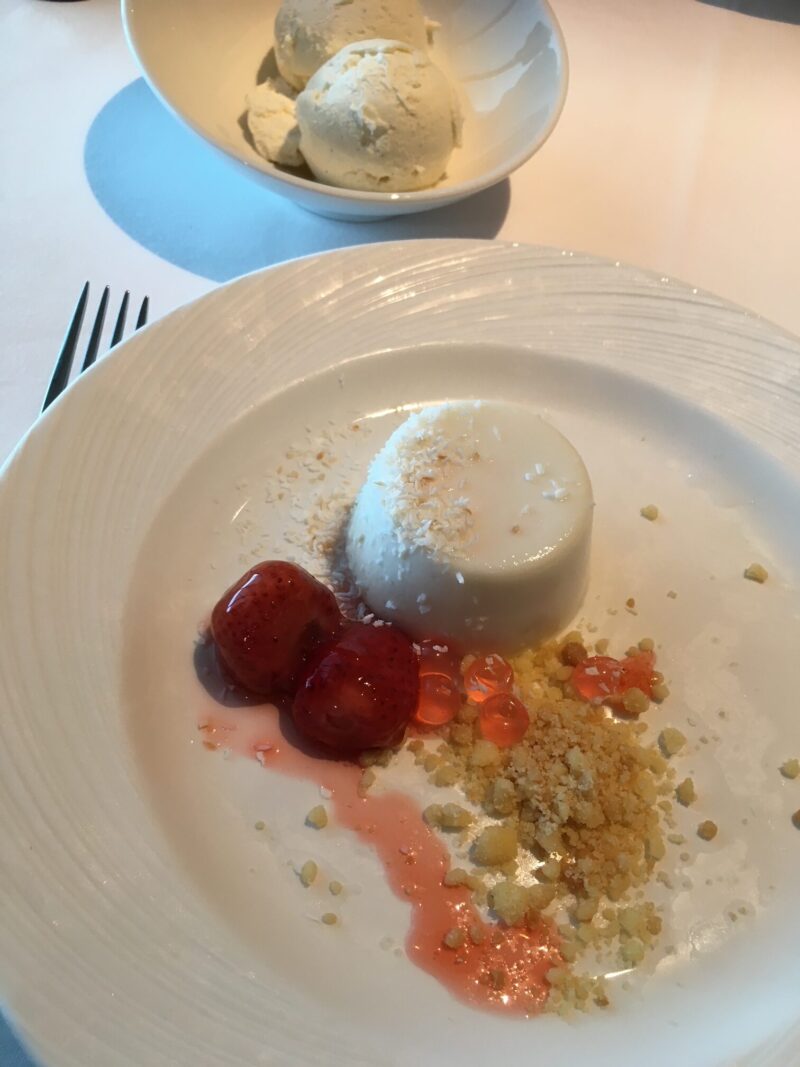 The buffet had a vegan choice at all mealtimes – here a selection of meals across breakfast, lunches, tea and dinner from my last three days. I may have missed some, like the sandwich choice during afternoon tea.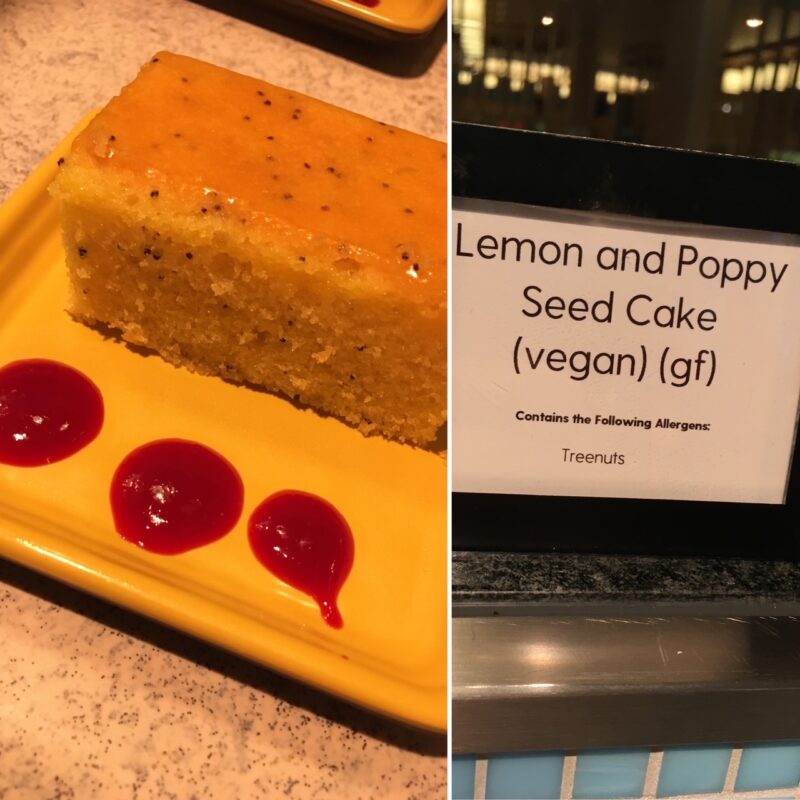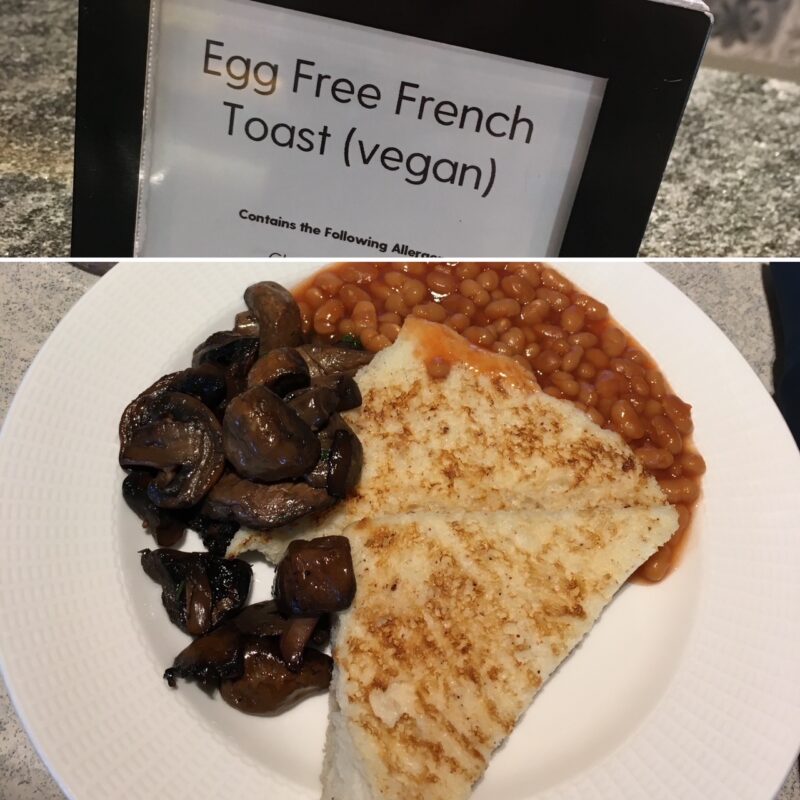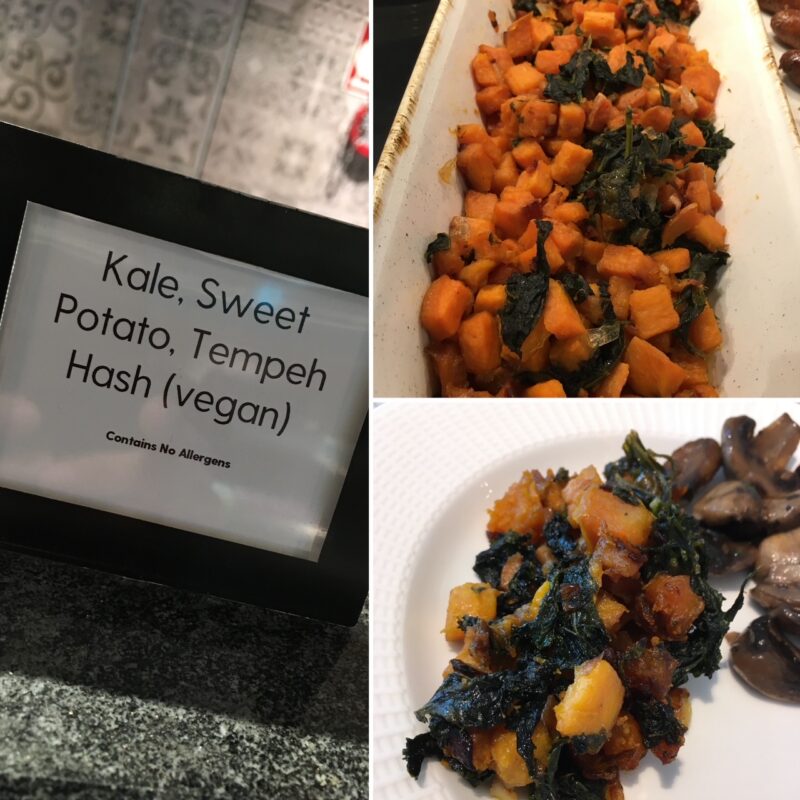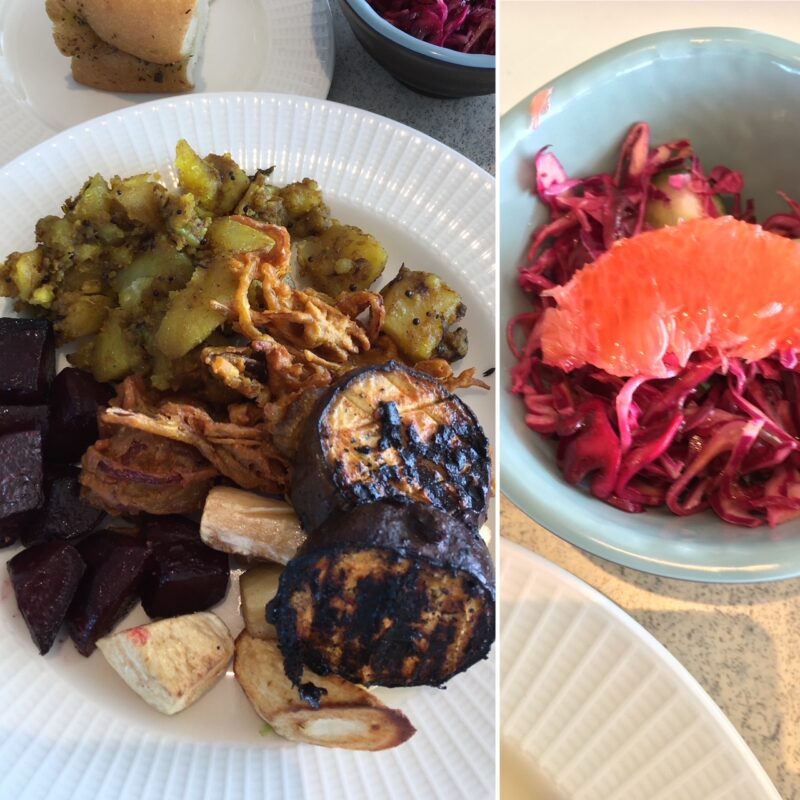 This lunch was a bit of a build-your-own meal with bhajis, curried potatos with lentils, roasted parsnips, beetroot and grilled aubergine. The side salad was red cabbage & citrus fruit slaw (no mayo).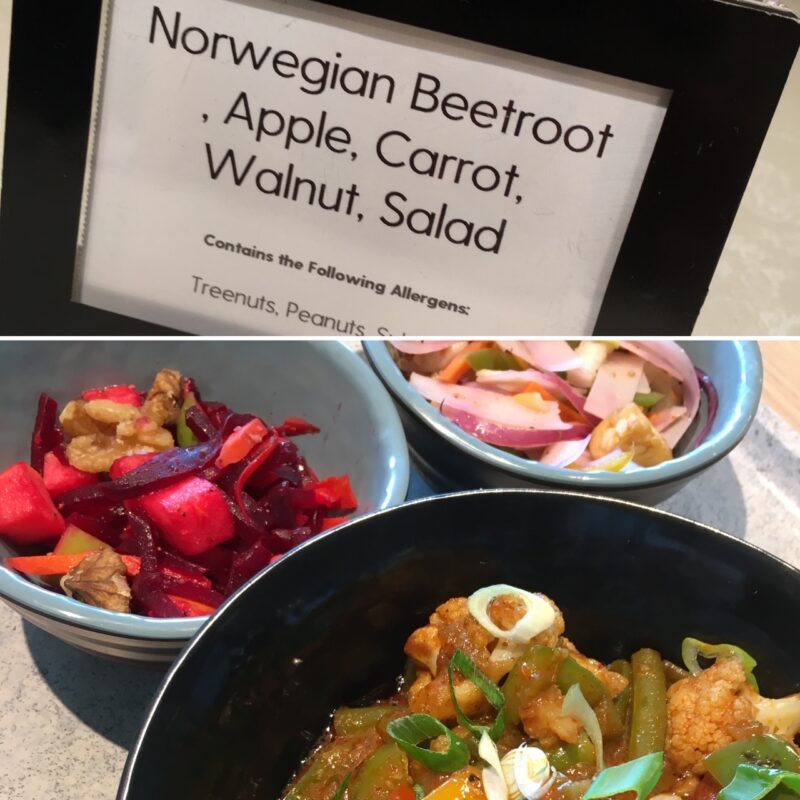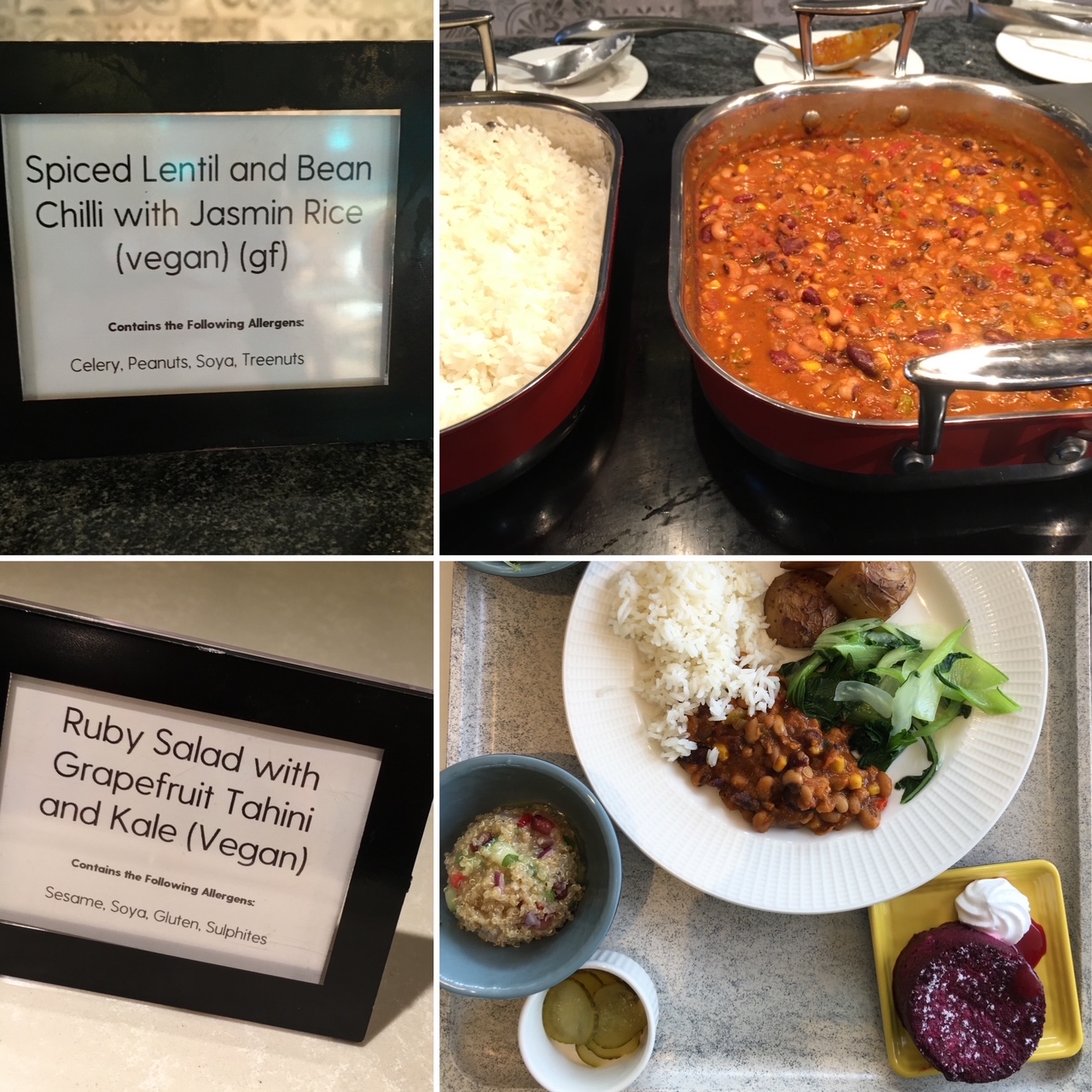 I was really impressed with vegan/plantbased meal options on P&O Iona. After so many poor and sloppy dishes served over the years, it was great to have colourful and nutritionally balanced options. Beans, lentils, quinoa, tempeh.. good protein sources. And not just that – but with actual vegan desserts rather than fruit or thickened soya milk masquerading as custard. The summer pudding dessert above was probably the most disappointing of all served, but still beats many others served by other cruise lines out there. Go P&O!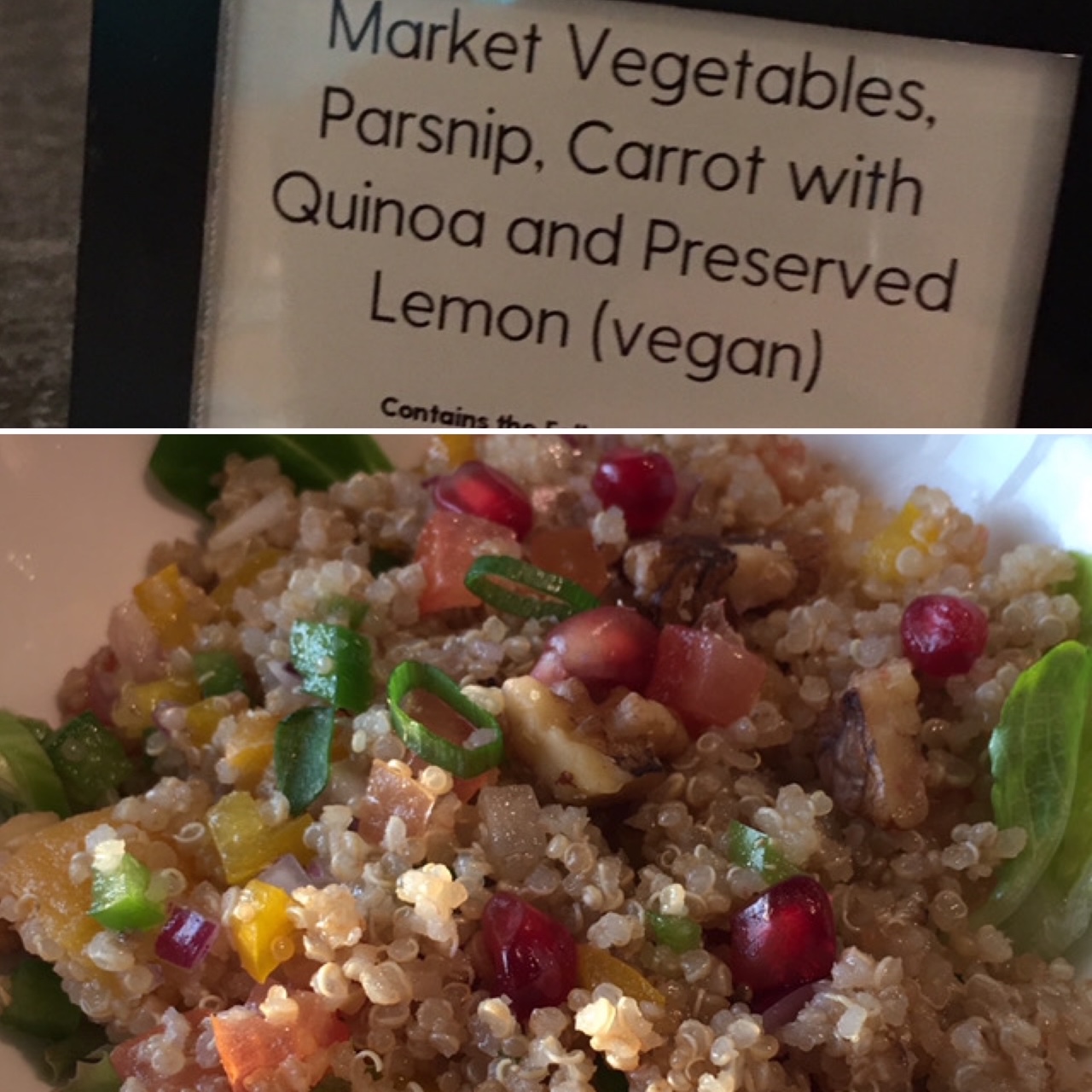 I wasn't totally convinced by the description this quinoa salad had, as it looked and tasted like the pomegranate containing one I had already been served in the MDR earlier in the week. But it was tasty and a vegan option so I didn't challenge staff about the potentially wrong signage. With hindsight, I probably should have in case there was an allergen present that wasn't labelled.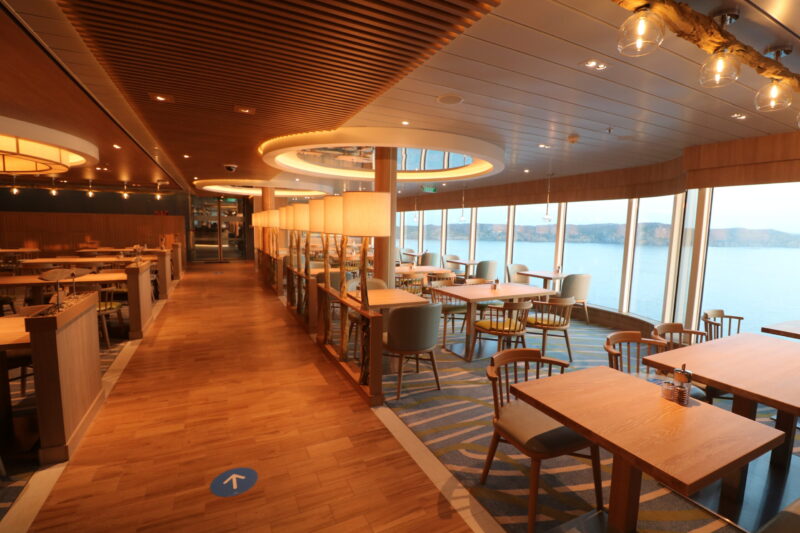 Specialty dining in the buffet? Yes, Sir.
During the formal night (one per week) a section of the buffet turns into the Chef's Table. This is a separate dining area, with tables decorated and with waiter service. Meanwhile the rest of the buffet carries on as standard.
The Chef's Table is essentially an expanded tasting menu and you can have wine pairing menu with the meals should you so wish. The cost of the meal is included in the cruise fare but as the whole menu is heavily aimed at omnivores I avoided it. Many omnis also skip the special menu due to the buffet setting – as not a separate section of the MDR or someplace else more elegant.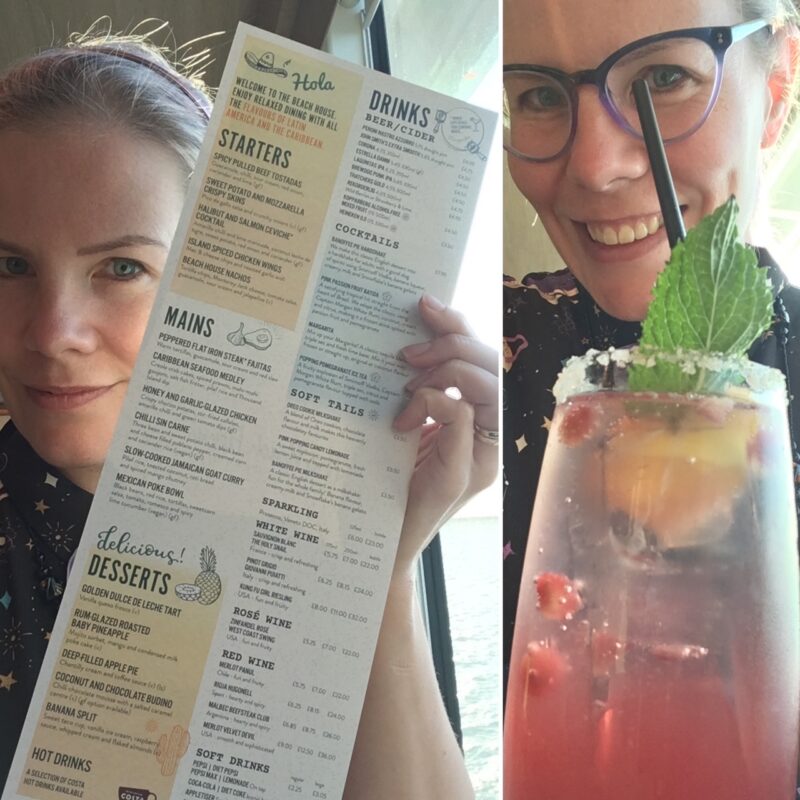 The other 'specialty dining' venue in the buffet is a separate section labelled/decorated as the Beach House. It serves a sit-down waiter service menu with three courses and a selection of drinks, only available at this veue. On our cruise the cost of the Beach House meal was included in the fare, though since then a small charge has been introduced. Here vegans can be accommodated quite easily. On our sailing the main course was the only vegan marked item on the menu, starter and dessert both had to be modified to be suitable.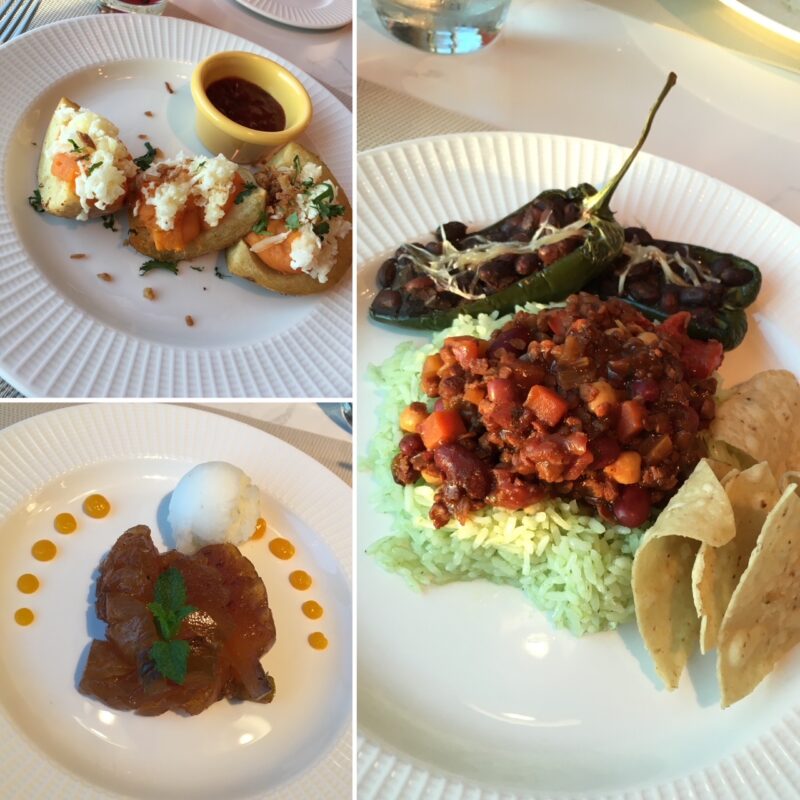 The mozzarella on the starter was replaced, but the vegan cheese (presumably the same poorly melting kind we had on the pizza) just did not work on it. Chilli Sin Carne on the menu was already marked vegan. For my dessert (pictured above) I had the Rum-glazed roasted baby pineapple with mojito sorbet – the condensed milk poke cake was removed to make the dish vegan.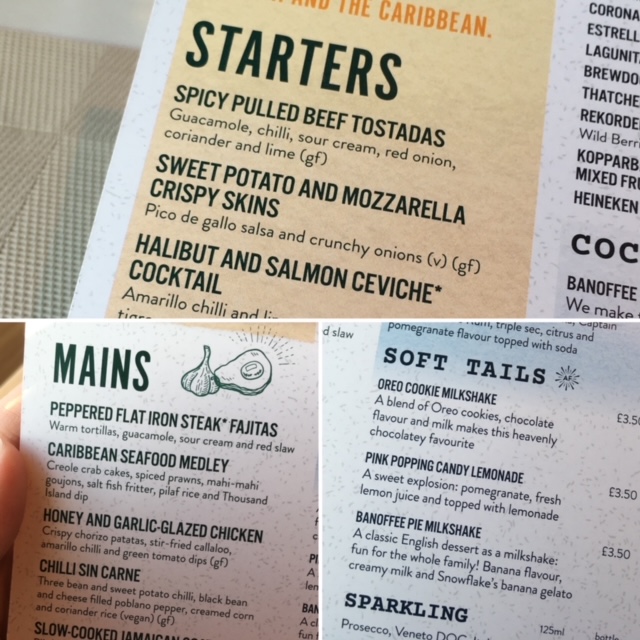 Best vegan meal onboard Iona – the Limelight show lounge
The Limelight show lounge has visiting performers, generally two different artists per week-long holiday. On our cruise, we went to see the amazing drag act La Voix whose show was great cabaret of song, dance and comedy. The show ticket comes with a great three-course meal and this was definitely the best meal all week, though the Sindu Indian meal comes close.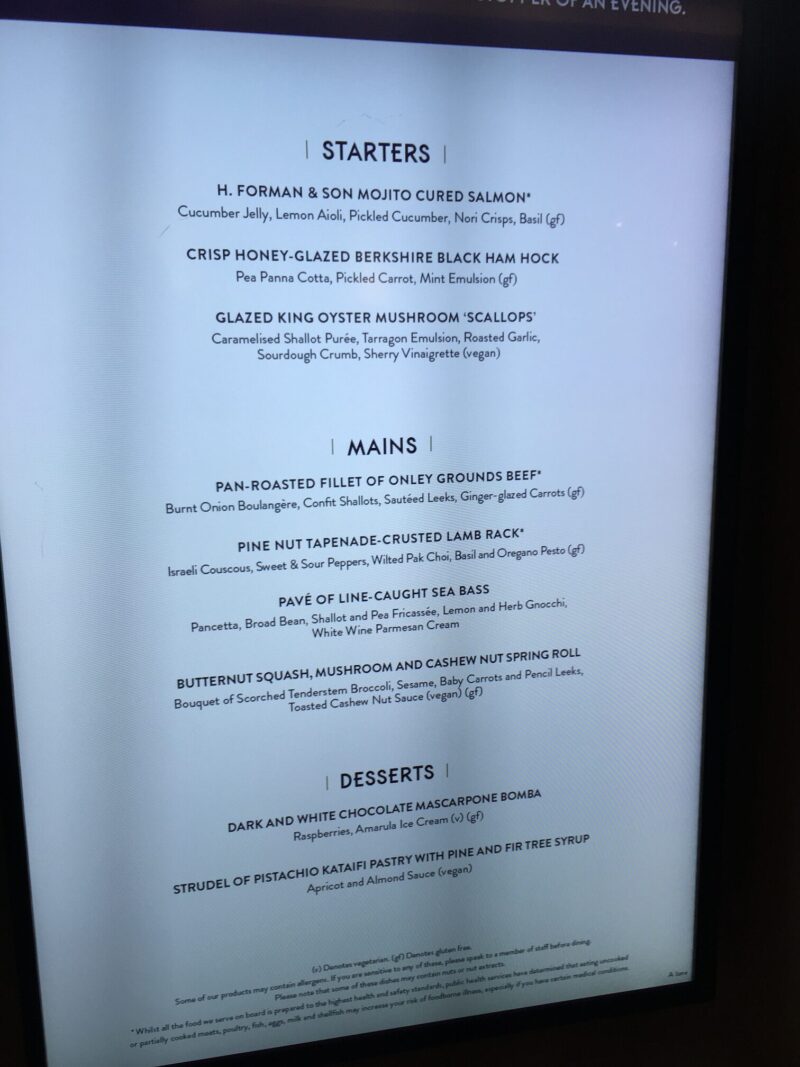 The menu consists of three courses but we also received an amuse bouche: a tasty little Bruschetta. My other courses are as per the menu above, where I had one vegan option for each course. To start with: the Glazed King Oyster Mushroom 'scallops', followed by the Butternut Squash, Mushroom and Cashew nut Spring Roll. Finally, the dessert was baklava style, a Strudel of Pistachio Kataifi Pastry with Pine and Fir tree Syrup.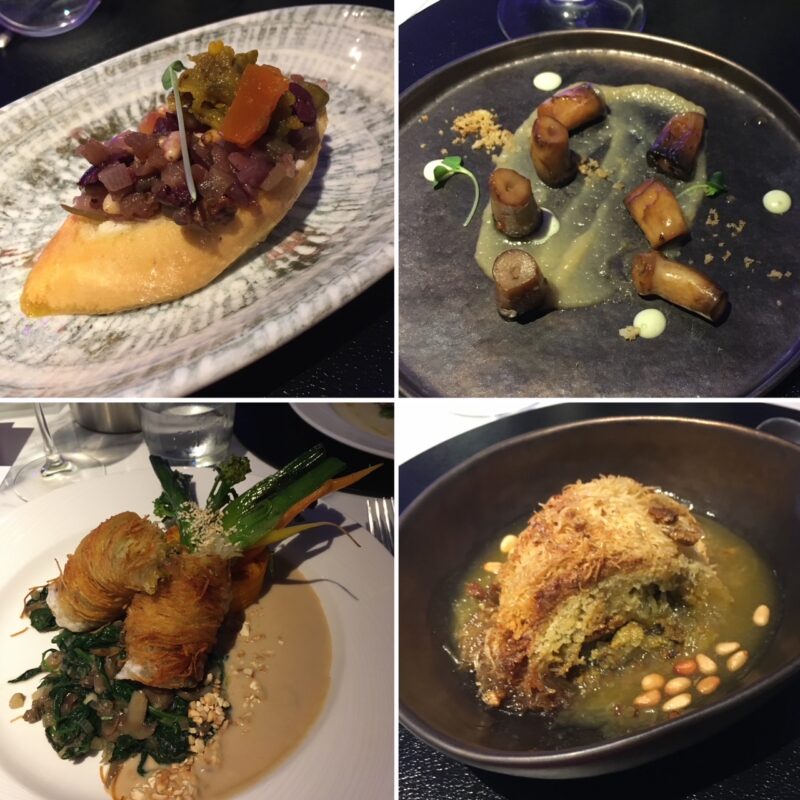 Superb meal and excellent value for approx £25 for the meal & show. You would pay that just for the show on its own if you saw La Voix. You can check your cruise personaliser who the visiting performers are. And if you did want to book two nights and didn't fancy the menu options, apparently you can order from the MDR menu too.
Vegan options in Keel & Cow and Glass House
Yes indeed., there is further payable choice in the specialty restaurants located in Iona's Atrium. There are vegan marked options in both Keel & Cow gastropub and the Glass House, latter being a venue for tapas-style light bites and matching wine pairings. Both venues are a la carte, rather than a set menu like Limelight or Epicurean serve. I had intended to dine in the much-praised Keel & Cow gastropub if I felt the quality of food was lacking in the included venues. But I had it so easy in the MDR, and in other venues, that I did not feel the need to pay for more specialty dining.
Vegan cruising on P&O Cruises UK – super convenient!
Hope all of the above and my earlier post from P&O Iona reassure you of the plantbased/vegan catering onboard. You can cruise and have an easy time onboard. Sure, not to the standard we have on land but in cruising term and compared to most other mainstream brands, P&O have a good offering, whether you are vegan or gluten-free. Allergen markings on menus/tent cards were excellent on our trip. I was so pleased to see vegan cake options in the Vistas atrium cafe each morning – to go with my Costa coffee. The Yuzu torte looked good – I am not a fan of white chocolate though so gave this a miss. But I did appreciate the beauty and the fact it existed for me to enjoy. And there were other cakes far more tempting than this. Some we got free (morning before 11 am with coffee) and others we paid for.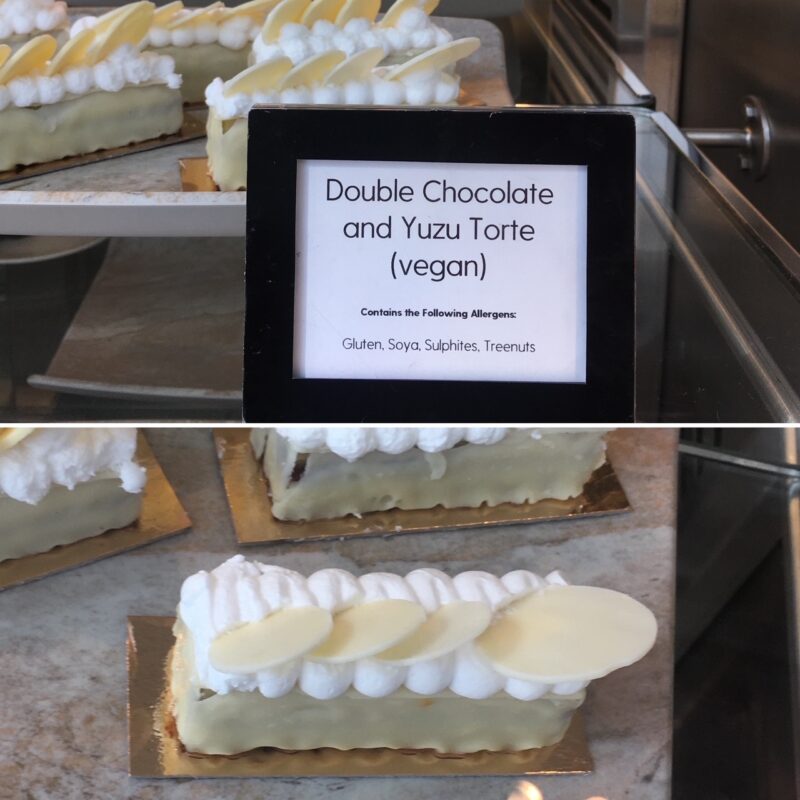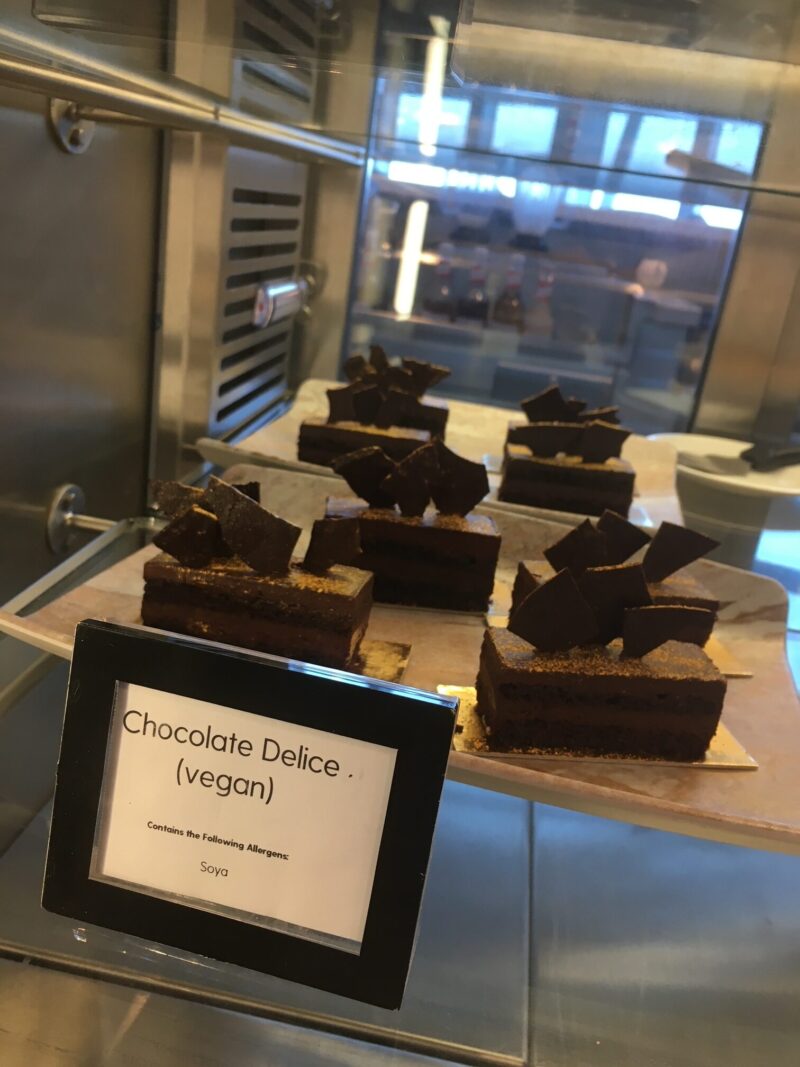 Tempted yet? I sure am, and was to cruise on Iona twice since this review sailing – but have had to move our holiday to a further date. Can't wait to review Iona's newer sister Arvia in 2023! Do let me know how you got on – drop me an email (found here on my blog ) or reach out to me on Instagram or Facebook!