Cabinzero Classic 44L review: My favourite cabin-approved bag for fly-cruises
[Ad – gifted product review] In my travels, I have tried various combinations of different trolley cases and backpacks with a handbag, for the 2 items rule. I liked a trolley at an airport (no carrying) but in the final destination having to manage two cases with wheels (trolley & suitcase) wasn't easy. Most backpacks on the other had weren't big enough for travel purposes, more sports or school bag style. Or were too outdoorsy. But back in 2017 I was given a gamechanger to review: the CabinZero Classic 44l backpack. It was gifted to me in exchange of a review. Indeed I wrote one and four years on I stand by my review. In CabinZero Classic 44L I have found the best cabin-approved bag for fly-cruises. It is lightweight, spacious yet comfortable to carry even when full. And it frees your hands.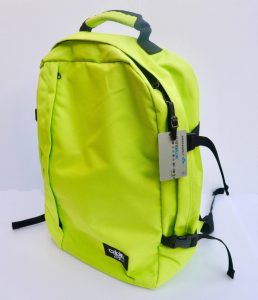 Whether you're jetting off to your annual summer holiday or catching another fly-cruise, a good cabin-approved bag is your friend. Especially as airlines these days charge extra for checked-in baggage. Travelling light with a carry-on only is both a money and a time saver. While everyone else waits for their luggage at the carousel, you can already be out of the doors catching transport to the city.
For me, especially for cruise purposes, a spacious cabin bag is a must. We usually fly into the port on the day of sailing so a change of clothes and few other essentials in a carry-on is the least I want on me in case our cases are lost or delayed. It hasn't happened to me on a cruise yet – knock wood. I have on another holiday found myself waiting for 24h to get my case. Can't imagine the trouble getting a case to the next port if it misses cruise departure.
Also, another cruise tip for you. If you arrive early at the port, you may get to embark your cruise ship around 11 am. Your suitcase, however, won't be delivered to your cabin until much later in the same afternoon. If you want to enjoy the sun on the lido deck, having your swimwear and related accessories in your carry-on will get you to the pool – and to those frozen cocktails – faster.
In the spring of 2017 I was offered a CabinZero Classic 44l cabin backpack to review and as I was heading to Finland I welcomed the opportunity. I always have a bundle of souvenirs to take with me from Scotland and I always struggle for space. Similarly, coming back home I find my Samsonite bursting with local delicacies.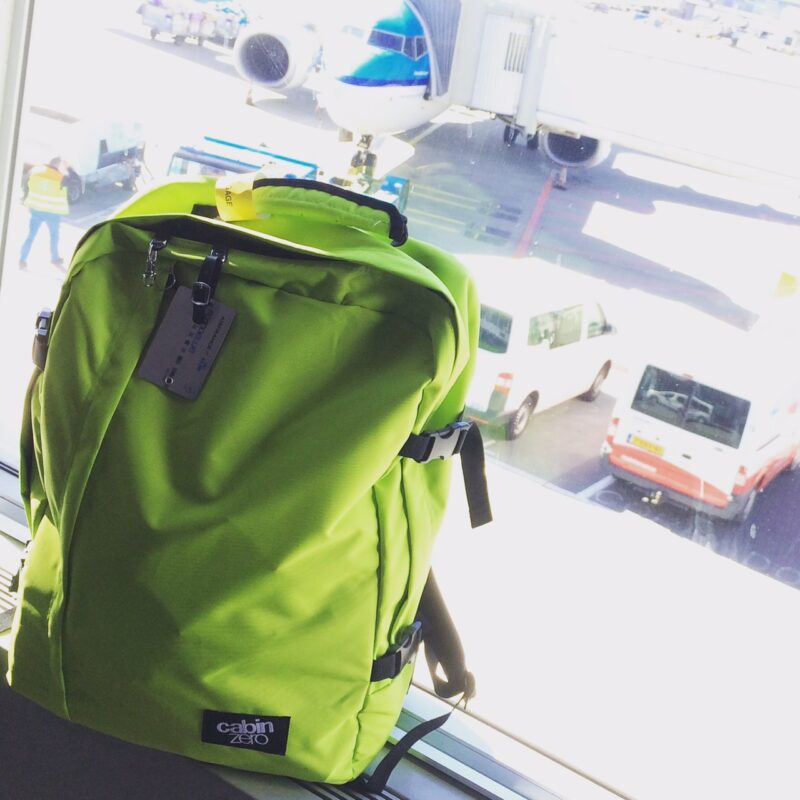 CabinZero Classic: 6 points making it the best cabin-approved bag for fly-cruises
Reasons to love CabinZero Classic 44L?
Reason 1) Comfort of use
Cabinzero Classic range is made of light waterproof polyester and weighs less than a kilogram. The Classic, like the rest of the CabinZero range of bags, comes with strong padded shoulder straps that distribute the weight comfortably. Not having a trolley bag made changing flights/terminals a breeze as it was easier to weave through crowds. At my destination, it was great to have both hands free to navigate doors and public transport with a large suitcase. And because of the padded straps, carrying the weight on my shoulders wasn't a chore.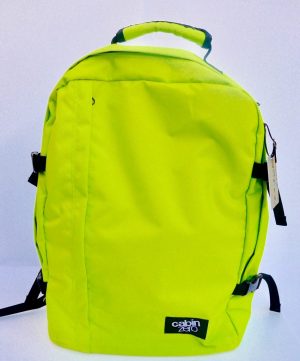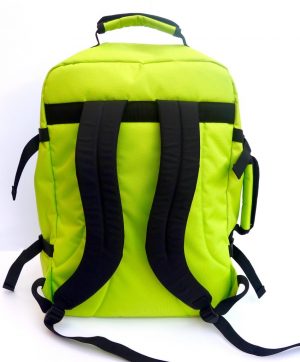 The sturdy main zip of CabinZero classic 44 l opens wide, so I found it easier to pack than my previous 'general use' backpacks. It has both top and side carry handles for when you want, or need to treat it more like a suitcase.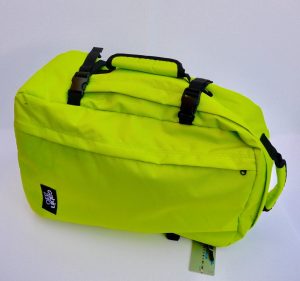 2) So spacious
It has so much space – 44 litres, as the name states. Plenty, enjoyed by my ragdoll Olly too, as seen here.
I am confident the CabinZero Classic 44l is twice as spacious as my former trolley bag. As you can see from the photo below, it is nearly half the size of my trusty old Samsonite suitcaseof 20 odd years. While still being a cabin-approved bag!
Trolley luggage obviously comes in various sizes but mine was purchased to fit the exact measurements allowed by KLM, the airline I fly with the most. The soft canvas structure of CabinZero Classic allows me to use the full volume of the bag, or less when required. The Classic has condensing straps at each side should I need to fit match the smaller carry-on size approved by KLM. I generally find the overhead lockers much more forgiving than the metal-framed luggage sizer at check-in desk so I am now flying with more carry-on baggage than I did before – while still within the allowed weight limit.
3) Security features
The main compartment has sturdy and lockable YKK zips – locks aren't included, though.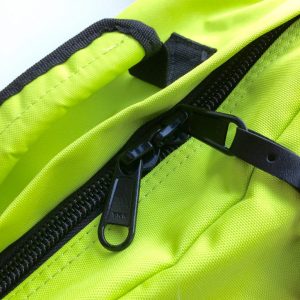 All CabinZero bags come with an Okoban lifetime tracking ID tag (if you register your bag) which will unite you with your bag if it is lost. Okoban is a system linked to the airline WorldTracer system used by over 400 airlines, airport companies, baggage handlers and lost & found offices. Ever so useful if your bag is lost/misplaced as its unique Okoban ID will connect you to it – even if luggage tags were torn off in transit.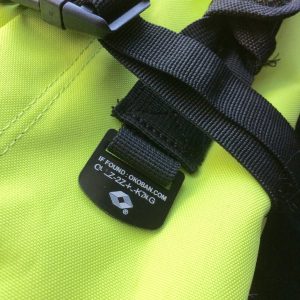 The pocket at the front is the full width & height so it will fit large notepads, magazines etc. I like to use it for my various pieces of paperwork but nothing valuable as this one isn't lockable.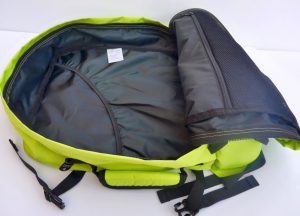 I addition to the one large front pocket there are three more on the inside. The largest is on the base of the bag (against your back). This is an elasticated pocket running diagonally from top right corner to the left. The upper inside of the bag has a shallow net pocket/pouch for easy access. Underneath, there is a similarly sized zip pocket for more secure storage.
I liked my CabinZerol Classic so much that I purchased a smaller 28 litre version of it in bright red. Which leads to my next point!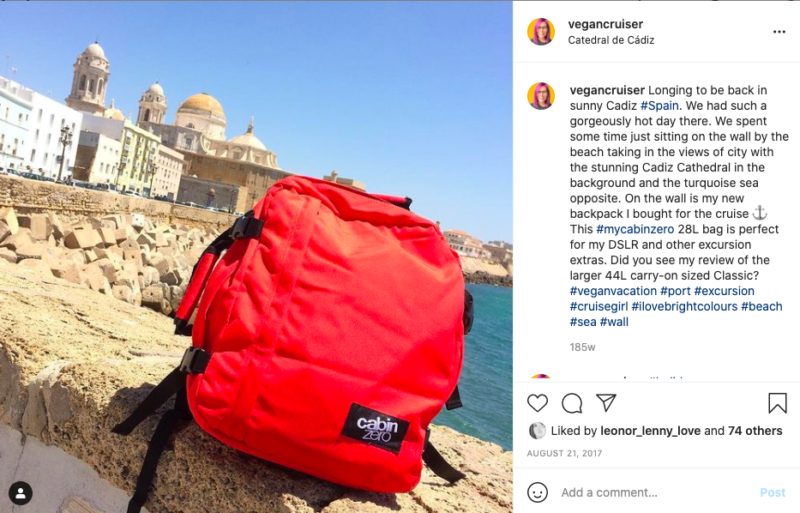 4) Colour pop!
I was given a bright lime Galactic Green bag to review which I adore, as I like colours that pop. I find it also helpful should I ever check it in, as the colour makes it instantly recognisable. If you find the colour a bit too much, fear not, the Classic 44L is available in 23 different colours to suit all tastes. There are limited edition prints also. Check their website for the full range of colours and sizes, including packing cubes.
5) Extended warranty
Other good things I discovered after using my bag: All CabinZero bags come with a 10-year warranty, upgraded to 25 if you like them on Facebook.
6) Socially responsible business & product
I was pleased to discover that Cabinzero is a small UK-based socially responsible company. Work is not carried out in sweatshops and they inspect the sewing factories used themselves. The importance of product quality and safety, and limiting the environmental impact of their operation are also addressed on their site.
The final verdict ?
From the above you can gather I am very pleased with my CabinZero Classic 44L. I was a fan after the initial use but four years on I still rate it as the best cabin-approved bag for fly-cruises and other travel. And I pair it with my travel handbag for extra carry-on only space.
Back in 2017 Mr Vegancruiser felt he would've preferred more pockets inside the 44L to secure loose contents. This never crossed my mind as I wouldn't expect to find those inside a suitcase either. Although, the CabinZero Classic 28L bag in red (which I bought myself) has another zippable version of the open net pocket found inside the 44L bag. Has there been a change in design or is my 44L bag faulty, I do not know. Not having many pockets (4) is no issue to me though. Why?
Normally I use a medium-sized hanging Neatpack toiletry bag on my travels which comes with various compartments. I also pack a jewellery-roll type organiser for small tech I carry (chargers & cables, power bank). And we use packing cubes, naturally.
I found Cabinzero Classic 44l great for space for the both of us, sometimes too spacious for just one person so I bought the smaller Classic 28L for solo weekender use. The old wheely trolley bag? That has gone to a charity shop. In CabinZero Classic 44L I have found the best cabin-approved bag for fly-cruise holidays… and other travel.
See you at the pool, mine's a strawberry daiquiri.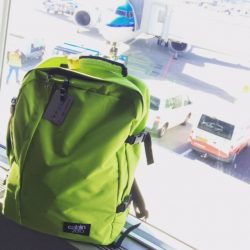 CabinZero Classic 44l in numbers
Weight: light – approx 750g
Volume: 44 litres
Dimensions: 55 cm x 40 cm x 20 cm
Disclaimer:
I received the Cabinzero 44l Classic as a free PR sample. I was not paid for my review. All of the above is my own work and my honest opinion of an item gifted. I was so happy with the product that I purchased another one, and continue to use both items many years on (have proven to be durable too).