5 tips for a successful vegan cruise holiday
As vegans, we have become accustomed to navigating through life by eating out at a few trusted venues. That often leaves us wondering where we can go on holiday and be able to find vegan food, especially if we travel with omnivorous friends and family. Although Berlin and Glasgow are both vegan-friendly destinations great for a city break, we all need a week in the sun sometimes. If you saw my last two posts, or have seen my blog at all, you already know my answer to the question of what to do for a sunny holiday. Cruising isn't just for old people, after all. But how to proceed? You've decided to book a cruise – what next? Here are my 5 tips for a successful vegan cruise holiday.
My tips for a first-time vegan cruise holiday
1) Do your research and pick the best match.
Ships, like resorts, attract different clientele. Itineraries vary too. Maybe you want to be out every day exploring fabulous Mediterranean cities likes of Barcelona or Florence for their history, architecture and food. If you are a sun worshipper, a cruise spent island-hopping in the Caribbean and enjoying tropical beaches will be your thing. Look at the ship and its facilities too – smaller older ships won't offer as much entertainment as the new bigger ones. They certainly won't be as impressive in decor and facilities. Just as with any land-based holiday or a restaurant visit, consider all options. Instagram is great for finding information on what kind of vegan meals people are provided on different ships.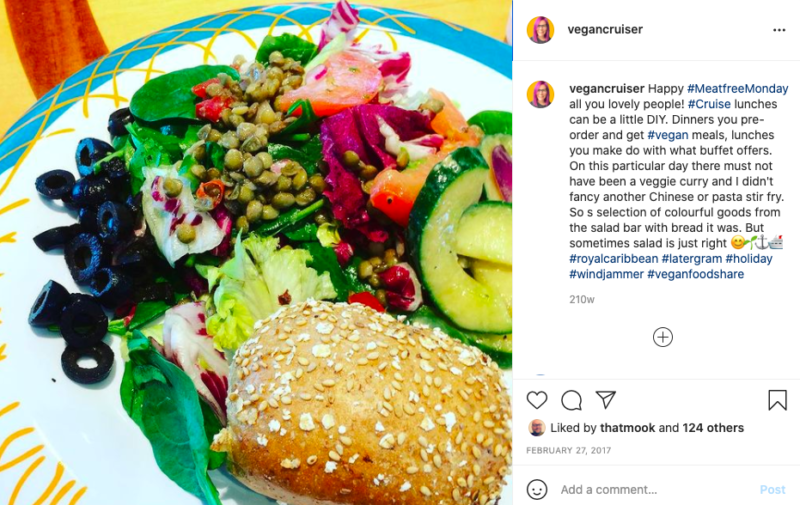 You may be travelling with family or partner who isn't vegan and you need to look into vegan-friendly cruise lines. Once you have decided the time of the year and area you want to cruise in, check what the cruise line website says about dietary requests. Do not be put off by the lack of a mention of vegan diet. Most cruise line kitchens will adapt their vegetarian menu items for you or create new dishes for you if menu items cannot be adapted. A couple of cruise lines even have vegan menus onboard for you to order from, while your travel partner orders from the regular menu. Just see my earlier post on vegan-friendly cruise options for more information.
2) Notify your cruise line about your dietary need ASAP
When you have decided on which cruise line & itinerary (and not a special vegan cruise), make sure you tell the cruise line that you're vegan and pass on any allergy information they ought to know. Do so as soon as possible. Even if you book with a cruise travel agent (which I do recommend, but that is another post altogether), I would recommend a personal e-mail query on vegan provisions, rather than your travel agent leaving a comment on your booking.
Some cruise lines ask for notice as much as 90 days in advance. They will have a team to handle special requests e-mailed in. Most will offer soy milk as your plant-based alternative for tea or coffee. Few, such as P&O will have several plant milks, but it is always safer to put in a request. Find out if the cruise line offers vegan spread, as it can be hard to come by. Once you know what they can supply that is vegan, you can then utilise tip number three to fill in any gaps. I even request copies of wine lists and drink brands to see if those are suitable for vegans, as detailed in a blog post here.
3) Pack accordingly – bring in some vegan goods
Once you know what basics the cruise line serves you can plan your usual vegan carry-on extras. I have a sweet tooth so I always pack some treats with me: gummy sweets, some dark chocolate and always some vegan cookies for coffee. Vegan tube or two of Pringles for Mr Vegancruiser. Two bottles of vegan wine (or more, if the cruise line allows).
For all of my cruises I pack a small tub of vegan spread, cheese and Vbites sandwich slices into a cooler bag and into my checked baggage. These can be kept in the cabin minibar fridge to take to breakfast in the buffet. No standard cruise line has ever served me vegan deli meat for sandwhices, cheese is a rarity and often finding vegan spread can be a problem too. Always best to bring a small tub with your. Do check if your cabin has a fridge, as not all ships offer them, and it may come handy.
A vegan-friendly cruise line will provide vegan dining options, but you will find that toiletries (if provided) are of some random hospitality brand. Least I have ever been met with in the cabin was a bar of soap. Many cruise lines have shower gel and shampoo dispensers on the wall, some may supply small bottles of products.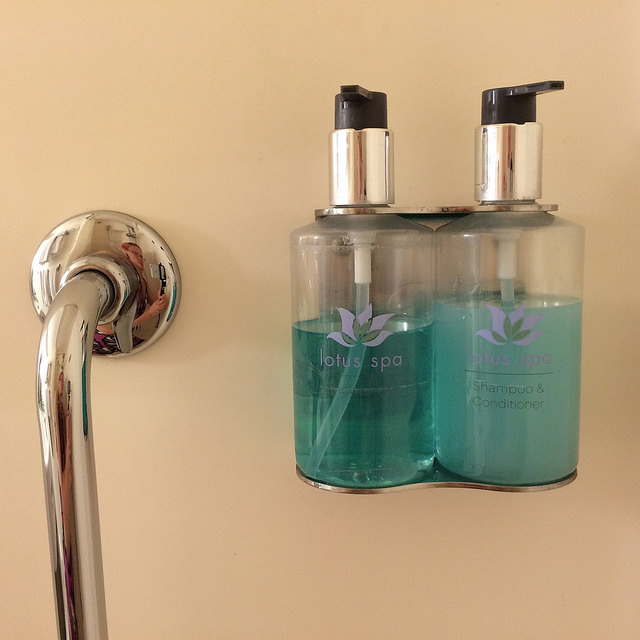 I have never contacted a cruise line in advance to find out, I prefer to take my own vegan products in small travel bottles. However, I recently came across a photo on Instagram detailing Leaping Bunny-certified vegan products on Celebrity Cruises ships by TheVioletEagle. Good to know!
4) Be vegan savvy on your days on port
When you make your booking you will know what ports of call your cruise will call at. This will allow you to plan ahead and use the Internet to your advantage. HappyCow website and app on your mobile will lead you to vegan-friendly establishments in most ports. HappyCow was my lifesaver on a cruise where vegan desserts consisted of fruit and sorbet – I used the app to find a bakery in Corfu which sold amazing vegan baked treats, including baklava. See my post here. And although we were served great desserts on our Princess cruise last summer, we still used HappyCow to call at Green Bear Coffee in Marseille to get some lush vegan chocolate fudge cake and good coffee when in town.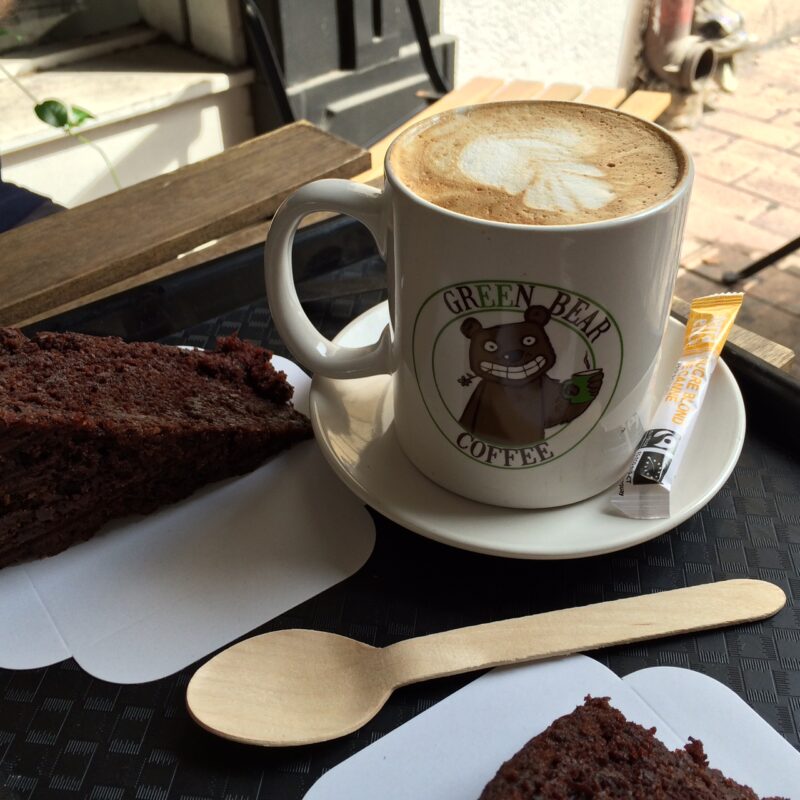 5) For ultimate dining peace of mind – book a vegan specialist cruise sailing
For ultimate comfort and ease, book one of the specialist vegan cruises. Each year there are a few specialist vegan departures in the US that are part-charters on major cruise lines. Set vegan menus are in place so you won't need to liaise with dining room for your meals. There are vegan speakers and other events onboard by the organisers, but you can partake in all the regular entertainment too.
For closer to home, there is a number of fully vegan European river cruise sailings available each year (with complimentary vegan toiletries onboard). There even had week-long ocean first in September 2017 – an all-vegan ocean cruise. This was from Tilbury near London to Norwegian fjords. Everything onboard was vegan. Plus they had some guest speakers onboard too, such as Dr Michael Greger, the author of How Not To Die. Recently the Facebook/YouTube famous Macka B (have you seen him rhyming about cucumber) was added to the line-up of guests. I missed it as I was out of the country that week but there is another all-vegan ocean sailing on the Baltic in 2019! See more on this Vegan Travel charter cruise here!
You've got my five tips for a successful vegan cruise holiday – make the best of yours!
I hope the above five tips will help you to choose the right cruise for you. Being vegan is not a barrier to having a wonderful cruise holiday. With some planning and research (blogs, Instagram) you will find helpful information from other vegan cruisers. Facebook forums are useful too – such as VeganCruisade. You can ask any questions about cruises, be it ships, ports or excursions. A good cruise specialist travel agent will guide you to the right holiday. The rest – the enjoyment, is up to you.
Any questions? Please comment or send me a message!
Yours,
Sanna