10 Reasons why I love to cruise – and why I think you would too!
Ten Reasons Why I Love To Cruise…
…even though I'm under the average age of UK cruiser. But let me tell you why I think younger people, groups of friends or couples especially should give cruises a try.
Recently a fellow travelblogger Travelshopgirl shared a blog post by another blogger under the name of Wanderabouts called 'The Top 10 reasons why we LOVE to cruise'. It caught my eye and must have done the same for Travelshopgirl as she proceeded with her own 'top 10 reasons to cruise' post. That prompted me to write my ten – but I could probably write a lot more 😉 And if you are a cruise blogger or a cruise fanatic I challenge YOU to share your own top ten reasons and tag me in your post or tweet – ready, set, GO!
10 reasons to cruise
1) Every night on a cruise is a date night
On self-catering resort or city holidays we do eat out but do end up doing a lot of our meal prep – which involves going to the grocery store. You take the items to your temporary home, prep or cook them and end up with the dishes to do at the end. Not a hallmark of a relaxing, luxurious holiday – just the stuff you do at home, every day.
On a cruise, however, even if you have been exploring the port in casual/sporty gear, each night you get to dress up* for wonderful dinner prepared for you – no cooking involved. And it is not just the dining that makes a cruise nights special…but the fact that dining is followed by live music in the various bars or theatre shows, comedy shows and dancing in the night club after. Date night. Each night. That is a #win 🙂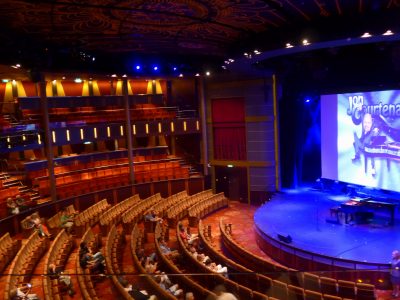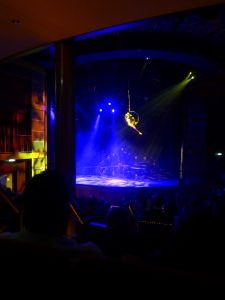 *we don't do fully formal (ballgowns, DJ/tux), just smart casual or formal-lite for me. You won't find us on Cunard ships which rather rigid with their dress code. Celebrity's Evening Chic is more us or Royal, MSC, Carnival or even Princess.
2) Cruise holidays are fantastic value
Linking to the first reason of having 'date night' dining every night – cruises are great value for considering all the dining options you have with your partner! Plus most cruises are full board, some even fully AI including the cost of drinks. Buying a self-catering package holiday may look cheaper at first, but once you add the weekly resort spend for grocery shopping and dining/going out, cruises are excellent value. Even if a drinks package is not included in your cruise fare, investing in one means not to worry about the spend onboard – everything's paid in advance. (Unless you want to shop, use spa, buy photos etc – but your meals are included and depending on ship/cruise line at times room service is included too)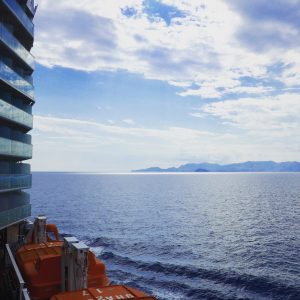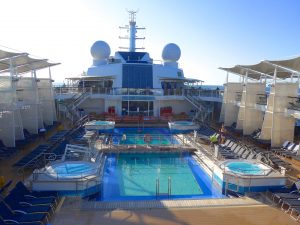 3) Seeing many places over one holiday
I love being able to visit various ports in many countries over one holiday. It's a great way to sample places – having spent a day in port in Florence I now know it is both gorgeous and very vegan-friendly, so am looking forward to visiting it later. True, you can visit many places over a holiday but with cruise holidays there is no need to unpack/pack and travel between locations. Instead, you visit many places from one base, your ship. This compared to a resort holiday where you are in one spot a week and after a few days you have seen everything there is.
4) Cruises are such comfortable & luxurious ways to travel
Cruising a convenient way of travelling – not just what I said above but stuff like your suitcases are delivered to your room from the check-in at the port. There is room service. A wonderful cabin attendant who keeps the cabin in order. If only I had one to keep my home as neat during rest of the year!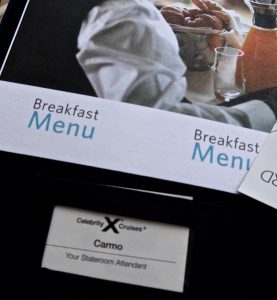 5) The many small extra touches that make your holiday special
Since I mentioned the lovely (and hard-working) cabin attendants – I must not forget the towel animals they treat the passengers with 🙂 This may be childish of me but they do cheer me up.

6) A wide range of dining options on offer – so much choice!
Cruise ships offer a wide choice of foods from all over the world – a range of venues, menus and themed nights. Main dining room, specialty restaurants, coffee shops, ice cream bars, buffet restaurants. Food glorious food – when you want it. You don't need to do 'set' dining unless you want to.
7) Cruise ships cater for dietary needs
And since we're on the theme of food – cruise ships are used to catering to customers' wishes, so dining with allergies/intolerance and related diets not a problem – even vegan food can be found. Princess especially were amazing with their MDR food (desserts too!) and MSC's Bora Bora buffet was wonderful for vegan choice.
8) The seas
The fabulous views onboard these beautiful ships – so calming. Gorgeous blues of the seas. So mesmerising, so addictive that I think this might just need to go up to be the top reason for me to cruise.
9) The beautiful ships themselves
Gorgeous ships, fantastic decor anything from Swarovski stairs to art displays all over the ships, quirky lifts with wanderlust-inspiring messages.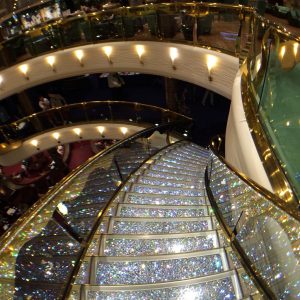 10) Cruise holidays have so much to offer – no place for boredom!
Ships have a range of facilities for sea days.. or while in port if you wish: spa, pools and jacuzzis or waterparks for those who wish to splash. Some ships have climbing walls and surf simulators, zip-lines or skydiving simulators. Lots to keep you active, if that is what you wish. Very few hotels or resorts have everything a ship offers. But perhaps all you want is to relax, and there are so many options – like the spas I mentioned. My last post was on one of these cruise spas, have a look
My last post was on one of these cruise spas, have a look here!
If you like my cruise pictures, follow me on Instagram for more @
Vegancruiser
🙂 Never miss a post, sign up for my mailing list on the left!