Mia Tui Matilda Mae handbag review – vegan and fabulous!
(Contains an affiliate link at the end of the post) Some of us girls collect shoes. Some of us are into jewellery. Others, like me, amass handbags. As you can imagine, this issue got complicated when I went vegan. I could no longer in good conscience use my designer bags or any other leather ones I had in my collection. So, I had a clearance and was faced with the problem of finding great vegan alternatives. Good spacious vegan ones even, as I can't cope with a 'toaty wee thing' that has room for a purse only. Very few brands are openly vegan-friendly, made with faux leather and colours. And spending ages in stores reading small labels stitched into interior lining is tiring. So imagine my joy when I discovered the Mia Tui brand of handbags Jane McDonald uses on her travel show is vegan-friendly!
(Do check out her cruise show on Channel 5: Cruising with Jane McDonald).
When an opportunity to review some Mia Tui products came up, I grabbed it with both hands. How would they lend to travel and what did I think of them? I got offered two to try and I took the smaller one, the navy blue Mia Tui Matilda Mae with me to Boston for our week-long city break.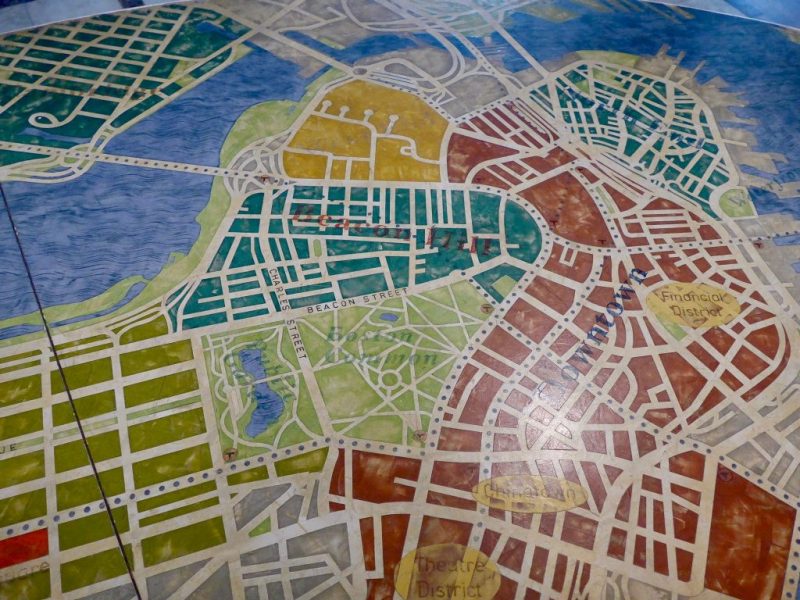 Mia who?
But before I get on with my review, who are Mia Tui? Like me, you may not have heard of them until recently (thank you, Jane!). They are a British brand, launched in 2010 when the owner/creator Charlotte decided that someone should do stylish but practical handbags for travel and everyday life. She was living in Vietnam at the time and teamed up with a local friend, Van, who still manufactures the MiaTui bags for her. And like I mentioned already, all of her range is made of quality faux leather so suitable for vegans – hurrah! It's refreshing to come across a brand who openly state so.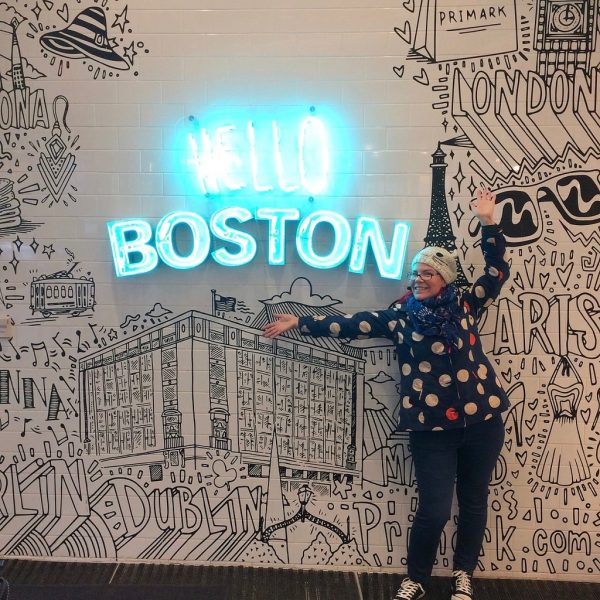 Mia Tui Matilda Mae review:
After my week I can say that Matilda Mae is a great bag for city travel/use. It can be carried on the shoulder like a traditional handbag. It is just compact enough to fit under the arm for safety in public transport – not that I ever felt unsafe on Boston public transport. The adjustable strap also allows it to be worn cross-body as well, freeing hands when you need to – say for photography.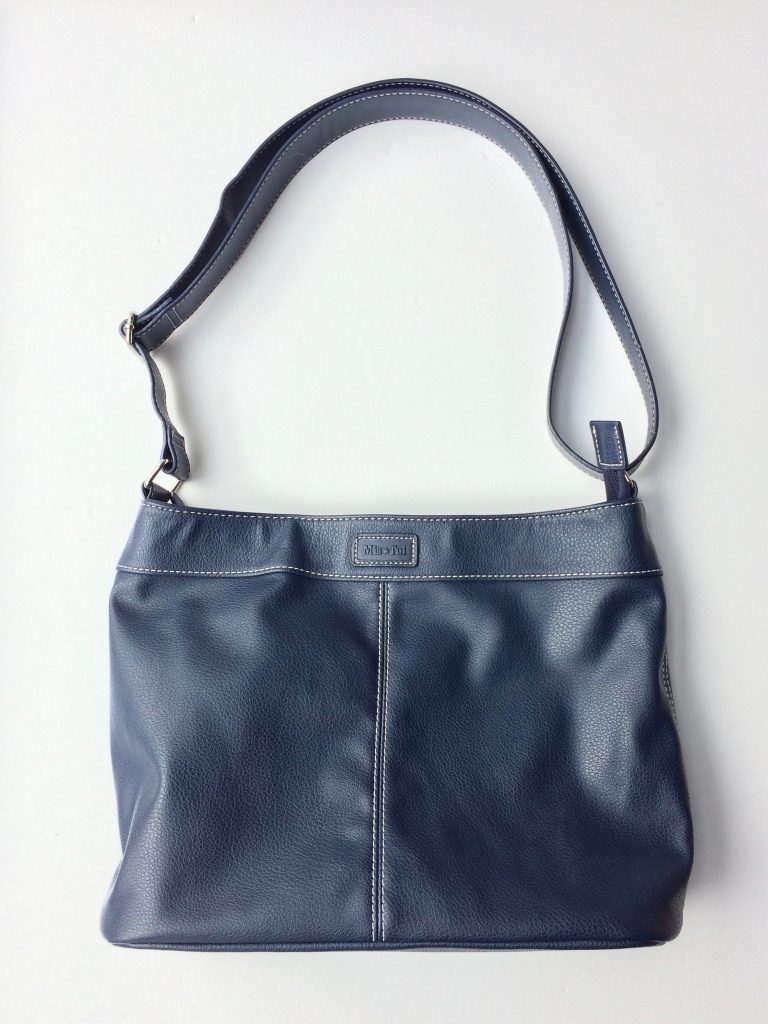 I'm a big fan of the bright turquoise interior as it makes easy to locate items in the various pockets/features of the bag. I'm no longer digging for loose things at the bottom of a black-lined bag.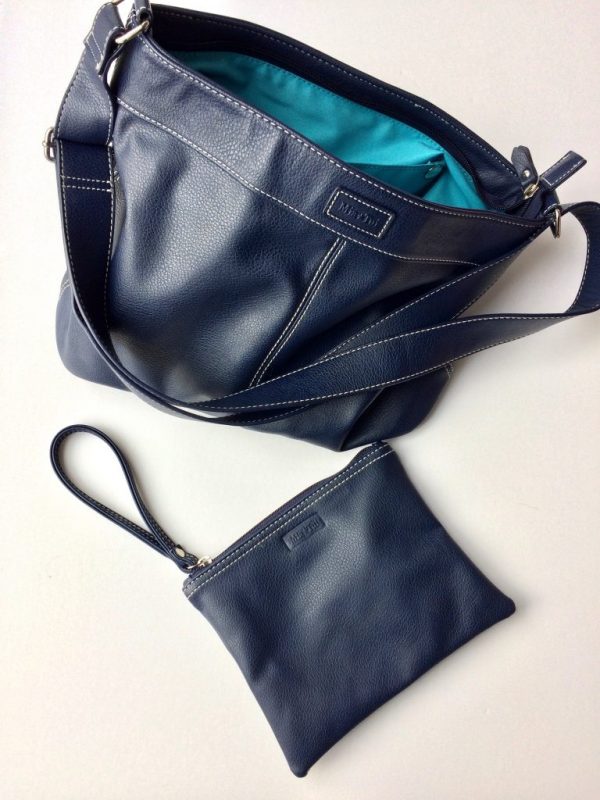 There is an insulated bottle holder inside the bag which is great for keeping your water upright – though on our Boston trip I usually ended up using it an umbrella holder. Works either way! And for Scotland, I can imagine it will hold a brolly more often than a bottle of water…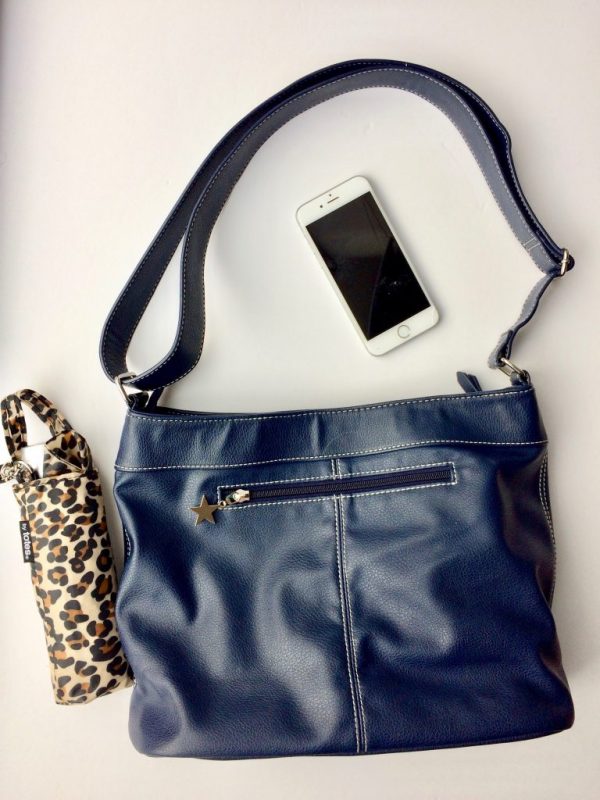 The bright interior has pen pockets, which were useful as we had landing cards and other documentation to fill over the course of the holiday. Next to the pen pockets, there is a separate mobile phone pocket. On the opposite side is an expanding interior pocket which houses a matching faux-leather clutch bag. There is key clip on the inside too, to use to secure your keys.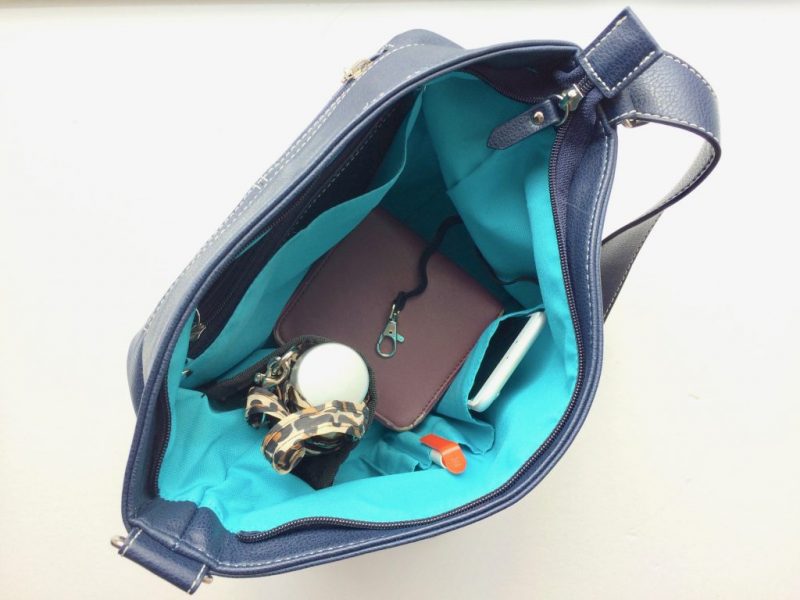 While flying over to the US, the accompanying clutch kept my passport and boarding cards conveniently together and within an easy reach. While in Boston I used the space for a folding shopper as I like to avoid taking plastic bags. If these interior features aren't enough, Matilda Mae has a third exterior pocket, a zip closure with a cute star-shaped pull.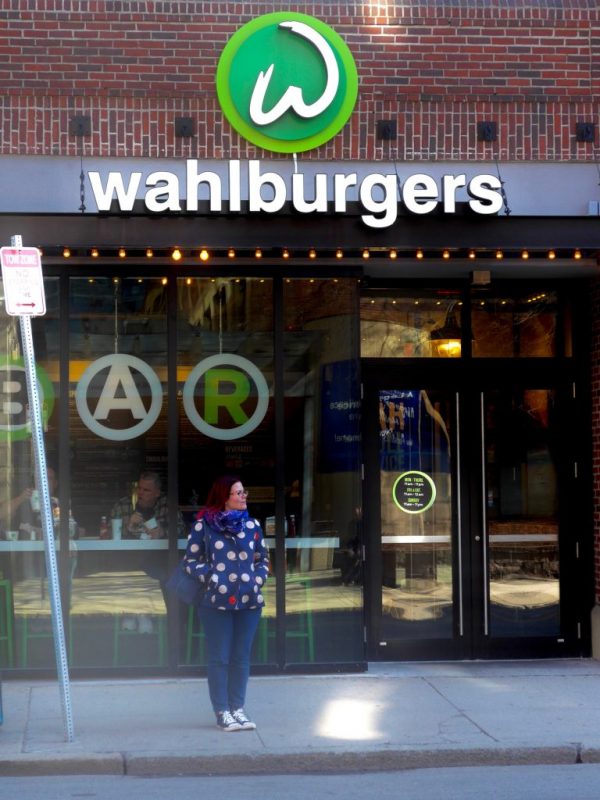 As for the exterior faux-leather, am a big fan of the feel of it (strong, but soft) and of course I am a fan of the navy blue colour. But if blue isn't to your taste, the Matilda Mae is available in a
range of colours
that should match most tastes and outfits.
Aside from matching my nautical themed cruise wear, the navy blue works well with blue denim.. and I'd like to think it matched my blue spotted Boden winter jacket at least. But am not a fashion blogger, so what do I know…
Post-holiday thoughts:
I wasn't sure at first how I would get on with Matilda Mae as at home I normally use a larger tote-style bag. It is a testament to its practical design that our week in Boston convinced me to downsize and I've now retired my
large vegan tote
into the wardrobe.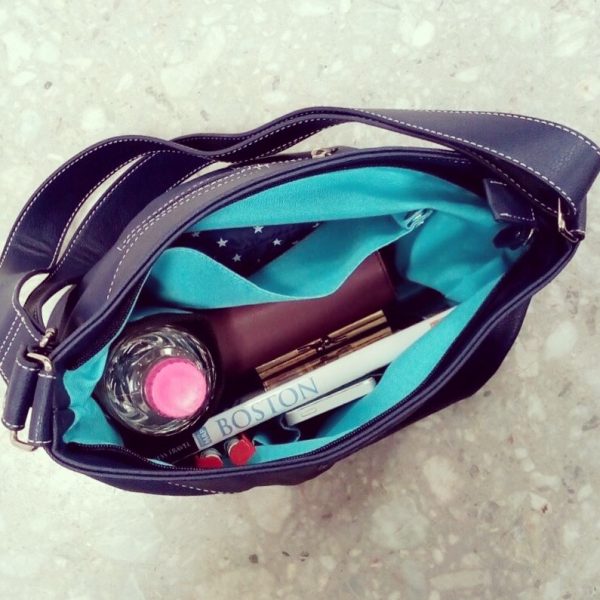 I found that Matilda Mae is spacious enough for my everyday essentials. The bright interior makes it easy to find items in it and the pockets keep me organised. The key clip that stretches has especially been a lifesaver. I used to hunt for my keys at the bottom of my bag but now I know they're secure in my bag. The clip stretch actually allows me to use the house keys without unclipping them.
Bag for cruising?
I love the fact the shoulder strap extends so I will be taking Matilda on cruises too, as I like a cross-body bag for excursion use. Matilda Mae is just large enough to fit my DSLR camera too – provided I don't take any extra lenses with me. The small wristlet clutch bag will also be useful onboard for carrying essentials around in the evening when going to dinner (phone, Seapass card etc). Most dresses don't have pockets so the wristlet clutch will come handy.
Vegan-friendliness of Mia Tui:
As I said earlier, very few brands actively promote their range as suitable for vegans. It's refreshing to see Mia Tui do so, in fact, allow me to quote their website.
"Our bags are made with the highest quality fabrics and we do not use any animal based products throughout the whole Mia Tui range, so [they are] suitable for Vegans."
Mia Tui do not just do useful handbags. Their range includes backpacks, purses, toiletry bags and organisers, neat folding shoppers & travel bags. The designs also include baby changing bags and mats for parents. For those who need clips to secure their bag onto a buggy or a wheelchair, Mia Tui also have clips to go with their range – ensuring everyone can enjoy their products.
See the full range of products by clicking on the logo below – link is an affiliate link that may earn me 'recommend a friend' bonus points on my own Miatui account. You too can sign up this fabulous programme and when your friends make purchases, you too can earn points towards further purchases!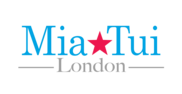 (This is not a paid-for, sponsored post – I was gifted a Mia Tui Matilda Mae for review purposes. My opinion is truthfully mine, as always, based on my experience of the product.)