First vegan anniversary – One year of compassionate living
First vegan anniversary..
…aka my year of eating probably more burgers than I previously did, replacing leather handbags and hanging out with pigs.
On February 28th I reached my first year as a vegan – oh how time flies!
I had just made the change to vegan when I wrote my bio for this blog – but how do I feel now? Pretty darn good, I must say! My first vegan anniversary has come around quickly, though. So, has it been a hard year being vegan? Honestly, no. Our supermarkets and our restaurants (here in the UK) offer so much vegan choice these days. You just need to know what is there to find it. Even cruise ships cater for us vegans – but you know that already if you follow my Instagram account or this blog of mine.
In the last 12 months I haven't faded from lack of calories, protein or vitamins, in fact, I may even have put on weight for all the lovely vegan food I have discovered…and all the cakes. Burgers. Even vegan black pudding for a weekend fry-up breakfast. I am so blessed to be living in Glasgow that has such good vegan dining options and retail stockists.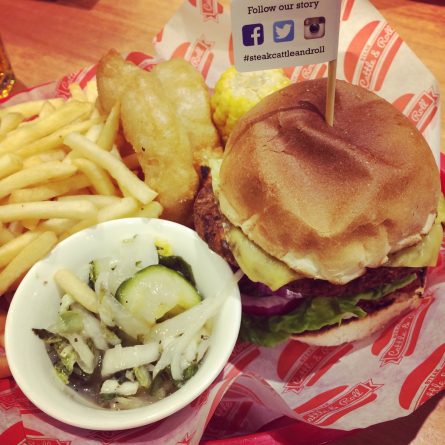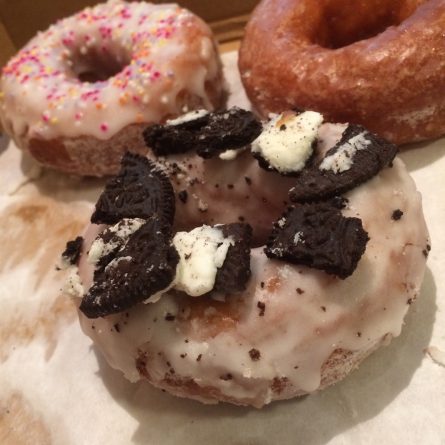 For the animals
Knowing what a difference I have made in the last 12 months by reducing animal suffering just warms my heart. Immensely. I didn't know animal testing still took place – so moving to vegan & cruelty-free options (mine mostly from Superdrug) just had to be done. If you want to know more, I've linked to a helpful blog post by CrueltyFreeKitty updated for 2017: a guide to cruelty-free beauty & make-up brands. Household cleaning items can be tested too, so same applies. Shop smart for cruelty-free.
But cruelty doesn't end with animal testing. It was clips like 'Draw My Life' that educated me on dairy industry practices. As someone who has been medically diagnosed as lactose intolerant since primary school, I didn't consume much dairy in my pre-vegan days but everything went out once I knew about the story to milk. Thankfully there is a wide range of plant alternatives out there to enjoy instead. If you don't know what to use – ask a helpful vegan, like me.
Knowing that I've saved lives by leaving meat, eggs, and dairy off my plate is a great feeling too – it may seem almost impersonal but I can recommend visiting an animal sanctuary to help with that. The decision to go meat-free feels more real when you've just cuddled a cute, curious pig who wants head rubs just like a dog would. Here's me with Huwy. The other, pink short-haired piggy with better teeth is Rosie (on the banner photo).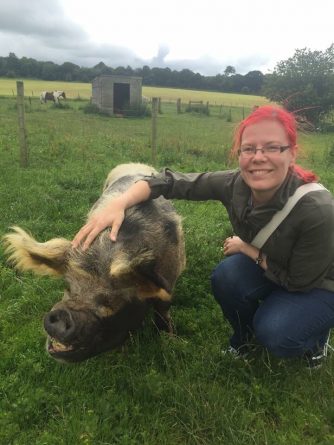 For the environment
I'm also excited about the positive environmental benefit my lifestyle has had – after all, it was the initial trigger for me to make a change. Environment, what has that to do with eating meat? Check out Cowspiracy the film for more info on the global warming effect that modern agriculture has on our planet – link above should take you to a YouTube version of it.
For my wellbeing – surprisingly
And there is a benefit I had not even considered when I made the change to veganism – improved health for me. I wish I'd had a baseline for my cholesterol taken last year but my numbers must be much lower now 12 months later. What I do know is that my systolic blood pressure has dropped by nearly 20 points and my heart rate has slowed down too to a 'fitter' figure. Better heart health is a welcome bonus – I hope it leads to more years in the future.
I've noted a change in my menstrual cycle too – hardly a surprise as I no longer consume animal hormones in my cow's (breast) milk or in cheese or meat. I may not be able to tell the difference in my blood pressure but I do know I feel physically better in my body. My gut is much happier with a vegan diet – I wish I'd made the change years ago! No more digestive discomfort, cramps, gassy bloating from dairy or constipation from dead animals stuck in my herbivore digestive system. Sorry, a graphic choice of words but had to be said. There is a reason why the plant-based diet works for us humans.
That does not say my gut-friendly vegan diet is always sugar-free and healthy. It can be. But on my vegan anniversary day, it clearly was not. We got some amazing doughnuts from a nearby vegan sandwich house, Kind Crusts. They do fabulous pastries too – as you can see here.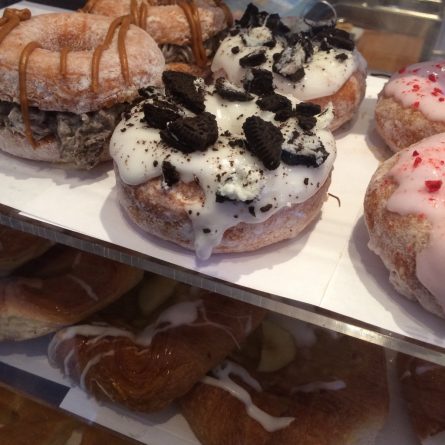 And since I am a handbag addict, MrVegancruiser treated me to a fancy new vegan one by a Dutch designer Denise Roobol to mark this special occasion. I like it especially for the fact it reminds me of an old-school doctor's bag. Her site has lots of lovely pieces… but I must resist.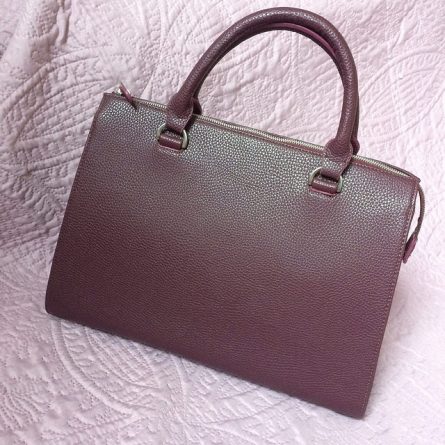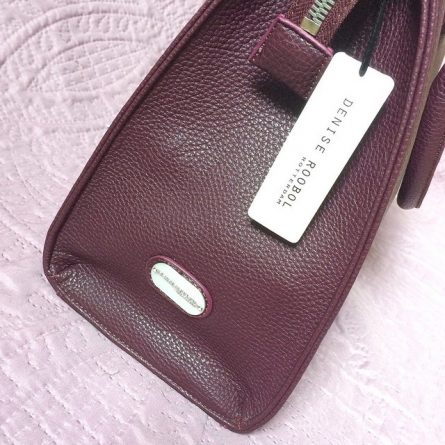 It has been a good year. Good year for me with three vegan cruises but even better for the approx 200 animals* that didn't lose their lives for me.
You could try it yourself – living vegan is not as hard as you may think.
*as estimated by PETA
Find me on Pinterest too for more travel tips!