Celebrity Cruises vegan menu surprise on Equinox – Been removed in 2019
This post was originally shared at the start of January with much excitement on my behalf. Celebrity Cruises are known for their good food and beautiful ships – but they haven't always had the best reputation for catering for vegan guests. Certainly my one experience left a lot to be desired. But we are drawn to their beautiful ships – show me a person who doesn't appreciate the Lawn Deck found onboard the Solstice class ships. Celebrity are also known for healthy options too, especially in the Aqua Class restaurant BLU, and for having a separate vegetarian menu for guests. But things appeared to be changing for vegans onboard Celebrity Cruises fleet. Health And Travel Guide first reported on the vegan options in early 2018. I was pleased to share with you a guest post review from a fellow vegan cruiser, the lovely Lisa. She sailed vegan onboard Celebrity Equinox in the summer of 2018 and she kindly shared her experience with us. With great photo evidence of both menus and the dishes she was served in 2018.
Unfortunately, soon after publishing this post it came to my attention that Equinox was no longer offering this menu to their vegan guests, who had booked the ship expecting it. Why such a backwards step from otherwise so forward-thinking company? I approached their customer service team via social media and received this following response/information.
I am happy to see that you are interested in Celebrity Cruises and the vegan options we have for our guests. I spoken with the executive chef aboard the Celebrity Equinox. He has advised that we do not have a sample vegan menu to provide. However, he did advise that when vegan guest sail they try to have a meeting with the guest so that they can prearrange vegan options throughout the cruise.
Obviously, I was disappointed to hear the above and made my point about making the experience of vegan guests worse by removing this separate menu. I received a further reply from the team.
We believe listening to our guests is the most effective way to create the best possible sailing experience. Therefore, we are truly grateful that you have taken the time to share your thorough assessment of our Vegan menu options. Certainly, it is disheartening to learn of the disappointment with out policy regarding Vegan meals. In reviewing your detailed feedback, we recognize that there are opportunities for us to improve. Your feedback with be shared with our dining team.
The hoped I would return but certainly considering my day visit and the poor food, I remain hesitant still. Considering sister brand Royal Caribbean has a few ships in the fleet who serve a vegan menu, it is odd Celebrity hasn't responded to the growing vegan trend. Meanwhile, I will continue to mourn the demise of this excellent menu and wonder where the staff member responsbile has moved to – perhaps another Celebrity ship? Do report if the same menu appears on a different ship!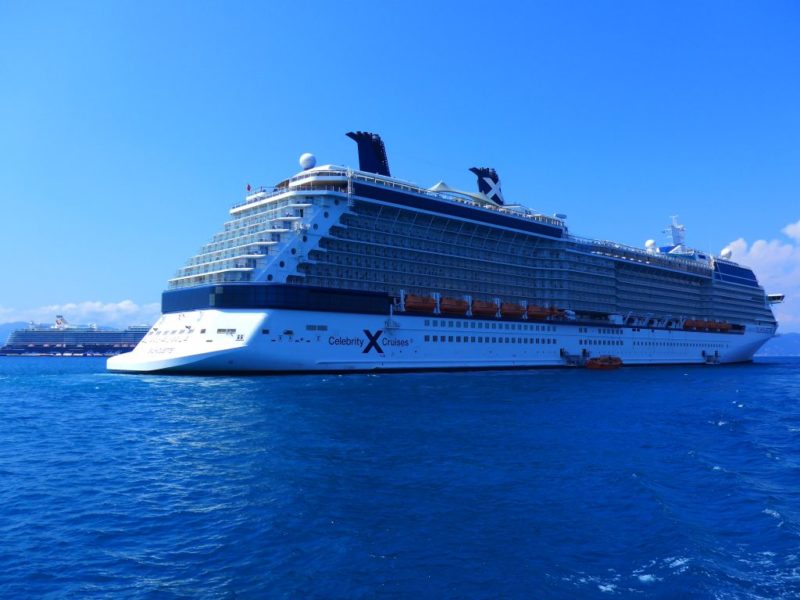 Celebrity Equinox surprises with vegan menu options
"Hi there, my name is Lisa. I'm from beautiful Northern California and have been eating Vegan/plant-based for 9 months. Since, I have been on two cruises, my latest being on the Celebrity Equinox, sailing from Miami, FL to the Caribbean Islands.
This was my first time sailing on Celebrity, therefore I had no idea what to expect. While booking my cruise, I made sure to have my travel specialist (from Celebrity), indicate on my reservation that I was vegan. However, she did not confirm whether they would be able to accommodate my diet or not. Based on my last experience sailing on Princess, I assumed I was not going to have many choices, especially in the dessert department. Therefore, I brought with me a couple of my homemade cookie bars, just in case I had a sweet tooth. Once on the Celebrity Equinox, I did not meet with the maitre'd, nor did I receive any information in my cabin to say the galley crew was aware of my dietary needs. (As you do on Princess, or some other cruise lines – Sanna)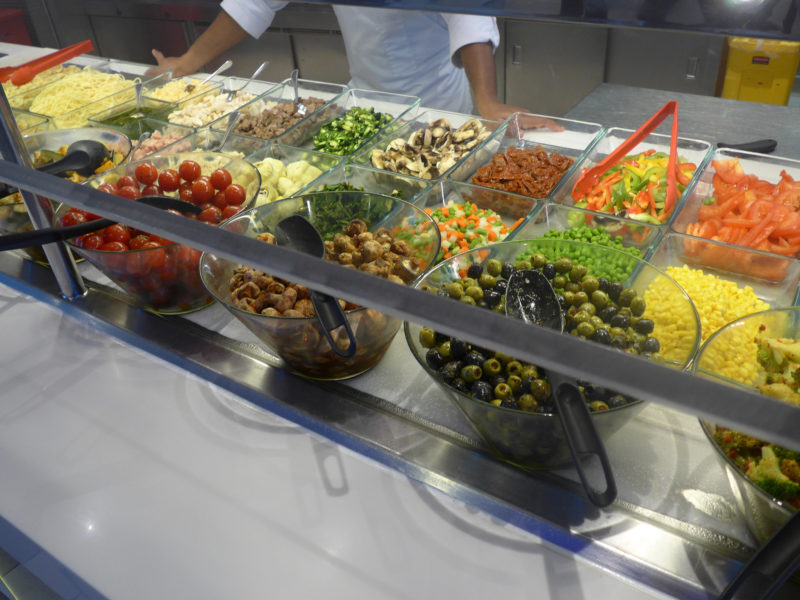 My first meal was lunch at the 'Oceanview Cafe' buffet. As with my last cruise, the choices there were limited. However, I did see the potential of putting a few things together to make it work. The buffet offered few build-your-own stations: taco, sandwich, pasta and a salad stations. By taking ingredients from these different stations I was able to make a better meal for myself. For example, adding guacamole from the taco station to a sandwich with veggies from the sandwich station. I could also grab beans from the salad bar for a protein-packed pasta dish. However, when it came to dessert, all I could find was sorbet. They did have a few different selections of it, however, I am not a sorbet girl.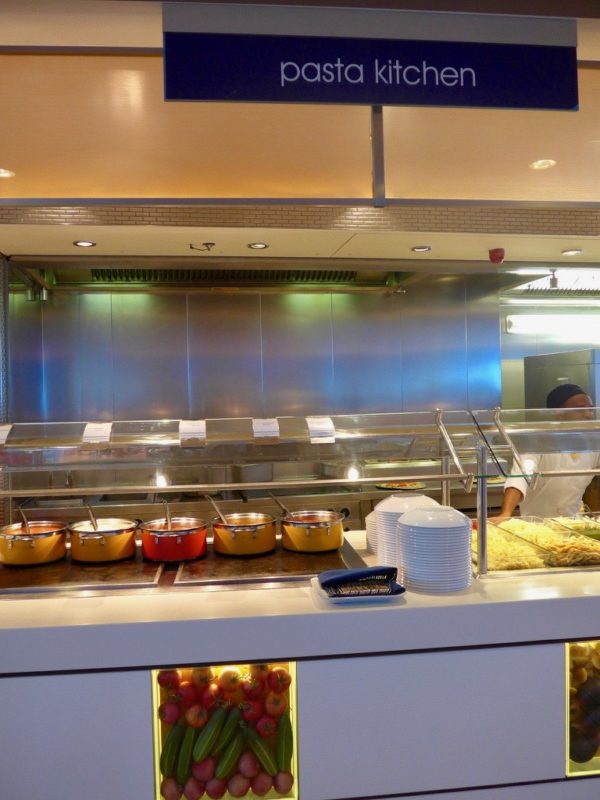 For dinner, I figured I'd have better luck at the Silhouette main dining room (MDR). I went in remembering other vegans telling me they'd been able to order from a vegetarian menu. I figured with that, I could ask staff to veganize items I wanted to eat. Once seated, I asked if they had a vegetarian menu. To my surprise, I was presented with a 3-course Celebrity Cruises VEGAN menu! I was in total shock and smiling like a kid in a candy store!
I had appetizers, soups, and main entrees to choose from. Yes, there were 2 choices in each category!!! For each of the seven evenings, I was presented with a different 3-course vegan menu. In addition, though not on the menu, a special vegan dessert was prepared each night. I was surprised with each dessert offered at the end of my meal.
On my 2nd night aboard the ship, I finally asked if there was a vegan menu for lunch at the MDR as well. My waiter went to ask the chef and came back with a few day's worth of menu items. Apparently it's available, however, you'd have to pre-order them. I did so for one lunch during a sea day. It was three courses, with no dessert option.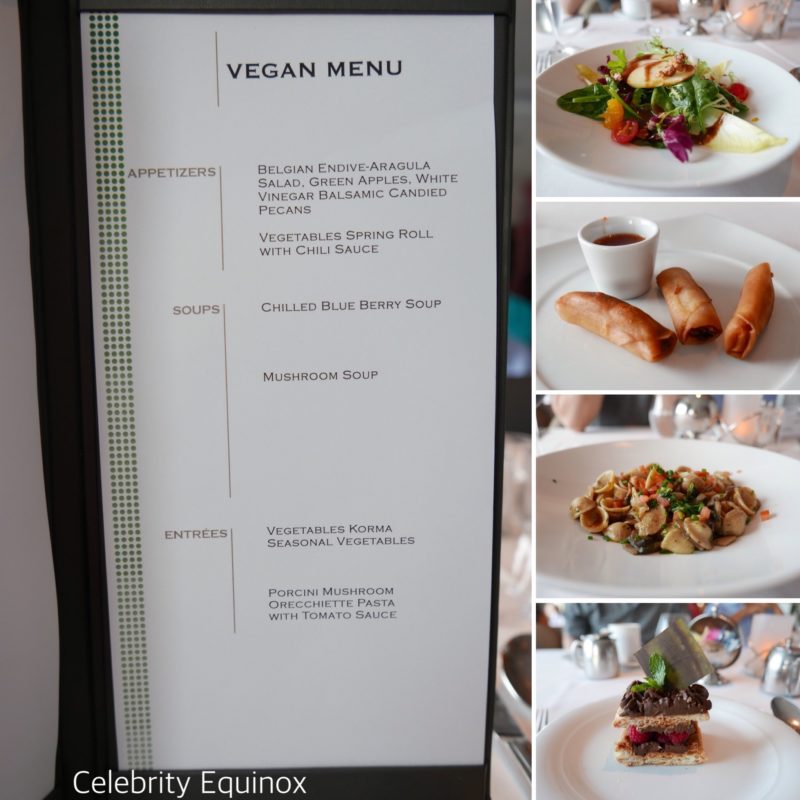 On most days, I ate at the buffet and was happy with the Indian dishes, Southeast Asian dishes, cheeseless pizza, and the vegetarian burger with no cheese, etc. The food was fine at the buffet, but nothing to write home about.
Breakfast was the one meal with the least amount of choices for me. Based on my last cruise experience, I ate at the buffet rather than in the MDR, hoping for more options. For the most part, I had baguette slices with peanut butter, fresh fruit, crispy fried potato hash browns, oatmeal, or an English breakfast with grilled tomato and mushrooms. To my liking though, there was a spread of non-dairy milk (soy and almond) available for self serve in the mornings for coffee or tea.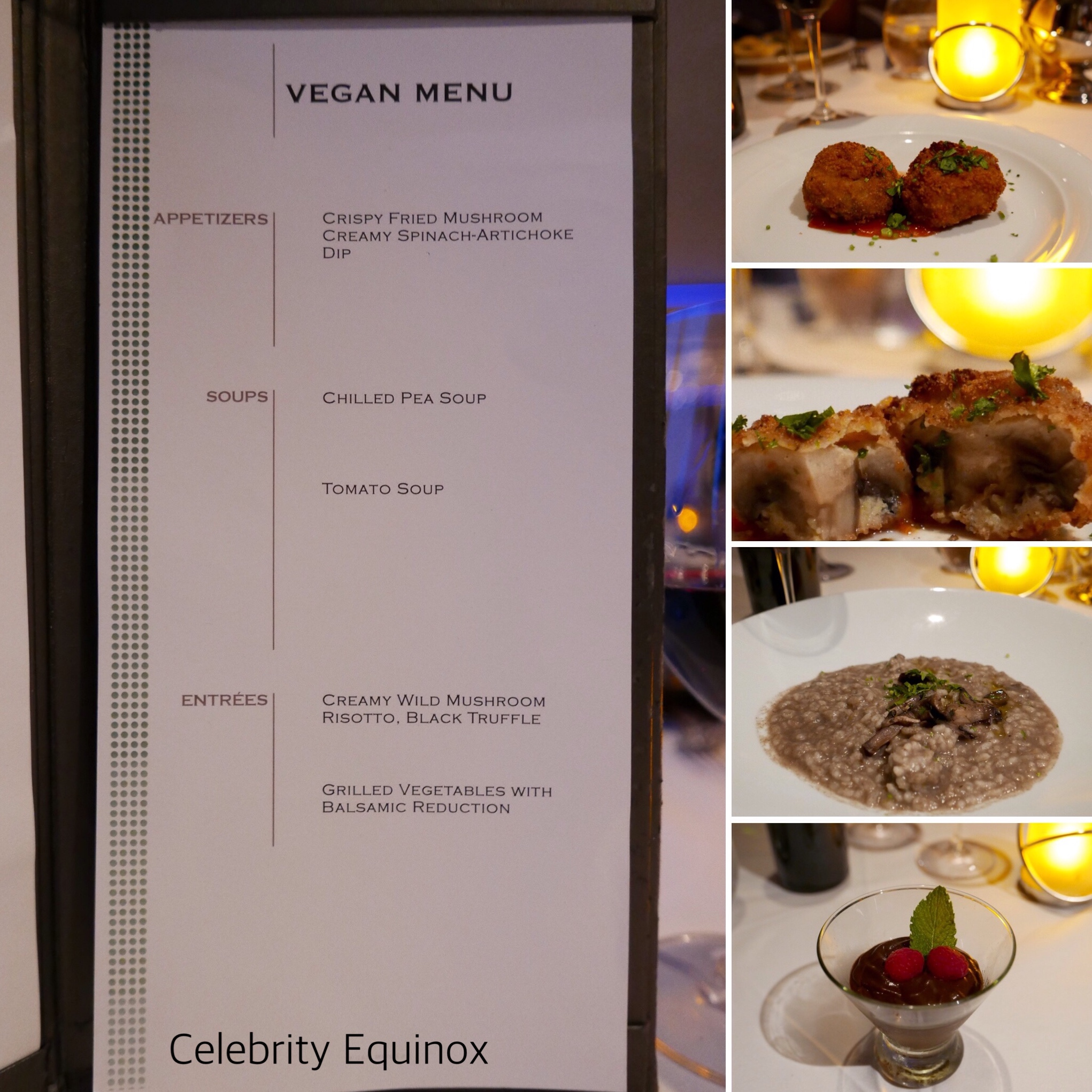 After reading so many negative reviews and having low expectations for having decent vegan meals on the Celebrity, I came out a huge fan of the company. The dinner options were anywhere from average to above average in taste. I went in hoping to use the opportunity to lose a couple of pounds, came home to find I did not. Oh, and the cookie squares in the fridge that I bought on the ship… my kids ate them."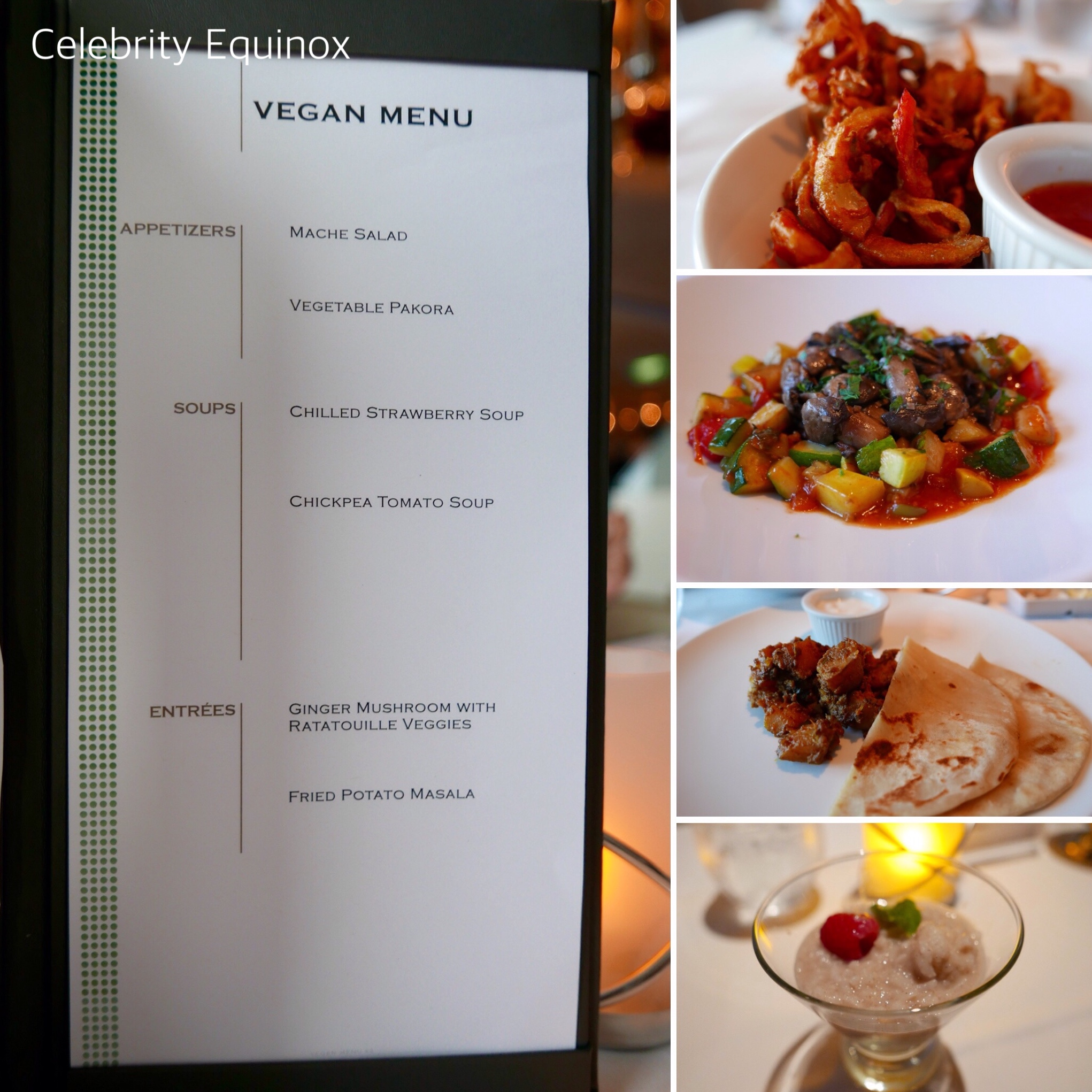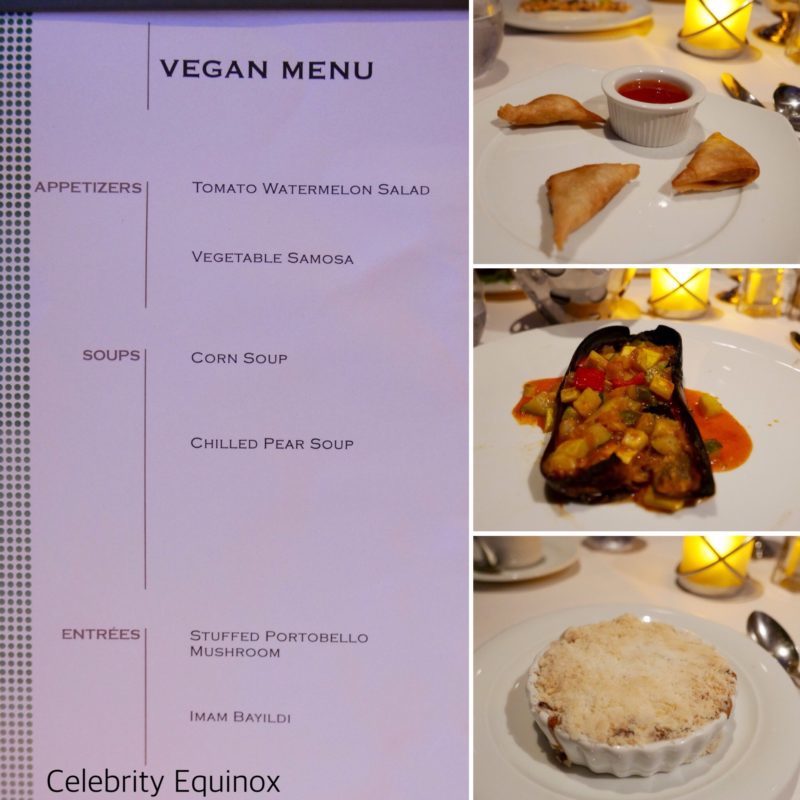 Hope you enjoyed Lisa's review and the excellent images of MDR menus and meals. It has been so exciting to see this welcome change and plant-based options available onboard. I am definitely now curious again about sailing with Celebrity – certainly, the brand new ship Edge has piqued my interest. If you are going on Celebrity Cruises soon or have been, please do share your vegan dining Celebrity experience with other readers of this blog! Let us know if the other ships in Celebrity Cruises fleet are as good at catering for us vegans.