Best way to see German Christmas Markets – my first ever river cruise on the Rhine
It's that time of the year when heavy, sweet stollen and chocolate lebkuchen appear in our stores. Our own cities and town put up Christmas markets to mimic the continental practice. But none are quite as charming as the German kind. No wonder many of Brits flock to the continent to experience a piece of this tradition. But what better way to see continental Christmas markets than river cruise? I just got back from mine – my first ever river cruise. The ship was tiny in comparison to their ocean cousins but definitely a fab way to see the world. Every day at a new Christmas market – one you couldn't reach with an ocean cruise ship. Let me give you a quick guide to getting to Basel, and to your cruise port – and naturally, our ship & itinerary to inspire you to book something similar for next Christmastime. Or any time of the year – as rivers are there to be enjoyed all year round!

From UK to Basel, Switzerland
Regional flights to fit our Basel river cruise were, unfortunately, infrequent and poorly timed. So instead of direct service, we picked a regional British Airways flight with a London Heathrow overnight layover. This may seem expensive, but a budget hotel at LHR was cheaper than staying overnight in Basel itself pre-cruise.
The Basel Mulhouse Freiburg Euroairport (BSL) is small and easy to navigate. The name is long for a reason: it serves three nations & cities: Basel in Switzerland, Mulhouse in France and Freiburg in Germany. The Euroairport itself is located in Alsace region in France – though Basel in Switzerland is only a short 20minute bus journey away. Interestingly, each of the nations it serves has its own customs and exit – so pick the right one for quick access to beautiful Basel!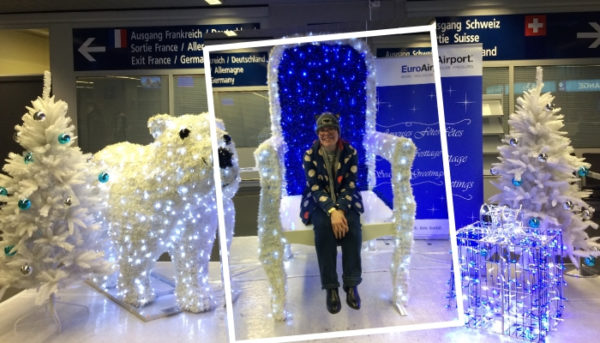 Easy, fast & affordable transfer to Basel
Follow the signs from baggage reclaim and exit right for Basel/Switzerland. You'll find the green airport bus service no 50 just outside the terminal building. The service is clean, frequent (8-15min intervals) and offers excellent value with ample luggage space. Tickets can be purchased from the vending machine at the bus stop – you can choose English as the language if German or French escapes you. Two zone ticket is required to reach the city (4.70 CHF at the time of our travel, approx 4.17 EUR). Automated announcements onboard the airport bus are also in made in English, about bus stops and connecting routes available.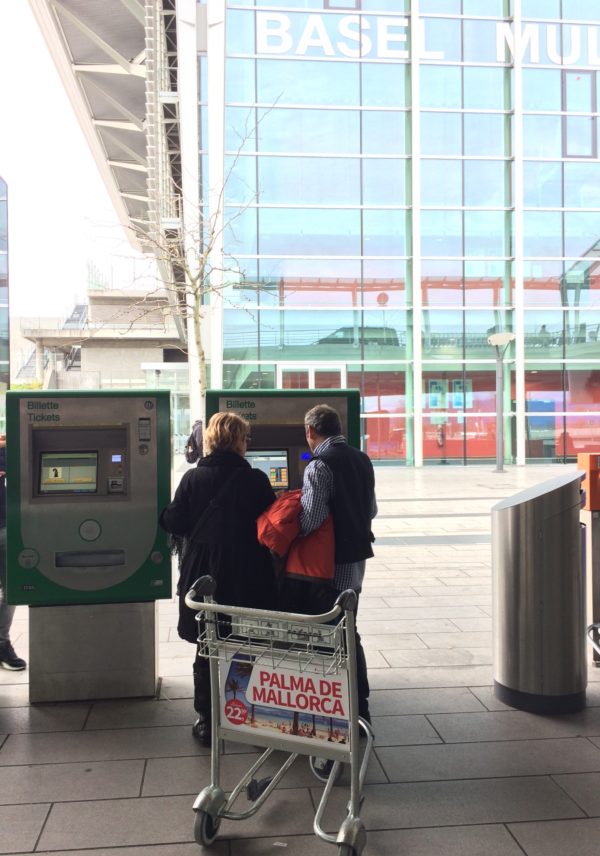 As our ticket covered two city zones, it had two-hour expiry. This conveniently meant we were able to use our tickets to reach the cruise port. BVB, the local transport operator has this helpful map of their bus & tram network online to guide you – the expiry time and the cost of the ticket varies depending on zones purchased, see more info here.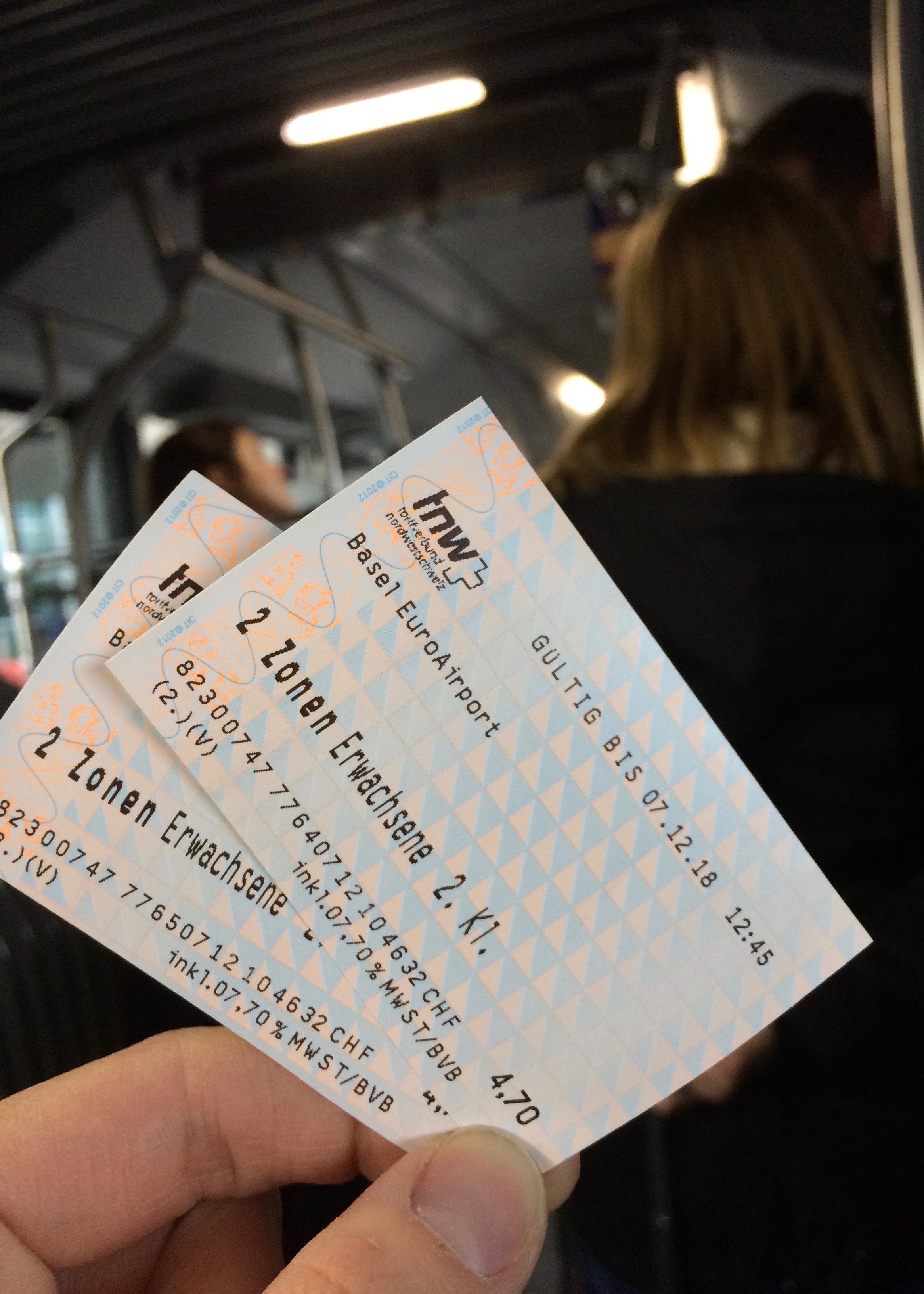 From Basel SBB railway station to river cruise ports & back
The Euroairport bus no 50 will drop you off right outside the SBB, Basel main railway station. Several local connections depart right outside. Our initial confusion was caused by the travel documents issued to us, which referred to number 8 bus to reach our port. Yet, we could only find a tram. Perhaps something was lost in translation (German to English) but a helpful staff member from Basel Tourist Information on duty outside the SBB station assured us that there definitely is NO bus no8, just the tram.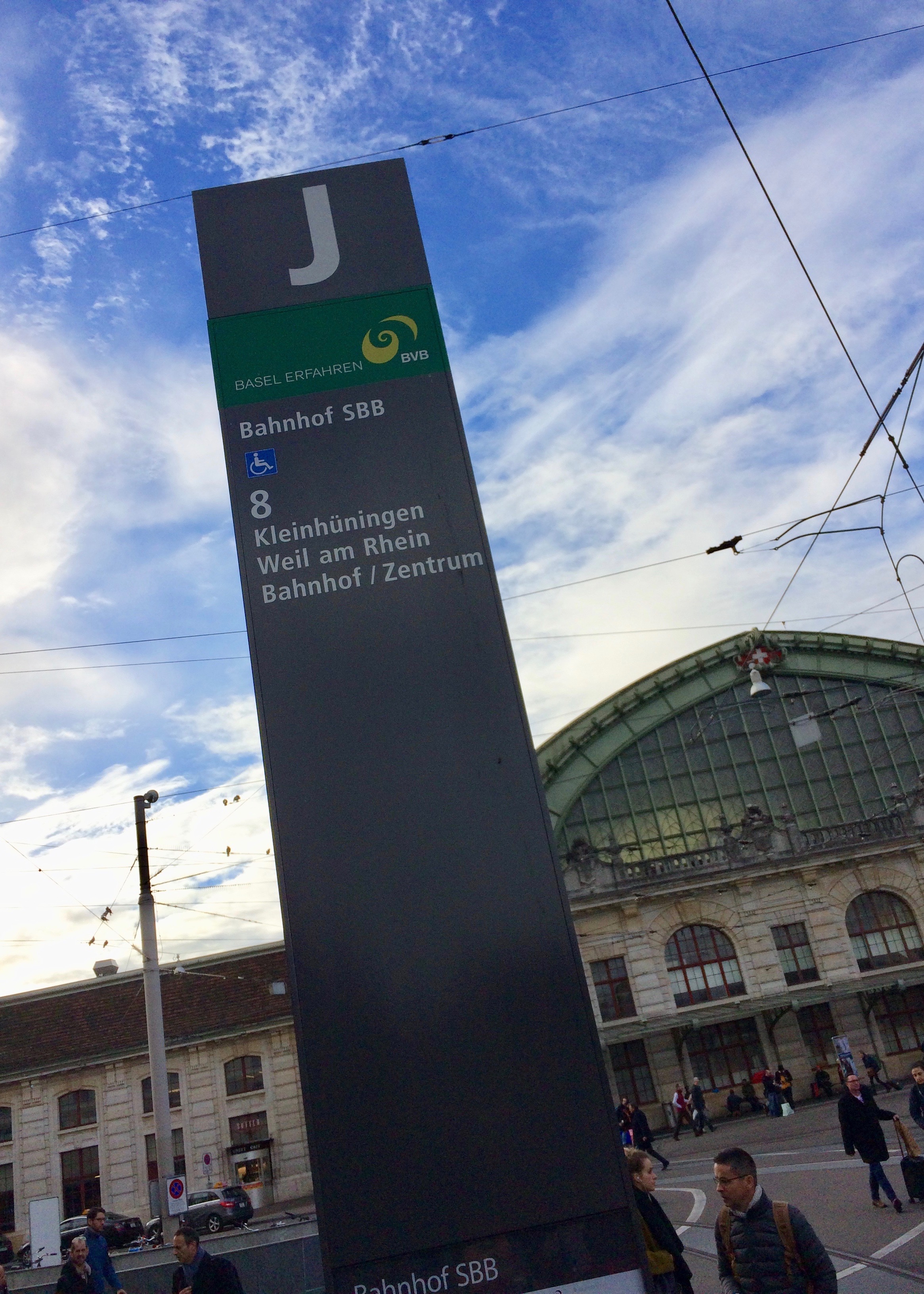 If you are planning to stay in town overnight pre-cruise, ticket vending machines are at tram platforms as well. Trams themselves have onboard screens detailing the route and forthcoming stops so it makes travel very easy, even without a tram map on your phone. The trams themselves are modern, clean and sleek – I especially loved the plain curved wooden seating. So eco – much better than plastic!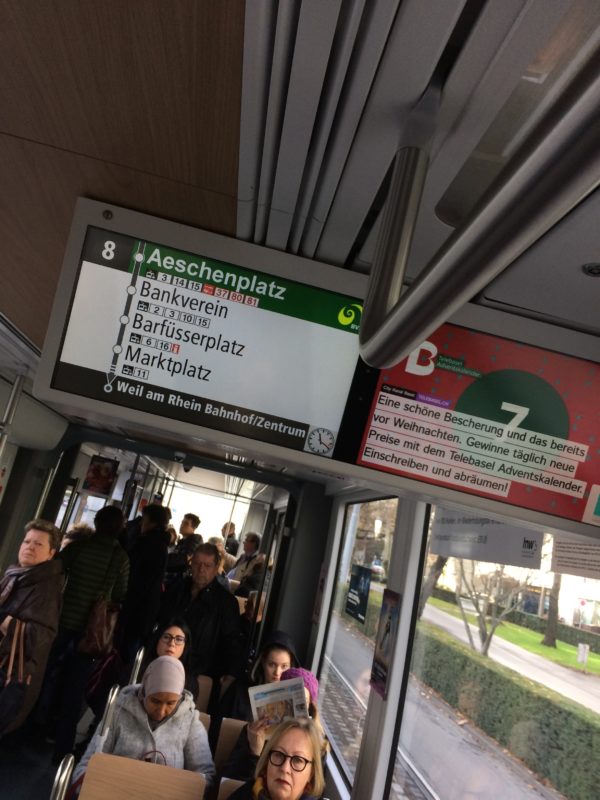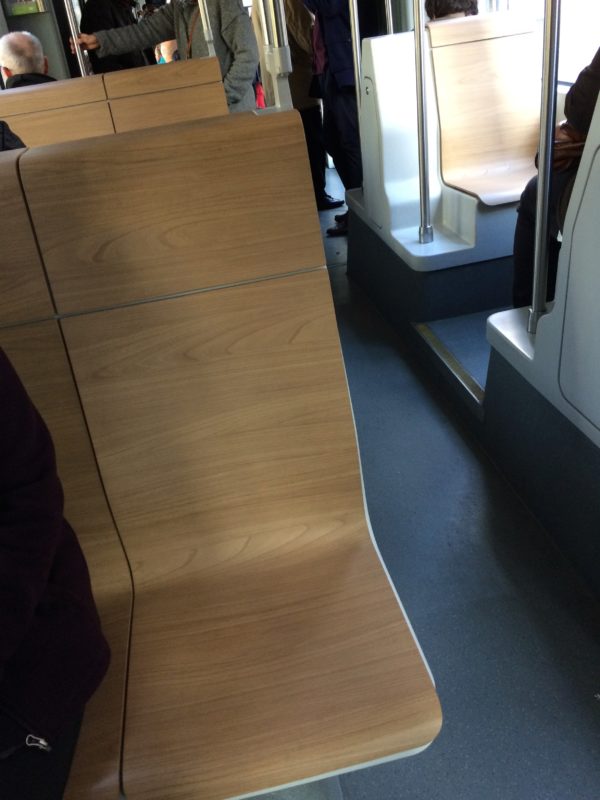 The three ports of Basel
Basel has three main river cruise ports in town, two of which we saw on our trip. First of these, furthest away from the city, is Dreiländereck port. Here the three countries meet again (as says the name) and it can be reached with tram no8 from the SBB railway station.
Our departure port Basel Klybeck is on the same no8 tram line, but closer to the city. To reach Klybeck you need get off at Kleinhünigen stop and follow the markings on the pavement to the port. It is a short 10minute walk away, located along an industrial road and it has small piers for the ships to dock onto.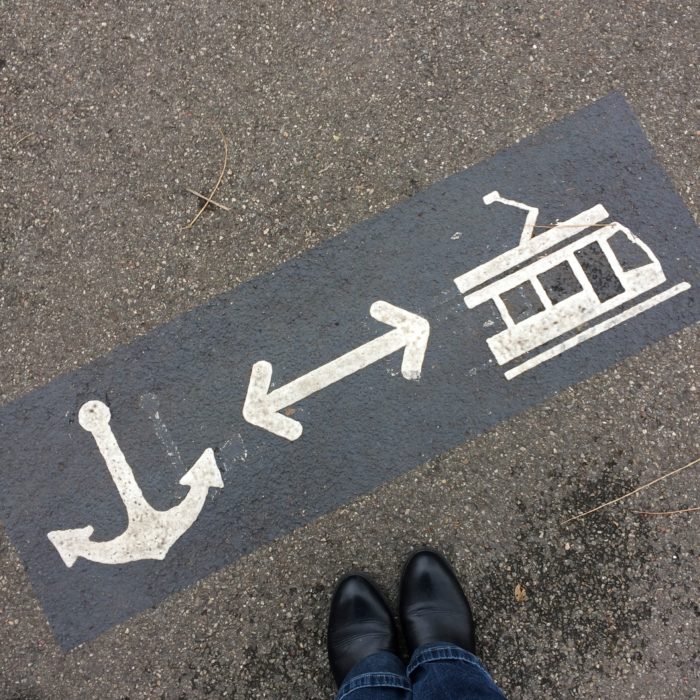 On disembarkation, we docked in St. Johann port on the opposite side of the river, yet again closer to the city centre. This one looks a little more like an actual port as it has a small terminal building. St Johann is easily reachable by tram as well (no11 – stop St Johann's Tor to/from SBB). Again there is a ticket vending machine at the tram stop so you won't need to worry about how to get a ticket for the journey.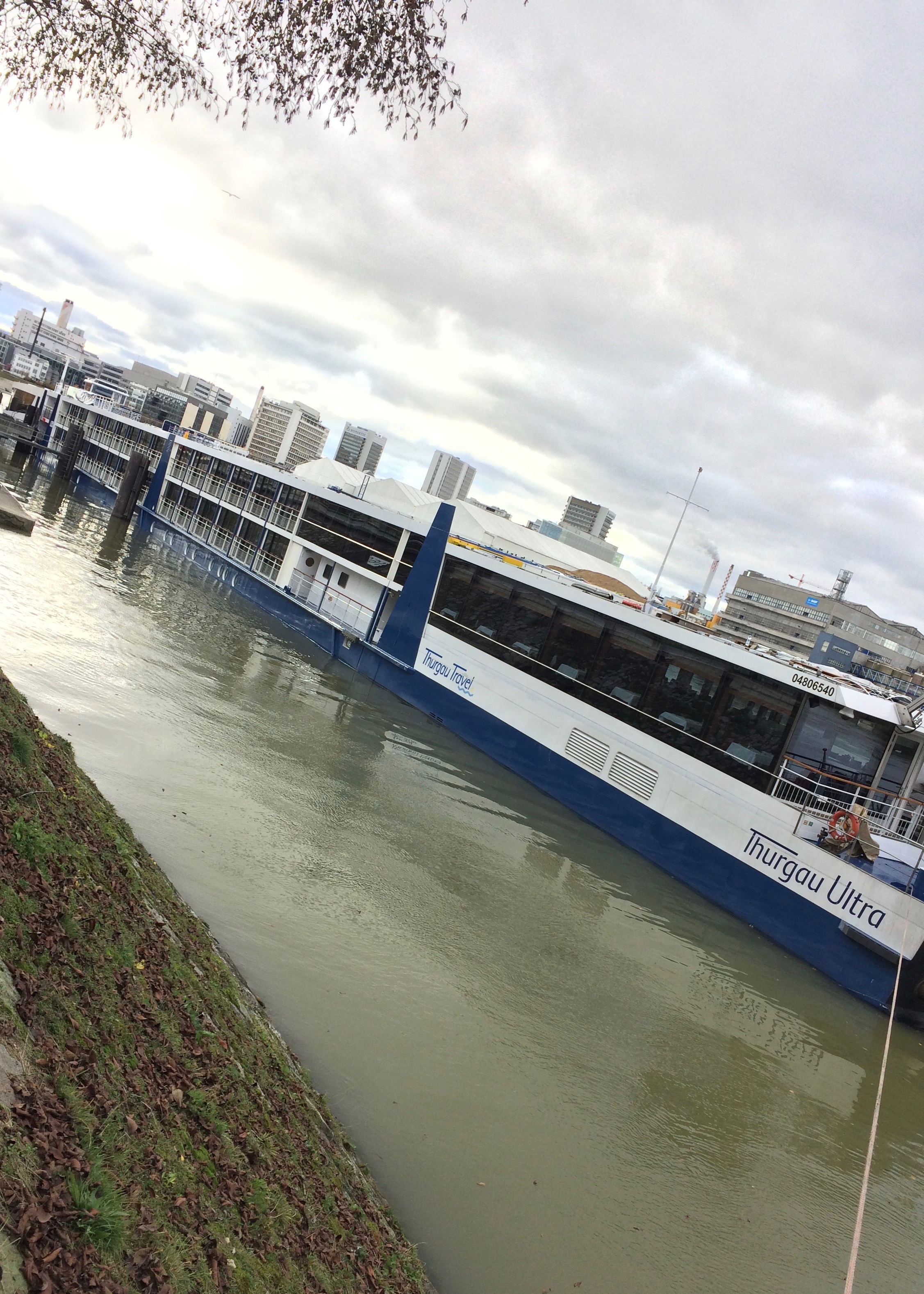 Arriving at our river cruise ship – The Thurgau Ultra
Klybeck port we embarked on our journey is an industrial one. It offers no shopping or attractions. Nor is there anywhere to wait, as there is no terminal building. So even though we arrived early, before midday, we were able to board our home for the next 5 days.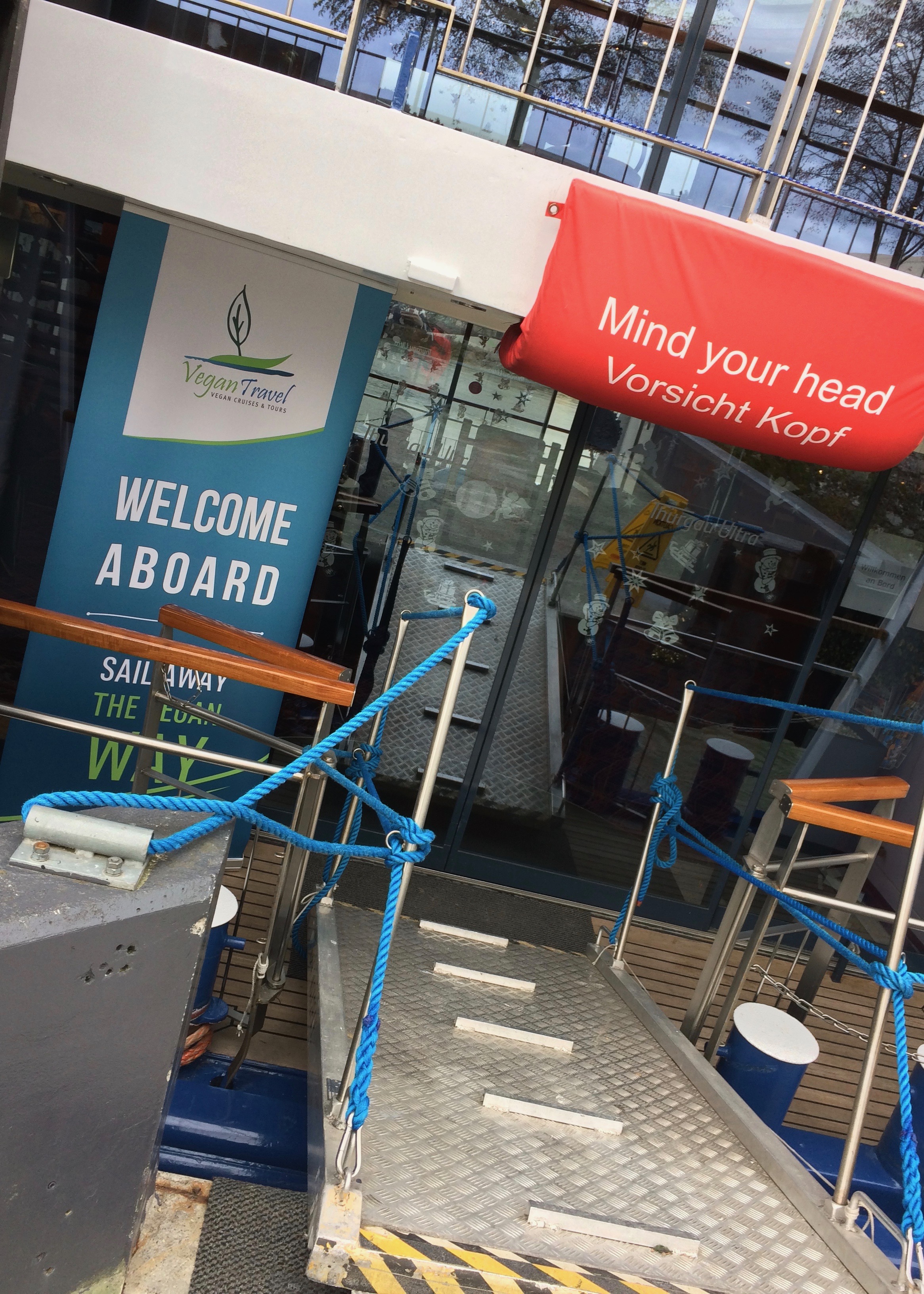 Staff kindly let us store our bags in the reception and we had the option of going back to Basel as long as we were back by at 4 pm sail-away. Having been up since 4 am that morning, we decided to stay onboard and mingle with the few other early arrivals.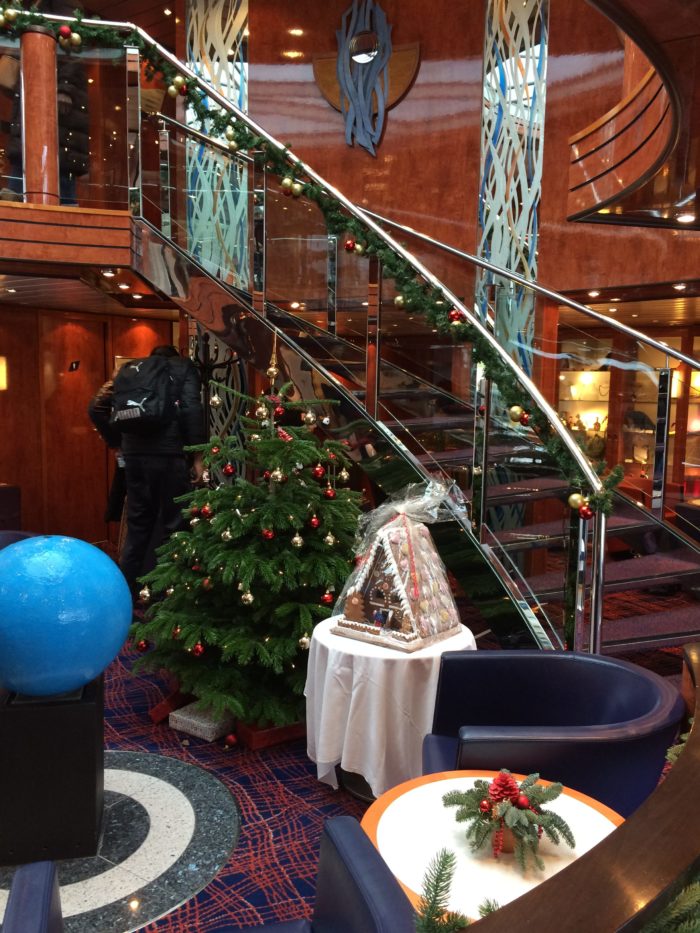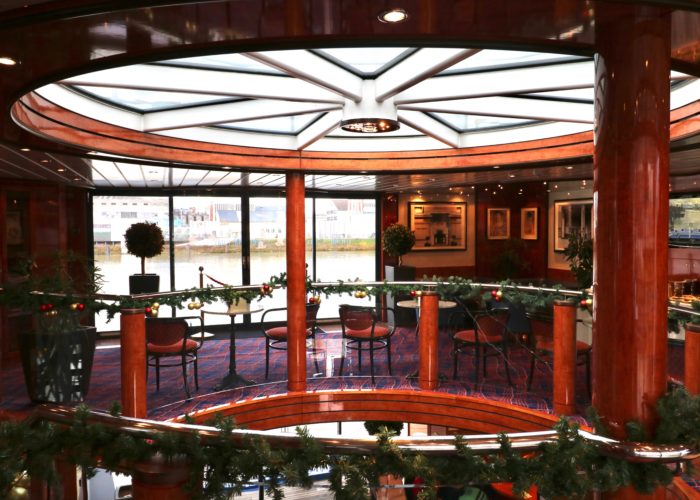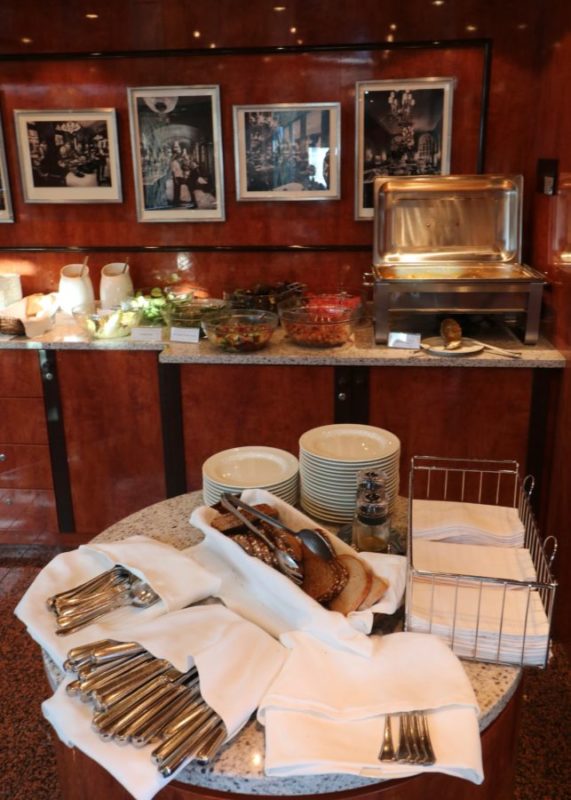 While we waited for check-in to start and our cabins to be ready, a self-service lunch was served in the upper mezzanine of the central atrium – the Wiener Cafe and library. After lunch, the check-in opened and it pretty much consisted of handing in our passports to the reception in return for cabin key cards. No credit card was taken on file or photos taken for the keycard, like on big ocean ships. No health questionnaire was required either. All very fast and quickly done – and reaching our cabin didn't take long either. Nothing is ever that far on a river cruise ship!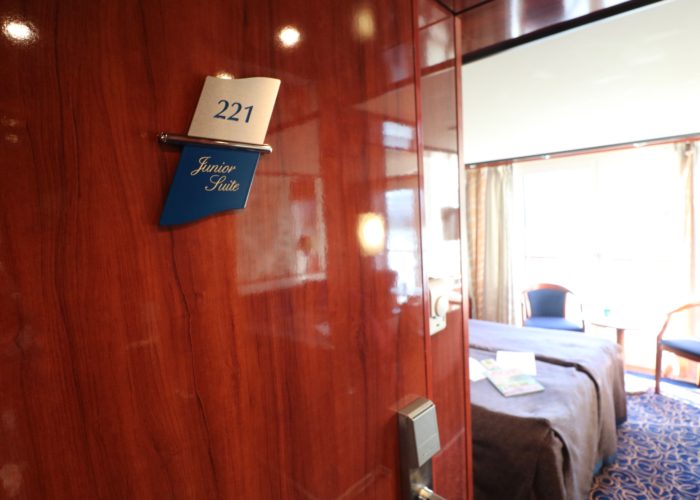 Our river ship and her facilities
You may think that river cruise cabins are smaller than ocean cruise ones but that certainly wasn't the case onboard Thurgau Ultra. Due to space limitations, I presume, there were no interior cabins at all. The lower deck porthole twin cabins are 12 sqm in size (identical in size to Marella Discovery, former Royal Caribbean ship). You can see our Junior Suite with French balcony doors was much like an ocean balcony cabin in size, around 15 sqm. There was ample storage, two tall wardrobes, vanity desk drawers and bedside units – one of which was really wide! In fact, we had more storage than any other cabin I have ever sailed in.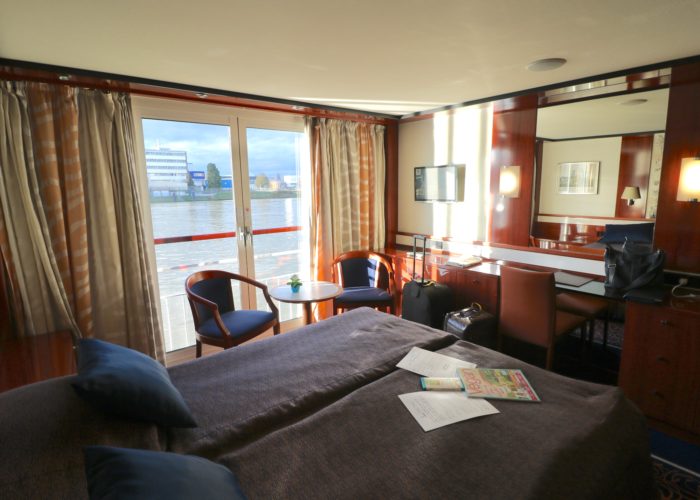 I loved our cabin bathroom, the quality of the fittings and especially the fact it was fitted with a proper shower cubicle and not a dreaded shower curtain that floods rest of the floor area. The only oddity to get used to was the frosted, sliding glass door. Space saver, yes, but doesn't offer the same privacy you are used to on ocean ships.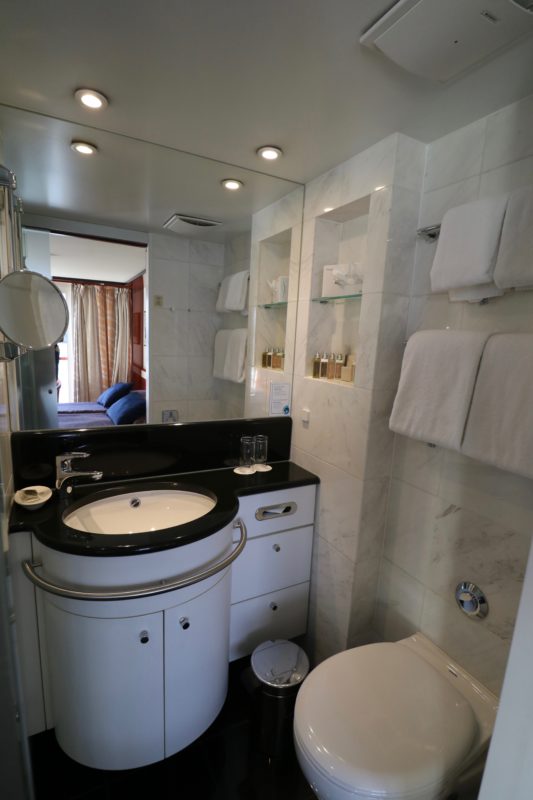 There were larger suites onboard as well – I sneaked in for a look while cabins were prepared and they looked gorgeous. The Deluxe Suites are 23sqm in size and the Queen Suites are largest at 30 sqm. These feature a sitting room/lounge which has a proper balcony off it. To the side is the master bedroom that has French doos. The bathroom in this best suite type has a separate shower and toilet cubicle, his & hers handwash basins, AND a bathtub. You can do a 360-degree tour of all cabin types and their bathrooms with this Thurgau Travel link.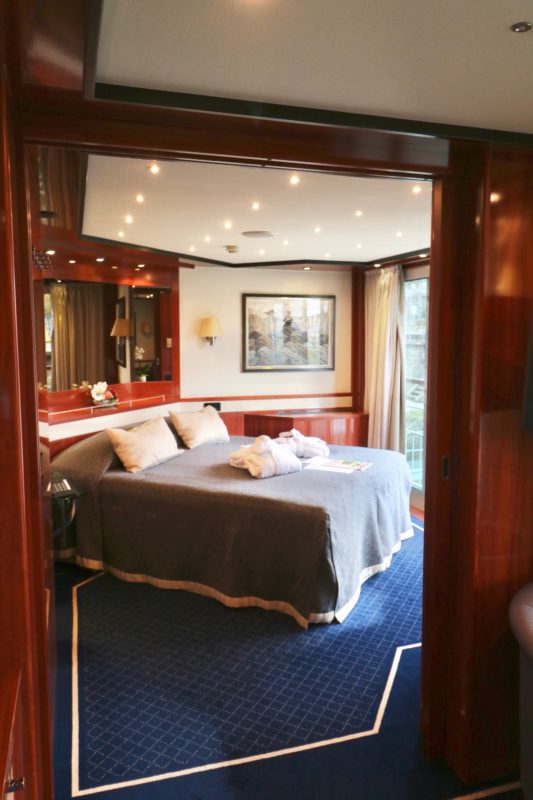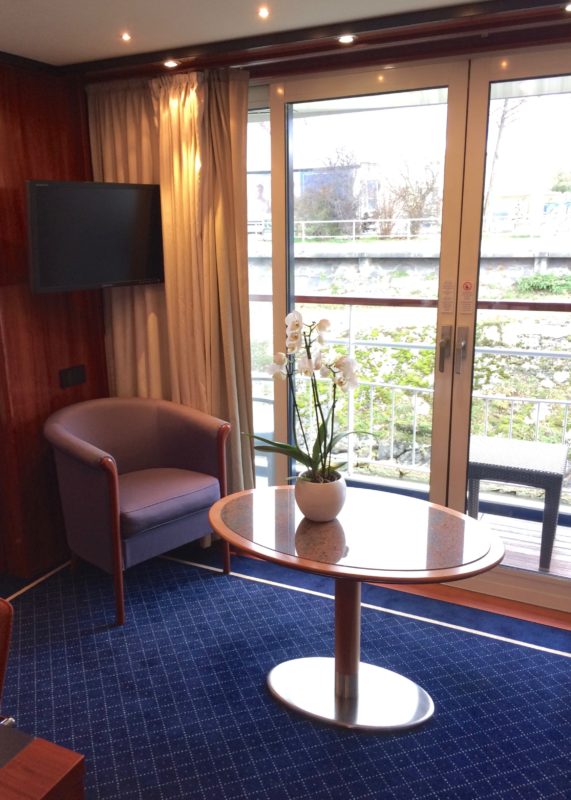 Our ship Thurgau Ultra was on exclusive charter hire for our group, and is part of the Swiss-German Thurgau Travel fleet of vessels. Ultra is a four-deck ship: three decks consisting of cabins & facilities, the fourth being the sun deck/roof. She was built in 2008 and her length spans 130meters. A FIFA football field (soccer that is) is about 110m in length, just to give you an idea of her size. Thurgau Ultra has a maximum capacity of 120 passengers in 60 cabins, so she was miniscule compared to the ocean ships I normally travel on. I thought I would continually meet the same people but on our final night, my friend & I shared a dinner table with a young couple from Virginia whom we'd not met before at all!
Get ready, steady and pamper
Just like any ocean cruise ship, our river cruise ship had a thermal suite for guests to use – but at no extra cost! Much to my disappointment had not packed my swimwear.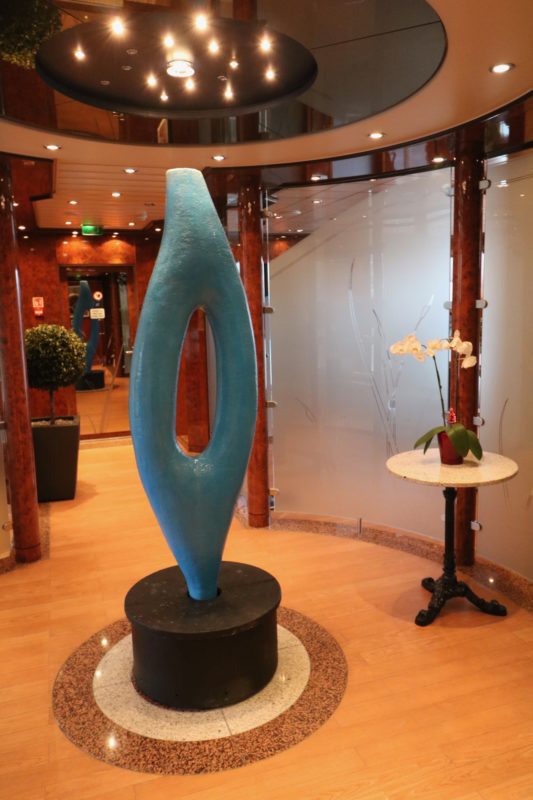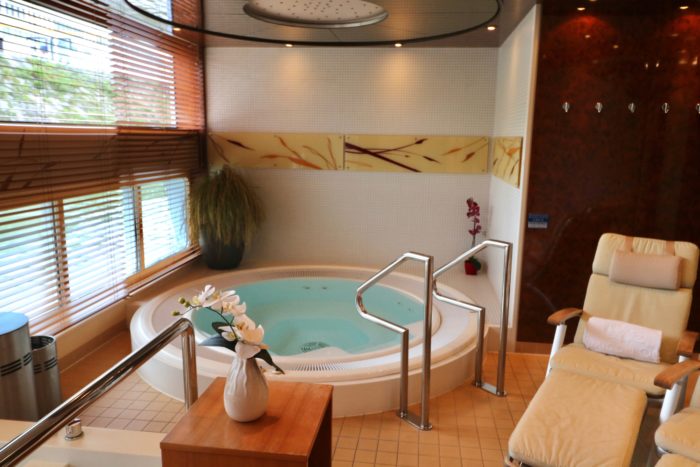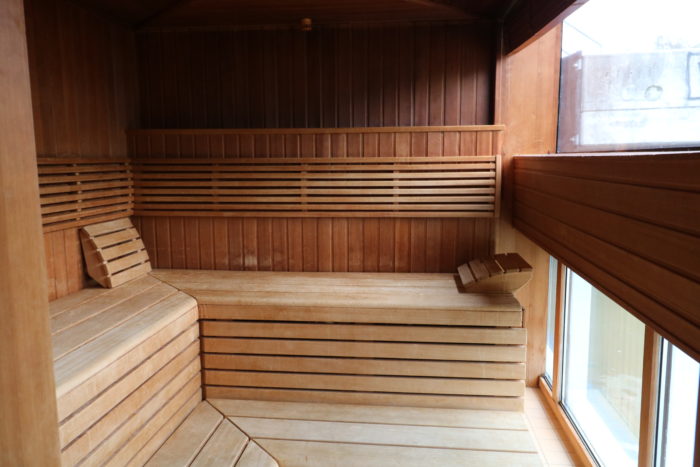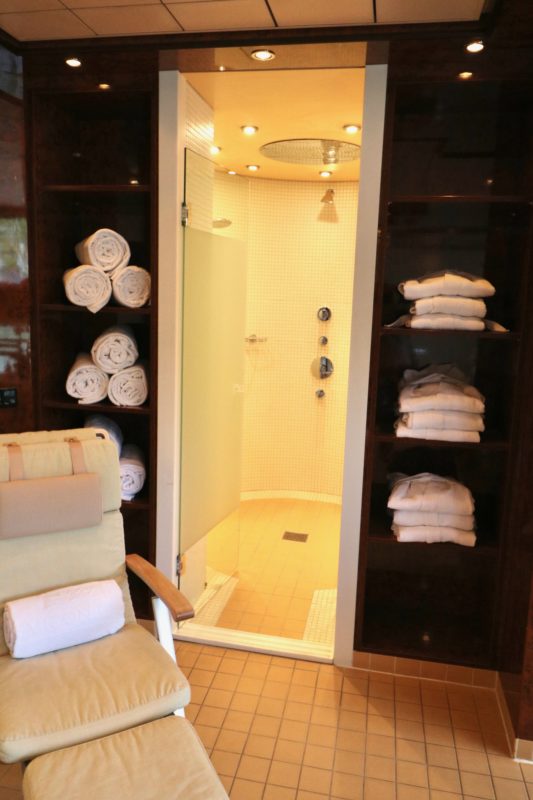 There also was a small gym (treadmill, bike, elliptical trainer), a spa treatment room and a hair salon. The appeared unused most of the time, but I later discovered that the staff who offer treatments work for the housekeeping department when they are not seeing clients.
Wine & dine onboard
All meals during our Christmas Markets cruise were served in the Panorama restaurant in the aft of the ship. It had large glass windows and great views of the river. Breakfast was served buffet style, with only oatmeal/porridge and hot drinks served by the staff upon order.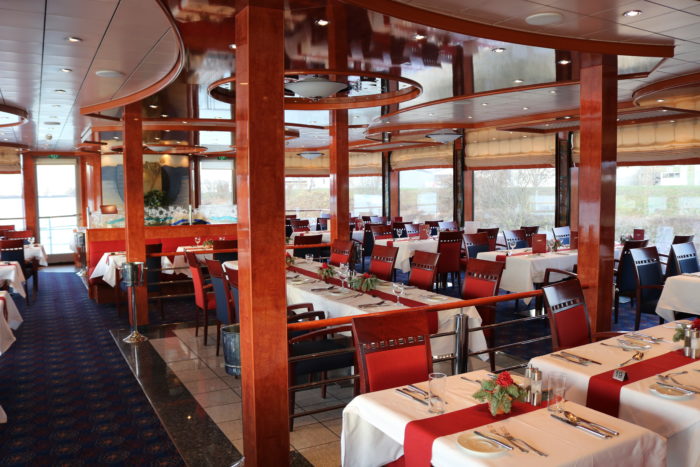 Lunch onboard consisted of four courses: a salad bar buffet, soup, main course, and a dessert. Two options for the main course were always offered, along with dessert choice. Evening dinners were also four-course affairs: appetiser, soup, main and dessert – again with a choice for the last two courses. Think there was only one dish I did not enjoy during my 5 days so that says a lot about the quality of the food onboard.
River ships being small there naturally aren't as many venues for drinking or socialising as ocean ships offer. The main venue for this was the Theatre/Lounge at the front of the ship. This is where the main (and only) bar was located.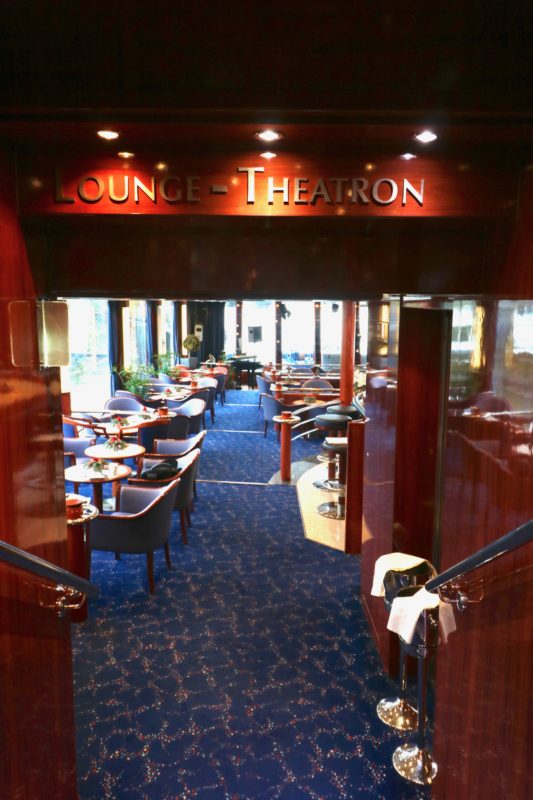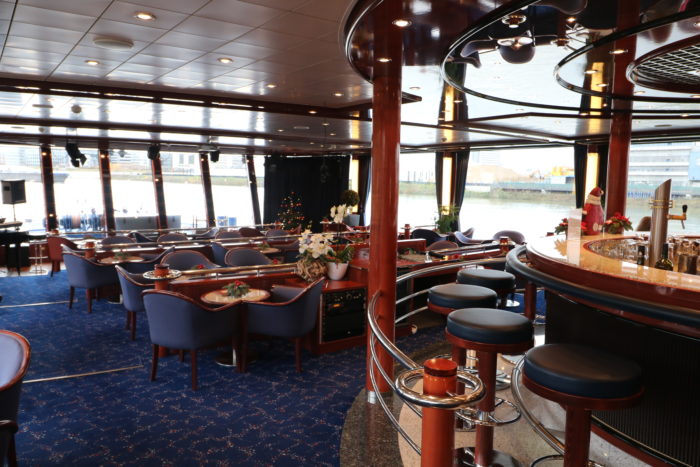 Afternoon coffee & cake was served here, it served as a general hangout for people and where any entertainment was held at night. There always is one bar onboard an ocean cruise ship where you connect with the staff behind the bar and sure enough, the only bar onboard had an entertaining duo working there. I think they too enjoyed having some younger-than-average river cruisers onboard.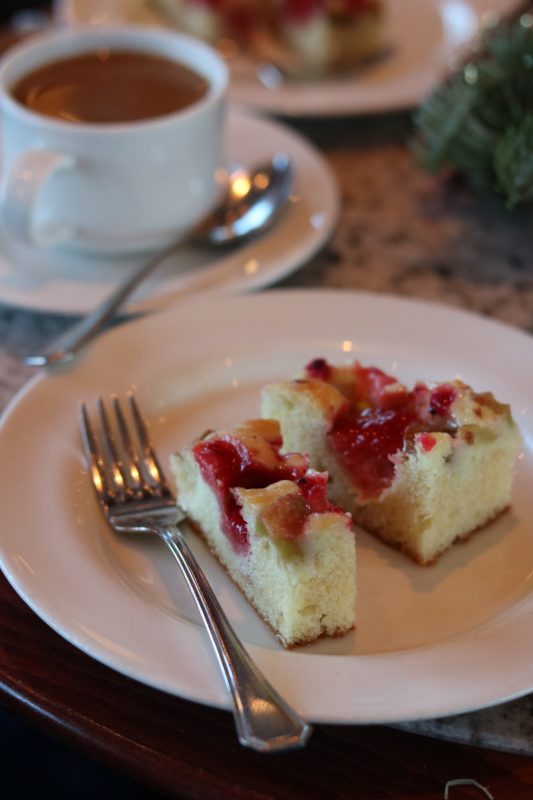 Thurgau Ultra had a separate small room for more private drinks & chat near the dining room, the Dampfschiff Salon. It wasn't manned though, and you had to use the phone in the room to call for the bar for service. Opposite this lounge was the Smokers' Lounge for those who wanted to vape – cigars were for sale too.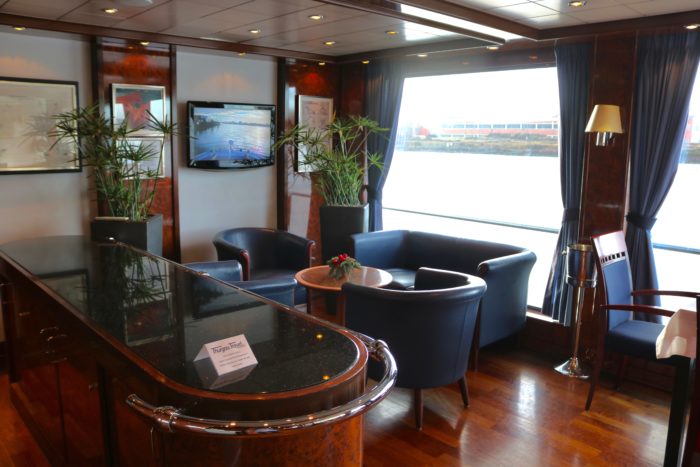 Our Christmas Markets itinerary
Over the five day sailing, we covered four ports in as many days. The distance we travelled was near 1000 km (approx 600 miles) sailing from Basel, Switzerland to Cologne in Germany and back. Our itinerary is here. Most visits were daytime ones and we sailed early evening/dinnertime – only in Cologne were we able to explore the markets in the dark and get to enjoy the lights.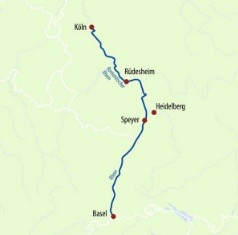 Speyer and Cologne
Unfortunately, I missed out on Speyer (and the Heidelberg castle excursion) due to a migraine that kept me in the cabin until dinnertime. My friend joined the ladies from Chicago we had met the day before. On our second port day, we called at Cologne which was fantastic. Our walking tour guide was great, including his rendition of the stories behind the town crest. The 3 crowns & 11 tears.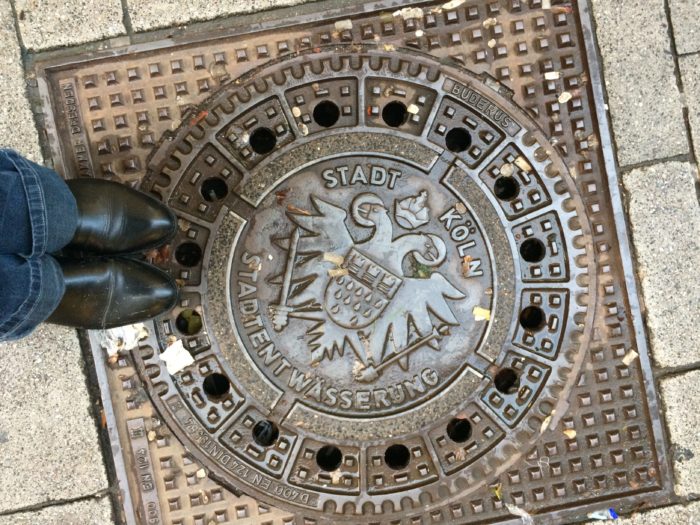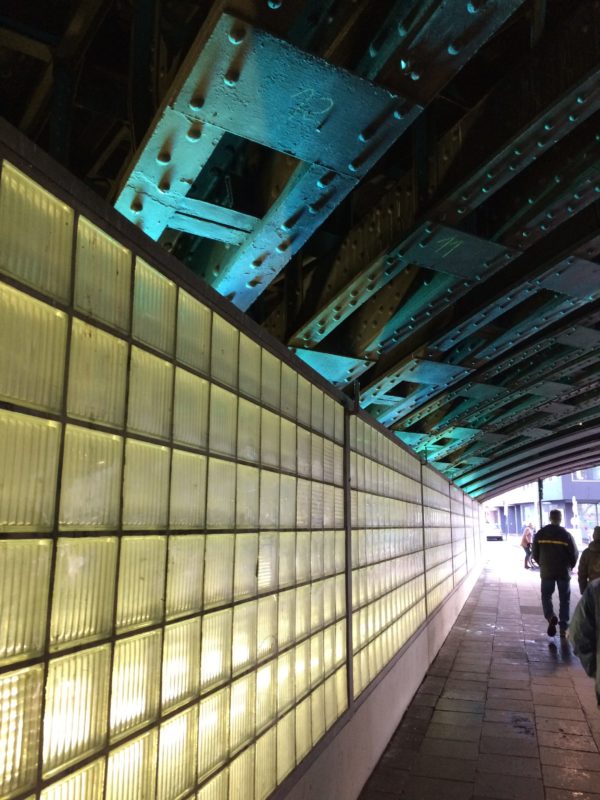 Architecturally Cologne offered everything from the old Roman colony wall remains to art nouveau buildings and modern cityscape, and anything in between. The twin-towered Gothic cathedral seen from the river where we were docked is a marvel. As part of our afternoon walking tour to learn about the Cologne's birth and history, we opted for an educational museum visit to Praetorium – an underground archelogical excavation/museum.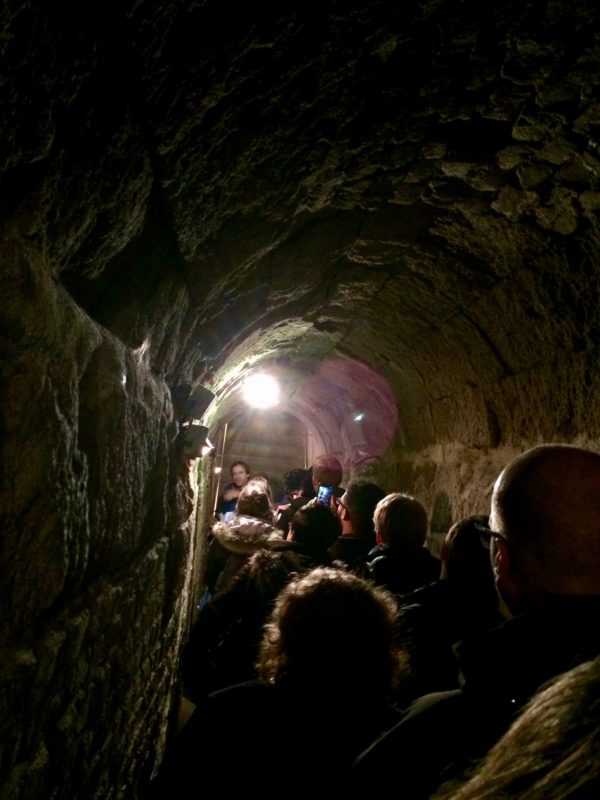 Praetorium houses a selection of Roman artifacts and the large impressive remains of the former Roman governor's palace. As an extra quirk, Praetorium offers a chance to walk through a real Roman sewage tunnel perfectly preserved underneath the modern city.
The sun had already set when we returned to the surface and the modern day. The busy markets had turned magical with sound & light. The Cathedral Christmas market even had some vegan stalls with vegan glühwein (mulled wine) to make it extra special for travellers like myself. So many great stalls, lots of toys and gifts… but my favourite overall was a massive rubber duck stall. Yeah, not that traditional but so funny.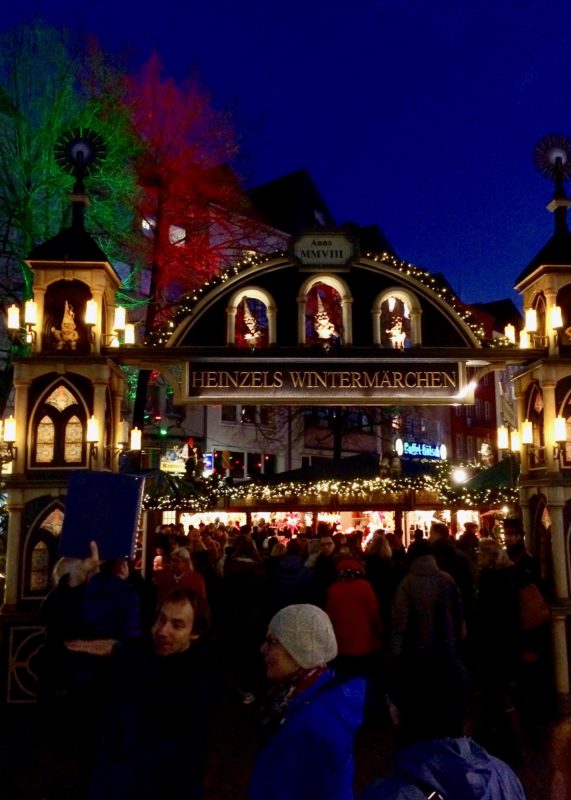 There actually are so many Christmas Markets in town that there is a little Hop On Hop Off train on wheels to connect the various markets. We loved this marvelous cathedral city and the markets, but as we were there on a Sunday afternoon & evening the markets were so full it was difficult to enjoy them. Having briefly experienced Cologne and the Christmas markets, I would now go back in a snap. Totally magical this time of the year. Even if there was no snow or even frost on the ground. And the sailaway at night is gorgeous with all the city lights.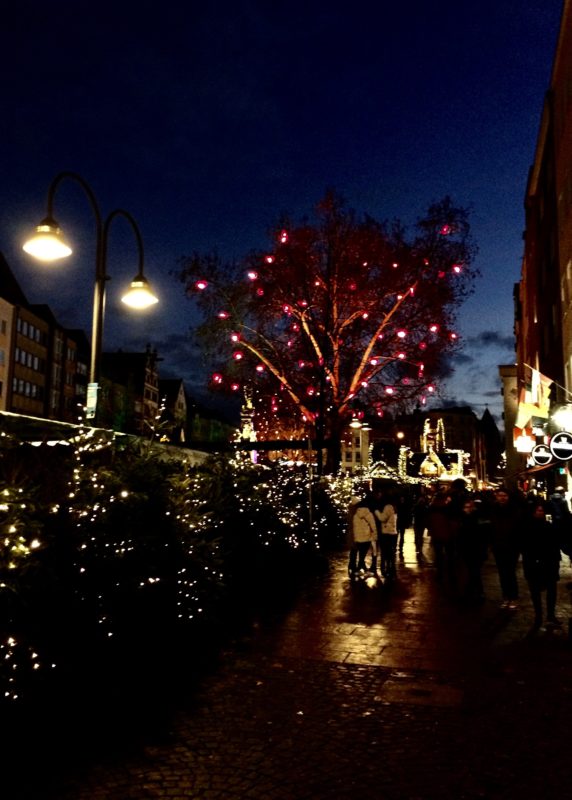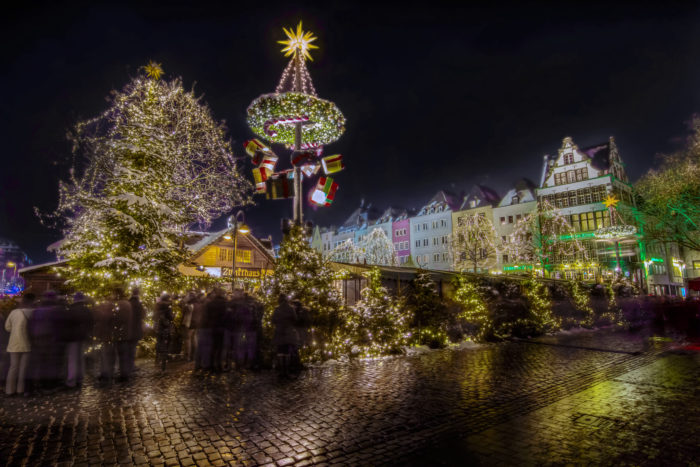 Photo credit above – with thanks to Jason Mrachina on CC license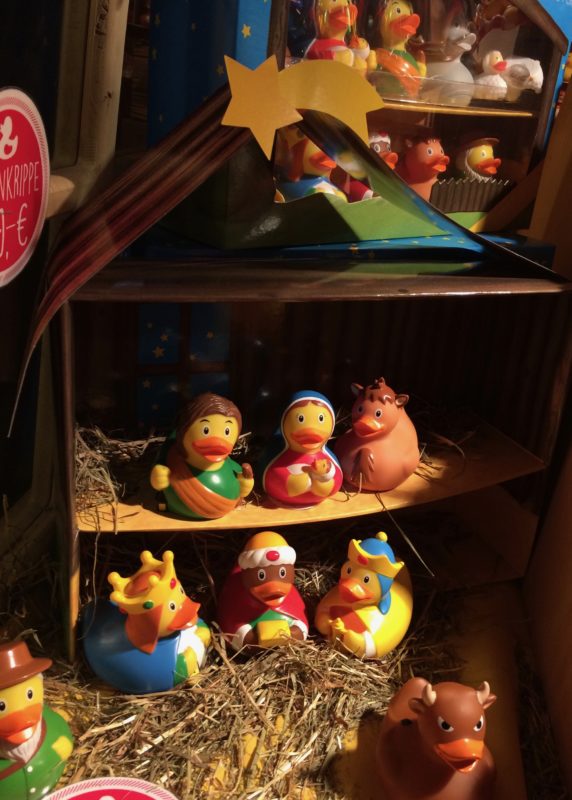 Rüdesheim and Kehl/Strasbourg
The following day market experience was totally the opposite, as we called in the small town of Rüdesheim. It was a Monday morning/afternoon so locals were at work and only the visitors (like us) were wandering the streets for shopping. The atmosphere wasn't as Christmassy as we were exploring the market in daylight – but we loved the village and the fact it wasn't as busy as Cologne had been the night before. Plus, the stalls were what you would expect of a Christmas market and we could really enjoy the cute village environment around us. Lovely old historical buildings, so ornate. Especially the Drosselgasse lane – totally adorable and like out of a fairytale.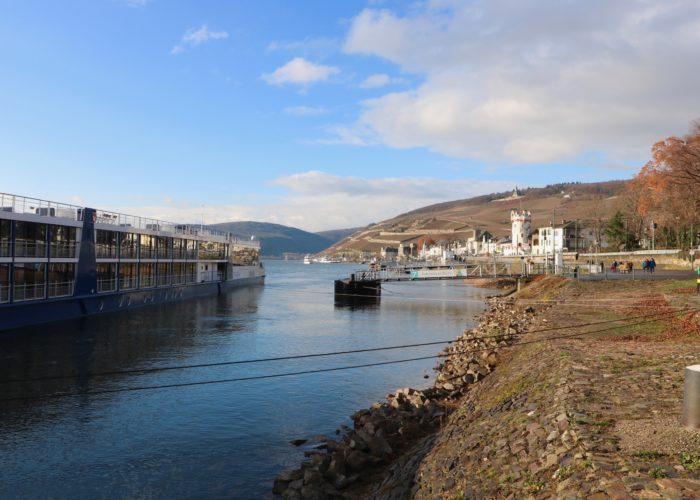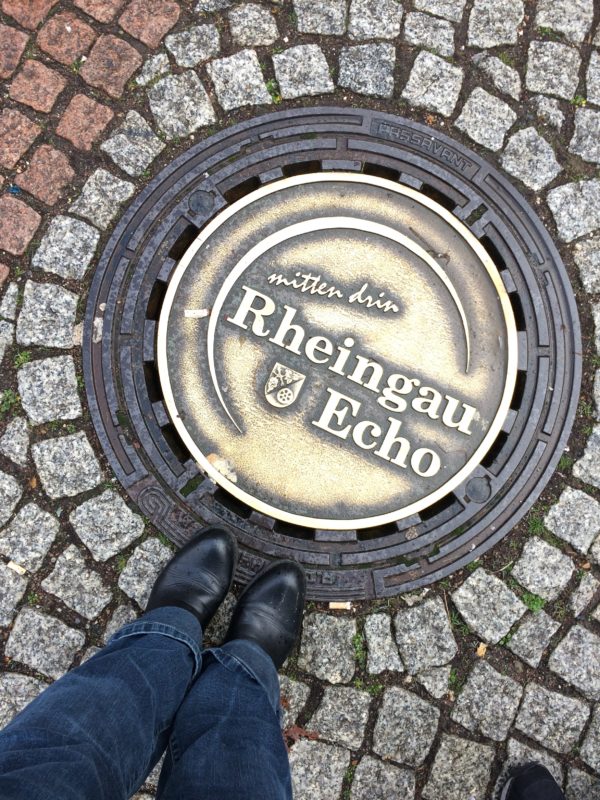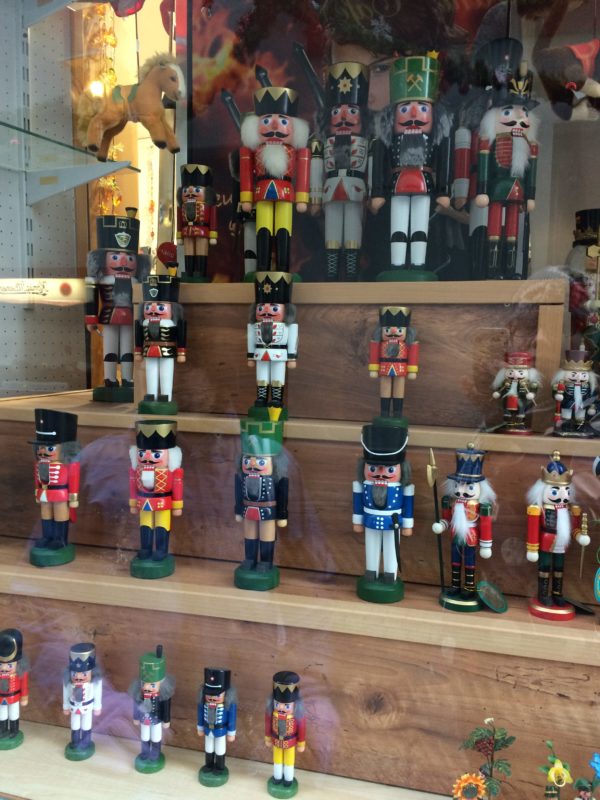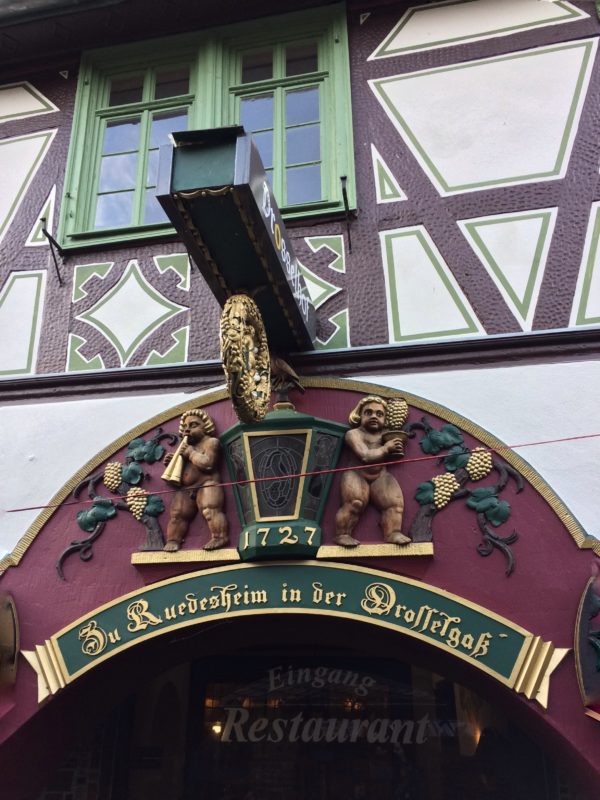 For 8 Eur you can take a cable car to take you to the top of the hill behind the village. Great wee ride to enjoy the views of the river Rhein, the vineyards on the hills and Rudesheim itself. That is if you're not afraid of heights as the 'cable car' is more like a ski lift with a roof, than a cable car pod.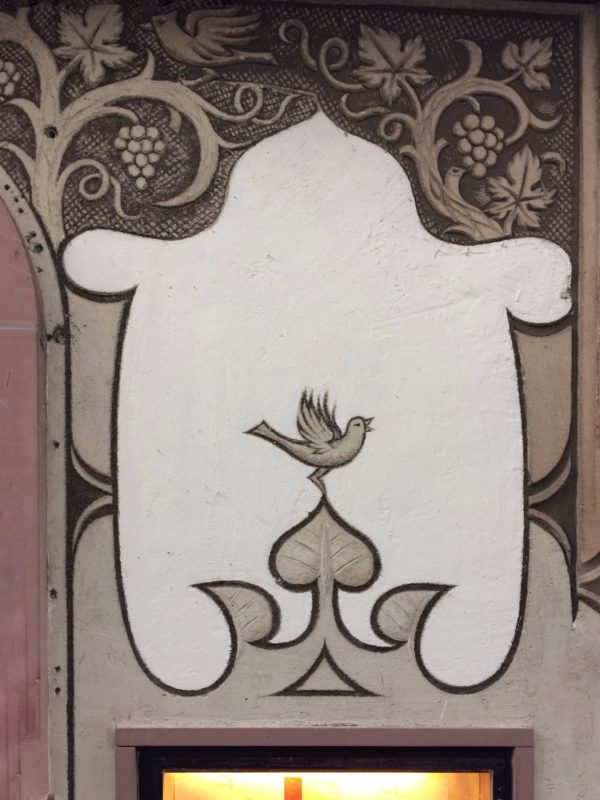 Our final day was meant to be a river day of just sailing, but we were surprised by our group leader and the captain upon embarkation. Instead, we were going to call at Kehl, Germany which is right at the border of Germany and France with the option of doing an excursion with the ship. walking 10-15minutes to the nearest tram stop to Strasbourg, France to see their Christmas markets. The cross-border (over the bridge, really) journey to this beautiful French city takes around 20mins and departures are frequent, as the route is part of the local commuter network.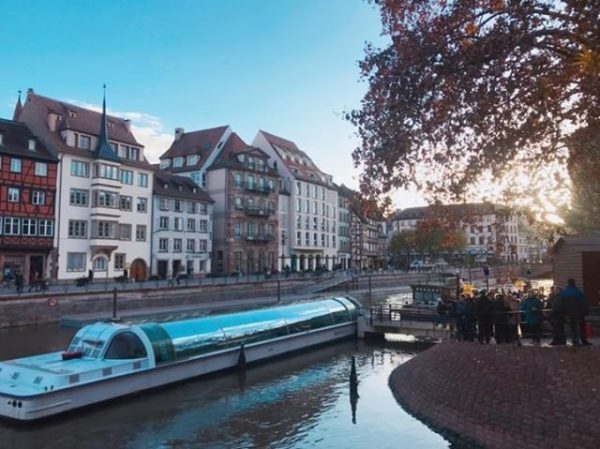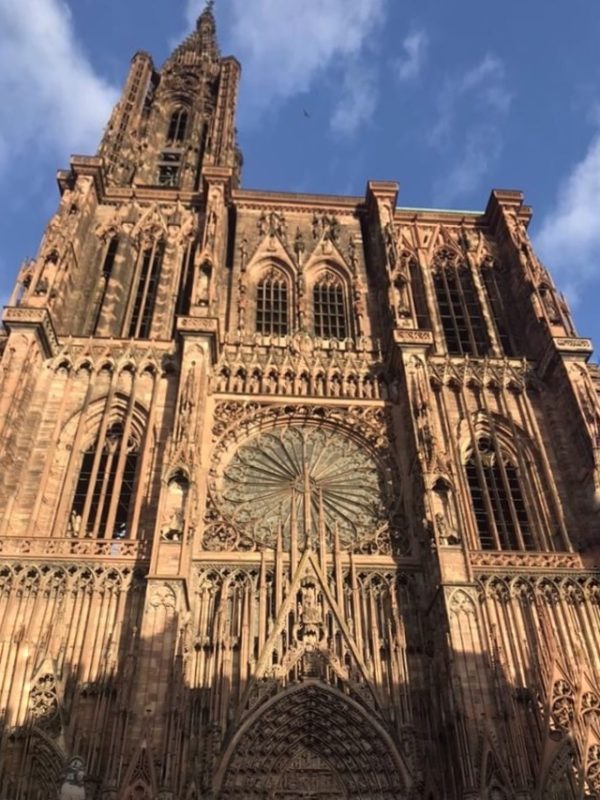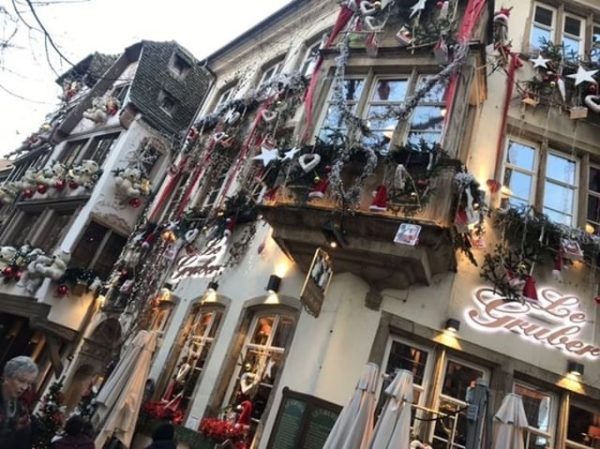 Many thanks for my friend Kiko for her Strasbourg photos – see her IG here.
Ocean vs River – differences I found
I have been aware of river cruising for quite some time, yet hadn't booked one for various reasons. River cruises generally attract older clientele and can be more expensive (as often include more in the cruise fare). But the specialist vegan group sailing I booked was excellent value, even if no tours & flights were included. The itinerary also offered a wonderful way to explore four different Christmas Market locations so it was easy to say "Yes!" to this opportunity.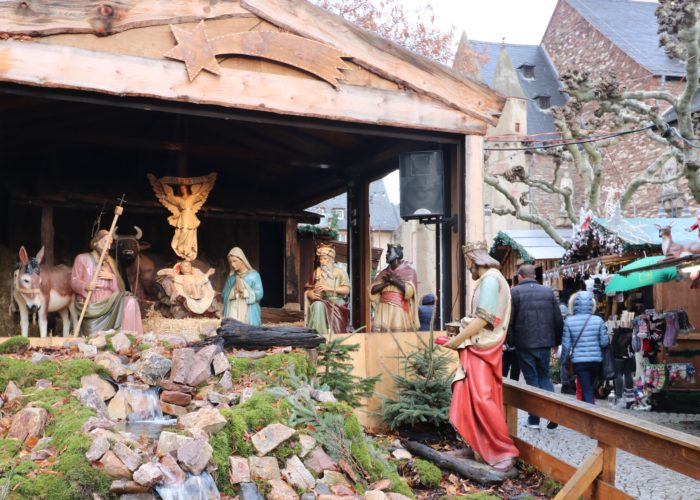 Better suited for adult friends/couples
Our sailing had a much younger age mix, there were even two toddlers onboard. Yet, river ships aren't really suited to children as there usually are no facilities for them – Thurgau Ultra sure didn't. For entertainment, you would need to bring your own toys for the cabin. Parents need to be mindful of the fact there are no kids club workers either.
As river ships are small, there aren't bowling alleys or waterparks for entertainment. On our ship, there wasn't even nightclub onboard. That didn't stop us dancing in the Lounge one night though as the group leader used his laptop as a jukebox. But as long as you're happy to dine well, chill out with good company (bring your own!) and the river views you're good to go. Even if you might be among the youngest passengers onboard.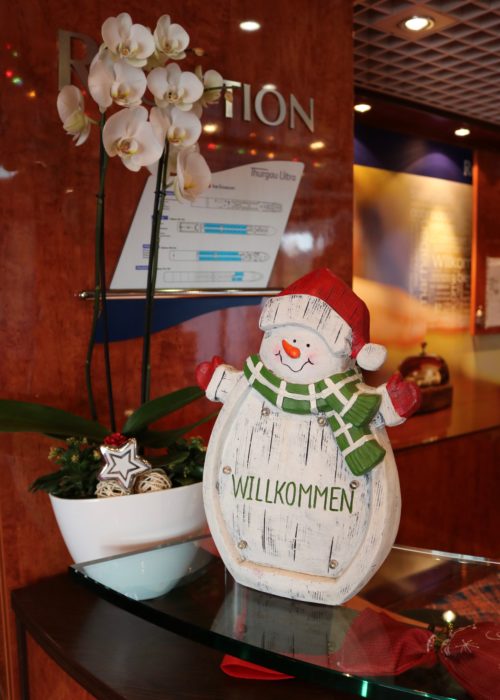 Settling the onboard account was a little more basic
On the final night, we were given a statement for onboard charges and an envelope for tips to be dropped into a box in the reception. All charges were registered to cabin number and you had to sign a check, instead of just swiping a card as you do on most ocean ships. In the end, we matched our slips to the charges listed on the statement. There was one that wasn't ours but the signature on the check copy held in guest services made it obvious. Also, one of my purchases had been charged to another cabin (numbers transposed). We opted to pay cash although credit card option was available, you just had to tell guest services/reception the night before that you were planning to do so.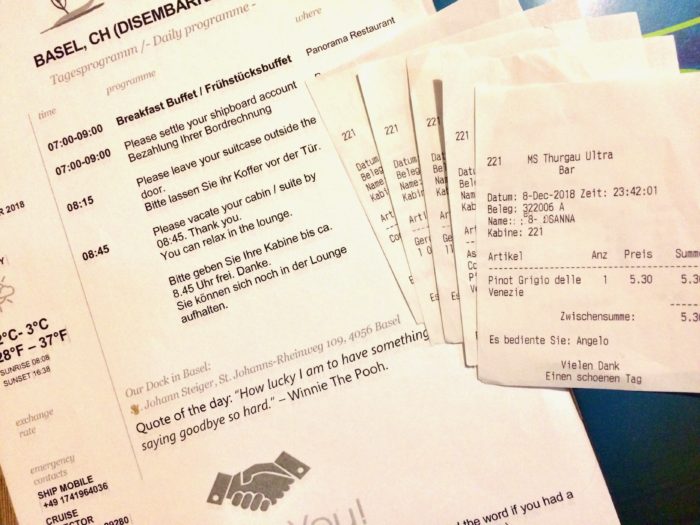 Gratuity/Service charge done the old way
We usually just leave the automatic gratuity on our onboard account when we ocean cruise and settle it with other charges. No such option was available onboard our river ship. Instead, we were asked to leave our tips in an envelope in the reception by disembarkation morning. I was surprised by the group leader's info on tipping which was e-mailed to us pre-cruise. It suggested 4 – 6 Eur per person per day (pppd). I dutifully paid my 5 Eur per day equivalent as the crew were great and – and tipped a few people cash in hand on the final night. Now at home, having looked at Thurgau Travel site, they suggest 5-10 Eur pppd instead. Still less than what most ocean cruise lines charge as auto-gratuity.
Drinks bought in the bar did not accrue service charge either, unlike on ocean ships. Soft drinks were expensive compared to ocean ships (no draft drinks onboard) but a glass of wine was only 5.50 Eur so there is always a silver lining, right?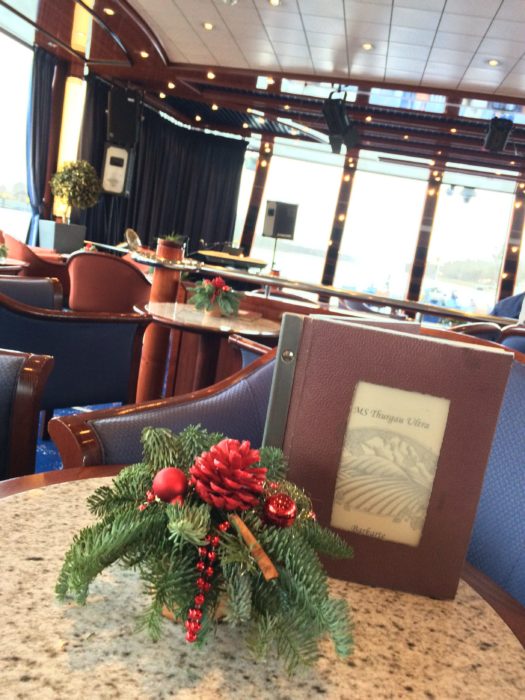 Inclusive features
Unlike on ocean cruises I have been on, the thermal suite use was free – included in the cruise fare. The onboard WiFi was also included in our fare. On our sailing, dinner drinks in the restaurant were included in the cost so that kept the cost of our holiday down. On many river cruise ships, all drinks are included regardless of the time – do check.
Small ship = Close to the water
Having ocean cruised plenty, the biggest difference for me was the fact that we were so close to the water. Had we stayed in the lower deck porthole cabins, the windows would have been just above the water. As our Junior Suite was one deck up, we had French balcony doors that opened up and water was probably still only about 2m/6ft away. It meant we could hear it in ways you don't when cruising on an ocean ship.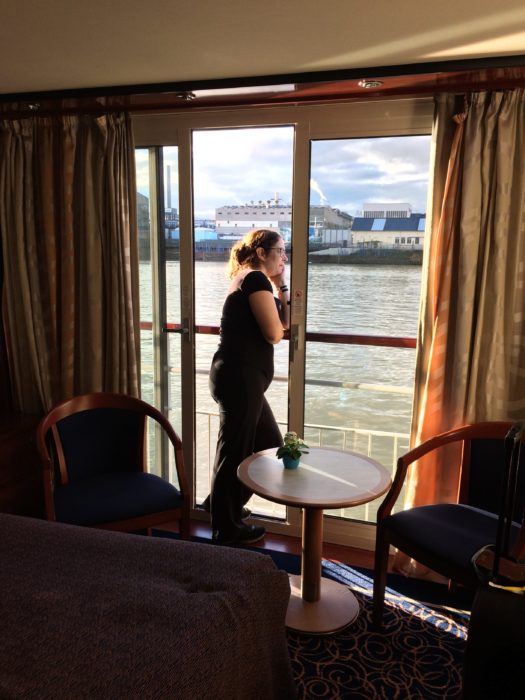 Opening the doors at some of the narrow locks made it possible to step off the ship. Not that we did, it would have been frowned upon but distance-wise it would have been possible. This also meant that some of the nighttime sleep was disturbed by jolts and noises from the locks. If you are a terribly light sleeper and struggle to get back to sleep, river ships may not be for you – earplugs will help though.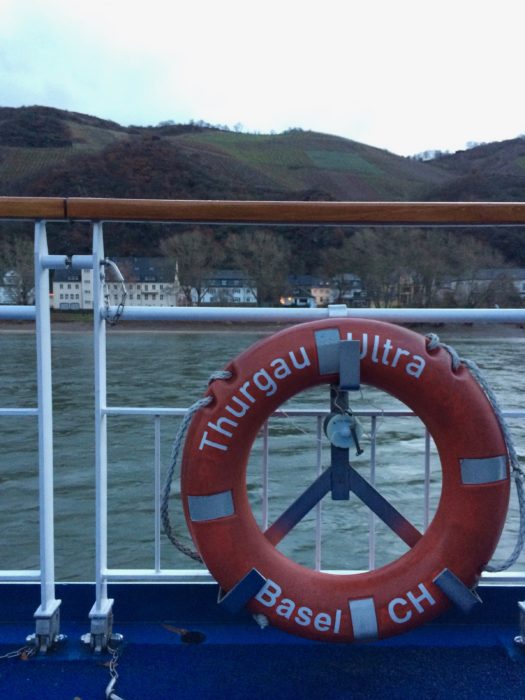 Would you enjoy a river cruise – I think you might if the above is cool by you?
I am a lover of large, blingy ocean cruise ships. But I discovered I am partial to the cousin that are river cruise ships too. It is still cruising, just on smaller scale.
If you would like to do a Christmas Markets cruise like mine, there are many options available. Several companies and their vessels operate on the Rhine. I especially enjoyed spying on them at night as we passed them, trying to see if their ships were nicer than ours. Departures are commonly available not just from Basel but from Amsterdam and Cologne too (with coach transfers from Dusseldorf or Brussels).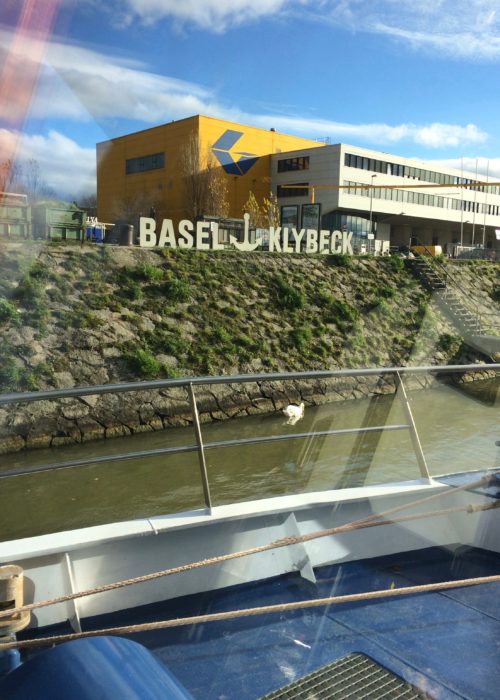 But where to start if you are new to river cruising? Here are a few companies to consider if you're looking to river cruise in Europe: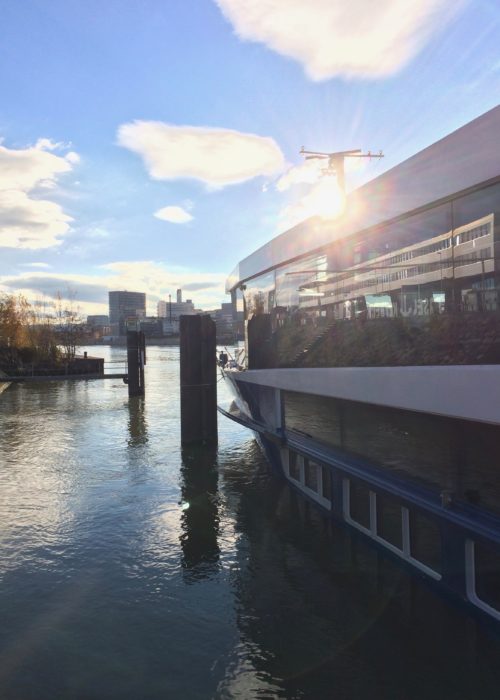 I had a great time on my first ever river cruise. But I must add that my holiday wasn't representative of a regular Thurgau cruise. I was onboard as part of a large English-speaking group on an exclusive charter – whereas their usual market is German speakers. All staff did speak great English though so no issues there.
And if none of the four brands featured above resonate with you – or the pricing seems high, do contact a CLIA registered cruise specialist travel agent to help you to find the best ship/brand and the best price for the river cruise of your choice!

PS.
Are vegan (or a vegetarian) and want great plant-based food on your holiday? You should check out the tour operator with whom I booked my cruise. Cannot recommend them enough!
Vegan Travel are a small German vegan travel specialist who offer a selection of charter cruises for the sole use of their customers, onboard various ships (different river cruise companies) in a range of destinations. Everything onboard the ships they charter (food, drink, toiletries) will be vegan for the duration of the trip. For Spring 2019 they offer a vegan river cruise on the Mekong in Asia, French and Portuguese river cruises in the late Autumn and a Central European cruise for New Year 2019. Get booking – I'll hopefully be on the Portuguese one!
For those interested in the plant-based dining options – there will be another post to follow! Ship's own executive chef and galley team was guided by an award-winning vegan chef brought onboard by the tour operator. Great vegan dining – very healthy overall, if you exclude the desserts. Our meals were mostly wholefoods based, with very little processed mock meats other than the veggie sausages at breakfast. But the dining post will be a whole new post due to the number of amazing meals we had onboard over the 5 days. Come back for more!