Gentle luxuries: an Azamara Journey review
Last month I was invited to review the little den of floating luxury that is the beautiful Azamara Journey. As she called in Newcastle for the first time ever, I got to tour her with members of the local press and trade. Last month has been very busy for various reasons, but I'm pleased to bring you my report today. After you have been through this ship tour review of Azamara Journey, I am sure you too will be charmed by her. Anyone looking for cruising in quietly luxurious surroundings should feel right at home at Azamara. And I do not mean snoozy, formal or lacking life, by the use of 'quiet'. I'm trying to convey she's confidently subtle, rather. Without having to be stuffy, or uber ornate about it. Since Azamara released their excellent vegan menu Azamara earlier this year (2019), I have been getting ever so curious about the product they offer. You may have seen me feature the menu on this blog post. Plus, I have friends who have sailed on Azamara and enthuse over the Azamara experience. The fine dining, the attentive service etc. No wonder then, that after my quick visit, Azamara are now are firmly on my 'to cruise' wish list. Hope you enjoy my deck-by-deck Azamara Journey review!
[Disclaimer: My tour of Azamara Journey was free to me to attend and I received lunch onboard. I have not been paid or instructed to promote the brand and my views in this post are my own. ASA (UK) classes this post an 'unpaid ad' as I received a meal as 'payment' for attending.]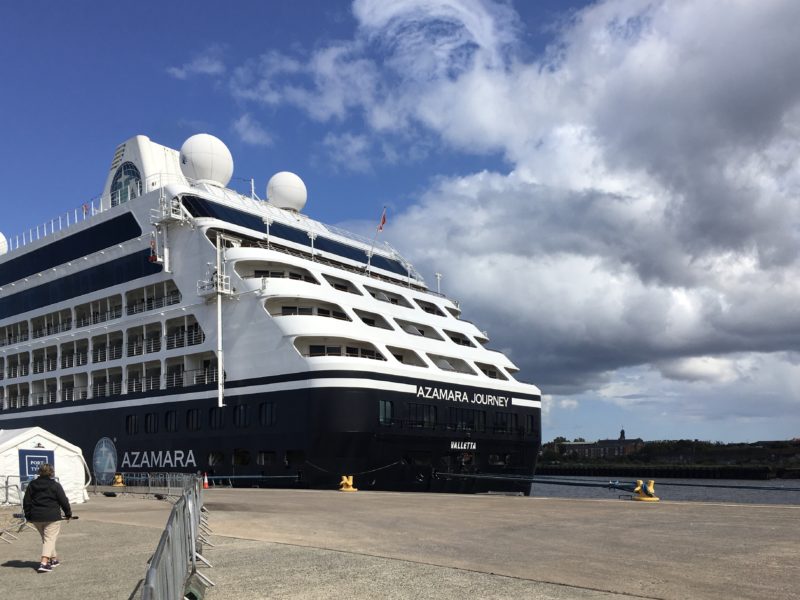 Who are Azamara
If you're not familiar with the Azamara brand (formerly Azamara Club Cruises), they are a small upmarket, boutique-hotel style fleet of luxury ships. As a brand, they are dedicated to offering 'destination immersion' where you get to stay longer & experience more in port. Their fleet also visits smaller ports into which the mainstream megahips cannot get, even rivers like the Mississippi and Elbe. And when Azamara ships share the same larger destination ports, their compact size gives access more scenic, prime docking locations. You don't end up in the large industrial ports with these intimate vessels.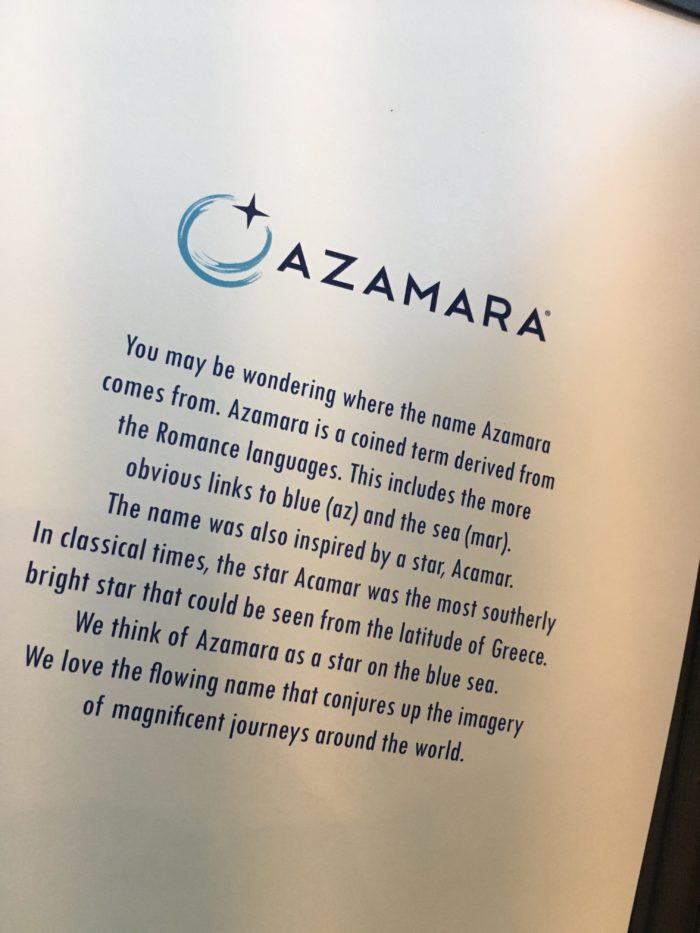 Officially Azamara fleet are classed mid-size but considering the sizes of mainstream cruise ships out there, personally I would class them small. Azamara ships have a maximum of 700 guests onboard, when the large mainstream megaships can have almost 10 times that. Azamara vessels also are only 30,000 GT in size, and that is small by mainstream cruising standards. Compare that with my last cruise holiday on a sparkly Italian vessel of 150,000 GT, and over 5,000 guests. The smaller size combined with fewer passengers, Azamara offers much more personalised service – thanks to a higher staff to passenger ratio. No wonder past cruisers are so complimentary.
Those who are regular Royal Caribbean or Celebrity cruisers may already be familiar with the Azamara brand as they are part of the wider Royal Caribbean family. Azamara even recognises the loyalty programmes from the other two RCCLC companies: Crown & Anchor (Royal Caribbean) and Captain's Club (Celebrity) and offer selected matching benefits depending on your tier. So if you started as a Royal cruiser and moved up to Celebrity to get a more premium experience, there is one more leap to do to the luxury arms of Azamara.
The Azamara fleet
All three Azamara ships (Journey, Quest and Pursuit) are R-class ships dating back to early 2000s. The serial cruisers reading this may have come across this class already. The four smaller Oceania Cruises ships are also R-class ships. Princess too still has one R-class vessel, Pacific Princess on their fleet. Many Brits may recognise Azamara Pursuit too, as she was the P&O Adonia before Azamara bought her in 2018.
The Azamara extra touches
Azamara offers their guests not just small ship cruising. Much more is included into the Azamara 'modern elegance' experience. Gratuities are incorporated into the cruise fare so there is no tipping expected (though no doubt it is welcome by individuals). Shuttle buses from port to town (when required in destination) are also built into the fare.
All bottled water, soft drinks, specialty teas and coffees are also included in the cruise fare. But more importantly, for most of us cruisers who enjoy an occasional (aherm) drink of alcohol onboard, an Azamara cruise is an all-inclusive cruise experience on that front also. Select standard spirits, international beers and a daily rotating selection of wine are available to guests at no extra cost. Below you can see the two house wines of the day that I snapped while in one of the lounges. I didn't ask to see what the whites wines were…
For Balcony Plus and Suite guests, there are additional Azamara extras: like free laundry, internet minutes, in-room spirits etc.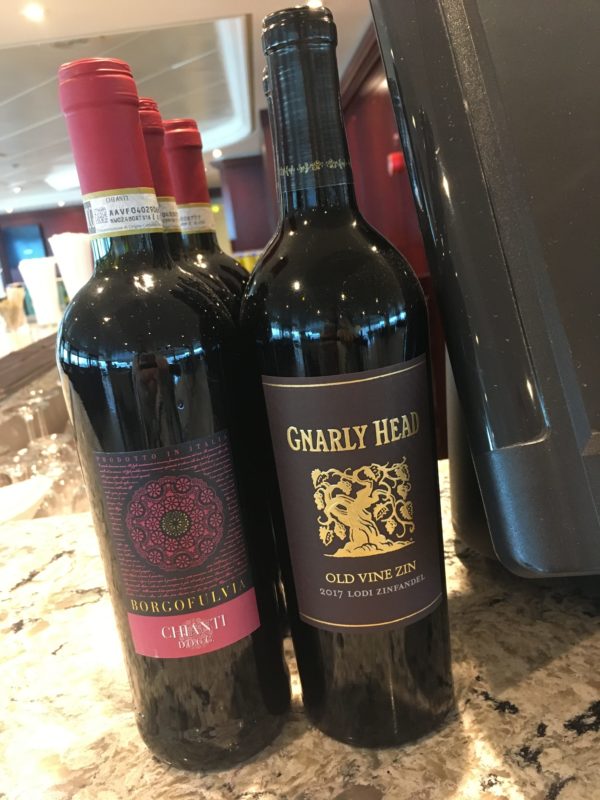 Regardless of cabin class, all guests on a sailing seven days or longer also receive a complimentary AzAmazing Evening invite (with the exclusion of transatlantic sailings). An AzAmazing Evening is essentially a custom-designed excursion event, designed to be an immersive cultural experience of local music, architecture, food and people. Past AzAmazing experiences have included private ballet performances at St.Peterburg, en evening with three tenors on a Tuscan hillside enjoying local wine & cuisine, and even a Beatles tribute band show in a historic location in Liverpool. Something a little different, to experience local culture, history and music all in one evening. Sounds rather exciting, I thought.
Unlike some of the other luxury cruise brands, Azamara Azamara does not advertise themselves as an adult-only cruise line. But they do discourage families with children under 18yo from travelling. This is because there are no activities for children onboard. There are no babysitting services and the general ambience is geared at adult guests. No surprise then, that by default the Azamara clientele consists mostly of adults looking for a relaxed but luxurious cruise holiday.
Maybe like us, you have been thinking of a luxury cruise having sailed the busy megaships aplenty. Perhaps Azamara's modern luxury has been on your mind – but you do not enjoy formal cruising. Worry not. Azamara does not do formal nights and describe their onboard dress code as 'resort casual'. Dress well, dress smart but don't worry about bringing in gowns and tuxedos.
Ship tour of Azamara Journey
Our tour commenced on embarkation deck 4 and the Azamara Journey Atrium. It is a delightful 2-storey affair. The ornate, but delicate, staircase in black & gold frames the warm yellow staircase landing beautifully. The landing itself features a piece of modern art which to me looked like a large necklace. It certainly is something different.. and I love it! I much prefer that to a mirror and a flower display. The guest service desk is located here at the bottom of the stairs as are shore excursions, the concierge and the future cruise sales desk. Latter also handles any loyalty scheme queries.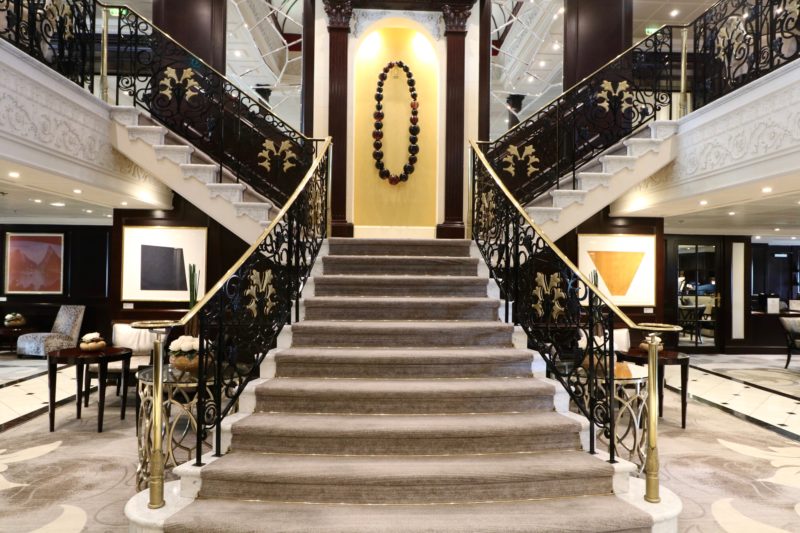 The ornate staircase takes you up to the second level of the Atrium (deck 5) where you find the Mosaic cafe all around the Atrium space. The best place for a bit of people-watching or enjoying the views from the promenade deck to the sea. Cafe Mosaic offers not just the usual teas, coffees and sweets & savouries but also hosts 'Wine Corner' gatherings.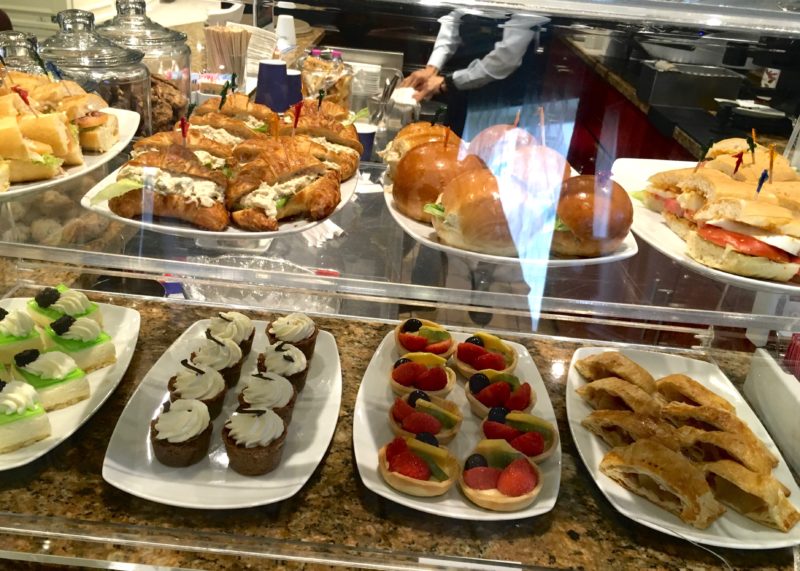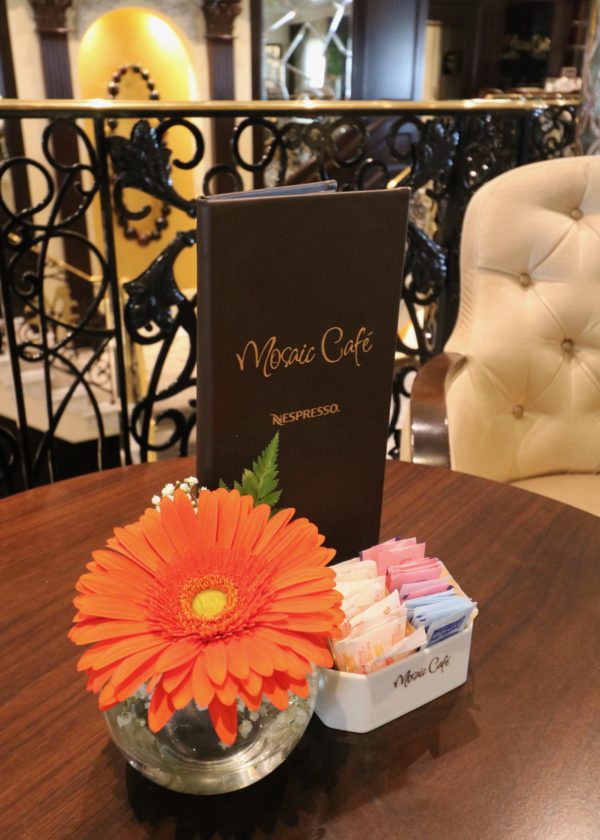 In one of the corners of the upper Atrium space is the Azamara equivalent of the art gallery. Its featured pieces available to purchase are displayed along the walls of the Cafe Mosaic. What made Azamara Journey different was that this art retail area also featured pieces of American sports memorabilia. I have never been tempted to buy art on a cruise but spotting the items on show I think I would be tempted to that on an Azamara ship. Journey showcased a signed helmet by 1969 Superbowl winners and a signed picture of Ted Williams (from my beloved Boston Red Sox) meeting Babe Ruth. That's more to my taste.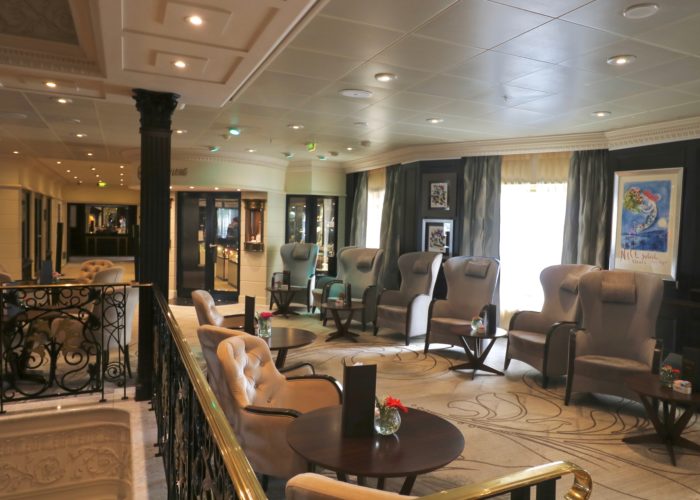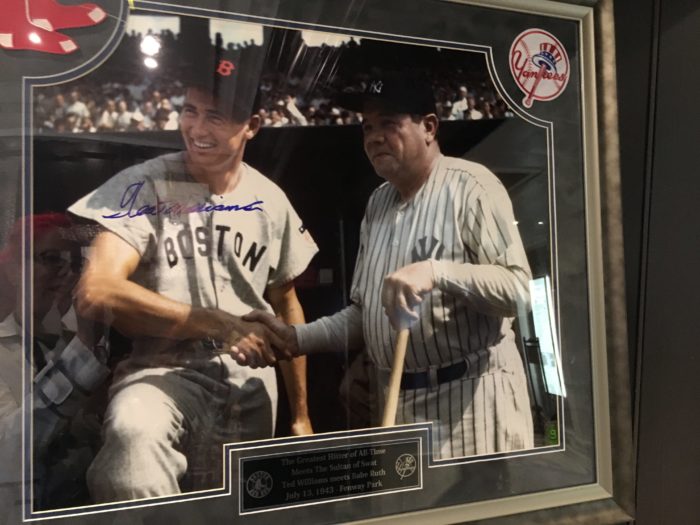 Behind the art & memorabilia sales desk is the Discoveries Bar for pre-dinner drinks. Behind the bar area, is the Discoveries main dining room (MDR). It has no fixed dining, no dress code (just be smart casual) and no shared dining unless you so wish.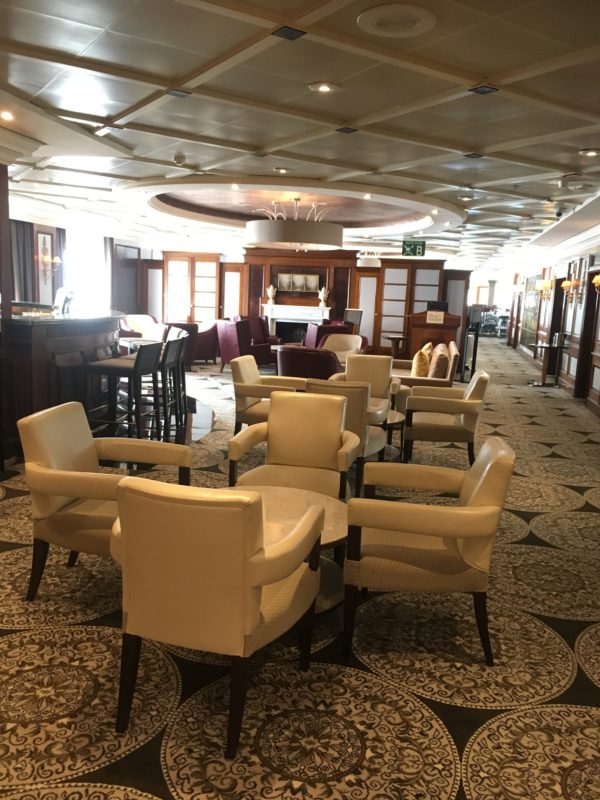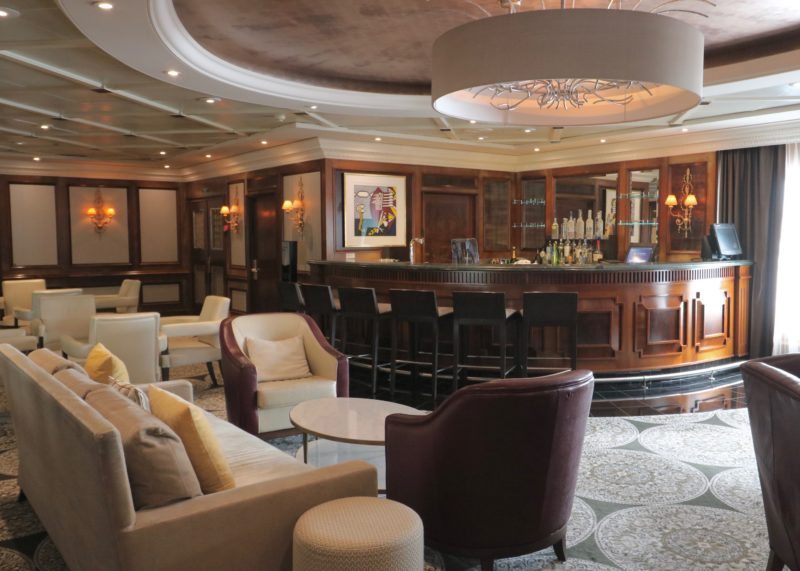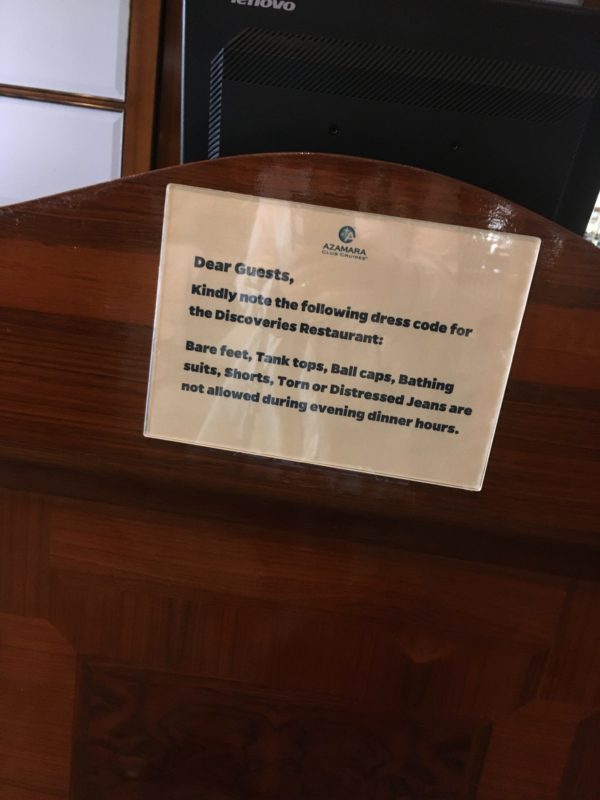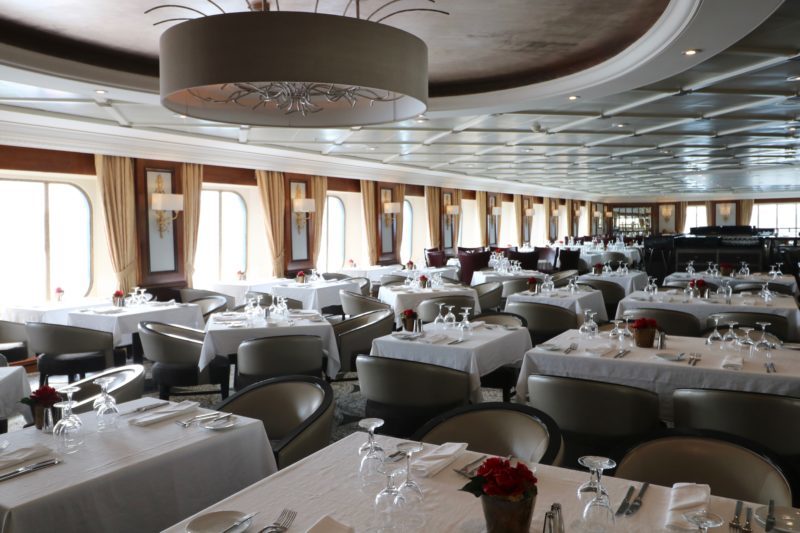 I knew the MDR has a separate vegan menu for plant-based guests, but I was excited to see a standalone vegan option (vg) on the menu. The evening menu also listed items that could be served/made vegan (vo) upon request.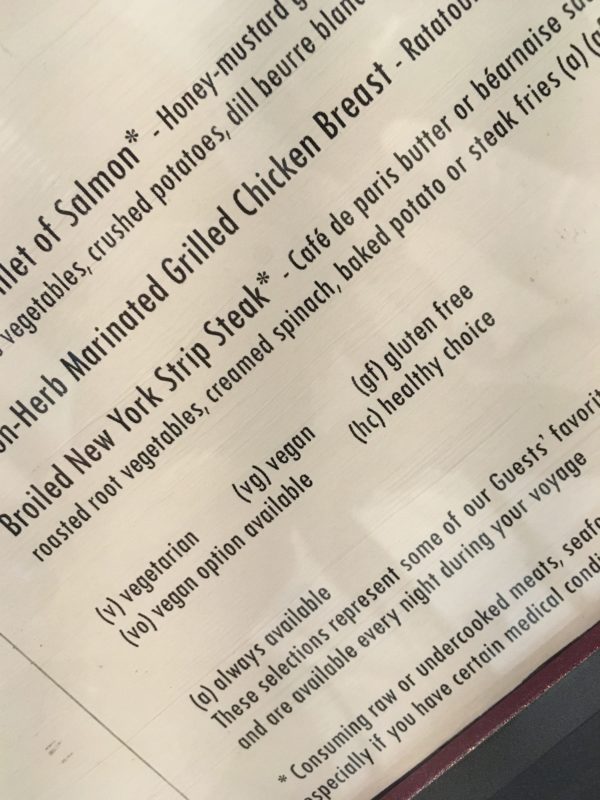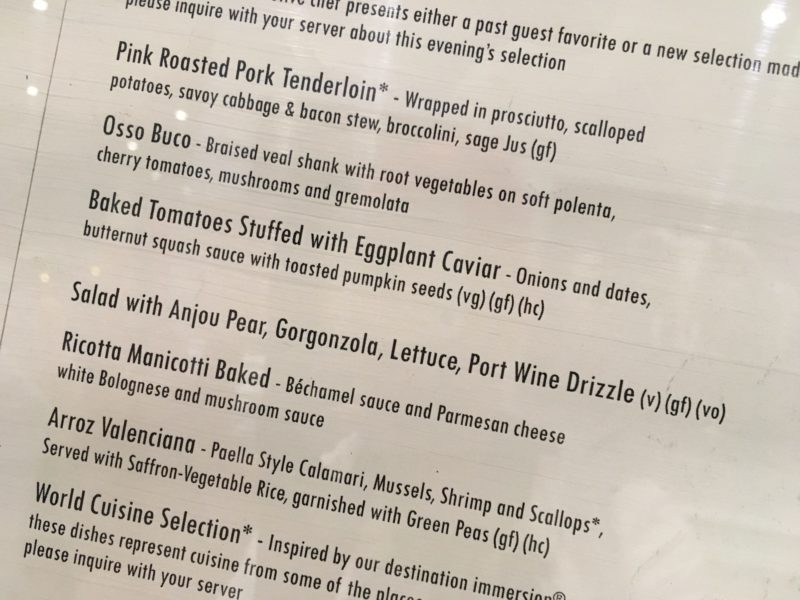 The shops, Sprits Bar (for drinks and sports) and the Casino are also on deck 5, though the Casino will be removed in the next refit. Azamara ships spend so much time in port that there isn't really much time to open up a casino, so this space will be reimagined at the next drydock.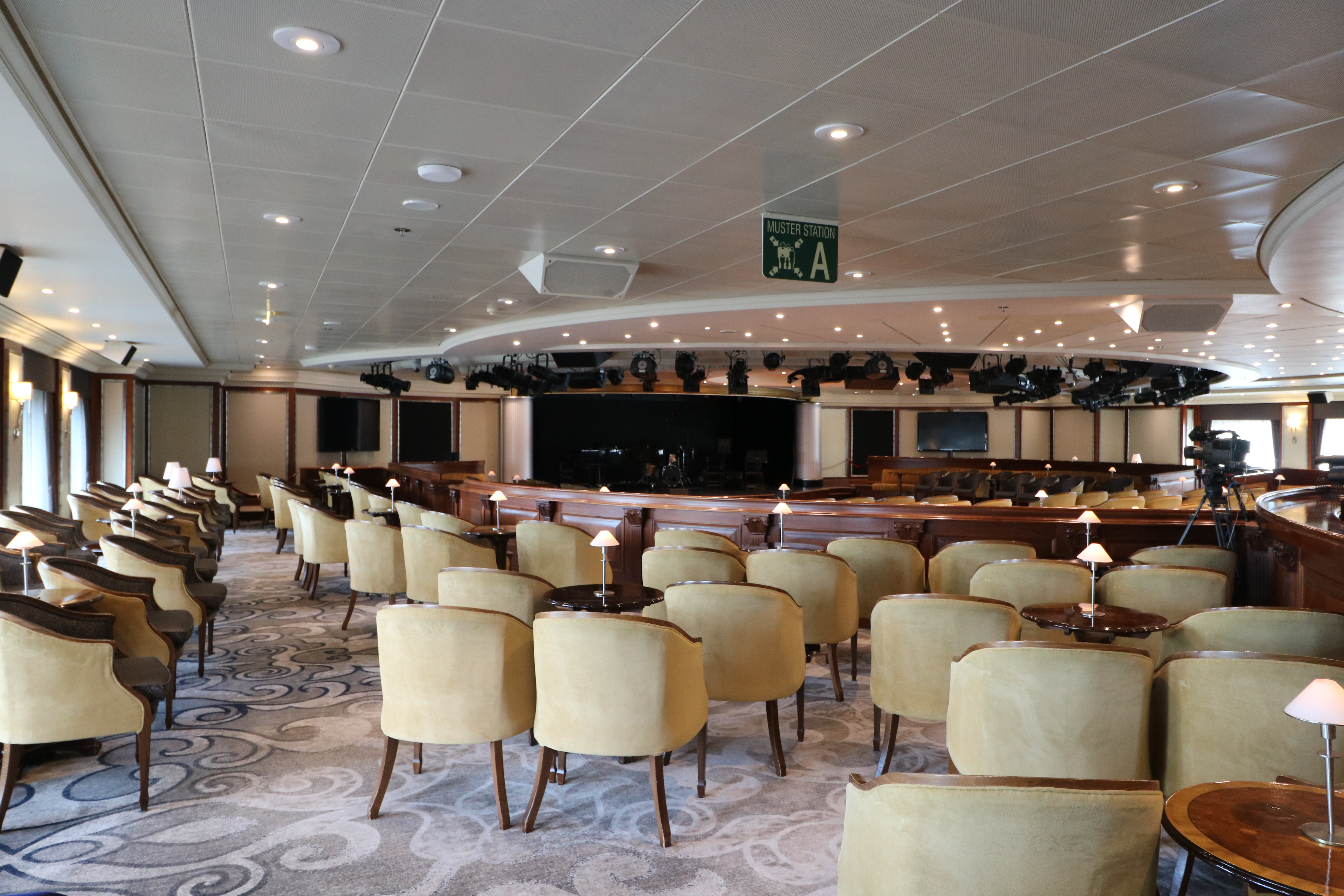 Far forward deck 5 is the Cabaret Lounge, for evening entertainment consisting of musical revues, soloists, bands and more. The next couple of decks are for accommodations only, until you get to the lido deck.
We weren't able to tour any of the accommodations as Azamara Journey was sailing at full capacity, but we were all sent images of cabins to show how guests are accommodated. Many thanks for Azamara UK PR team for the below images. Various grades of cabins offer accommodation from inside cabins to suites, including two special spa suites that are linked to the onboard spa.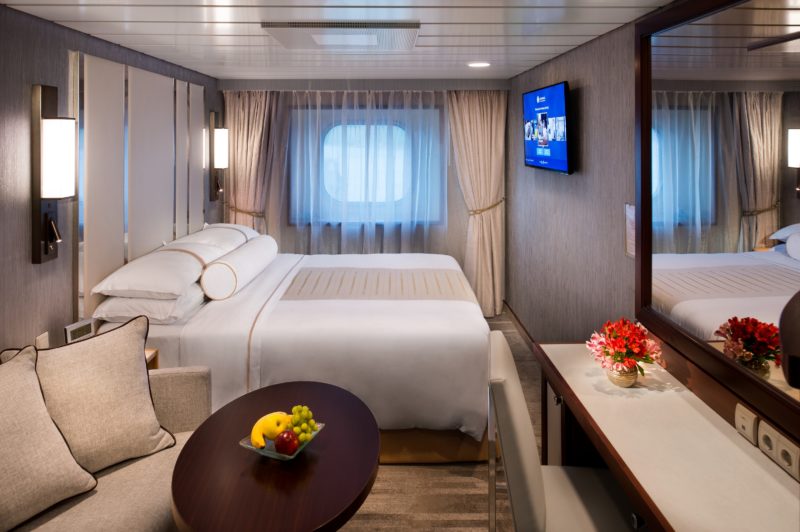 Cabins are fitted to usual modern standard, with USB charging points in the bedside lamps, have a large flat-screen TV, hairdryer, minibar etc. Oceanview cabins are 143 sq ft/13sqm in size
Cloud 9 – deck 9 – love the lido
Deck nine is where the fun, dining and pampering starts again. Far forward is the small Sanctum spa. It has a beautiful private sun terrace kitted with a thalassotherapy pool and comfortable loungers for the spa guests to enjoy. There even is a four-poster bed that can be hired for a 'night under the sky'. Azamara guests can hire the whole of the spa deck for an unforgettable night with butler service, open bar and barbeque dinner. Naturally, the spa thalassotherapy pool is all yours for the duration. The four-poster bed is set for you for the night, and butler breakfast is served the following morning.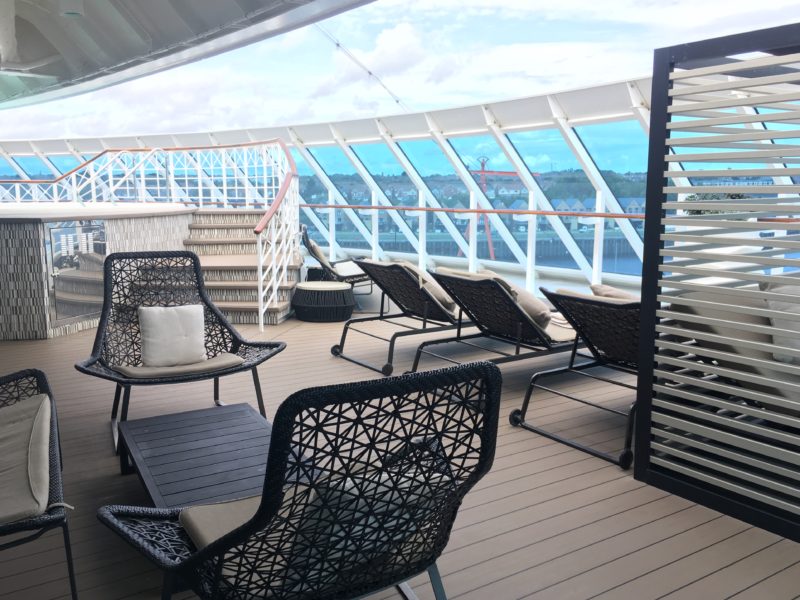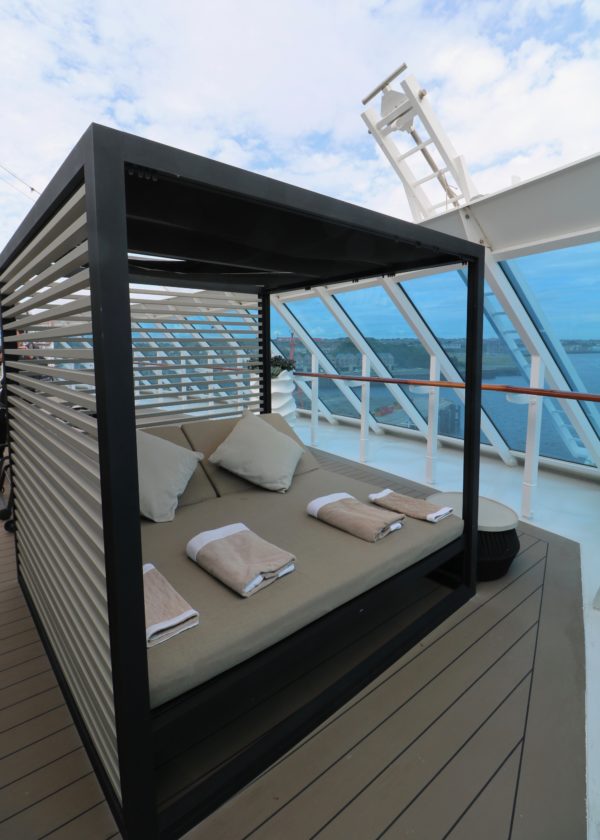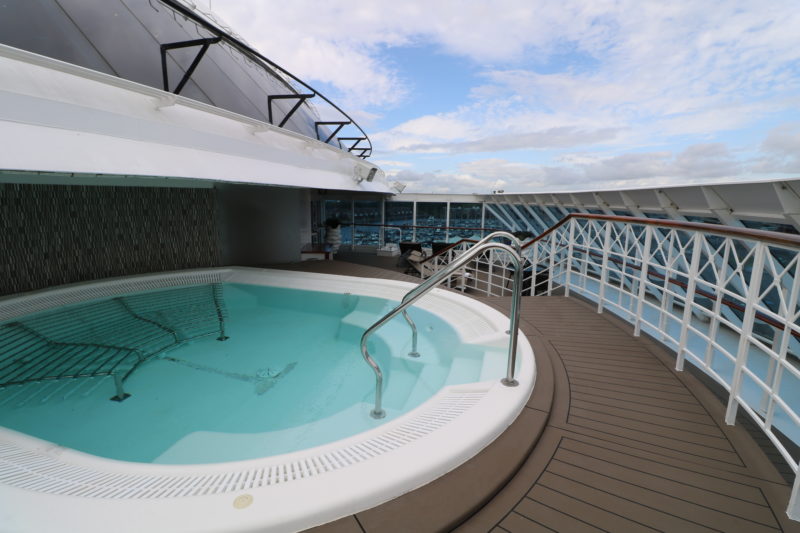 The spa offers various treatments, plus there is a combined hair salon & nail bar. On the starboard side you will find the well-equipped gym offering the usual classes (yoga etc) and fitness instruction. The floor to ceiling windows give you a great view out to the sea while working out.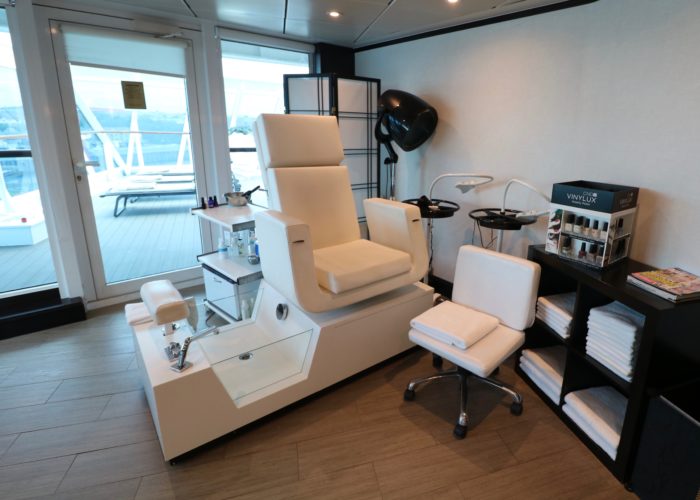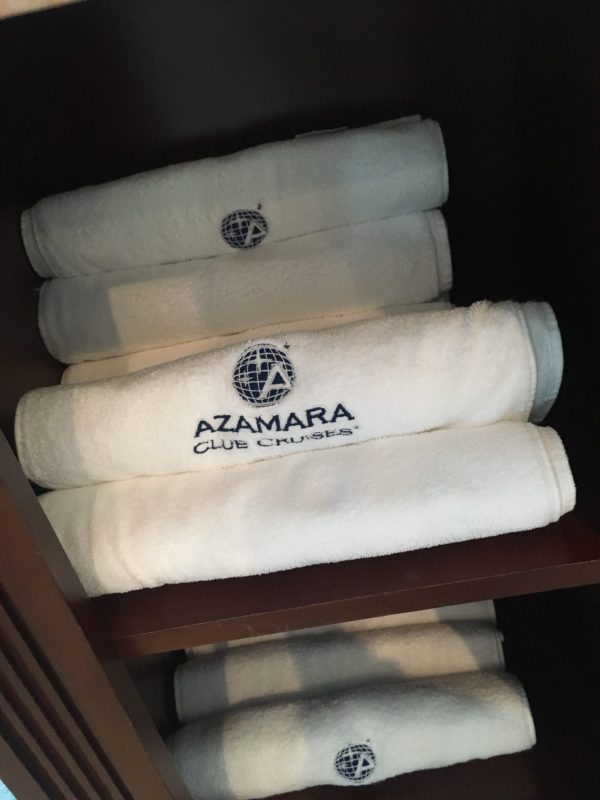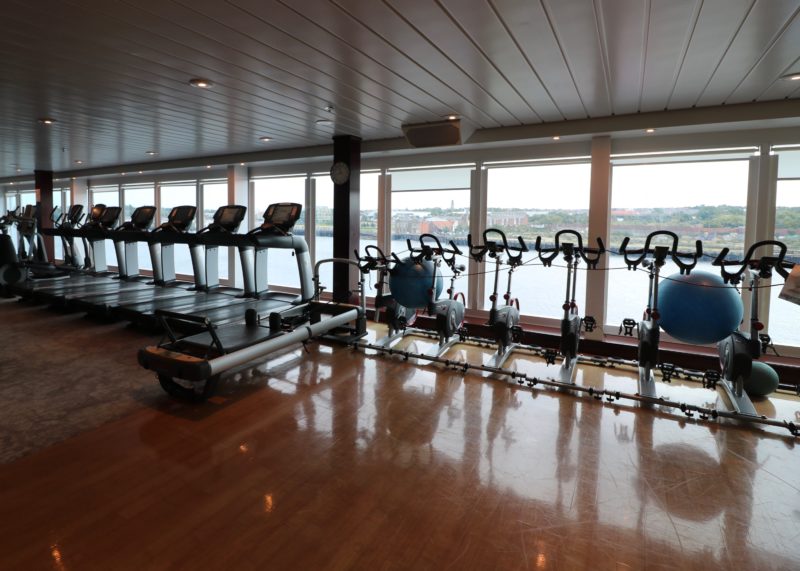 The main pool deck on Azamara Journey is found midship deck 9. It is a lovely, large pool with two jacuzzis, surrounded with a selection of luxury loungers. This looked so inviting on the day! I just wanted to park myself down and wait for a passing waiter for one of those all-inclusive drinks. This is where the 'White Night' magic happens. The loungers get stacked away and are replaced by tables and chairs for a special night of food, drink, live music and dancing.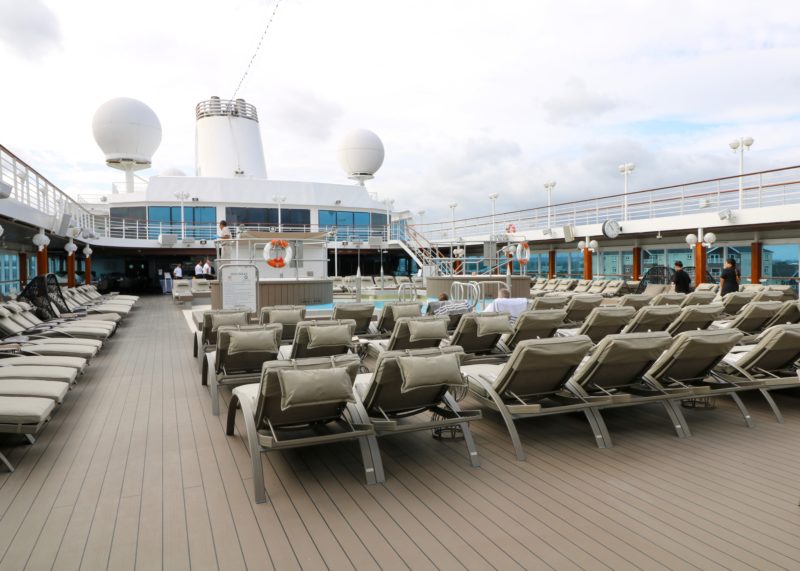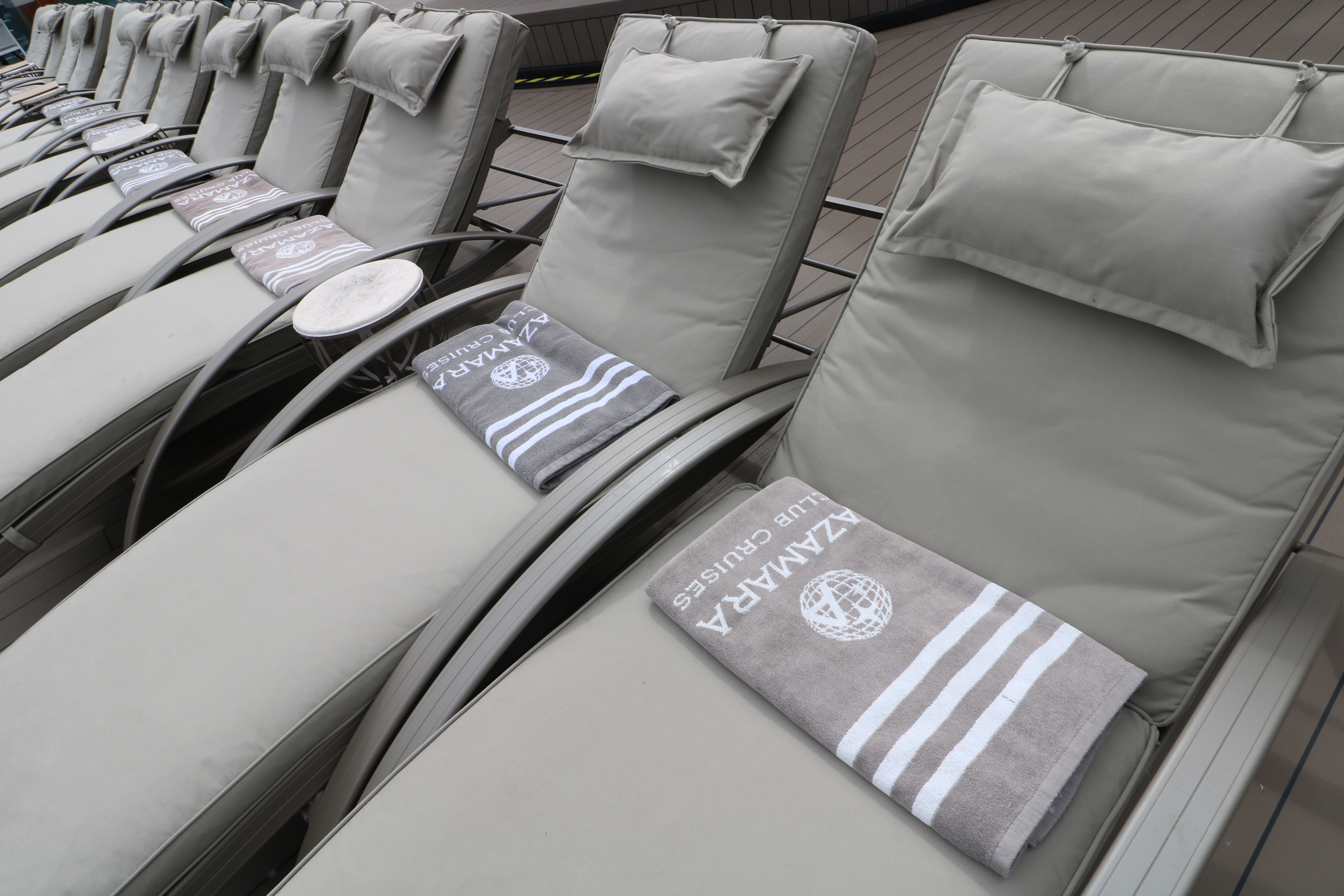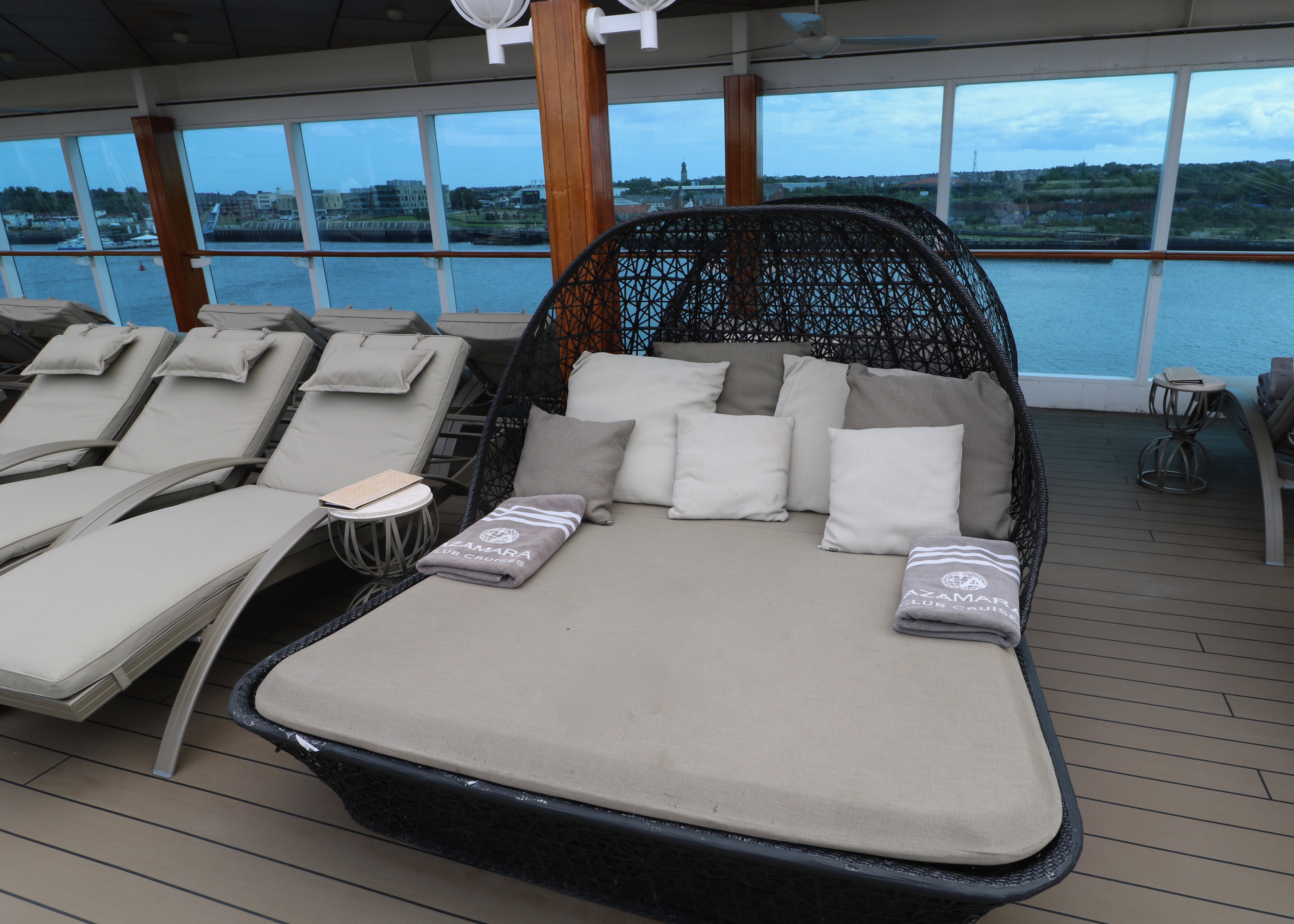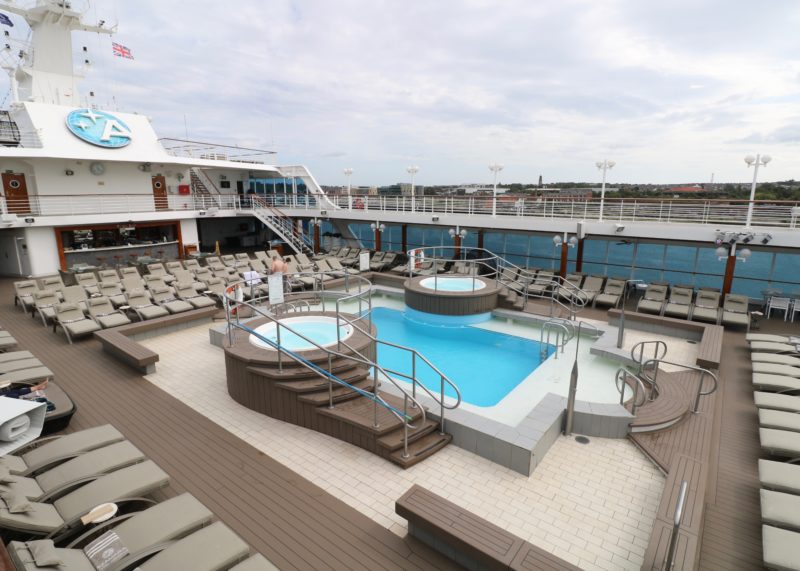 Towards the aft you will find another inclusive dining venue, the Windows Cafe buffet. I was personally so impressed by the fact that the dishes served were clearly labelled when they were gluten-free or suitable for vegans. So helpful for those of us with dietary needs.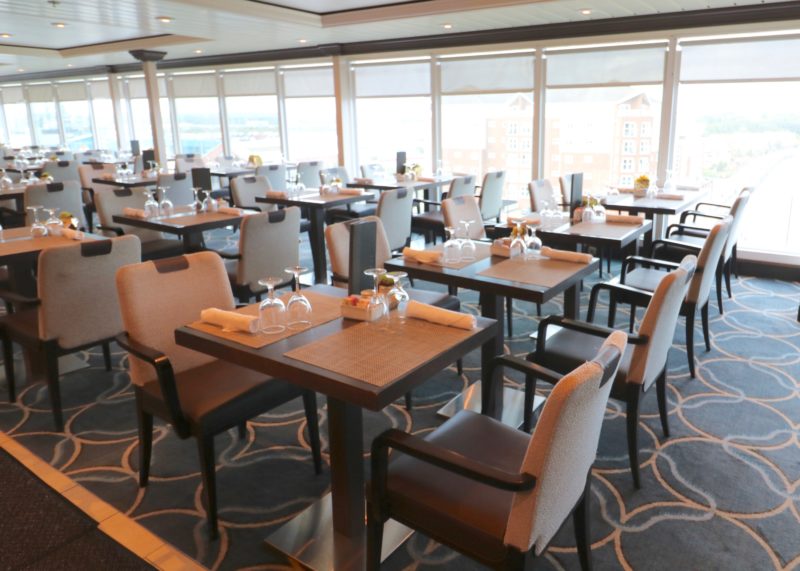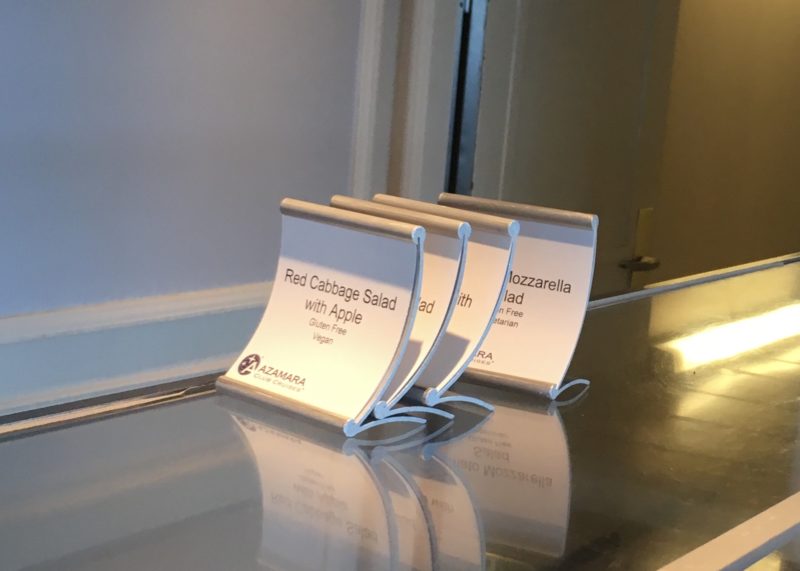 Right at the rear of the buffet you can find some outdoor seating, and a bar aptly named 'Sunset Bar'. Perfect for some casual alfresco dining and drinks. And the aft views. Nothing better than a drink in the hand, with a setting sky and the view of the wake. I believe I am not the only one – clearly not considering how the bar was named. The outdoor seating and how the tables were set here really reminded me of Viking Ocean ships I have visited and their table settings.. placemats and all.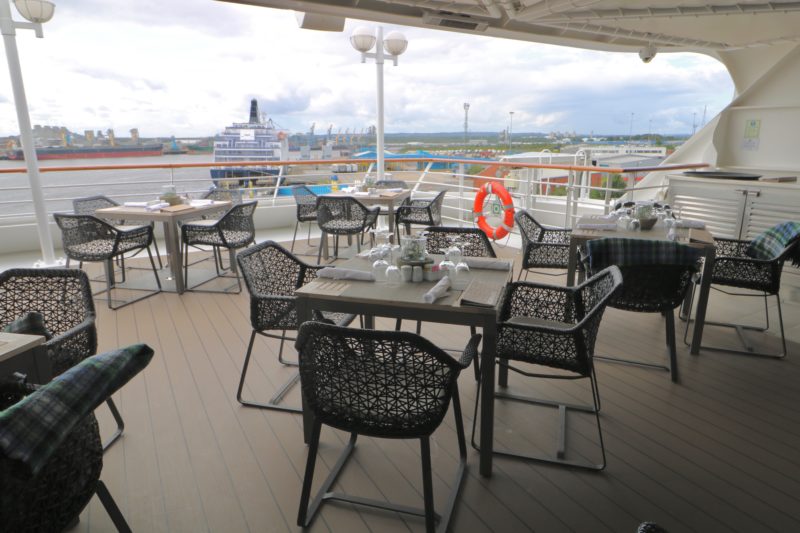 Starboard side of pool deck, just before the entrance to the Windows Cafe, is the Patio pool bar. In the evening The Patio turns into a real alfresco dining venue with tablecloths. Right next to it is the self-serve ice cream station Swirl & Top. There were no vegan options of softserve. But I was impressed by the fact there were four different flavours on offer for those who do/can consume dairy: chocolate, banana, strawberry and a frozen natural yoghurt option.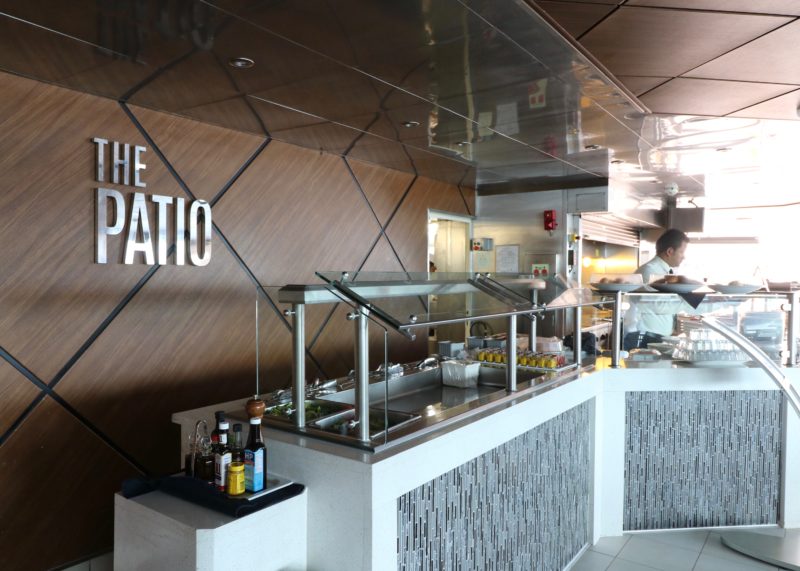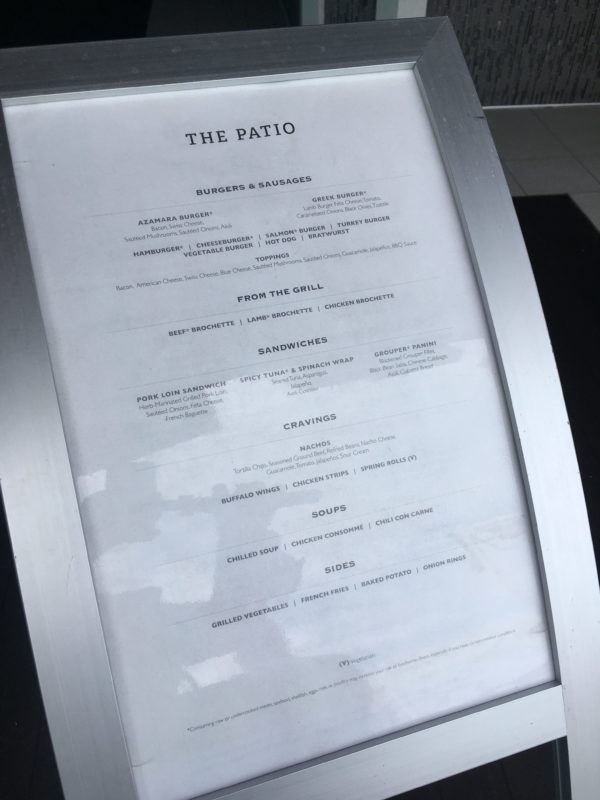 Perfect 10 – deck ten for more dining and lounging
Forward deck ten has my favourite venue of the whole ship, the Living Room. To me, this is the heart of the ship. The Living Room has great panoramic forward views of the journey ahead, perfect for a seaday, or a sailaway on cooler night. Someone else can have the treadmill views the deck below, you would find me here with that complimentary drink in hand.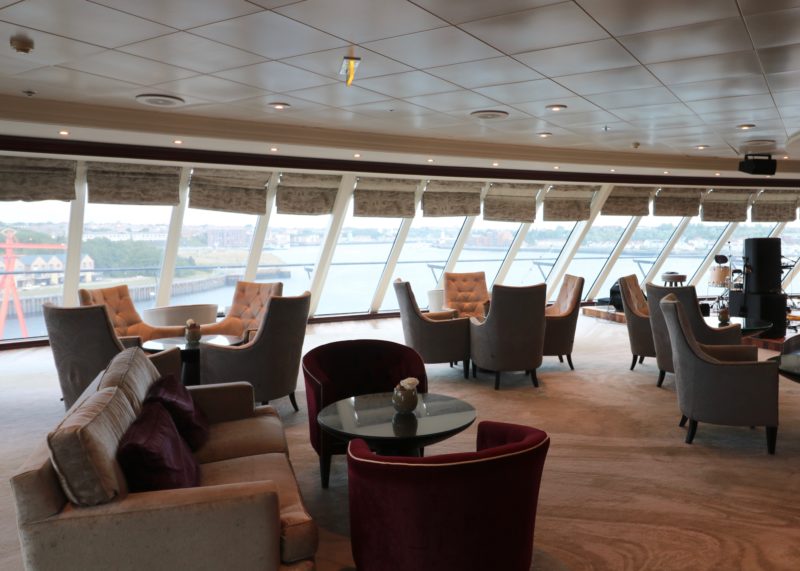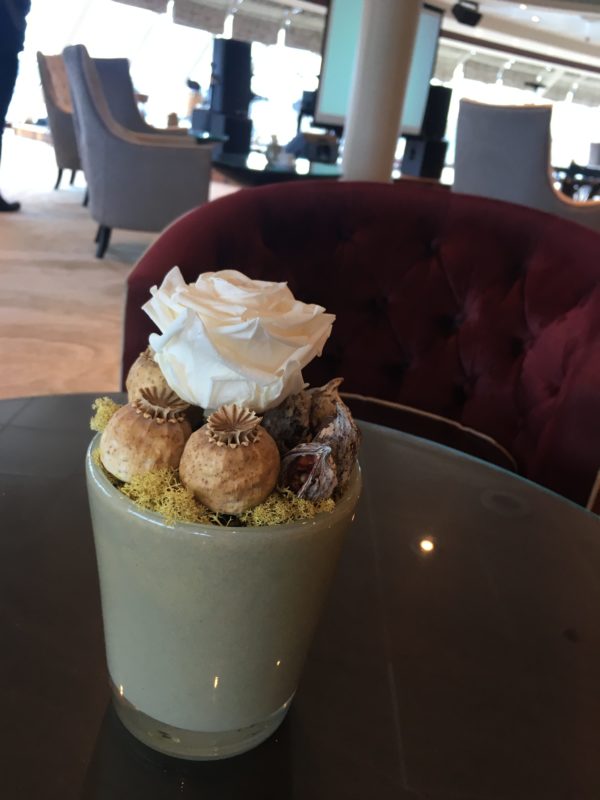 I was particularly fond of the hanging swinging 'birdcage' seats as I called them. But there is plenty more comfortable seating available to enjoy the views, tapas, enrichment talks, music and I have high hopes for the dance floor.. perhaps some late-night partying here, too? During the day there is a selection of drinks, cakes and pastries available. Later on in the day, these turn into tapas to enjoy over drinks.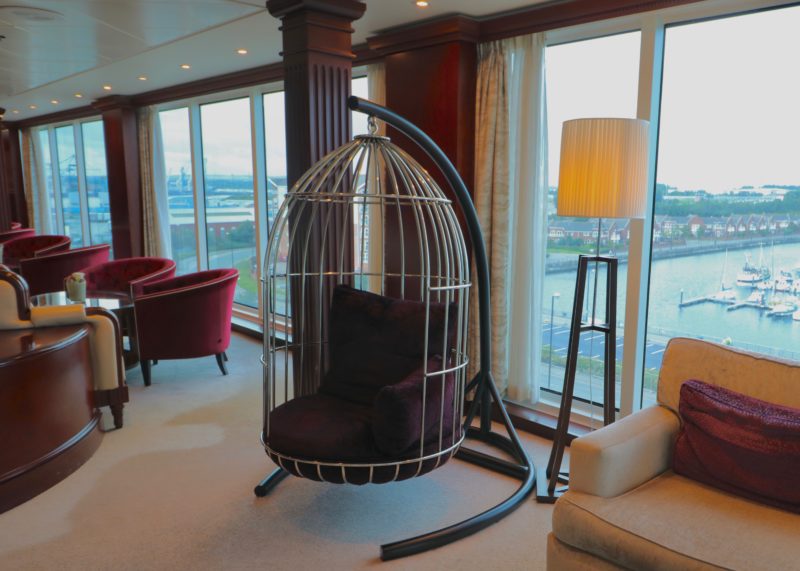 There was a 'card room' too – but does anyone use them? Maybe I'm of a generation who doesn't require a special room. After all, you can take Cards Against Humanity, or Uno, to any venue with a table and get playing. I loved the table centrepieces in the Living Room, very earthy and much like the ones I had previously seen in use on Viking Ocean ships.
Oh, and there are some computers available too, in one of the corners of the Living Room, that is if your own devices aren't enough for the Internet access you require during your cruise.
Exiting the Living Room you you find yourself outdoors on the jogging track on the upper tier of the Lido. On the other end of the Lido is the Drawing Room library for a quiet read, and an interesting mix of books to choose from. Again, I was quite pleased to spot a book by Moby among the selection. Mon the vegans!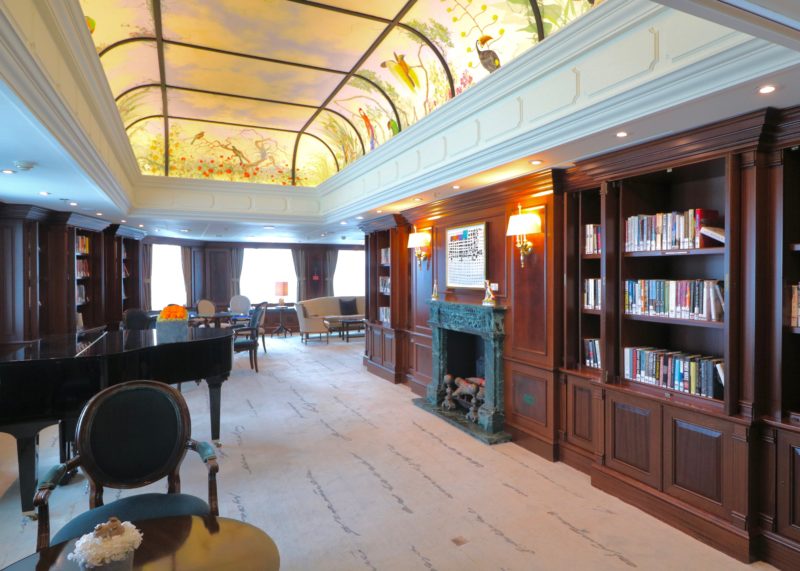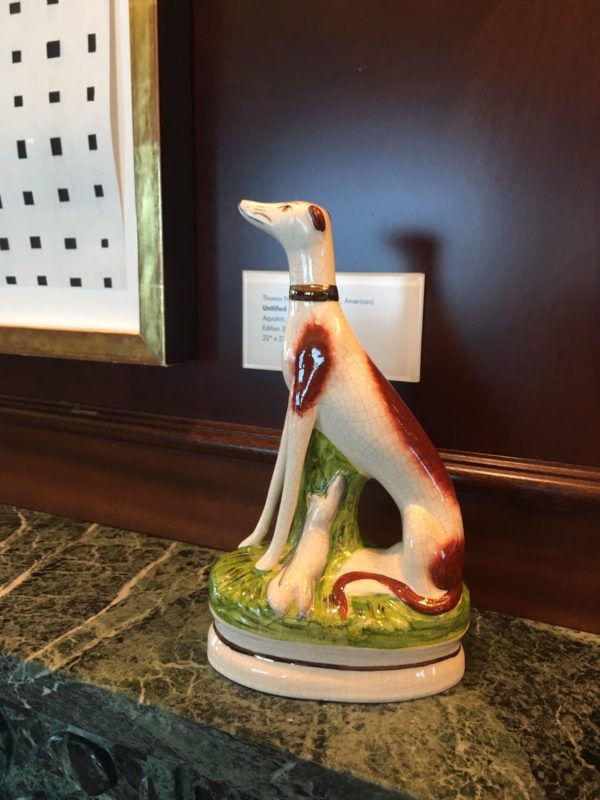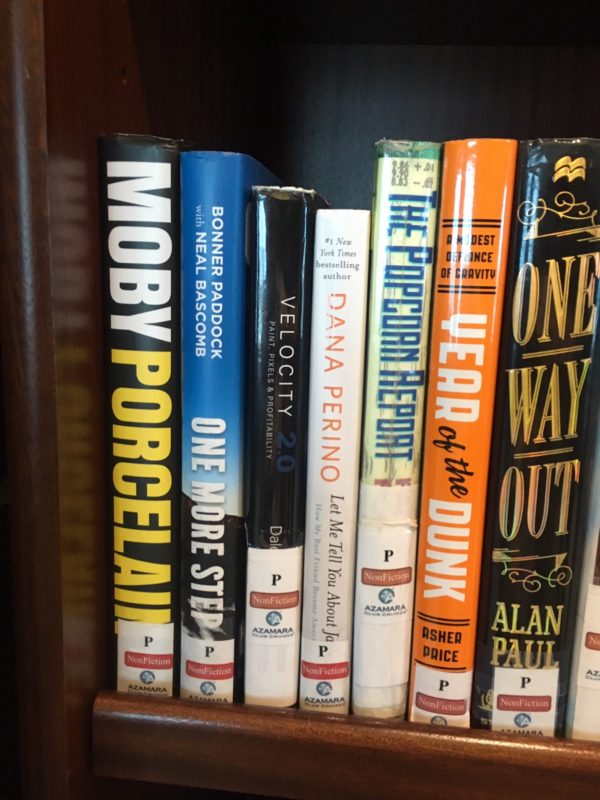 Behind the Library are two of the ship's specialty restaurants, both with a cover charge (free to suite guests). These are the Prime C.. as in C for Cut. AKA the steakhouse. It is another beautiful venue with lots of dark wood but still has a fresh modern feel. Again seeing tables set with placemats, and centrepieces using wood, nuts and lichen reminded me of the decor onboard their Norwegian competitor's ships. No doubt a popular venue for many, for both meal & drinks.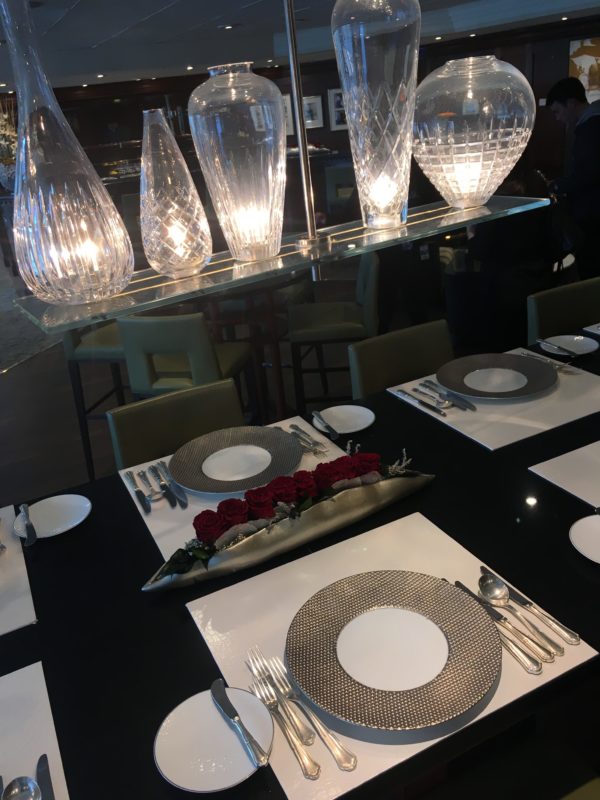 On the other side of the Prime C steakhouse (as a mirror image on deck plan) is the second specialty venue. This is the Italian-inspired Aqualina where we had our lunch during the tour. Dishes served to my table companions looked beautifully presented and everyone were very complimentary of the offering.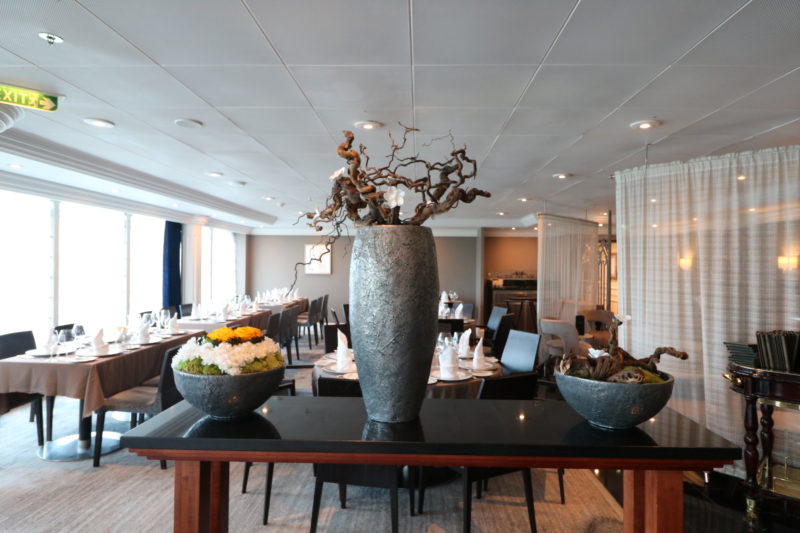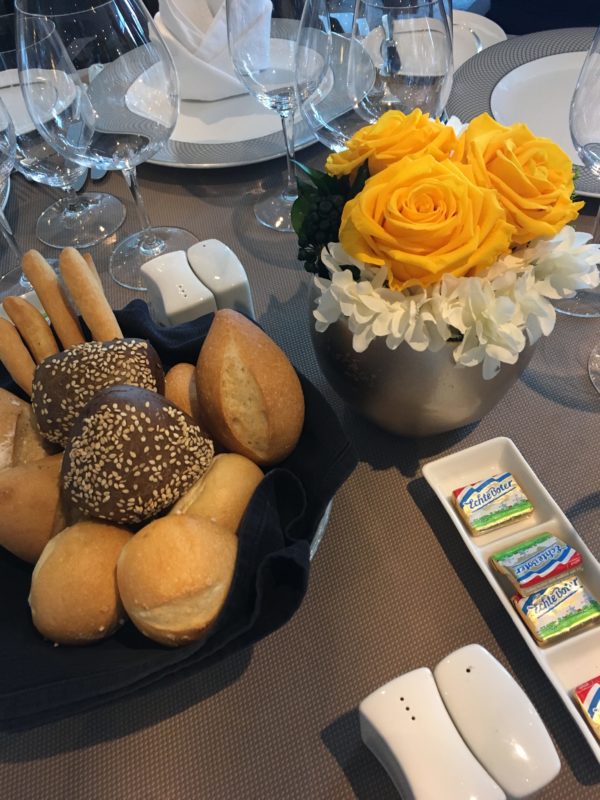 Unfortunately for me, the galley team hadn't been notified about a vegan attending so my meal wasn't as exciting as what rest the group enjoyed. The lunch menu on the day had nothing immediately suitable it seemed, which was a shame considering both the MDR later in the evening had several options. In fact, I would've fared better in the buffet – apart from the fabulous vegan chocolate dessert the Aqualina chef managed to produce to rescue the meal. A beautiful, sleek venue for gourmet Italian dining, regardless.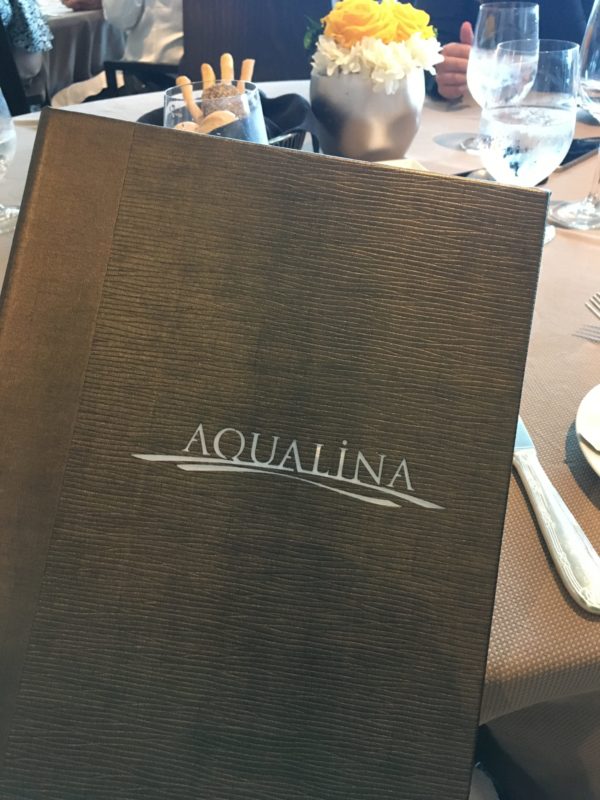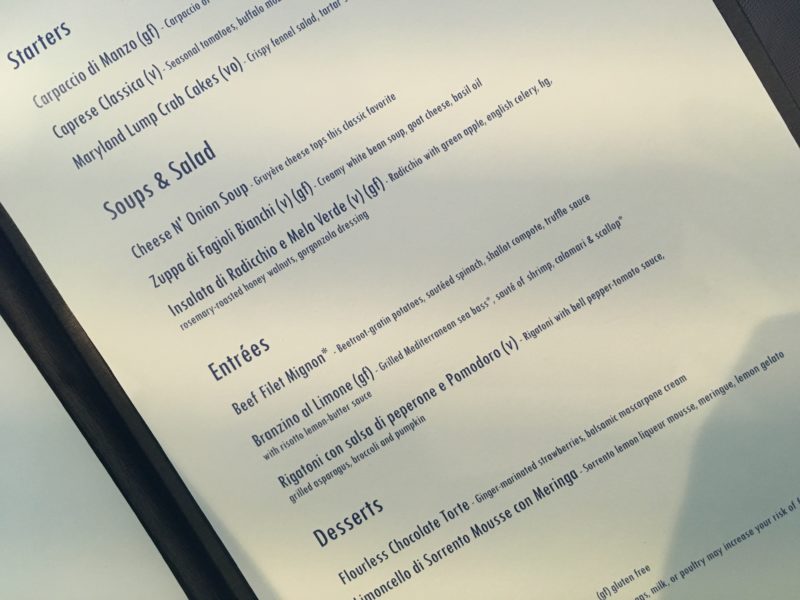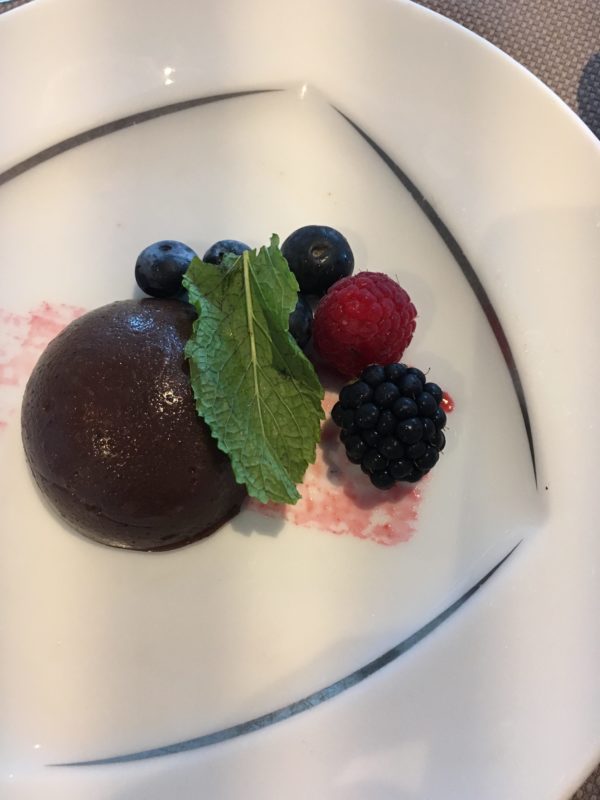 Small-ship luxury for destination-oriented cruising couples
There's clearly a corner of the market Azamara are reaching out to. Their classy product clearly isn't for the families, or those wanting megaship activities. But for adults looking to upgrade their cruising experience to a small-ship, inclusive cruise with heavy destination focus – Azamara fits the bill perfectly. Luxury comforts & service, longer stays in port, great food and inclusive drinks & those inbuilt gratuities. Your essentials are all built into the fare – just the excursions to pay for if you so wish. Last Azamara Mediterranean offer I looked at for us to do even included free return flights from London, with transfers in the other end. So very tempting! Do check their prices, you may be pleasantly surprised about the value you're getting!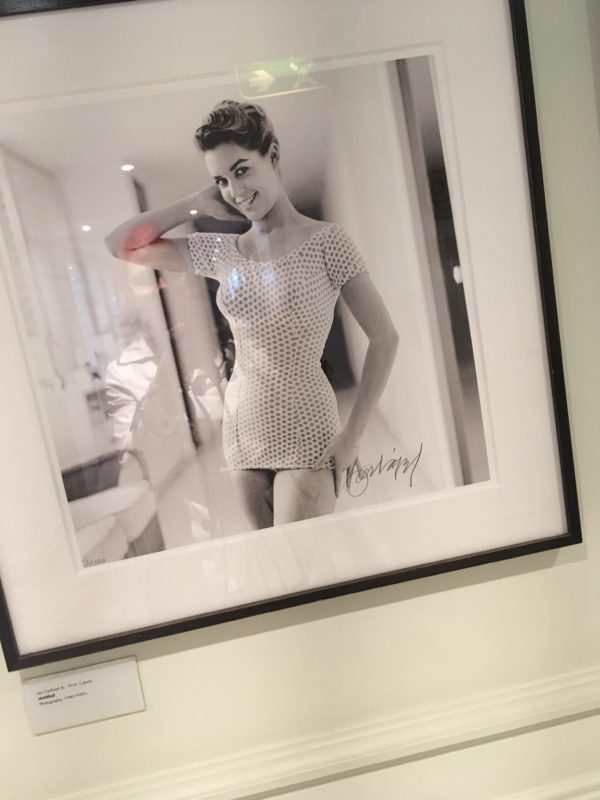 Azamara Journey is a little, luxurious delight. So many wonderful small touches all around the ship. Beautiful pieces of art on corridor walls, at lift & staircase landings, countless floral displays using flowers with dried flower pods, lichen and wood and earthy stoneware. Personally I found myself drawn the most to the beautiful black & white photography in the corridors. If only I'd had more time to walk around and take it all in.
So much to wish for, to see and to experience. The art, the food, the service, the Azamara difference.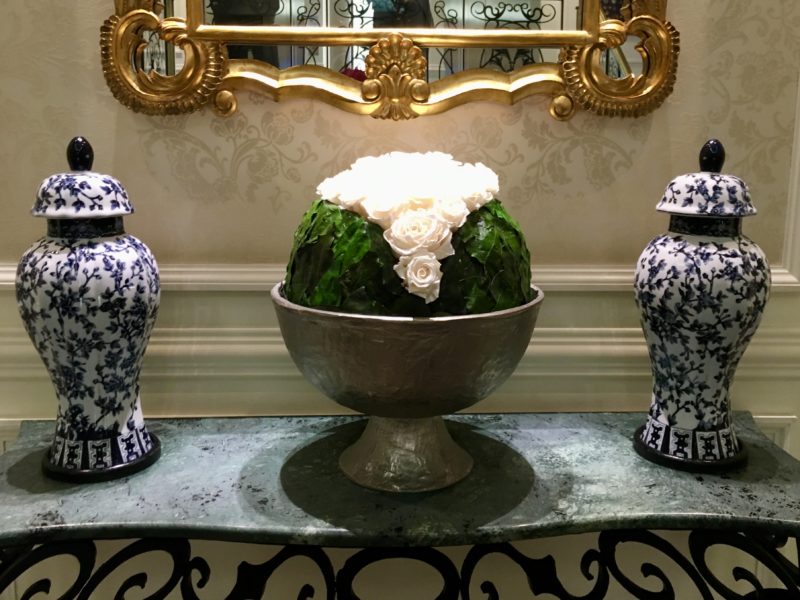 If I haven't managed to convert you with the above photos and my ship tour review of Azamara Journey, check out this fabulous Youtube tour of sister ship Pursuit by the talented, and funny, Rich & Helen from 'visit with us' blog.
Tempted yet? Let me know what you think after reading my Azamara Journey review! The earlier vegan menu post is here, if you are curious to see what makes me so keen to sail Azamara. For more info on Azamara, their sailings & ships, check out the Azamara UK website. Or more of Helen & Rich's fab Youtube videos on their channel.
Many thanks to Azamara UK for the tour invite! Can't wait to cruise on Azamara… soon, I hope.