Oceania Cruises' vegan menu now bigger & better!
I have often mentioned Oceania Cruises on my blog for their excellent main dining room vegan menu. It was introduced in the spring of 2017 and I was lucky enough to visit Nautica in Greenock to sample it in the autumn of the same year. You can find my introduction to Oceania Cruises, their 2017 vegan menu and my tour of Nautica by following the link on the left. I had an enchanted day onboard and I was served the finest plant-based meal I have had the pleasure to enjoy anywhere, on or off-ship. No surprise really, as Oceania is known to have the finest cuisine on the seas. I am so excited to share you the news that this year Oceania Cruises vegan menu is extending further! In April 9th 2019, a new press release came out detailing 200 new plant-based options to the fleet menu. This time vegan options are available not only in the main dining room but also in the Terrace Cafe (buffet) at breakfast, lunch and dinner. Also new for 2019 are vegan options in the specialty restaurants, available upon request at dinnertime.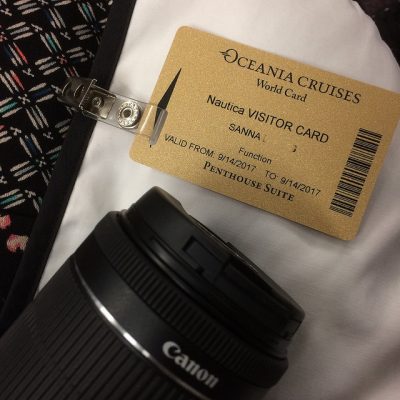 My finest ever vegan meal onboard Oceania Cruises
*throwback to Autumn 2017*
Oceania Cruises have been firmly on my cruise wish-list since my visit to Nautica (see here). Not only for amazing vegan food and the exquisite dining experience onboard, in the Grand Dining Room – but for the luxury and quality of service they offer. Let me inspire you with my fantastic lunch from the old vegan menu, just to give you an idea what Oceania can offer. Or what they did – while now in 2019, they offer even more!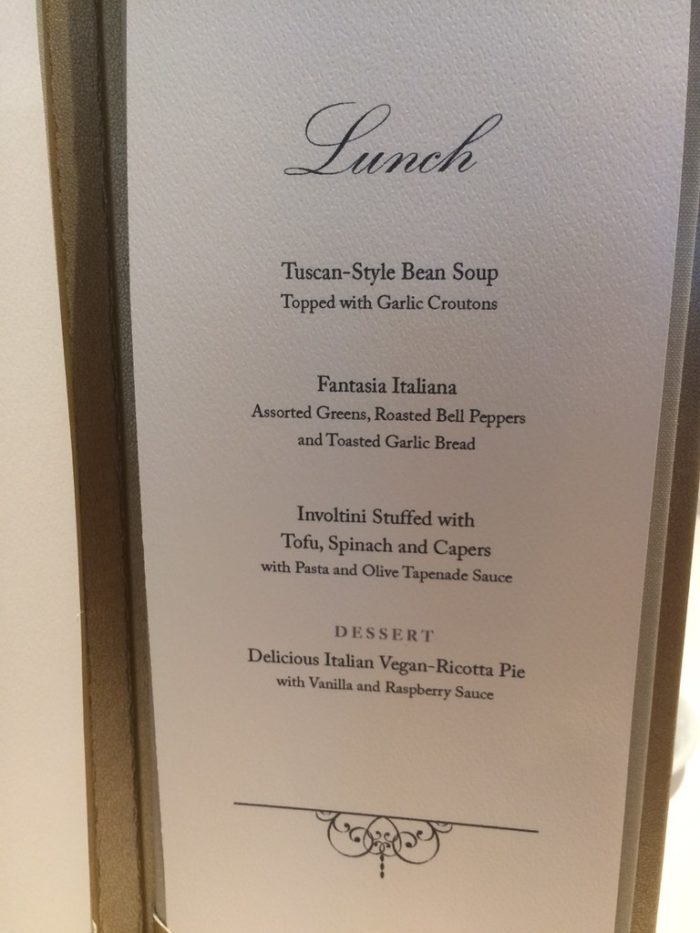 The place settings were just phenomenal with expensive Versace tableware, Riedel wine glasses and similarly decadent silverware. A feast for your eyes on these, a meal onboard Oceania Cruises is a visual treat, not just one for your stomach.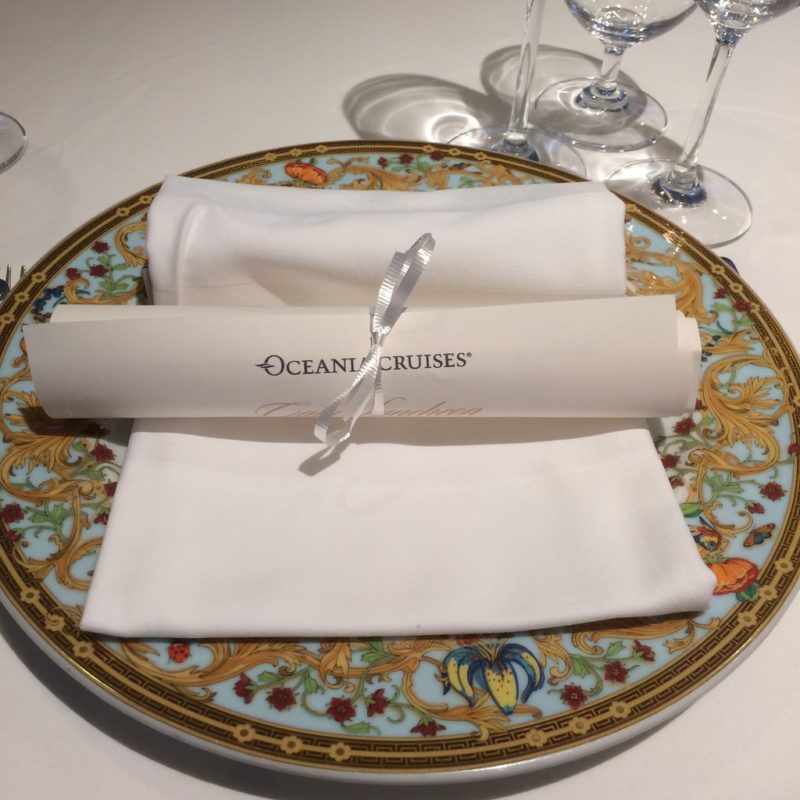 My lunchtime starter was a tasty, rich bean-laden Tuscan soup with garlicy croutons.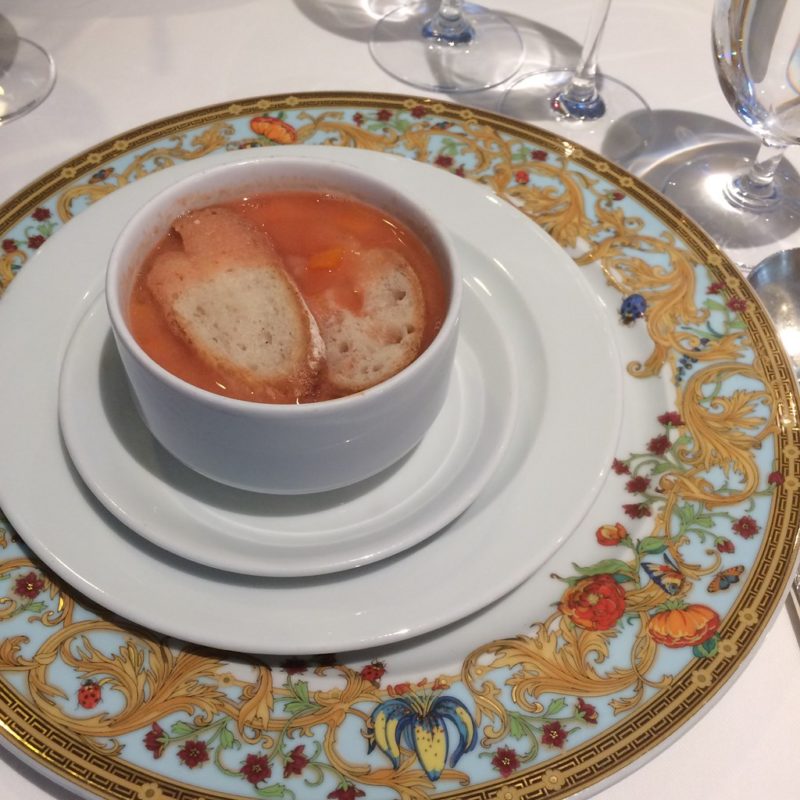 The menu I was presented was not totally accurate as I was served a salad course that wasn't on the menu. I am not too sure what it was, but it was so tasty. I think it might've been marinated tofu disks and some kind of vegetable rosti pancakes stacked and served on top of a salad. Whatever it was, it was delicious.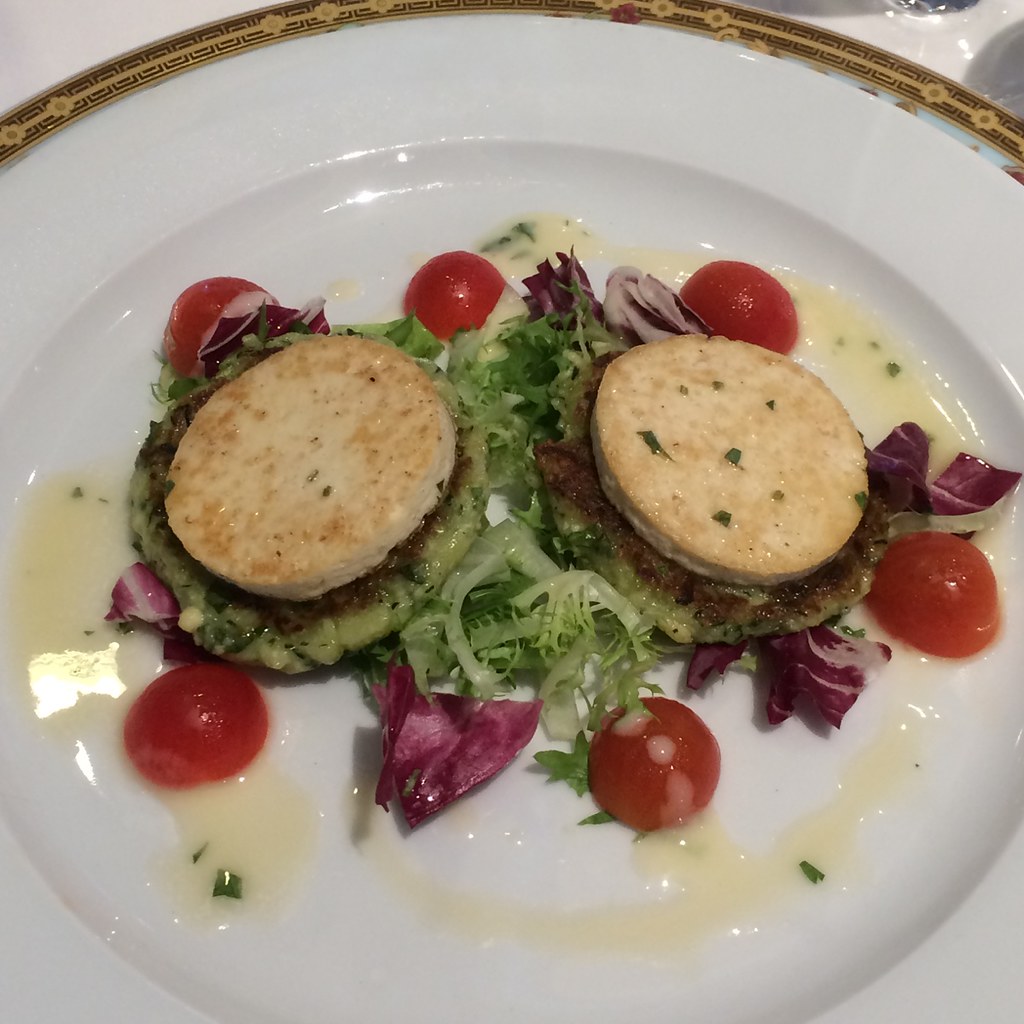 The main course, as per menu, was a stuffed involtini of tofu, spinach, capers with pasta and olive tapenade sauce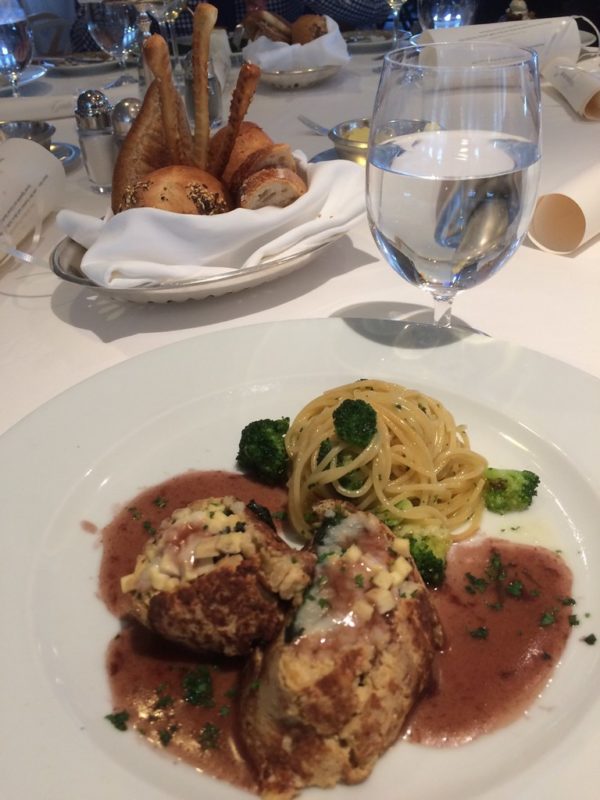 I have never been served a vegan dessert presented as beautifully as this vegan ricotta vanilla & raspberry tart.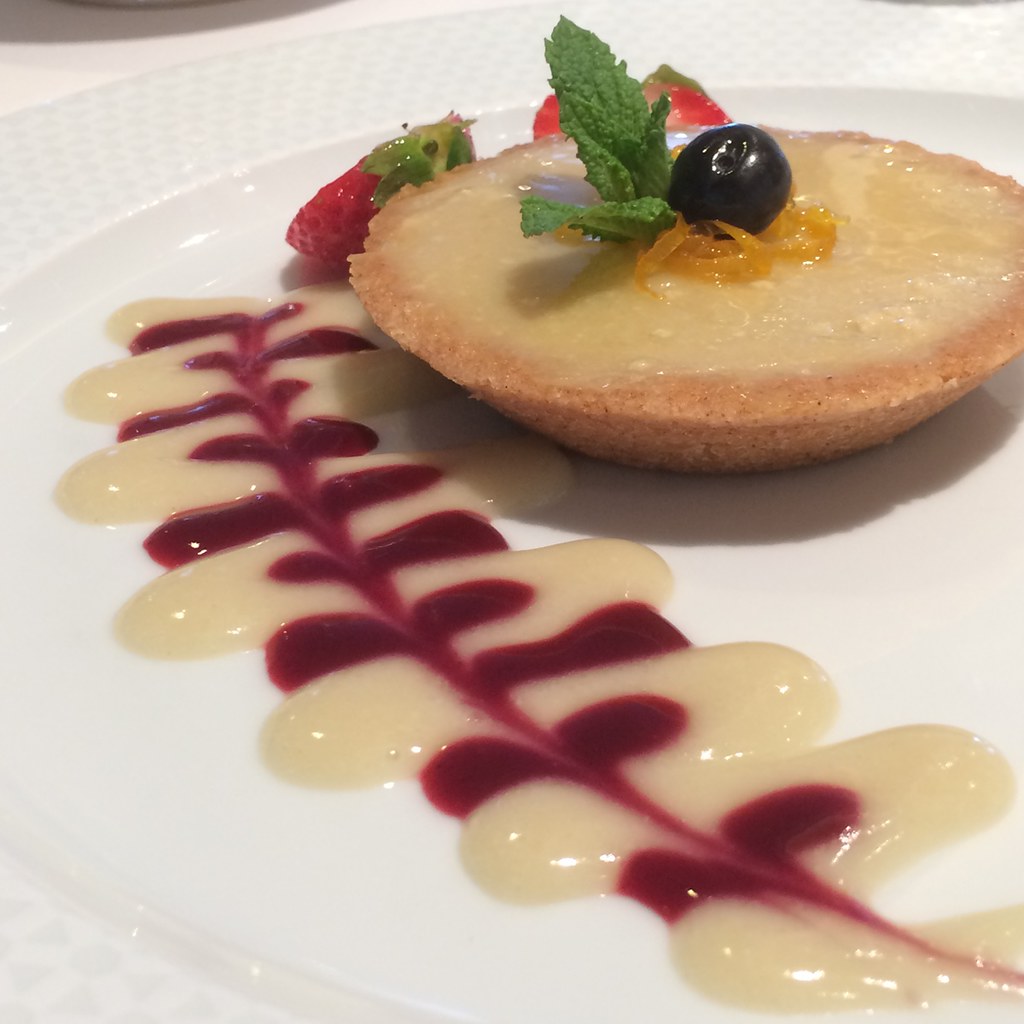 If you have sailed vegan yourself on mainstream cruise lines, the above dishes will do doubt have you excited. You just don't get dishes that are delivered with such thought & skill, when you cruise the big brands. And now, Oceania Cruises have extended their vegan menu by adding more plant-based choice to their menu. Here's what's new in 2019!
New Oceania Cruises vegan menu: plant-based goodness for everyone!
The poolside Raw Juice and Smoothie Bar on the pool deck (adjacent to the Waves Grill) serves raw, cold-pressed juices and vegan smoothies in the mornings from 7am until 11am. Choices include various vitamin-packed juices and smoothies, Cold Brew latte, Acai Berry bowl, and Chia Cashew Yogurt bowl.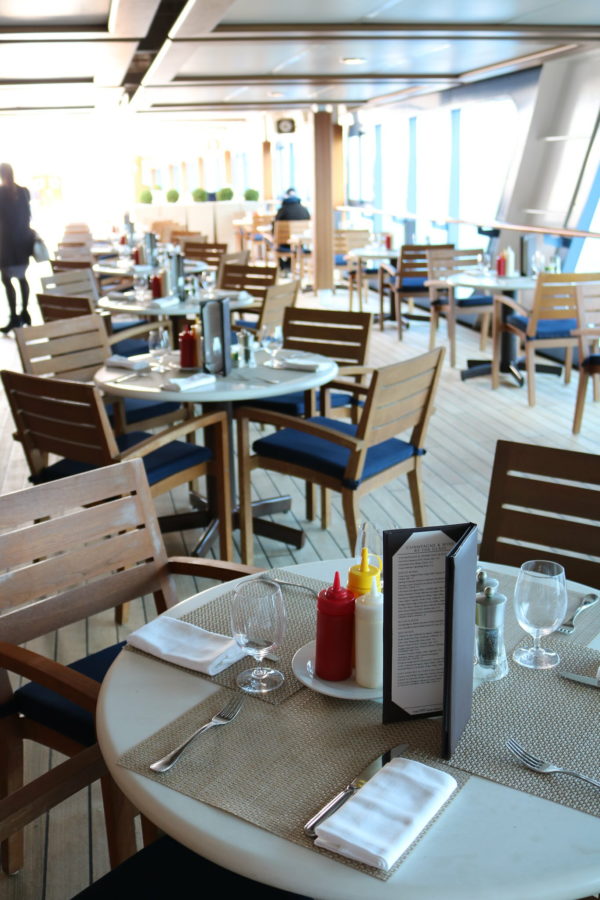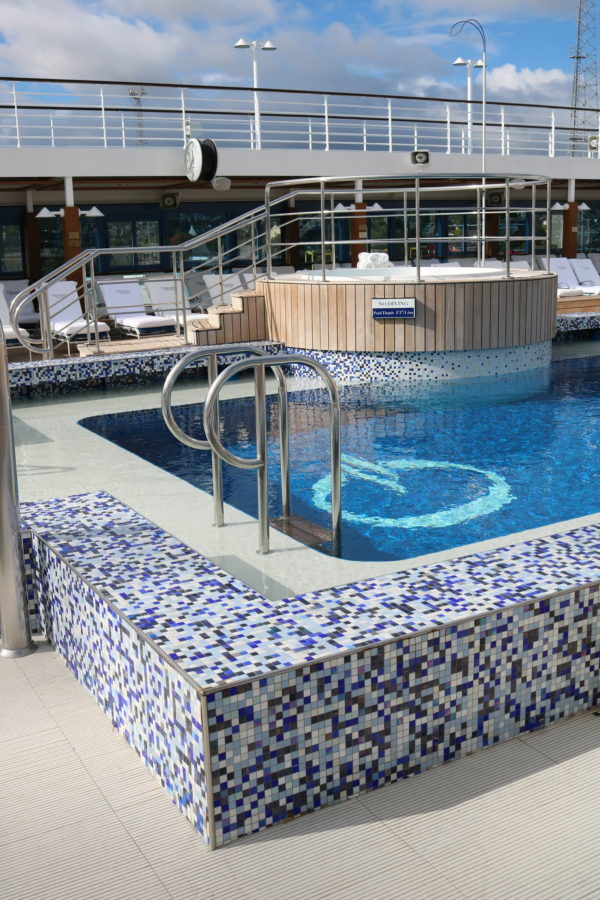 The new vegan dining choices were devised by the in-house culinary leadership team working in collaboration with the famous plant-based chef, culinary instructor and author Christophe Berg.
The new Oceania Cruises vegan menu offers a range of cuisines to enjoy: Italian, Greek, Middle Eastern, Korean, Thai, Vietnamese, Mexican, Italian, Malaysian, and more. There are healthy Power Bowls and Poke Bowls, hearty pastas and pad Thai, light and refreshing salads and soups.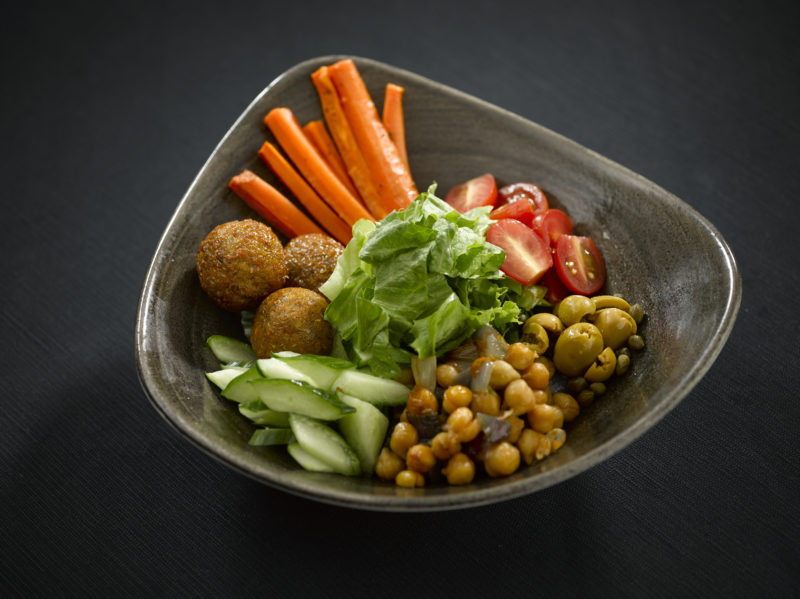 (Persian Power Bowl)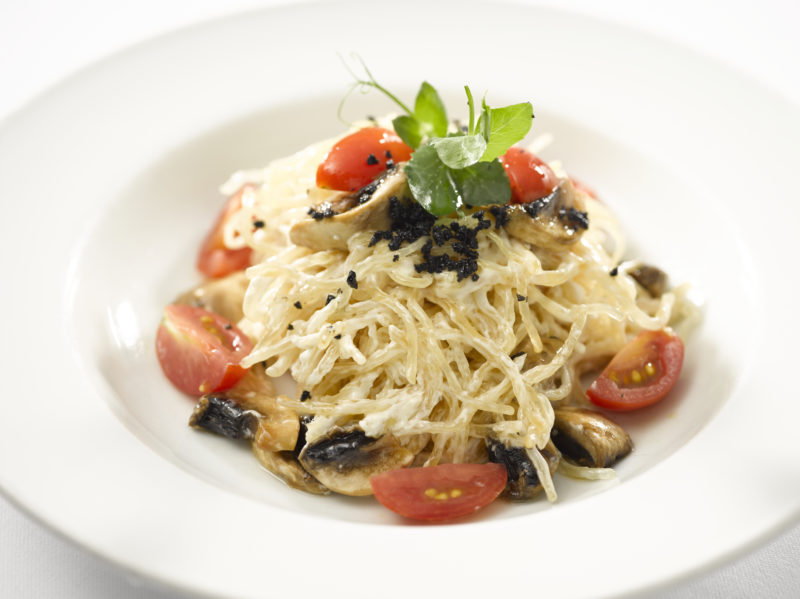 (Cashew mushroom kelp noodle salad)
The new menu even offers a variety of downright decadent junk-food vegan items to choose from. How about an Impossible Cheeseburger? Can you imagine – that's an Impossible Burger and vegan cheese served on a cruise ship? Yes, you heard it here! Now on the menu on Oceania Cruises.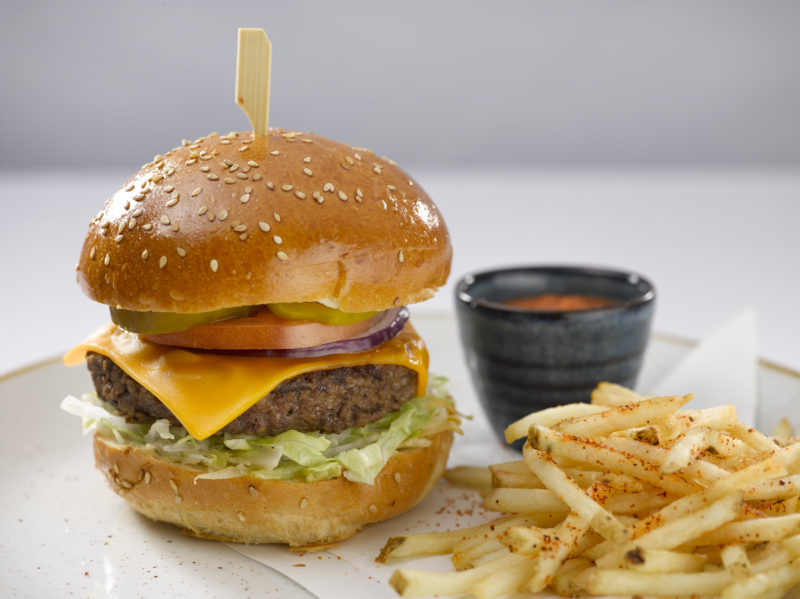 For the mac & cheese fans (and there are many) there is vegan Truffle Mac & Cheese option on the menu. For lovers of comfort food puddings, the menu offers an Apple-Oatmeal Crumble with non-dairy Vanilla Ice Cream. There even is a Coco-Vanilla Cashew Crème Brulee to enjoy. You can dine healthy plantbased.. but you don't need to. And I so wouldn't!
Check out some selected highlights from the new Oceania Cruises vegan menu:
Breakfast
Banana-Oatmeal Pancakes with Berries and Maple Syrup
Green Apple Müesli with Pistachios, Pecans, and Yellow Raisins
Avocado Toast on Rustic Farmers Bread

Lunch
Chilled Melon Soup with Port
Korean Kimchi Soup
Wakame Sesame Salad
Hawaiian Poke Bowl (pictured above)
Penne au Pistou with Broccoli and Sundried Tomato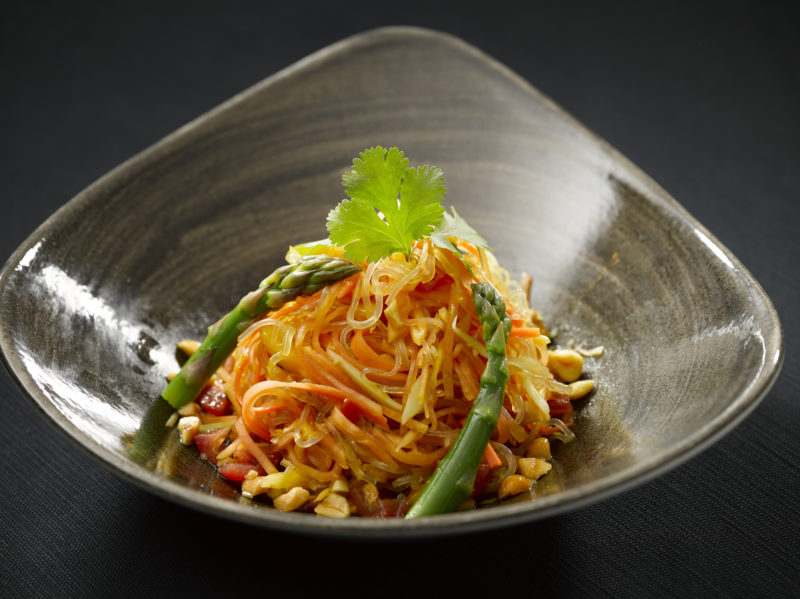 Dinner
Som Tam Green Papaya Kelp Noodle Salad (pictured above)
Roasted Butternut Squash with Arugula, Mango, Black Radish and Hearts of Palm
Sweet Potato-Oat Tarte with Forest Mushroom and plant-based Truffle Cheddar Sauce
Falafel Fritters with plant-based Harissa Mayo, Cucumber, Mint, and Capers
Crespelle alla Fiorentina with Spinach, Mushrooms, and Tomato Sauce
Green Curry Stir Fry with Eggplant, Oyster Mushrooms, Green Peas and Thai Basil

Desserts
Plant-based Vanilla Mango Ice Cup, Crispy Granola
Vodka-Marinated Strawberries Romanoff with plant-based Vanilla Ice Cream
Summer Berry Pudding Chantilly (pictured above)
Shortbread with plant-based Orange Cream Cheese and Raspberries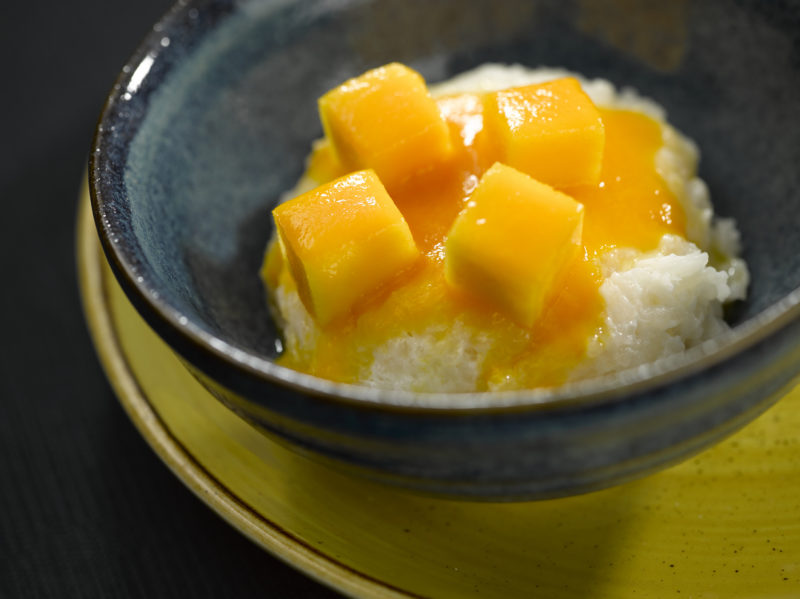 (Mango coconut rice pudding)
Don't these new options just look amazing? Many thanks to Ocenia Cruises UK PR team for the photography to feature.
If there ever was a cruise line to devise such an excellent vegan menu, it had to be Oceania Cruises with their strong culinary history and focus. It is a delight seeing such colourful and creative plantbased options offered on an omnivorous ship. Everyone onboard can enjoy these exciting new options, not just us vegans and plantbased diners. With the rise of flexitarian dining, I hope this new menu is a success and is soon followed by other cruise lines. Meanwhile, we can all dream of sailing with Oceania – I certainly will. They are firmly on top of my to-cruise wishlist.
If you have you sailed vegan on Oceania, do share your experience with us. And if you haven't, do well thought-out menu options such as these convince you to trade your usual cruise and book with Oceania Cruises?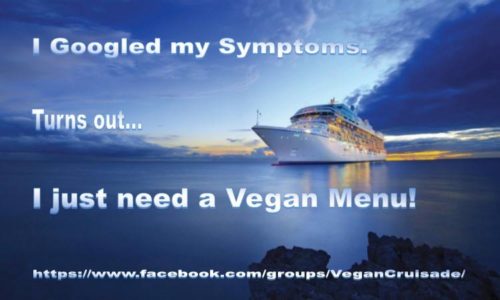 PS. A US-based vegan cruise Facebook group, VeganCruisade, currently have a week-long group cruise onboard the Oceania Marina planned for this year. It departs from Lisbon, Portugal on September 29th, 2019 and sails to Monte Carlo. See more info by the organiser here. I am in no way affiliated with this cruise, or its organisers. I do not earn any commission, just wanted people to be aware of a group of vegans onboard this particular Mediterranean sailing.