Out of this world: Viking Jupiter reviewed
Last summer (2018) I was offered a change to visit the beautiful Viking Sea in Edinburgh's Newhaven port. I was seduced by her Nordic charms and understandably felt at home with the sleek interiors. But I am not alone in appreciating Scandinavian interior style and culture. For years Nordic designer brands have inspired everyone else to become a little more Scandi at home. And since 2015, Viking Ocean Cruises have been showing the world how to sail the oceans in Nordic style. Viking Jupiter is the sixth, and latest arrival, to Viking Ocean Cruises fleet of luxury vessels. I was over the moon when I was offered to the chance to review her in Edinburgh again. And let me tell you, Viking Jupiter is out of this world. Hope you enjoy this little Viking Jupiter review.
[In terms of UK the advertising standards agency ASA, this post is classed as an unpaid ad – since I was invited to a free tour of a product, and received a buffet meal as payment. All views and opinions are mine only, and the brand in question has had no control over what I have chosen to publish of the day.]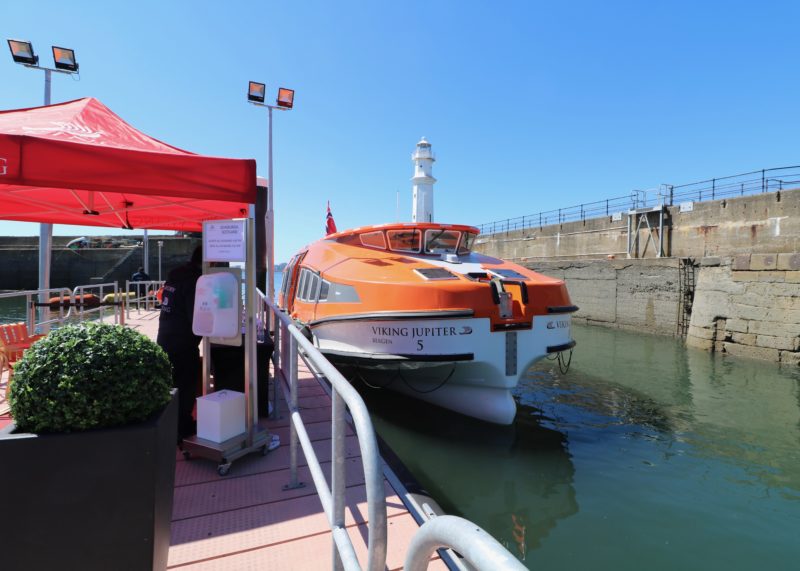 Newhaven harbour in Edinburgh is a tender port, so guests and visitors need to get off the ship with lifeboat service. Which I don't mind at all… it's all the more exciting to visit a ship, that isn't docked.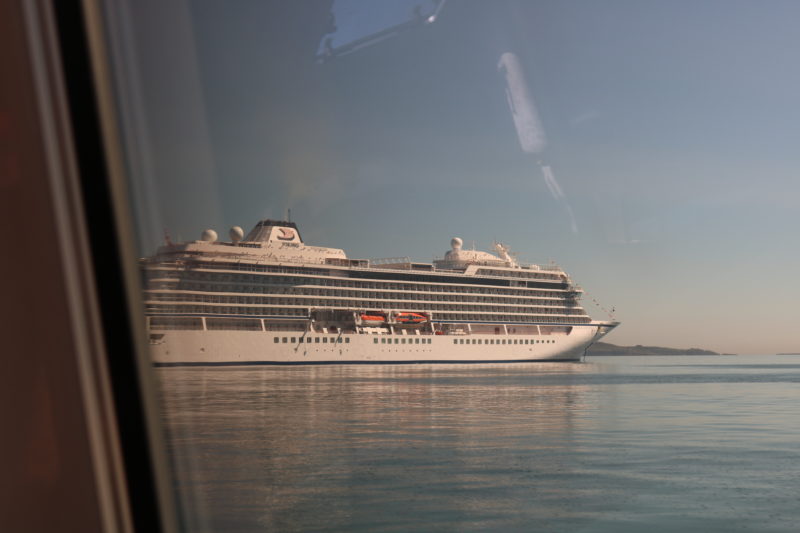 We had the best weather in Edinburgh on our tour day.. how beautifully still is that sea?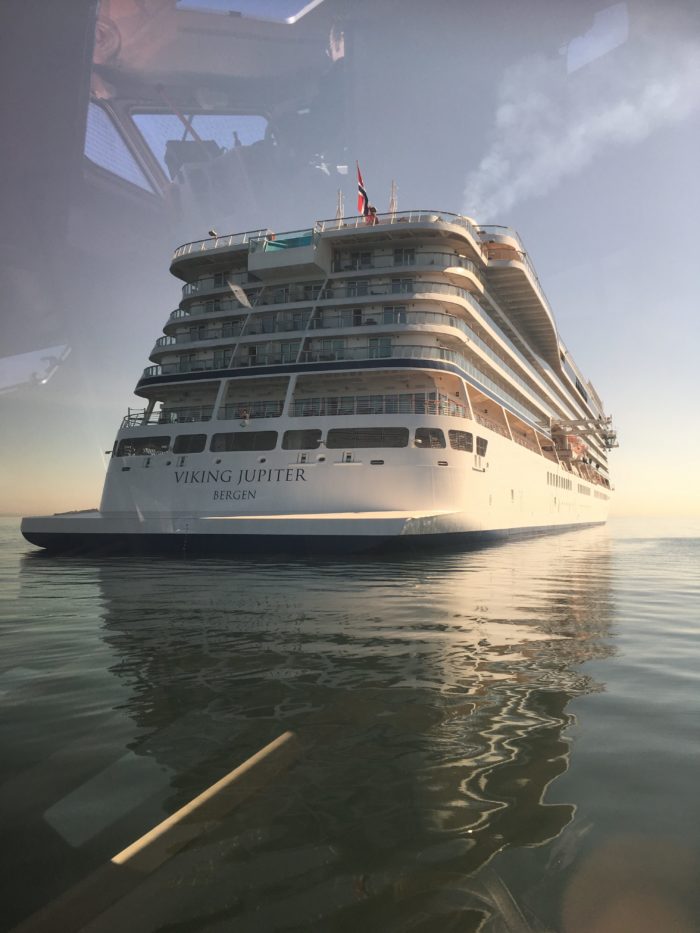 Viking Jupiter review tour:
Our tour commences from deck one with the iconic Viking Living Room atrium. Like her not-that-much-older sisters, Jupiter offers the very same facilities as her siblings. The gorgeous living space spans three decks, offers a range of facilities off it – starting with the Viking Bar that also serves coffees, cookies and some savoury treats: I spotted open gravadlax sandwiches like those you may find in Mamsen's on deck 7.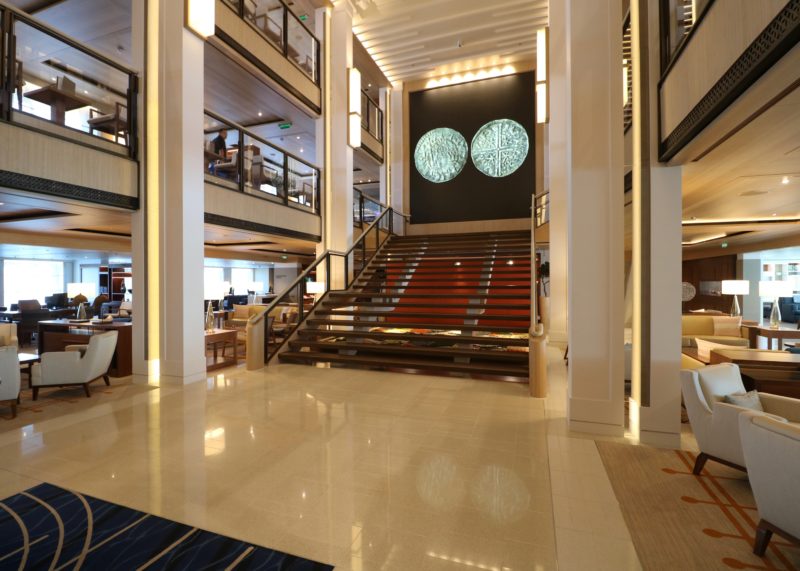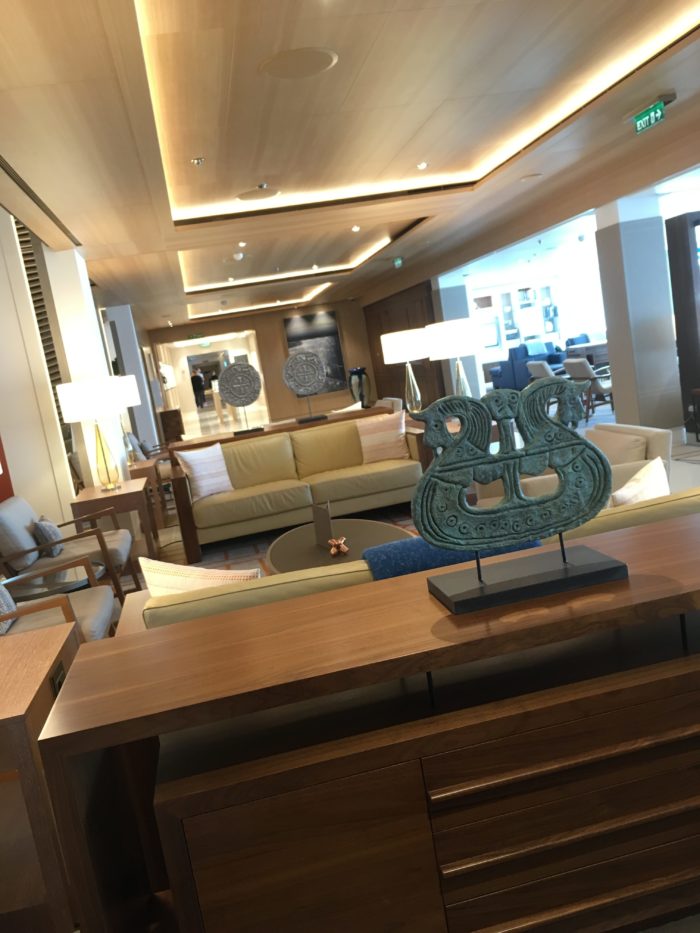 I immediately noticed my favourite table (one I fell in love with on sister Viking Sea)… so wish I could have one for my home. I am drawn to the blue geometrical design of this.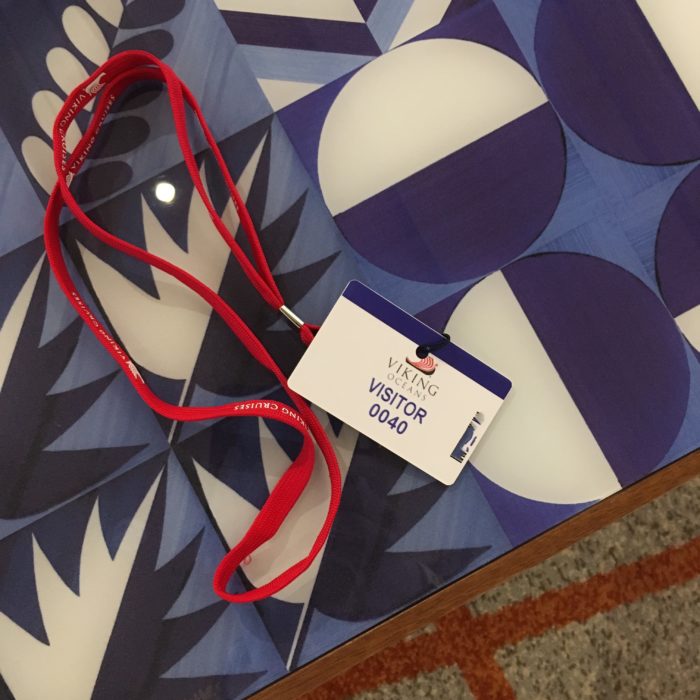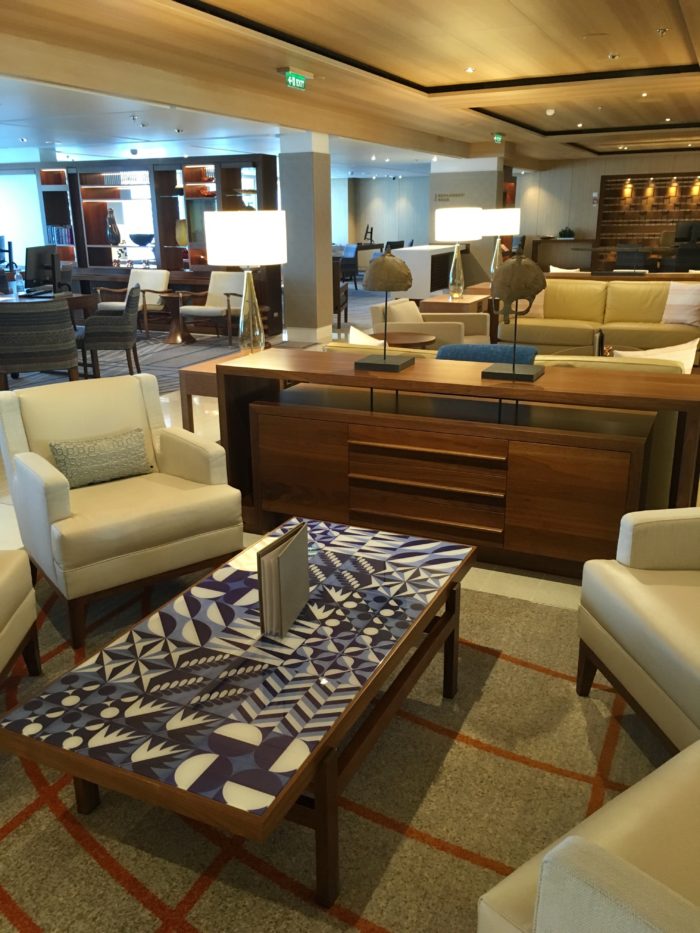 The Living Room on Jupiter, like on her sisters, hosts the atrium space with a grand piano, stairs to next deck and the infamous large LED screen with rotating images of art & nature. The whole area is set to look like a very trendy Nordic apartment to lounge in. Love so many individual pieces here, and the quirky table pieces instead of flowers that would wilt.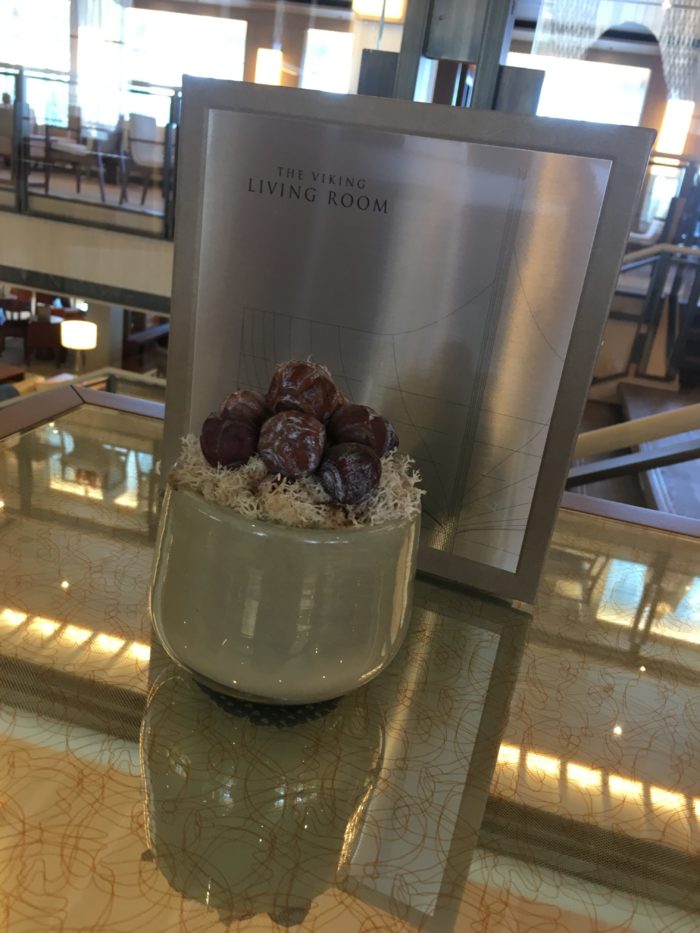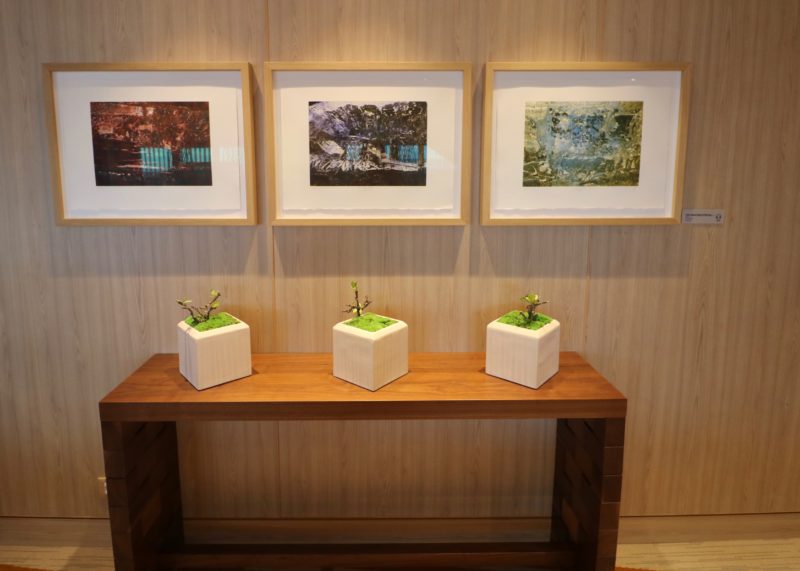 Just like on her older sisters (who aren't old at all in cruise terms) there is a curated library with pieces of Nordic art on show. The guest services & excursion desk spaces are here too, though these two latter venues are hardly noticeable.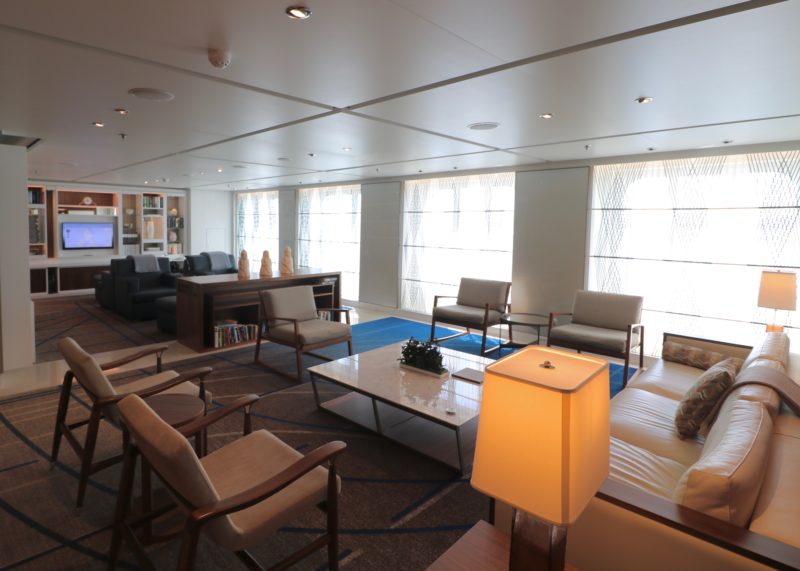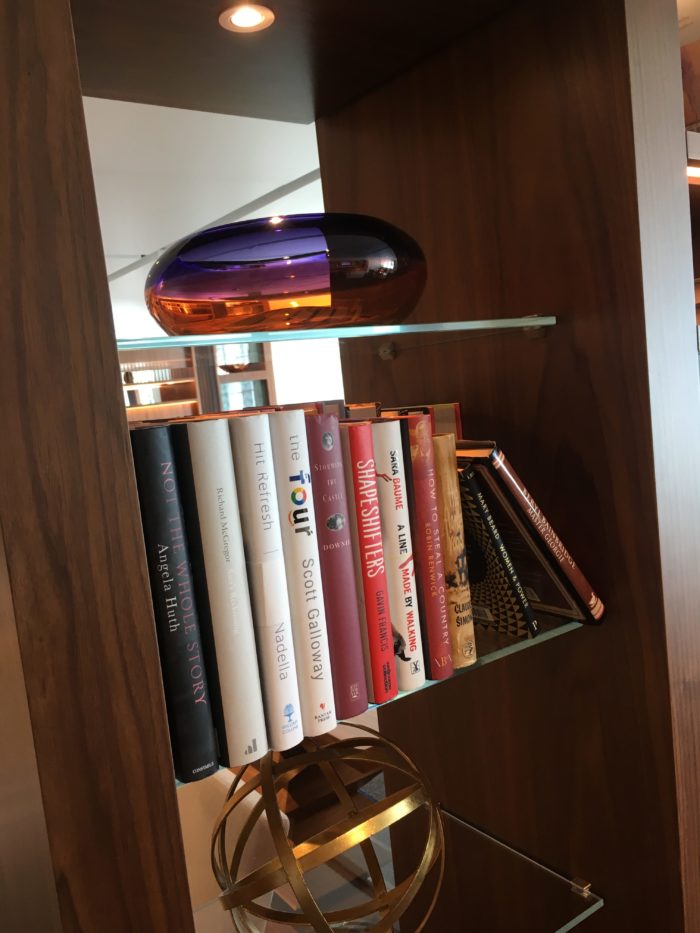 Like on the rest of the fleet, you can find some shops, sleek ship gym, a hair salon and the Liv Nordic spa at far forward. The beautiful, dimly-lit thermal suite is free for guests to enjoy. There is a selection of loungers to relax in to enjoy the atmosphere and the mesmerising water-vapour fireplace effect on the background. In addition to a traditional Nordic sauna, there also is a steam room to relax in. For those wanting a dip, the spa area hosts a swimming pool and small a cold plunge pool.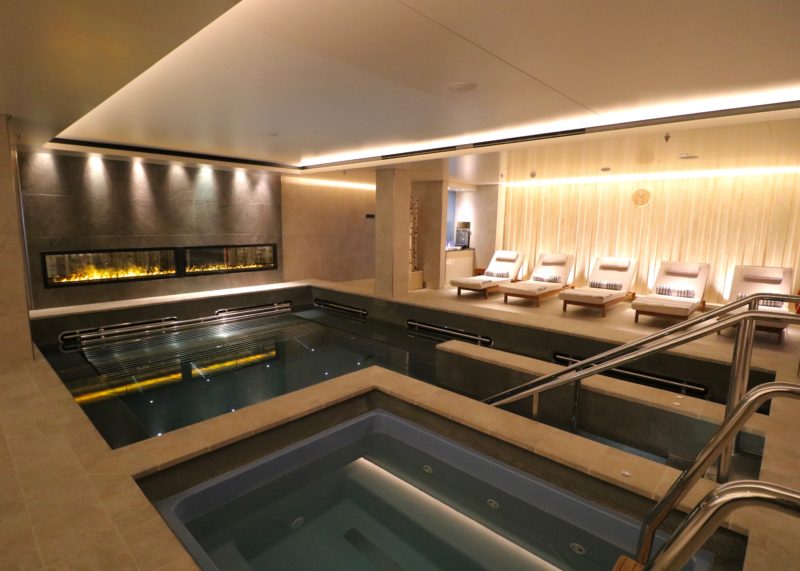 In addition to comfortable padded loungers, there is also a selection of heated hot stone loungers to relax your muscles on.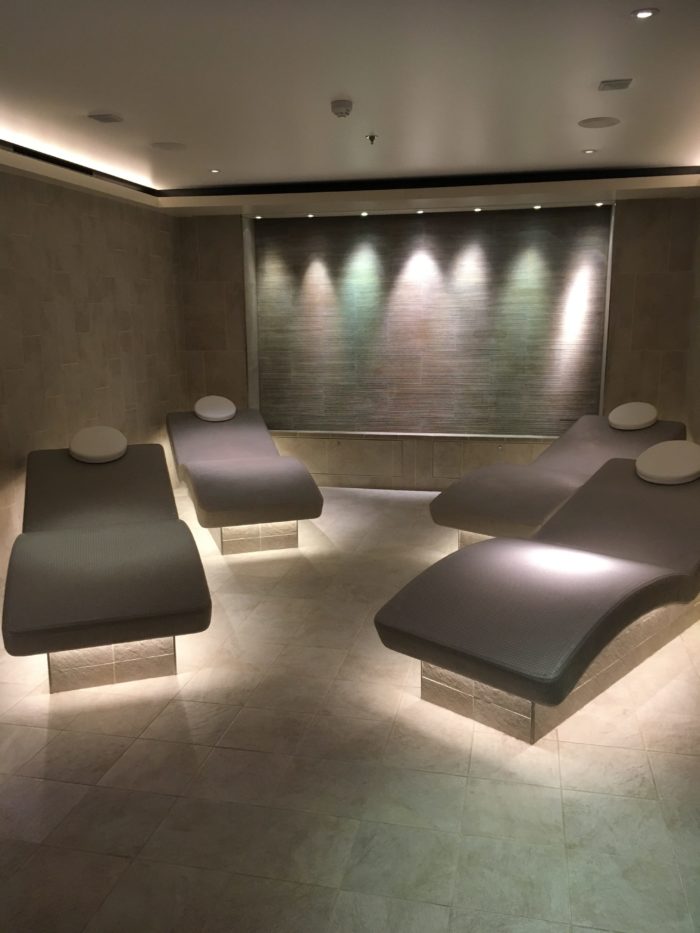 For those wanting a traditional Nordic cool down after sauna, there is an actual snow room to cool down in. For the brave, there also is a bucket shower to give yourself an 'ice bucket challenge' style pour of cold water. Use of the facilities is complimentary and guests only pay for the spa treatments.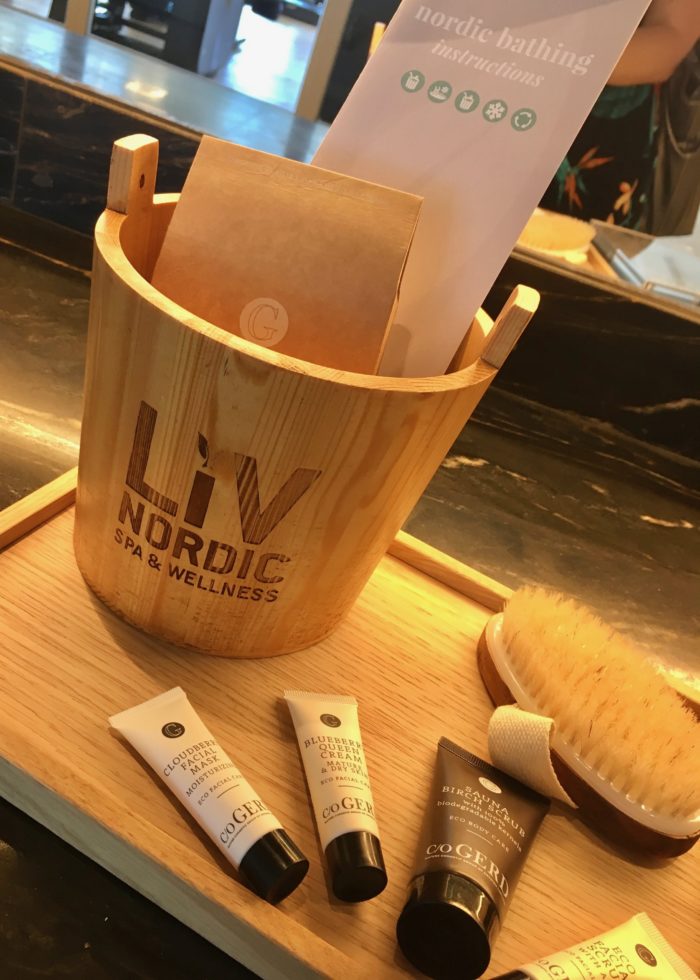 The two specialty dining venues Manfredi's Italian and Chef's Table are again found on the opposite sides in the aft of deck 1, where also the Kitchen Table 'dining excursion' venue is located. See more about it on my Viking Sea post.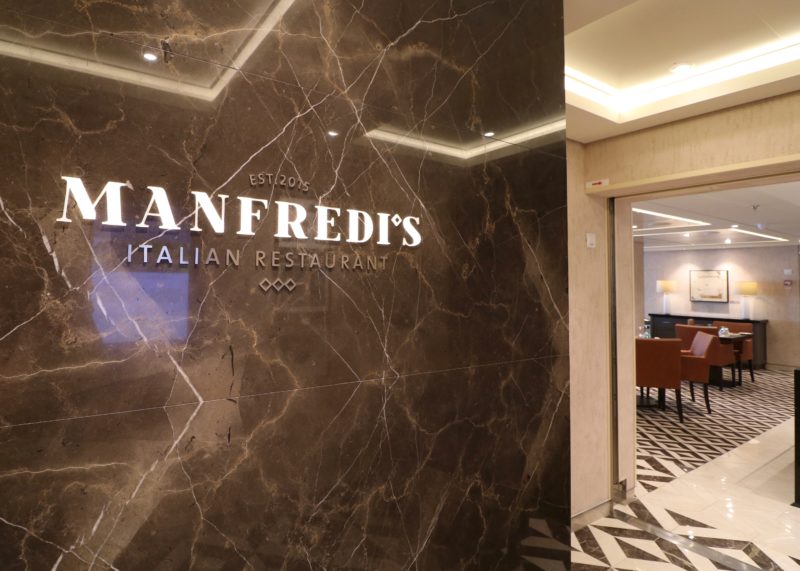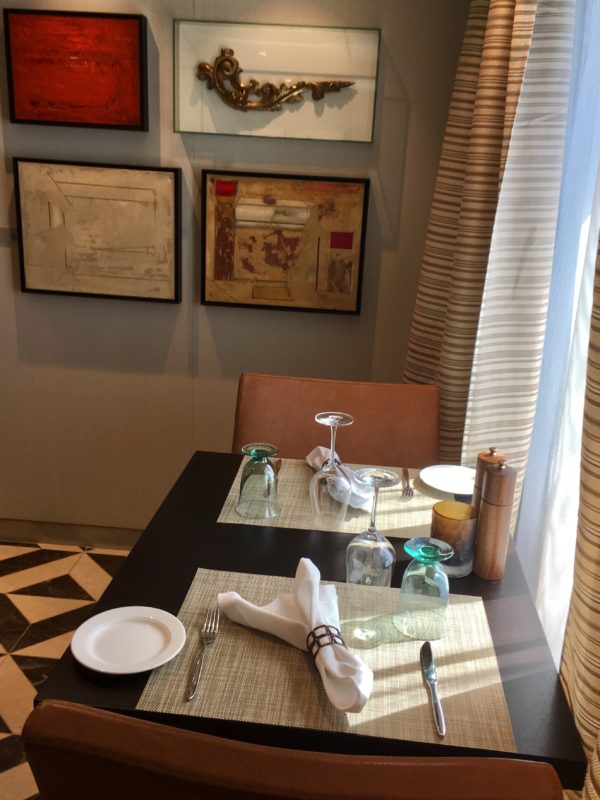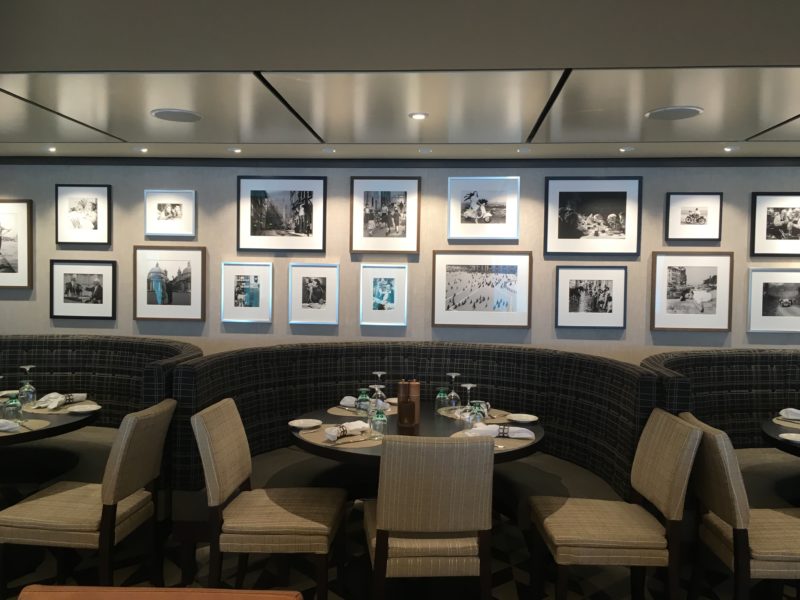 Crossing over to the other side of the ship from Manfredi's, is the other 'free-to-dine-in' specialty restaurant Chef's Table. Just how cozy is that seating… I would so love to have one of the sofa seats at the back.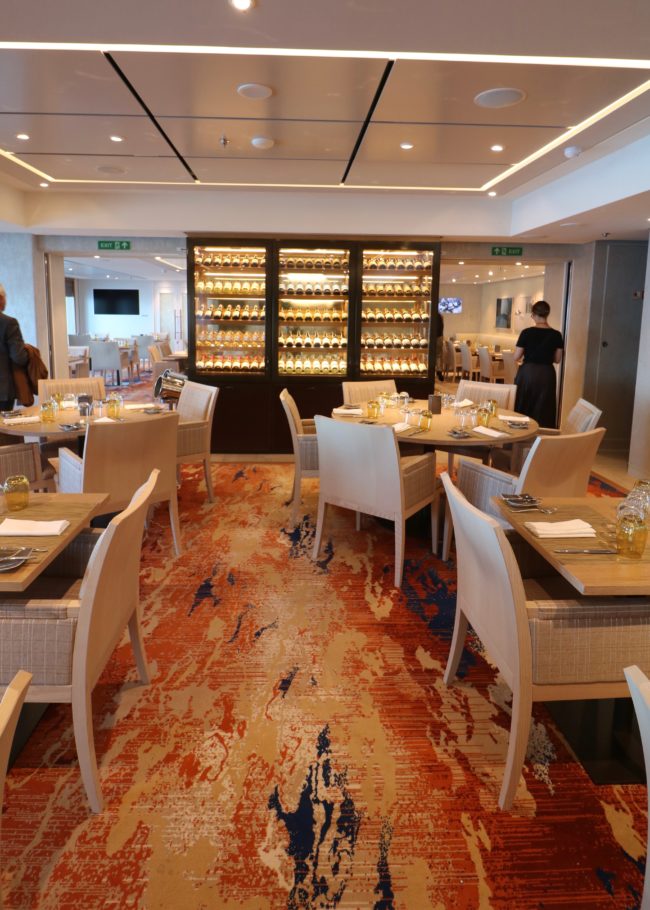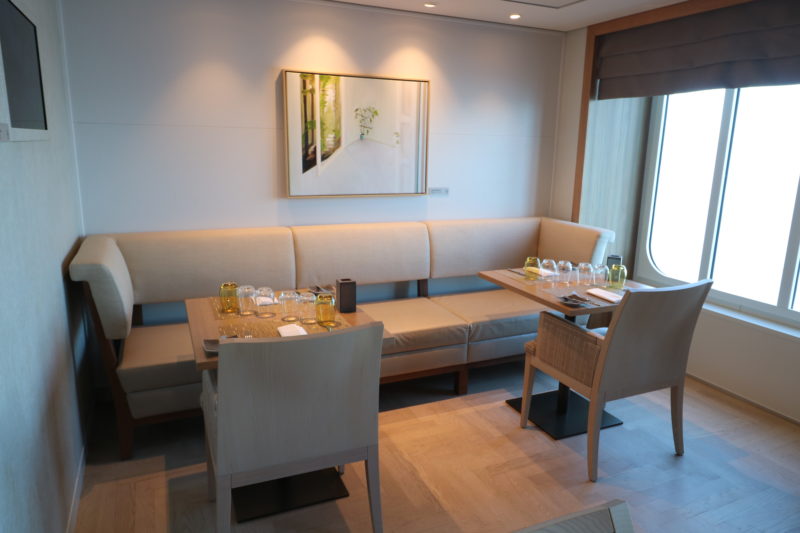 One deck above (deck three), the atrium continues and this is where I found the biggest difference to Viking Sea. On one side of the walkway space, instead of further seating and gaming tables, there was a wonderful cultural exhibition featuring traditional Norwegian costumes from various regions.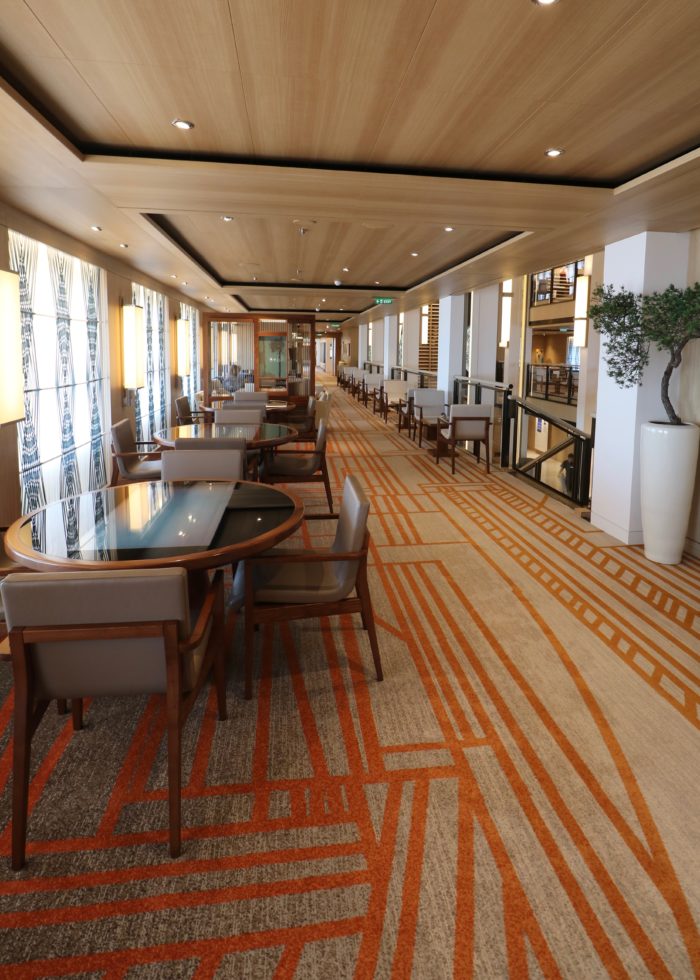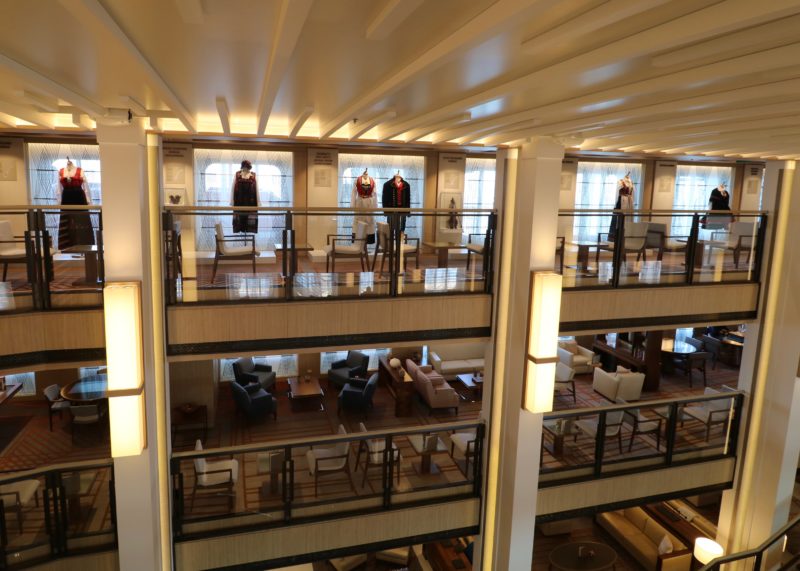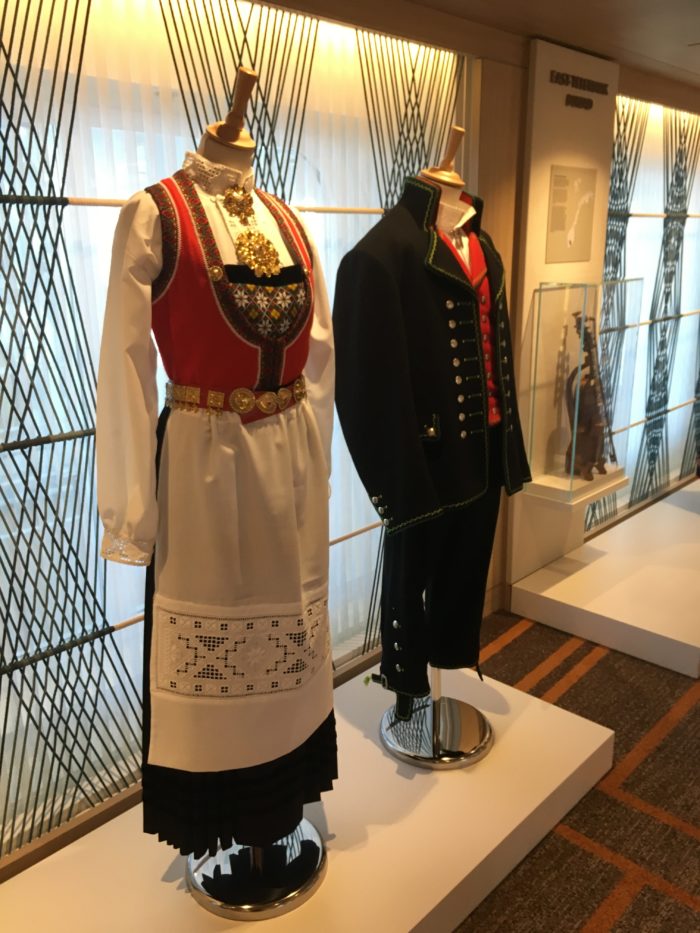 Otherwise, just like on her sisters, the main dining room aka The Restaurant is found in the aft on deck 2, above the two specialty dining venues. The Torshavn nightclub and the Theatre is located far forward on deck 2, just like on Jupiter's sister ships.
There are two small cinemas onboard, extending to either side of the theatre. They offer a range of short films preparing guests for future ports of call (Destination Insights) and TED talks for wider enrichment. Should the theatre be full in the evening for the shows, the dividing wall of the cinemas folds away extending theatre seating. Resident singers, dancers and musicians and occasional destination performers do 1-2 shows per night in this space.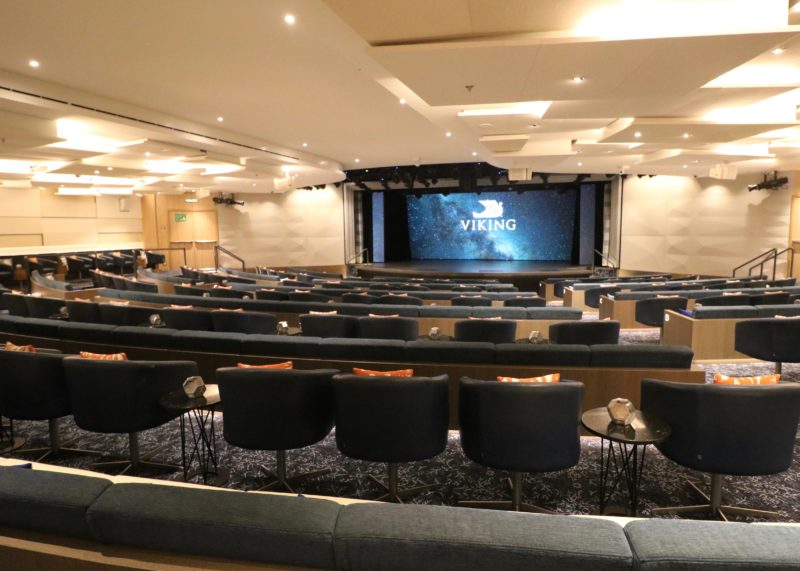 Another wee feature worth mentioning on deck two is outside. All Viking Ocean ships offer something that is getting rare on modern cruise vessels. There is a complete promenade deck outside, and in four laps you can cover a mile.
Viking Jupiter – luxury accommodation
Cabin spaces commence on deck three. This deck consist mostly of the lowest category Veranda Staterooms (categories V1, V2). There are no interior or oceanview cabins onboard any of Viking Ocean fleet, Veranda is the basic stateroom you can start with.
On our visit, we were extremely lucky to tour two unsold cabins onboard. A rare treat, as ships usually sail at full capacity. We were able to explore these two beautiful cabins to see the comforts Viking Ocean guests have.
All staterooms (cabins) come with a luxurious king-sized bed with fine bedding & linens. Bedside units have both Euro and US sockets and dual USB charging points for everyday tech.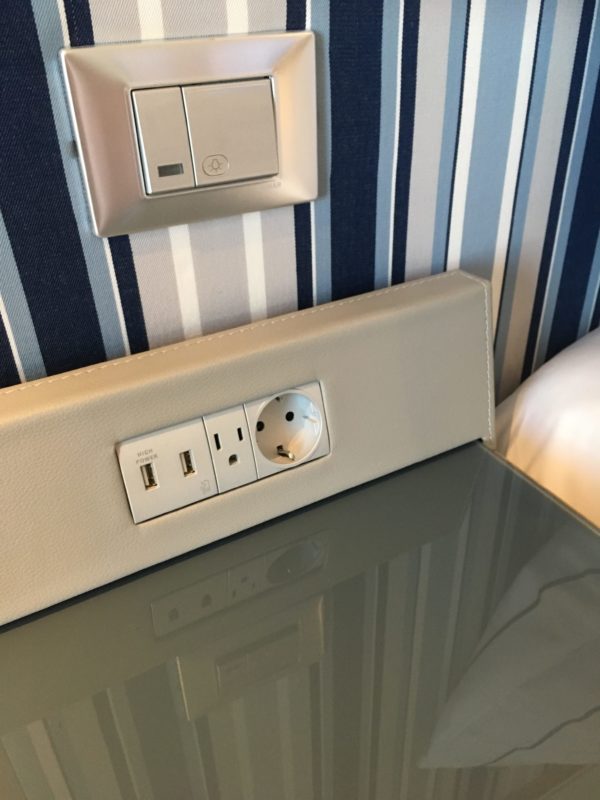 Each cabin also features an inclusive mini-bar (though stocked with soft drinks only in lower cabin categories), in-room entertainment via the TV, free Wi-Fi, complimentary room service, twice-daily service, free water etc. I was much impressed by the vanity desk by the bright veranda doors, which lifts up to reveal a lit mirror for make-up.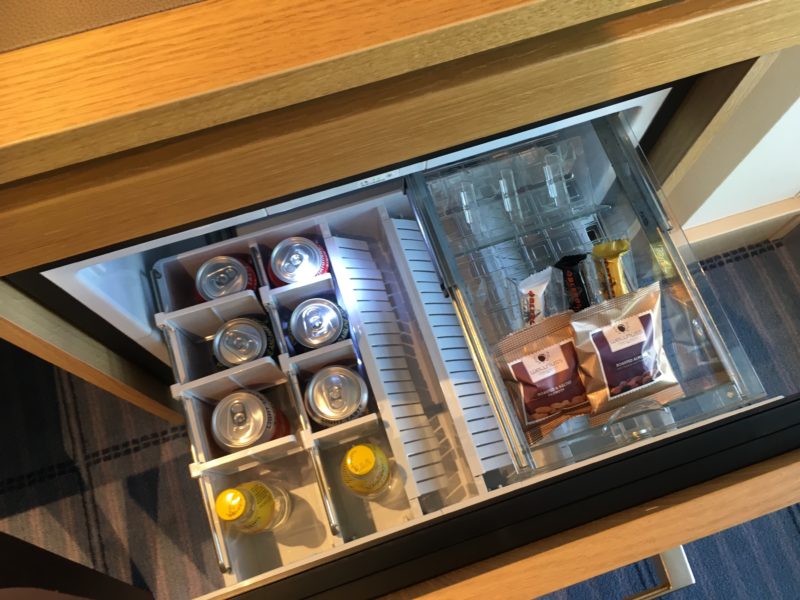 One of the differences I thought I noticed was an increase of photographic art from my tour of the Sea, but you would really need to sail both ships and do their art audio tours to be the judge of that.
Deluxe Veranda & Penthouse Veranda cabins
The first stateroom we visited was a Deluxe Veranda stateroom – same size as a Veranda Stateroom (270 sq ft/25 sq m) but with a few extra perks such as in-cabin binoculars for excursion use or wildlife spotting at sea, earlier stateroom access and priority reservations (excursions pre-cruise and for onboard restaurants). See the full difference in comfort levels in this helpful side-by-side comparison chart on Viking Ocean website.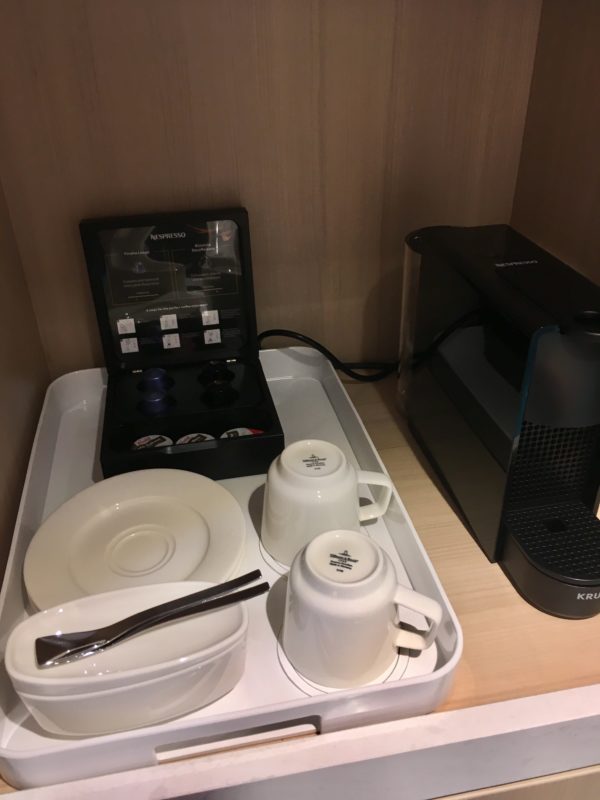 The Nordic nations are big coffee drinkers, so no kettles for tea here. Instead, cabins of Deluxe veranda and above come with their own Nespresso pod coffee machines.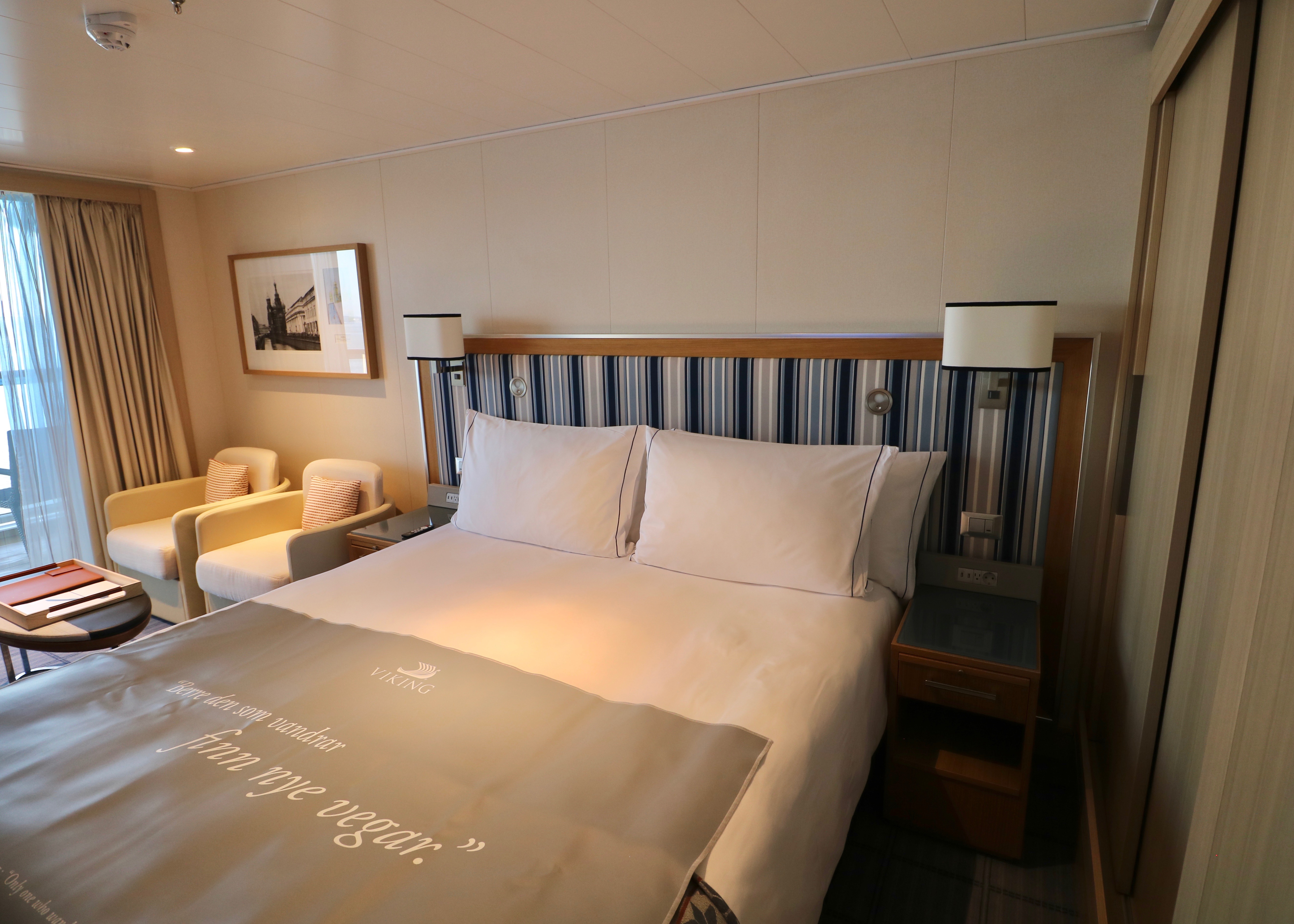 The spacious bathrooms are stocked luxury Nordic toiletries and come with features such as an anti-fog mirror & underfoot heating. Naturally, there is a large glass-enclosure shower – not curtains here! And just look at that space? Normal cabin toilets are maybe half of the size, if not smaller.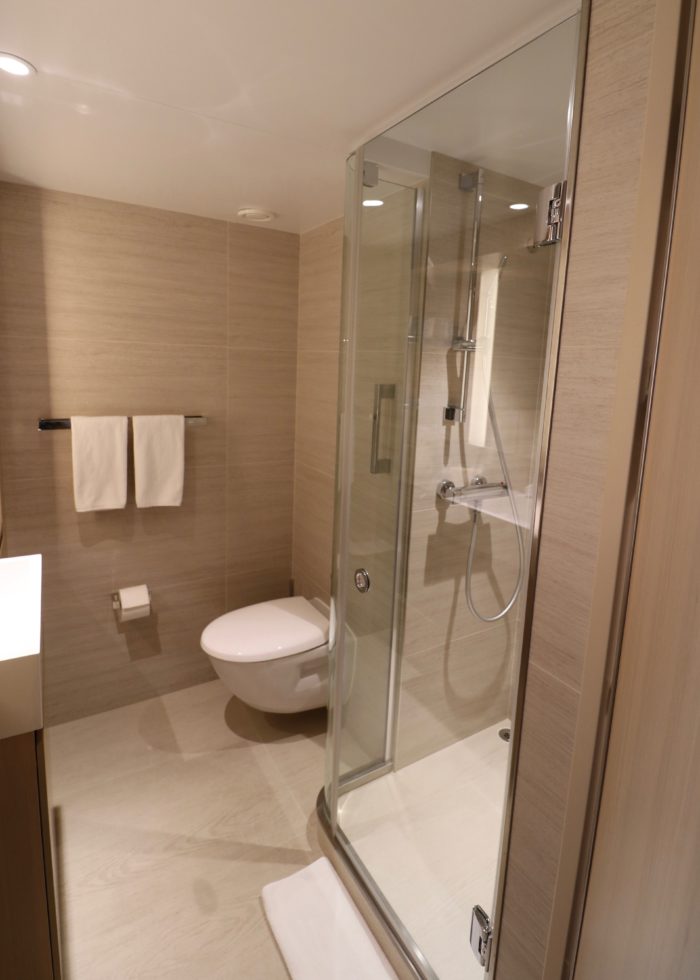 Penthouse Veranda cabins
Our second peek behind a cabin door allowed us to see how the guests travelling in Penthouse Verandas live onboard (338 sq ft/ 31 sq m). They are larger and guests get cabin access two hours before standard Veranda guests. Penthouse guests also have a champagne bottle waiting for them on arrival.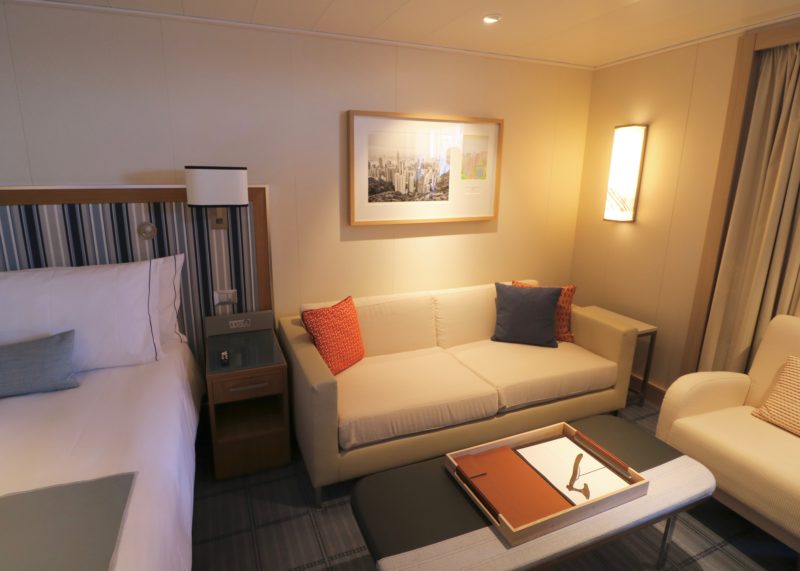 There are other little extras to Penthouse Verandas, like complimentary pressing and shoeshine. Various early reservation perks apply, again. There is a larger vanity desk and bigger lounge area with a sofa and a chair (rather than just two chairs which are found in Veranda cabins). Beds are the same king-sized luxury beds with simple, sleek Nordic bedding. The bathroom also follows the style seen in Veranda cabins.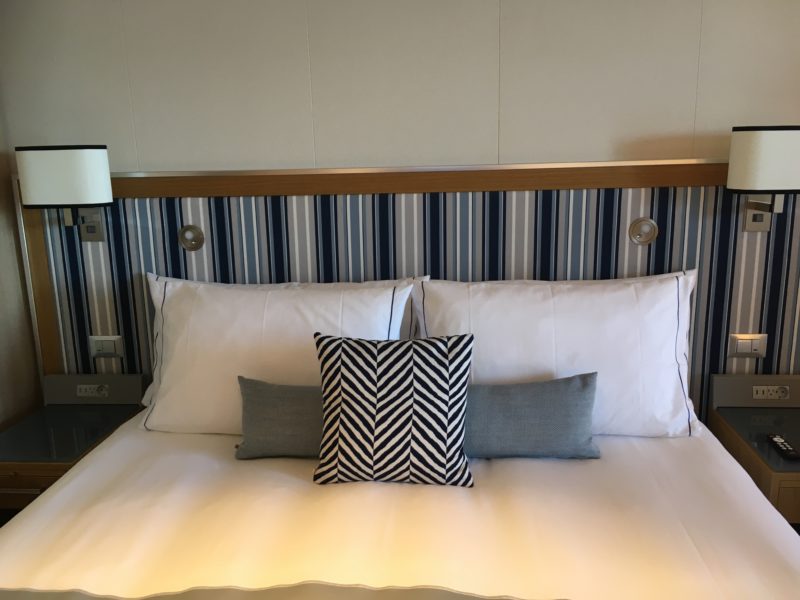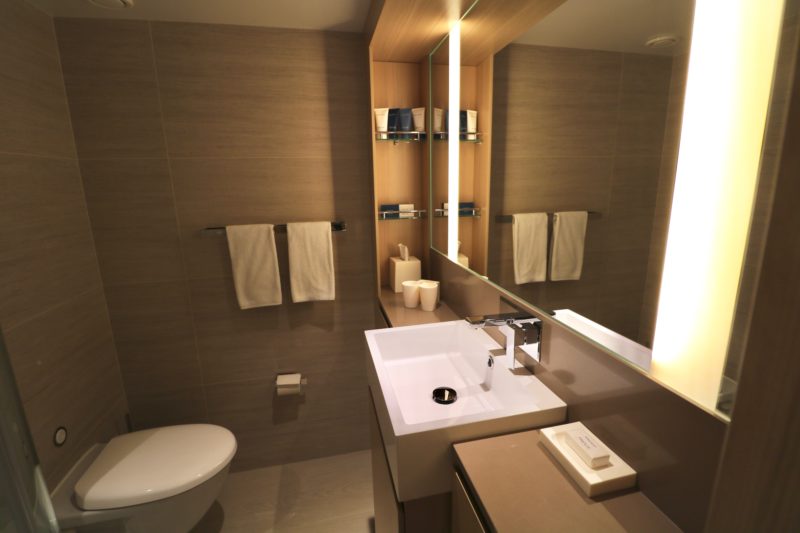 Naturally, there is a selection of suites available, all the way up to the large Owner's Suite (11448 sq ft/135 sq m) which is located up on deck seven. This suite has its own boardroom, living and dining area, and a master bedroom with a walk-in wardrobe. The master bathroom comes with suite upgrades like double sink vanity. There even are two guest bathrooms. Plus, keeping in line with the Nordic lifestyle of owner Torstein Hagen, there is a private dry sauna with panoramic glass window just off the beautiful bathroom.
If you watch the first episode of season 2 of Cruising with Jane McDonald, you will see this wonderful Owner's Suite featured as Jane got to stay in it. There is a jealousy-inducing 360-degree tour available on the Viking website too.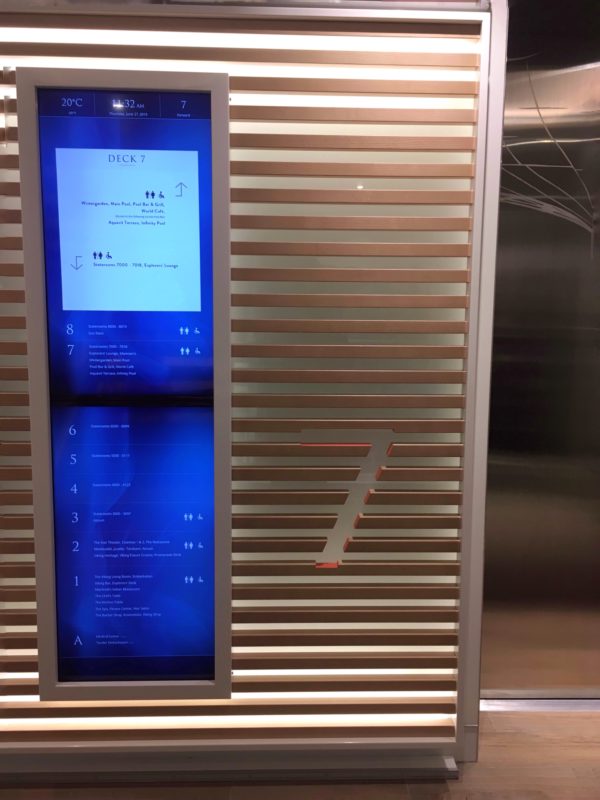 Everything onboard Viking Ocean ships is done with design and aesthetics in mind. Not just the cabins and public lounges. One of my many small, quirky design favourites was the way how every lift lobby landing displayed the deck number, by omission.
Deck Seven is heaven
The magnificent Owner's Suite was booked for the sailing we visited so we didn't have the option to see it, but we were given a tour of rest of the beautiful deck seven. Nearby is the famous Mamsen's Norwegian deli. It serves dishes from owner Torstein Hagen's mother's recipe selection. Everything on display was beautifully presented – nothing obviously vegan for guests like me, though.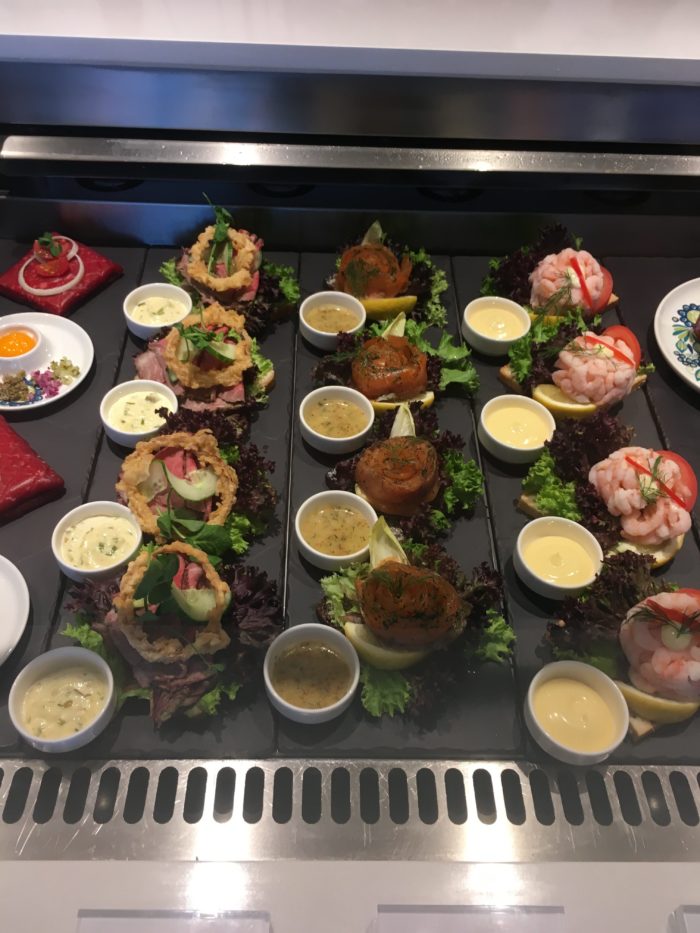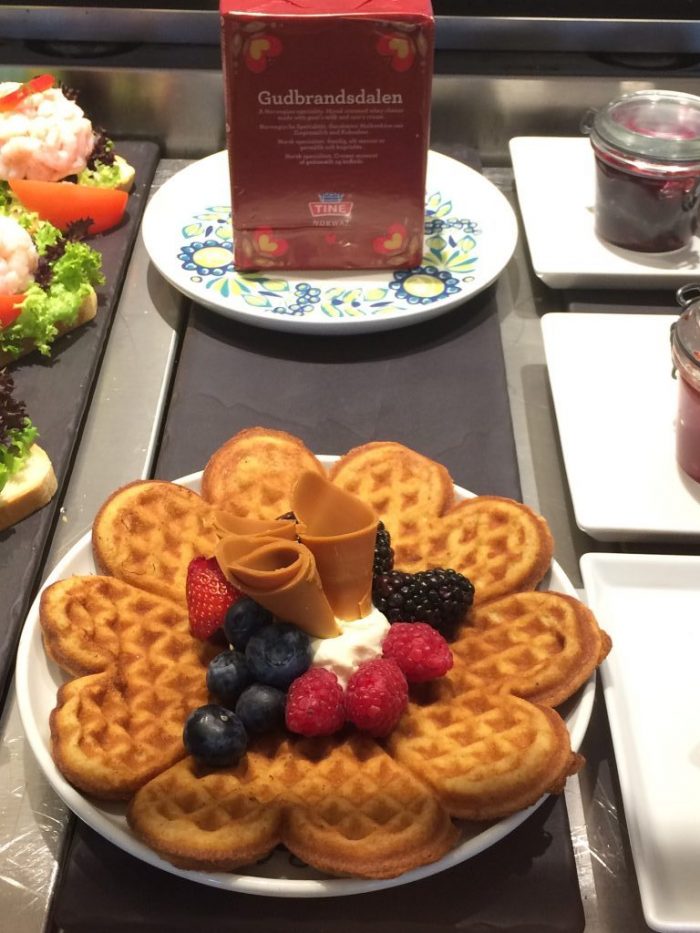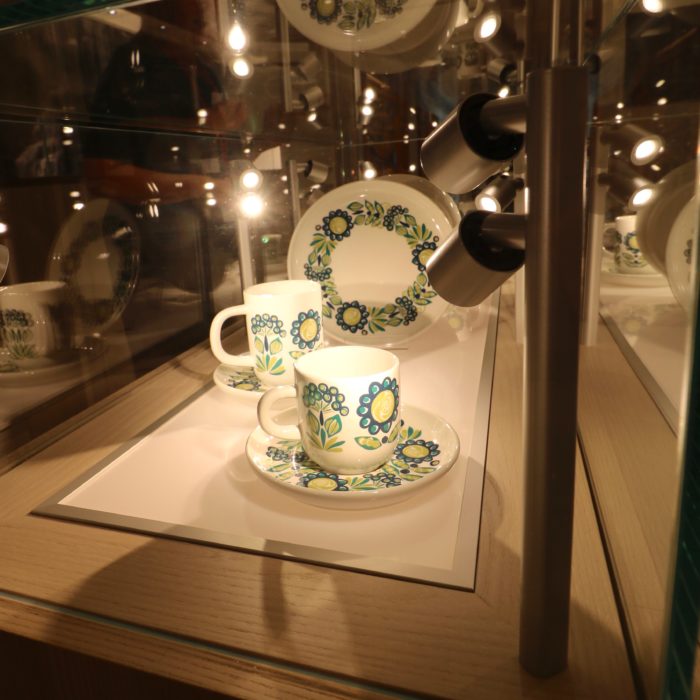 There are beautiful waffles, open-top sandwiches, pea soup and more.. served on beautiful plates replicating the designs of (mother) Mamsen's old tableware as a homage to her cooking. Some of the original plates were displayed in a cabinet elsewhere on ship.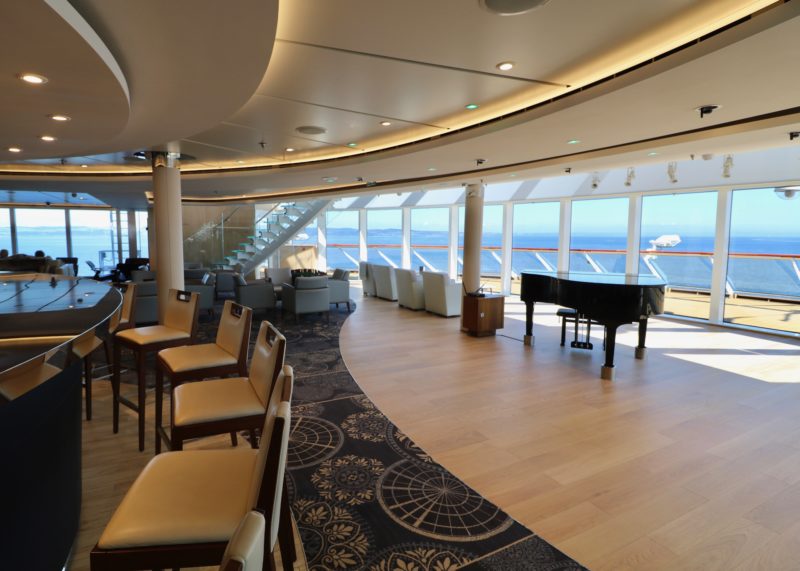 Mamsen's deli is a beautiful venue that leads to the adjoining airy Explorer's Lounge. This is probably the favourite of mine of all areas to lounge in, for the amazing forward views of the seas ahead.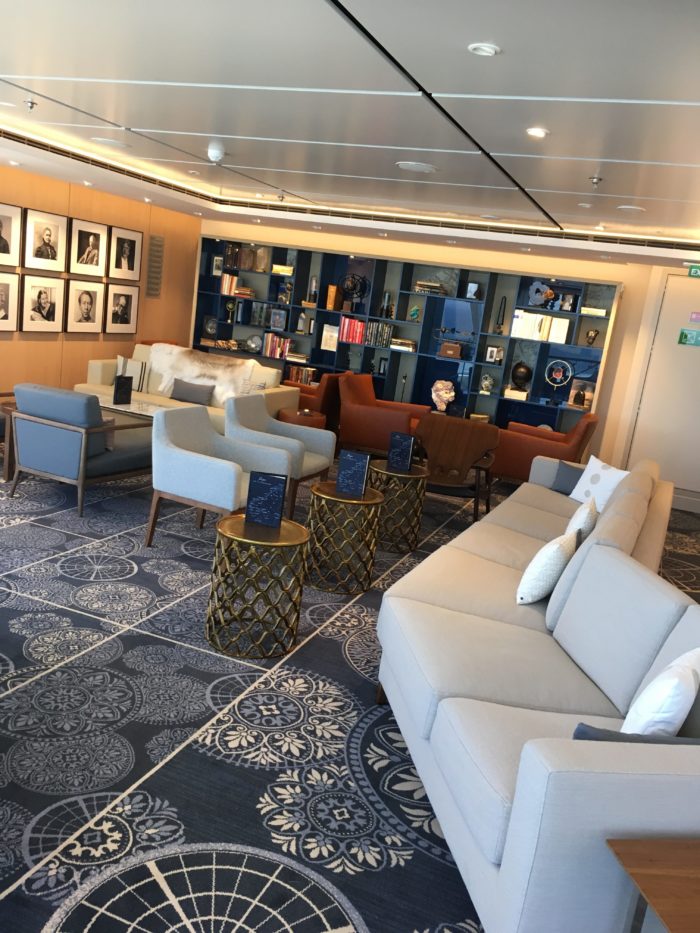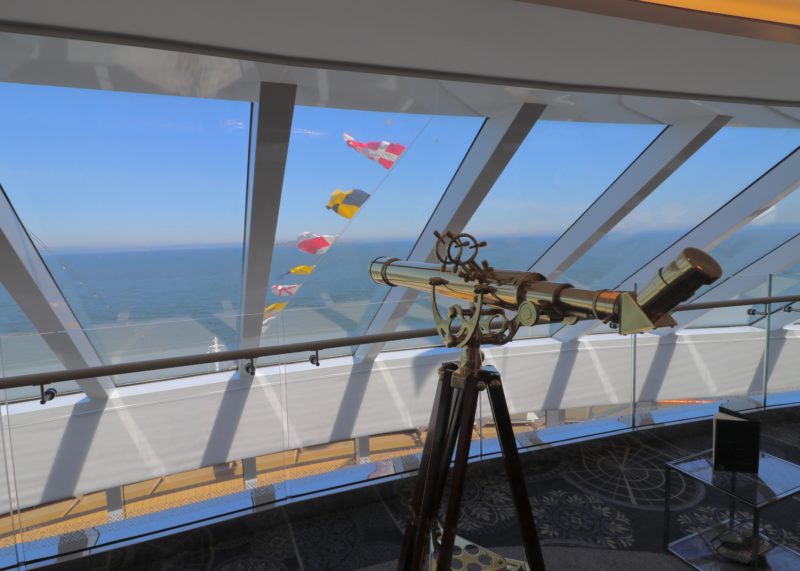 Whereas on Viking Sea (see my review from last year) Explorers' Lounge was extended on two levels, on Viking Jupiter there is less seating found on the upper mezzanine. Much of the space in the middle is taken by the main attraction, the second only of its kind on Viking fleet. The onboard planetarium! I was so excited to visit Jupiter to see this in action, as only Orion and Jupiter in the fleet have this new feature – the Explorers' Dome.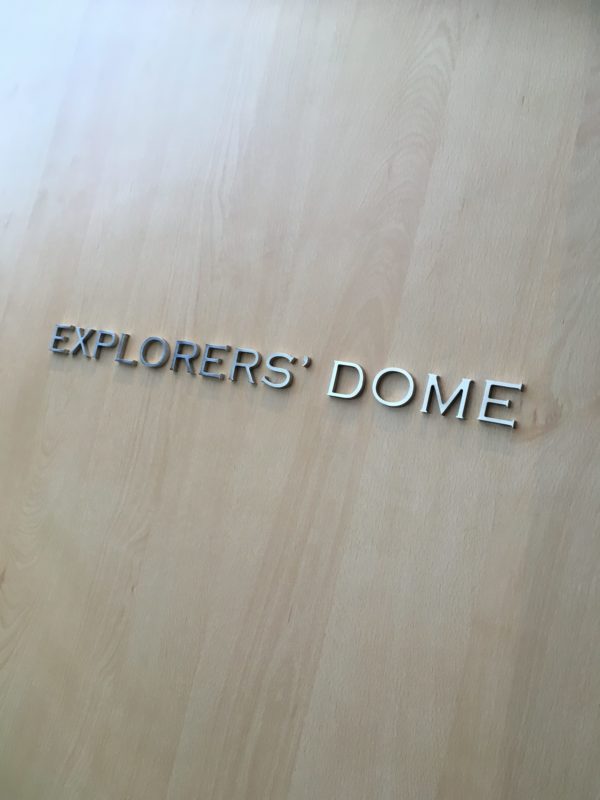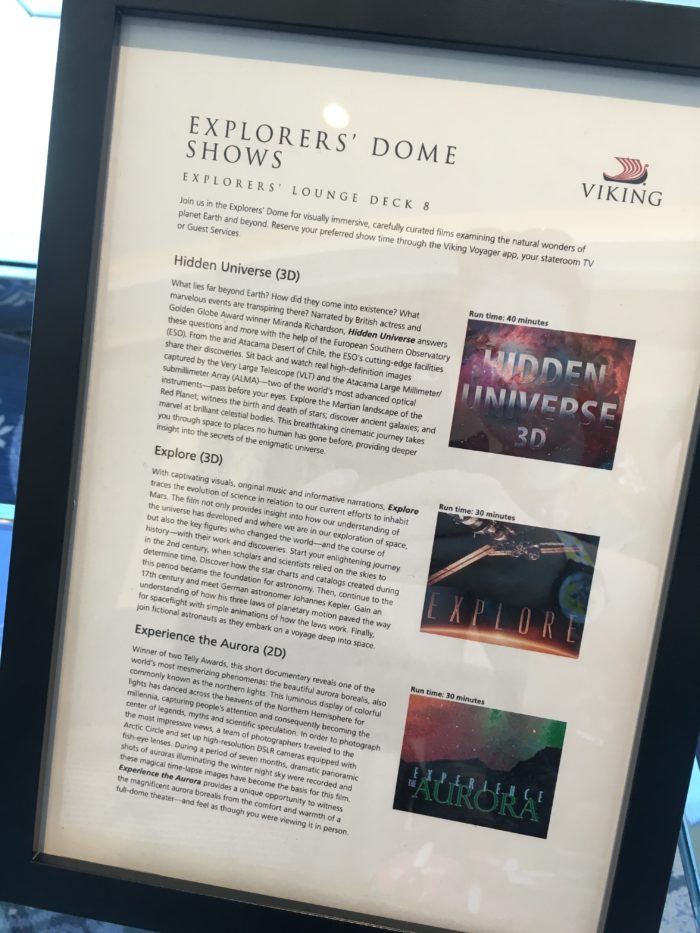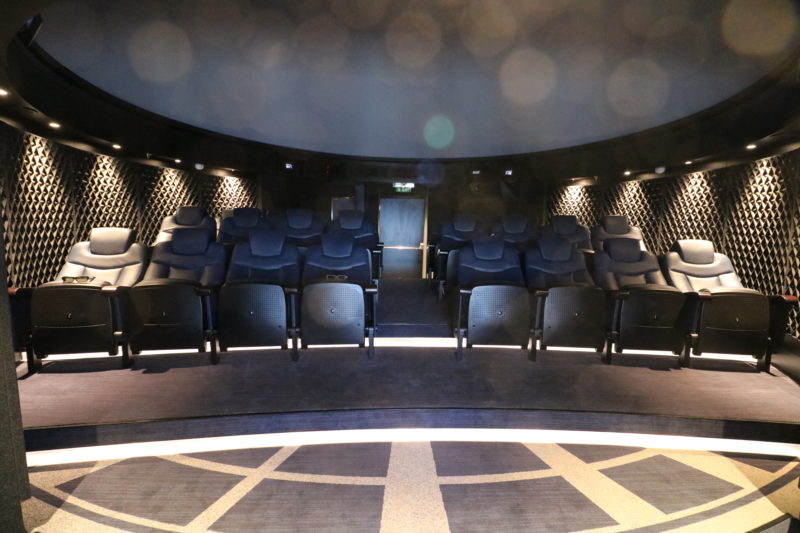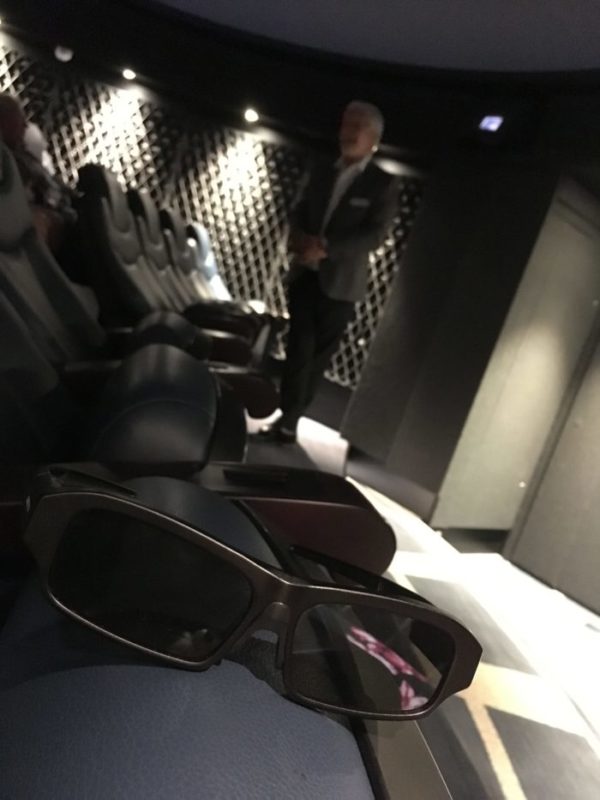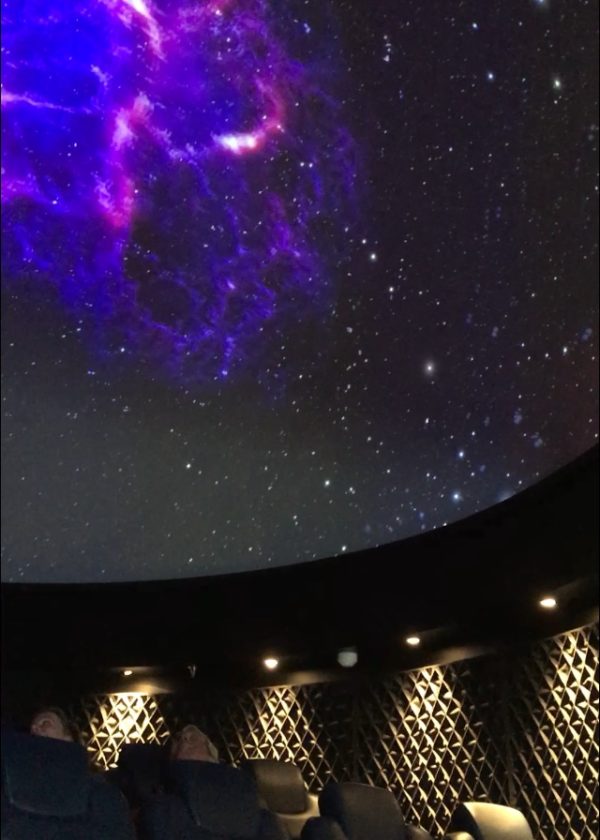 This 26-seater Explorers' Dome planetarium offers three shows per day on first-come-first-served basis. Some are even in 3D. And having seen one of the 3D shows onboard, I am amazed. Viking Jupiter also has a resident astronomer (!) who not only comperes the planetarium shows but also does educational talks on the constellations and the Aurora/Northern Lights. We learnt that on Norway sailings Viking Ocean also have a guest historian and wildlife specialist onboard for enrichment purposes.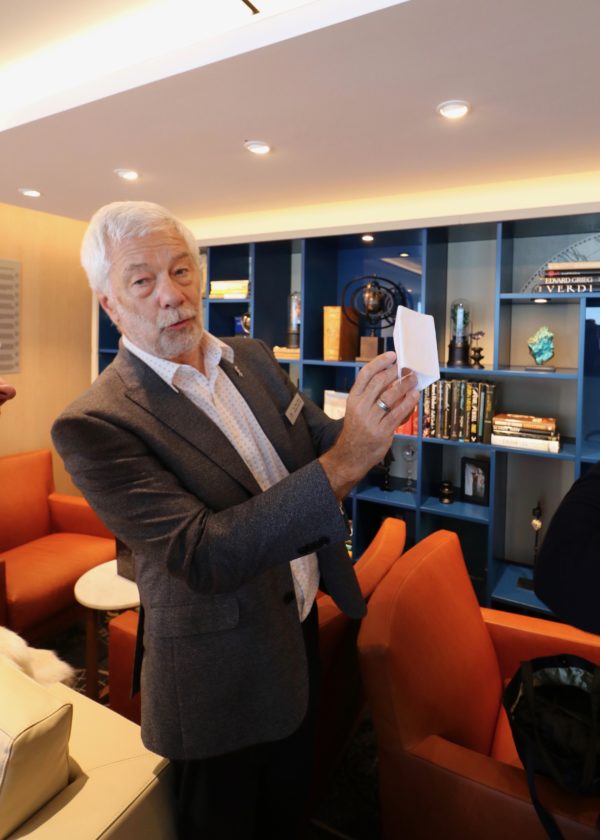 Our resident astronomer also demonstrated much of the folklore and nature featured in their educational enrichment lecturing was already present in the Explorer's Lounge, right under your very own eyes. As part of the guest entertainment, he also provided evening stargazing sessions for guests, to put the knowledge gained in daytime sessions to use.
But, if you busy educating yourself on a cruise, you need time to tea and cake too. Our next stop was the beatiful afternoon tea venue, the Wintergarden.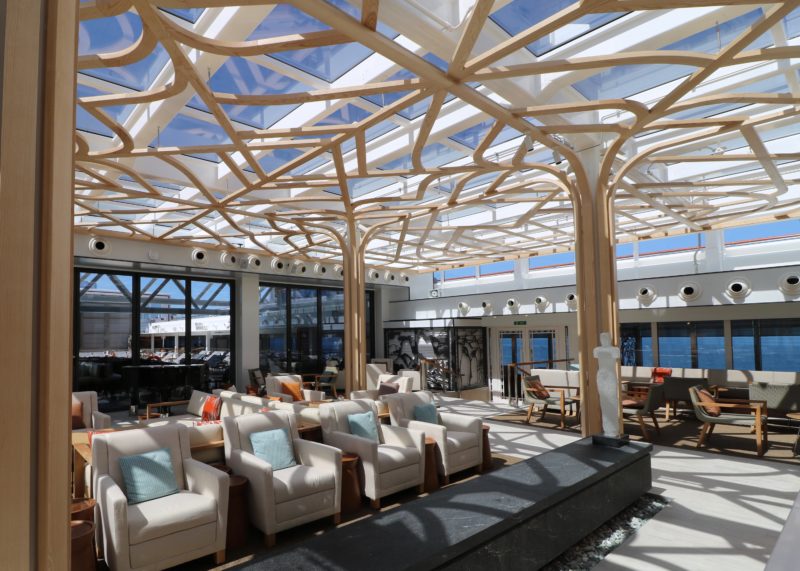 Such a beautiful and airy tree-motif ceiling. There are decorative birds, water features and more quirky table decorations with lichen linking the garden to real Norwegian natures. The adjoining Lanai lounges (beautiful walkways, really) are gorgeous, uncluttered seating areas for reading or for just enjoying the views.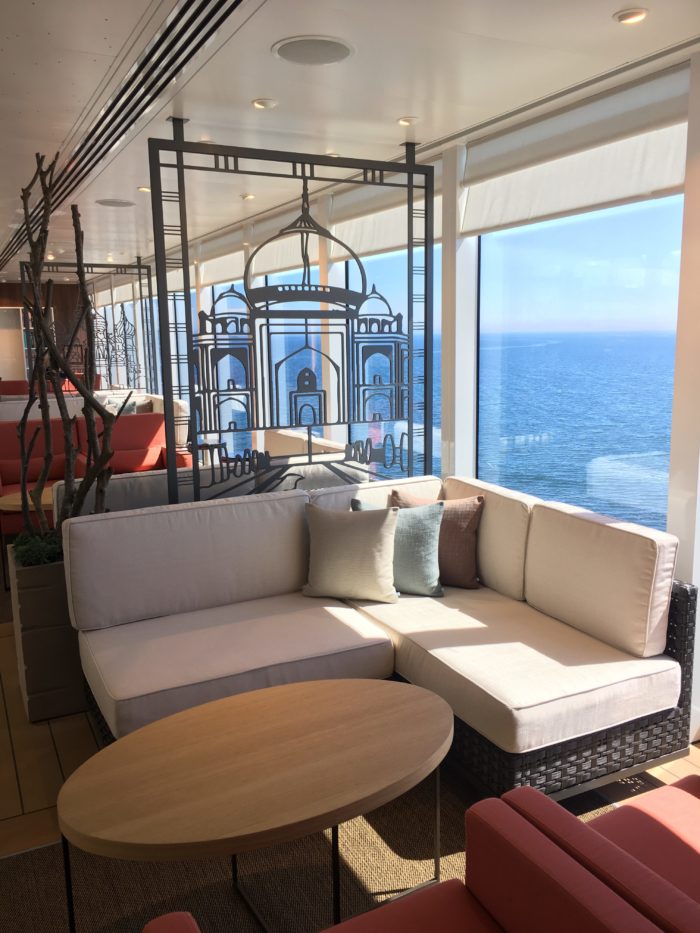 Main pool aka evening cinema/opera venue
Viking Jupiter's main pool is right in the middle of this top deck. It also features a hidden screen for nighttime cinema shows with popcorn. Viking also shows Metropolitan opera performances for more cultured entertainment. In the daytime, this remains a chill-out pool area. one with a useful retractable roof for the poor-weathered days. On either side of the screen is the Pool Grill and on the opposite side is the Pool Bar for liquid and BBQ replenishment. Nothing to note for us veggies though, am afraid.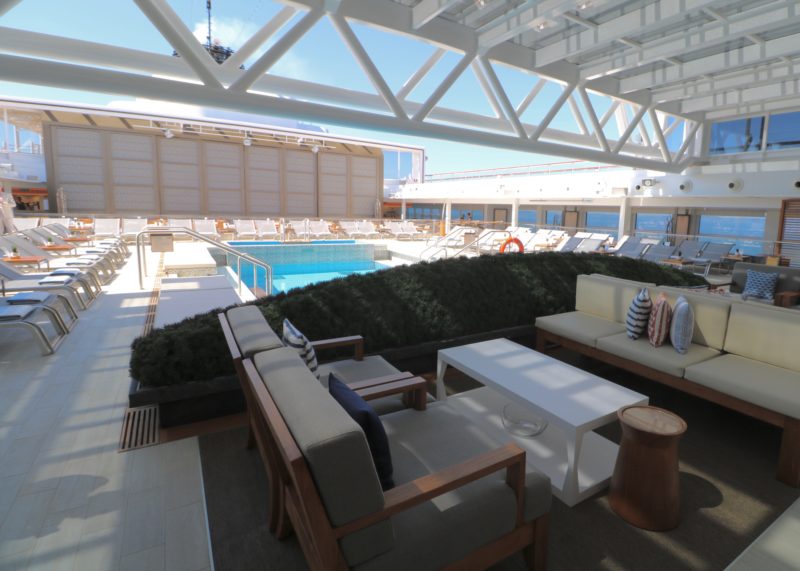 Once you go through the rear lift lobby, you will find yourself in the coolest of cruise ship buffets: the World Cafe restaurant. It is a simple, but sleek affair. Tables are set, like elsewhere on the ship, with Scandinavian style placemats. Glasses here are plastic copies of designer pieces. For durability and safety, naturally, as also used for outdoor dining. This may be a buffet but the food is still beautiful and stunningly displayed. Even the handwashing station here is a piece of art.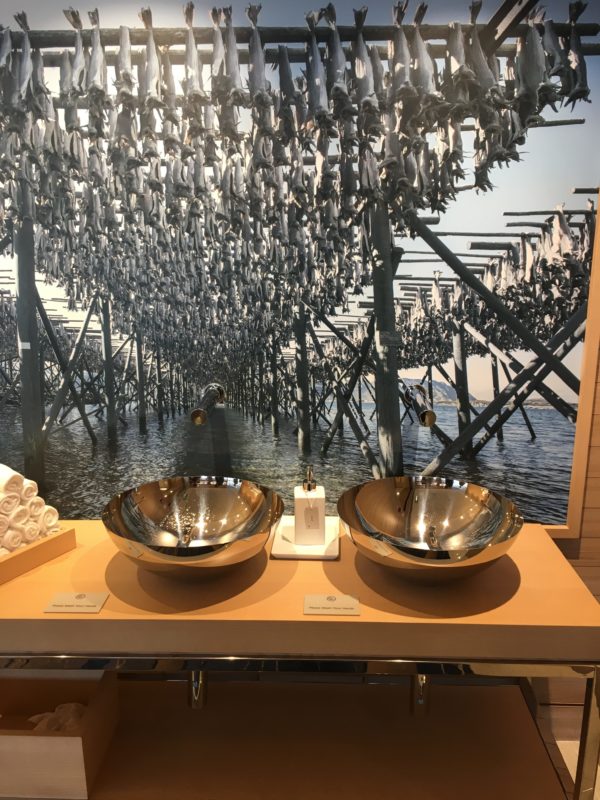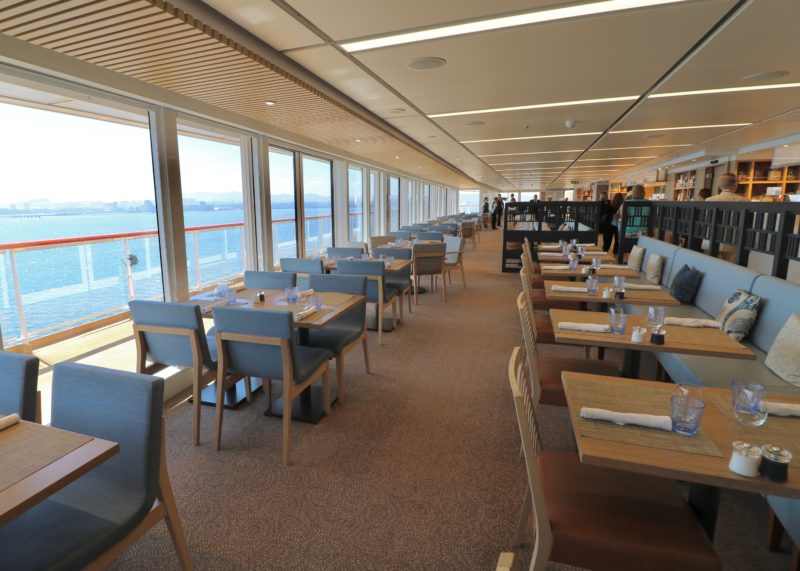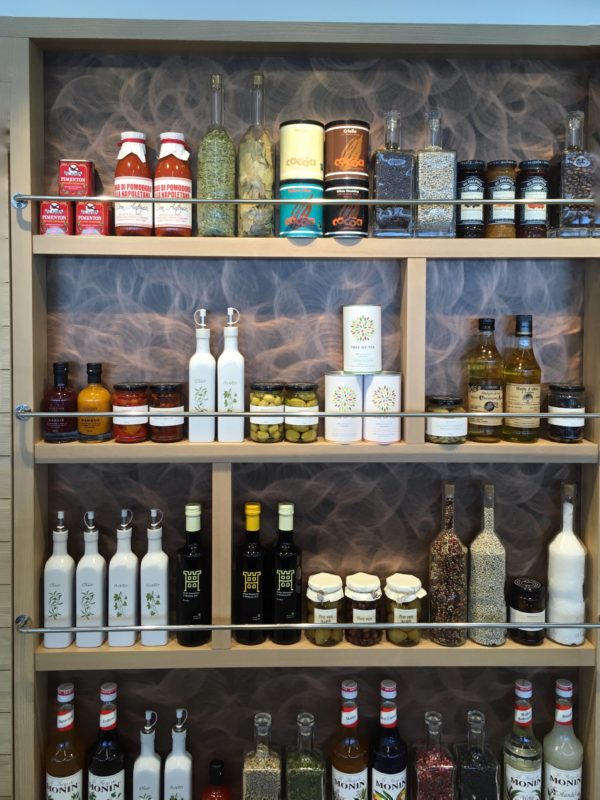 Just like the rest of the dining venues on Viking Jupiter, there is table service for drinks – which are included at mealtimes (if opting for selected house wines, beers & soft drinks). Alternatively, you can upgrade to a full all-inclusive drinks package for additional 20USD per person per day. (Price correct at the time of writing).
World Cafe has two near-identical lines of buffet meal choices on display on both port & starboard sides of the venue, one noticeable difference was that I could only see the gelato bar on one side. There is a bar at the rear, not that you need to queue for service as the attentive staff will soon take your drinks order.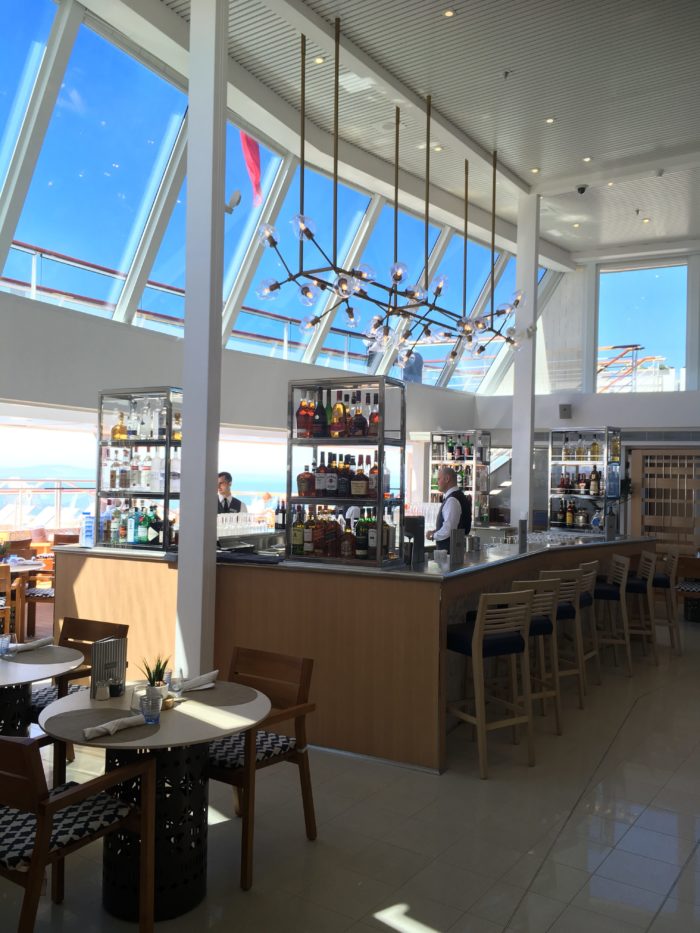 The highlight of the buffet on Viking Jupiter, like on all of the Viking Ocean fleet, is the Aquavit Terrace. It is the perfect spot for a little for alfresco lunching, sunbathing in the adjacent loungers or relaxing in the jacuzzi. And you can't miss the stunning much-envied infinity pool that sets Viking Ocean ships apart from others. You could just leave me here, and I'd be happy. You could naturally dine here too, weather permitting.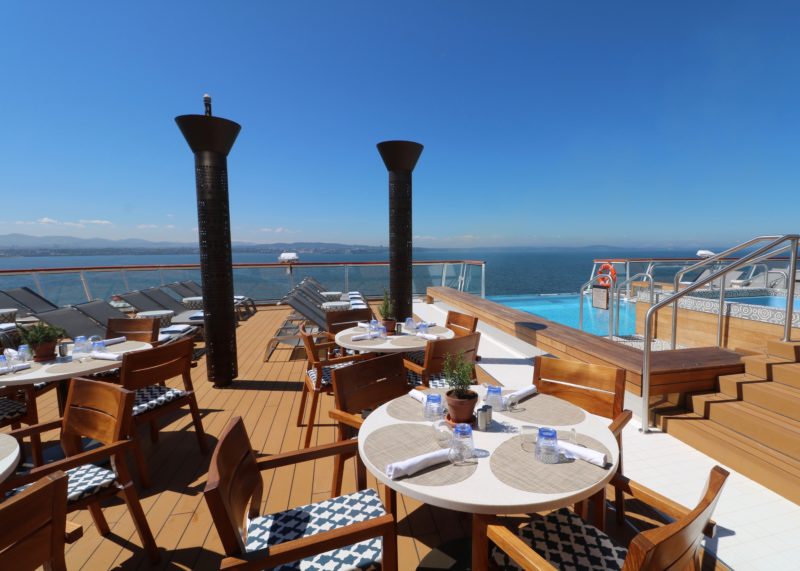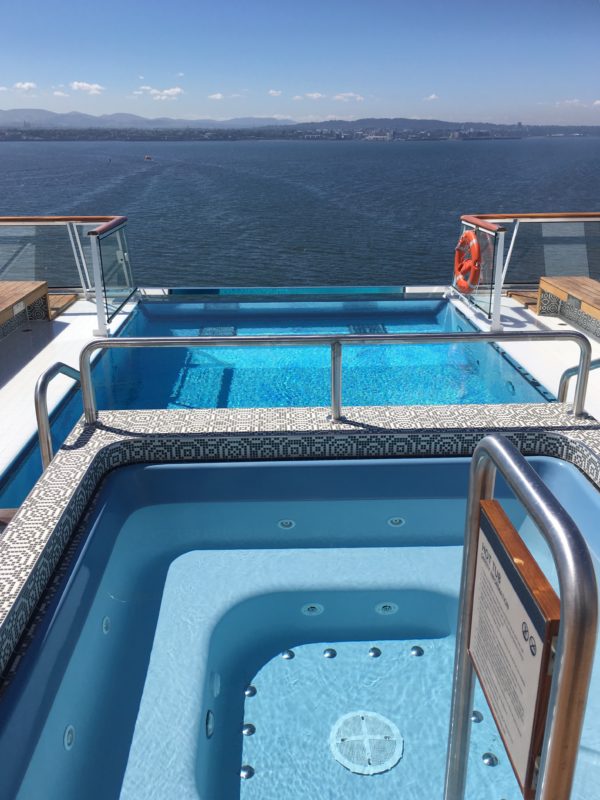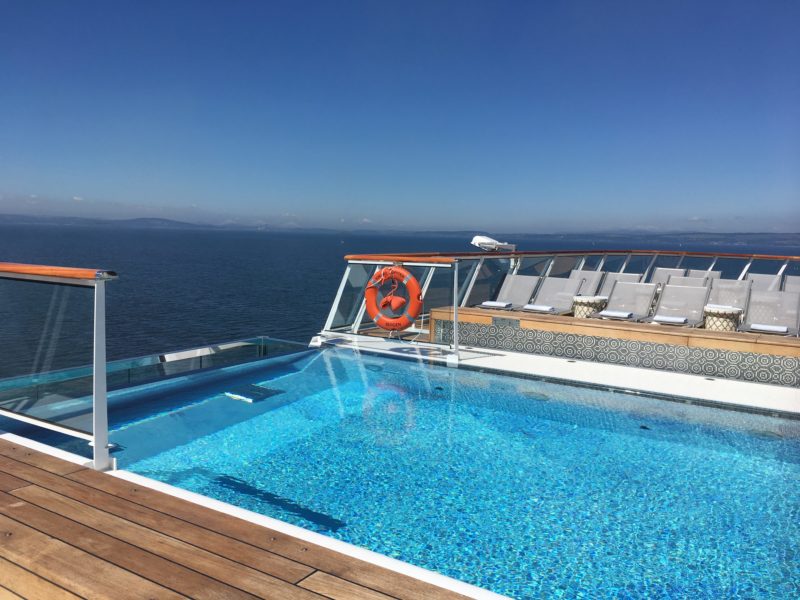 Reasons to book Viking Ocean?
Do you like the look of Jupiter, or her sister Sea if you saw my post from summer 2018? They are both stunning, Nordic design havens. And as expected, with the luxury experience on offer, Viking's price tag may seem high initially. But unlike mainstream cruise brands, much is already included in Viking Ocean's fares. I'll have a helpful '10 Reasons to book Viking Ocean Cruises' post ready for you shortly, on why the higher initial price tag still offers great value.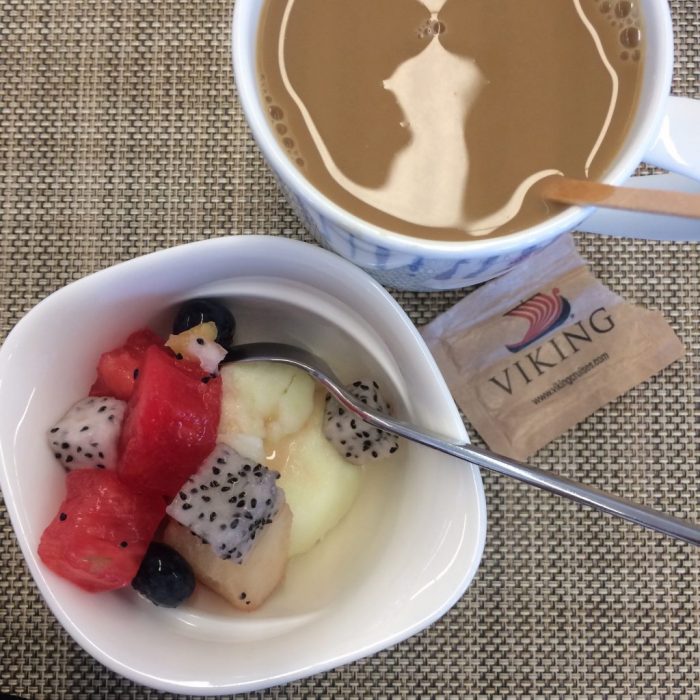 There will be another post out later on the challenges of vegan cruising on Viking. Unlike many other premium cruise competitors from the US, Viking has no fleetwide vegan menu. This means the quality of dietary catering tends to vary greatly.
All good things come to an end
My day onboard was excellent and I really did not want to leave. Viking ships are stunning and the onboard service is excellent. And for me, I just can't help but love the sleek Nordic interiors.
Getting to see the Deluxe Veranda and Penthouse Veranda really demonstrated the quality of the cabins guests enjoy onboard. And those bathrooms – just stunning! My lovely friend EmmaCruises has a video tour of one of the Deluxe Veranda cabins, do check it out! I'm sure she'll help answer any questions you may have about life onboard. What do you think – does Viking style appeal to you?

Many thanks to Viking Cruises UK PR team. It was a joy to join their tour onboard Jupiter with other local contacts and writers.