Vegan cruise options: Specialist vegan cruises in USA & Europe
Vegan cruise holidays are a real 'thing'. People often struggle to understand that someone my age is so enthusiastic about cruise holidays. I tend to confuse them even further when I tell them I am vegan. "Aren't cruises boring and formal?" Or "what can they feed you since you're vegan?" implying I clearly thrive on something magical or that ships couldn't or wouldn't cater for dietary needs. Well, they're wrong. Even before I was a vegan, I knew as someone with lactose intolerance that the skilled staff could prepare all sorts of special meals, not just for me, but for those with allergies, intolerances and medical diets like low-sugar for diabetes etc. Look at a main dining room menu and you'll see the allergen signs on dishes. Or in this case 'suitable for' as the first starter is gluten free, dairy free, vegetarian and whatever that final sign means 😉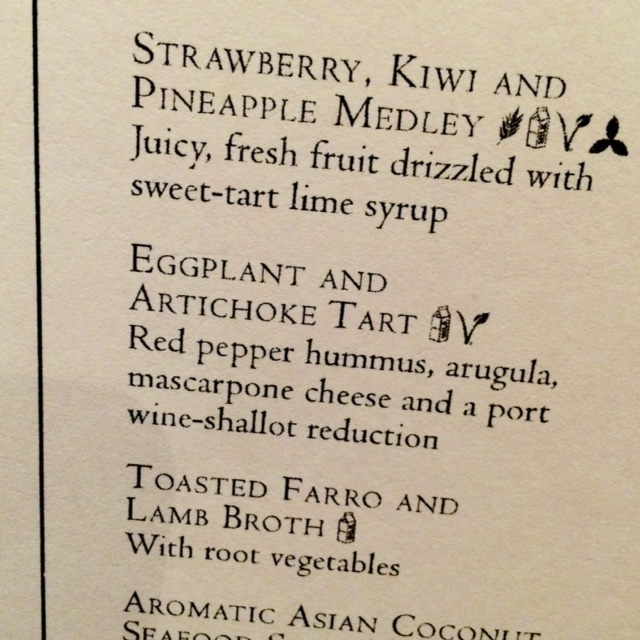 Many options do exist for those wanting to cruise as vegans. There is not just one annual hippy, lentil-laden Goa-bound sailing on a rickety 40-year-old ex-Love Boat cruise ship. Ok, I am playing to the stereotype there but I am all about busting cruise stereotypes. Whether they're held by omnis or vegans. Just like there are cruises for Walking Dead fans (with show stars onboard for events) there are cruises for naturists, metalheads, American Football Fans (Gronk cruise on NCL, anyone?) fans of boybands with said boybands…and cruises for vegans.
You may be surprised to hear that we haven't been on any of these 'special' vegan cruise sailings as we prefer the ocean kind. There are a few reasons but mostly because most of these vegan cruises have been in the US. For those of us living in Europe or further, the air travel to the US immediately extends the required annual leave and hikes up the cost. Until now…
Vegan Travel
This September this year there will be a world's first 100% vegan (according to the agent) seven-nighter ocean cruise from Tilbury/London to Norwegian fjords. This cruise is sold by a German vegan cruise & tour company Vegan Travel, who have chartered a whole cruise ship from a small UK-based cruiseline CMV. Everything onboard will be vegan, from your cabin toiletries to all food & drink served on the ship. Fully vegan sailing and for the first time on an ocean cruise ship, as all of the previous cruises were all river kind.
These sailings treat you to things you won't find on 'regular' cruises. There even were chicken-less nuggets for midnight boozy snacks on the NYE river cruise sailing. You would expect same detail on this first ocean sailing. UK newspaper Metro even had a fab review of the 2016/2017 NYE vegan river cruise – see here. A selection of vegan cheeses and sandwich slices were served at breakfast time. Meanwhile, on most regular cruise lines you may struggle to find a vegan-friendly spread.
This company normally does fully vegan river cruises and there are several during the year, but these are on ships they charter from standard river cruise lines for the purpose. Popular vegan blogger Sean aka FatGayVegan was converted to cruising on one of these river cruises and has blogged plenty about this company's river sailings. He's also featuring their NYE 2017/2018 sailing on his blog.
Raw Vegan Cruise
For those wanting ultimate luxury cruising, there are two Raw Vegan cruise itineraries on the beautiful Adriatic. These on a luxury yacht in July and August this year, where all produce is not just vegan, but raw and organic too. And you will be sailing in the most gorgeous waters of the world – in my opinion. I have called at Split and Dubrovnik on my cruises and loved both cities. I would love to cruise in Croatia more – just look at the testimonial video from 2016 on the Raw Vegan Cruise website. How gorgeous are those views!?
Holistic Holidays at Sea
Maybe you don't fancy a Norway sailing in September or raw vegan cruise in Croatia. Perhaps you want to experience Caribbean beaches. Indeed you can. Holistic Holidays at Sea (HH@S) has an annual vegan cruise and next year's February 2018 sailing to Eastern Caribbean is their 15th-anniversary sailing already. This isn't an exclusive vegan sailing though, the MSC ship does have non-vegan passengers, food and drink about. Vegan catering is overseen by a team of vegan chefs brought onboard by HH@Sea so vegan options on this sailing are better and more innovative than on a regular MSC cruises.
The vegan menu was served in the main dining room during early dining for those booked on the HH@S package. The buffet onboard was open to all at all times but had a limited number of stations that were marked vegan*. Plus obviously, there were separate HH@S events for those booking the vegan experience onboard this MSC mega ship. There's diet, nutrition, yoga seminars etc.
*as told to me by someone who was onboard on the 2017 Miami sailing
Vegan Cruiseplanners
Another US based operation is Vegan Cruiseplanners, a cruise travel agent who arrange vegan group sailings. If you see their website, they have a Canada & New England sailing for this summer and a Mexican Riviera one for the autumn. Both cruises are with Holland America cruiseline (HAL). Again, these aren't fully vegan sailings, just featuring groups of vegan cruises with extra events.
Esther The Pig Sanctuary fundraiser
In similar fashion, in March this year, the first ever Esther the Wonder Pig cruise took place. This was a charity fundraiser on a Carnival ship from Miami, for the Happily Ever Esther sanctuary. Food onboard for those booking the fundraiser was advertised as 'Esther approved' ..aka vegan.
This sailing must have been a success as there is another one for February 2018! Just a day after MrVegancruiser's birthday – how amazing would it be to get onboard for this? Even if no Esther onboard. Hopefully a cardboard cut-out at least for photo-op. I'd like that, very much.
Esther who, you say? If you don't know already, read this Guardian article.
And yes, like the HH@S (MSC) and Vegan Cruiseplanners (HAL) sailings above, The Esther cruise (Carnival) isn't an exclusively vegan cruise – but with guaranteed vegan dining options for those attending the vegan cruise.
So a vegan cruise may be 100% vegan…it could be a cruise that has a large group vegans onboard. Or it might just be a 'regular' cruise where you find you're one of a handful independent vegan travellers onboard. Cruisers like me and Mr Vegancruiser. But THAT is going to be another post.
Meanwhile, did you see my '10 reasons to cruise' post?
Any comments or questions about vegan cruise holidays or particular ships these are on, get in touch and I'll do my best to help! Which one of the above would you prefer the most? I love Croatia but I do love Esther too!
Disclaimer:
All content provided on this post is in good faith and for informational purposes only. The owner of this blog makes no representations as to the completeness, accuracy or reliability of any information on this site or found by following any link included in this post.
The owner will not be liable for any errors or omissions in this information nor for the availability of this information. The owner will not be liable for any losses, injuries, or damages from the display or use of this information.