How to choose the best cabin for your cruise: Location, kind & value?
Congratulations! You must be about to make the best decision of your life, about to make a cruise booking! My 'introduction to cruising 101' post quickly covers the basics you need to consider when picking your first cruise. Do check that out before you continue with this one. Once you have decided the style of cruising that suits you, you will hopefully have narrowed your choices down to a cruise line or two. It's always good to have at least two quotes to compare against, before making a booking. Cruise lines always have different deals on. A promotional offer such as free drinks or extra onboard credit (OBC) can make a world of difference in finding a deal that is best value. But in order to find the best deal, you need to know how to pick the best cabin for your cruise. Let me give you my top tips on how to choose the best cabin, in the best location and offering you the best value.

Location location location – aka how to choose the best cabin spot
What is best, is always a matter of individual opinion. When travelling with my girlfriends, I am more than happy with the lowest-priced interior cabins. I enjoy the sea views from public areas indoors and on the Promenade/Lido. I don't need a private balcony, I get enough fresh air on deck. We girls don't really spend any time in the cabin other than to sleep, shower and to change into different clothing. Personally, I love how dark interior cabins are, they really allow for the best sleep. There will be no daylight to wake you up. That's what alarm clocks are for! But some people will find the thought of an interior far too claustrophobic and want at least an oceanview/seaview cabin, if not a balcony.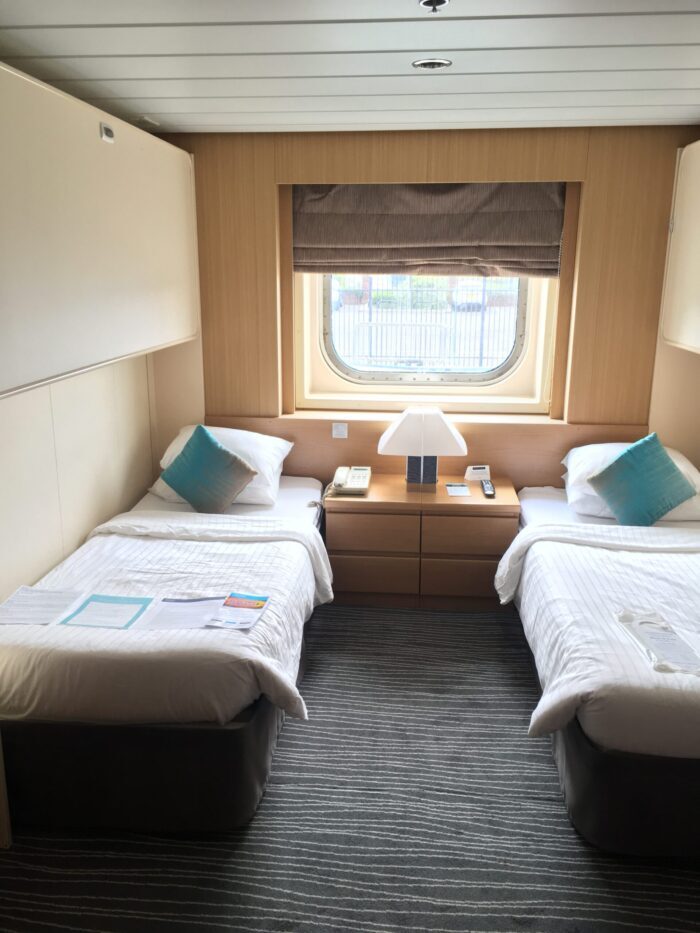 Most ships have these three basic categories to offer, as well as a selection of suites too if you really want to push the boat out and cruise in style. There are family cabins, solo cabins, spa cabins and many other specialty cabins to consider but let's start with the basic categories.
We all want good value, regardless of the class of cabin we have opted for. But there is much to consider when choosing the best cabin – booking a cabin is not as simple as selecting a hotel room type.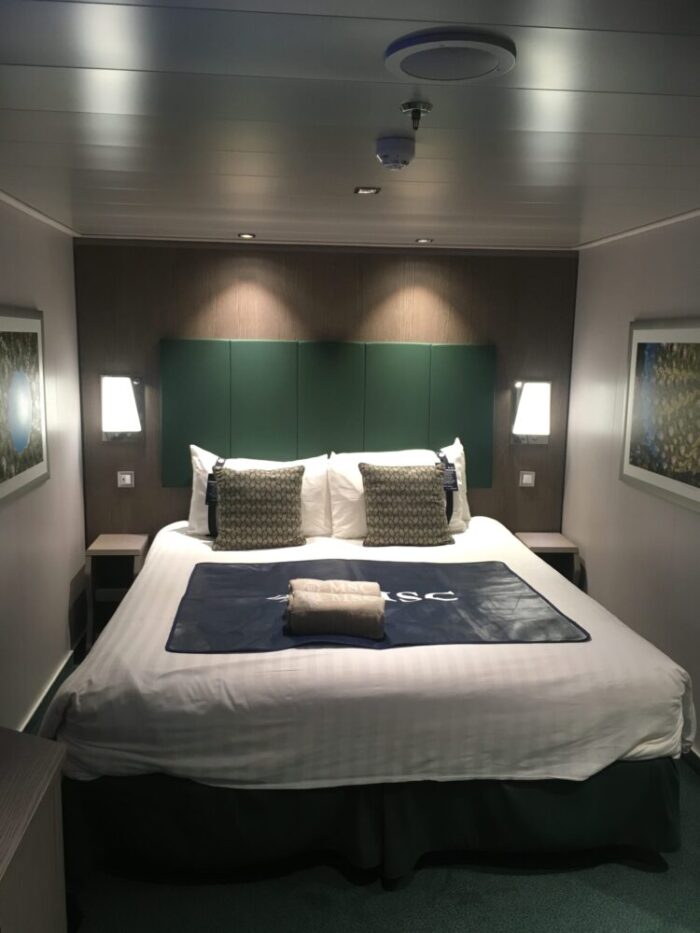 When an inside cabin is not just that
If you look at any cruise ship deck plan, you see various colours, often repeating for a deck or two. Same class cabins, in identical locations but coloured differently on other decks. Balconies of different colour, oceanviews and insides (interiors) the same. That is because a cabin is not priced purely by its class/kind. There is not just one cheap interior price like you might get a set price for a hotel room. The cost of a cabin depends both on the location and on the deck in which it is situated. Generally, the higher the deck you choose, and the more central your cabin location is, the more you pay for the premium. So cabins further in the aft (rear) and far in the forward (front bow) are cheaper than identical cabins located midship. Similarly, a deck 2 inside cabin 4A will cost you less than the same 4H inside high up on & above the pool/Lido deck (Carnival grades used as examples).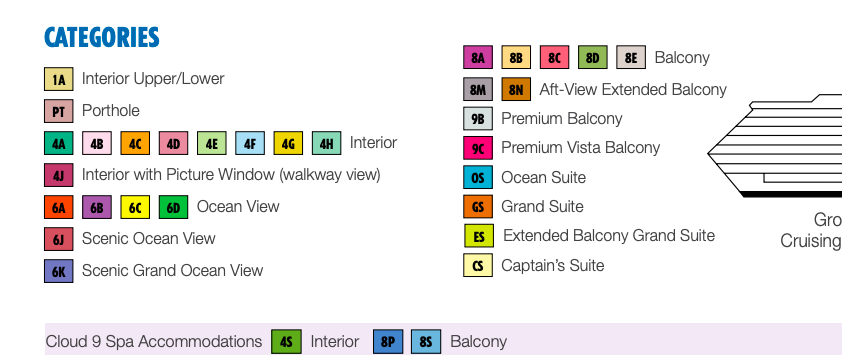 Also, on some ships, you may have the additional option of choosing a standard cabin and a premium/deluxe one. They're usually larger and offer extra features. Premium balcony cabins often feature a deeper balcony to fit loungers rather than chairs, or a larger in-cabin area. On some ships, a premium cabin may include a minibar fridge if standard cabins do not have those. Always check what features standard cabins offer to see if you wish to pay for the 'better' experience.
Does the location matter, really?
One of the reasons why midship cabins are more expensive is the fact they are closest to the central lift lobby and stairs, thus providing faster access to all of the ship's facilities. On most cruise ships, the mobility-adapted cabins are found near lifts too, to ensure easy access. If you book a midship cabin, you know you don't have to walk to the end of the cabin corridor to get your cabin. Personally, I don't mind the walk. The longer I need to walk means fewer people will pass my cabin door at night or early morning, and will wake me up. Besides, forward and aft have their own staircases & lifts accessible from the cabin corridors.

Central, midship location is good for those who suffer from any motion sickness. If you think of the ship as a see-saw, you'll see why cabins and public venues in midship locations get the least amount of movement. This might be something to consider when booking if you're prone to seasickness. Though you'd be surprised how steady large cruise ships are. Mr Vegancruiser suffers from motion sickness just taking a bus but he is perfectly fine aboard a cruise ship. Even in aft cabins which get more movement than midship ones.
What areas do you need access to?
If you are travelling with kids, you may want to have a cabin close to the kids' clubs. So checking the deck plan to see the location of kids venues and ensuring you're on the same deck or nearby may be useful to you. Perhaps you're the opposite. Have no kids and want to ensure your cabin is nowhere near children's venues. Maybe you want to be near the casino. If you plan on spending a lot of time in the Spa, a cabin on the same deck will be ideal. And if you are a light sleeper, do ensure you have other cabins surrounding your cabin, and not public areas or crew stairwells. Check the deck plan below and above your intended cabin. You wouldn't want to have a nightclub or a bar above you, if you plan on having early nights? And be warned, cabins underneath a restaurant or underneath the lido will often get noise from the morning cleaning crew. Deck washing and sun lounger setting is rarely quiet. Imagine hundreds of them getting set each morning?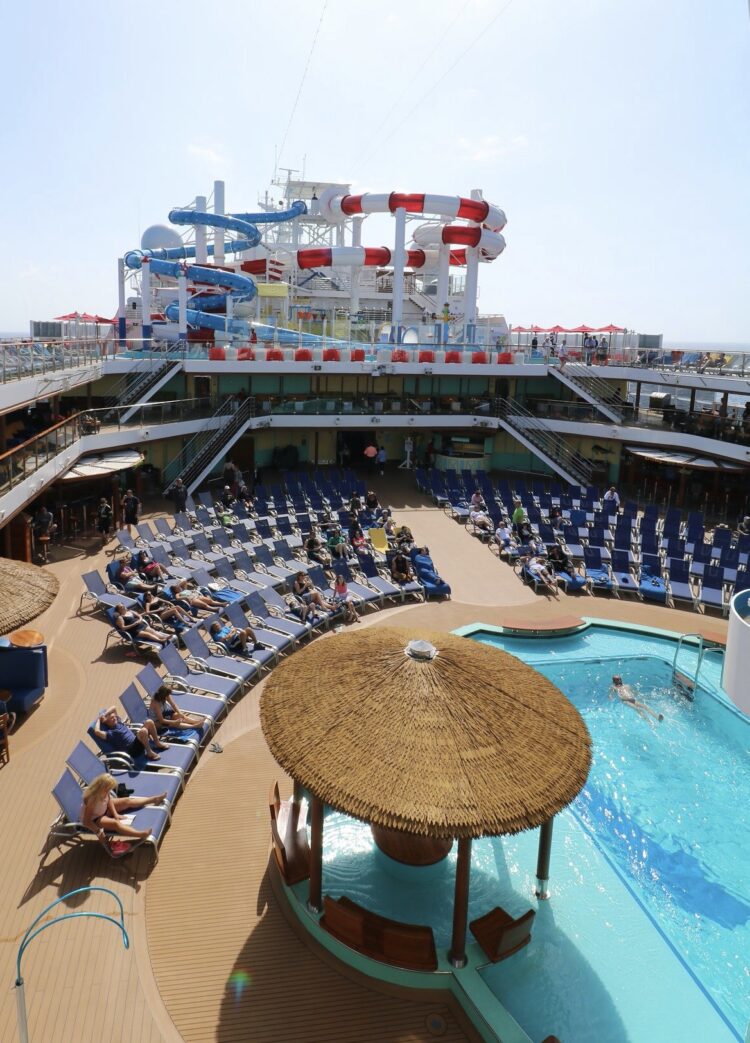 Oceanview or Balcony and how to get one cheaper?
If you've decided that an inside (interior) cabin isn't for you, and that you require at least some actual daylight you will need to stretch your budget to an oceanview cabin. If that is not enough and you want access to open air and outdoors, booking a balcony is a must. But there are a few options to consider to get these, cheaper.
On lower decks far forward, you often get a selection of porthole cabins which instead of a standard square oceanview window usually come with two small round portholes instead. Like the windows in oceanview cabins, they do not open, so they are merely there for a little light. Portholes also come with storm covers that can be fitted over the window if the weather gets really rough. And you will feel it, and hear it, as the waves hit the bow. If you get easily seasick, they may not be for you. But also, they offer great value as often sold at the same price as an interior for their movement-prone location.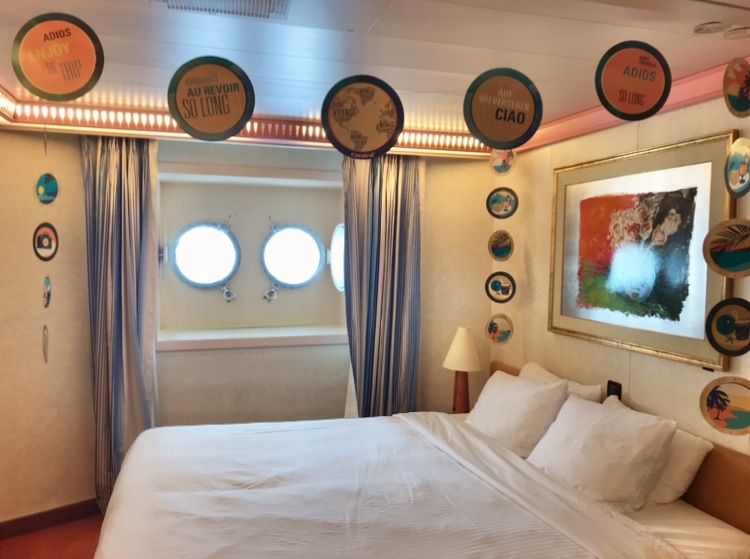 Another similar cheaper option is 'picture window' cabins. These are normally priced lower than oceanviews, and on Carnival they have been classed as interiors despite featuring a window to a promenade deck. A small number of picture window cabins far forward have their windows to their own small 'near private' deck. You get daylight, full-sized windows, but will not have the privacy standard oceanview offers. Then again, on my last picture window cabin, because it was a forward one, we rarely had anyone out on the small deck. More often it was me because our neighbours didn't seem to use the deck space either. I could see out the window and see the sea ahead of us, but an oceanview cabin it wasn't. But we had light and could see views similar to what the Bridge had.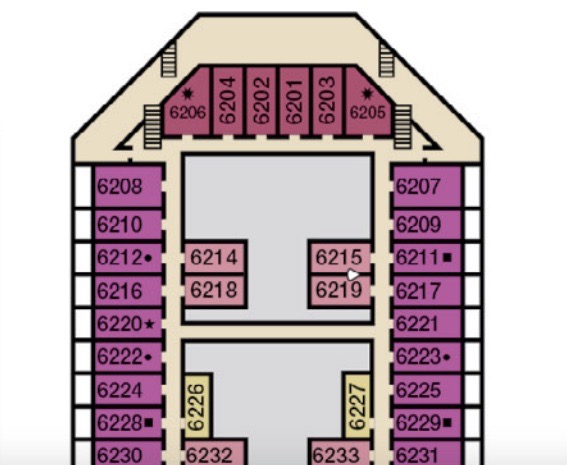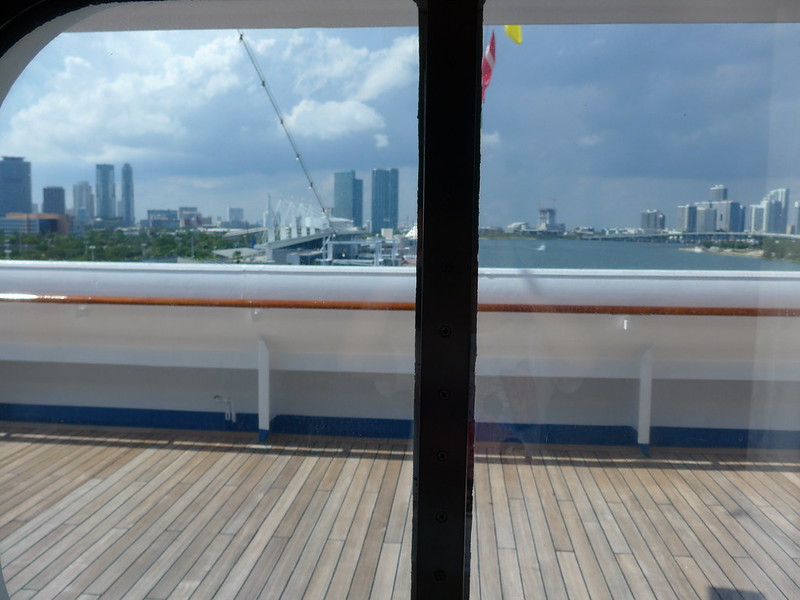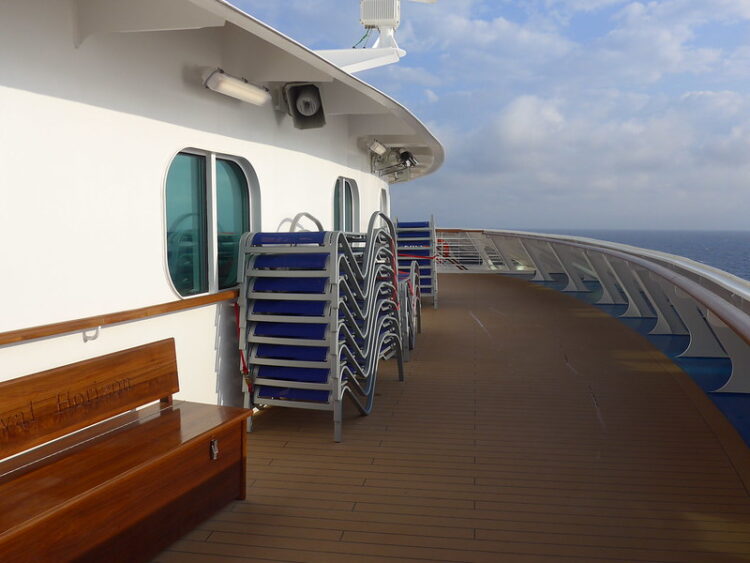 Just like any cabins, balconies tend to be cheaper on lower decks and when positioned in the aft or forward part of the ship. Some ships offer low down cove balconies, an inset metal balcony close to the waterline (deck 2, usually) partially shaded by the lifeboats hanging above. These tend to be cheaper than standard glass-barrier balconies. Occasionally you may see cove-style balconies on higher decks too.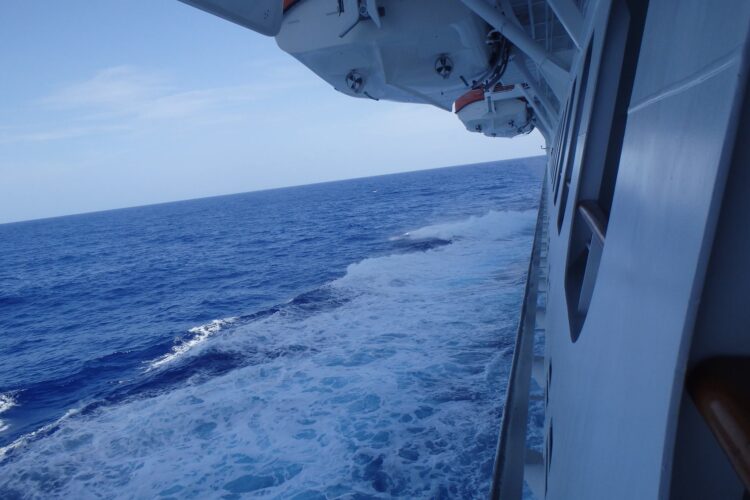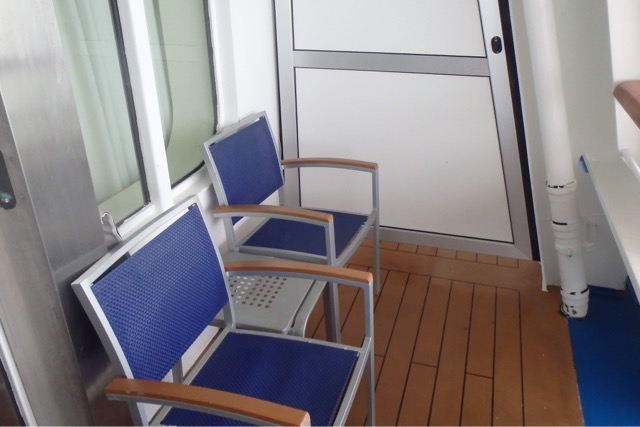 You don't often get to tan yourself in these cabins as they are shielded. But they are closer to the waterline and you get to enjoy real oceanviews and sounds, and sometimes spray too. Hence they tend to be cheaper than standard balconies.
Some metal balustrade balconies are higher up and found either near the aft or by the bridge. Forward-facing balconies (above the bridge) have these too – they may be cheaper but note that when the ship sails, they often are too windy to enjoy. You also need to be aware of nighttime light pollution from your cabin potentially disturbing the bridge operations – and the need to keep your curtains closed.
The secret saver that is an Obstructed View cabin
Now, why would anyone want an obstructed view? Because they still give you the cabin class you want with the associated natural light. And with obstructed balconies, you still get all the open air, but with a reasonable discount. The obstruction doesn't need to be that big at all. You just need to pick the correct cabin with the least amount of obstruction.
On Royal Princess and her sisters, the obstructed cabins have a top of the lifeboat to about thigh height. That is unless you have one of the far forward obstructed balconies, that is. Instead of a standard lifeboat, a much taller tender boat impedes your view instead. All lifeboats are hung from metal pillars that protrude higher than the lifeboats themselves. But if you book smart, you can get a cabin that has the middle of the lifeboat as an obstruction. You will not be able to look down at the ocean (as have a lifeboat underneath) but you will have good views of the sea looking forward. And all the fresh air and views of the ports.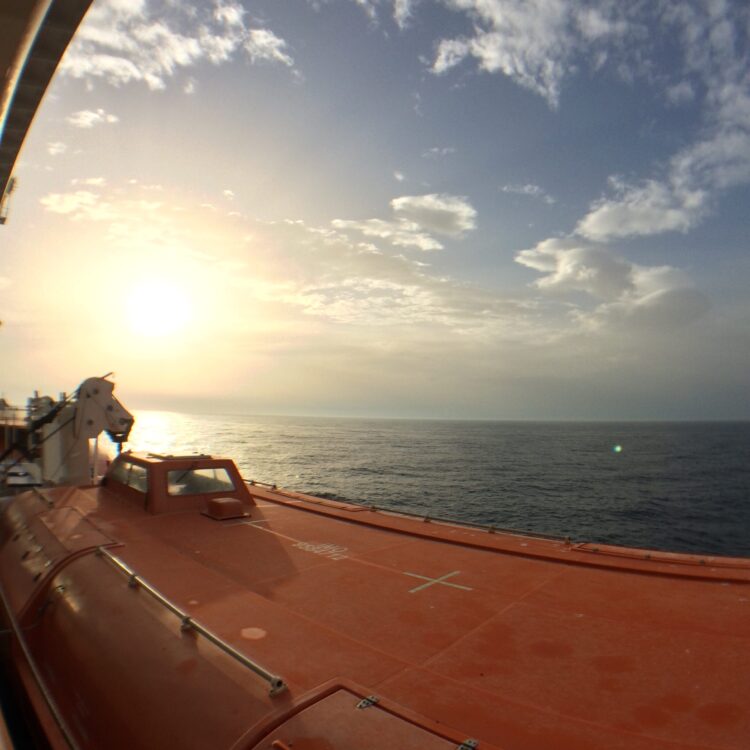 Some obstructed cabins don't even have a proper obstruction. It may just be a bit of a metal railing. These three images images from Celebrity Infinity demonstrate how an 'obstruction' isn't necessarily a big one to to ruin your view. These cabins have a metal bar running high above head and a small grille at floor level.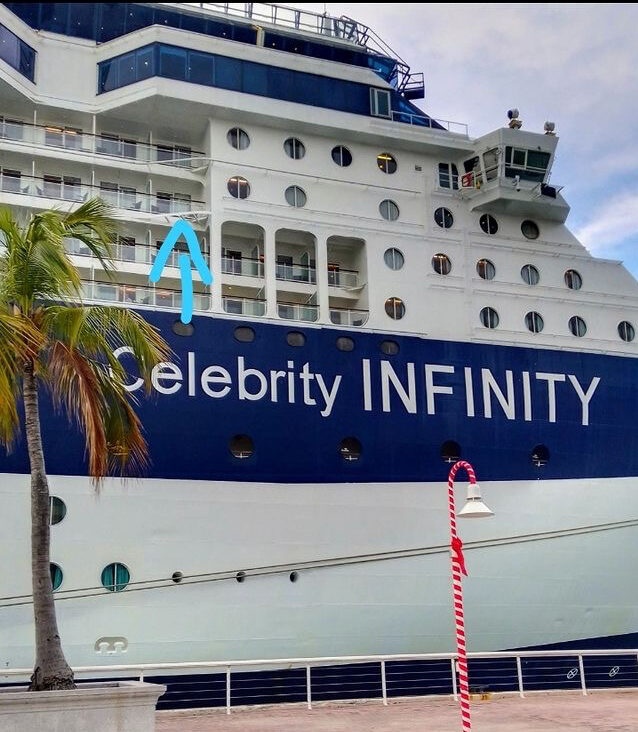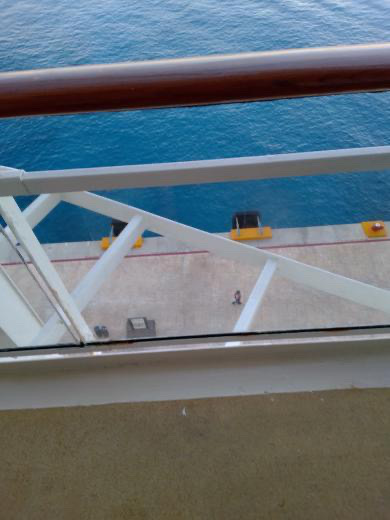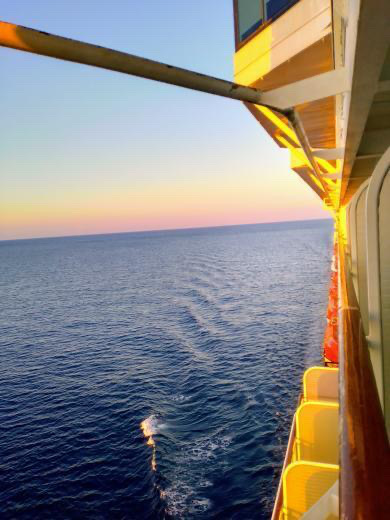 Similarly on Royal Princess (and on her sisters) there are some that are classed as obstructed but have no lifeboat impeding your view at all. Glancing downwards, these obstructed cabins have the promenade below (no lifeboat) and again you'll have a view of the seas looking ahead.
Googling up obstructed cabin numbers will usually provide you photos from past cruisers, this is why we booked E408 for Sky Princess. Because we liked the idea of having a Deluxe Balcony, but with a discount. Plus the irregular pointy shape of the balcony makes it deeper than standard balconies. More space at a discounted cost, for the perceived 'obstruction'.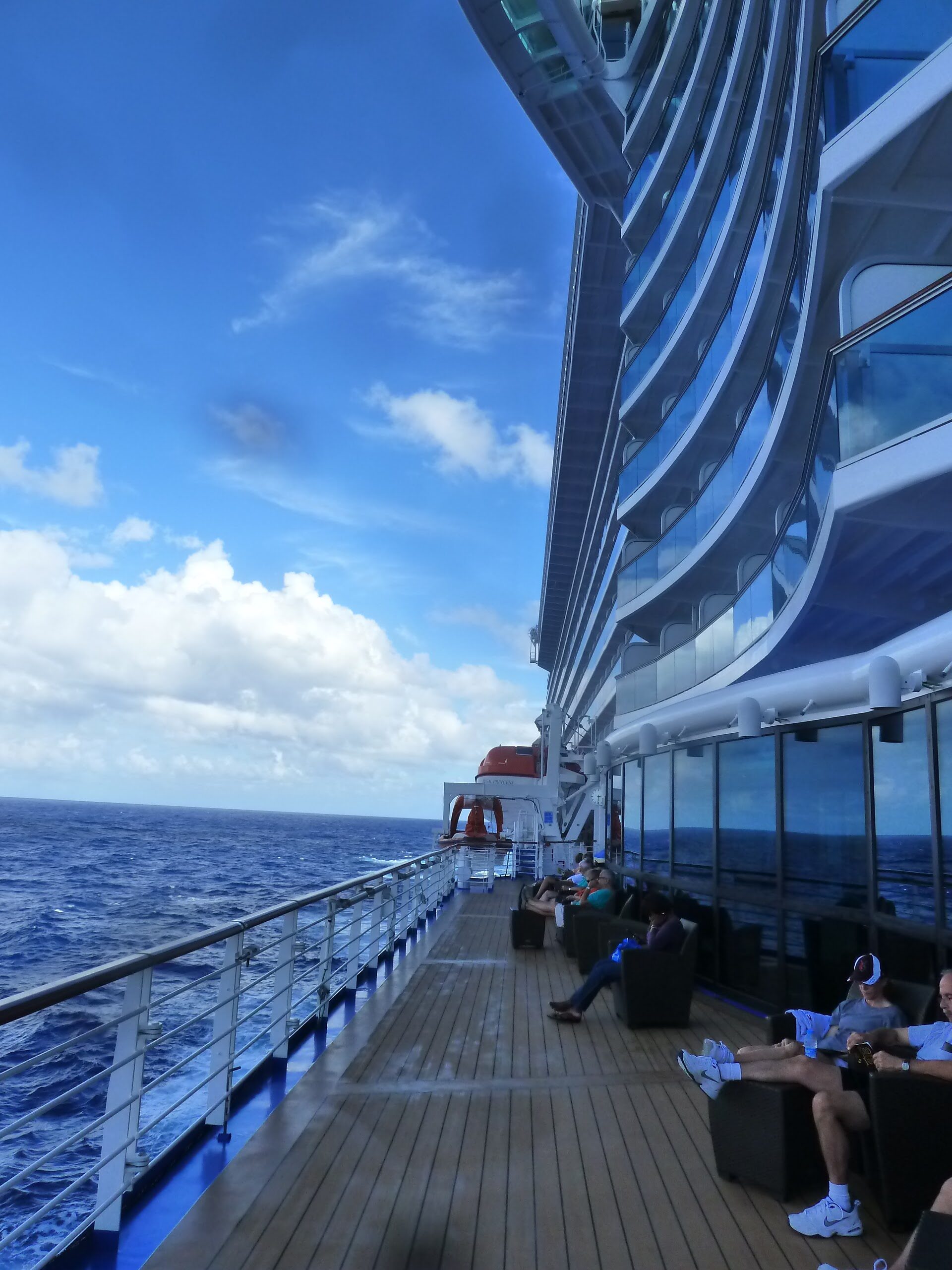 When an upgrade, isn't an upgrade?
If you do go through all the trouble of seeking the best cabin location and number (for example of the not-so-obstructed cabins for a discount) you may wish to mark your booking as 'no upgrades, please'. Not that upgrades happen often. Recently I have seen more people report upselling offers, rather than actual free upgrades. But sometimes, rather randomly, the upgrade fair pays a visit.
But if you remember all of the above and how each cabin category is further divided into sub-categories (colours on the deck plan), you can see that a move from one oceanview to another a deck or two higher would be an upgrade in the eyes of the cruise line. And even if you were upgraded to a balcony, what if you find it's underneath the Lido? Or right along the corridor where the kids club is located. Would you be happy with the move? Consider the risks. Once you get upgraded, your old cabin is sold to someone else. Only accept upgrades if you are perfectly happy to take any cabin you may be moved to. And if you don't care about a move, or about a cabin location to start with, the next chapter is definitely for you.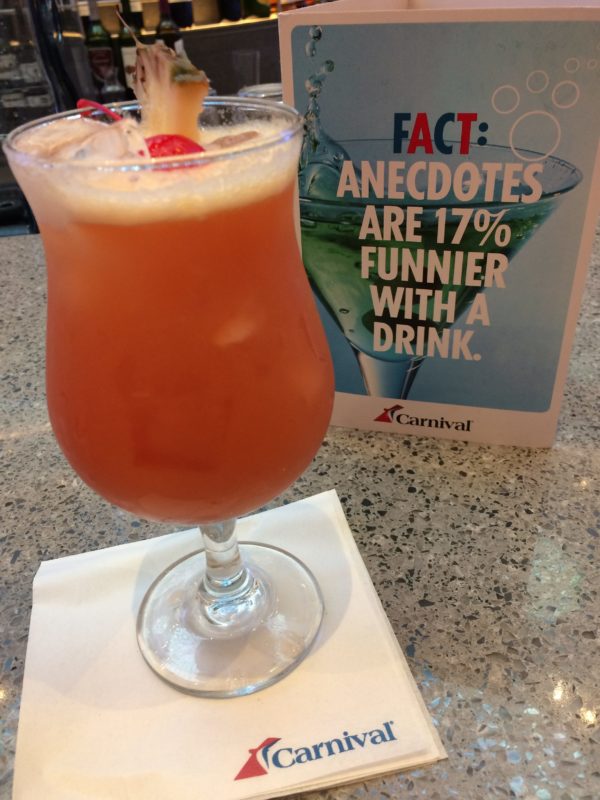 The best value cabins are guaranteed
For the ultimate value, you could opt to book a 'guaranteed' cabin. It means you will get a cabin in a particular selected category (guaranteed inside/oceanview/balcony), but will have no say in where it will be located on the ship. Location is usually TBA, until a later date. Most cruise lines offer this possibility, and others like Marella have it as standard. With Marella, you have to pay to pick your particular cabin, or you pay the basic fare and find out at the airport what your cabin number will be. P&O also has Saver Fare which essentially is a guaranteed cabin. These are generally much cheaper than the standard fare where you select the actual cabin number (deck and location).
Guarantee cabins can be risky because you may end up in a location that is harder to sell, and one cruise lines have had past complaints about. Our only 'guaranteed oceanview' looked great on paper, with cabins on both sides and above. But what I didn't know until the next morning is that we had awful noise each day as the anchor went down, and up. As our deck 2 was the passenger deck, we had crew areas and service deck below us. And it so happened there was a loading bay beneath our cabin. In every port, we'd have goods going in & out and a whole lot of noise to go with it. But if you ask other cruisers, many more will say they have been happy with their cabin allocations on guarantee terms. Just know, it is a risk you take! But it does pay, as guarantee cabins are a lot cheaper to book. But my one bad experience has put me off and I would rather select my own.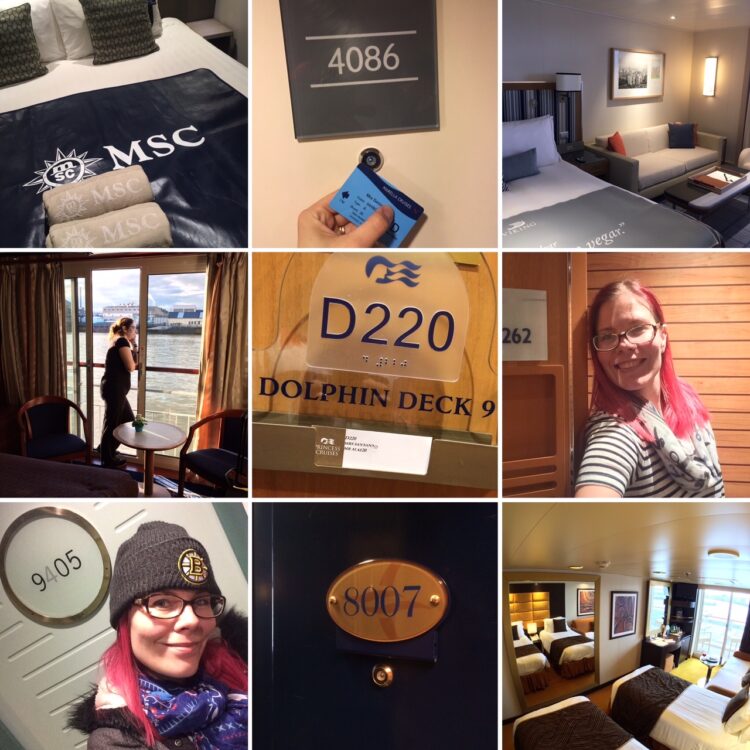 Would you like tips to do more than just how to choose the best cabin?
Getting the best cabin at the best price is just a start. There's much more you can learn about making your cruising fun and affordable. My friend Emma has created a whole course on how to cruise for less, and her tips are exactly those I use. Emma hass collated everything you need to be a money savvy cruiser into one helpful source. You can learn more about the fab course by clicking on the picture below!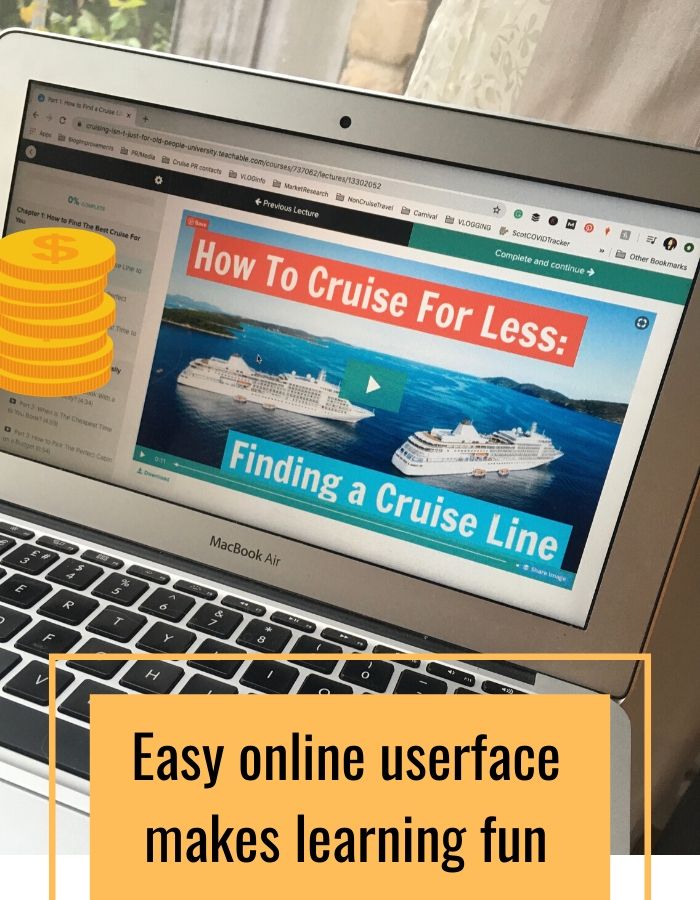 Before you book – one more moneysaving tip!
It is always good to get at least two competitive quotes done to see who offers the best value. Popular cruise areas often covered by a number of cruise lines, so select at least two for a quotation. And although you may be used to booking holidays and flights direct, do give a travel agent a call as well. Cruise specialists bring cruise lines so much custom they get discounted rates. I have nearly always found it cheaper to use an agent (except with Marella) than booking direct.
If you are based in the UK, like myself, make sure you're using a reputable ABTA covered agent. And if you're buying a fly-cruise holiday, ensure your package is ATOL covered. There are a number of large UK agencies that specialise in cruise holidays. Unfortunately, two of them have behaved atrociously in 2020/21 in dealing with customer refunds, and I avoid them these days. I won't name names here but if you ask me, I'll tell you who. Meanwhile, I have found a company much more trustworthy,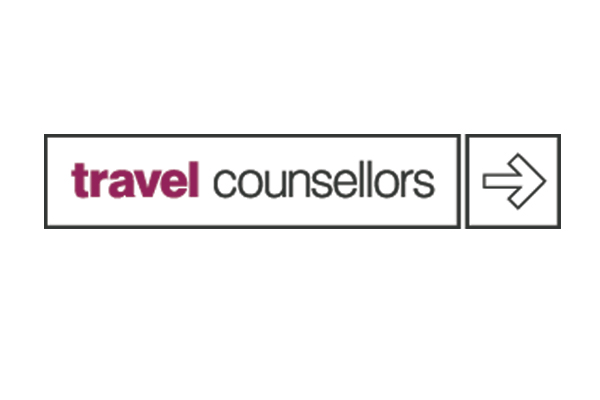 Instead, I am now mostly booking with Emma Otter, an agent at TravelCounsellors. They have been repeatedly rated best for service (and refunds) by MoneySavingExpert members and have an amazing 4.9 rating (of 5) on TrustPilot too. Emma is lovely, so knowledgeable, and will sort you out with a cruise quotation, and cabin to match your needs. At a great price too.
For MSC, I have my next booking through Book and Go holidays, a small franchise travel agent operation by MSCs biggest UK fans there are, Tim & Andy. I met this lovely couple on an MSC cruise some years ago and they recently started their own agency selling mostly MSC and Virgin cruises. If you have any questions regarding MSC and their ships – these two know. They are the founders of two popular MSC Facebook groups, the main one being 'MSC Cruises UK & Republic of Ireland passenger forum' for all things MSC, from a UK/ROI customer perspective. There also is a separate one for the Virtuosa UK 2021 Staycation sailings.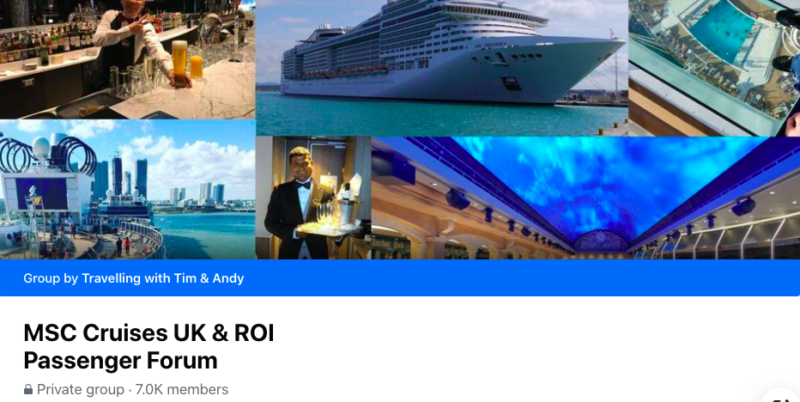 Using a travel agent means you generally have to pay the outstanding balance sooner than you would when booking direct. But the great service provided, and the discounted fare it is worth it. Plus if there are any issues, agents have their own trade contacts for help. As a direct customer, your only option often is a call-centre located in a country far, far away. So using a UK travel agent makes sense. A peace of mind, really.
Hope this helps! if you have any questions or cabin picking tips yourself, comment or message me. I'd love to help you to get booked. The above tips should help you to choose the best cabin for you, at a lower cost!