P&O 'My Holiday' app is launched as Carnival upgrades theirs
It's difficult to imagine life without smartphones and apps these days – yet it's been surprising that UK's leading cruise line P&O Cruises haven't had one before. It was just last week that their app ' My Holiday' was announced with helpful features that will make your post-pandemic cruising easier. It will be available for guests to use once onboard, on their smartphones and tablets by connecting to ship wifi. I believe most of us will applaud the arrival of 'My Holiday' app for less physical queuing onboard and access to all the necessary information at your fingertips. The press release said:
The My Holiday app, available to use free of charge once on board, enables guests to pre-book dining time, restaurant and entertainment from comfort of their cabin, sun bed or anywhere else, from their mobile phone or tablet.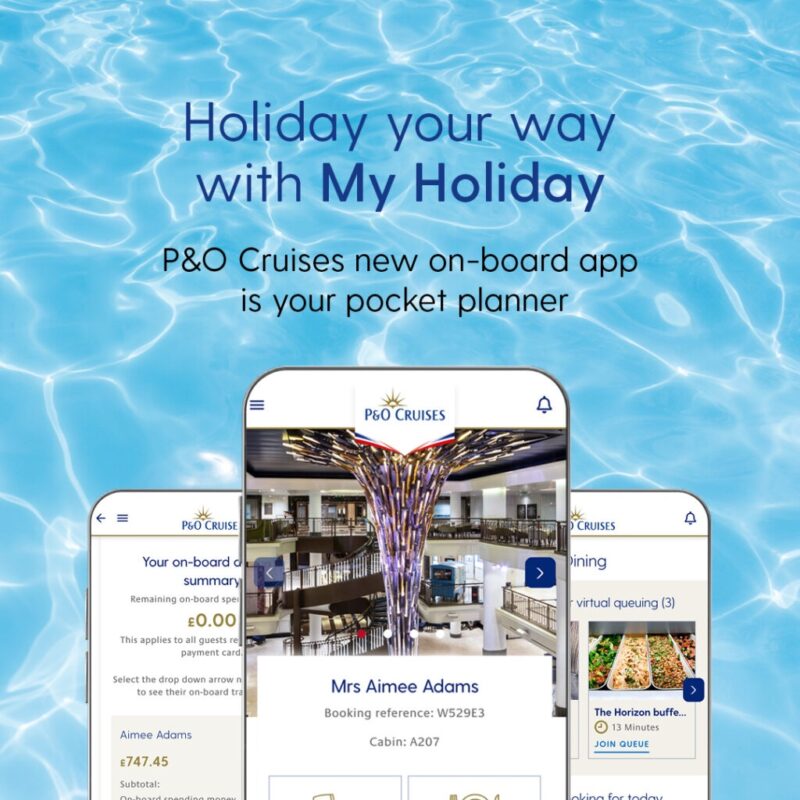 You can use 'My Holiday' to reserve your specialty dining, or your Main Dining Room (MDR) table when you're on anytime dining. Set dining obviously continues as it is, but the 'My Holiday' app makes life easier for those cruisers on anytime arrangement. Much easier than going in to the restaurant desk to notify your interest to dine and be given a pager. Now you just queue via your 'My Holiday' app instead, virtually. Once your anytime dining table becomes available, the app will notify you. And from the above PR screenshot it appears you can even queue for the buffet via the app.
As you board your P&O cruise, your phone should give you the following advice: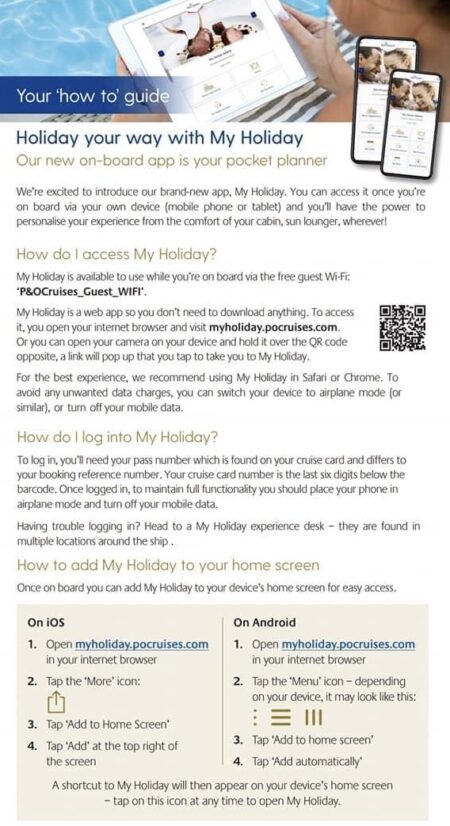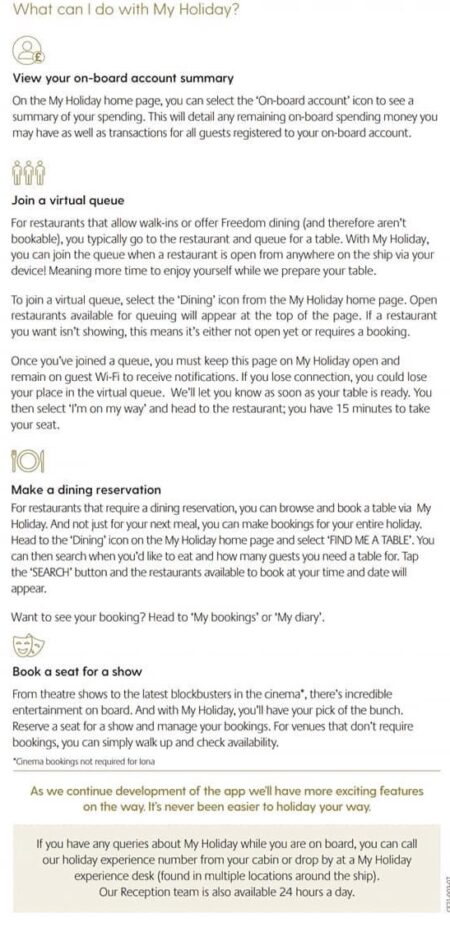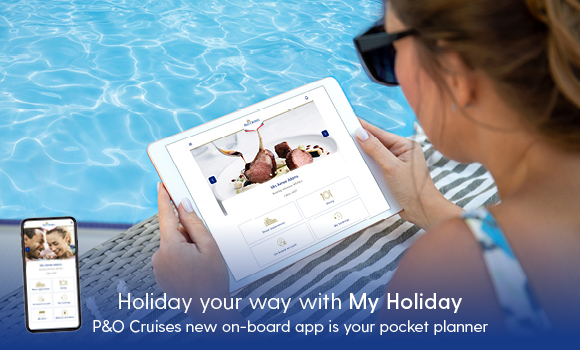 For those with no smartphone or requiring help with the functions, there will be a separate 'My Holiday' desk to assist with bookings and tech/user issues. I would think there shouldn't be any – as it's not an actual app in OS/Android stores. It is accessed on the browser so phone compatibility shouldn't be an issue. But, I did chuckle when I discovered this.. not really an app, is it? But will provide helpful extras and safety on the new Staycation cruises. After all, even the Princess Medallion app started as a website as well.
Also, I must add that the daily planner 'Horizon' continues to be a paper flyer delivered to cabins. The onboard restaurants use paper menus too, instead of QR-code menus viewable on phones. That should appease to the traditionalists who don't want helpful apps, and phones in the MDR.
Perhaps one day 'My Holiday' will be as advanced as the two American cousins' smartphone apps are. And speaking of the cousins, check out the new functions on Carnival Cruises' Hub App.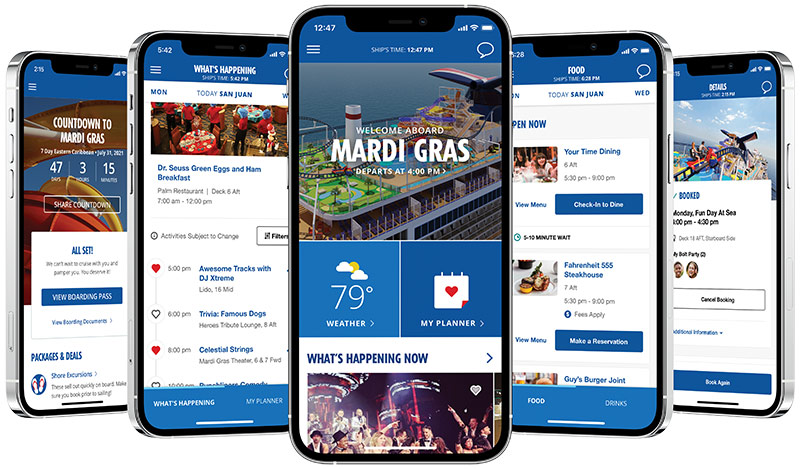 Carnival Hub App – now even better in 2021
HUB app is already 4 years old and is highly rated. Not just by AppStore users but was awarded the 'Best Ship App' by Porthole Cruise Reader's Choice Awards (2019 & 2020). I was introduced to the HUB app in 2018 when we sailed the Horizon on the Med. I loved using this Carnival app from the day I downloaded it, from cruise countdown to the actual cruise when onboard. Super helpful from the moment you get booked. Onboard, it has everything you may need. Weather, daily itinerary, menus, excursions, even your ship photographer photos appear against your portfolio number and you can review and order the ones you wish to have as souvernirs. And of course, your account balance is there for you to check.
Naturally the daily planner, the Fun Times is published on it. You can 'like' the events you're into and see what your cabinmates have 'liked' in return. HUB app also has an inbuilt messaging facility built-in, so that you can message other people in your party (one-off 5USD fee to activate messaging).
Pretty good, right? But the news of extended features makes it sound even more amazing. These will include enhanced food and beverage features, spa and shore excursion booking capabilities, virtual queuing for onboard venues, and updated health and safety information. Mustering is also built into the app.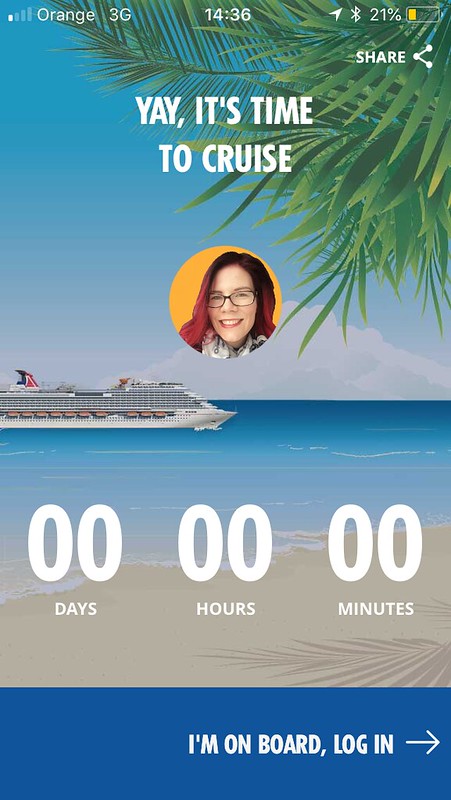 Expanded Food Delivery, Additional Food &Beverage Capabilities:
The HUB App was the first cruise app to enable pizza (24h) and beer delivery, and this popular function will be expanded to include the delivery of a variety of food and beverage offerings anywhere onboard. Menus for all shipboard dining and beverage offerings will be available in a digital form using QR codes. They were previously available too – we would love to check the menu each night before going to the MDR. But the QR functionality is new. The HUB App will also be expanded to include dining check-in functionality to additional guests and venues, in addition to Your Time Dining. You can order food to collect from the specialty venues too if you wanted to enjoy Bonsai Sushi on your own balcony instead. Free (included in your fare) dining venues like Blue Iguana Cantina is included.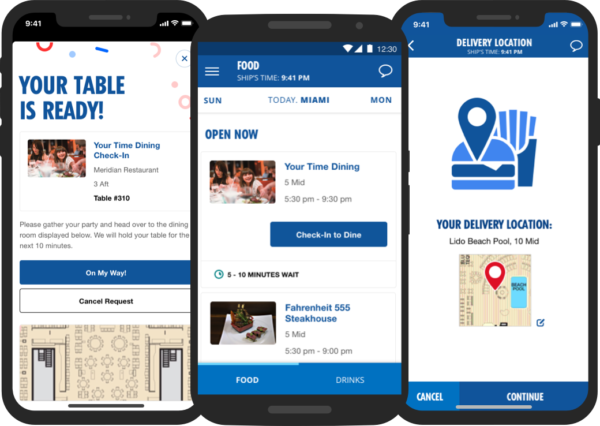 Virtual Reservations & Queuing:
Guests will be able to reserve seats virtually for various venues (Theatre, the Punchliner Comedy Club etc) and be alerted when it is time to arrive. Additionally, you will be able to check-in to virtual queues for select locations onboard, including guest services, and be alerted when your place in line is ready. You can also use the HUB App to reserve tickets for BOLT, the first roller coaster at sea debuting on Mardi Gras this summer.
New Safety Content:
Previously you were able to complete the check-in on the app. But now you can submit all the necessary health information, including a health questionnaire via the app. The Hub app also has new safety content, including new notifications to help guests complete their muster check-in. The app will direct you to your muster after boarding. This should be done as soon as possible, to avoid crowding in the muster station. But as John Heald (Carnival brand ambassador) said on his Facebook page, they understand guests may want to grab lunch first on the Lido. But all should then head to the muster station, as directed by the app. And although this is to try to reduce crowding, all guests must attend.
The rest of the new eMuster is completed watching a muster video in cabin. It features no other than the Carnival Chief Fun Officer, Shaquille O'Neill himself. Can't wait to see it. He also featured heavily on the 2019 safety video.
If you enjoyed this Carnival video and glimpses of Carnival Horizon, check out my post on sister ship Panorama and why Carnival is fun indeed.
Additional enhancements to the HUB App capabilities will be rolled out in the coming months. Hopefully much of this functionality will be introduced into the P&O app too. If you could add a function to any cruise line app, what would you add? I think I am quite happy with the pizza anywhere option on the HUB, to be honest. And could we get Gary Barlow to do some P&O safety videos, please?