Paul Gauguin Cruises: luxurious South Pacific with vegan options
Just this week, a fellow UK cruise blogger alerted me to existing vegan menu options served onboard Paul Gauguin Cruises. Gary shared a photo on Twitter of one of the vegan dishes he sampled and that got me curious. I reached out to Paul Gauguin's UK PR representative and found out more about the vegan food served onboard. I did not know about these existing plant-based options but I didn't really know anything about Paul Gauguin Cruises – other than the company name. Photography from Gary (Tips for Travellers) has certainly piqued my interest and am looking forward to a Youtube video on his channel later. But who are Paul Gauguin Cruises and what kind of vegan menu options might you receive onboard?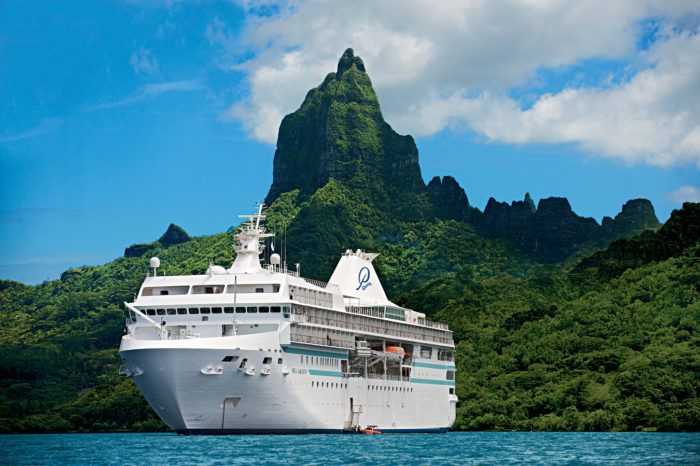 Paul Gauguin Cruises
Paul Gauguin Cruises is a luxury cruise operator sailing in French Polynesia, Tahiti and South Pacific, The brand operates one 5+ star luxury vessel m/s Paul Gauguin, a small 19GT vessel that hosts only 332 guests. Crew to guest ratio is an astonishing 1:1.5, so ultra-luxury really! All accommodations onboard are oceanview, with 70% of them having balconies. See more about her on Paul Gauguin's own website here.
Premium staterooms and suites include butler service, and much like other luxury brands, all beverages, room service, gratuities, wifi and much more are included. Their fares also include flights from LA or San Francisco, with airport to peer transfers – unless otherwise specified. And to keep in with the area explored on the sailings, entertainment provided onboard includes Polynesian performers and live music.
M/s Paul Gauguin explores beautiful islands and I am sure if you check out Gary's trip photography, you will be amazed at the sandy tropical beaches and the clear blue water. Your sailing may take you to Motu Mahana, Paul Gauguin's private South Seas island or a private beach off Bora Bora. Tropical heavens, right?
Spent the morning on this amazing @PaulGauguin cruises private beach in Bora Bora. Do you wish you were here too? 😎#PaulGauguinCruises #pgcruises#luxurytravel #ChooseCruise #sponsoredtrip pic.twitter.com/hfH0I2TDm7

— Gary Bembridge (@garybembridge) June 13, 2019
Vegan menu options on Paul Gauguin Cruises
Vegetarian options on Paul Gauguin looked very interesting. But as the focus of this blog is on vegan, dairy- and egg-free plantbased meals I've chosen not to feature those. Many seemed easily 'veganisable' and would therefore quickly expand the number of vegan options.
One of Gary's dinner images on Twitter was this, the vegetarian tomato bisque that is served with a cheese-covered puff pastry slice. It certainly looks like it could be easily made vegan, by removing the cheesy pastry part.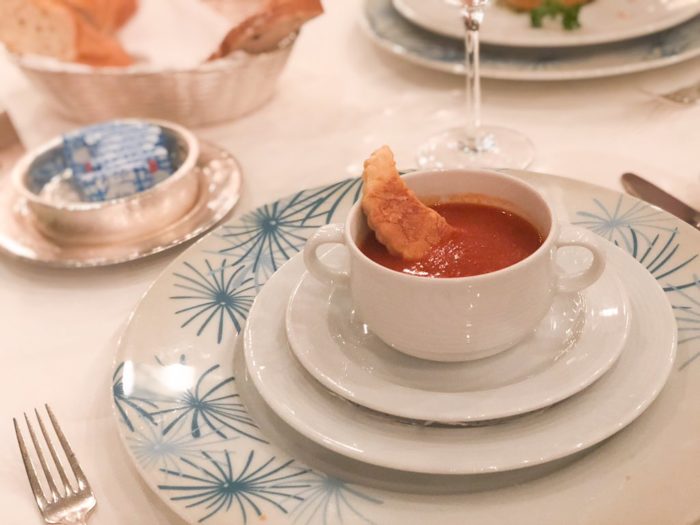 Vegan menu options:
Southwestern garbanzo beans with coriander

Chickpea ragout with tomato, ginger and date sauce

Bora Bora local cold banana soup

Oven roasted marinated vegetables

Medley of vegetables tossed in balsamic and with fresh basil oil

Baigan bharta: Indian eggplant and tomato dish served with basmati rice

Rustic garden salad: Beets, celery root, pumpkin and turnips combined with herb vinaigrette resting on a bed of fresh greens

Cauliflower, potato and lentil patek: served with saffron rice & golden onions

Moorean vegetable stir fry with tofu: peanut and coriander sauce
Gary enjoyed a vegan eggplant & tofu Napoleon as well (seen below)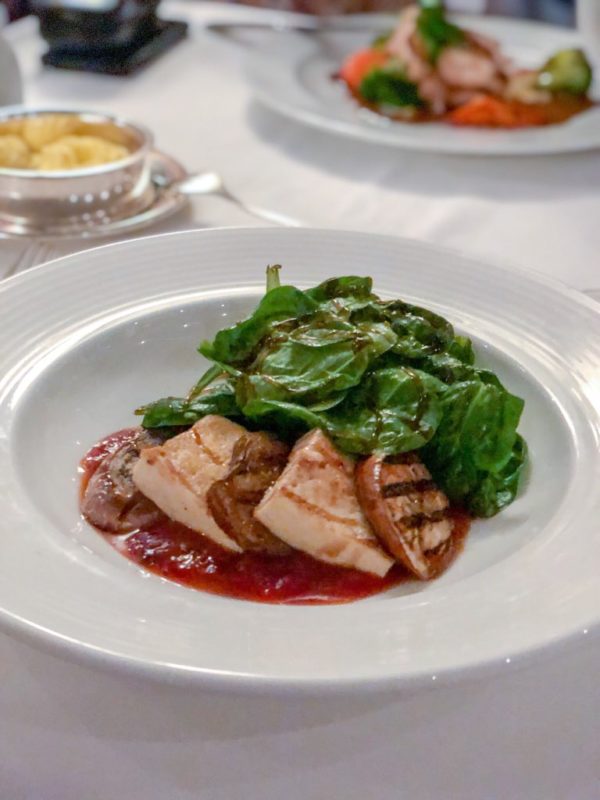 Just how beautifully are the dishes plated? This looks more like art than food.. so gorgeous. Matches the beauty of the lush green islands & clear blue waters outside.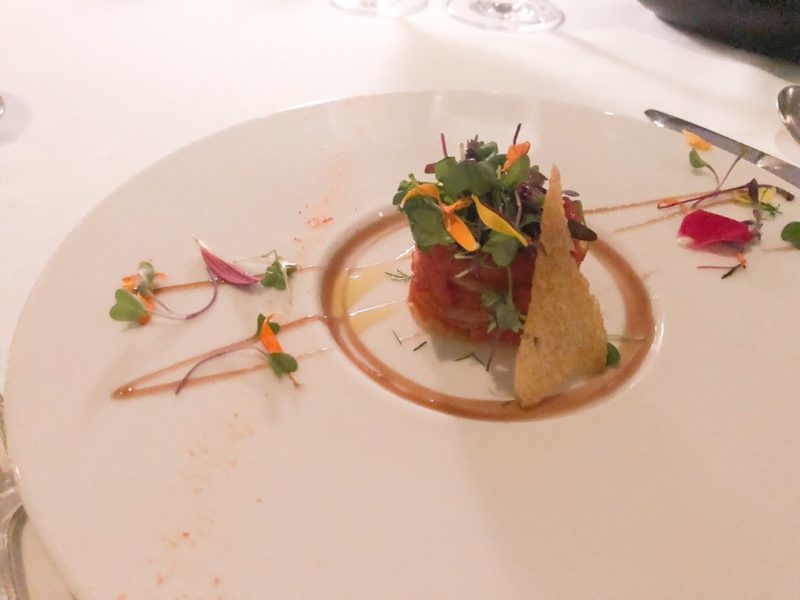 The food looks so beautiful and it is great to see Paul Gauguin serving vegan options on their menus. The scenery you can enjoy on Paul Gauguin cruises is just extraordinary as well. Do check out Gary's Twitter for stunning trip photography.
Do also check out his Youtube travel channel for lots more cruising info – for both river and ocean cruising. Am sure the Paul Gauguin video will be up shortly after he returns home.
And aren't those waters just gorgeous? Any questions regarding Paul Gauguin Cruises, do ask and I can try to find out from the PR department. I am sure Gary too will be able to give advice once he's back in the UK. Me, I'm so pleased to see another, albeit a luxury cruise line, cater to those of us who wish to dine plant-based. Existing vegan options are getting more common in 2019 – see the other new luxury vegan menu addition posts here!

What can I say? Moorea is looking rather gorgeous for our second full day here on @PaulGauguin. A day of beach for us 😎 What you up to? Booking a cruise here seems a good idea?! #pgcruises #luxurytravel #landscape #choosecruise #Sponsored pic.twitter.com/kYxlFUcZMH

— Gary Bembridge (@garybembridge) June 14, 2019