Can you cruise vegan on Princess Cruises (Series): Crown Princess
If you have read my earlier review of our Royal Princess cruise, you know that it is possible to cruise vegan on Princess Cruises but it all depends on how vegan-aware your head waiter is, and how good at plantbased cooking the galley chefs are. Our head waiter on Royal, Ovidiu, was enthusiastic, knowledgeable and went over & above his duty by finding us when we dined in Alfredos instead of the main dining room (MDR). Only to deliver the vegan dessert he had arranged for us. While we had a great time dining vegan in the MDR on that journey, our buffet experience was merely ok. We were able to mix and match things and always found something to have. But how does Crown Princess compare, after all, she is an older and smaller ship. Did the MDR meet our expectations after our excellent cruise with Ovi looking after us? And how was the buffet dining for vegans on Crown? Considering it was two years since our last Princess cruise, had Princess Cruises added any vegan options to the menu? Made their catering any more vegan-friendly? Can you cruise vegan on Crown princess? Keep reading!
Crown Princess – the ship itself
Crown Princess is a 13 year-old Crown class vessel rather similar to Caribbean Princess, a ship two years her senior. One major difference is the removal of the 'shopping trolley handle' design from her aft. The Skywalkers nightclub is no longer suspended on two posts and accessed via travelator, like it is on Caribbean Princess. Instead on Crown, it is part of the funnel structure. It makes Crown a bit more aerodynamic and the aft pool now is totally uncovered.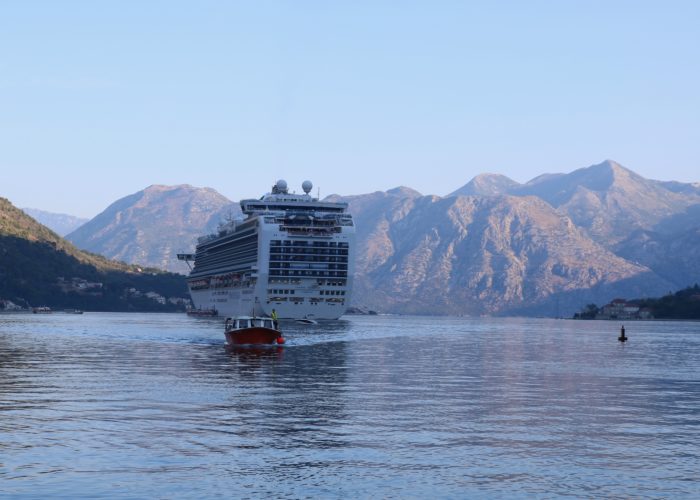 We booked Crown Princess' Mediterranean itinerary to complete week two of the three-week loop Princess operates in the area – having previously done week one from Barcelona to Rome on the Royal Princess in 2016. I knew Crown was due to be refurbished in spring 2018 so I had high expectations of our cruise. Having toured Caribbean Princess two years consecutively, pre- and post-refurb, I was expecting Crown to have similar finish & features. You can see my Crown Princess refurb post here to see what I had in mind. I admit to secretly hoping for Medallion Class upgrade, also. Yet, it wasn't the time yet. Crown Princess is due to get her Ocean Medallion upgrade at the end of July 2019.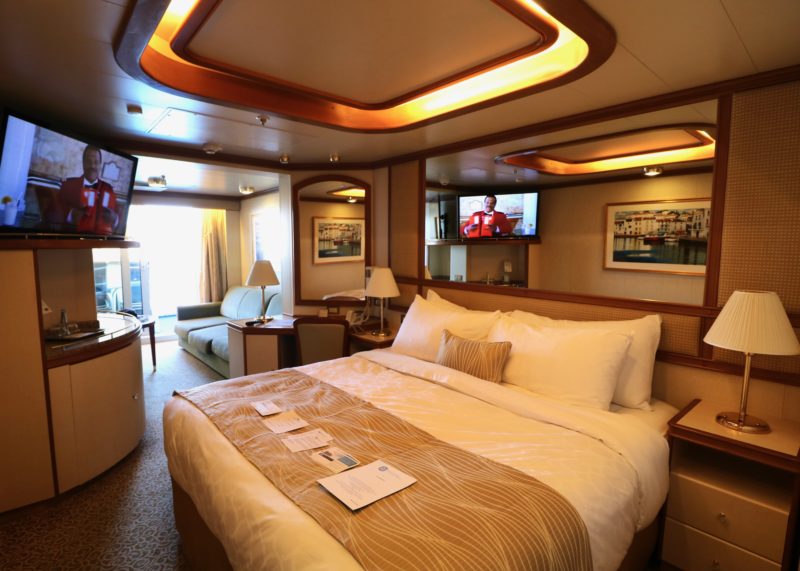 The highlight of spring 2018 refurbishment to any Princess cruiser must be the new Princess beds. It is hard to find a comfier bed and better sleep on a cruise ship. Though I would say the sister brand Carnival's Comfort collection bedding on Carnival Horizon last spring (2018) was a close match. Every stateroom on Crown received the new (in 2018) bedding. Absolutely amazing experience. Such good sleep.
Since this was a big wedding anniversary, we opted for a mini-suite with a separate lounge (sofa bed sleeps another two) and a larger balcony. It was double deep and would have had space for three loungers. Mini-suites also come with a large bathroom that has a bath, rather than a shower.
Fresh new Lido and the old buffet
Also, the outer Lido pool deck areas received upgrades similar to what you will see onboard Caribbean Princess. The old Trident Grill is now the Salty Dog Grill. It has vegan-friendly taco dish if you leave out the cheese, and fries.
Unlike the bigger and newer Royal, Crown doesn't have Alfredo's Italian restaurant indoors for pizza. Instead, the former Lido pizzeria is now Slice pizza bar – staff were happy to make a cheeseless pizza but refused to touch my factory-sealed, shop-bought vegan cheese for food hygiene reasons.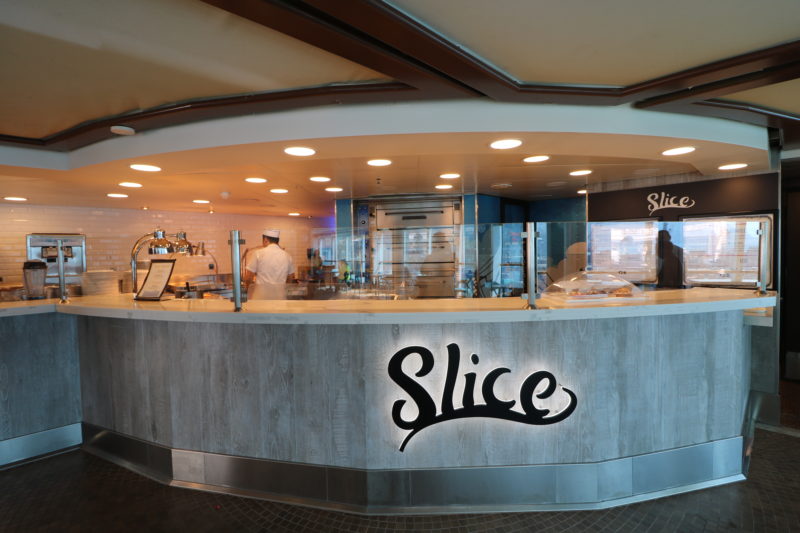 The former Sundaes is now the Coffee and Cones ice cream and hot beverage bar – with no vegan ice cream or sorbet. It is good for coffee only for us vegans. All decked up in fresh bright colours, modern styles, sleek new plastic furniture. And the former Mermaid's Tale lido bar had been given a funky new look and renamed The Mix.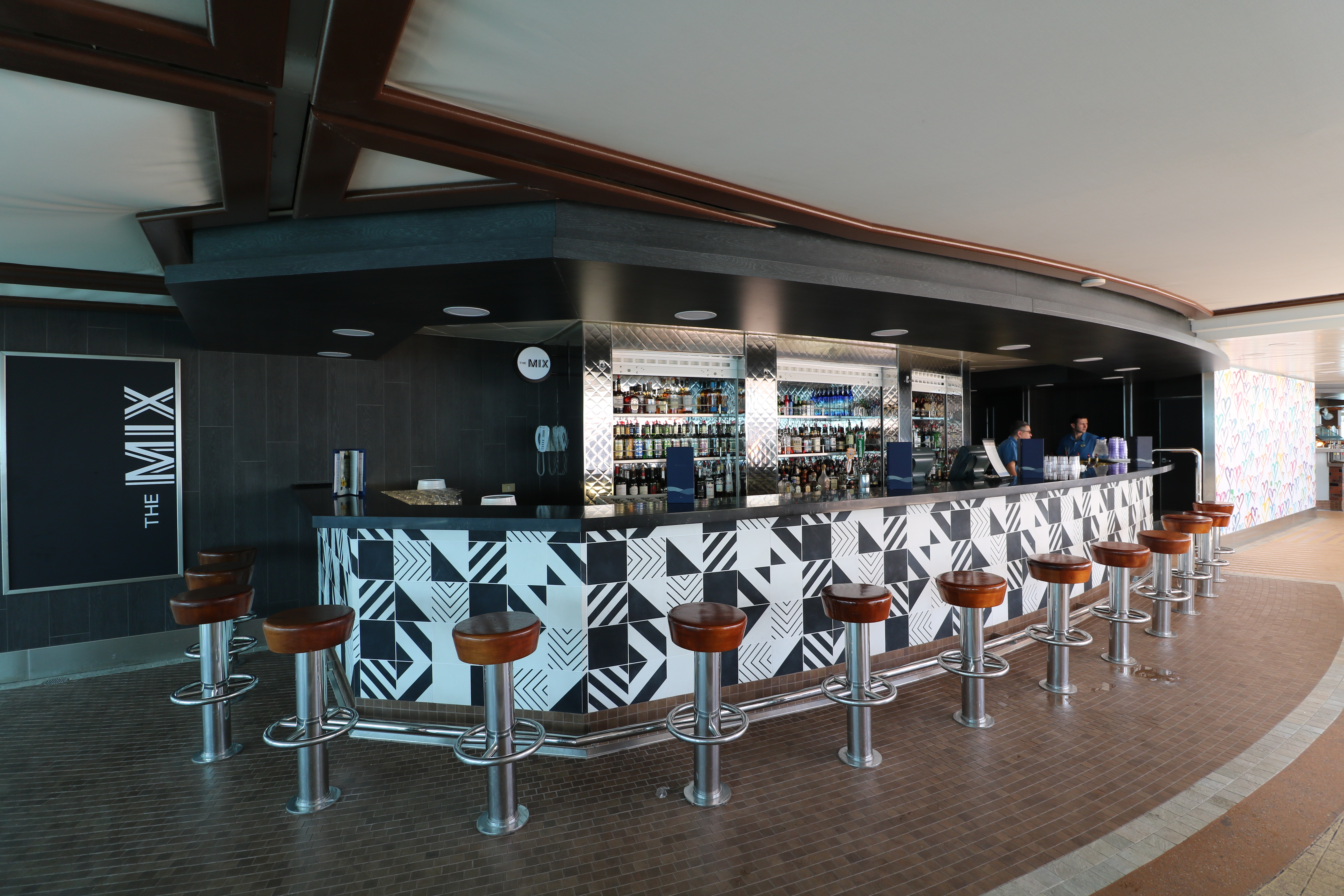 Elsewhere on the lido there were other cool features. Like this beautiful black & white wall that made me want to go and colour it in!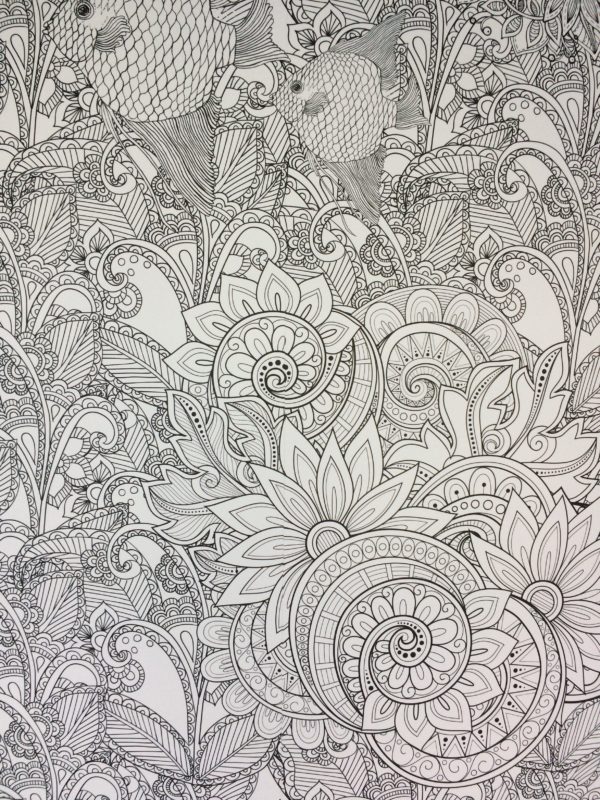 Very modern feel indeed.. quite distinct from other (more dated) parts of the ship. Like the Horizon Court/Cafe Caribe buffet, which initially did disappoint me. I had hoped for the open-plan, modern sleek interiors like those on 2017 refurbished Caribbean Princess.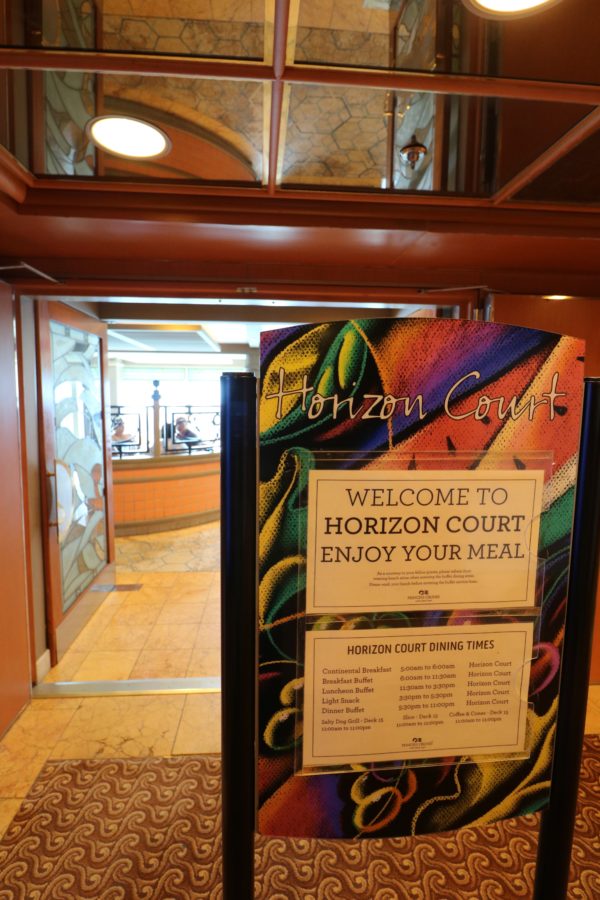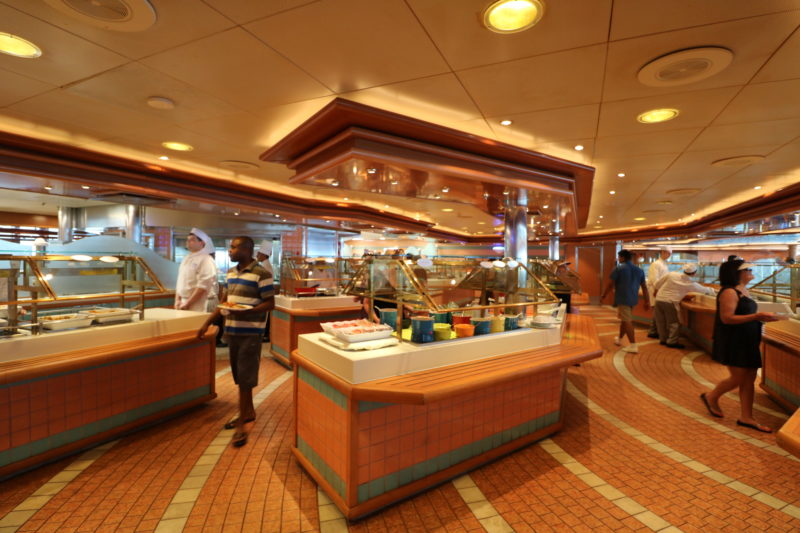 Instead, Crown buffet line was still gated – but it did mean that every guest had to pass a staff member dishing out hand sanitiser before they were able to obtain food. The seating consisted of the old heavy wicker-framed leather seats. The seating and old style buffet did not look the part, especially coming in from the updated modern Lido. But I realised after a few days that what the buffet lacked in modern style, the old-style seating was much more comfortable than any modern cruise ship buffet restaurant I have dined in. Points for comfort, and excellent drink waiter service.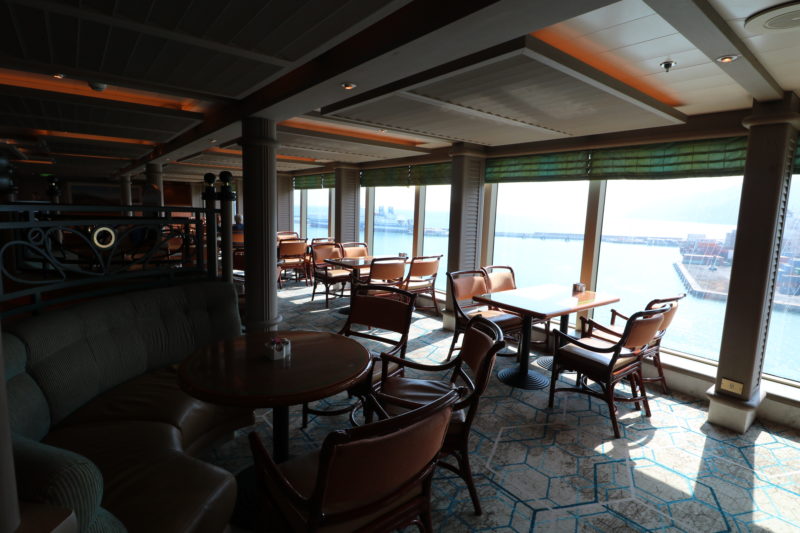 Plus, the great vegan food I found in the buffet more than made up for the old interiors. If you have cruised previously with any cruise line as a vegan, you will understand my excitement over what I am about to show you.
How is Crown Princess' Horizon Court buffet restaurant for vegans?
I have never had it as easy as I did onboard Crown. I spoke to the chefs a few times if labelling had been missed and I needed to check. Once I spotted a supposedly 'vegan' item containing pesto and pointed out the error. But most of the time we had so much choice! We loved our easy, tasty lunches here. And at night, we'd often come for a late top-up meal if our dining room meal had been lacking. Just look at this choice and the clear labelling. Coeliacs and those with wheat intolerance issues must have loved the labelling too.
After our poor first dinner in the main dining room, we headed to the buffet for some sustenance. I bounced with excitement when I saw the big A4 VEGAN sign over the dessert section. And it wasn't fruit! I then looked around the savoury dish section and was overwhelmed. I thought I was coming up for a salad, but I got so much more. Every day.
Vegan breakfast in the buffet
Breakfast choice is still limited compared to UK restaurants/pubs. There is no dairy-free spread so I was pleased we had brought our own onboard to be stored in the minibar with our own dairy-free/vegan cheese (none supplied by Princess).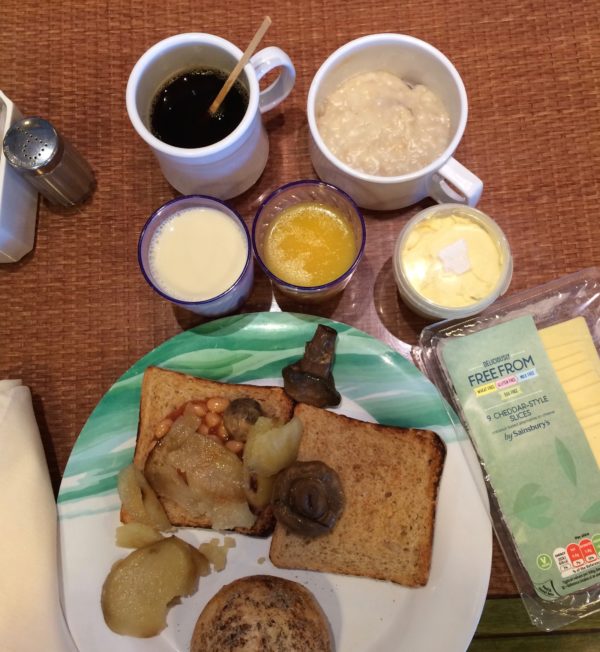 Princess also offers no vegetarian or vegan sausages, so breakfast choice would consist of hash browns, fried vegetables and beans. There also were Asian breakfast dishes, including fried & battered vegetable fritter balls that resembled onion bhajis. I also had some Upma, savoury cous cous-style cream of wheat (semolina?) breakfast dish that originates from South India/Sri Lanka.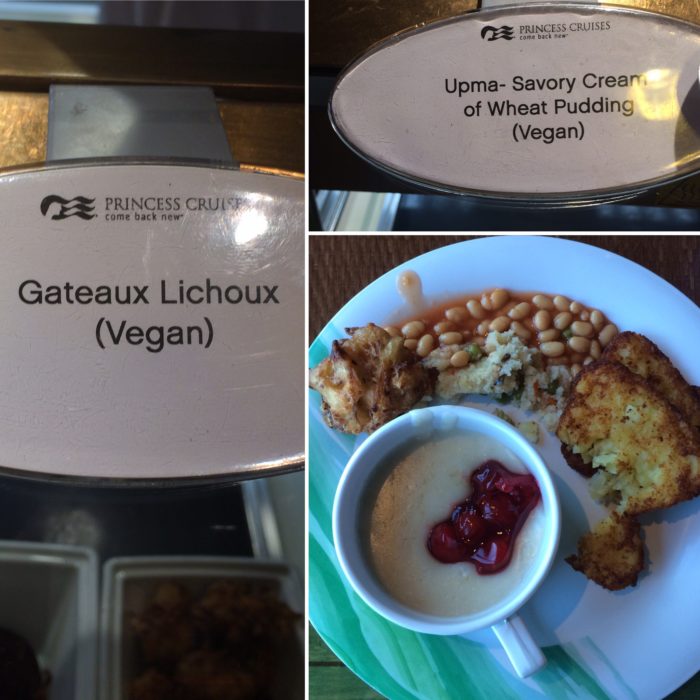 Afterwards, I did a little internet research and discovered the fritter balls were Mauritian. Gato Lichou are spicy shredded cabbage fritters. Perfect for a Glaswegian lover of Asian food.. that's me!
On another morning, the Asian breakfast options suitable for vegans included mini chickpea wraps. Have two here on my plate, nesting next to the bowl of porridge.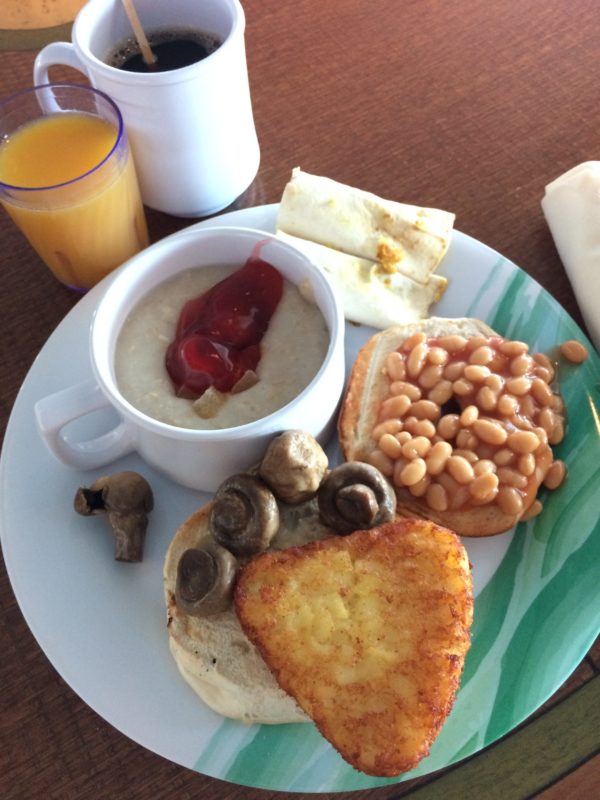 Porridge (oatmeal) was always available, made with water, so that was part of my morning routine. Almond or soya milk was always available, staff would come to the table to take our drinks orders (tea, coffee, juices) and we were able to request plant milk then. I had so forgotten how great Princess are at drink service in the buffet!
We don't tend to take our breakfasts in the MDR so could not test how well, if at all, they would have been able to arrange tofu scramble for morning fry-up. Certainly something I will try out on my next cruise.
Vegan buffet lunch & dinner options on Crown Princess
If breakfast options (clearly marked) were good on Crown Princess, the quality and range of vegan lunch provision was unlike anything we have ever experienced. Never in my life as a vegan, or as someone unable to have milk, have I had it so easy. Just feast your eyes on the following selection of options I captured over the week. The ready-made sandwiches and wraps were only available at lunch, just like the omni versions.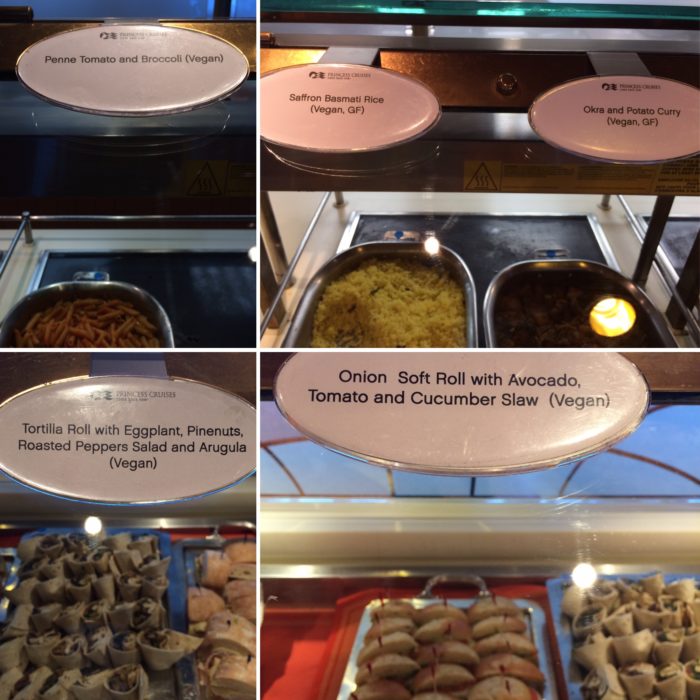 And I know it is such a basic vegan thing, a staple in many of our diets, hummus. But this was the first time I came across hummus in a cruise ship salad bar! Many a time would I have welcomed it for an extra protein source, or as a spread for otherwise dry bread on other cruises and didn't have it.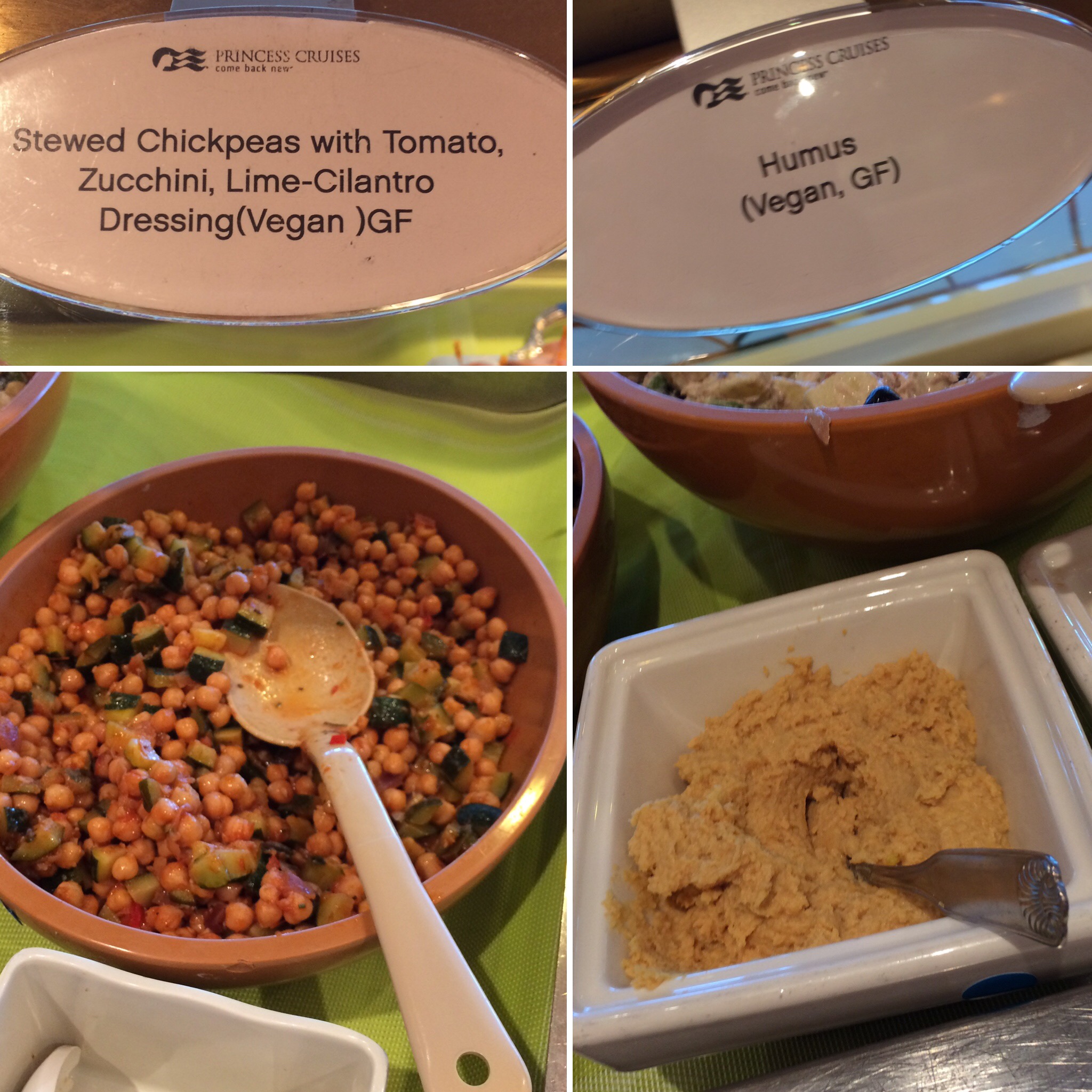 Just like the main dining room (MDR) there always was at least one vegan Asian curry option (some vegetarian too – with added yoghurt in the sauce, so do watch). And every day there was a vegan dessert option. Sometimes the same one for two days in a row, but I wasn't going to complain. Cake is cake, after all. And cake is better than fruit salad. It's not healthier, clearly. By no means means that vegans are equal (just see the dessert selection for omni cruisers) but it is a step in the right direction.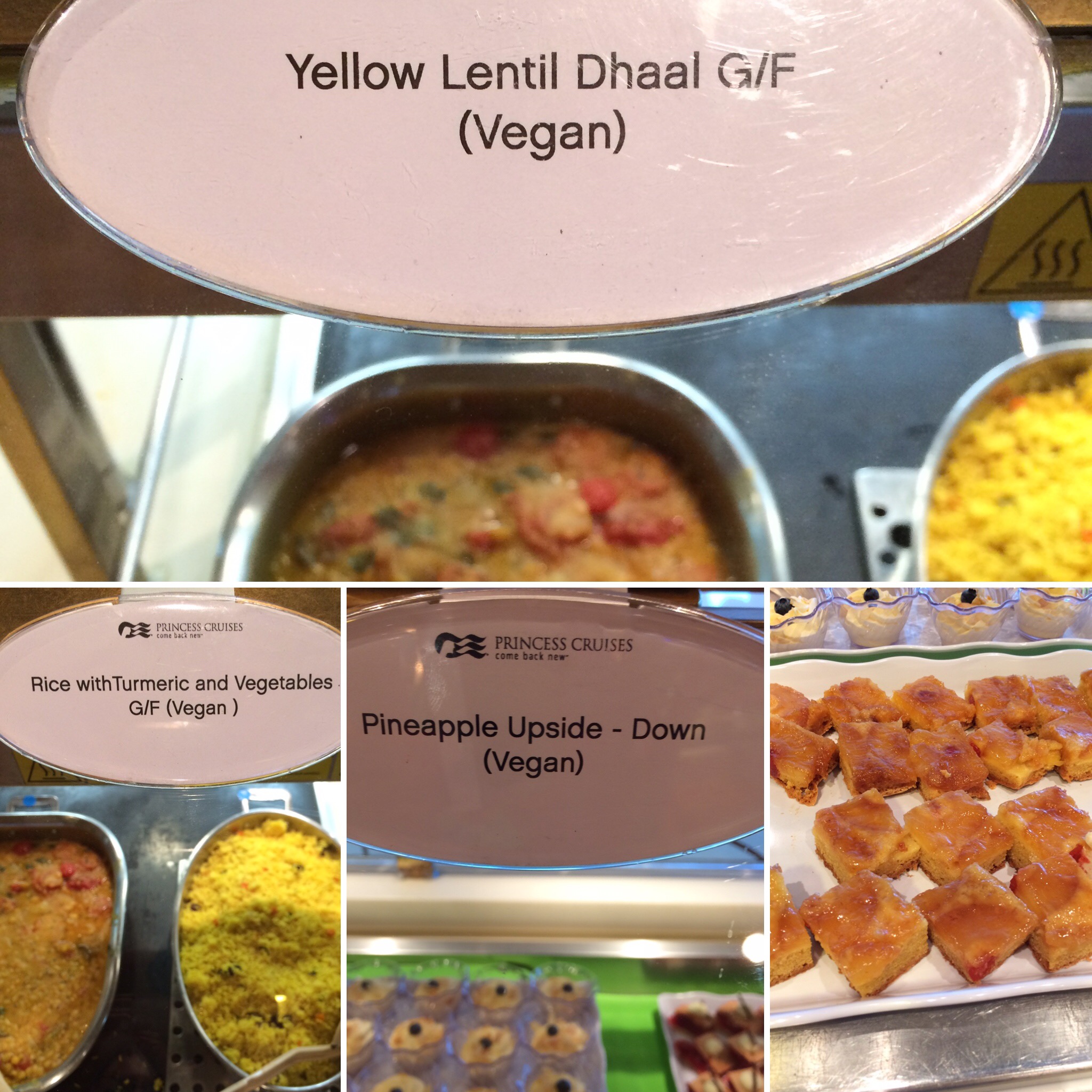 Here's my lunch plate with the above chickpea (garbanzo) & zucchini (courgette) salad with the yellow lentil dahl, with a selection of items from the salad bar. So tasty!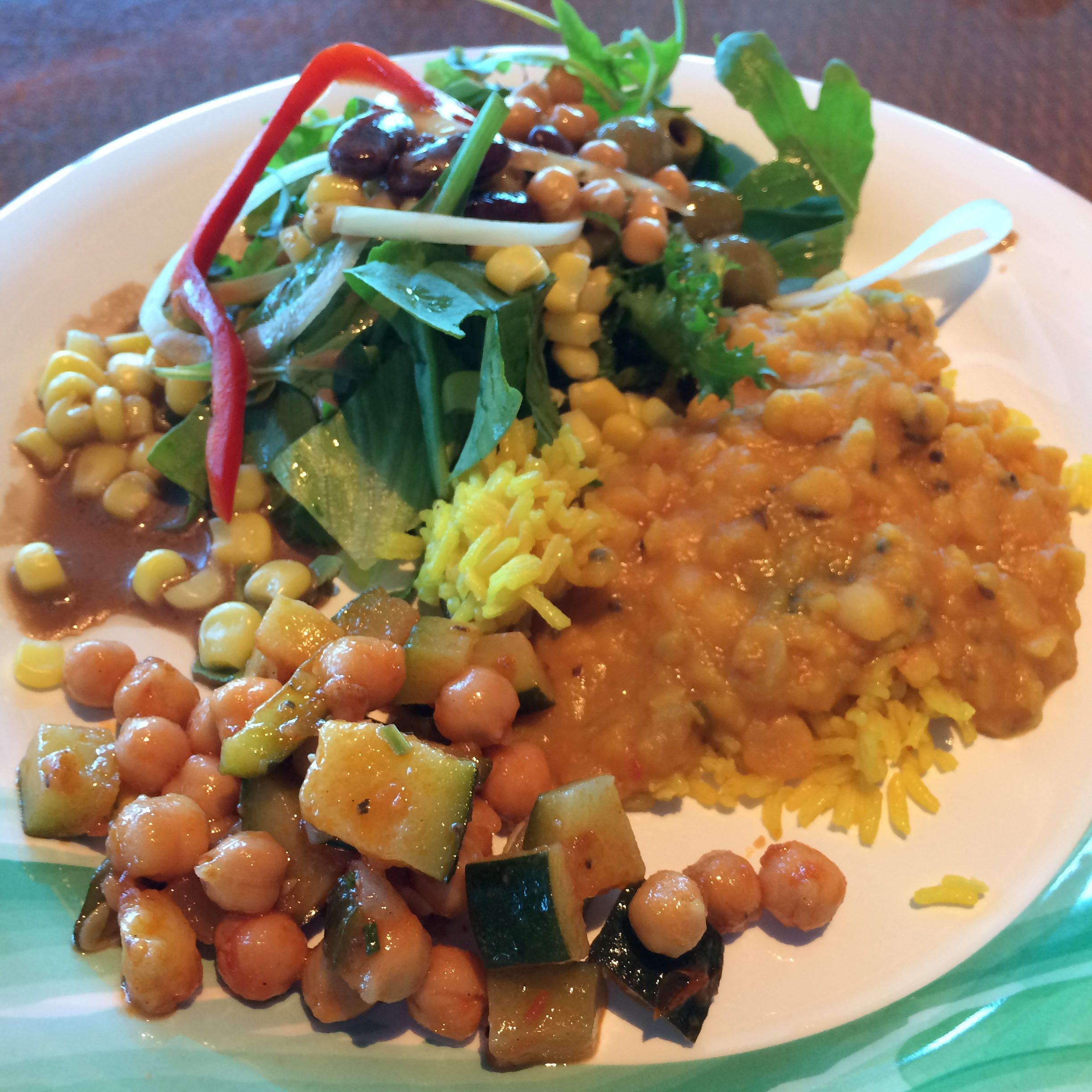 The choice provided was excellent – at least if you enjoy Asian food. There were European dishes too, like the ratatouille pictured below and some pasta dishes. But as I personally prefer more colour, spice and flavours, I always navigated to the Asian dishes.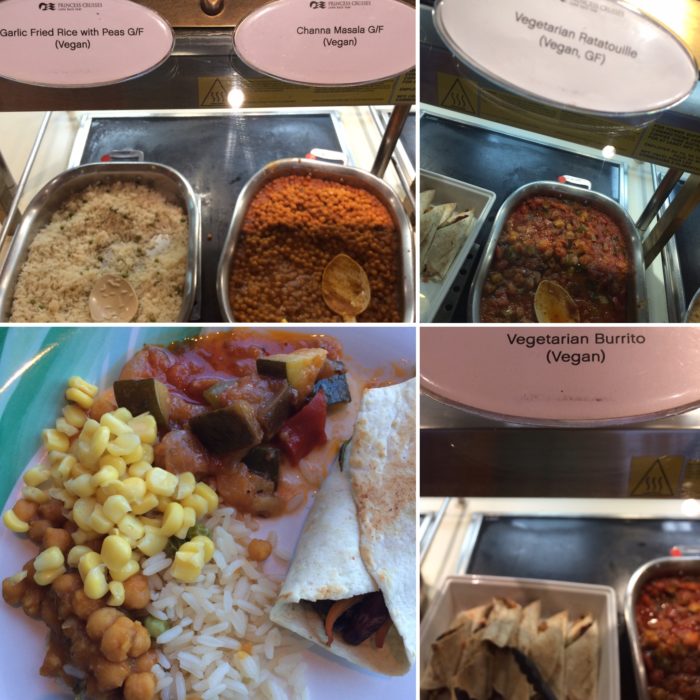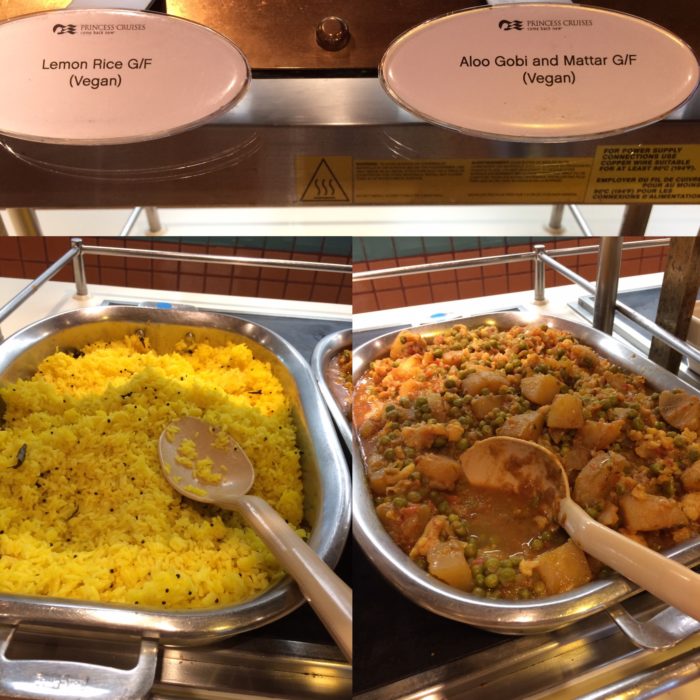 Nearly every day I was also able to have a vegan vegetable soup to start with.. often Italian style vegetable broths or a lentil soup prepared Asian style. The buffet salad bar always had a selection of beans and plain diced firm tofu (unmarinated) for protein. Omnivorous diners had their usual roast vegetable sides, many of which were also suitable for vegans. Here I picked up some roast potato wedges, carrots and aubergine to go with my rice dish.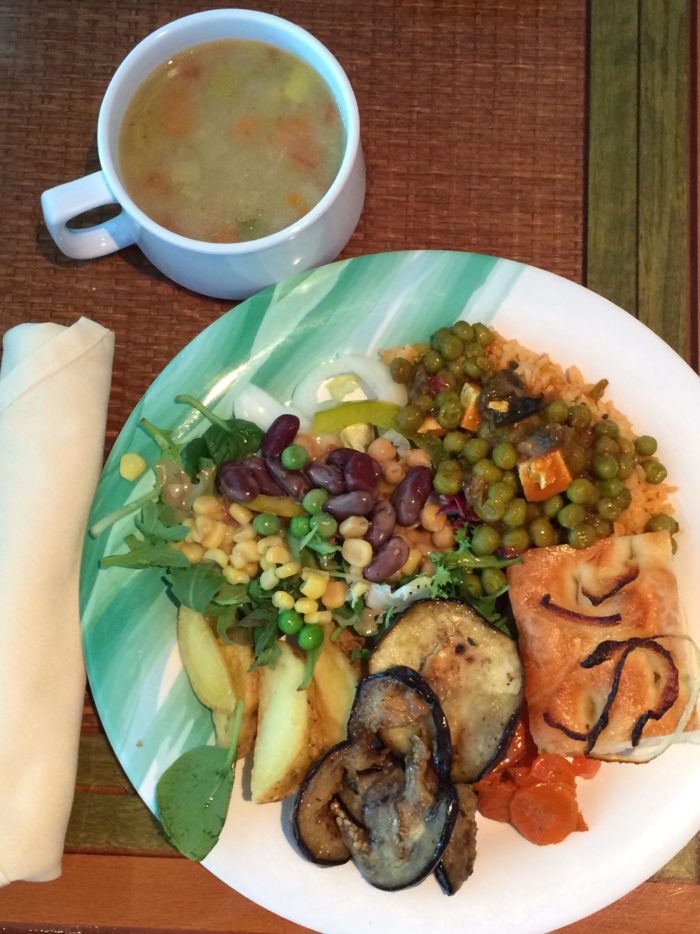 I don't often enthuse about salad, but on this cruise I did. Salad bars are good, but when someone prepares a wonderful ready-made salad like this one below (or the chickpea & zucchini one above) it is a joy to enjoy the flavours. It did also show how unimaginative the main dining room (MDR) chefs were, when offering salad starters (photo to follow in the MDR section of this post).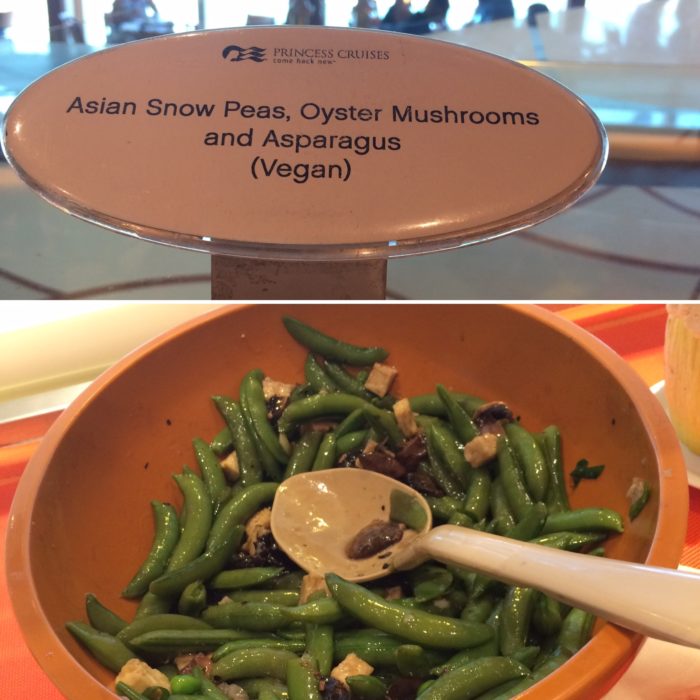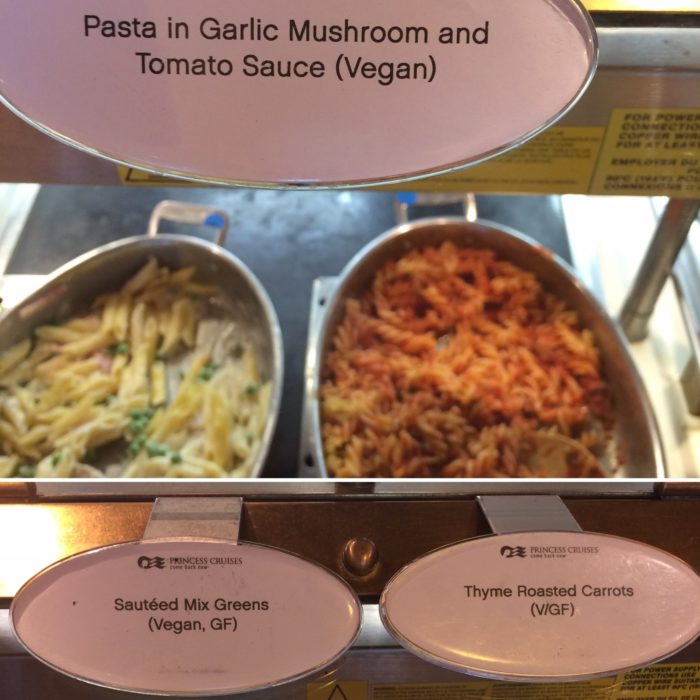 Below is my lunch from our first full day, docked in southern Italy. The above Asian snow pea salad with extra vegetables, a vegan pasta dish.. and as you can see. Vegan cake! I was suspicious so tried asking one of the chefs how they made it. He wasn't the pastry chef but appeared knowledgeable as suggested tapioca or other starchy flour that would help the cake to set.
He also told me that there was a visiting head office pastry chef/trainer onboard, who was behind the vegan cakes. (Guess we lucked out on our sailing.) I certainly did not react to the cake, so don't think it had milk/lactose on it.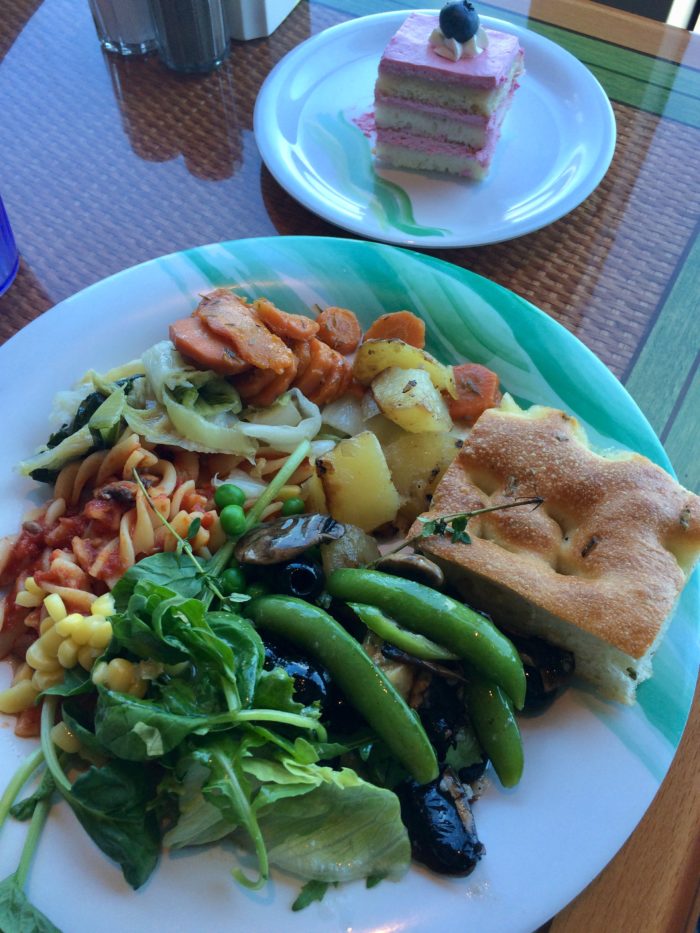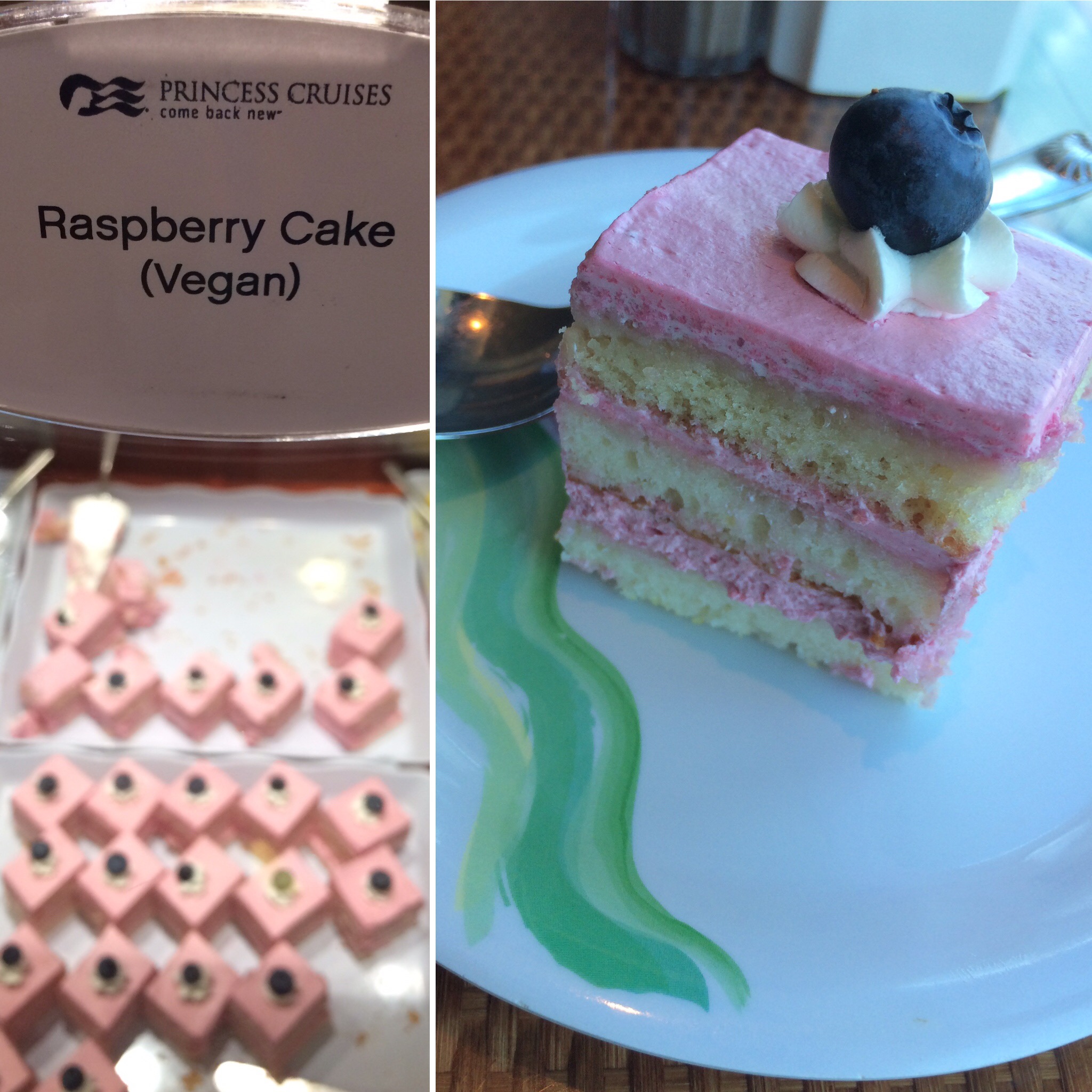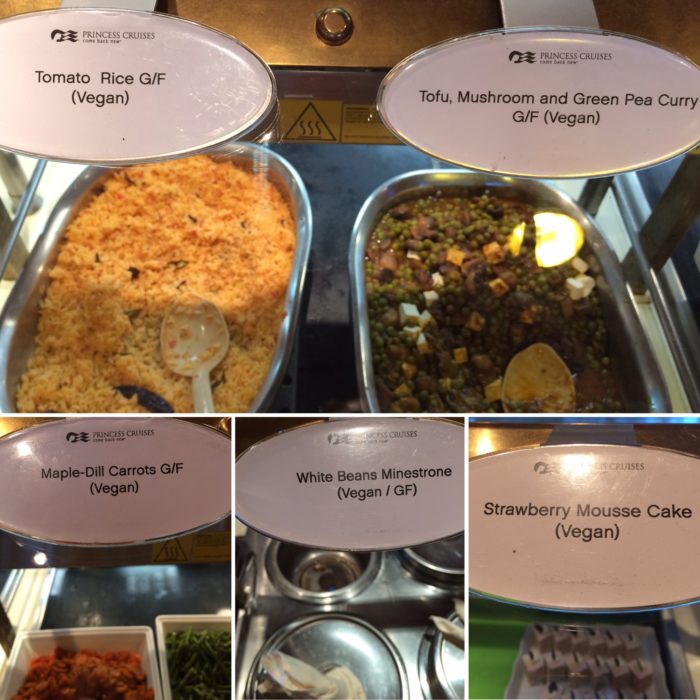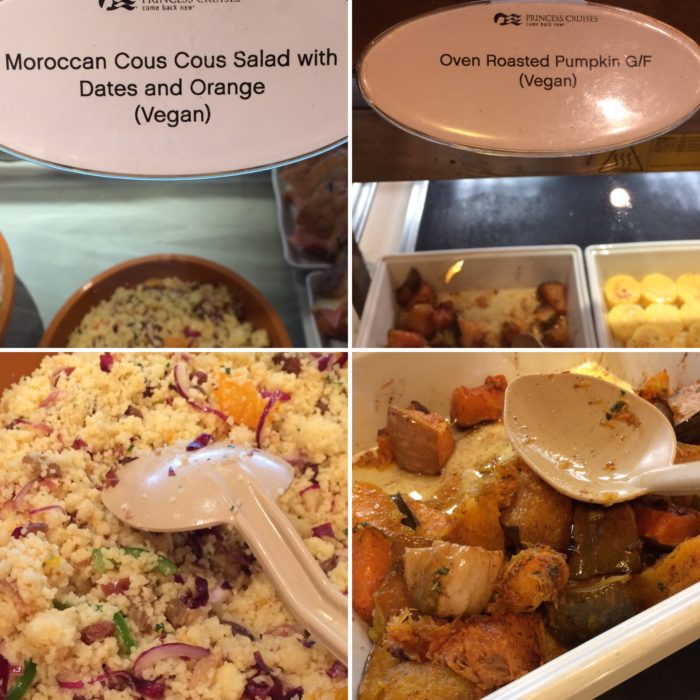 I have to admit I was suspicious every time I came across vegan labelled cake – but I never reacted to dairy and the buffet was good at marking those items vegetarian that did have milk/yoghurt in them. It was great having a wee slice for afternoon coffee – the same cake was usually available in the International Cafe in the Atrium. There always was a separate gluten-free version as well (never a combined one).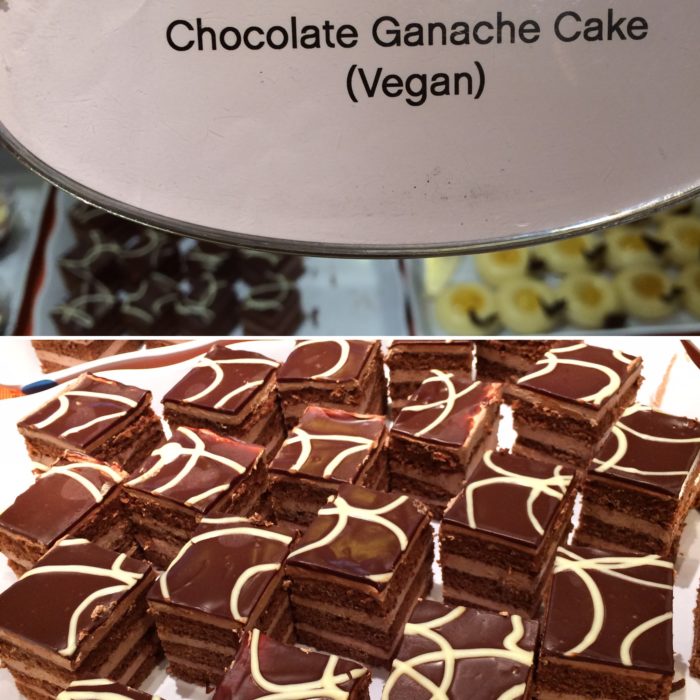 In addition to all the food options in the buffet, the Lido was always open. Slice could do cheeseless veggie pizza or loaded bread and the Salty Dog outdoor grill had plain fries or sweet potato tacos (without the cheddar cheese).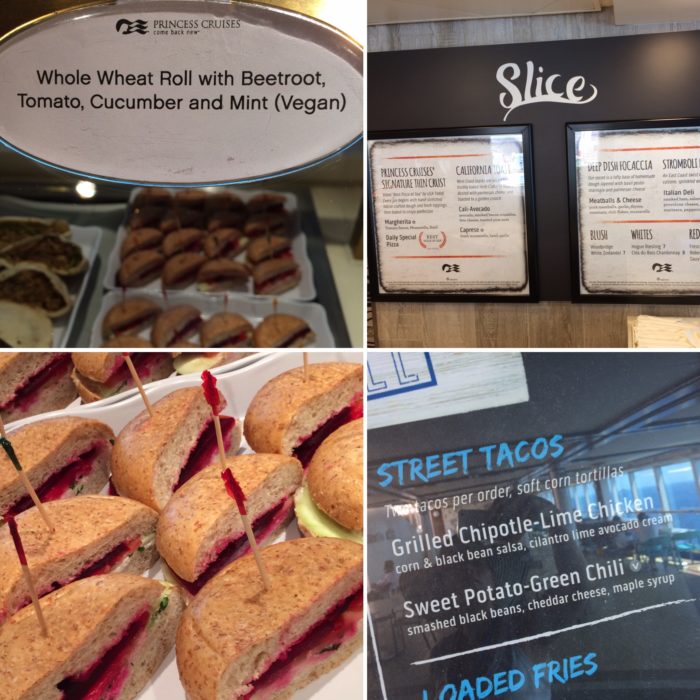 Vegan options in Crown Princess' Main Dining Room
When we boarded our lovely Dolphin deck mini-suite we had a welcome letter from the Maitre d'. It welcomed us onboard and confirmed that our dietary request had been passed on. Wonderful, we thought. Our Royal Princess dining and service from Ovi on our mind we headed for our meal with high hopes.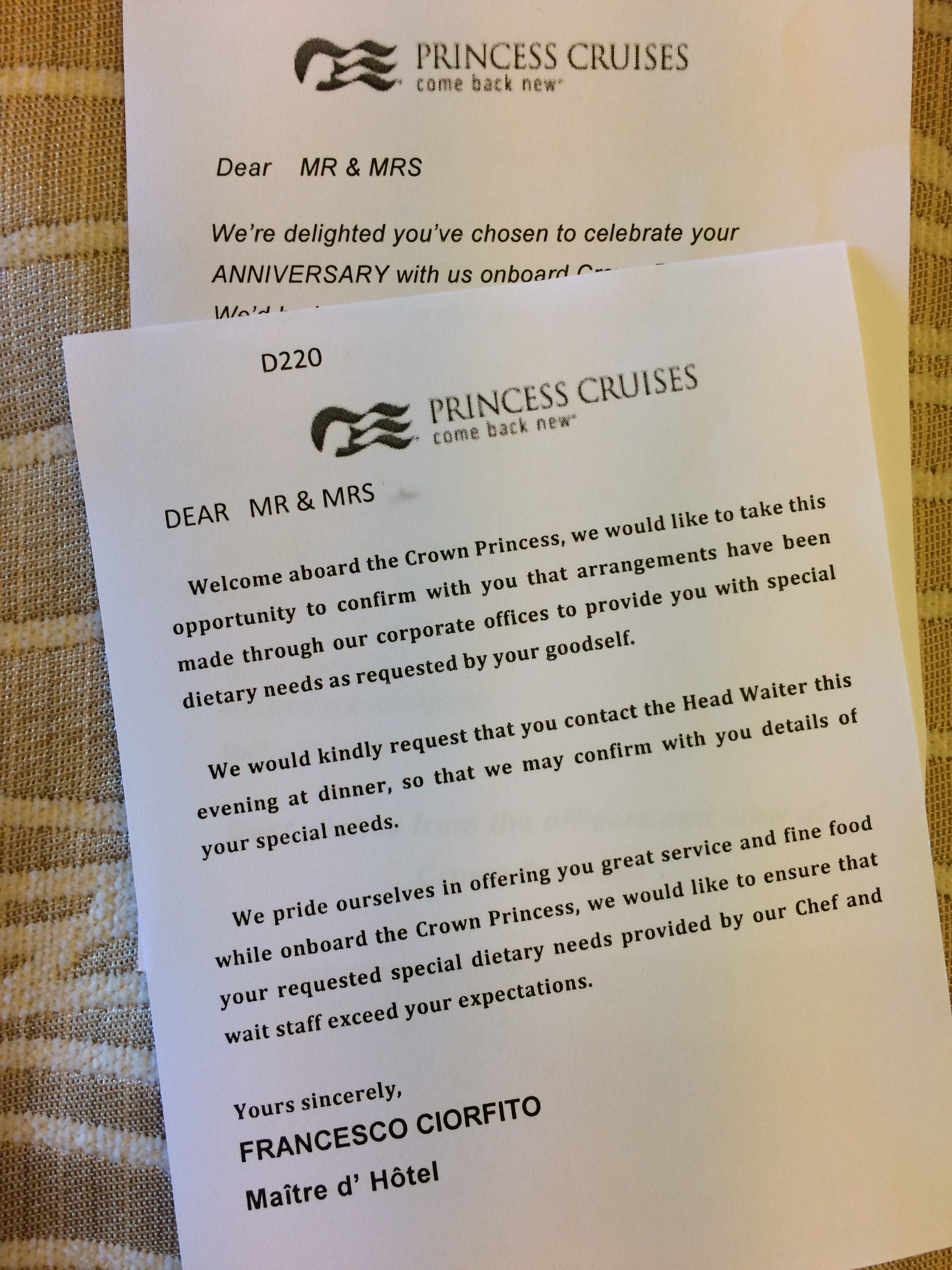 We gave our cabin number to the dining room hostess, got seated and the section head waiter came over to see us. He explained he would be looking after us during this cruise for our special meal orders, and we did place each of our meal orders for the following day with him.
First night's dinner is nearly always the poorest meal of the week and vegan meal service generally improves over the holiday. Unfortunately, it became apparent that despite there being a welcome letter in our cabin, and someone being aware of our vegan meal request, nothing had been planned ahead by the dining room galley team.
Featured below you will find six evenings of main dining room (MDR) dinners. We must have skipped the MDR on one of the formal nights and dined in the buffet. Which really is no surprise, now that you have seen how well the buffet chefs looked after us.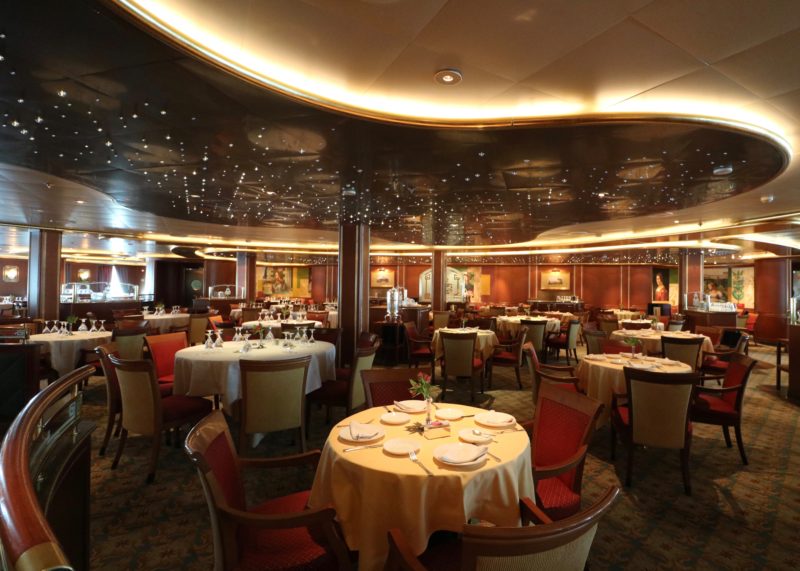 Dinner on Embarkation night: The only way is up
No accidentally vegan, or veganisable starter was on the main dining room (MRD) menu. We were offered a salad. It came with not much vegetable choice or colour, nor was it dressed.
The menu did have a vegetarian option of pasta shells in marinara sauce with capers, olives and broccoli. I love all three, so it sounded perfect. And it might be accidentally vegan, I thought. Even if the pasta wasn't, switching it shouldn't mean much work for the kitchen. So instead of asking for anything too difficult, we requested for the vegetarian main with vegan pasta.
The main course came plated as a pile of messy spaghetti with Marinara sauce and our waiter then proceeded to serve us vegetables from a separate dish. I thought: "Maybe this is the broccoli and olives. Italian food… maybe something antipasti style? ".
But we were served a side of (frozen) vegetable mix of carrots, cauliflower and broccoli instead. Unfortunately, the tomato sauce wasn't the olive & caper flavoured Marinara from the menu either. It was just an unseasoned tomato base. Being terribly British about it, I didn't want to create a fuss and I carried on eating my disappointing meal.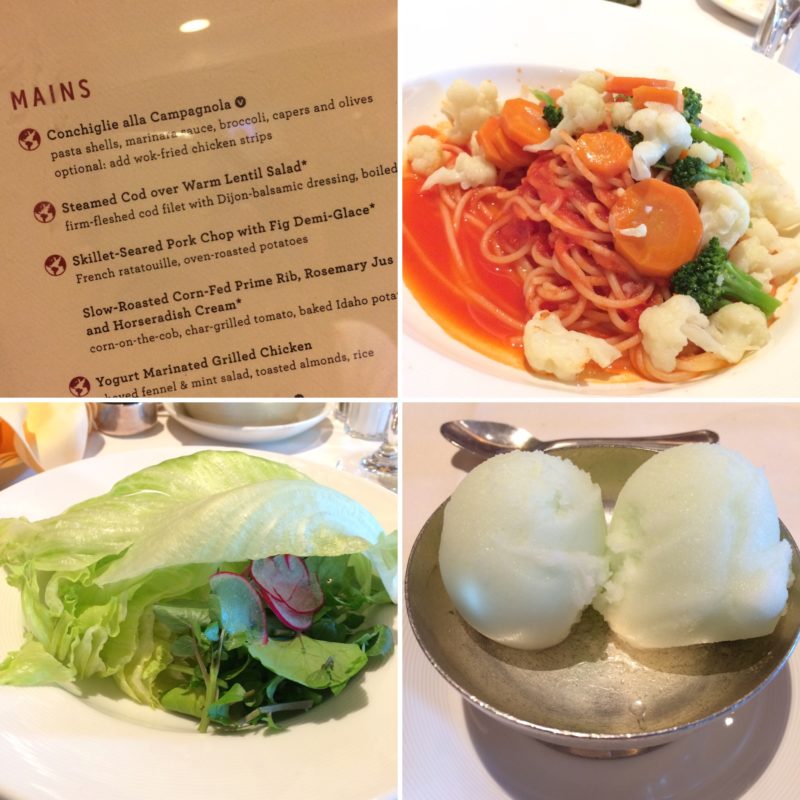 Dessert menu again had nothing dairy- or egg-free to suit us. As standard on most ships, we were offered a fruit plate or sorbet. Mr Vegancruiser doesn't care for dessert but I thought, after a long day I wanted something nice and ordered the sorbet.
I ate some of my dinner, but left a lot of it on my plate as a protest. After our three courses, including the simple dessert, I was still hungry. I wanted some colourful vegetables and needed protein to fill up. So we headed to the buffet, for the first time ever, to see if there was something to rescue the evening's meal.
Once we made it upstairs, it became evident we had more than just salad to choose from. Also, our trip to the Horizon Cafe confirmed that the vegetables we were served on top of our bland pasta, was just a standard side dish. And that side dish, in the buffet, had a tasty vegan main course sitting right next to it. Which we were never offered by the section head waiter.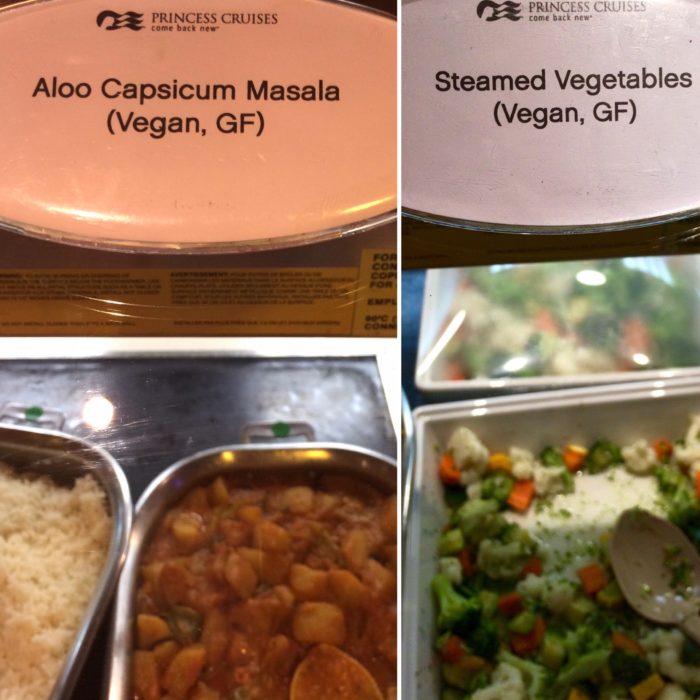 And you should've seen me bouncing excitedly when I spotted the big A4 sized sign that said 'VEGAN' on it among the desserts. There was strawberry pie! After the watery sorbet served downstairs I could've kissed the Horizon Court chefs for only offering a tasty vegan main course but actual pie for dessert. I took a slice to our cabin with me, as I had a carton of UHT vegan custard sitting in our minibar. I had brought it along to spruce up a dessert – and enjoyed it on our first evening.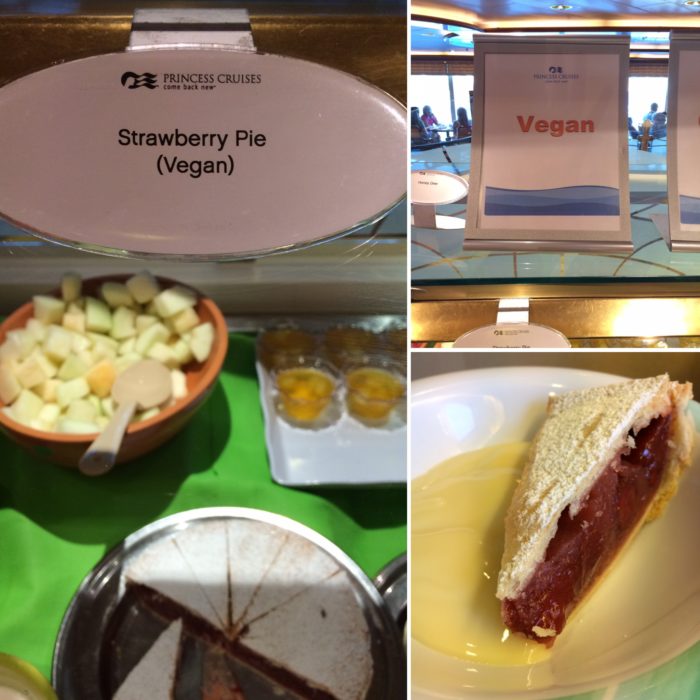 Crown Princess Main Dining Room (MDR): vegan dinner no 2
On day two the menu had an eggplant tomato & cheese sauce stack starter, which I asked to be made vegan. I knew no vegan cheese was onboard (except for my own) but thought they might do a white sauce with roux and plant milk. Or perhaps whip up silken tofu. Except they didn't. They merely omitted the cheesy sauce part of the recipe.
For the main course, I opted a the tofu steak knowing from our Royal Princess cruise it would be perfectly edible. Mr Vegancruiser asked for Indian vegetarian options instead, with no milk/butter – and his dishes were wonderful. We did find it amusing that our Indian waiter felt he had to explain to us what the dishes were, and how to eat them. We kindly reassured him that we were familiar with Indian food and the types of dishes served. But maybe some of the passengers ordering them aren't.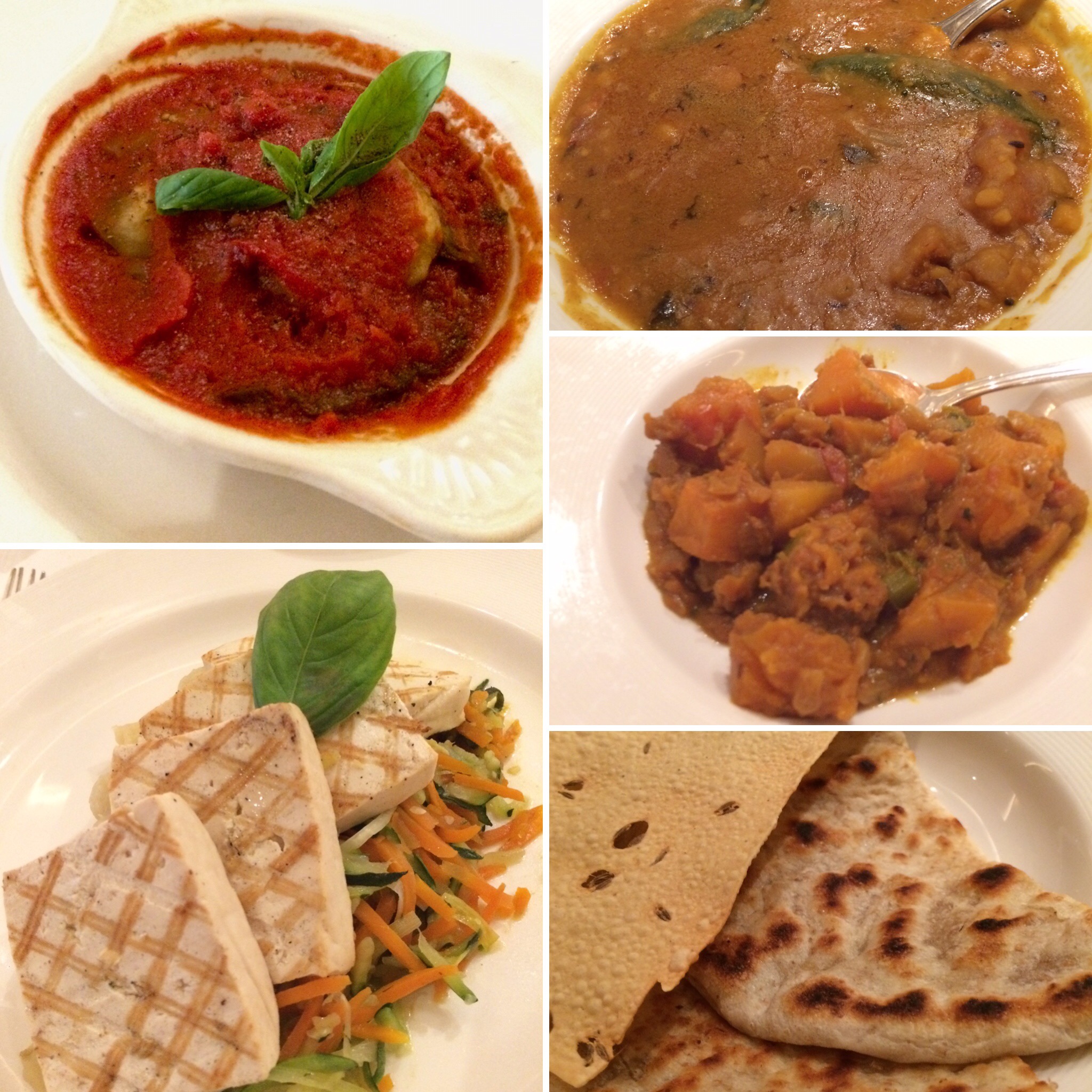 Although the starter was poor, and our main courses ok (mine) and good (hubby's), it was the dessert that had me wishing I could have it more often. We were presented with a wonderful chocolate & berry dessert. I am not sure of what it was. I'm thinking it might have been tofu with dark chocolate through it. It was rich & sweet. Just what I wanted. Dessert for the win!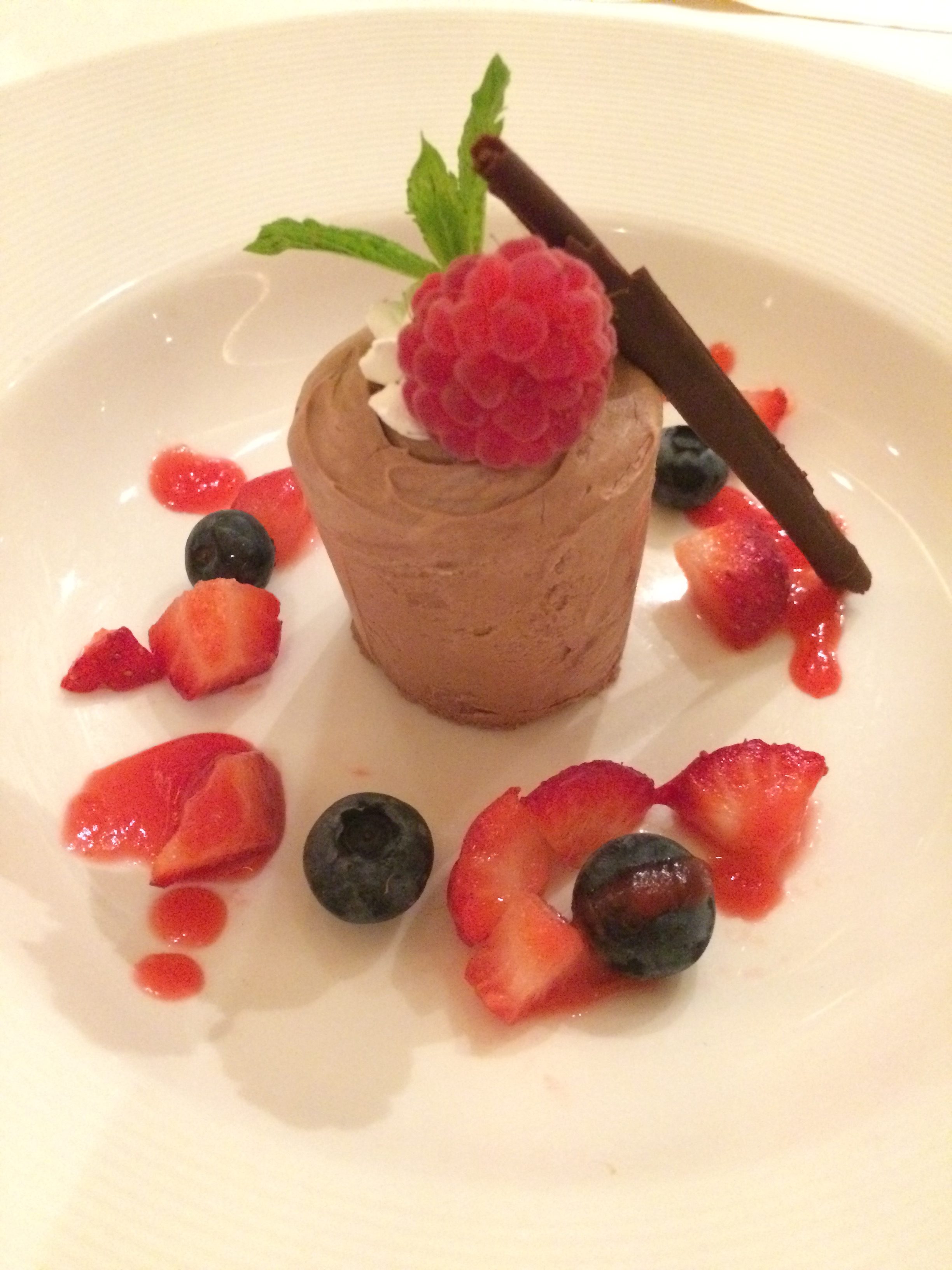 Crown Princess MDR: vegan dinner no 3
On evening number three, having witnessed Mr Vegancruiser's wonderful Indian curries and eaten them in the buffet, I decided to order it for myself too. Our starter must've been a salad again as I didn't even take a photo of it. The curries, rice, chapatis and poppadums were lovely.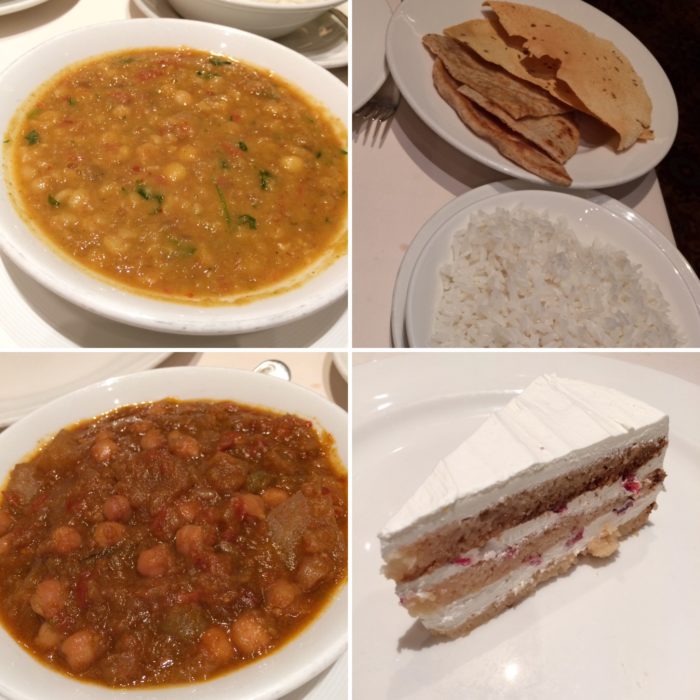 For dessert, our head waiter had another surprise for us. Think my eyes must have rolled out of my head as I was presented a slice of vegan cake for dessert. He said the chef called it a strawberry shortcake – and it was amazing. I do admit, I was suspicious of being given vegan cake as good as this – but I knew it wasn't covered in dairy cream either. I would have been ill afterwards, for my lactose intolerance. And the small squares of cake I had found in the buffet & in the International Cafe had not given me any trouble.
Crown Princess MDR: dinner day 4
Evening no 4 was one where I definitely would have nipped upstairs to the buffet for extra sustenance. Again, I have forgotten to take a photo of my starter but it will have been a salad or a soup. My main course was a lightly-seasoned vegetable and tofu stirfry – with no noodles or rice to make the meal more filling. Dessert was a sweet poached plum with sorbet. It was simple and sweet, ok on cruise ship terms but a little disappointing after the epic cake the night before. And I do wonder why some ships serve vegetable stir fry dishes with no rice or noodles. Carbs are vegan, after all. This had tofu as a protein source at least.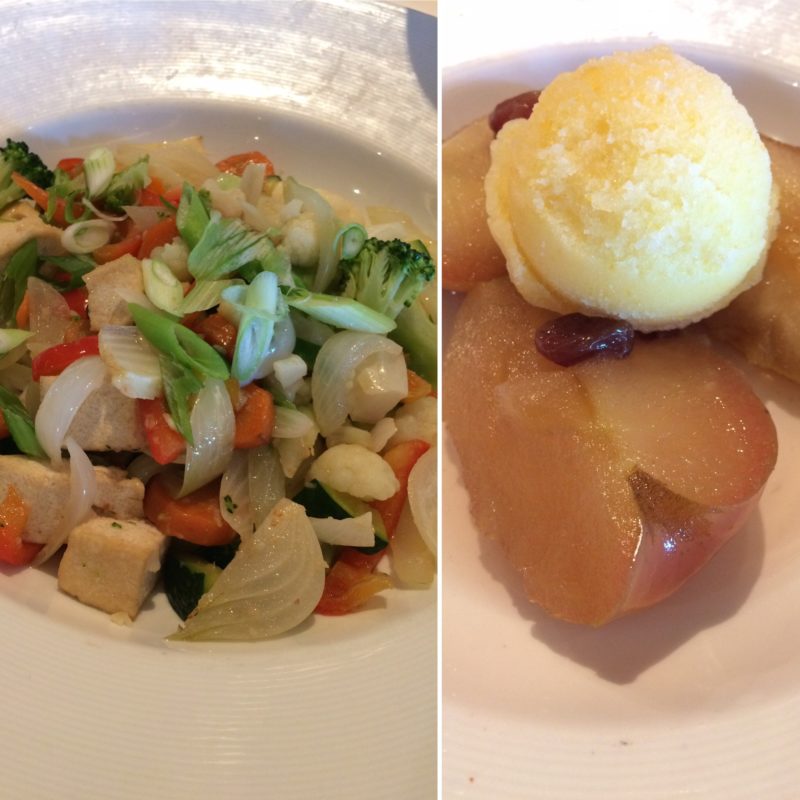 Crown Princess MDR: vegan dinner no 5
We kept going back to the dining room, ever hopeful, mostly because the buffet catered so well and we wanted nicer table-service dining at night. And having been given that epic chocolate tofu (?) mousse and the cake, I was hopeful the savoury options might improve. Especially as the buffet galley chefs were producing such balanced options.
Having glanced at the menu the night before, I could tell there was nothing that could easily be made vegan. So, once again asked for a vegan pasta dish main course, and some vegetable antipasti with olives & Mediterranean vegetables to start with. After all, the buffet had already served tomato and garlic mushroom pasta, cherry tomato pasta and had served a selection of Mediterranean roasted vegetables. And I thought a ship this class should even have a jar of antipasti somewhere. Little roasted artichoke, some eggplant/aubergine, peppers. Not difficult. Especially as there was an Italian specialty restaurant onboard that had antipasti dishes on their menu.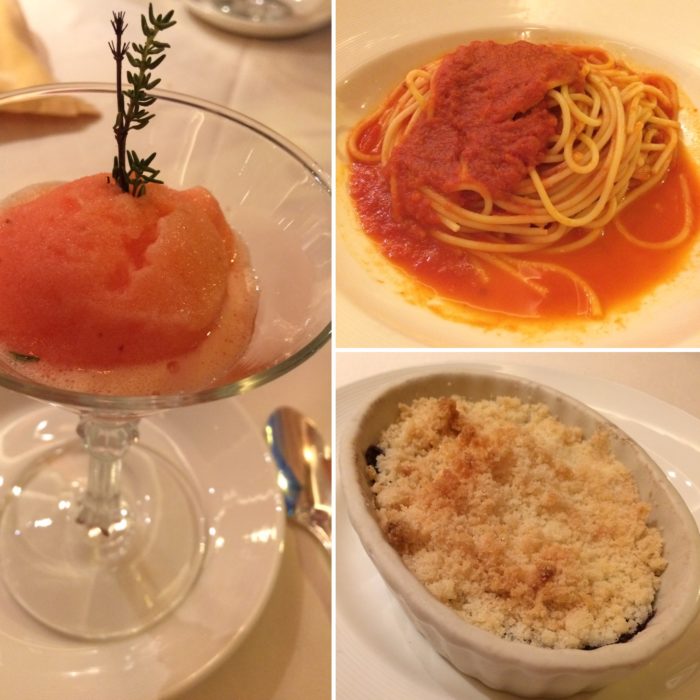 I was served a surprise starter, a prosecco sorbet to start with… which I did leave as had no way of knowing if said prosecco was vegan. My antipasti starter was, not pictured here, a big pasta bowl full of green olives. Not a little nibble bowl of various olives, but a whole jar of green olives. It was quite amusing. I find olives addictive and ate the lot. Thankfully I did, as my pasta main course was even more disappointing than the one we were served on the first night. I took a bite of it and left the rest. You can see why, though. Mr Vegancruiser may have been working his way through another curry set so I waited till he was finished, to see what dessert we would get. On this night it was a small ramekin of jam with cobbler/crumble topping.
The small dessert was super sweet, and could have done with a little scoop of sorbet to freshen up the palate. Like we used to get on Royal Princess, when similar dishes were served. Just to show how it IS done, and done good, a throwback to an Instagram share by Mr Vegancruiser and ecstatic me with the dessert Ovi brought to me on sister ship Royal Princess. Anyways, that was a different ship, and different time.. two years previous.
Crown Princess MDR: vegan dinner no 6
On our final MDR dinner, we were able to enjoy our first vegetarian and accidentally vegan starter dish straight off the menu. This explains why it actually looks well presented. This was a Mediterranean hummus & baba ganoush dish, similar to what we were served two years previous (see IG share above). This one came with salad and caramelised onions too.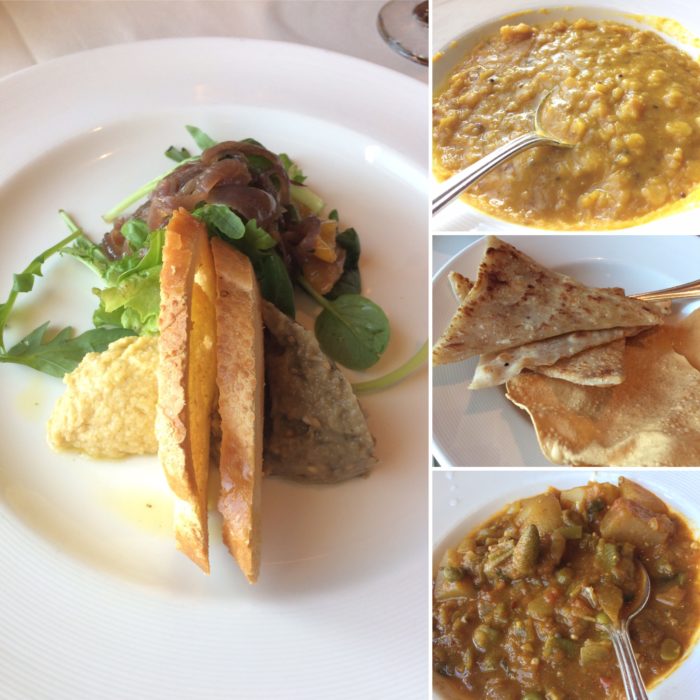 For main courses, we decided to play it safe and opted for the Indian dishes as those had always tasty. And once again we were served a beautiful cake – one very much like the strawberry one from few days previous but glaced with blueberry jam on top of the white fondant dressing. It was beautiful too, much like the other vegan cake slices we had been served on Crown Princess.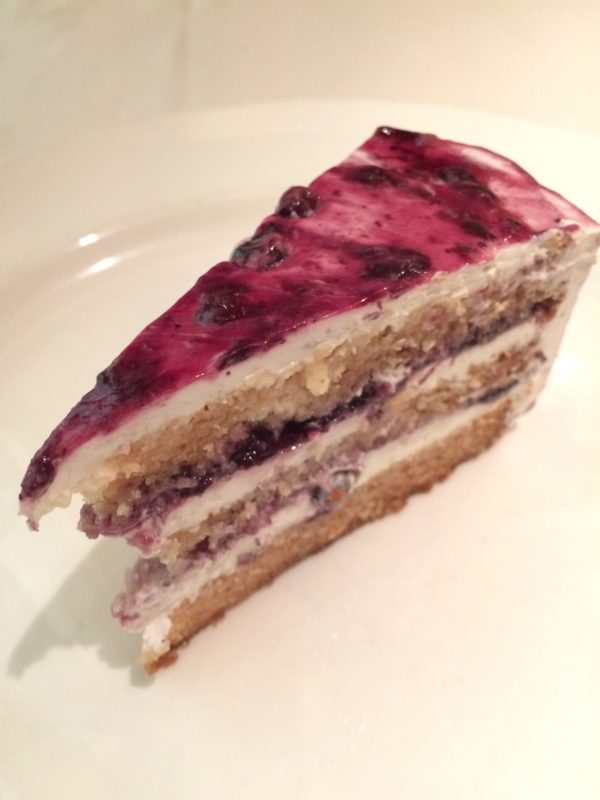 Would I recommend Crown Princess for other vegan cruisers?
I think the photos above does prove, once again, that you can travel vegan on Princess Cruises. Our Crown Princess experience as vegan guests was totally opposite of that on sister Royal Princess back in 2016. On that sailing the dining room was wonderful, the buffet was unmarked for allergens and we didn't always have much choice there. Definitely no vegan buffet dessert options.
This Crown Princess sailing, our experience was totally reversed. The buffet galley chefs were thoughtful and provided great plant-based choice. The pre-made salads were tasty, varied and great. There always was plenty of protein and carb choice. And always vegan dessert too, hurrah! Horizon Court offering, overall, was excellent.
I wanted to query the availability of vegan marked options on Crown Princess and received this reply from Princess Cruises (June 2019) with reassuring news:
Just coming back to you regarding Vegan/allergen labelling in the buffet aboard Crown Princess.

I can confirm that this is still very much an ongoing practice with clear labeling across the hot and cold buffet items and will remain so even when the current F&B director hands over.

Availability of specific dishes will always come down to availability of specific ingredients, however there will always be vegan menu items available and clearly labelled.
The MDR galley team, however, did not seem to understand vegan food as you can tell from the photos above. Their saving grace was the tasty Indian food and the excellent pastry chef onboard doing his or her vegan cake magic. I was told that there was a visiting head office chef/trainer onboard and that might have explained the vegan cake options. I do hope those too have carried on.
Reasons to cruise Crown Princess
One doesn't merely cruise for food, but for the luxury of sailing the seas. For the destinations. For the fancy cocktails in a range of bars, the excellent Princess service, range of relaxation options, theatre shows etc. Perhaps these few captures from our sailing will convey that some of that Princess magic.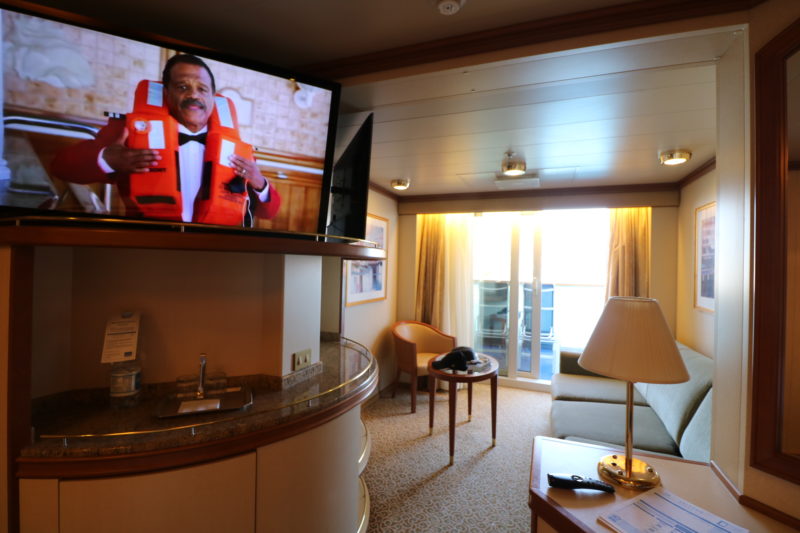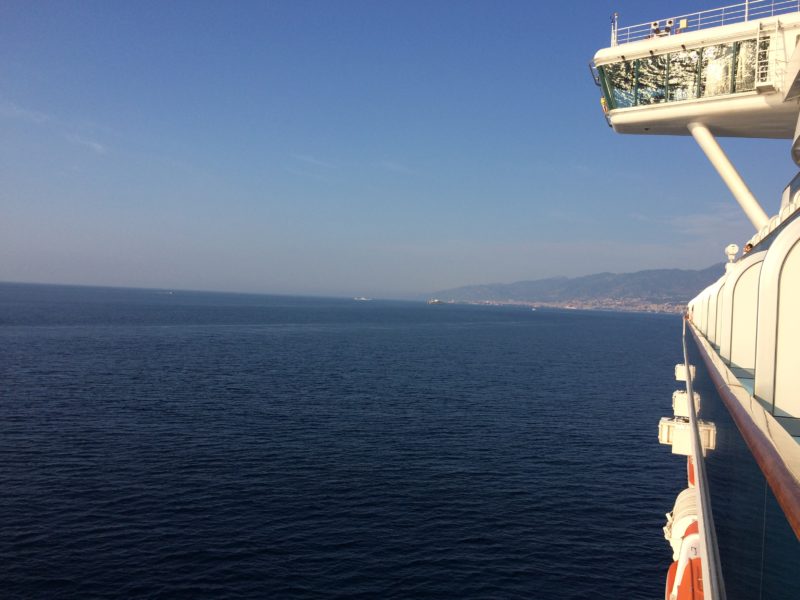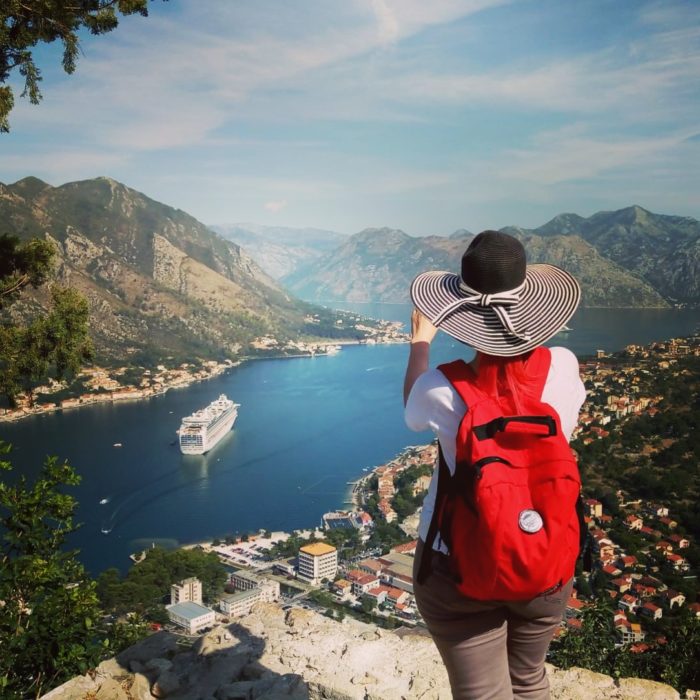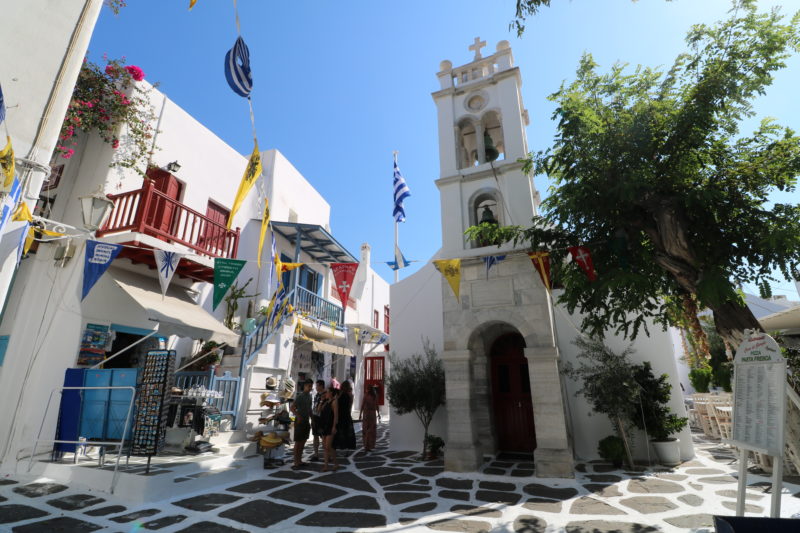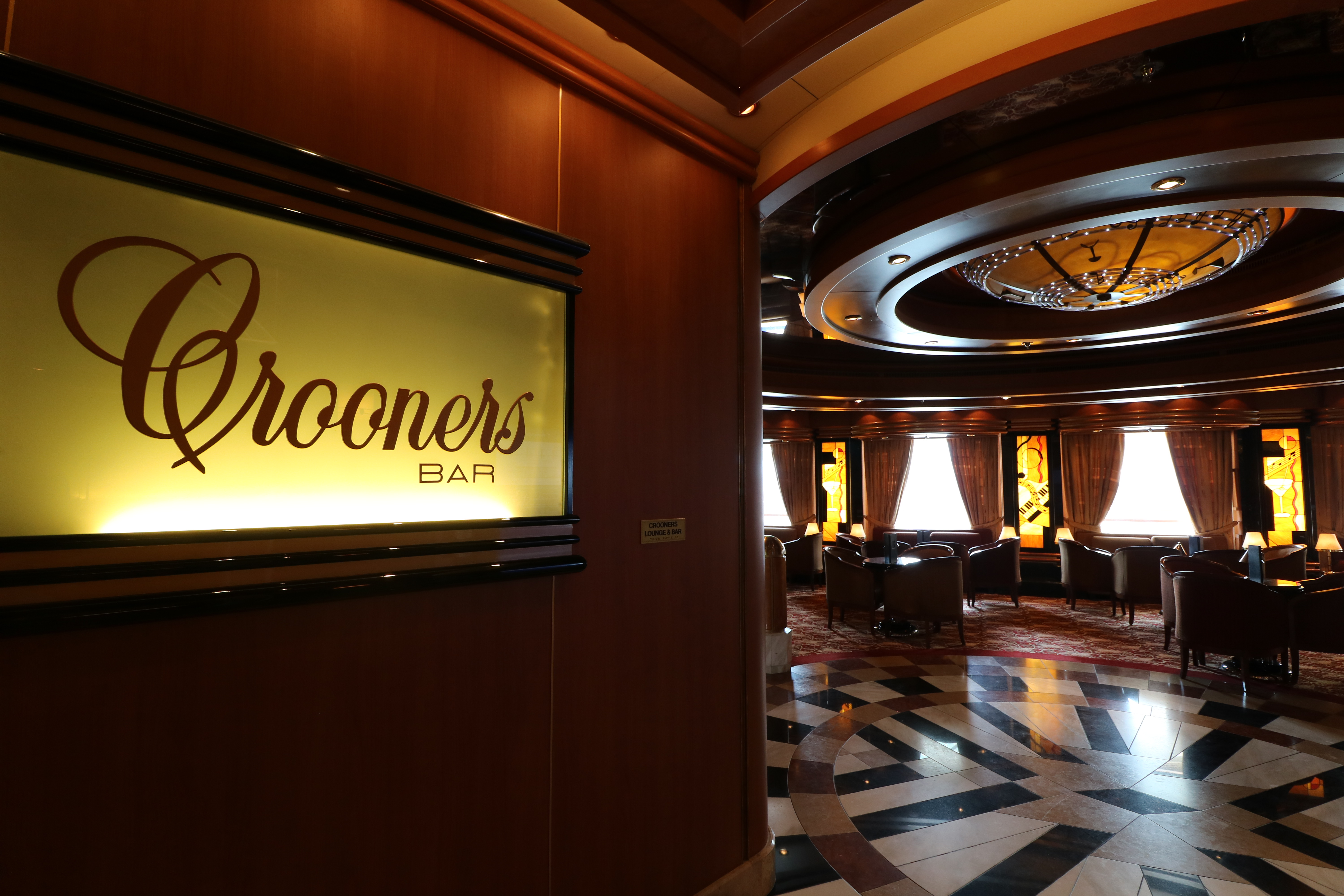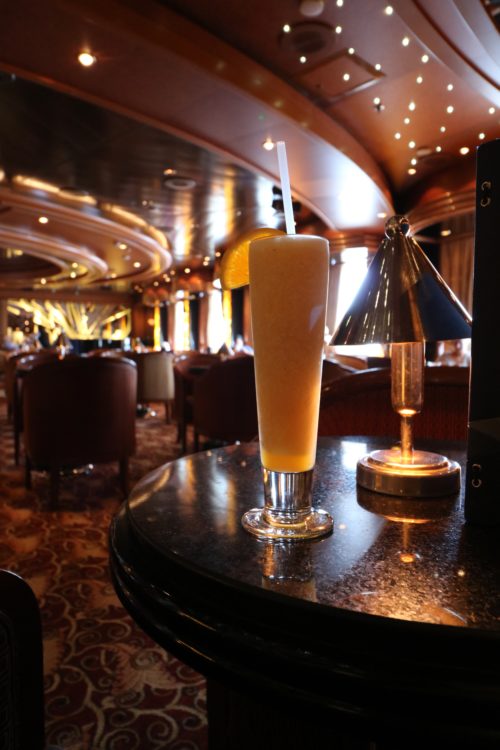 All of the staff we came face to face with onboard Crown Princess were excellent (waiters, bar staff, cabin attendant etc), one cannot fault Princess – their service is great. Plant-based dining options however, is something that as a company Princess could address as there are individuals who are great at it but that knowledge isn't utilised across venues.
The lack of standardised fleetwide vegan meal offering is frustrating especially as Princess released a vegan-marked wine list in early 2019 (see my blog post here). It is amazing that there are clearly labelled vegan wine option on the onboard wine list, but good plantbased main dining room (MDR) options are also needed. Our buffet meals were varied and labelled beautifully, and if there was an award to grant I would issue one out to Horizon Court. Actually, I will. Not just me but few other vegan cruisers reached out to me at the end of 2018 to say they too had a great sailing on Crown Princess. Thanks to Horizon Court galley team.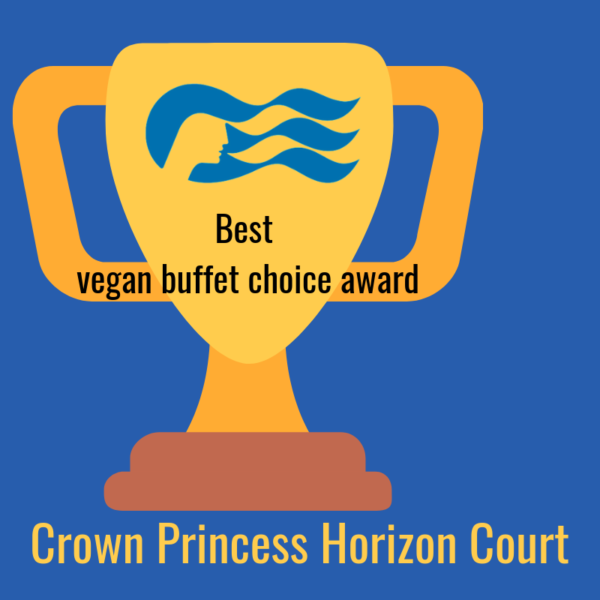 Crown Princess itineraries in 2019 & 2020
If you did want to sail on Crown Princess, you can find her operating a British Isles itinerary at the moment. For winter 2019/2020 she relocates to Miami, returning back to Europe in March 2020. From March to the end of May she will do a few Mediterranean sailings, before taking her UK residence again in Southampton. For Southampton summer 2020 season she will be sailing alternating Baltic and Norway itineraries.
To learn more about various Princess Cruises sailings from Southampton in 2020, click on the image below for more. This will take you onto Princess Cruises' site.
[Following two links to Princess are affiliate links. These may earn me commission, should you book a cruise, but this is at no extra cost to you.]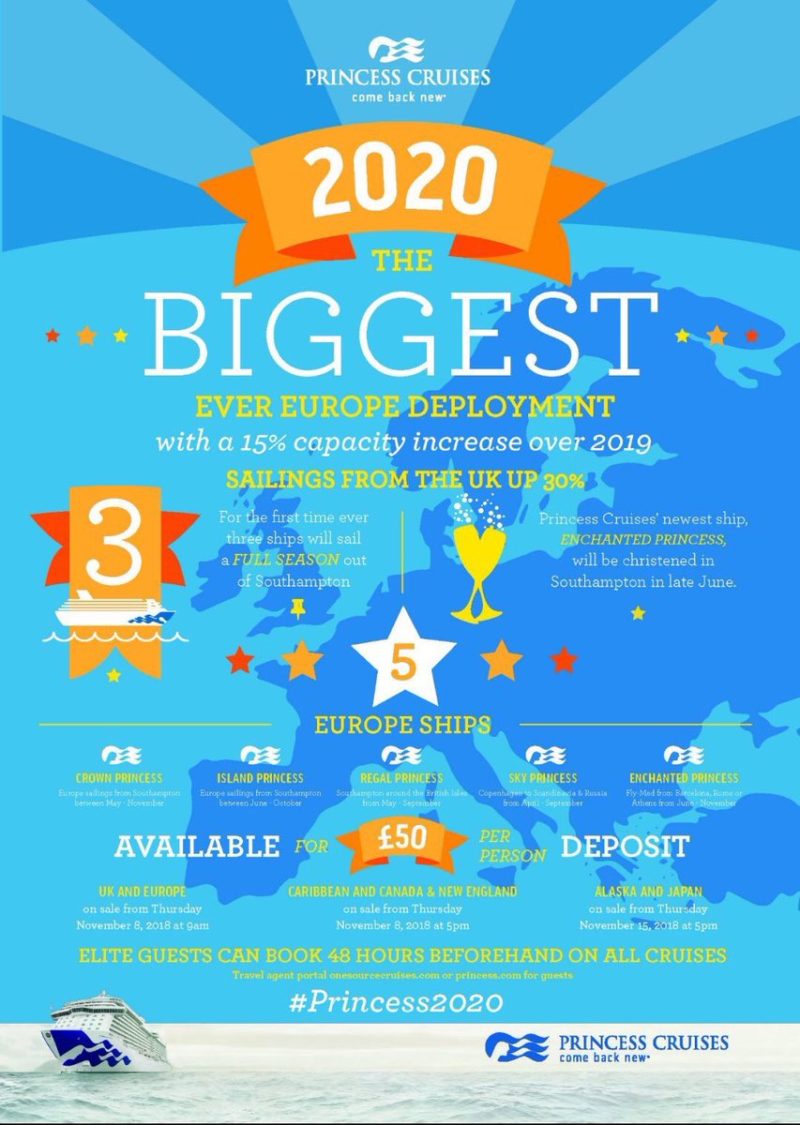 And Princess have a new promotion starting shortly where you can have up to $1,500 onboard credit added to your Crown Princess sailing! See below for information and check out Princess' website come July 2nd.
Princess Cruises is giving away up to $1,500 free onboard spending money per stateroom on over 1,000 voyages departing from December 1, 2019 – May 22, 2021.

The spending money is on offer to each guest sharing a stateroom and is available on sailings across the world including in Europe, the Caribbean, South America, Asia and Australia. Cruises range in length from four to 58 days.

The deal is available from July 2 – September 2, 2019.

Both the 3,080-guest Crown Princess and 2,200-guest Island Princess are included in the offer, which feature sailings roundtrip next year from Southampton to destinations such as the Mediterranean, Greek Isles, Canary Islands and Northern Europe.

Also available are several sailings on Enchanted Princess, which will officially launch in Southampton in June 2020. The 3,660-guest ship will sail its inaugural season in the Mediterranean before heading to the Caribbean from November 2020 – April 2021.
Cruise newbie or new to Princess? Try a mini cruise!
Good news! If you are not quite sure, and you think you wouldn't want to sign up for a full week even if the vegan options were good, there is a 4 nighter taster cruise you could do in October 2020!
This taster cruise departs on Wednesday 7th of October 2020 and returns to Southampton on Sunday 11th. On this sailing, you will visit the island of Guernsey and the Netherlands (Rotterdam, for Zeebrugge and Bruges in Belgium). You get to enjoy one full sea day as well. Learn more about this short Crown Princess sailing by following the link in the banner image below.

Have you sailed Crown Princess too or other Princess fleet as a vegan? Would you like to share your experience with us? Guest post cruise reviews are always welcome – do get in touch!