Strolling around Argostoli: Kefalonia port review
Argostoli cruise port in Kefalonia
The island of Kefalonia is found half way up the west coast of Greece. Its cruise port of Argostoli is small and thankfully not too busy – you won't meet the masses of people found in Mykonos or Santorini here. You may struggle to think why you know this island, but it may be the fact that it is the location for the famous book (made film) Captain Corelli's Mandolin.
The port of Argostoli was the smallest and therefore the quietest of all the locations we visited during our week onboard Vision of the Seas. The town felt more like a little village. Apparently, in 2011 its population was under 10,000 and I can't imagine being much larger these days.
The pier where Vision of the Seas docked made me think of the Caribbean. Even Captain Marek made a comment about it being like a Caribbean jetty. Maybe you just don't get piers like these in Greek ports – I certainly cannot remember seeing others. Here's an aerial photo from Cruisetimetables.com since I haven't got a drone, to best show what it was like.
The main attraction in town appeared to be a small, wheeled train that drove visitors around the town in an approximately 20minute loop. But due to the size of Argostoli you can easily explore it on foot – it's on a pretty flat plain.
Royal Caribbean had offered a couple of excursions out of Argostoli. Among those was a resort day by the beach and a visit to a nearby monastery. Very few activities compared to what most other ports had on offer.
Most exciting thing about Argostoli is its turtles, which we missed! We heard excited reports from other passengers about seeing them in the harbour. I think we were too late off the ship to catch them, as we had a leisurely breakfast that morning. I found this footage on Youtube (see below) to show. So wish I had seen these amazing creatures myself! We walked along the shore from the ship and back but did not see a single turtle on our stroll.
History & Architecture
The small town is really modern for one reason: in 1953 an earthquake destroyed most of the Ionian islands, resulted in many deaths and the destruction of almost all buildings. Many of the people who survived subsequently migrated. I am usually drawn to interesting old buildings and architectural character but due to this destruction, Argostoli had little to offer. But at least the few churches we did come across provided plenty of interesting features to capture.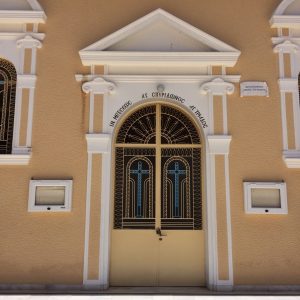 We spent quite some time photographing a local Orthodox church for its opulence. There was just so much to see, both inside and out.
For non-vegans Argostoli is cake heaven, with a number of German-style konditorei (patisserie) bakery-cafes in town. They displayed amazing looking sweet creations, but none that I could be sure were vegan. HappyCow app, unsurprisingly, had found no hits in the town or the island itself. I'm confident I would have found something suitable to eat in the restaurants, had I needed sustenance. There was a fabulous 'eco' supermarket, a Wholefoods-like store of beautiful looking large fruit the size we just don't seem to get in the UK. It stocked fresh veg and organic produce, but even that had surprisingly few vegan items in store. I purchased some 'accidentally vegan' individually-wrapped Kataifi to bring home from them.
Argostoli had a good number of cafes and restaurants especially in the shopping precinct (mostly usual touristy items, as expected in a beachy resort). Since the ship was so close by and we'd only just had breakfast, my friend and I again made it back to the ship for lunch and enjoyed another lazy afternoon by the pool. Cocktails and crime novels in the sun for us, especially as the scorching sun and no cloud cover made walking around an endurance test.