Vegan Travel sailings – the best vegan cruises for food!
It is good that big name cruise lines are becoming more inclusive, and are slowly introducing vegan options, but is that enough? When UK supermarkets, high street restaurants and pubs are getting exceedingly vegan-friendly and even offer decent desserts, it is at times disheartening being on a cruise ship. They are renowned for their opulent omni food yet for us vegans choice is often very limited. What if you do not want your vegan meal to be an afterthought? And you want desserts. There is one travel company you MUST try at least once. And once you do, you will be a convert forever, I am certain. Let me show you why Vegan Travel chartered vegan cruises beat 'regular' ones.
Who are Vegan Travel anyway – can I trust to book with them?
Vegan Travel are a tour & cruise operator from Munster, Germany who have been selling 100% vegan cruises and group holidays since 2013. It started over a wishful conversation over a beer by owner Dirk and lead into forming a company that in 2014 had its first German river sailing. In 2017 VeganTravel brought to us the world's first all-vegan ocean cruise from UK to Norway.
In 2018 Vegan Travel even had a world's first expedition cruise to Chilean fjords and Patagonia. Among multiple European river cruises, including the Christmas Markets Rhine sailing I booked with a friend.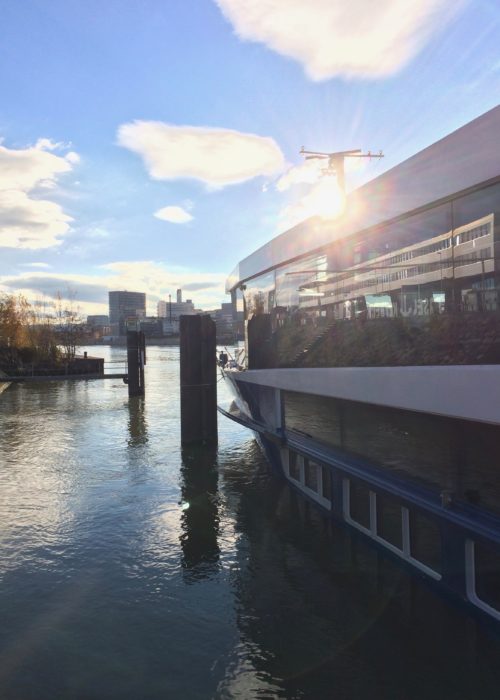 In April 2019 Vegan Travel ventured out to Asia for the first time. They filled two ships for a Mekong itinerary, cruising the length of Cambodia and Vietnam. See the Instagram capture below and check out their Instagram stories for captures from this beautiful trip.
In 2020 there will be another Asian itinerary, this time on the Chindwin in Myanmar (Burma). And just this week there was a teaser on the Vegan Travel Facebook page about new destinations for 2020 – including vegan cruises in Egypt and Croatia. So exciting!
And for the trust – yes. I am a past guest, booked the 2018 Christmas markets river cruise with Vegan Travel and I would not hesitate to book with them again. If you're quick, you can still get onboard this year's all-vegan ocean cruise with Vegan Travel. See my post on that amazing ten-day Baltic itinerary by clicking on the below image.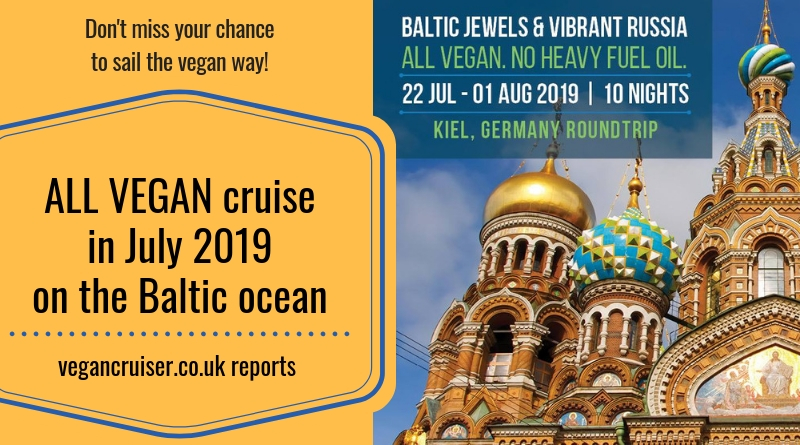 You can see more about my five-nighter Christmas river cruise here. I really enjoyed the experience, the people I met and all the vegan food. So much so, that I am hoping to book one of the two late 2019 river cruises. And the newly-announced Egypt cruise (Nile from Luxor) in 2020 is a must for Mr Vegancruiser, but so is Croatian coastline for me. So much choice for the next season!
But what sets Vegan Travel apart?
On a mainstream cruise, you have to liaise with the waiters to get your meals adapted – by removing the non-vegan items. A handful of cruise companies have vegan options on their menus. A select few have actual vegan menus across their full fleet. But you are always surrounded by omni food, drink and passengers at all times. You may be the only vegan onboard, relying on an interested chef for your meals. And sometimes they just can't be bothered. As seen by this appalling pasta dish we were served on a mainstream cruise line.
This was the first night of our anniversary holiday last year. I know first nights are usually the worst as chefs aren't prepared for dietary requests. But I wanted to cry, this was so poor. Especially as there was a note in our booking that we were vegans. And we had a dietary welcome letter in our mini suite. The menu that night had a vegetarian tomato & olive spaghetti dish that sounded potentially vegan – yet we were served plain, unseasoned watery tomato sauce over pasta. With some (previously) frozen vegetables on top.
But fear not! This might happen on an omni cruise ship as the solo vegan onboard. But on vegan cruises arranged by Vegan Travel, the whole ship is chartered for the exclusive use of their guests. All food & all drink onboard is vegan when you sail with Vegan Travel. There is no guessing, no googling wine lists to see if you can have a drink onboard. No adapting dishes. No hoping for the best. And you don't have to hand back the pillow chocolates to the cabin attendant. If there is chocolate in your cabin as a welcome present, like we had (pictured below), it too will be vegan!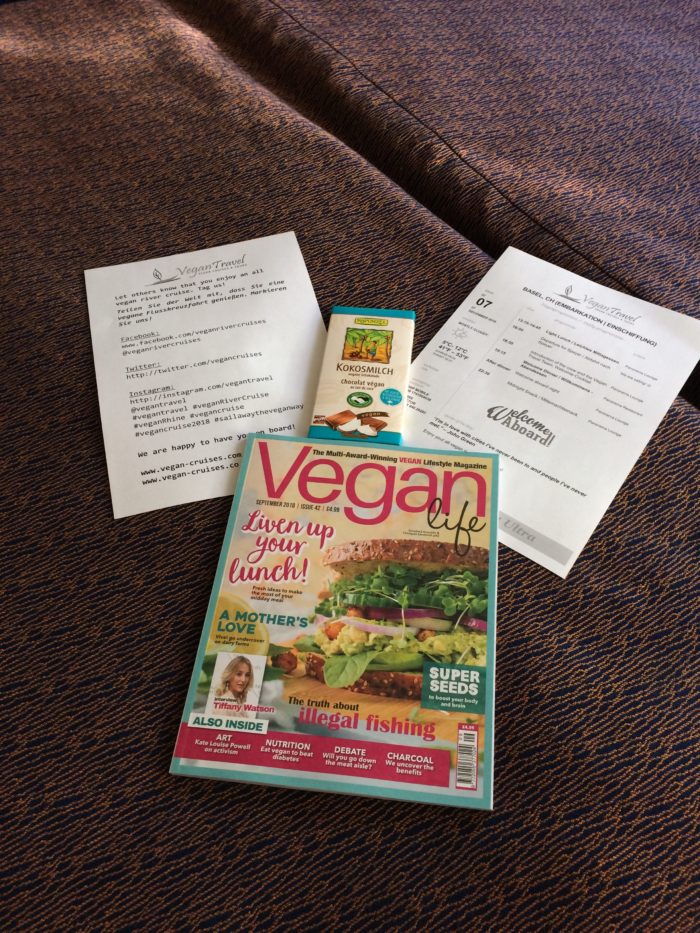 And even the in-cabin toiletries are vegan and cruelty-free on vegan cruises by Vegan Travel – they really have thought of everything. Not just the food.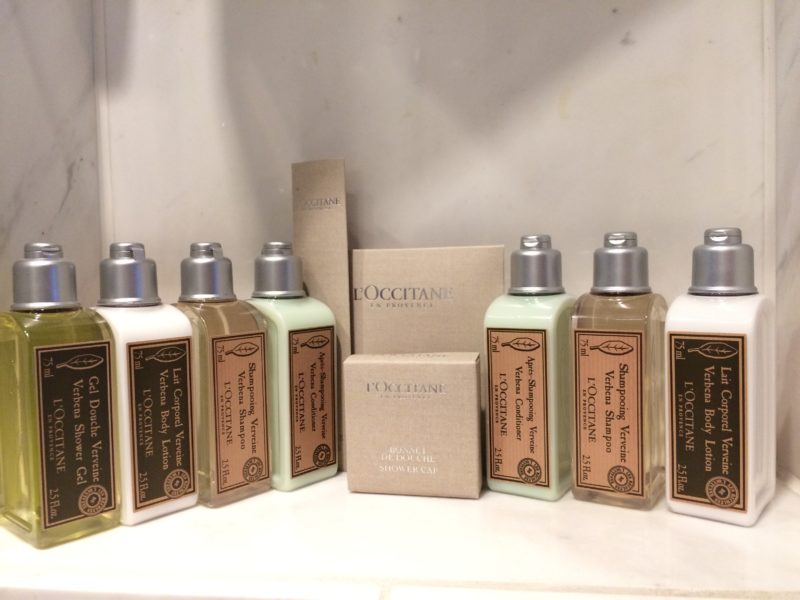 Therefore every guest onboard is dining vegan – you don't have to share a table with someone tucking into a steak. You won't need to smell someone's stinky cheese on the table next to you. Hurrah!
But you may be thinking, aren't there some other vegan cruises? Yes, there are some. But as an example, the annual Holistic Holidays cruise from Florida is only a large vegan group/event onboard an omni ship. It is not 100% vegan, what Vegan Travel offers. And that is the Vegan Travel difference.
But what about the vegan food onboard?
So you came here for the vegan food examples. Let me show you our meals from the Christmas markets river cruise. Obviously, the availability and range of dining venues are totally dependant on the ship, whether it is a small river ship or an ocean cruise ship. But here's our vegan dining onboard a river cruise ship. As usual, Vegan Travel had brought their own executive chef onboard to ensure the ship's galley team could follow the menu brought onboard for the journey.
Upon boarding a small buffet was laid out in the cafe area – most people were not onboard so the restaurant wasn't opened yet. There was a soup to start with, along with various salads, fried diced German sausage and potato & barley ragu/stew in the bain marie.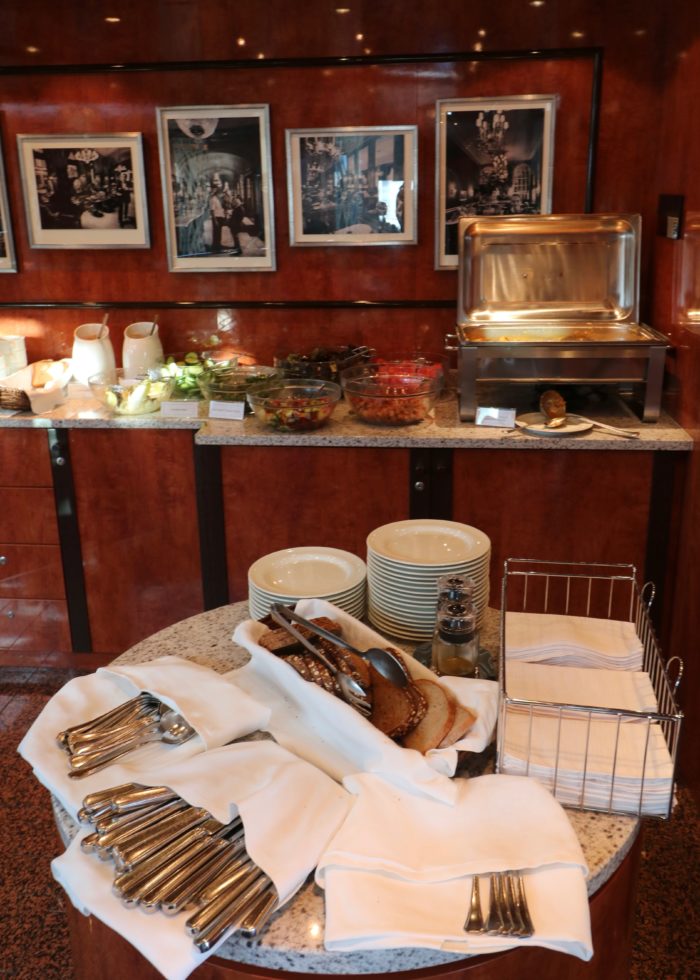 Every afternoon there was tea, coffee and cake served in the lounge/bar, the only large social venue onboard. Though as we were out exploring the ports, we often missed it.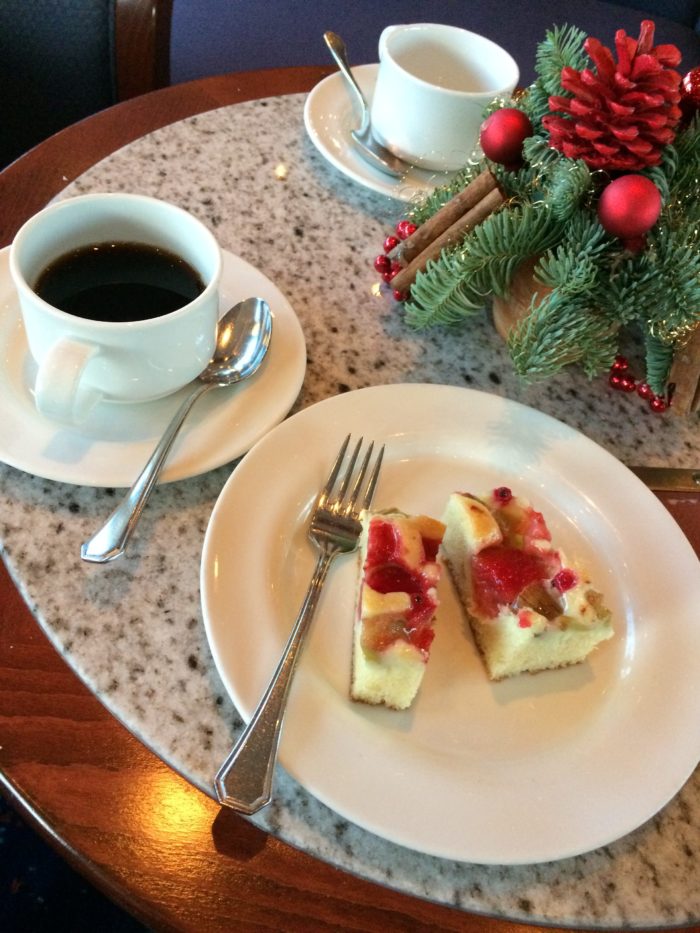 Breakfast was served buffet style in the main restaurant in the back of the ship. Lunch and evening dinners were table service with a menu, with the exception of lunch where you were able to help yourself to a salad bar before the soup, main course and dessert. I wish I had taken photos of the actual menus, rather than just the meals, but here are some for you to see. Hope this tempts you to book!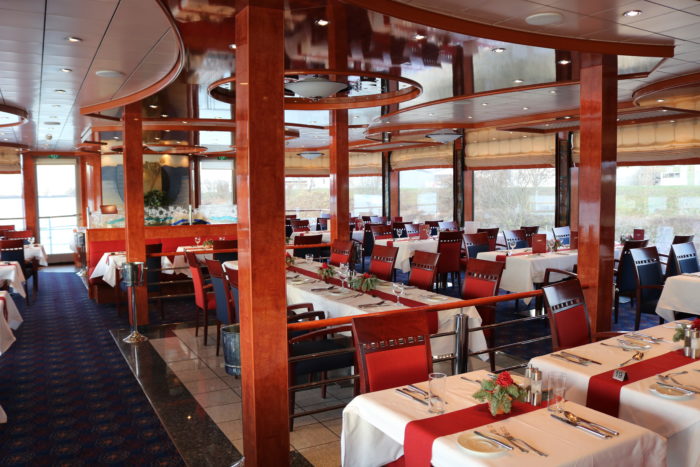 Every breakfast with amazing vegan choice!
Now, if you've navigated a regular mainstream cruise line buffet or main dining room (MDR) at breakfast there's not a lot of choice for us vegans. Cereals are usually fortified with animal-source vitamins. If you're lucky, the porridge (oatmeal, to my American readers) is made with water. Then you may enjoy fruit and perhaps beans, maybe toast & jam. And if you are lucky you may even find… vegetable spread. Gasp! I am used to taking my own spread, cheese and Tofurky slices with me to mainstream cruises. On a Vegan Travel cruise, you do not need to. Just look at the choice! Pictured is part of my first breakfast. Oh yes, I have been deprived of breakfast variety so many times before. I was going to enjoy this vegan breakfast feast, so much, every morning of our trip.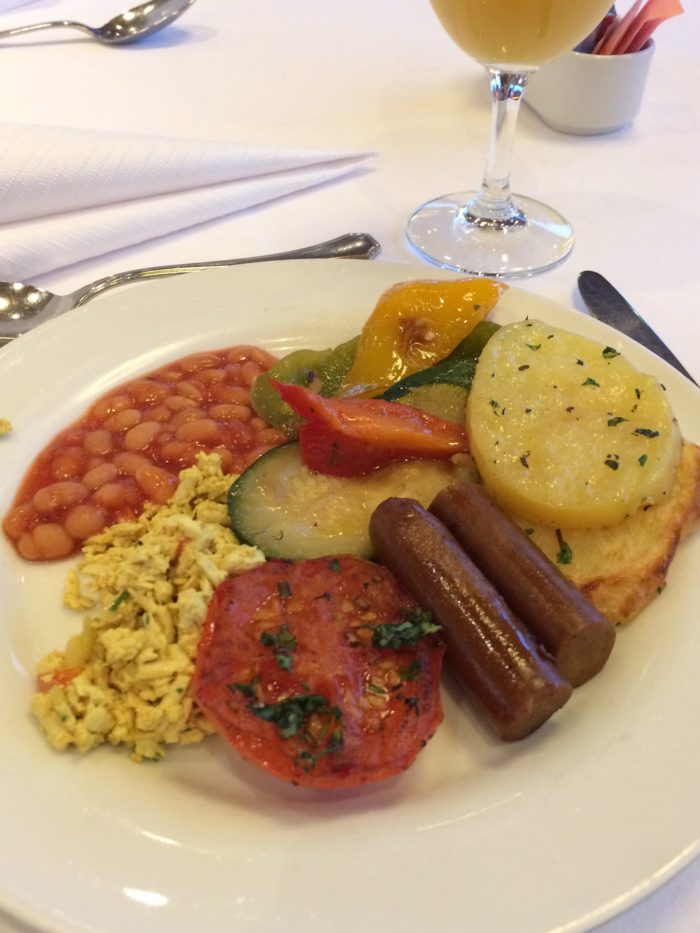 And those of us who like a fried breakfast on holiday, the options included beans, sausages, fried potato, tofu scramble and friend mushrooms or other fried vegetables. And on some mornings there were pancakes too.
Every morning you could order tea or coffee to your table or a bowl of porridge. Otherwise, you could raid the amazing breakfast buffet laden with so much vegan choice. Firstly, there was a choice of vegan cheeses. Choice of different deli cuts. Actual vegan meats – on a cruise? Surely I had died and gone to cruise heaven?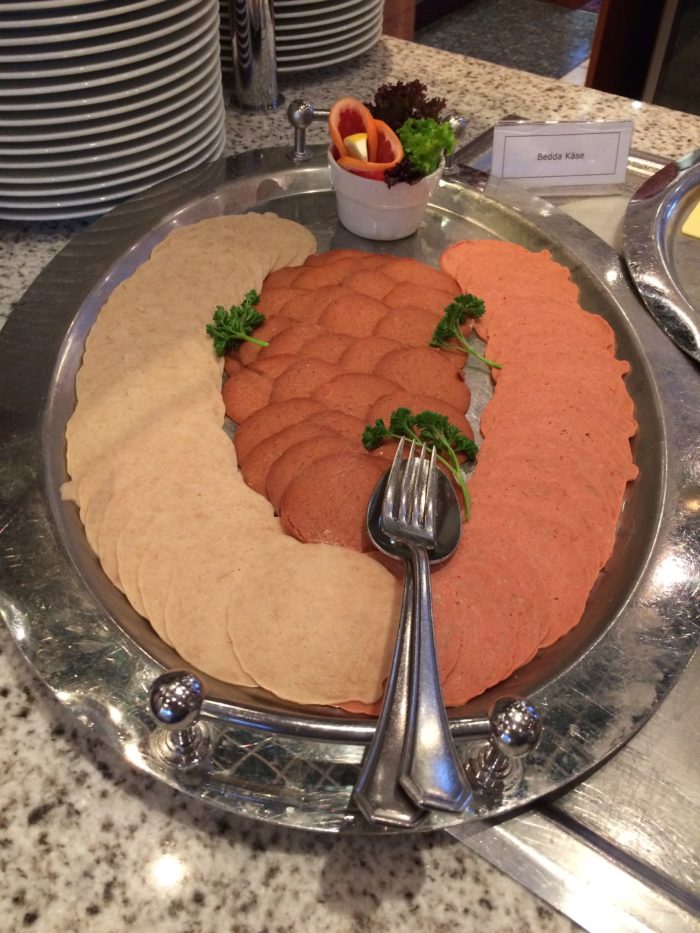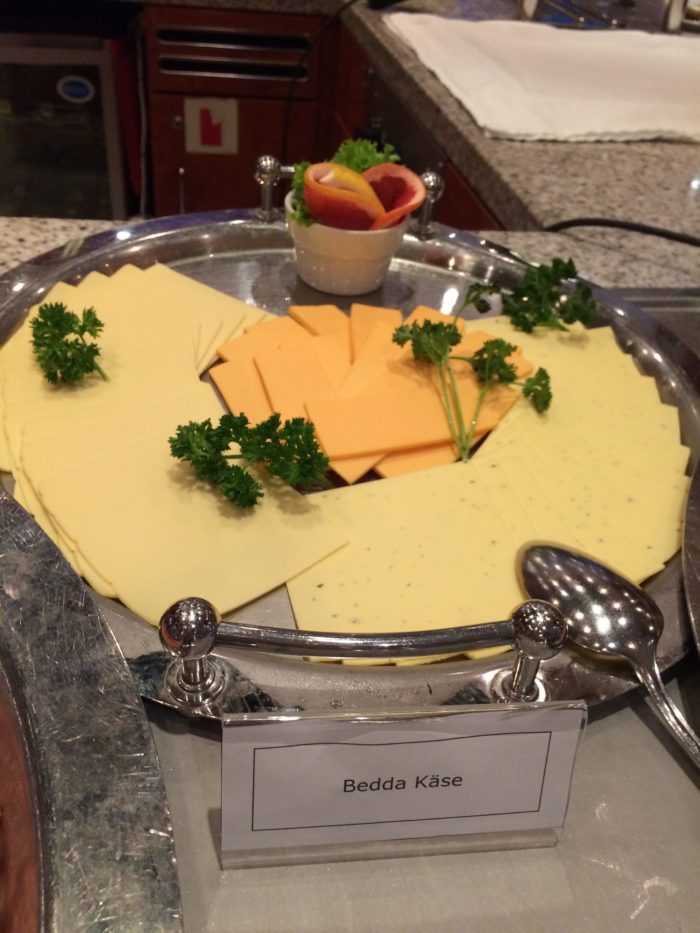 There was always a selection of vegan croissants and pastries to choose from. So much tasty German bread too.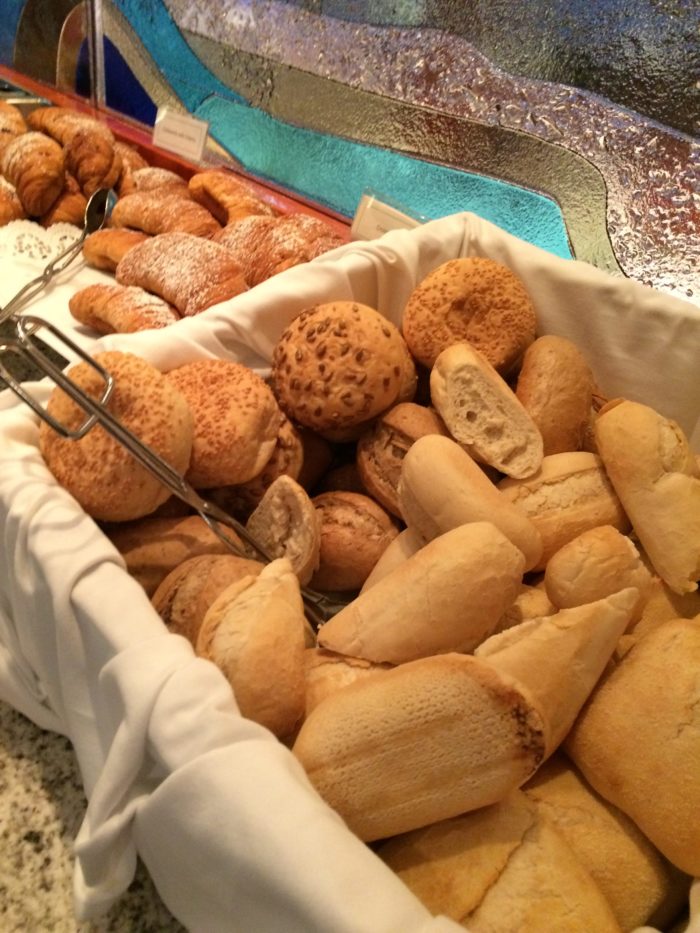 Even a range of hummus.. hummuses? What is the plural of hummus? Actually, one was chickpea hummus, another a curried lentil hummus-like pate and third was butterbean and tomato pate. So tasty – I wish we could get these in the UK.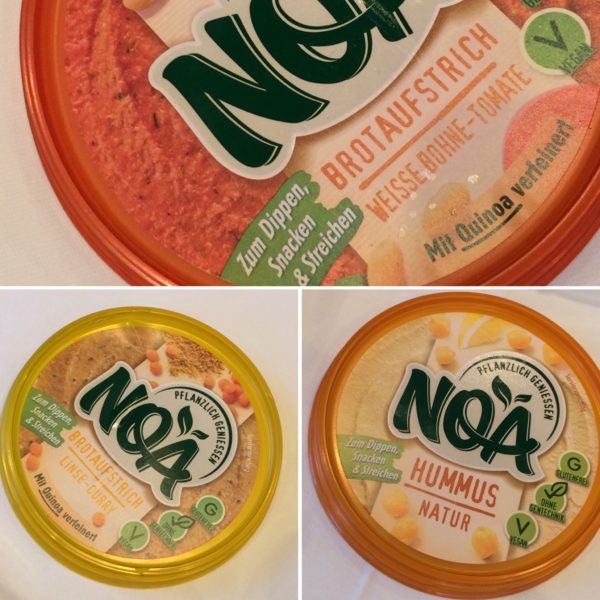 Naturally, being a breakfast buffet, there also was a range of muesli and cereal to be had. Alongside was a range of seeds and fresh and dried fruit to enjoy. Every morning there was a choice of natural or fruit yoghurt, fruit salad and something that looked like overnight oats. There also was a daily green cucumber smoothie to enjoy, one that I didn't see too many enjoy.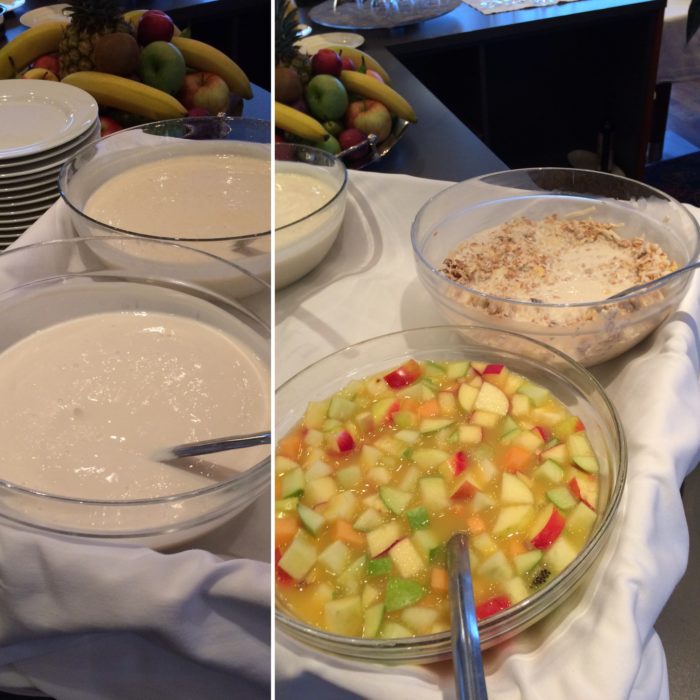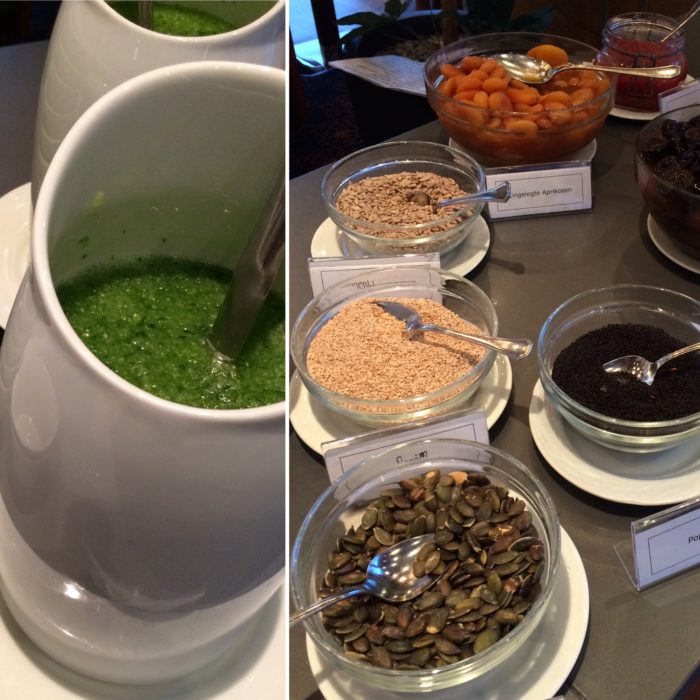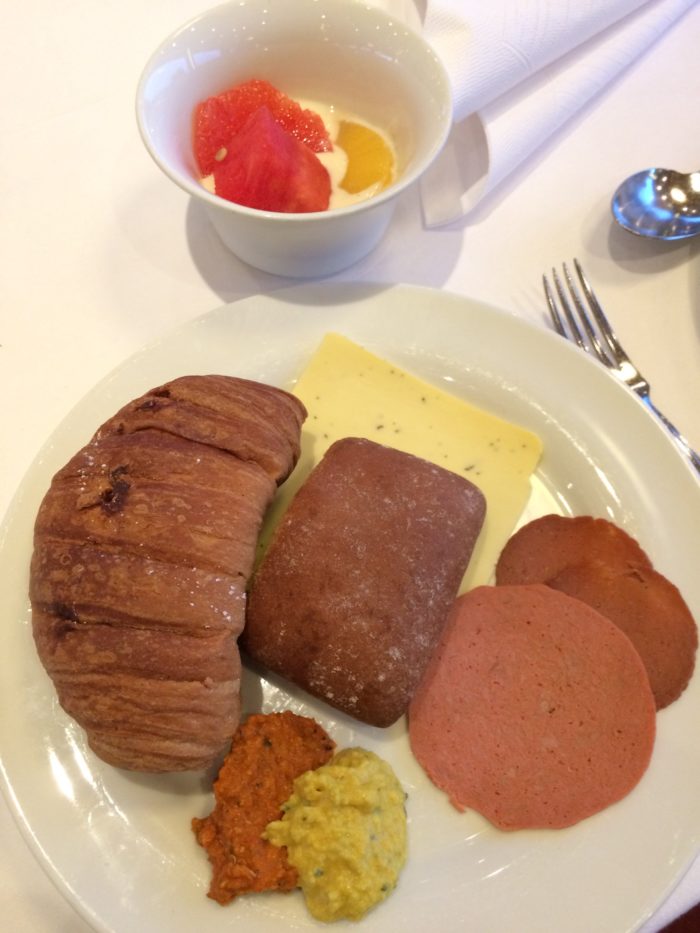 But what's lunch like on these vegan cruises?
Lunches on our river cruise were offered in the same dining room, with a self-service salad buffet, a soup, and a choice of main course and dessert.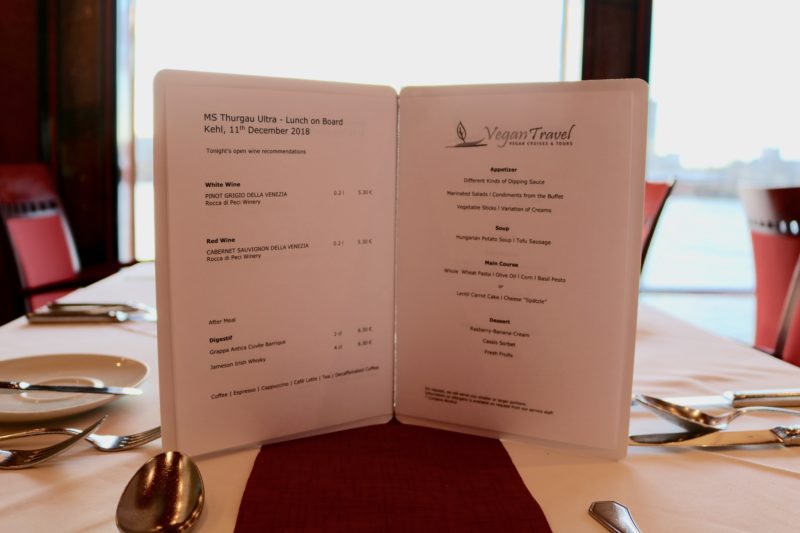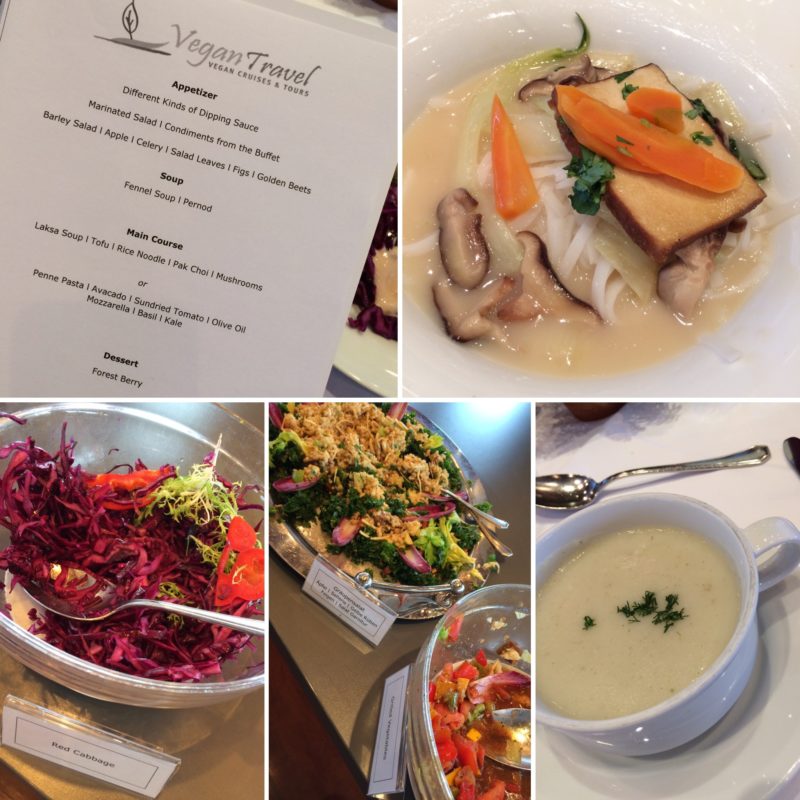 I clearly didn't fancy the berry dessert on that day and loaded up on the salads, bread, starter soup and laksa curry.
On another day I once again was able to pile on various salads, followed by a vegetable soup (don't have the menu, am afraid) and a stroganoff, followed by a blueberry cake, which was more a pancake than a cake. Served with some cream and vanilla sauce.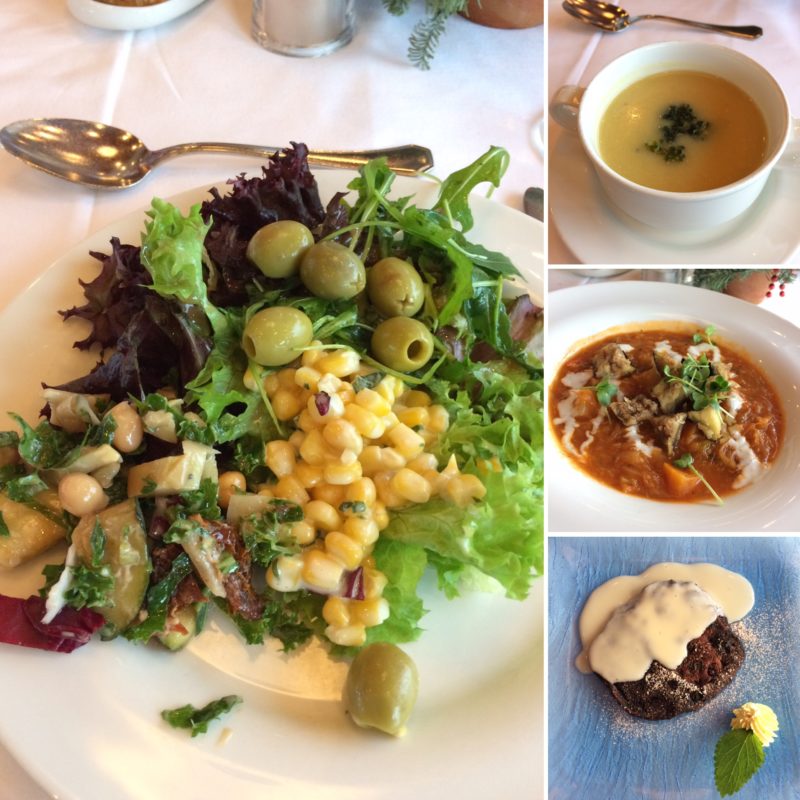 Salad bar on this cruise was amazing. So much flavour, colour and variety. We were both impressed. And to even have coleslaw on offer too – mind, this was before M&S Plant Kitchen one was available in store.
The first larger salad pictured below is a smoked tofu & sweetcorn salad. There also was a Bulgarian Sopiska salad and whatever that tasty dish marked as 'algae cream' is.
Often descriptions were a little funny, presumably translated from German into English with not always considering a direct translation might not make sense.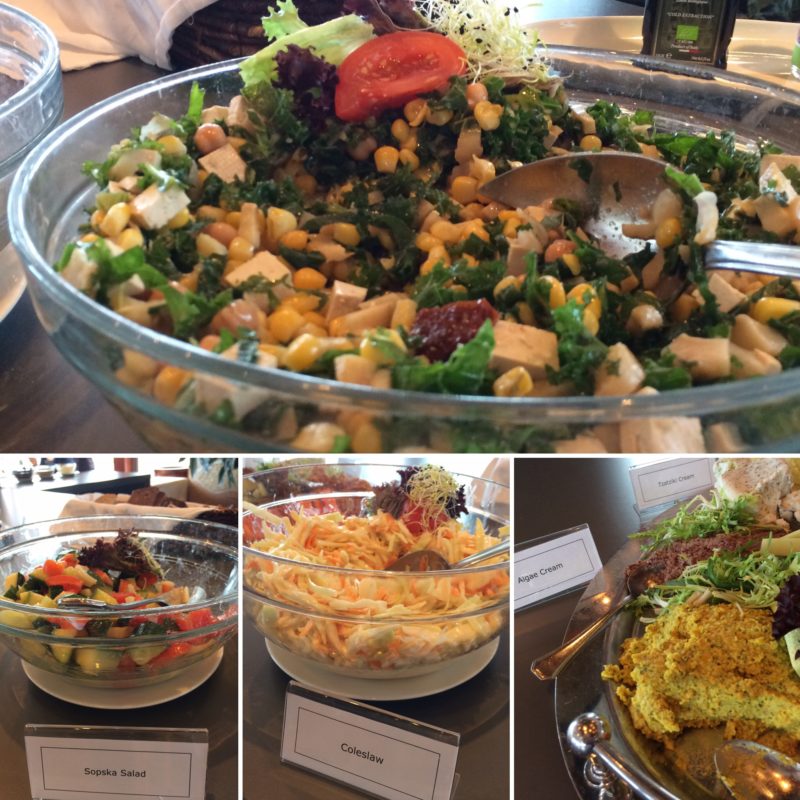 But, regardless of the names, everything served was tasty. During our five days onboard there was only one cheesy Bavarian spaetzle lunch dish I did not enjoy. But I don't like mac & cheese either, so I was never going to enjoy it. The accompanying potato rosti cake was lovely but the scramble-like cheesy noodle dish was not for me.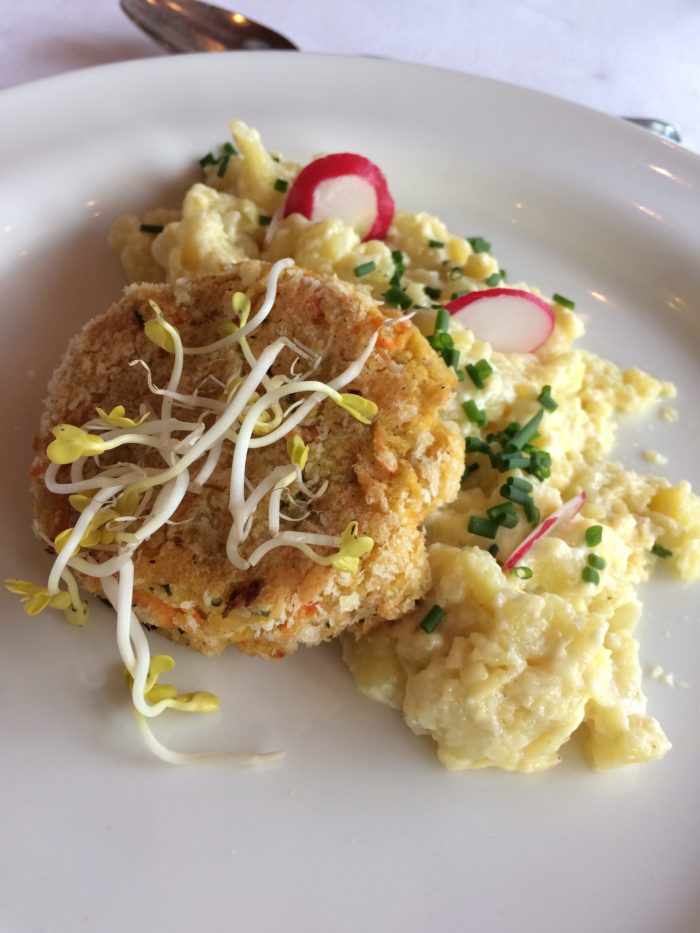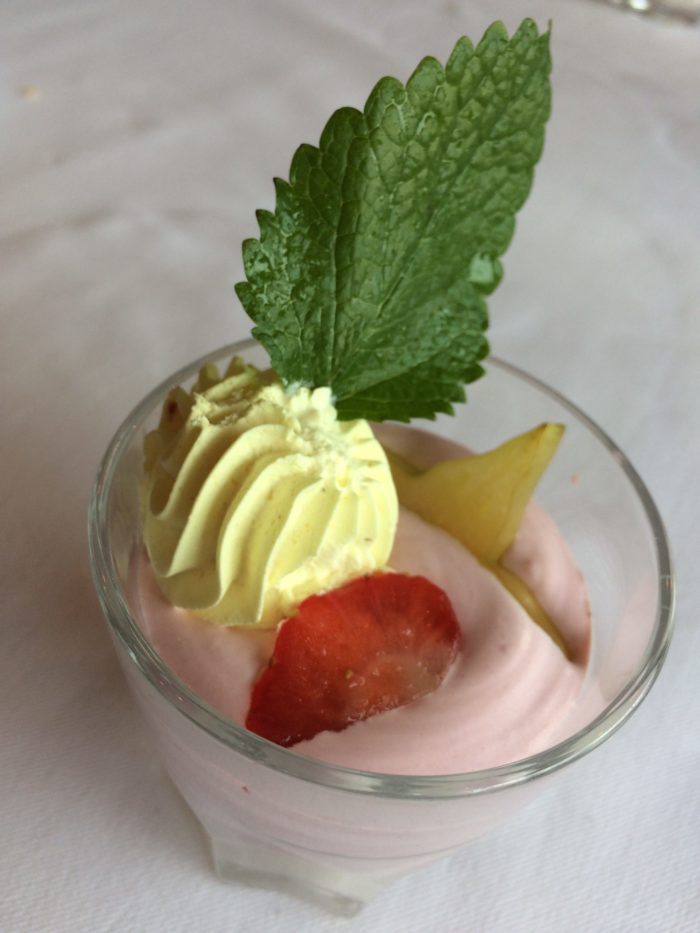 Evening dining on Vegan Travel's cruises?
Oh, let me show you! When you sail a mainstream cruise line as the rare vegan onboard, you're lucky if the vegetarian option can be made vegan. You often get offered chef's choice which can be as bad as that pasta dish I showed you earlier. But on Vegan Travel sailings dining is just as easy as the breakfast and lunches pictured above. Gluten-free options are available too. Evening menu on our river cruise differed from lunch choice by not having a salad buffet, but instead serving a salad starter/appetiser, in addition to the soup and choice of main and dessert.
On our festive sailing, house wine and soft drinks were free at dinner so I enjoyed some of that tasty Pinot Grigio over the few days on the Rhine. Vegan Travel sailings are generally full board for meals and you pay for drinks, just like on most regular cruises. But we were lucky on ours to include dinner drinks.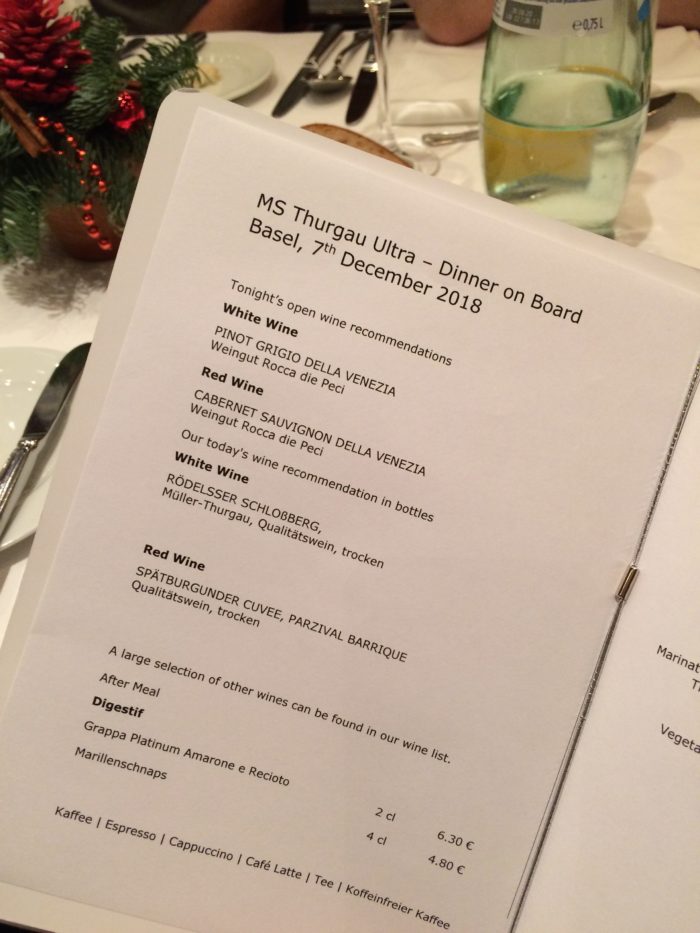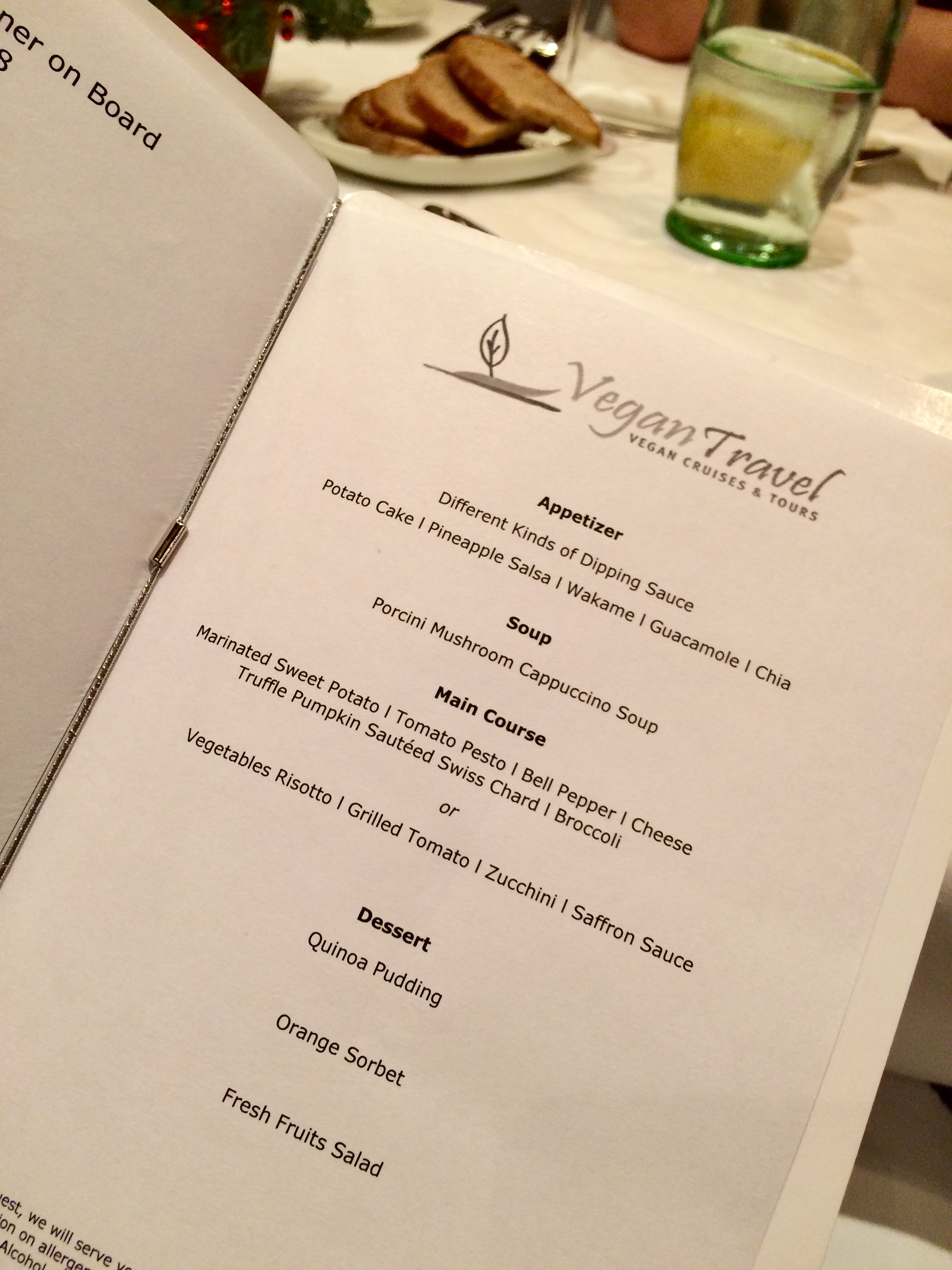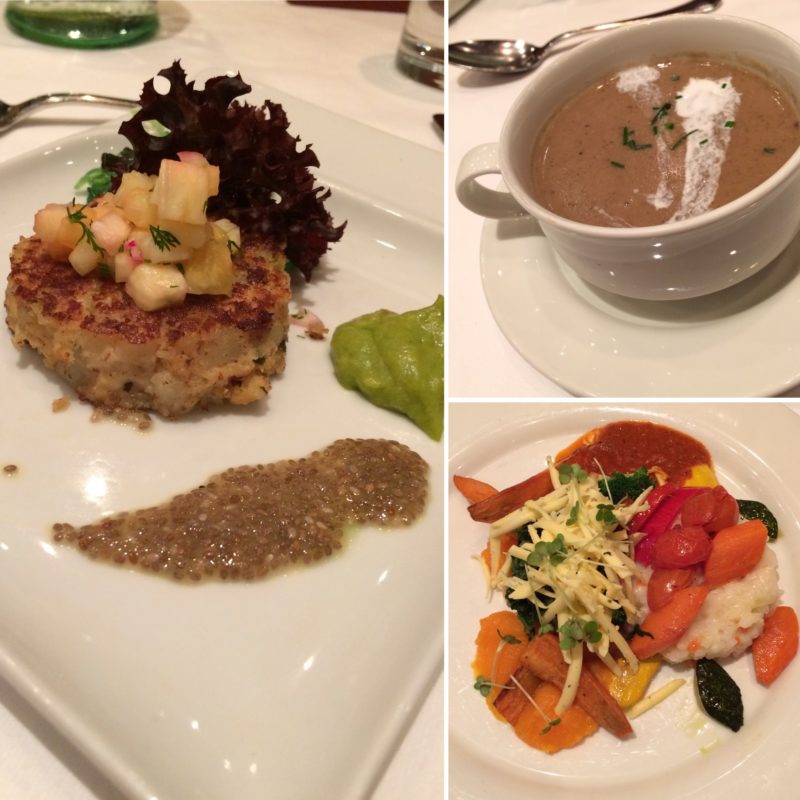 Our menu from the following night is here. As you can see, I did not opt for pudding on the first night, nor did I have one on night two. I was hoping for a slice of cake, but it wasn't forthcoming. Presumably because of the cooking facilities onboard, or the fact that cake was served at afternoon tea instead.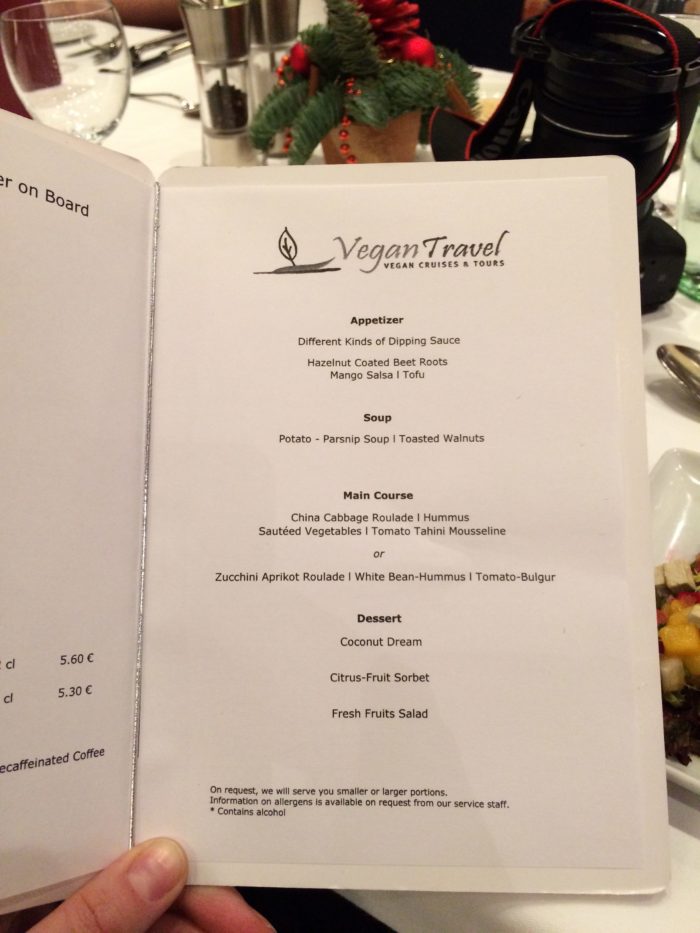 This hazelnut coated beetroot salad starter with mango salsa & tofu was not what I expected but it probably was my favourite of all dishes served on our sailing. The beetroot ended up being battered, tempura style, the sweet mango salsa was just a delight and the smoked tofu pieces was a match made in heaven. Could've had this time and time again.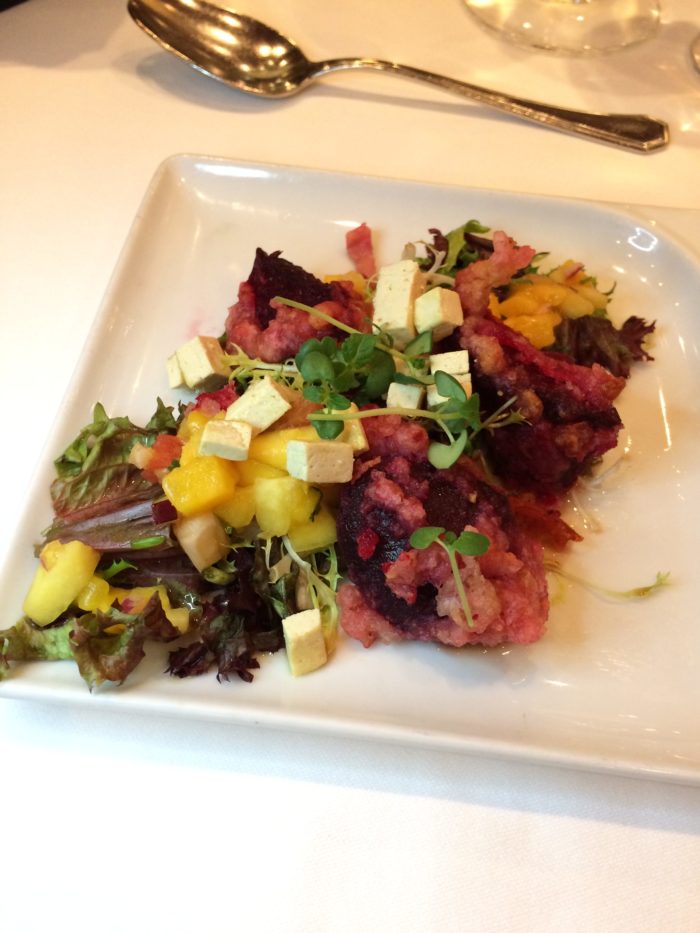 Soup course served was a parsnip soup. Perfectly acceptable. It's hard to be that excited over parsnip though. Mind, first night's mushroom cappuccino soup was something I would have never made myself and I didn't think I would enjoy it – but I did.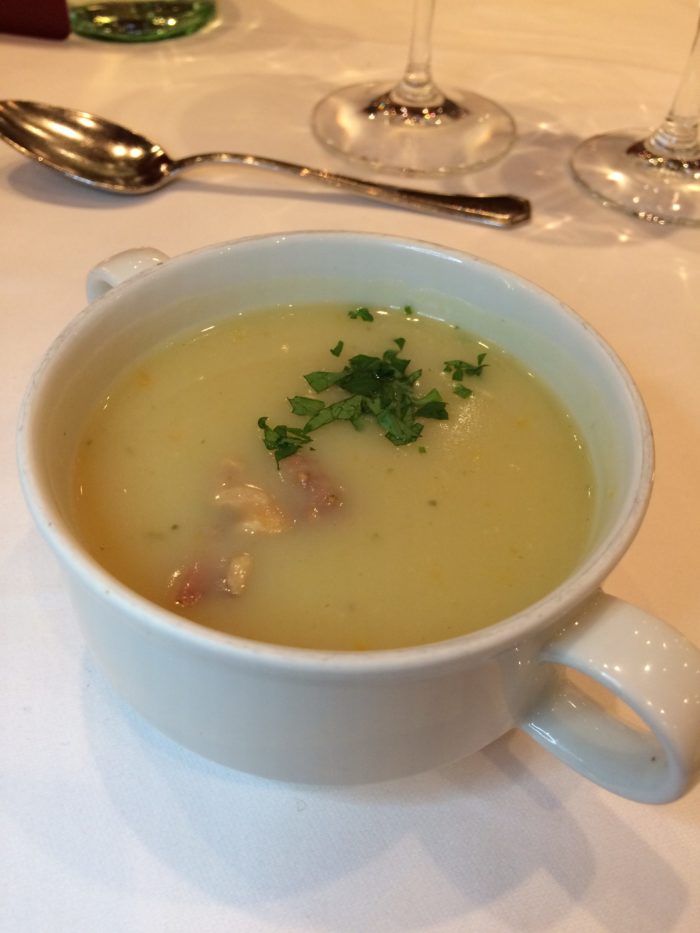 From the two main courses on offer, I opted for the filled cabbage leaves aka china cabbage roulade.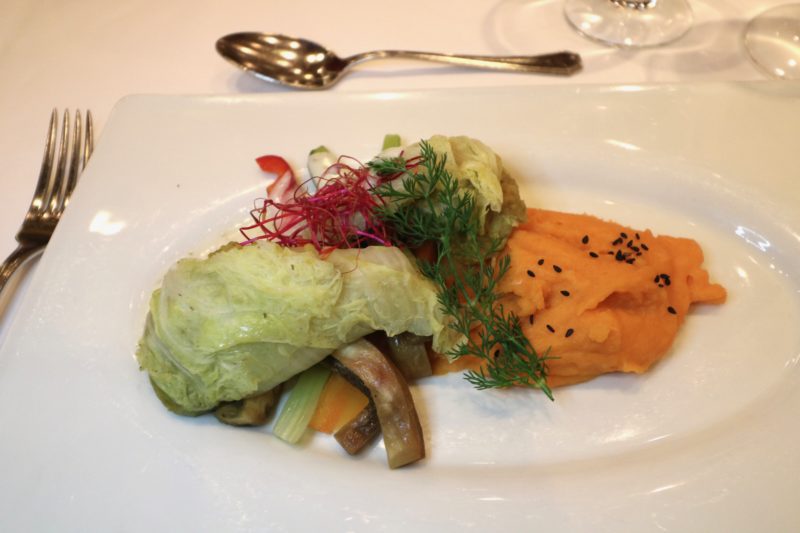 All the bread served onboard was wonderful. My favourite of all the sourdough we could get at dinnertime.. hence several slices pictured. Starter dish for day three's menu unfortunately got cropped out, but it was a savoury marinated watermelon steak served with salad, tofu and a ball of cream cheese. I found it tasty and interesting, while my friend thought savoury watermelon was a little too weird for her. See collage below for image.
Soup served was a bowl of curried carrot soup. The German potato puffer ended up being a thin potato cake, almost like a hash brown. There was no cake so I eventually opted for the semolina pudding with raspberry coulis. Very happy with dinner no3.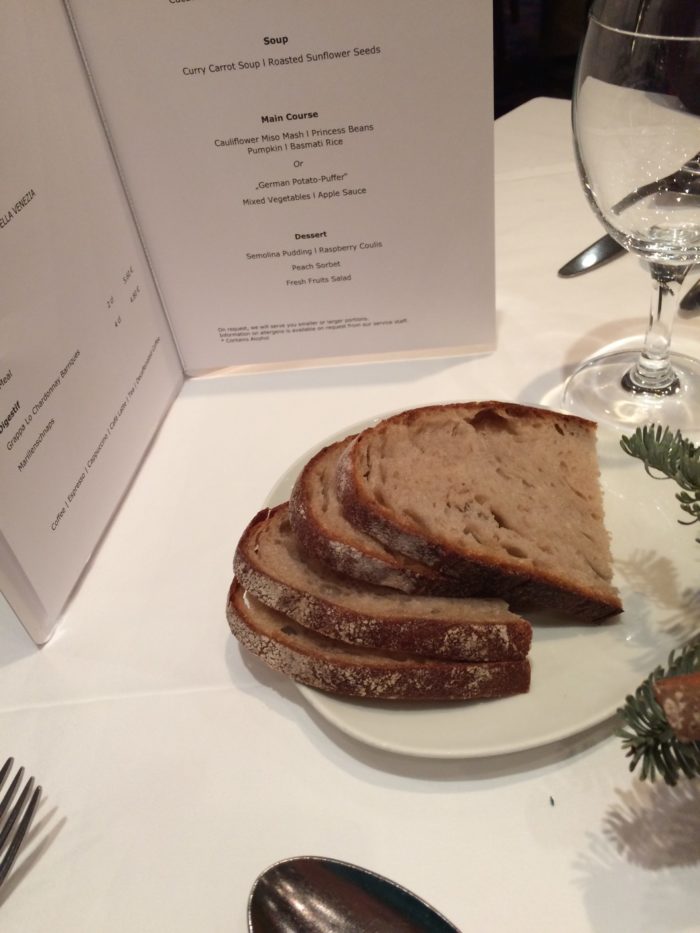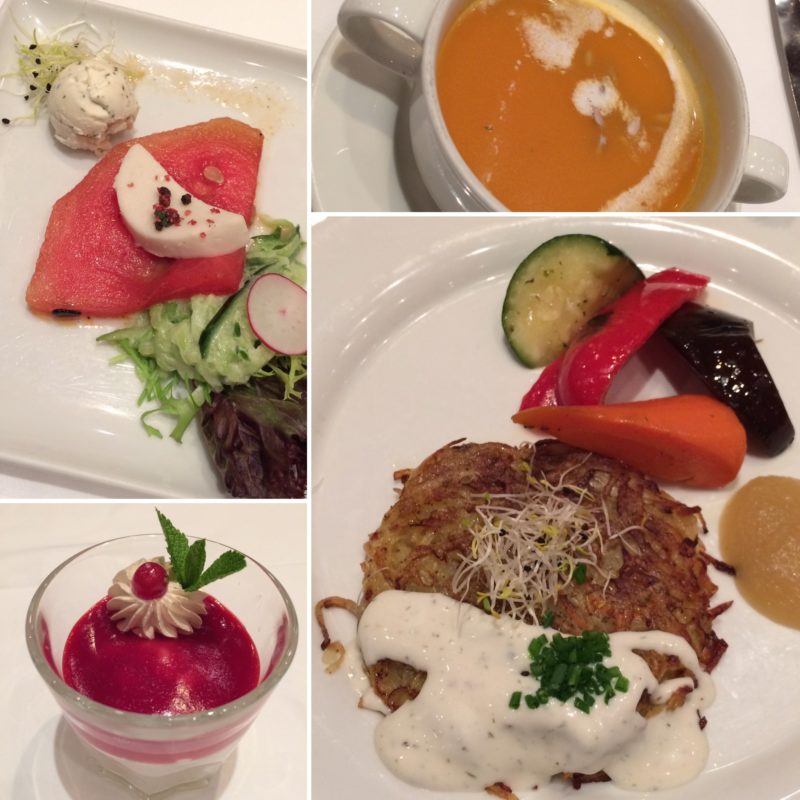 On night number four I just could not decide which main to have, so I asked for a half & half main course. I don't have a photo of the menu so cannot tell what my meals were meant to be, other than the soup was a lovely lemongrass-flavoured Thai soup. The fig & kiwi salad course was.. an interesting mix. Again, not something I would pair at home but it worked!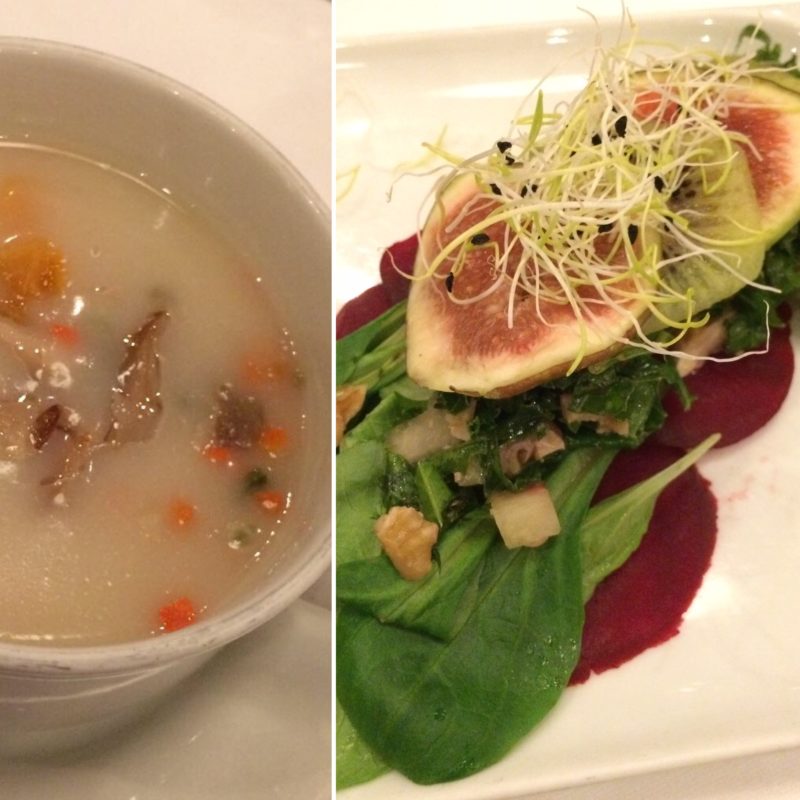 Because I couldn't decide, I asked for a half & half plate.. and was served a small portion of aubergine (eggplant) parmigiana with potato wedges. The other main pictured was a disk of sweet & sour tempeh on a bed of rice. I so should've ordered a large plate of the cheesy, breadcrumbed aubergine. So good! The tempeh dish was perfectly nice but… plated with a fried, crunchy breadcrumbed aubergine for me there always is just one winner. Don't know why I bothered with the healthier dish!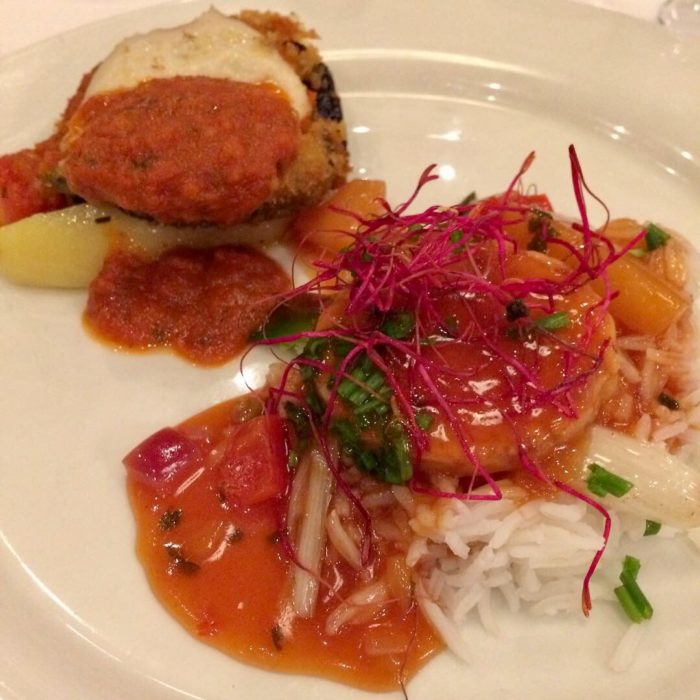 Dessert choices always offered sorbet and fruit which I stayed clear from (regular cruises serve them too often) so my pudding choice was a moussey banoffee dish. Sweet & creamy, and felt light as not cake but clearly calorie-laden 😉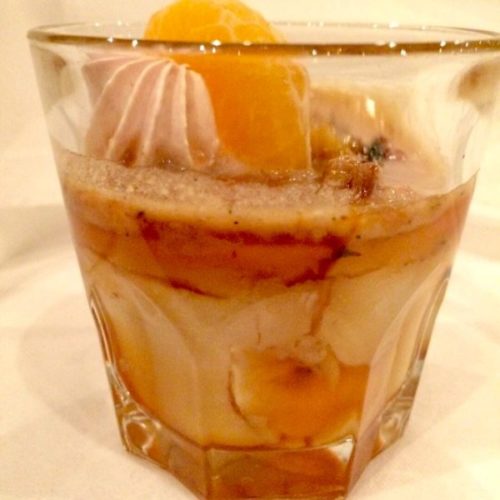 One last evening meal was an interesting mix of cuisines. A Mexican-y themed avocado & sweetcorn salsa starter, a Russian Borscht beetroot soup, middle-eastern Falafel main course and a rather western apple pie & custard. But it was all tasty & vegan and I couldn't have been happier. Except with a piece of chocolate cake, perhaps.
Compared to how regular cruises feed vegans, the whole five-night sailing was just a delight for being able to eat and drink everything onboard. And it was wonderful to meet so many lovely vegans, from all over the world. Most of us were Brits and German but we had guests onboard who had flown from US & Canada just for this vegan sailing. So many wonderful dinner conversations – we kept switching tables each night just to meet as many people as possible (seating was free for all, no allocations).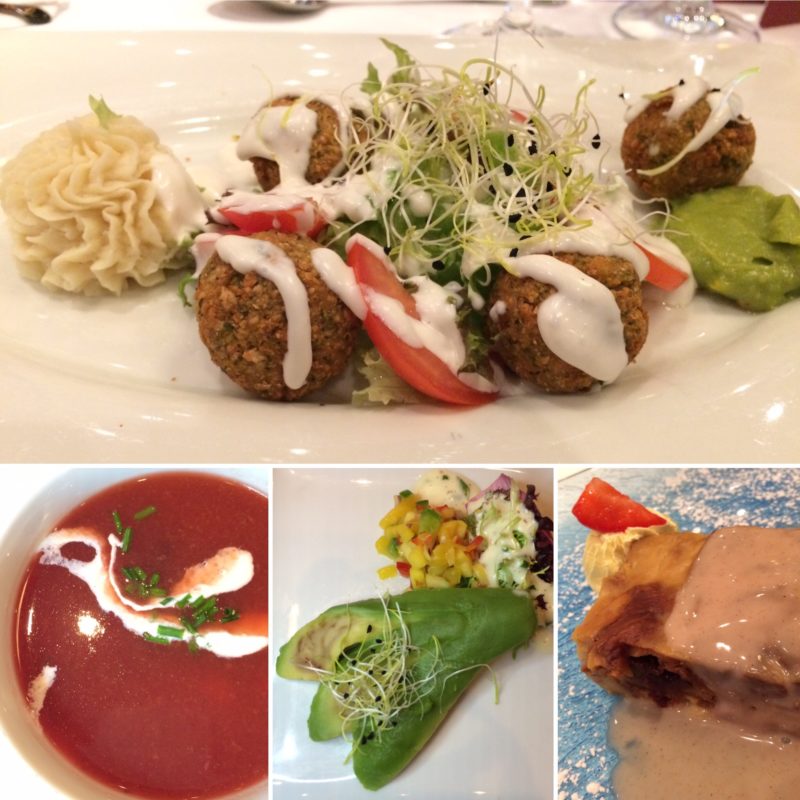 Tempted? Don't hesitate and book a sailing with Vegan Travel!
If you have had to endure a difficult mainstream cruise as a vegan and are worried about repeating that experience – don't worry. Instead, book one of these specialist sailings to see how easy vegan cruising can be. Such convenience for us vegans doesn't exist anywhere else. If you want evegan catering, animal product free travel & dining, you know what to do! Try one of these vegan cruises with Vegan Travel. There are a range of itineraries in various locations in 2019/2020. More Asia and new destinations coming in 2020. The river sailings and the Baltic ocean cruise are found on two differently named sites, so do check out both for more info.
To finish with I wanted to leave you two copies of the daily programme from our sailing. Just to show what a day onboard a river cruise can be like. And do check out the Christmas markets cruise & our ship on my separate post here. And do not forget this summer's Baltic ocean cruise if you want vegan ocean cruising!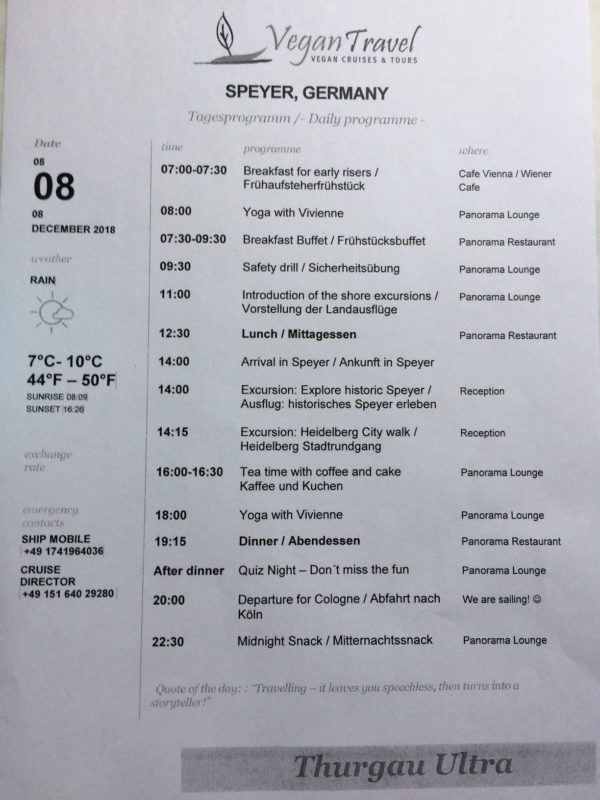 We were rather amused by the Midnight Snack… at 10.30pm. Call it supper, love.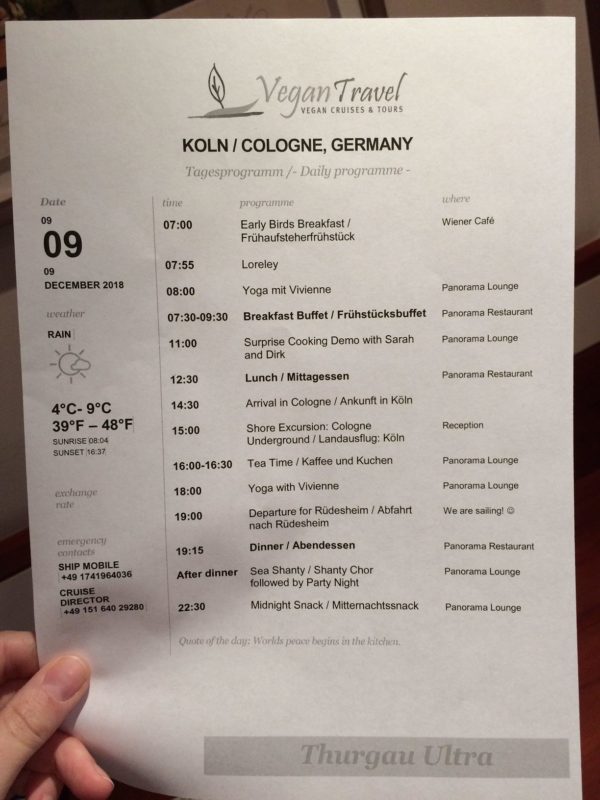 I hope all of the above was informational and tempting. Should you have any questions, please do not hesitate to ask. Any past cruisers out there wanting to give your review of Vegan Travel sailings, get in touch! I'd love to hear how you got on.
I enjoyed my sailing, and I think I ate much better & healthier than I do at home. No mock meats were served bar breakfast sausages and breakfast deli meats. The only food item that could be considered processed, or 'not a wholefood', was the tofu and tempeh onboard. Still, hardly an unhealthy option either of those.
Nearly everyone we met in December was a past cruiser who kept coming back to Vegan Travel. I will too – will you join me on one of these vegan cruises? The food alone should convince you to give them a try.