Get ready to meet the new Carnival Panorama!
August 11th, marked the start of the four-month countdown to the inaugural sailing of the brand new Carnival Panorama! A ship that is going to be firmly on my cruise wish-list, for all the fun onboard. And hopefully yours too. Let me tell you why exactly!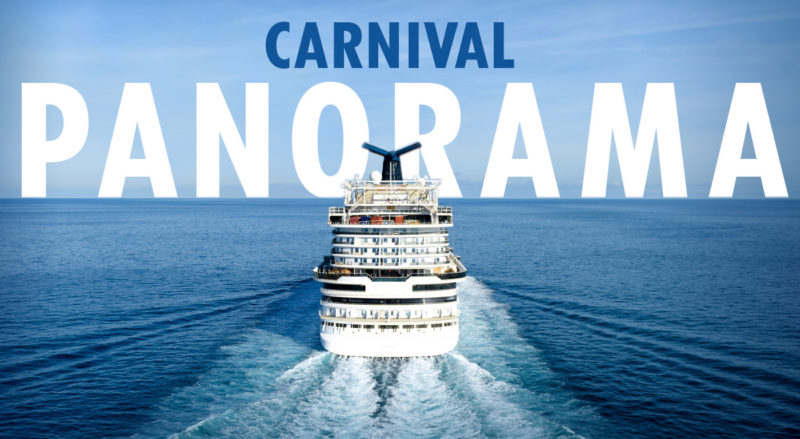 Who's that girl? (Carnival Panorama and her class)
The beauty that is Carnival Panorama recently passed her July sea trials with flying colours and is, at least right now, on schedule for the inaugural cruise in four months time. She will be the 3rd and latest Vista-class vessel on Carnival's fleet. At 133,000GT she is on the smaller end of modern cruise ships. Maximum passenger capacity is 4008 so she's definitely not a megaship. To give you a GT size comparison, she is a touch smaller than Royal Princess or P&O's Britannia. Around the same size as MSC's Fantasia class (Divina, Splendida etc).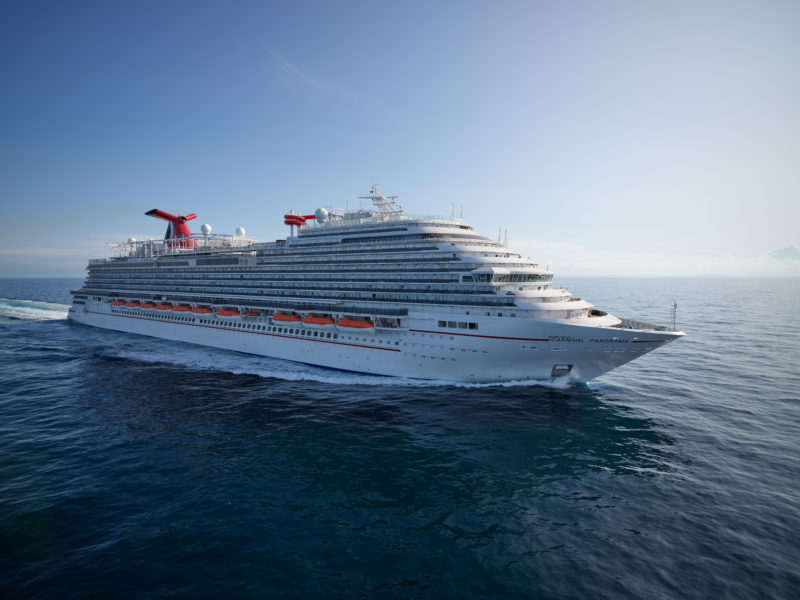 The earlier two Vista-class sisters spent some time cruising in Europe before sailing to their US homeports. I was lucky to sail Horizon on the Mediterranean in spring 2018 – hence my excitement over the new Carnival Panorama. Those who have sailed on the two near-identical sisters (Vista and Horizon) will be very familiar with the new Panorama – although there are a few new changes. You'll find out about those further in this piece.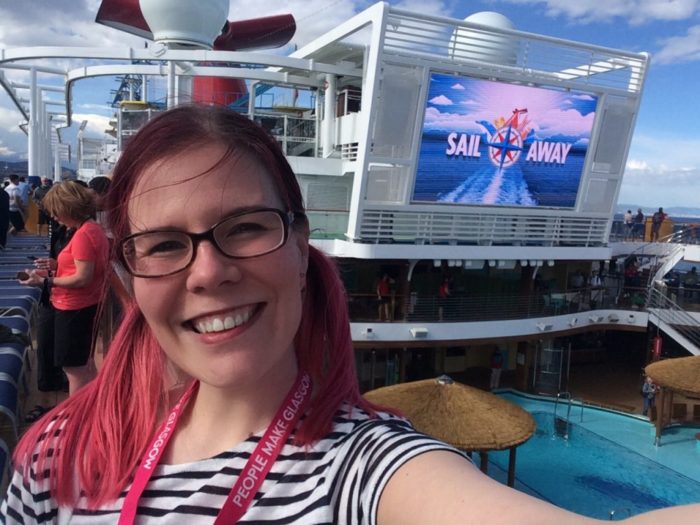 I loved Panorama's sister Horizon so I will l use my experience and photos of the ship to make my point on why YOU ought to keep Panorama in mind for the future. But I am not excited over Panorama just for the ship but her new home too – Long Beach, California. Brand new Carnival ship on the US West Coast.. sailing to the Mexican Riviera! Sounds like the perfect excuse to visit the West Coast and then sail away!
Let me share my love for the Vista-class with ten chosen F words, words featuring the letter F. Just because to choose Carnival, is to Choose Fun. So, no surprise that my first word is:
FUN!
Carnival proudly call themselves Fun Ships. And they truly are, based on my cruises with them. Many UK cruisers eschew Carnival for being 'party boats', not considering the fact that short P&O weekend sailings are a livelier than standard week-long cruises too. In the same way, consider the Carnival ship/itinerary, the length of sailing and potential public holidays that might affect the sailing's demographics. Just like with any other cruise line.
If you usually enjoy young (at heart) informal cruising a la Royal Caribbean, MSC and NCL, I am convinced you will feel at home at Carnival too. And once you switch, you may find yourself choosing Fun. Again and again. And while Carnival sailings generally feature some formal nights in the same way that Royal Caribbean does – these formal nights are not enforced stuffy affairs. You can dress up, if that is your idea of fun.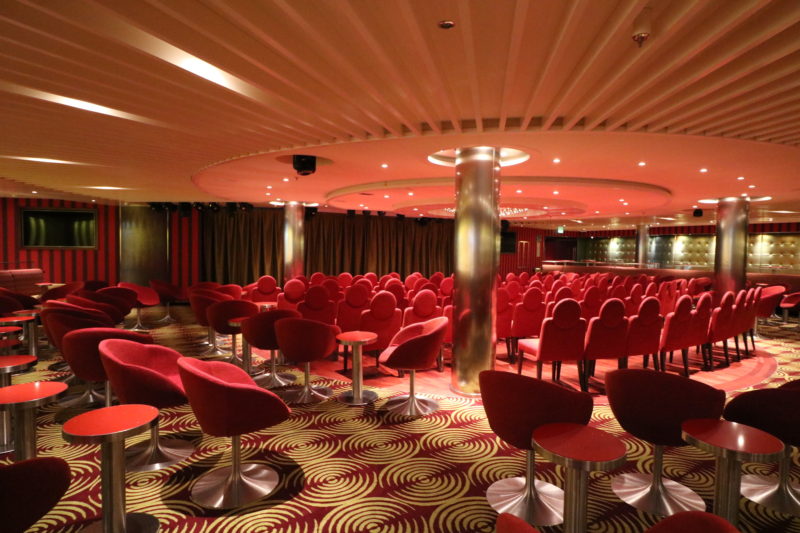 For an evening fun & laughter, head to Carnival Panorama's popular comedy club Punchliner for any of the shows, either early evening family-friendly comedy or the later, adult-only show with more linguistic freedom. On our Horizon sailing we had various comedians onboard, changing at different ports. Great routines – just stay clear of the front rows if you don't want to be picked on.
Naturally, Carnival Panorama will feature a Playlist Productions theatre show each night, with music, singing, acrobatics and dance performances. But if theatre shows aren't your thing, worry not, the Punchliner and other venues will have plenty on at the same time.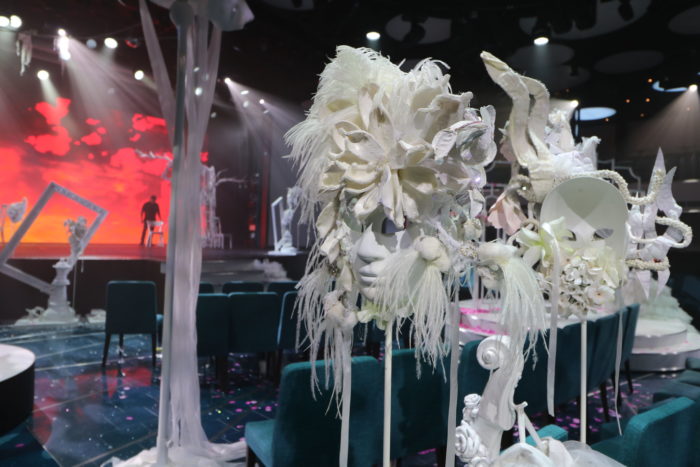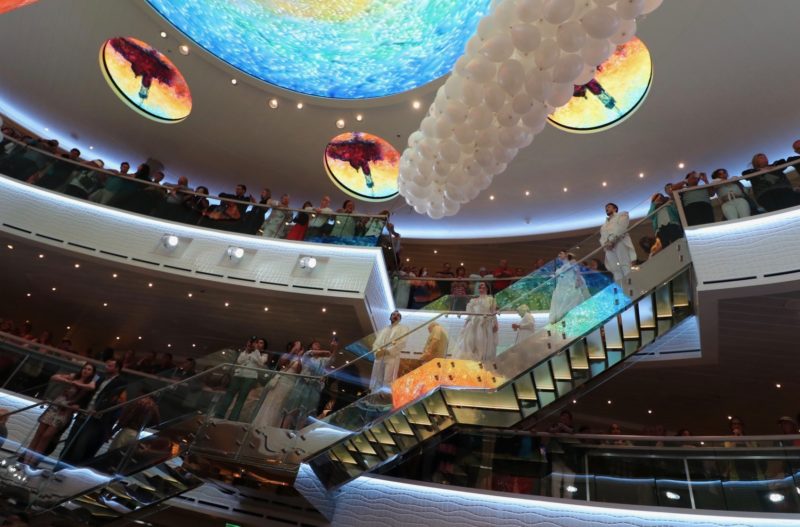 One of my many highlights onboard Horizon was the guest Lip Sync Battle. The auditions commenced on the lido deck one day and culminated in the final showcase between two best performers at the end of the cruise. But traditional cruise game shows like Mrs & Mrs (aka Marriage Game) are also on. I loved how on one of the evenings there was a family-focussed Hasbro The Gameshow on in the theatre. The Cruise Director and his Fun Squad have plenty on each day at various times and locations around the ship to keep you entertained.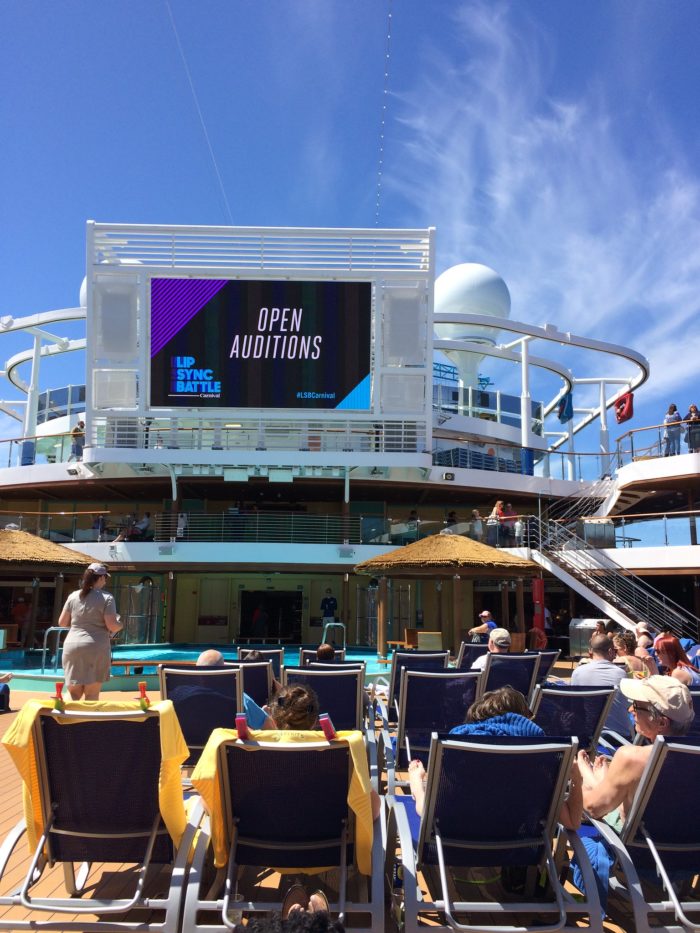 I have two more Carnival cruises booked for 2020 – and am hoping for many more. And for your first taste of Carnival fun, Panorama would be perfect because of all the following:
F2 is for.. FEATURES
And not just features but free features! Panorama, like her Vista-class sisters, has the iconic SkyRide on the upper lido. This feature allows you to cycle on a suspended-from-above bike, 140feet over the water, enjoying the views of the ship and surrounding sea (or port). I don't know how many times I rode the SkyRide as it is free. Sometimes there was a queue, but occasionally I was able to pretty much just walk right in.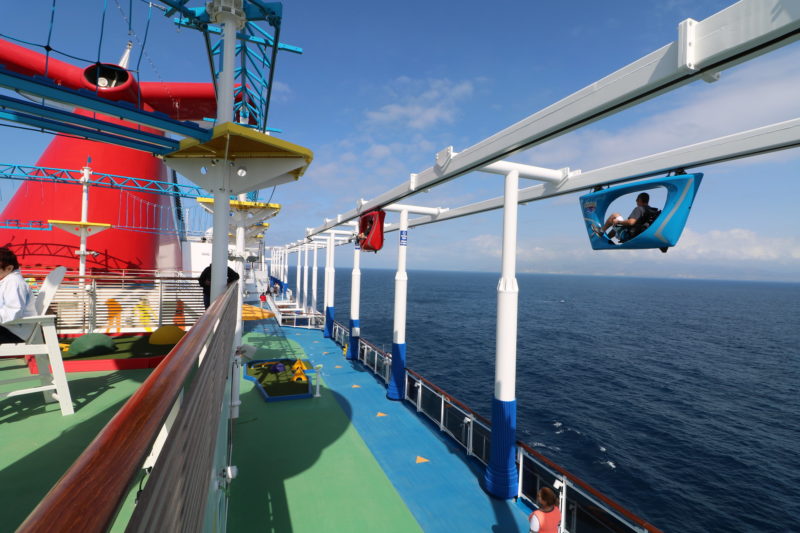 Right next to the SkyRide station is the free SkyCourse rope circuit entrance. Underneath is the Sports Square for family games, foosball tables and more. All the way around is the SkyTrack jogging/walking track, if you wish to do a few laps in the open air. Further to the aft you will find the SkyCourt for ballgames, and SkyGym for outdoor gym equipment.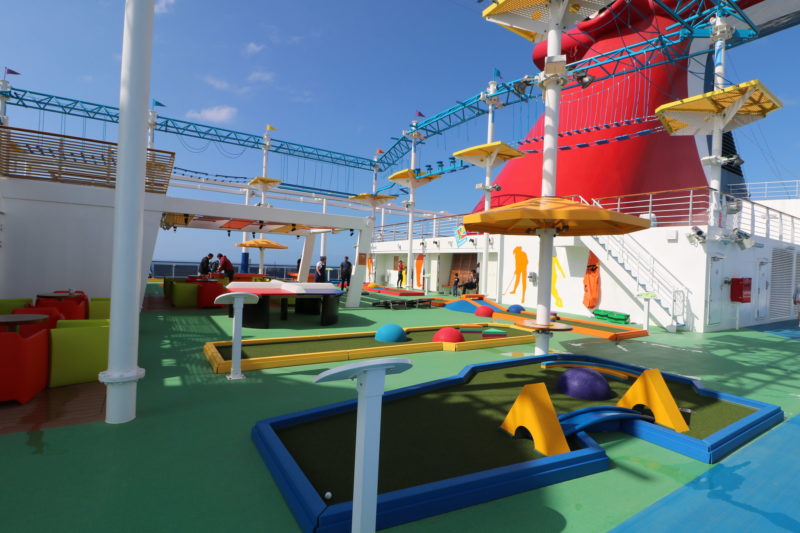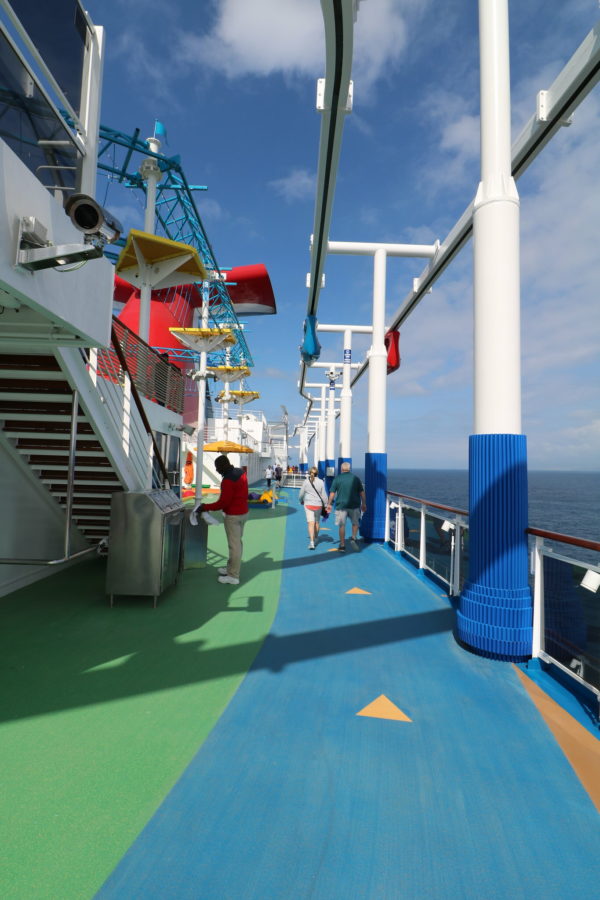 New to Carnival Panorama, is the SkyZone indoor trampoline park – the first of its kind on any cruise ship! It spans 2 decks in height, is 3000 square feet in size, and features a large trampoline court and challenge zone offering a variety of activities for all ages. There will be gravity-defying dodgeball games and slam dunk basketball experiences for those who want a day of trampolining fun. Sessions cater for all, starting with daytime toddler fun sessions to night-time black light Glow parties for grown-up guests.
There will be a cover charge for the SkyZone (pricing not available as yet). Similarly there is a charge for the IMAX accompanying the space on sisters Horizon & Vista too.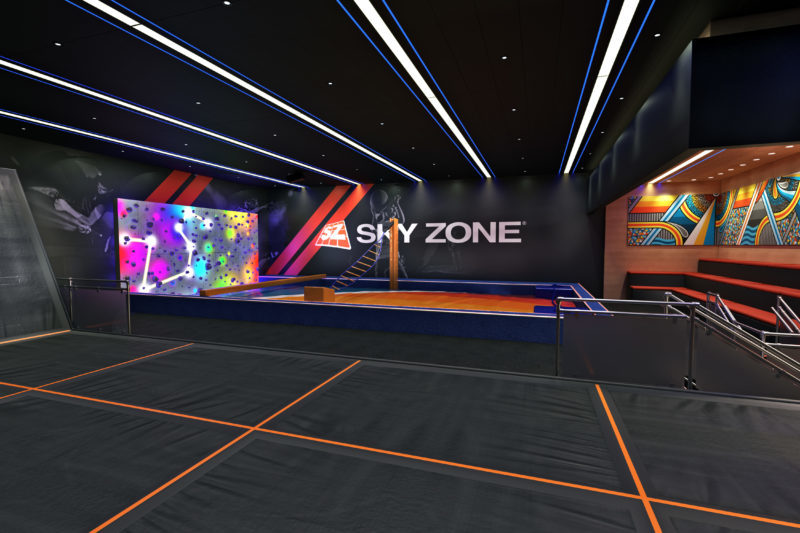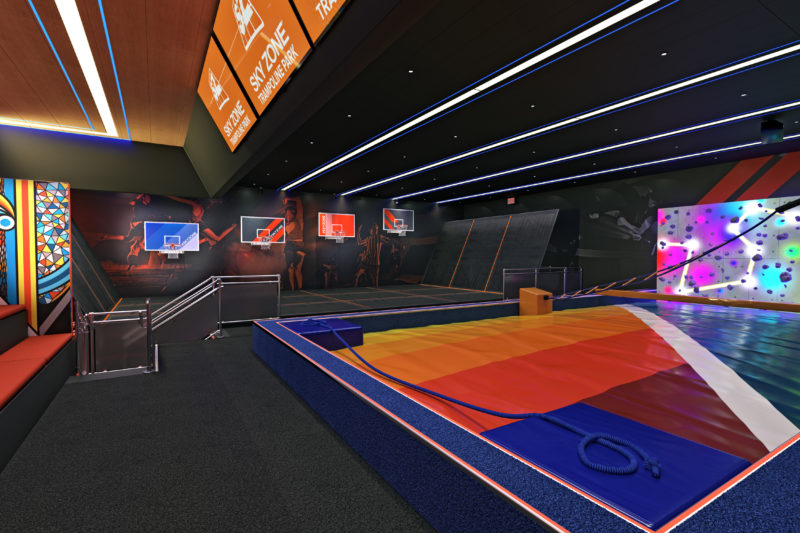 One feature we girls especially loved about the Vista-class was the adult-only Serenity deck far forward of the ship. Again free and no booking required! Turn up early and you get a comfy lounger, the semi-covered round pods were our personal faves. And what's amazing compared to some other ships out there, you do not have to spend a penny to enjoy this experience. There is no pool here, but there are jacuzzis and there is waiter service from the Serenity bar. The waterpark entrance is not far either, if you need to cool down. The main lido pool area is down just two flights of stairs.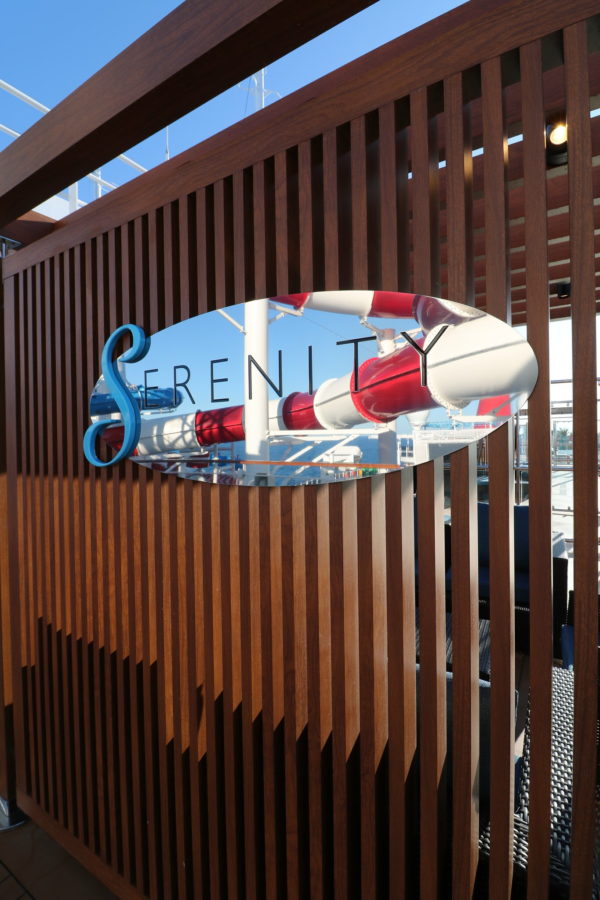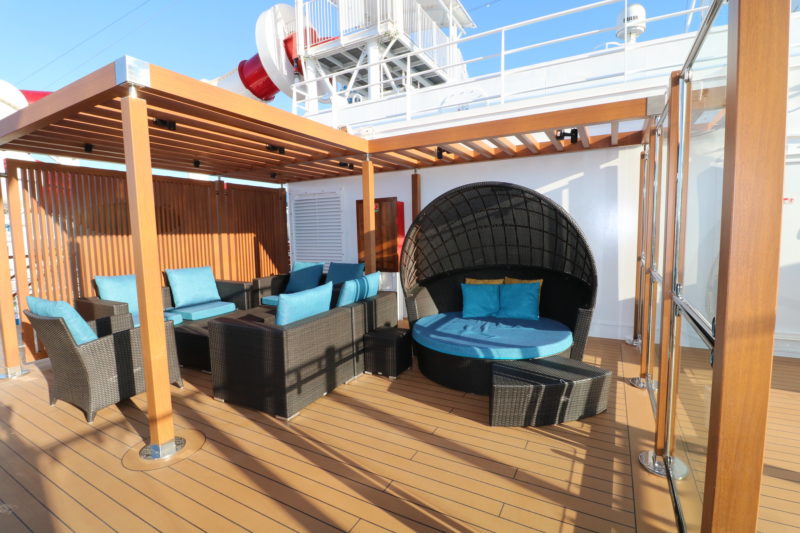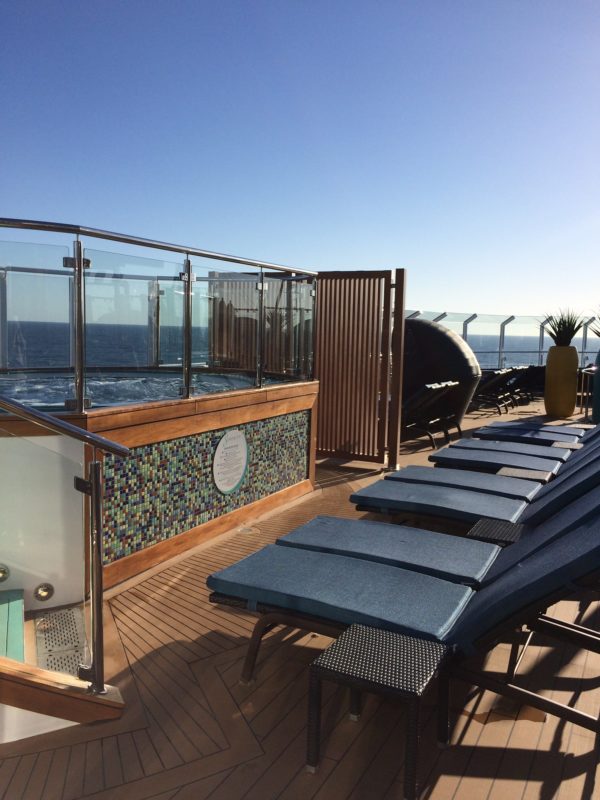 For fun indoor feature one must mention the Piano Bar too. I know, Piano Bars aren't usually anything to be excited about. They're generally more 'yawn' that fun. On the Horizon, however, our night time pianist Eden had us in stitches during his evening shows. We discovered the PianoBar almost by accident, on our way back from the late-night comedy. We thought we should see it at least once, tick it off our list, but as we walked in Eden was in the middle of one particularly x-rated Tenacious D song. It stopped us in our tracks. We swiftly parked our bums down and enjoyed the cheeky chat and his selection of tunes.. which you could request, along with a small tip. So do not miss the Piano Bar onboard Panorama!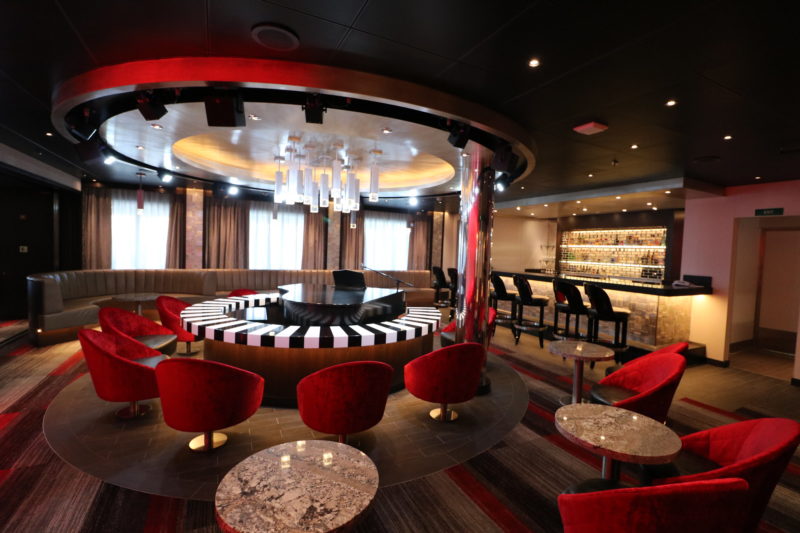 My one ultimate dream feature to enjoy on Carnival Panorama would be one of the exclusive Havana experience cabins. These are, as the name says, Havana themed in colour & decor and they have exclusive access to the private Havana aft pool area & bar. How beautiful does this look – and you will have gorgeous aft views to enjoy too. Consider this exclusive ship within a ship if you want your Carnival Panorama sailing to be one to remember.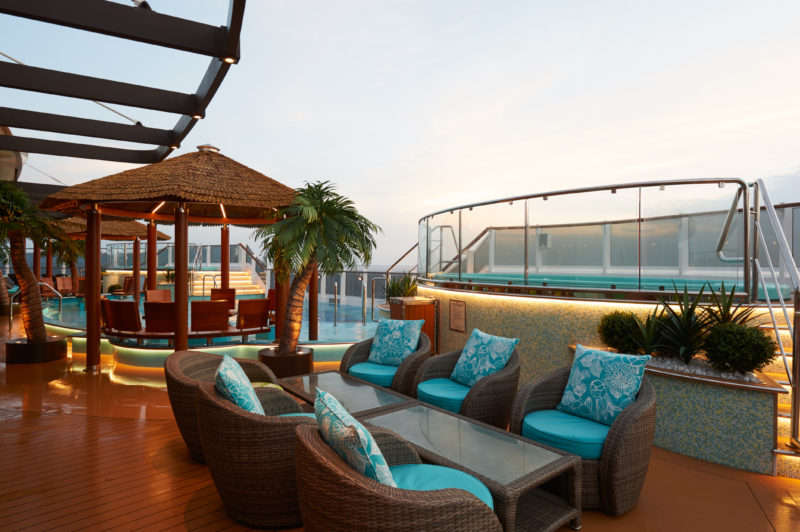 The complex isn't adult only, but only families with children over the age of 12 can book this exclusive complex. The Havana bar offers Cuban-themed cocktails, live music (Latin trio) or a DJ at night. You can salsa the night away here, as the bar is open to all guests, not just Havana residents.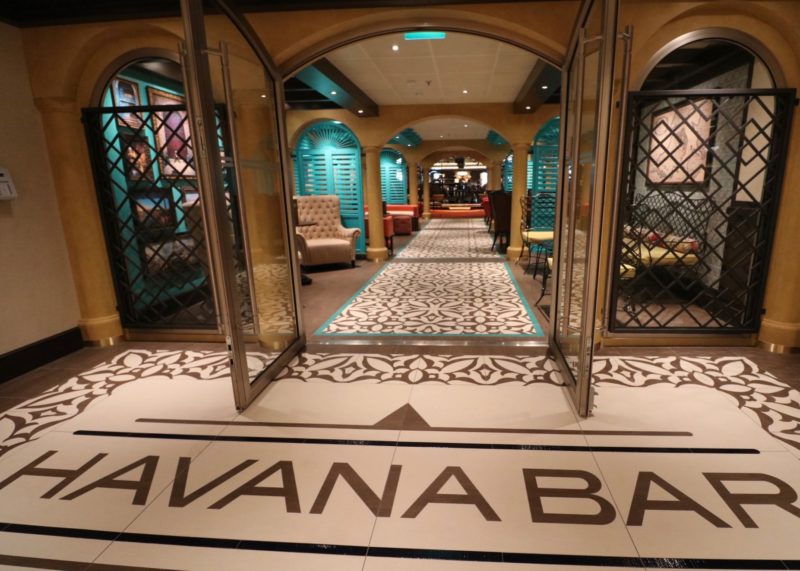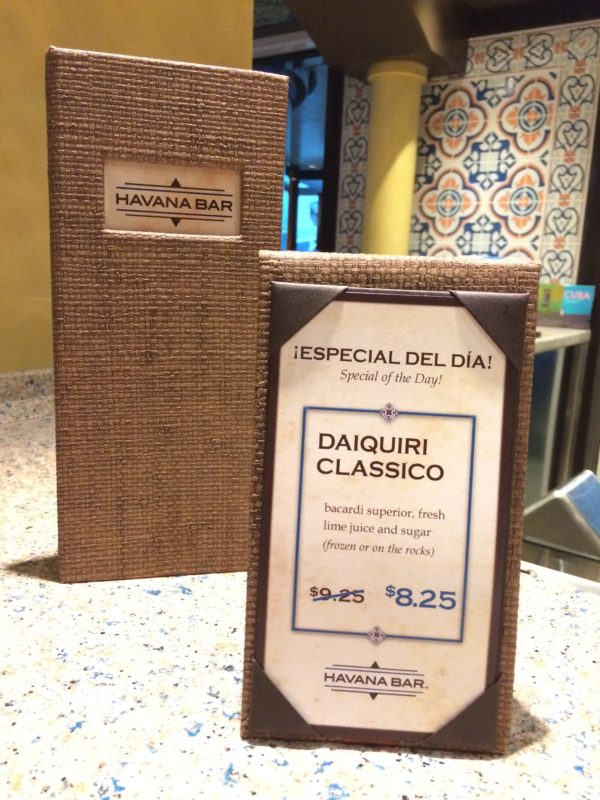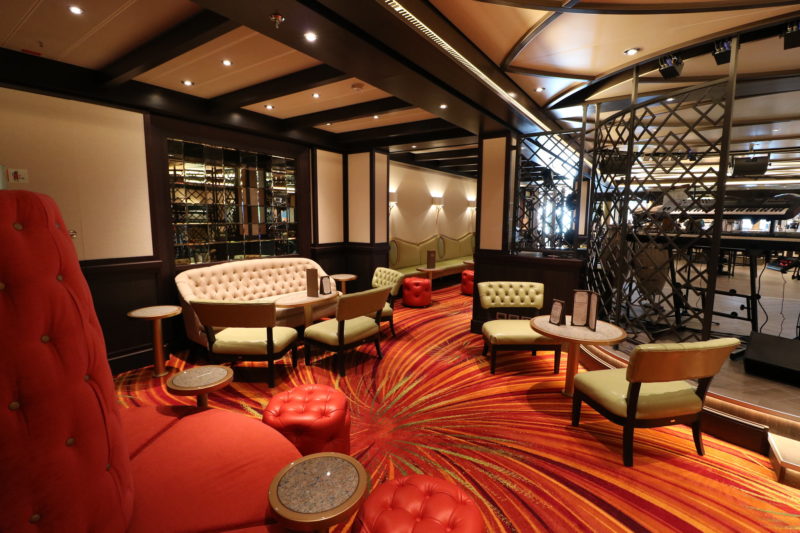 My Panorama dream is one of the 'Havana Oceanview with Patio Cabana' cabins, for the excellent outdoor space, loungers, and hammock-style swing. Just see this video (and the render below) why… and you too may dream of your own Havana Cabana shortly. Carnival Panorama's waiting for you too!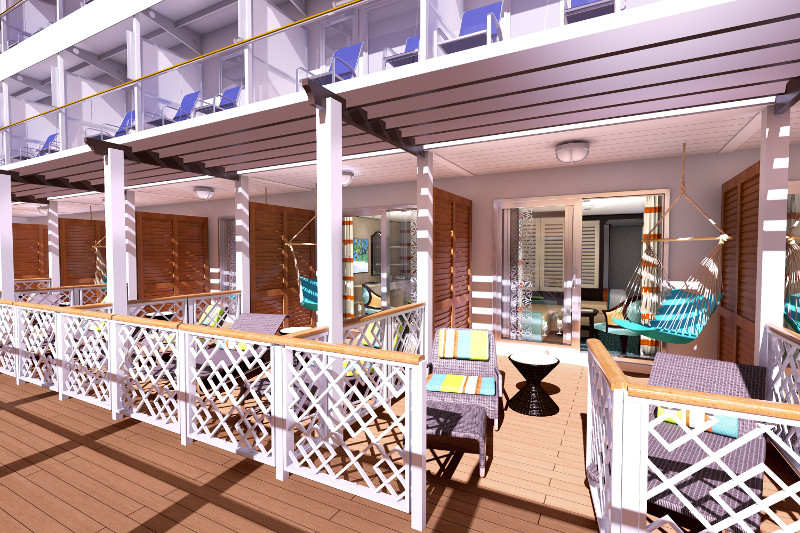 F3 is for FLOW
Flow as in water. Not just the beautiful ocean that Panorama glides through on her way to the next destination. But the flowing water in the pools – and in the fun waterpark. My favourite part of the lido experience, since I am a big kid. On Horizon the splash & waterpark is a Dr Seuss-themed experience. On Panorama it will be Carnival WaterWorks but offers just the same. There are small splash slides & water features for little ones. The two tall water slides (one water only, another for an inflatable ring) are for all ages. Minimum height restriction applies, however.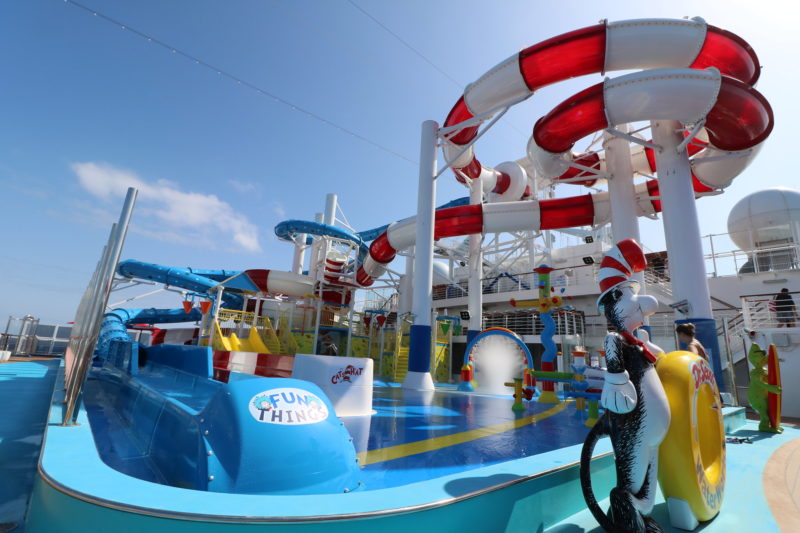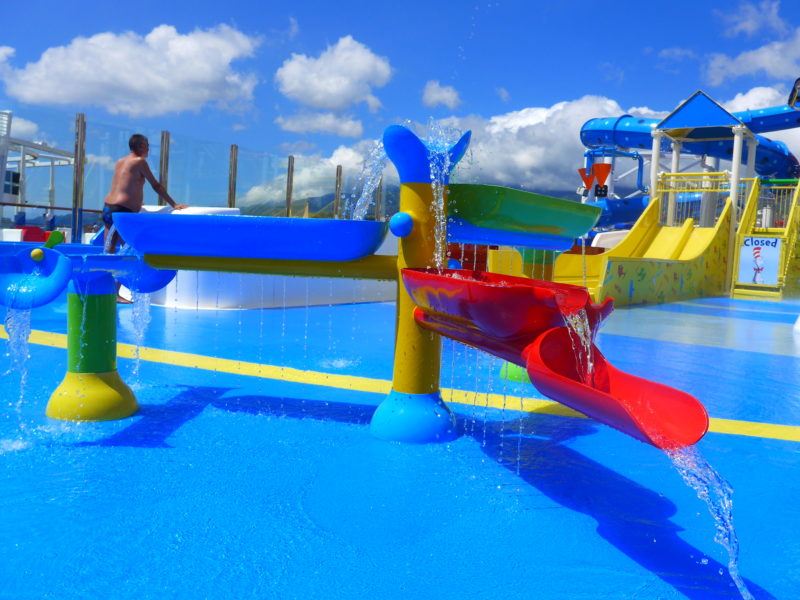 And if you enjoy aft pools for the views (I am a fan myself) Carnival Panorama features smaller aft pool and jacuzzis to enjoy at the back of the Marketplace buffet on the Lido deck. This is a great calmer spot if you want to get away from the bustle of the main pool, the entertainment, the big cinema screen to enjoy the sea views. The Panorama aft pool area also hosts the onboard pizzeria, the Tides bar and another specialty-dining fast food venue to enjoy… but see F6 for that.
Main poolside on Carnival cruises offers plenty of entertainment on sea days. There are daytime films on the screen and events such as the popular 'Groove for St Jude' (Children's hospital) charity lido dance party fundraiser. The Lip Synch Battle auditions take place here as well… weather permitting, obviously. Can't imagine that being a problem on Carnival Panorama though. California to Mexican Riviera should be plain sailings all the way!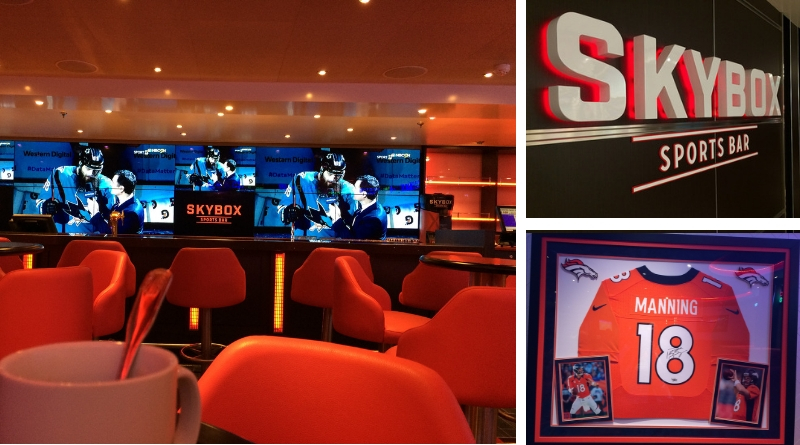 And naturally, as on any cruise ship.. drink flows in various bars across the ship. We quite enjoyed having the sports bar pretty much to ourselves during the Stanley Cup playoff games. Even the trendy library comes with a Vinomatic wine dispenser. My kinda library, indeed!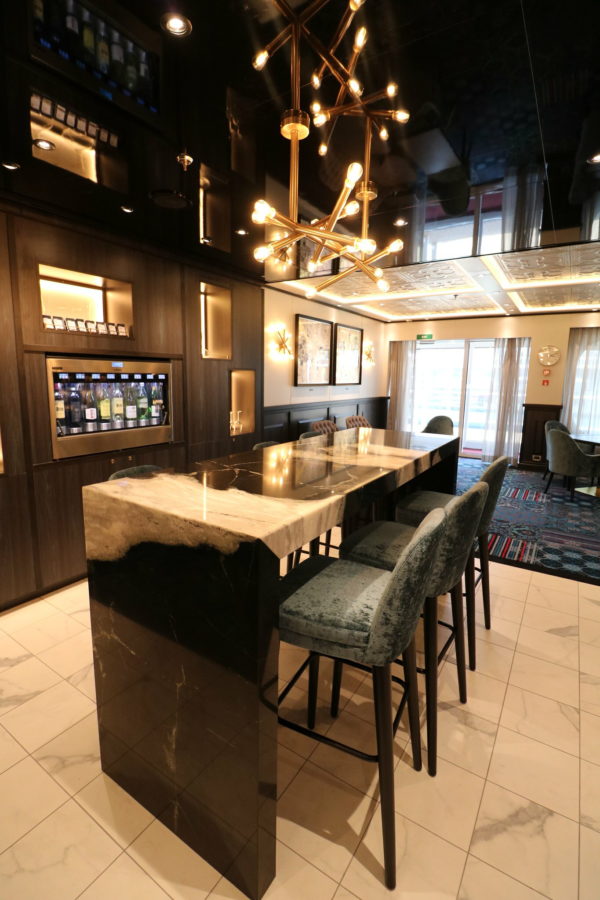 And must not forget The Alchemy cocktail bar. Or for drinks in the sun, the Blue Iguana Tequila Bar and the Red Frog Rum Bar on the Carnival Panorama Lido will quench your thirst.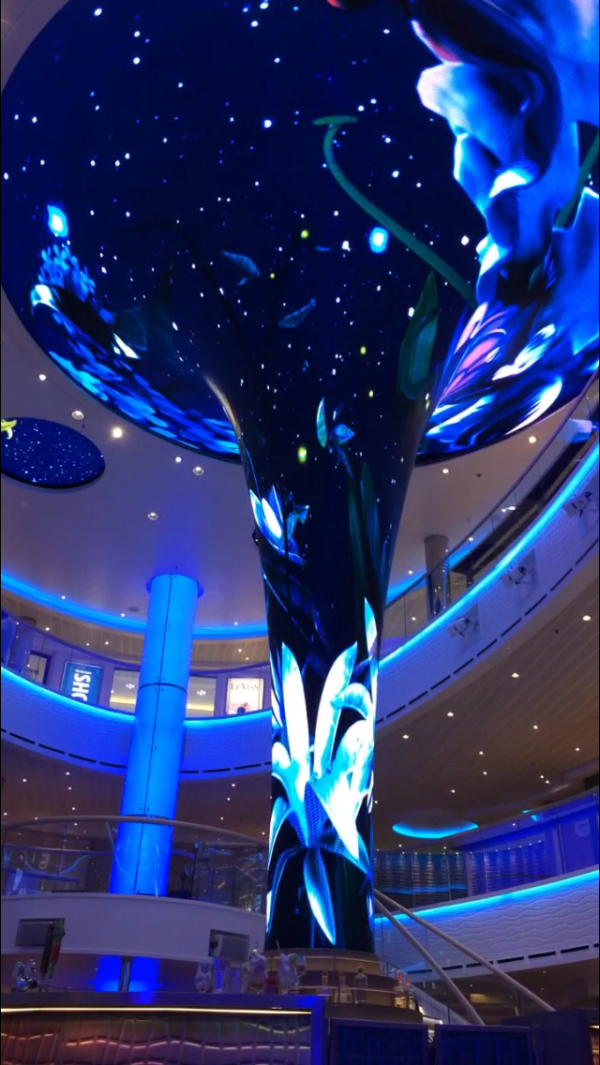 And how could I not mention the amazing, ever-changing imagery flowing in LED Dreamscape funnel in the Atrium. Many a night I sat there mesmerised, with my camera on timelapse mode and drink in my hand. I'm sure you too will enjoy the Dreamscape on Carnival Panorama.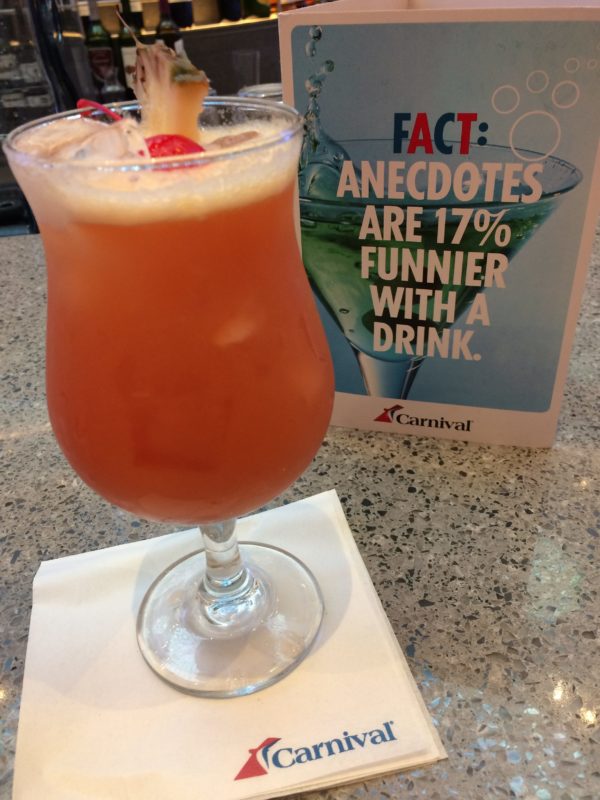 There is a smaller, equally captivating Dreamscape LED funnel in the Casino Bar as well. You can enjoy it from two levels.. the stingray animation was my personal favourite of all I saw it display.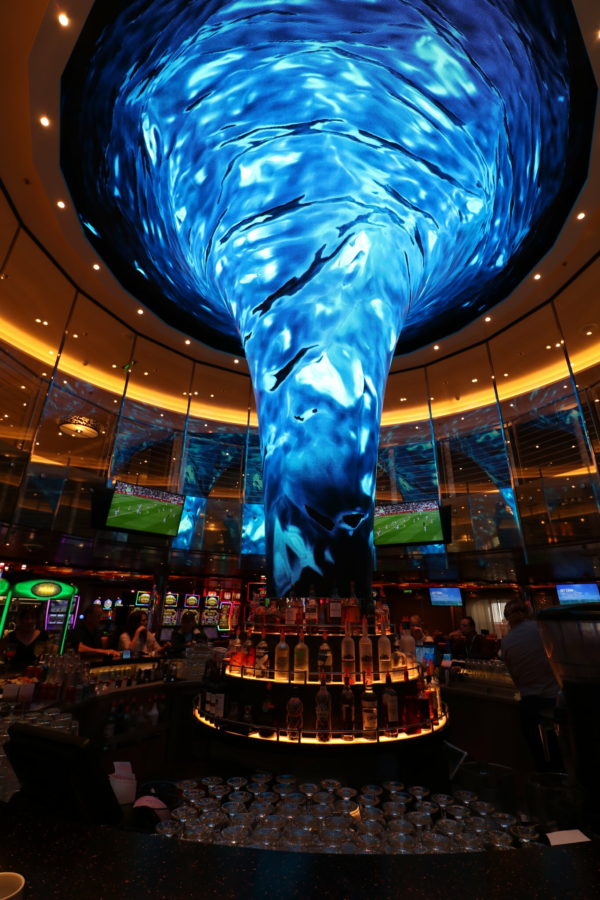 F4 is for FAMILY
For a cruise line with a reputation fun, Carnival is also fun for kids. The main pool on the lido offers a selection of floating vests for kids. The WaterWorks feature looks right onto this main pool. Camp Ocean kids' clubs for 2-11 yrs is found on the opposite side of the Lido, near the Sports Square and conveniently above the Marketplace buffet.
Families with young kids will be pleased to hear that Carnival kids' clubs start at 2 years of age – as some companies run kids' clubs for 3s and above only. Camp Ocean groups are: Penguins (2 to 5 years), Stingrays (6 to 8 years) and Sharks (9 to 11 years)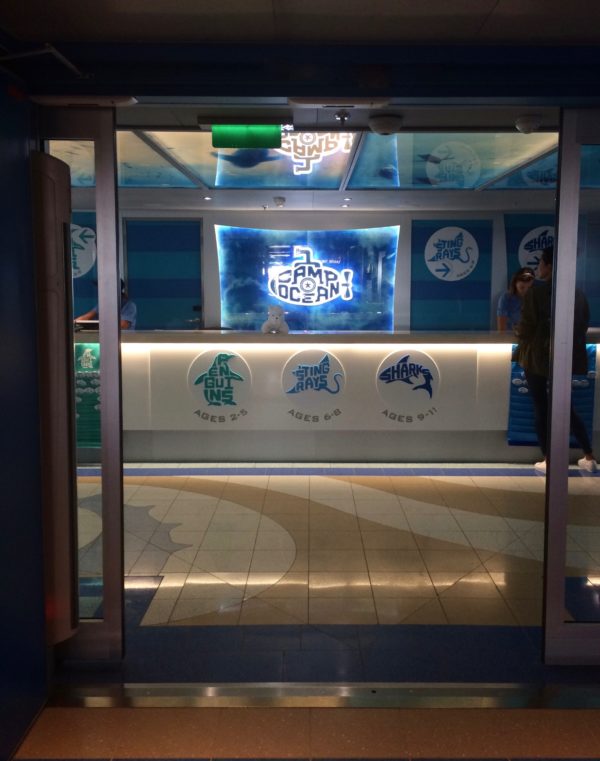 Older kids' facilities are located elsewhere, with Circle C for 12 to 14-year-olds, and Club O2 for 15 to 17 year-olds. I'm quite jealous, never did I have anywhere as cool to hang out in as cruising teen as these two venues! And the onboard arcade was so much fun too – table hockey being one to tempt me.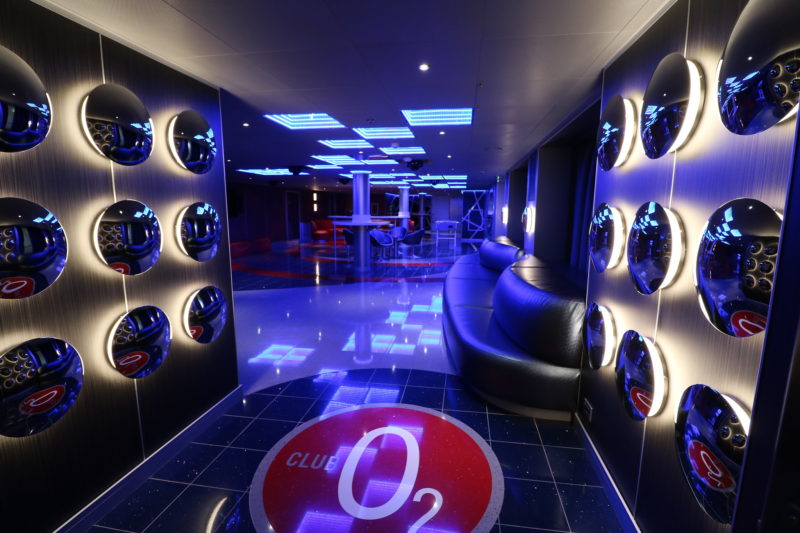 For cruising families, Carnival Panorama offers bright, nautically-themed family cabins & lounge option called Family Harbor. This you will find on deck 2. Some of the spacious family cabins can sleep up to 5 guests. Cabin range within Family Harbor has everything from insides to suites, fitting most budgets.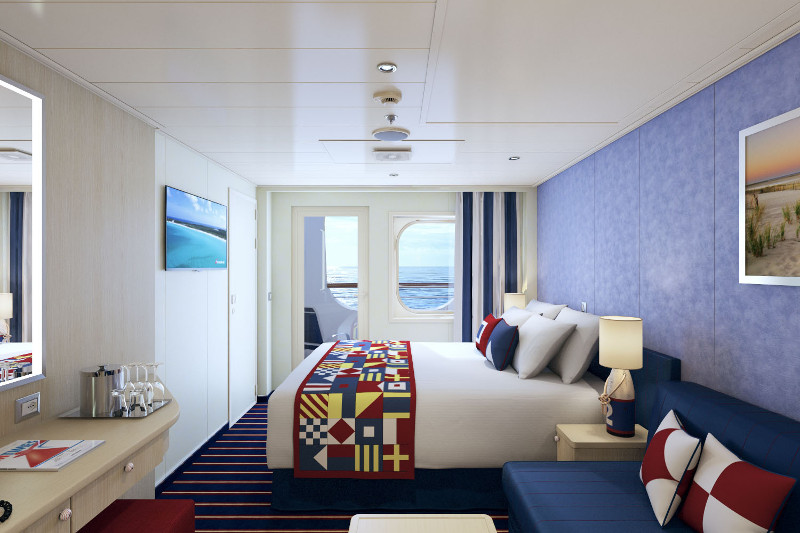 The PR image provided by Carnival features a Family Harbor cove balcony sleeping four. I so love the nautical interiors!
In addition to the master bed, there is a hidden pullman bed in the ceiling and the sofa converts into a bed. The Family Harbor deluxe cabins sleeping five are similar but with two pullmans along the length of the cabin. They also feature two bathrooms – helpful if you are travelling as a large family. See it for yourself – check out this handy Youtube video tour of one of these Family Harbour deluxe ocean view cabins for five.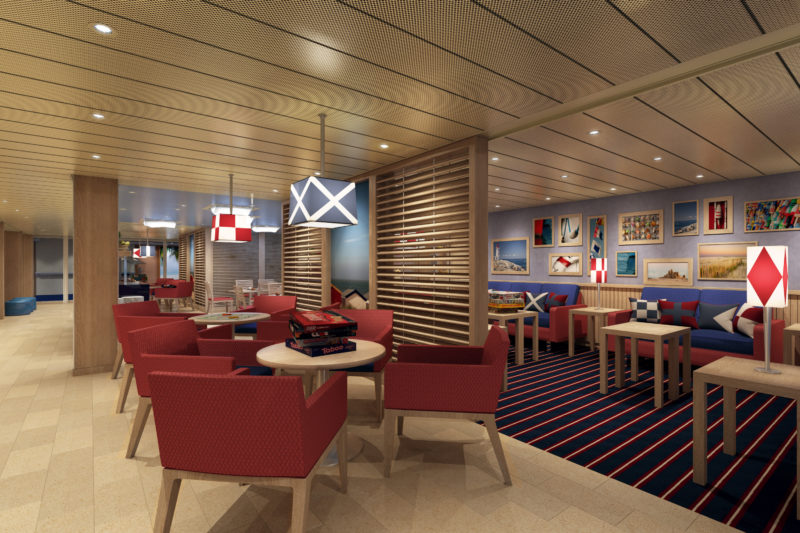 All Family Harbor cabins have key-card access to the adjoining Family Harbor lounge. It is a hangout with board games, games consoles, and a dedicated family concierge service. The lounge also serves a continental breakfast so you don't have to make it up to the Lido buffet (or the main dining room) each morning. There also are some afternoon snacks served and soft-serve ice cream for the kids. At night there is milk and cookies available as well.
Family Harbour perks include free specialty dining for kids under 12 years of age, and one free night (3h) of Night Owls babysitting.
The Night Owls is another welcome family feature – a supervised night nursery for kids till 1am, giving parents some adult time to dine and enjoy the ship. Although Camp Ocean kids clubs start from 2 years of age, the Night Owls night nursery service accepts babies from 6 months of age to kids of 11 years old.
F5 is for FILMS… aka movies
The large screen aka the Seaside Cinema over the Lido pool shows Dive in Movies.. some during the day, and others at night. These are current Hollywood blockbusters to cater to various tastes (action, comedy and family films). And naturally, it all comes with free popcorn.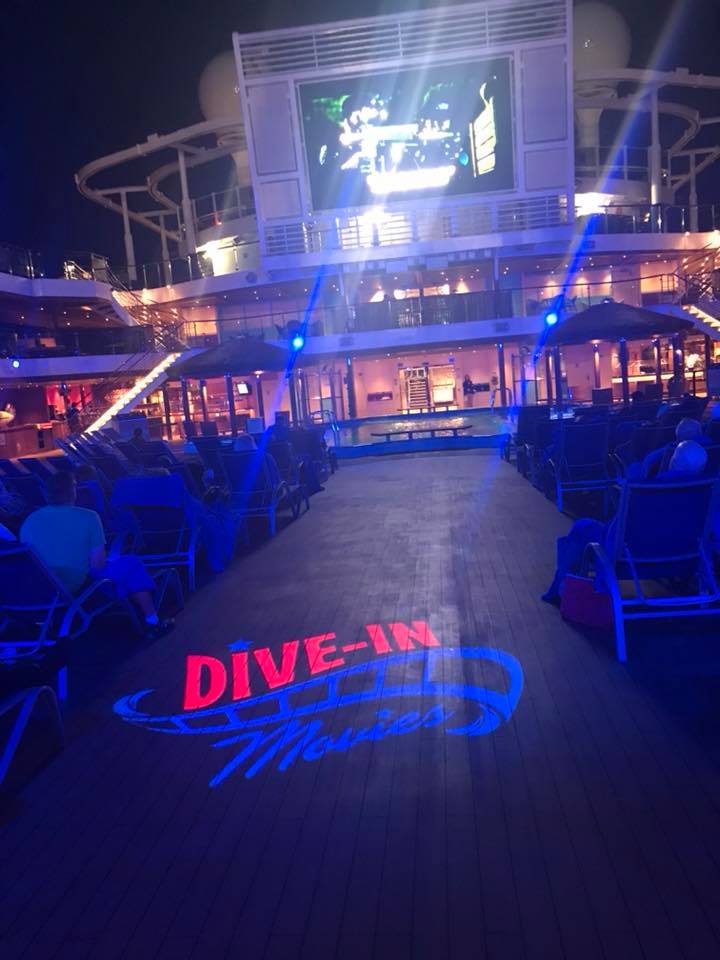 Panorama's two older sisters feature an IMAX theatre too (instead of the trampoline park Panorama debuts this December) and that too shows current films. At the time of writing, the IMAX films are the new Lion King and the Fast & Furious presents Hobbs & Shaw.
F6 is for FOOD
Carnival Panorama naturally offers the cruise staples: a set of dining rooms (for set dining and YourTime) and the Marketplace buffet on the lido. The buffet is open around the clock so you can always wander in for a cup of coffee or tea and a light bite, if not a meal.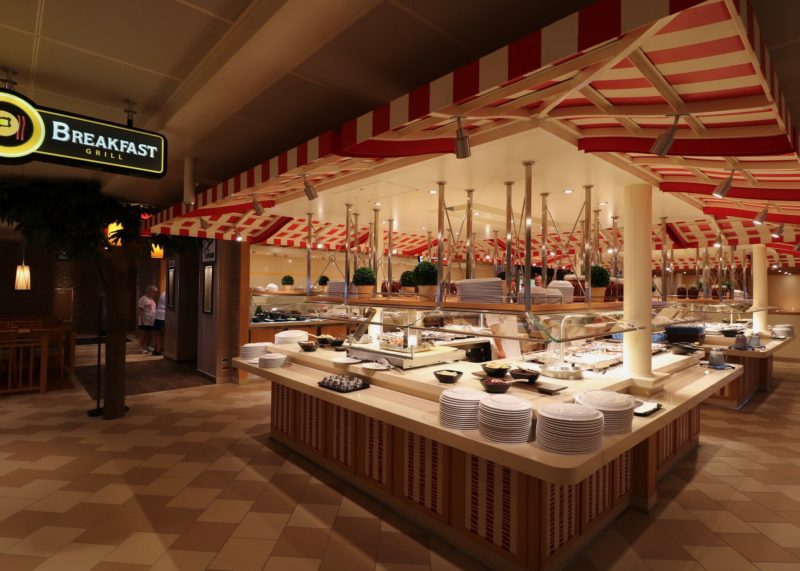 Within the Lido you also have other complimentary options, such as Blue Iguana Cantina which was our breakfast favourite. It also serves lunch till about 2.30pm, closing down afterwards.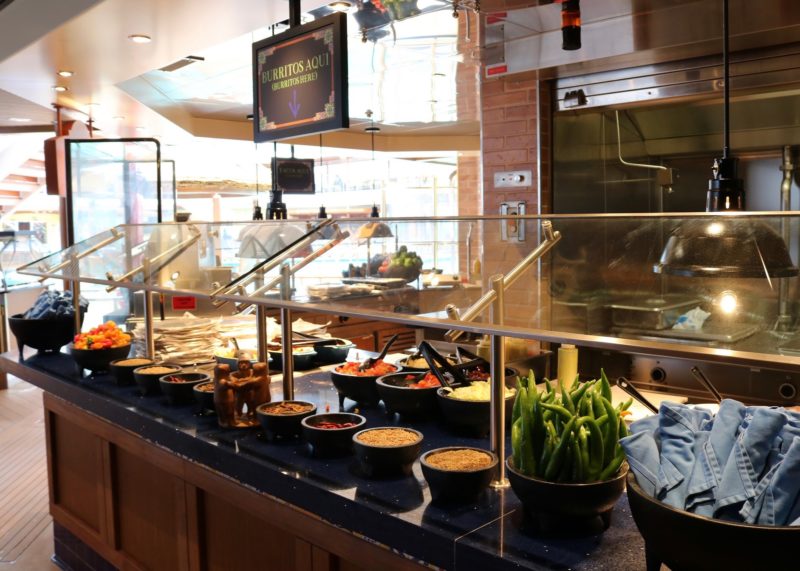 The Guy's Burger Joint on the other side of the Lido serves a selection of burgers with fries and condiments. Guy's burgers you can enjoy from lunch to early dinner. All of it is included in your cruise fare.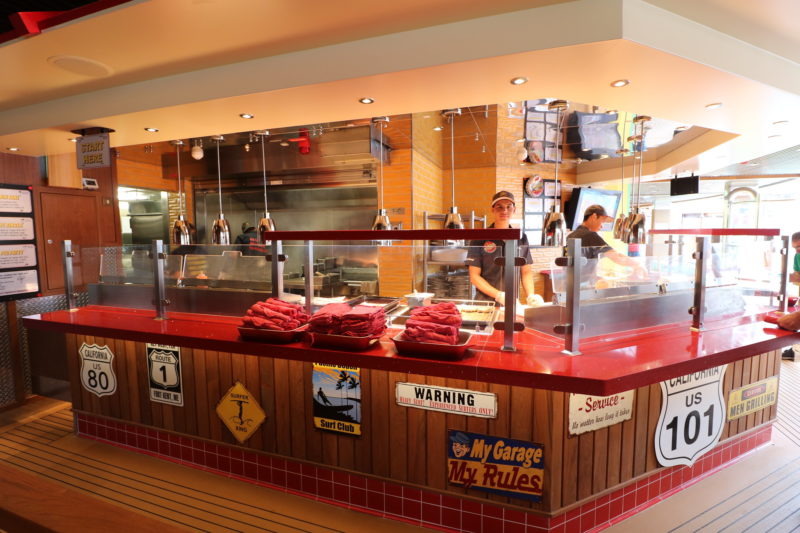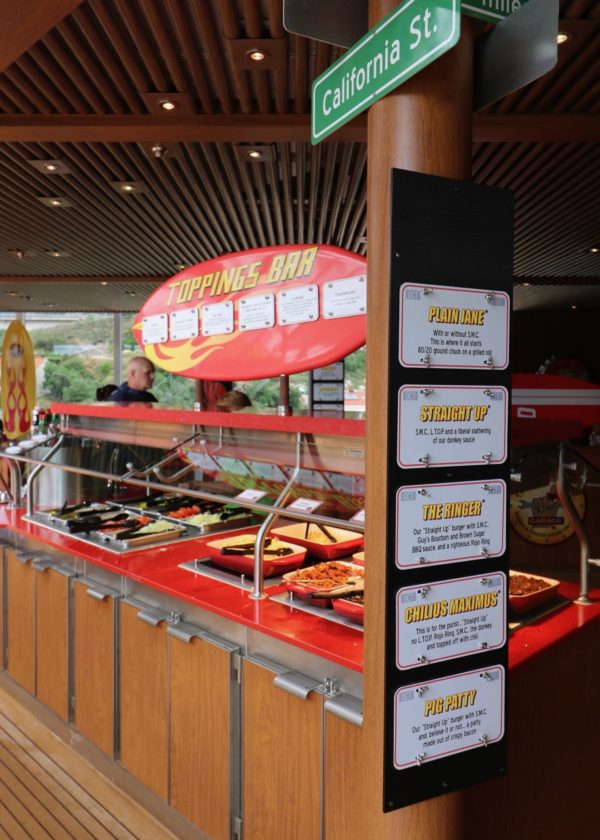 The Marketplace buffet also includes a deli for made-to-order sandwiches and great battered fries – in addition to the traditional buffet dining options.
Kids and big kids are pleased to hear there is unlimited soft serve ice cream, access to drink vending machines, teas & coffee 24/7 and food till late. None of this 'buffet closes at 10pm' and 'closed during the day between certain hours' business on Carnival ships. The kids need a snack, or some complimentary juice? Not a problem. The doors are always open. Pizza is available 24/7 right at the aft. Even at night, there is Late Nite Snacks from 11.30pm to 1am in the buffet if you're peckish after a night's entertainment.
At lunchtime, you can enjoy two evening specialty dining venues for free. These two free-for-lunch options are both located above the Marketplace buffet. JiJi's Asian Kitchen is called Mongolian Wok at lunch. Cucina del Capitano is named Captain's Pasta Bar when you can enjoy the food for no extra cost during lunch. Menus are different, obviously, but you get to enjoy the surroundings.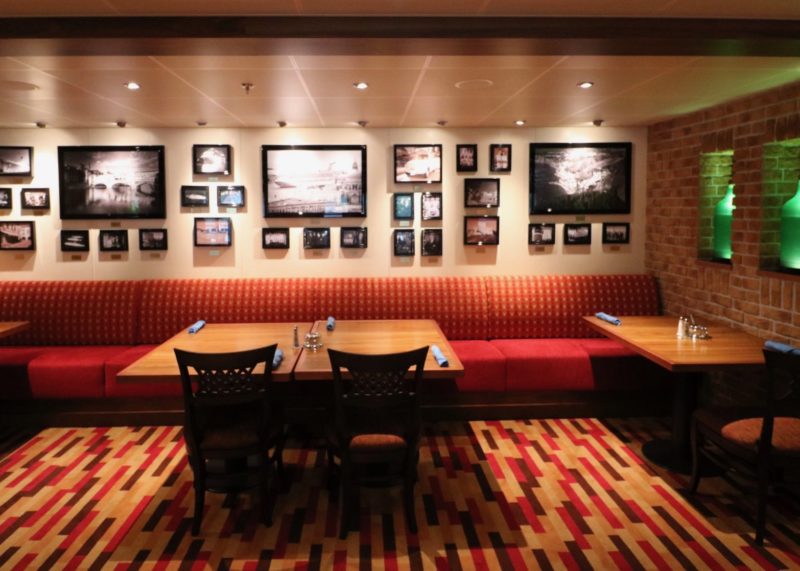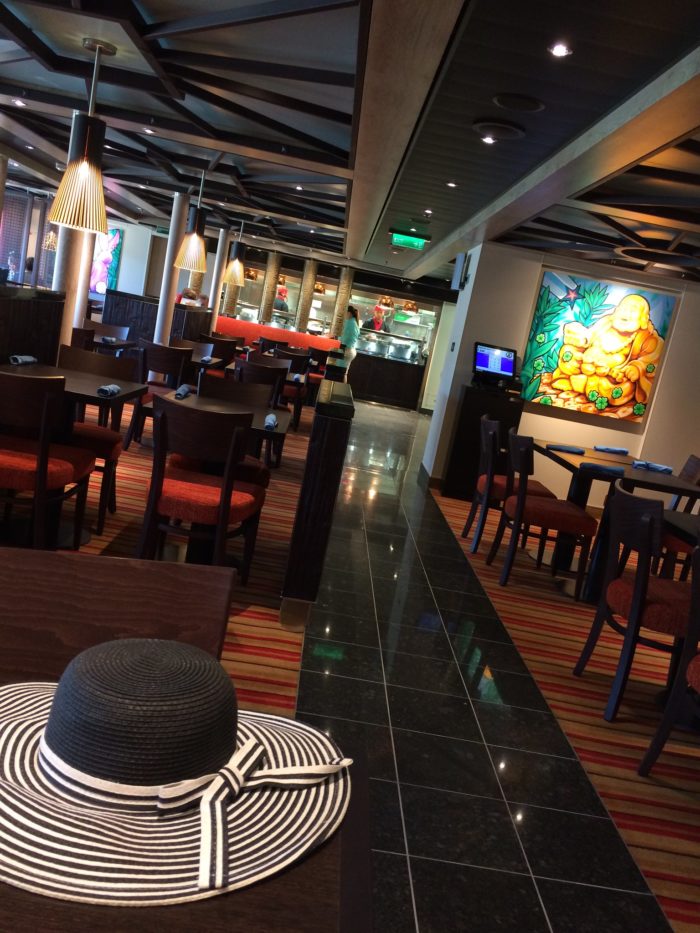 For an extra charge, there are several other specialty options to enjoy. The Crab Shack offers alfresco fastfood seafood dining on the lido far aft. For sweets/candy and ice cream treats you can make your way to the sugar heaven that is Cherry on Top. There is some cool cruise merchandise here too.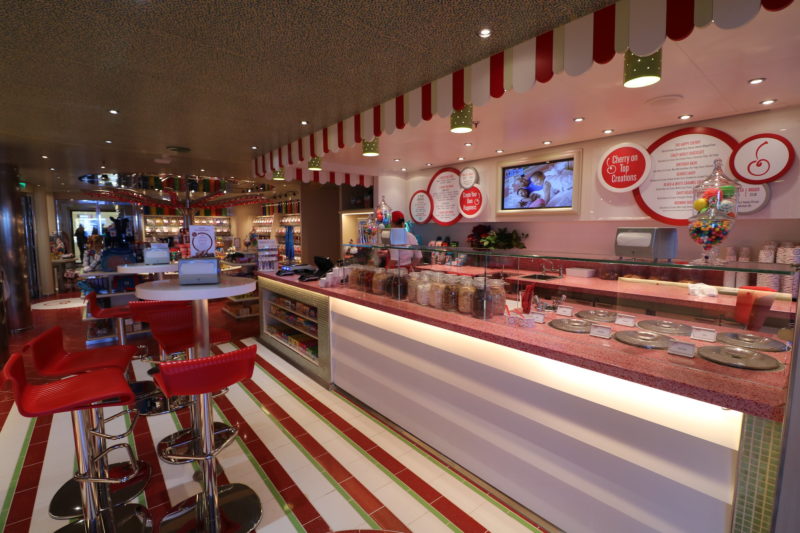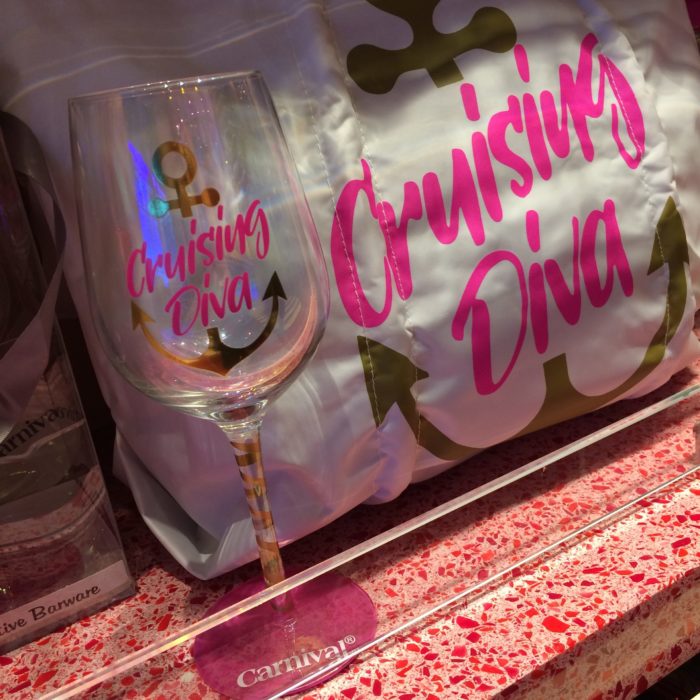 For coffee aficionados, JavaBlue cafe/ Shake Spot is your friend. Also your venue for beautiful cakes – although the Marketplace buffet has a great free selection of cake and cookies too.
For those looking for sticky BBQ eats, specialty dining pub grub is available in the Guy's Pig & Anchor BBQ Smokehouse & Brewhouse.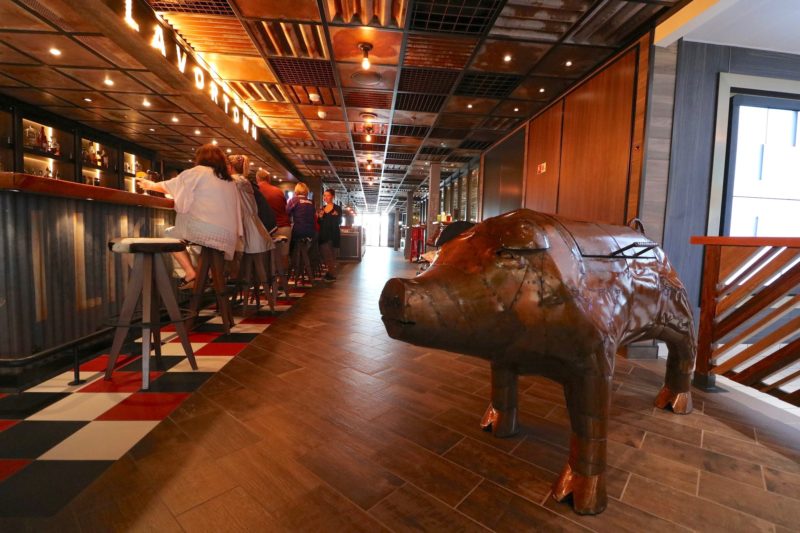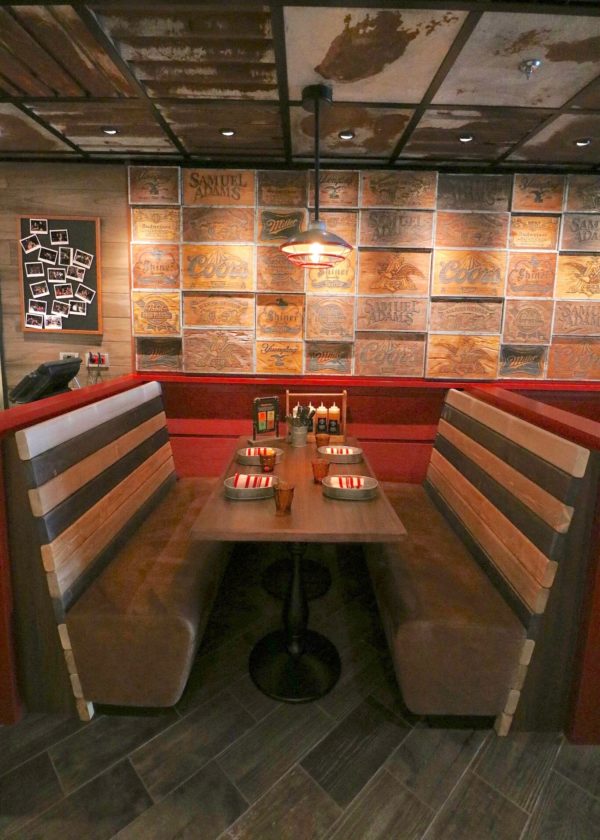 Naturally, Carnival Panorama has a specialty steakhouse restaurant too, Farenheit 555. I never set foot to dine in there, although I do hear that vegans who have visited here (with non-vegan family or friends) have received decent plant-based alternative.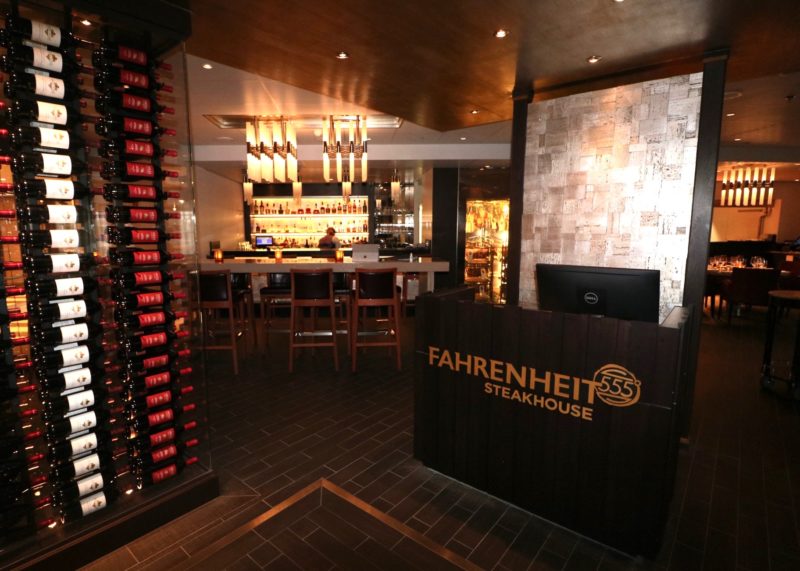 For lovers of Japanese food, there are the beautiful Bonsai Sushi and Bonsai Teppanyaki restaurants, with lovely outdoor seating available as well for the sushi diners. The sushi boat on the menu is a thing of beauty, a feast for your eyes & stomach – do try it!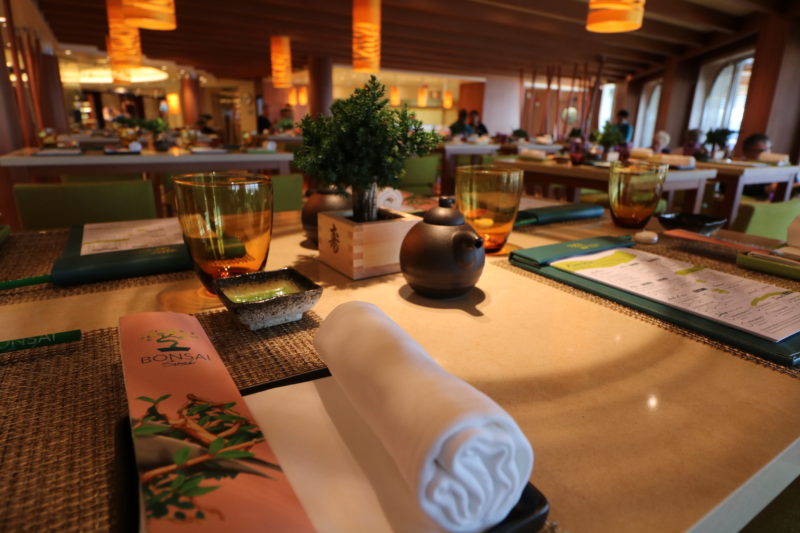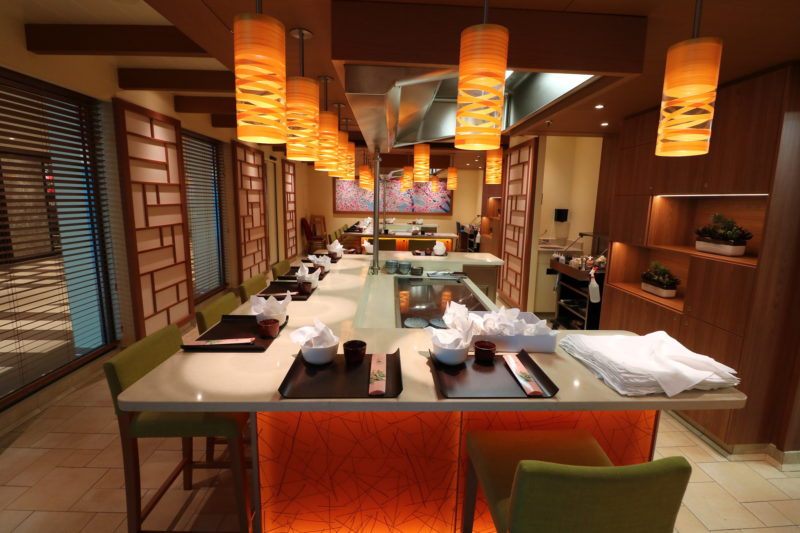 A totally new food feature coming to Panorama will be an Onboard Culinary Studio. Here guests can enjoy hands-on cooking classes with the onboard Chefs.
F7 is for FLAVORTOWN
Guy's Pig & Anchor BBQ Smokehouse & Brewhouse bar is named the Flavourtown and its lit signage calls you in to sample the treats available behind the bar. In addition to various bourbon cocktails, you can sample the beers brewed in-house in the adjacent brewery. You can even tour the brew unit with the resident brewmaster, and do a guided beer flight with him. I saw Colin here host a few of these tours at Carnival Horizon's own microbrewery.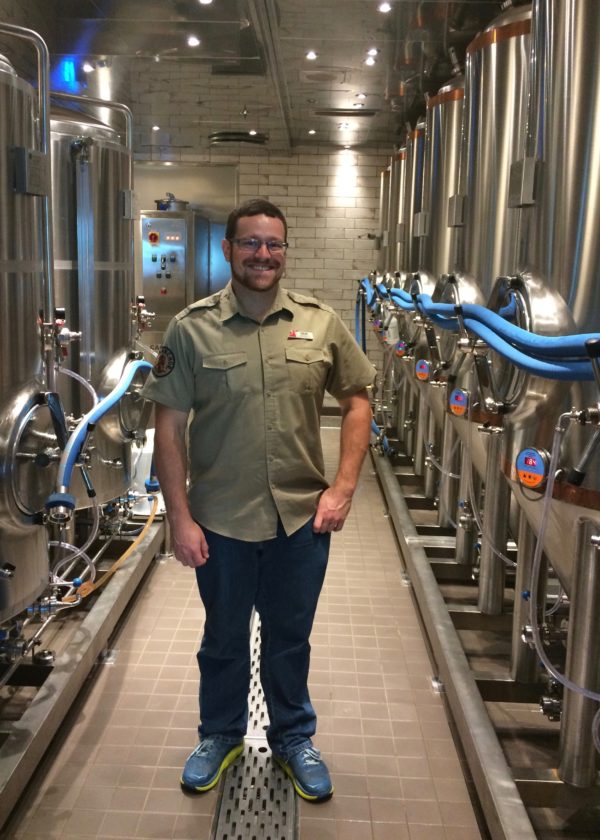 Or you can just buy your own and sample at your own leisure. You can purchase the beers by the glass, by larger mason jar (which you could buy and get cheaper refills). And if you're serious about your beer consumption, there is a Growler (I know!) you can buy for refills.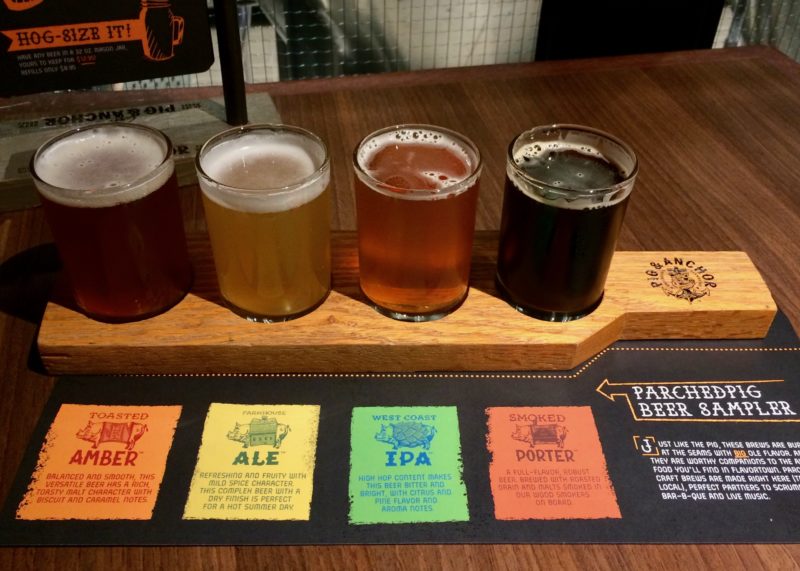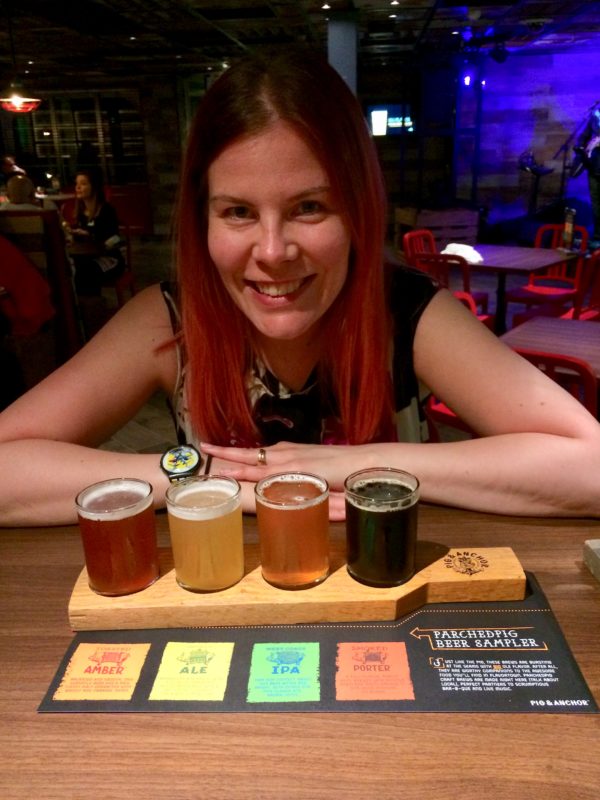 Flavortown is also a great venue for evening entertainment if you enjoy country music. On our sailing we had a resident duo playing country and classic rock hits. In case the Latin vibes in the Havana Bar and the popular 80s to present day hits weren't to your taste, as played in the Ocean Plaza by the resident band.
F8 is for affordable wi-FI
That one's a small stretch but I had to mention onboard wi-fi for two reasons. Firstly, making your friends jealous of your fabulous Carnival Panorama cruise won't cost you much. Carnival offers the best-value onboard Internet access. The unlimited (!) social wi-fi plan has the world following your travels green with envy and it will only set you back $6.80 per day! (at the time of writing) There are two other packages, depending on your Internet usage needs.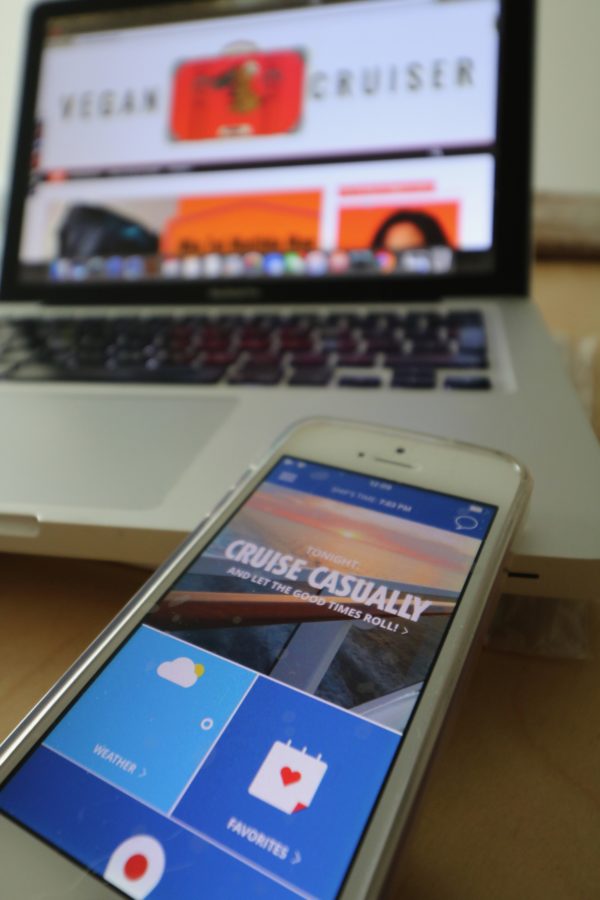 And one must mention the Carnival Hub App when speaking of wi-fi. The App works without having to pay for wi-fi and is so helpful! Pre-cruise you can use it to plan your holiday, book excursions or dining, and even complete your check-in. Once onboard, you have the added features of the daily programme (now including the children's activities), ship maps, port info including weather and daily restaurant menus on your fingertips. You can check out the main dining room menu for the evening and decide if you want to dine in one of the specialty restaurants instead. Your cruise buddies can link to your account and see what activities you have 'liked' on the planner – and vice versa.
You can even message your friends & family via the app, if you purchase the $5 chat feature. Naturally, if you need to check your onboard account balance, you can do it for free on the app. You can view the ship photographers' photos of you (all photos are linked to your Sail&Sign account) and order souvenir photos to take home. On some ships, you can even order a pizza from Pizzeria del Capitano and have it delivered to you – with water, soft drinks or beer. Pizza itself is free, drinks are charged to your account (or your drinks package) and you only pay a delivery charge of $5.
F9 is for FOLDED towel animals
While some cruise lines are cutting back on towel animals and have now banned cabin door decorations too, Carnival is proud of the small soft bundles of joy their dedicated cabin crew produce for the guests. Every day on a Carnival sailing I have always had a new animal each night. There is one morning when the housekeeping team surprises guests by taking over the Lido – an amazing task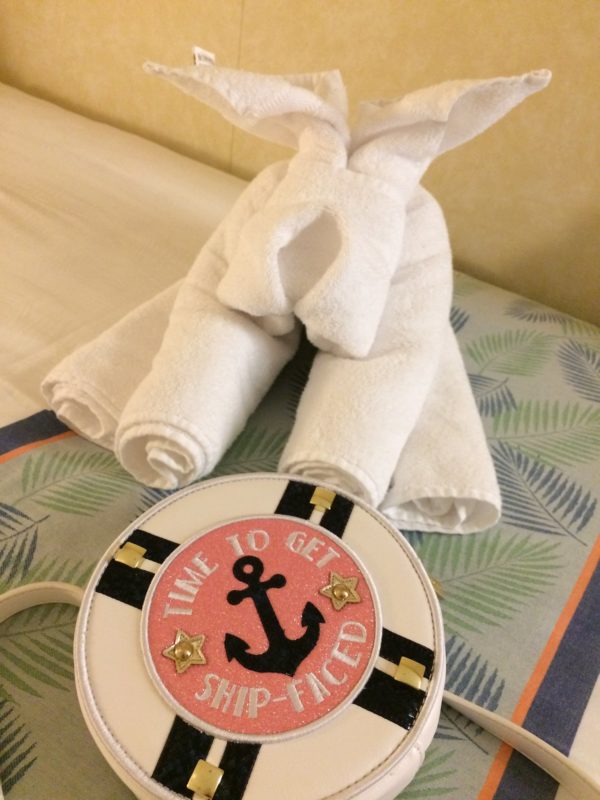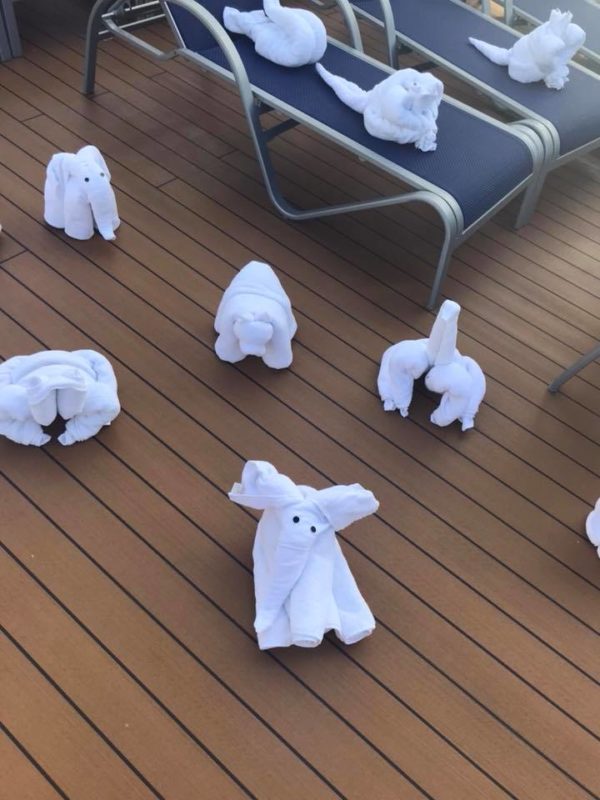 F10 for Carnival COMFORT bedding
Much has been said about sister brand Princess' new fancy bedding & linens but having sailed on Horizon on her inaugural Mediterranean season (and Princess a few months later in 2018) I dare say that my Carnival bed and pillows were fluffier. So heavenly to sink into.
I slept better in our brand new Horizon inside than I did on the cousin Princess' mini-suite bed. And that particular Princess ship had returned from drydock that very same spring – with the new beds. Panorama being brand new her cabins will be wonderfully comfortable. Carnival Comfort Collection beds will offer excellent sleep to counterbalance all the days' activities and fun onboard. Cabins themselves are sleek, simple, but provide the essentials you need for your cruise. There are useful USB charging points, and even a little LED nightlight by the toilet door so that you won't have orienteer yourself to the facilities in complete darkness.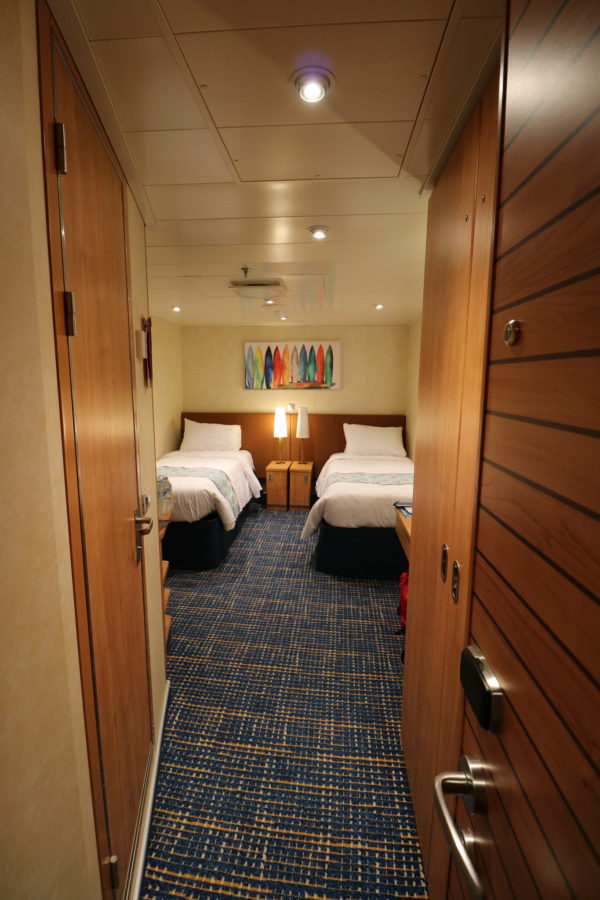 Hope you enjoyed this wee look into the new Carnival Panorama coming to us in December 2019. Thanks to Carnival UK PR for the few press images/renders. The majority of images used here are my own photos from the near-identical sister ship Horizon.
If you like the look of Carnival Panorama but think California is a little far to travel, you can hop onboard sister Vista in Galveston, Texas. For those who are Carnival curious and from Europe, the easiest Vista-class ship to sail is the Carnival Horizon as she is homeported in Miami, Florida.
Three excellent sisters in this Vista-class to enjoy – but only one of them is the newest! If you are going to be onboard the Carnival Panorama inaugural cruise, do let me know how it was. Do share your Mexican Riviera experience with us! If you're keen to check her out, read more on the new Carnival Panorama itineraries here.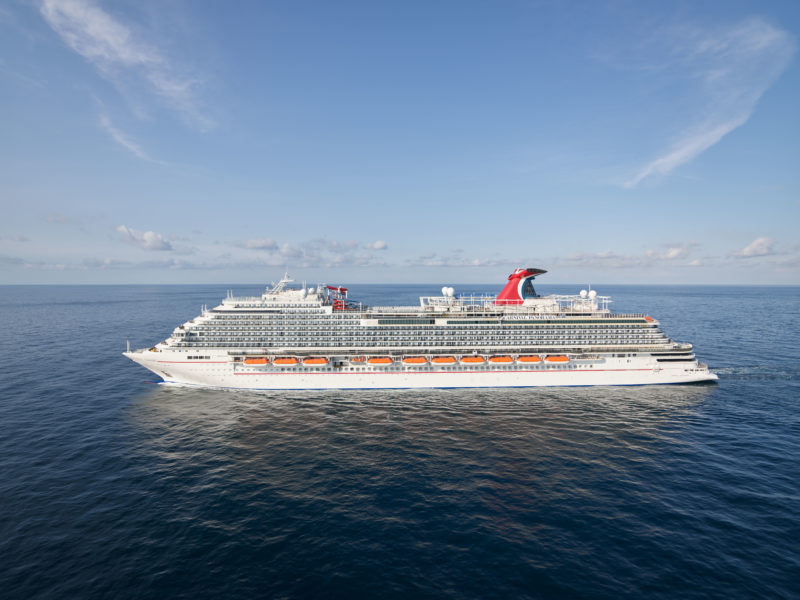 PS. If you will be sailing Carnival Panorama as a vegan – do let us know how she caters. If you are vegan and interested in cruising, and not sure if Carnival will cater for your vegan needs, check out my posts on vegan dining on the Horizon. There is no fleetwide vegan menu on Carnival, and service varies between ships. But you can get an indication of how vegan dining works on Carnival if you see my review. You can find posts on each Carnival Horizon mealtime here: vegan breakfast, lunch & dinners.