New Jet2 vegan meals – more options now available!
Earlier this year I published a combined holiday airline post about vegan options on Jet2, Thomas Cook and Ryanair. I was rather excited that these smaller low-cost airlines were responding to the growing vegan demand and were offering plant-based snacks AND meals. Especially when mainstream short-haul airlines from the UK do not cater (namely BA and KLM). Imagine my surprise when this August I discovered that Jet2 had further improved both their vegan catering. Read on to find out more about the new Jet2 vegan meals!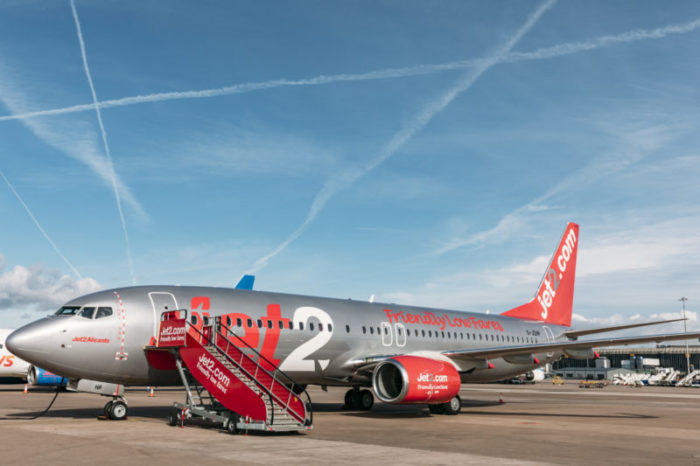 New seat pocket mmMenu
In addition to the new vegan options, Jet2 have also improved the onboard seat pocket menu. It now features a green & white VE sign, clearly denoting vegan menu options. Even the wines! In the spring I had to query directly with the wine label Simply Yours about the suitability of their wines, but Jet2 have now added the information I found out & shared onto the menu. Ordering onboard is now super easy! Just a wee reminder – both the Chenin and the Cabernet Sauvignon are vegan, the rose unfortunately not.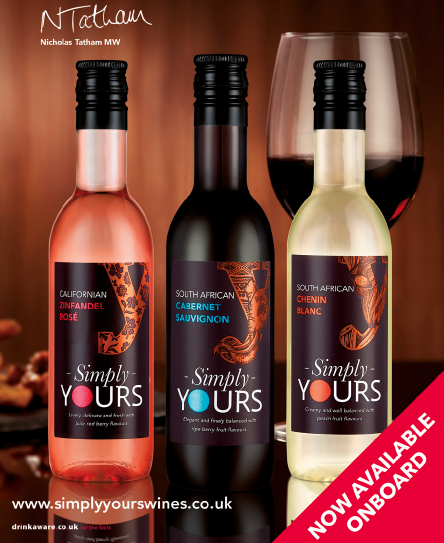 Interestingly though, I did not comment on the beers and champers on my blog and those aren't marked on the new menu either. But the Bud and Stella served onboard are vegan. As is the onboard champagne Nicholas Feuillatte NV Brut. The onboard Freixenet gold cava, if indeed the same that Waitrose sells, is also vegan-friendly. So celebrate your holiday with bubbles!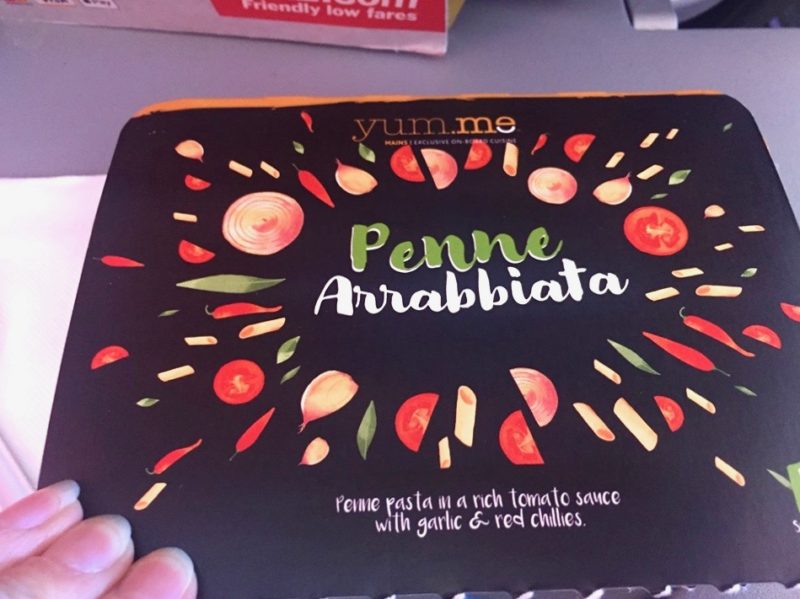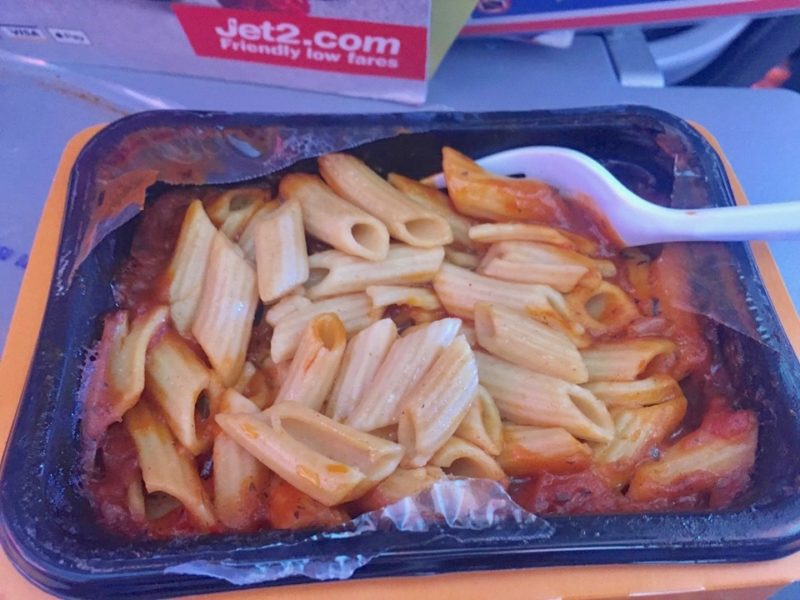 The original vegan arrabbiata pasta dish is still on the menu, as are the now clearly vegan-marked wines. The menu also has a new (since May) vegan-marked Nando's snack box, a Pringles original tub and even a vegan dark choc & orange granola bar to snack on. But the two new vegan Jet2 menu options? Are you prepared? This is rather exciting!
Two new Jet2 vegan meals for summer 2019!
At the end of July, 2019 Jet2 put out a new press release which I have only just discovered. And I had to share this excellent news with you all.
Due to demand from our customers who have removed animal products from their diet, we're also introducing two exciting new vegan meals, including an All-Day Vegan Breakfast featuring a delicious grilled vegan sausage, rosti potatoes, and sautéed mushrooms in a rich tomato sauce, as well as a Vegan Moroccan Vegetable Tagine served with fluffy couscous.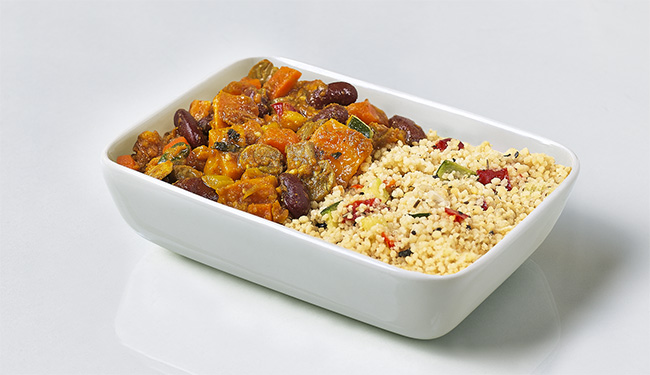 The new in-flight meals were available to order from 29th July 2019. They can be purchased when booking with Jet2.com and Jet2holidays, or can be ordered post-booking. These do however need ordered a minimum 48 hours in advance. Meals start from £7.50 and depending on time of the day, come with a range of extras.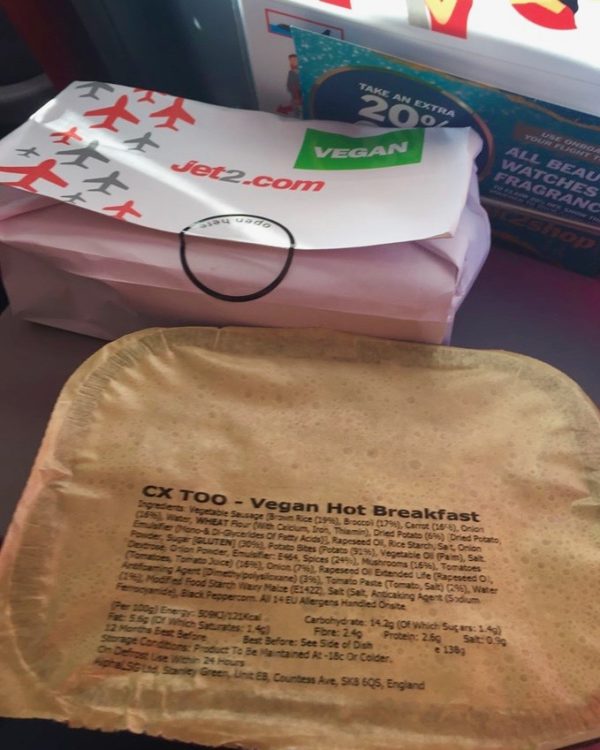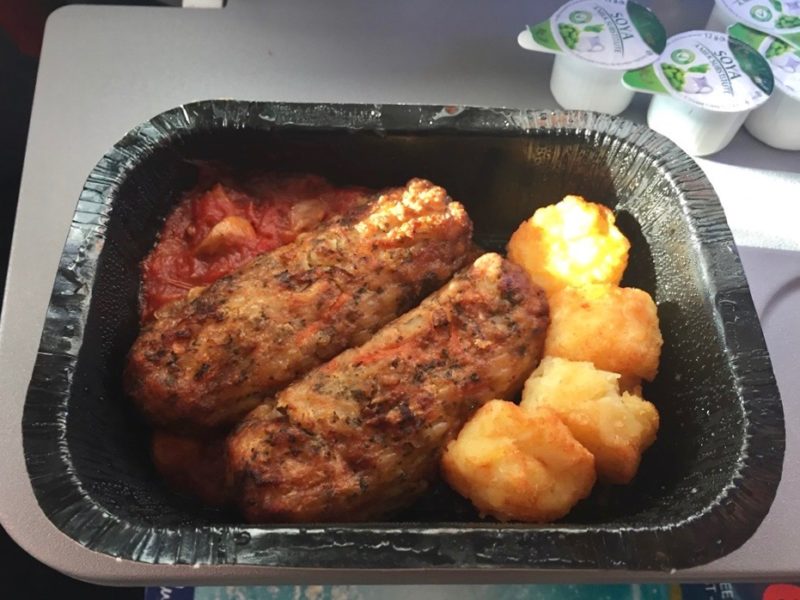 My friend sent me these photos of the her inflight meals – I am so impressed that Jet2 keep extra soya. On British Airways long haul flights you get just one small soya pot per tray. And that just isn't enough for a cup of tea, let alone a coffee cup.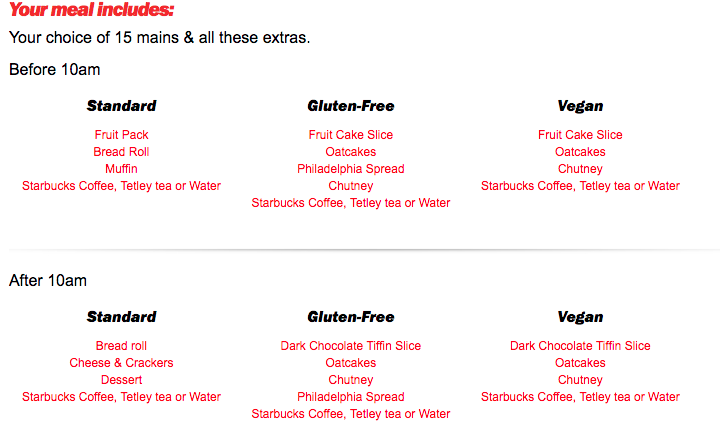 Breakfast meal extras above vs late extras below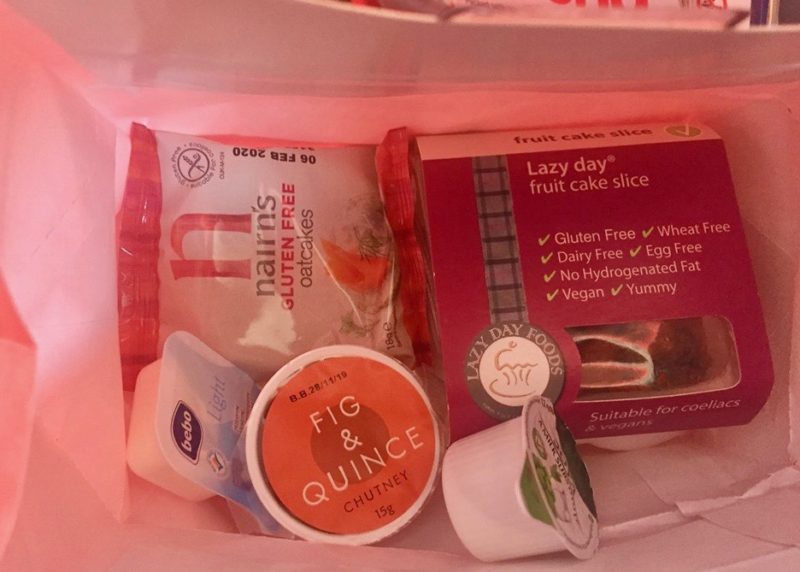 I'm just amazed that I can now order a vegan fried breakfast on a holiday flight. This is BIG. Sure, I'm glad there is a new couscous dish but a warm vegan breakfast dish, with potatoes, sausage & beans? If they add a tofu or chickpea scramble to this I will have officially died and gone to heaven. On a Jet2 plane. Please learn from this BA, and others. And dark chocolate tiffin cake? I think I love you, Jet2.
If you have flown Jet2 and tried any of the above meals, please get in touch and tell us what you thought!