Fresh adventures: MSC Seaview vegan menu options
In a few weeks, I will be boarding MSC Seaview, the second newest ship (at the time of writing) on MSC Cruises' fleet. Seaview is the second ship in the Seaside class (first being Seaside), and both ladies are stunningly different from their earlier MSC sisters with that curvaceous aft – reminiscent of Miami art deco apartment blocks by the sea. There is a waterfront boardwalk, glass walkways, even panoramic lifts to give you a look at the sea around you. What might you expect if you choose to cruise with MSC? So much – would be the answer. Vibrant design, European flair, great colour and a lot of sparkle & bling. But what if you require plant-based options? Well, it looks like vegan options do exist, as this week I got an e-mail from their UK customer service team with details of MSC Seaview vegan menu choices. A surprise to me, and many others, surely!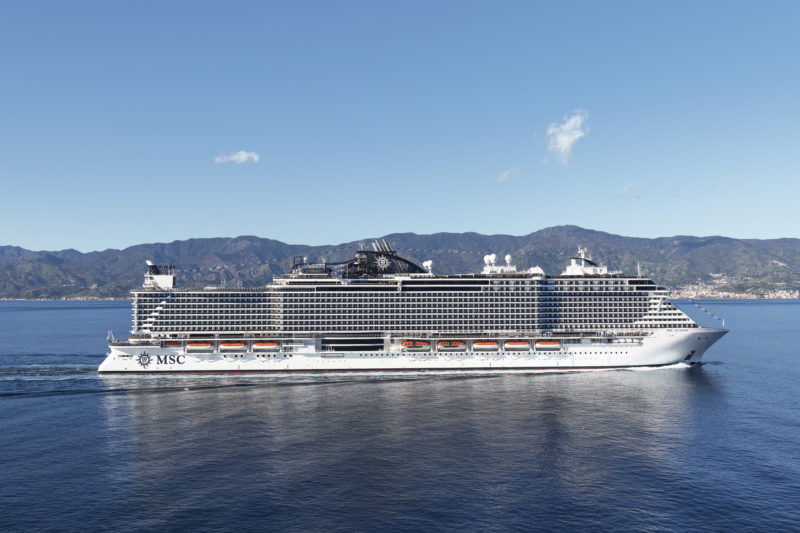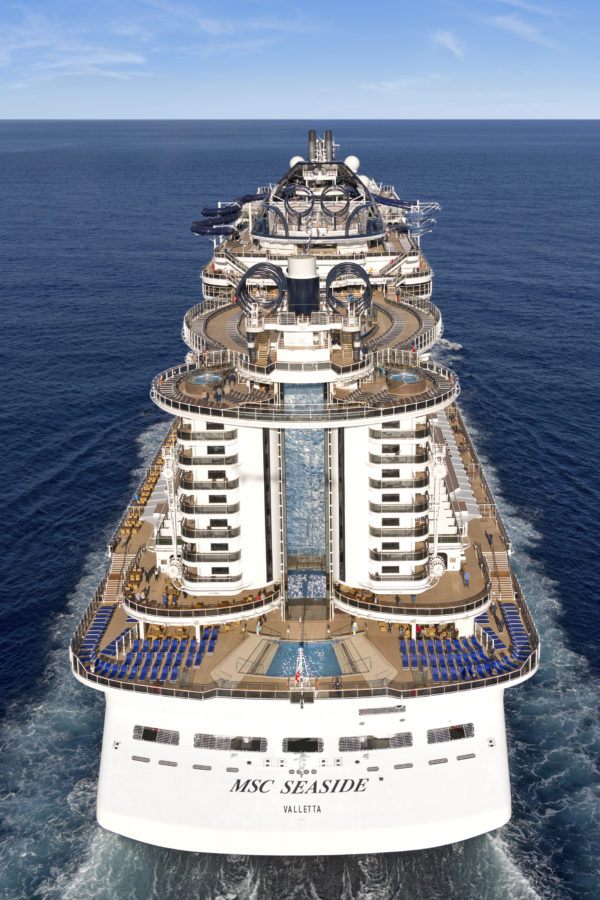 Seaview, when we board her, will be the largest ship I have ever been on. She is 20 decks high and from bow to aft she's 323m. That may not mean much, but if I told you she is as long as the Eiffel Tower is high, it suddenly puts her to perspective. And something else that is long, is the onboard zipline. It also happens to be the longest zipline at sea at 105metres (that's 345ft) in length. And I can't wait to try it!
If you want to learn more about her and what else makes Seaview special, see this great post by David of ReasonsToCruise blog about all her wonderful features, including the eco-friendly ones.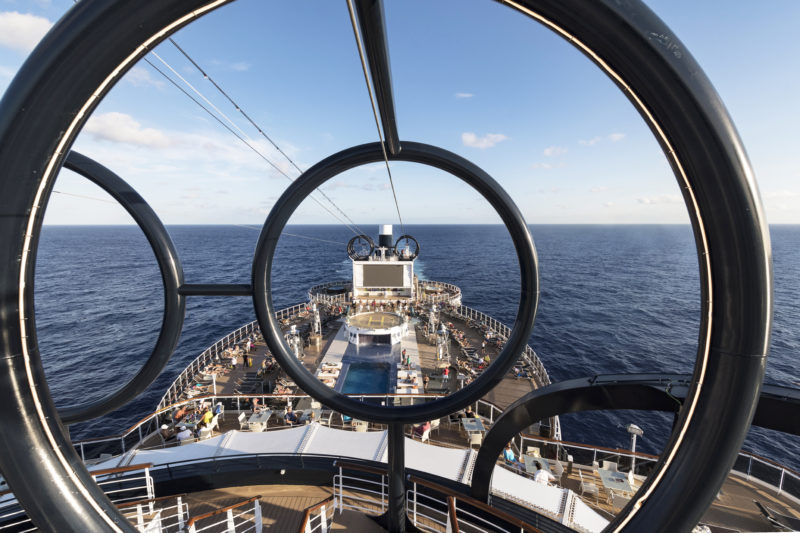 MSC for vegan cruisers?
Not familiar with MSC? Maybe you've only sailed with the UK brands (P&O and Marella) or the big US names. MSC are distinctively Italian in their offering – in both food & interiors. My review of her sister ship Meraviglia (2017), although different design, should give you an idea of the feel of an MSC ship. And as for vegan food, well I already know the onboard catering has improved. My last vegan MSC cruise was back in 2016 on older sister ship Splendida (see the old review from 2016).
Back then, MSC had no vegan options. Yet a year or so later, a vegan main course was introduced as standard in the main dining room. The last two ship-visit tours I have been on (in 2017 and 2018) I was able to order my main course straight off the regular menu.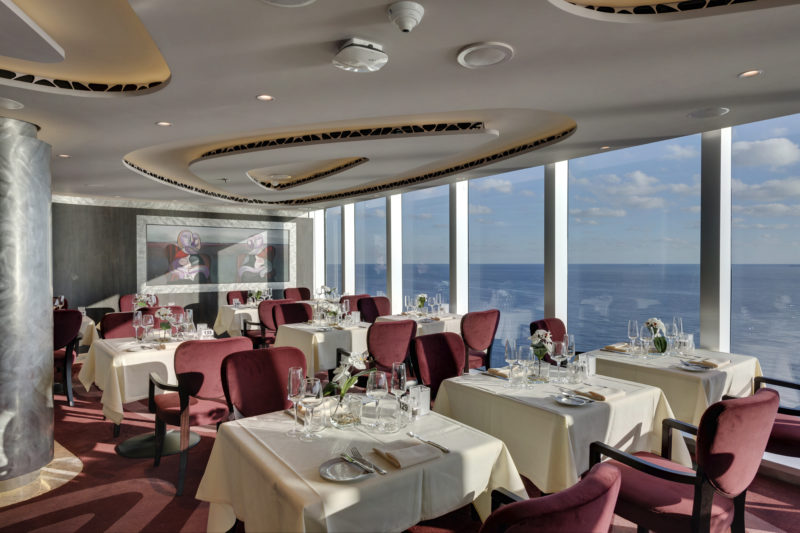 Doing my pre-cruise research I learnt that MSC are different to most other cruise lines out there. They do not allow food and drink to be brought onboard. This prompted me to contact the UK customer service team, to enquire what vegan options and food items were available. I have submitted a special needs form to notify them of our vegan meal request, and I have asked additional questions.
I was mostly curious about the availability of non-dairy options, mock meats, spread etc since I'm not allowed to bring in my own. I would like to be able to bring my own vegan cheese onboard if MSC Seaview doesn't stock any. On my last MSC cruise I had to have the amazing buffet pizza with just tomato sauce and vegetables. I'm looking forward to maybe having one with non-dairy cheese this time.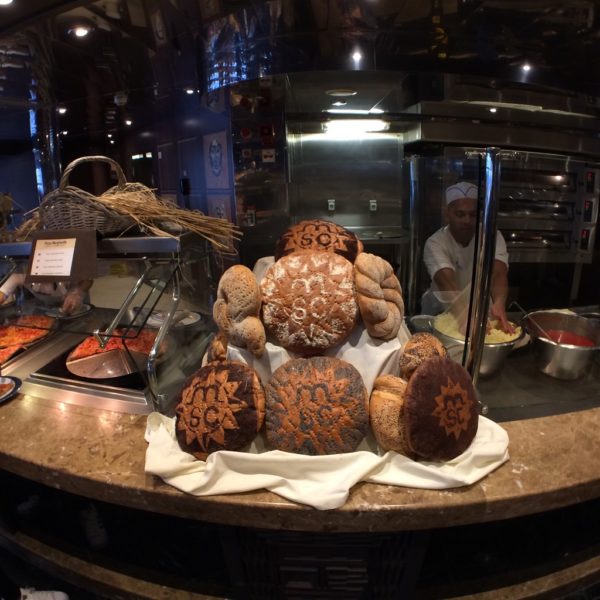 I haven't heard back yet about vegan food items onboard, or about the permission letter I requested. But I did get a reply detailing vegan options in the main dining room menu. Not just main courses, which I knew to expect, but desserts too. This is totally new and unreported!
Just look at these savoury meal options the MSC UK customer service team quoted me… and the pudding options (one per day, take it or leave it) for a daily vegan dessert. I am so looking forward to sampling them and reporting once am back! I am so glad to see cake on the menu. Vegan cake was available at sister Seaside's launch party for press, (Shipmonk kindly took a photo below for, me of the event menu) and it looks like it wasn't just a one-off event. Please see below a list of savoury and sweet courses emailed to me.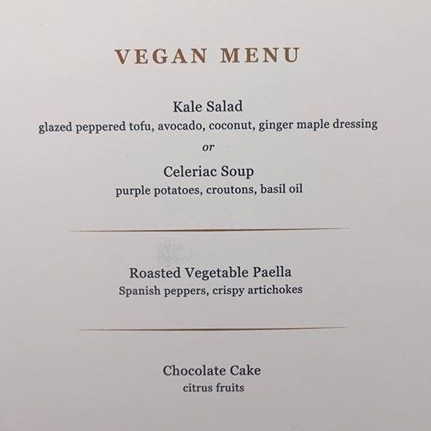 MSC Seaside – Vegan meals in the dining room:
Asparagus and roasted peanuts – in lemon and white vinegar sauce

Stewed legumes Tuscan-style – red and white beans, lentils, carrots, aubergines and spring onions, toasted baguette

Vegetable paella – saffron brown rice with red peppers, green beans and peas

Vegetable curry – spring vegetable ragout in curry coconut sauce, pita bread

Pakora – vegetable fritters with onion chutney

Glass noodles with vegetable

Vegetable tofu paella – rice, turmeric, sweet peppers, mushrooms and olives

Quinoa, seed and dry fruits croquette- grilled vegetables, carrot and ginger cream

Vegetable curry – with basmati rice, papadum and mango chutney

Sweet potato and spinach patty – with spices and onions, carrot-coriander sauce

Breaded and fried tofu escalope – with sesame glazed vegetables

Style rice noodles – with crispy vegetables sautéed in soy sauce

Tofu bites – vegetables with soy sauce and sesame

Jasmine rice with red beans, crispy tortillas and sweet potato mash

Asparagus and roasted peanuts – in lemon and white vinegar sauce

Oriental-style rice noodles – with crispy vegetables sautéed in soy sauce

Chickpea hummus and aubergine baba ghanoush – with unleavened wholemeal bread

Marinated and grilled tofu skewer

Toasted vegetable wrap – wasabi tofu sauce, cabbage-apple slaw

Pakora – vegetable fritters with onion chutney

Baked rice timbale – filled with mushrooms, peas and tofu
MSC Seaview's plantbased desserts
Fresh strawberry tartlet

Raspberry and coconut cream cake

Almond raspberry frangipane tartlet

Apple strudel

Raspberry crumble

Mango & coconut cream cake

Brownie
Excellent news about MSC Seaview vegan menu options, especially the desserts above. Desserts are the one thing cruise ships have lacking so am so excited to see if onboard catering team can indeed produce what the customer service team states is available. Stay tuned for my post-cruise report if indeed these desserts are offered onboard, and overall how well MSC caters for their vegan guests in 2019.
But most of all, I am looking forward to relaxing on a beautiful ship, enjoying the sea and the beauty of the Mediterranean. It has been too long since I last cruised! And this will be my first ever zip line ride too. Wish me luck!
If you have sailed vegan on MSC and have your experience & photos to share, please get in touch and we can publish your MSC vegan experience for the rest of us to see.

PS. Many thanks to MSC UK PR team for the stock photos used in this post.