New sustainable OceanTide accessories for Princess Cruises' Medallion
This week brings exciting news for cruise fans into upcycling and recycling of plastic waste found in the oceans. Princess Cruises have just launched their sustainable Oceantide accessories for the OceanMedallion. These are made of 100% reclaimed marine plastic waste and glass, and are coming out soon to a Princess cruise near you. In addition to OceanTide, some other new sustainability measures are being introduced and one of them made me punch the air.. finally! The other, I thought already would've happened.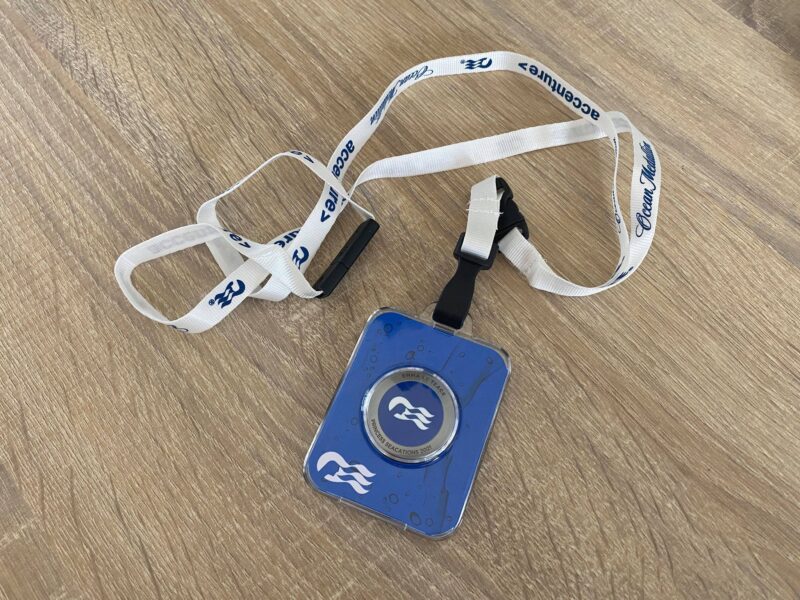 If you aren't familiar with the fabulous wearable tech concept that is Princess OceanMedallion, check out this helpful post by fellow UK cruise bloggers Paul & Carole. EmmaCruises whose OceanMedallion is featured above, talks about her appreciation for Princess and the OceanMedallion in a recent YouTube vlog here.
What is OceanTide?
Oceantide is a brand name of sustainable PrincessCruises accessories for the OceanMedallion. These were developed by Princess with partners Braloba and Tide Ocean Materials. Tide are a Swiss company that found a way to repurpose plastic waste taken from the marine environment, to produce beautiful sustainable fashion accessories, allowing guests to comfortably wear the OcenMedallion onboard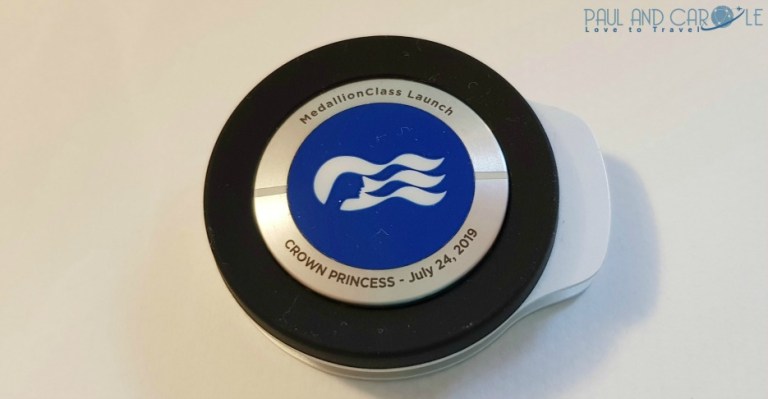 These new sustainable OceanTide accessories, like the OceanTide wrist strap, are made entirely out of plastic taken from the ocean. A chemical-free process powered by solar energy reverses the damage caused by the UV rays & saltwater the plastic waste is exposed to while floating in the ocean.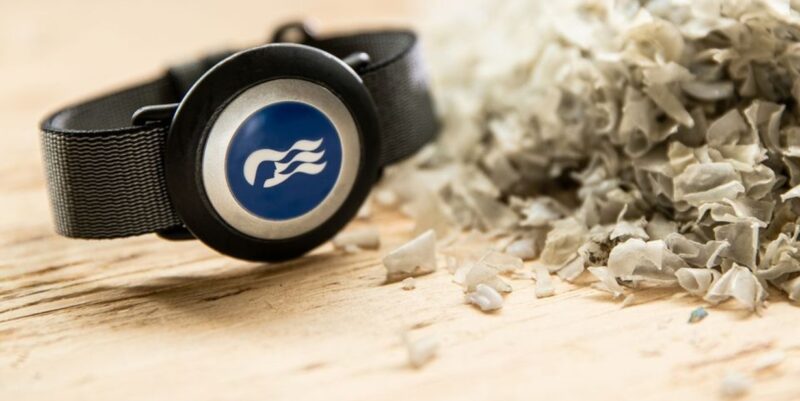 Each wrist strap is made from the equivalent of two reclaimed water bottles removed from the ocean. The bottles are produced into high-resistant polyester yarn and granules. Former is used to weave the straps for wrist straps and latter to mold placeholders for the Ocean Medallion itself.
Who are Tide?
Tide are Swiss upcyclers of ocean waste, turning waste into value since 2019 by working with social enterprises in Southeast Asia. They are based in Basel, Switzerland, originally connected to the Swiss watchmaking industry through its mother company Braloba Group, a world-leading manufacturer of watchstraps.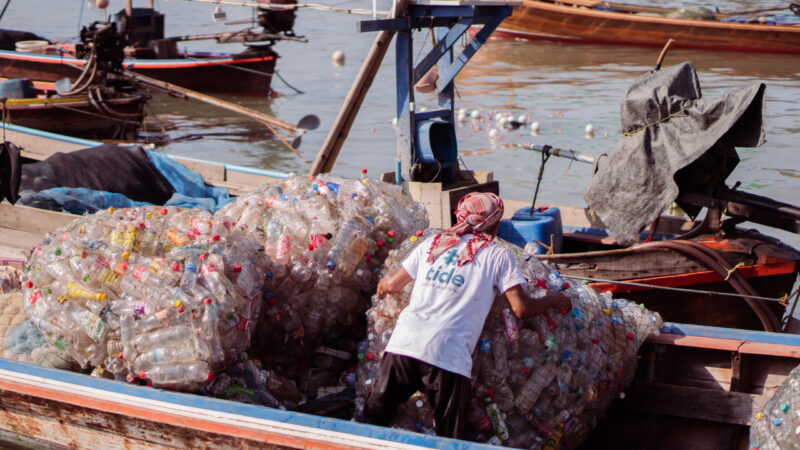 On five islands in the Andaman Sea, local fishermen and communities are trained and paid to gather & sort plastic waste. The beach clean-up material is registered, washed and shredded in a social enterprise which is being implemented by the Swiss non-profit (Jan & Oscar Foundation) and the International Union for Conservation of Nature (IUCN).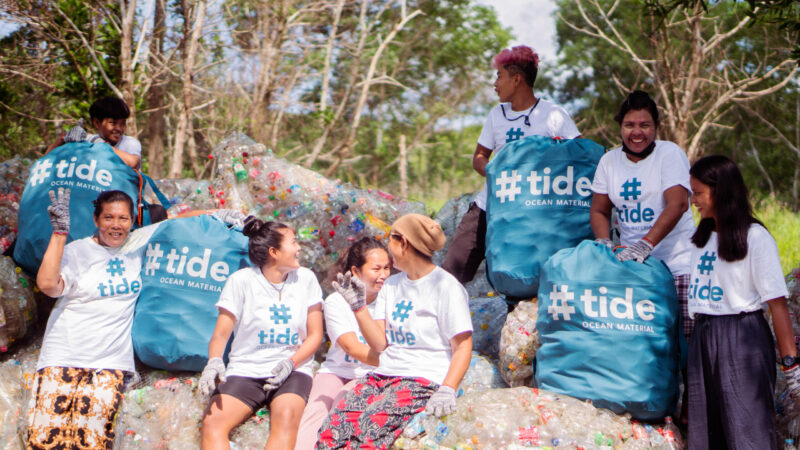 Community workers collect and process three kinds of plastics for Tide to use (PET, PE and PE). These are converted into three products: Tide yarn, granules and filament used in creating new products. The Tide yarn used in OceanMedallion straps is suitable for apparel, bags, shoes, home & office interiors and any other project using high-quality polyester textiles.
In its first operational year, Tide has processed more than 15 million bottles of plastic. A small drop in the ocean, considering that it has been estimated that every year, 8 million tons of plastic end up in the oceans. The ultimate goal is to retrieve and process 80 000 tons of plastic per year, 1% of the overall pollution.
Beside cleaning our oceans and therefore protecting the environment, it is our mission to convince as many companies and brands as possible to substitute their plastic with our 100% #tide ocean material®. By adapting the principles of a circular economy, companies can lower their consumption of fossil resources and at the same time help clean up the oceans.

OceanTide and other new Medallion sustainability measures?
When I received the information on the new sustainable OceanTide accessories, I was also alerted to two other new measures. The first is something I think should have happened a long time ago. It is so simple. it is something we already do at home as well.
Preferences within the MedallionClass app will now let guests designate themselves as an "energy-saver". This allows the ship to automatically turn off the lights and air conditioning in their cabin when guests depart the ship.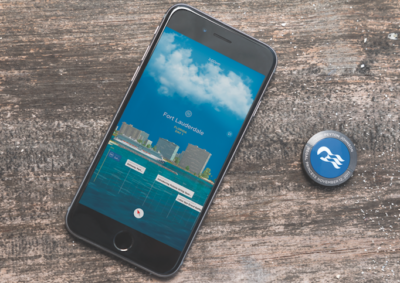 On UK staycation cruises with fewer ports of call (and bubbled excursions making some guests stay onboard), this functionality will no doubt be used a lot less.
Switching off air conditioning in cabins when guests aren't onboard is an obvious energy saver. Much like closing windows to avoid heat loss at home. I can't believe it has taken this long to provide this option for guests. Better late than ever!
And the one piece of sustainability news that had me punching air? It is this:
"Guests will be able to elect for electronic flyers and offers to be pushed to their stateroom TV instead of having printed collateral placed in their cabins."
Hurrah! I hate the many flyers in the cruise mailbox each night advertising watch sales or other onboard promotions. Total waste of paper, even with recycling taking place. I would rather have a pop-up ad on TV or on my MedallionClass App. I am sure we are not the only cruisers looking forward to going paper-light.
And in terms of sustainability, one must mention the green new LNG ships Princess will be bringing out in the next couple of years. Learn more about the wider Carnival Corp push for greener, environmentally friendly, emission-reducing cruising here. How the global pandemic and LNG ships are making our cruising more sustainable.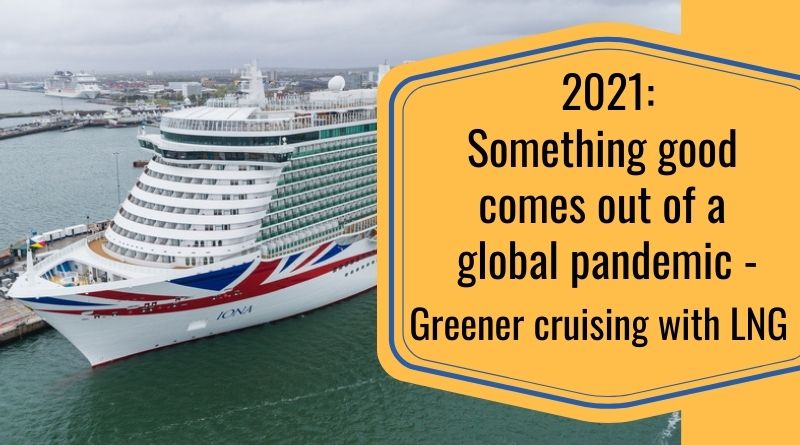 And just by replacing the virgin plastic within a supply chain with Tide ocean material, the carbon emissions linked to the plastic can be reduced by up to 80%. One small way to feel better about your purchase, right?
I can't wait to support the work that Princess Cruises and Tide do by getting myself one of these sustainable OceanTide accessories when I next sail with Princess. They do clips too, not just wristbands if you want to avoid tan lines. My next Princess cruise isn't booked until 2022, but I look forward to hearing from this year's Staycation cruisers what the sustainable OceanTide accessories options onboard will be. Do share your OceanTide Medallion images with us if you cruise soon!