Discover Oceania Cruises: Nautica and their vegan menu
I recently was kindly invited to visit Oceania Cruises' ship Nautica as she called in Greenock harbour on her round-the-UK sailing. Earlier in the spring (2017), Oceania had put out a press release detailing an extensive vegan menu onboard their six ships. This immediately perked my ears and my interest, as you can imagine. I have travelled on various cruise ships and managed to get vegan meals but it always entails having to explain what being vegan means. Each meal has to be pre-arranged with the dining room staff the night before. Normally booking a cruise means doing some research to ensure a successful holiday (see my 5 tips for vegan cruising). So the idea of having a vegan menu to choose from sounded just too good to be true. I needed to learn more and as Oceania had a ship visiting Scotland I reached out to the PR team. Thankfully they were open to a vegan blogger joining an existing trade tour. I'm so excited & happy to share with you all I learnt on my day in Greenock: about the company itself and the Oceania Cruises vegan menu.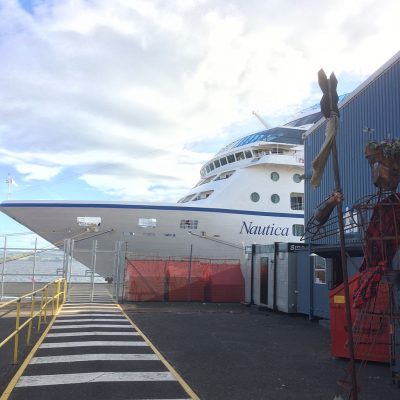 What did I learn about Oceania Cruises?
So, who are Oceania Cruises and why haven't most of us heard of them before? You certainly don't see their sailings advertised on High Street travel agent windows. They really don't seem to need it either for they already have a very loyal following and travel agent partners who know the type of customers that will appreciate the Oceania experience. In fact, I learned on the day that the large majority of Oceania cruisers are repeat passengers and many sailings have waiting lists – certainly if you want any of the high-end suites or the lower-priced inside cabins.
I can understand why one would become so loyal – after my meal, I did not want to leave! I learnt that when Oceania Cruises was founded in 2002 the minds behind the brand wanted to create an upper premium cruise line which would be both itinerary-driven and a foodie heaven. See this helpful blog post and diagram explaining the mass market, premium and luxury cruise categories. It doesn't separate premium and upper premium, though that is quite self-explanatory. It's all about those extra touches of luxury and for Oceania, the main one definitely is the food.
Oceania's trademark "Finest Cuisine at Sea" is apt as spend per passenger on food is higher than most other cruise ships. One of the founders of Oceania Cruises (Mr Frank Del Rio) has said he would rather spend money on food than on theatre shows. And that appears true. Entertainment onboard Oceania ships is low key compared to the large cruise lines and their much bigger ships but that appears to suit Oceania passengers just right. A New Orleans jazz pianist in the bar sounds quite good to me too. It certainly appeals to Mr Vegancruiser more than a musical theatre performance.
The executive culinary director for Oceania fleet is famous (in the US) master chef & author Jacques Pepin – but naturally, my culinary hero is whoever came up with the vegan menu. I hope to find out the full story at some point. Why? At the end of my lunch, I was ready to profess my endless love to the executive chef Mario – such stunning vegan food he served me. I have never eaten as well. Not on any of my cruises, or on land, even when I was an omnivore.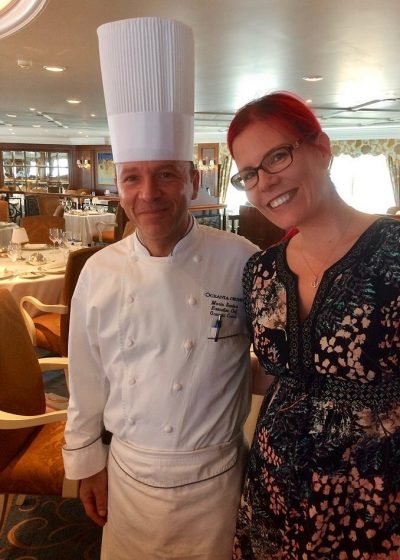 Why sets Oceania Cruises apart from the rest?
I already mentioned the quality of the food. But that is not all. All six ships in the fleet are midsize, beautifully decorated with extensive (and expensive) art collections. All cruise ships display art but pieces on Nautica included authentic Picasso drawings – rather special. There is even a book on the art as displayed on the two larger vessels Marina and Riviera, you can view it here.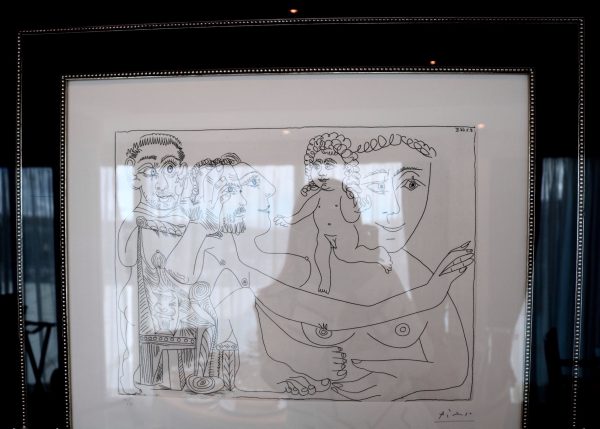 (Here's one of Nautica's Picasso line drawings as displayed in one of the two onboard specialty restaurants…and me, reflected off the glass)
Service onboard the fleet is rated excellent due to the small passenger to staff ratios, as expected of an upper premium brand. The following bit is the cruise geeky bit – please bear with me as I give you numbers. On the Nautica I visited, overall capacity is only 680 passengers in 343 cabins. Compare this to the latest mass-market mega-ships that can have over 6,000 passengers onboard! Nautica's staff level is also an impressive 400, making its staff to passenger ratio an excellent 1.7. And of all the staff onboard, around a quarter of those are in the galley which in part explains the quality of food served onboard.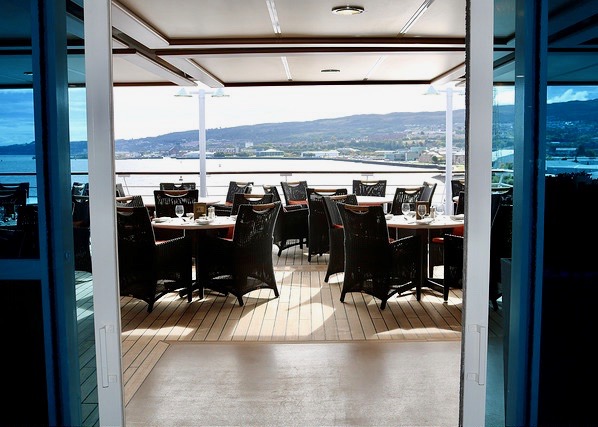 Inclusive cruise fare
Specialty dining is free/included in your Oceania cruise fare, unlike on the mass market ships. Even on the premium cruise lines you nearly always have to pay an additional charge to dine in the specialty dining venues. Nautica being one of the four smaller ships in the Oceania fleet, the speciality restaurants are an Italian restaurant called Toscana and the American style Polo Grill. You're guaranteed a visit in each on your sailing. Should tables be available on other nights, you can return – still free.
How these two can adapt their menus to suit vegan passengers, I cannot comment on based on my day visit. But with an extensive 14-day rotating vegan menu with 250 dishes served in the main dining room, I do not think I would be tempted to dine in the specialty venues. Except for perhaps a change of scenery. Or change of stunning tableware. The pieces we saw in Toscana were exquisite like the tables in the Grand Dining Room: both with designer table- and Riedel glassware.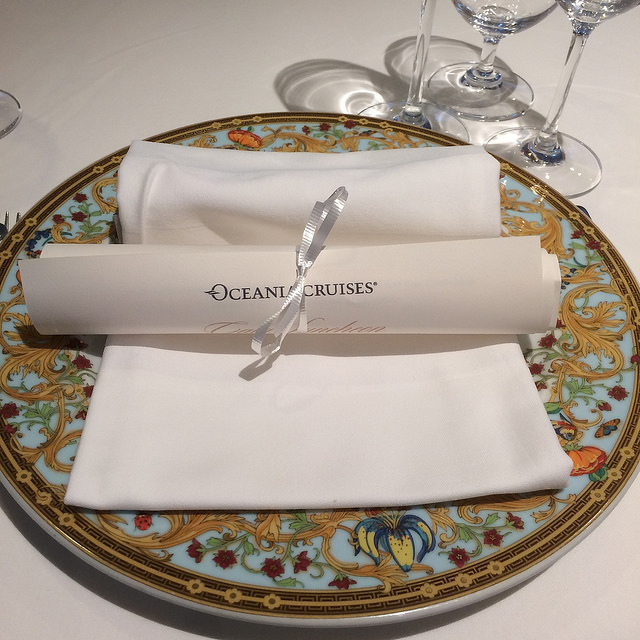 (Gorgeous Versace plates onboard Nautica's dining room)
On the two newer larger ships Marina and Riviera (still midsized in industry terms) two extra specialty dining venues exist; a French bistro and an Asian-themed restaurant. And naturally, each of the six ships has a main dining room, a waiter service buffet restaurant (I know!) and a lido-based dining venue Waves Grill. Room service is included in your cruise fare as well. If you travel in any of the suites onboard, you can dine in your suite and order course by course from any of the restaurant menus.
On many sailings, the OLife Choice deal offers customers even more value with a number of free excursions (depending on the length of the cruise) plus free onboard internet. In addition to these two offers with OLife Choice, you can also choose between free onboard credit or free house wine & beer package at mealtimes (since soft drinks are included already). At times flights may be included as well.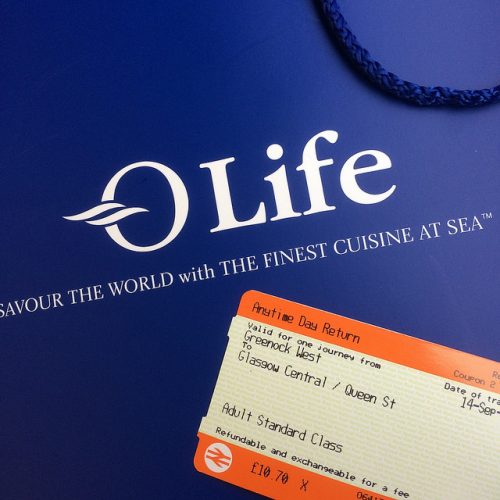 Itinerary-driven small ship cruising
Luxury and upper premium cruises are more itinerary-driven. Being smaller ships, Oceania's cruise ships can take on smaller ports where the mega-ships cannot sail. Here's my second cruise geek bit, please indulge me. Four of the six vessels, the refurbished R'class ships such as Nautica, are small at 30GT. You may know her type if you have sailed with P&O's Adonia or any of the Azamara fleet. O'class Marina and Riviera (2011 & 2012) are the first purpose-built ships for Oceania and they are twice the size of the R'class. At 66GT they're just a touch smaller than the old Vision class by Royal Caribbean. Or Thomson Discovery ships.
Unlike most mass market and premium cruise lines, Oceania also rarely homeport and repeat itineraries. The majority of their cruises are onward travel from A to B, or onto C, so you disembark somewhere that wasn't your original embarkation port. Often ships stay overnight allowing cruisers to explore the port longer, including nightlife on land, as you would expect from luxury 6-star cruise lines.
Touches of luxury
Oceania sits in the upper premium space, above premium cruise lines like HAL or Celebrity but below the fully all-inclusive small luxury operators. Oceania cabins naturally come with high-quality linen and bedding – which, surprisingly you can buy online for your home. Plus luxury towels, comfortable fluffy bathrobes and slippers are a given on a premium cruise like this – in every cabin, not just in the suites. All cabins are also supplied with premium Bulgari toiletries. A perk for most passengers except for us vegans, as they are not a cruelty-free brand.
On the two newer O'class ships every cabin bathroom comes with a bath and a shower – onboard mainstream and premium cruise lines you would expect to pay for a suite to get such facilities or such touches in cabins. On Nautica, being older R'class, bathtubs are only in the suites – one of which we got to see on the day.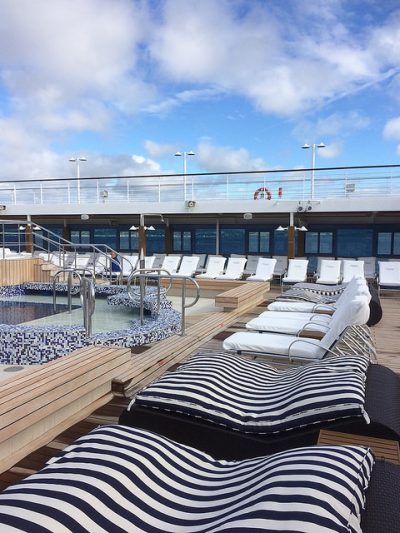 I was pretty much sold at the sight of the pool. I have endured many of pools with disappointingly worn-out sunloungers but the ones at Nautica's poolside were plush. Soft. Comfortably expensive. How do those nautically striped double loungers look to you? So inviting!
Elegance without pretence
A personal pet hate of mine is the outdated view of cruising being a very formal, traditional way of travel. One with set meals, tablemates and rigid dress codes. And yes, if you wish to sail with a particular UK cruise line or its slightly relaxed UK cousin, that old tradition is upheld. Formal every night versus a number of formal nights where ballgowns and tuxes are in abundance and a suit & tie is expected. That, however, doesn't sound relaxing to me.
It should come as no surprise that a fairly young American cruise line like Oceania does not promote such a dated thing. In fact, Oceania's country-club casual sophistication is the opposite of traditional cruise formal. It certainly gets both my and Mr Vegancruiser's approval. I came across this fantastic quote by Oceania's founder Mr Frank Del Rio on this very subject of formal wear – see the full interview on Avidcruiser.com
Q. You pointed out in one of the walk-in closets there was no tie rack. Why not?

FDR: There's no tie rack purposely. We make it a point that we offer a country club casual ambience where tuxedoes and suits are never required. I would be going against my own brand identity if I told you to bring a tie. I don't want you to bring a tie. You're on vacation. I want you to relax. I want you to be casual and comfortable.
Oceania fleet is country club casual in every venue at all times – making packing easier and lighter with no formalwear required. To me, that is a win.
As expected, even a smaller ship like Nautica hosts the usual cruise ship venues. A casino. A number of bars. Library, Internet lounge and a Bridge/card room even. All of Oceania's ships have a Canyon Ranch Spa onboard as well, offering the usual spa & beauty treatments. There is a gym adjacent to the spa which offers the usual classes like yoga, pilates and much more. Afterwards, you can rehydrate with something from the raw juice and smoothie bar.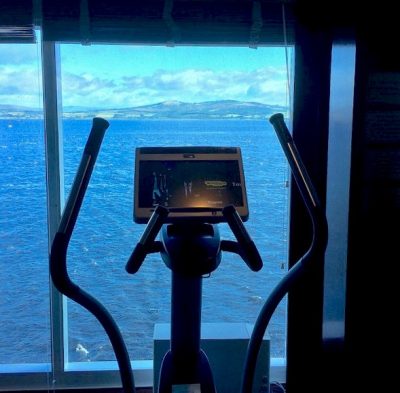 As the fleet aims for the country club elegant look, the decor is a mix of simple but sophisticated and brightly ornate opulence. Here a few teaser photos of Nautica before my ship review. Splashes of colour are found in artwork shown all over the ship, including Murano glass pieces and the bright carpeting of the Grand Staircase shown below.
Us younger cruisers may find the look a little dated for our taste. But the fact is most cruise ships don't cater to us – yet. As you can imagine, being Nordic I have never been a friend of busy carpets but I have learned to appreciate them on holiday. Plus my many years in Britain has clearly built my tolerance for ornate things.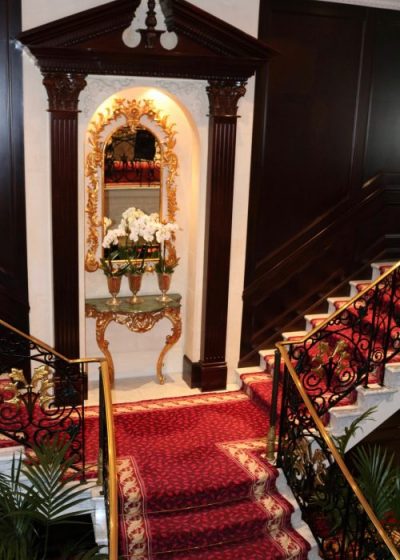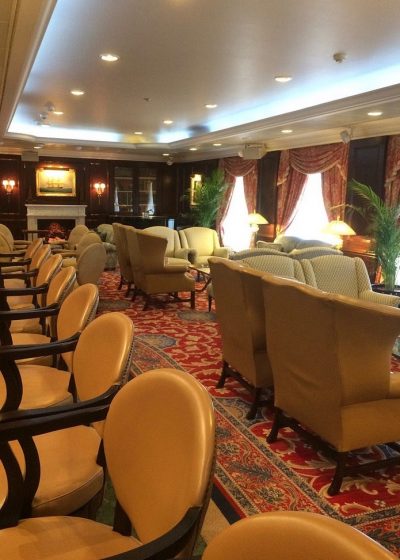 You won't find gimmicky robot bartenders onboard an Oceania ship. The ships aren't adult-only ships but as there are no kids clubs for families so children onboard are uncommon. There is no nightclub with DJ either. Evening entertainment on the Nautica consists of the show lounge with one show per evening. There also is live music in the show lounge and the Martini bar. Plus the casino for those who like to gamble. But when you choose to sail with Oceania, you do that for the luxury, the journey and the amazing food. And I so would, for that one special menu I mentioned at the beginning:
Oceania Cruises vegan menu 2017:
When Oceania originally tweeted about the press release and vegan food onboard I took it with a pinch of salt. I know that cooking vegan starters or main courses isn't really that hard. So I immediately responded to the tweet with a something similar to 'But can you do vegan dessert? Sorbet and fruit just don't do it for me'. Had I realised how serious about food this company is, I wouldn't have doubted. The Twitter team listed off a few of the desserts and referred me to the press release. I could not believe my eyes as I read it.
Vegan menu examples
At breakfast, vegan guests on Oceania will have a choice of five different dishes and four sides. An example of a breakfast menu includes Vegan Tortilla Española with potato, onions, and tofu; vanilla waffle with fresh berries; apricot & pistachio muffins and of course porridge (served with cinnamon powder, organic sugar and choice of nuts). Side dishes available are grilled tomatoes, sautéed mushrooms, vegan link sausage and Lyonnaise potatoes (fried sliced potato & onion with parsley).
At lunch, guests could have a Tuscan-style bean soup with garlic croutons, an Italian salad with assorted greens, roasted bell peppers and toasted garlic bread followed by an involtini stuffed with tofu, spinach and capers served with pasta and olive tapenade sauce. Involtini being Italian for 'little bundle', in case you were wondering. I admit, I had to Google it too. Essentially a parcel of food wrapped in an outer layer of something – could be a thin longways-sliced courgette for example.
Sounds amazing, doesn't it? Oh, and not to forget a lunchtime dessert. All of the above and topped off with a delicious Italian chocolate vegan-ricotta pie with vanilla and raspberry sauce. Sounds too good to be true, surely? Not at all.
At dinner, there is a selection of five-course meals, including quinoa salad and vegetable tartare, creamy truffle-flavoured parsnip soup with chopped tarragon, Thai red vegan curry with steamed jasmine rice. Dessert option on the night may be a vegan strawberry sable, a shortbread with passion fruit cream and strawberries. And if vegans are treated this well, you can only imagine what the regular menu is like!
Convinced? I was…
So if you are a foodie or a traveller with dietary needs, Oceania are sure to cater. The only diet our guide for the day admitted they cannot cater for is Halal. Kosher requests, however, can be honoured if ordered well enough in advance. Other dietary needs are catered for on individual basis, much like the vegan experience on every other cruise line. I even came across a gleaming report online from someone whose doctors had put them on a low FODMAP diet just before their holiday. Oceania had catered for them beautifully, arranging a joint meeting with the dining room and ship's doctor upon embarkation to ensure an appropriate diet onboard.
I hope the above information on Oceania Cruises has been useful to you. Perhaps even added them to our 'cruise lines to consider' list? I believe Oceania's upper premium cruise experience would be the 'cherry on top' of your special holiday. Those that celebrate big birthdays or wedding anniversaries. I would definitely recommend Oceania for couples in the 40+ age bracket travelling with no children and looking for interesting itineraries. It's that relaxed sophistication (no formal nights), great service and exceptional food Oceania might just be the right cruise for you.
And of course, they're great for a vegan foodie of any age who just wants exceptional food.. and a chilled holiday. See the Oceania Cruise website for more information of all the sailings (worldwide).
Come back to what the vegan menu was like on the day. I'll tell you now though: it was the best lunch I have ever had. The omnivores sharing the table were impressed too! I had a great day onboard and I was so impressed by my personalised visitor card. Sadly we didn't get to keep them as a memento of the day.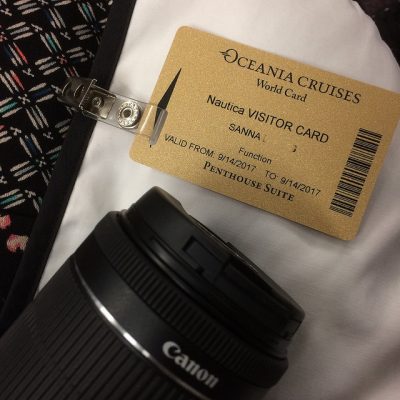 (Many thanks to Oceania Cruises PR team for the invitation to learn more about the Oceania Cruises vegan menu.
Also my thanks to Mr Farquharson for the informative presentation on the day)