MSC Preziosa #BlogCampOnboard: my surprising family cruising post!
On Wednesday morning in early October about 120 of excited and giddy bloggers across the Tots, Trips, Foodies and HIBS 100 networks gathered at Southampton city cruise terminal. This was for the first ever MSC Preziosa #BlogCampOnboard hosted onboard this Italian cruiseship. And what an excellent day we had – mingling, networking, learning from oneanother and exploring a beautiful continental cruise ship. Sure, not everything quite ran to plan or to timetable, but what do you expect when you put such a number of bloggers together who a) want to catch up with their friends and b) want to photograph EVERYTHING.
I was especially looking forward to the event as it was my first blogging conference and I was finally getting to meet a number of other UK cruise bloggers. So, of course, I had to have a windy selfie outside the terminal with the ever so lovely Emma, Katie and Marcus to remember the start of our Preziosa adventure.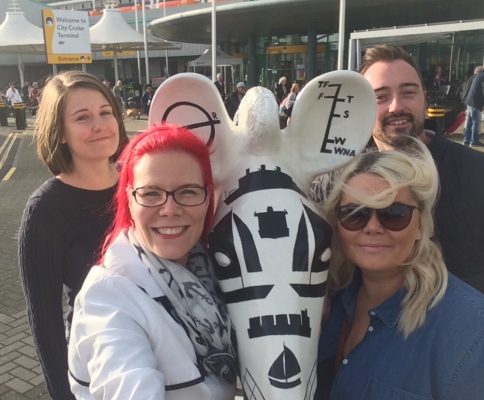 Our Blogcamp check-in and the airport-like security was a very speedy process. Soon we were lead up the not-so-glamorous gangway to the wonderfully sparkly atrium to be bedazzled by those Swarovski laden stairs. Worth around 8,000-10,000 Euros per step, apparently…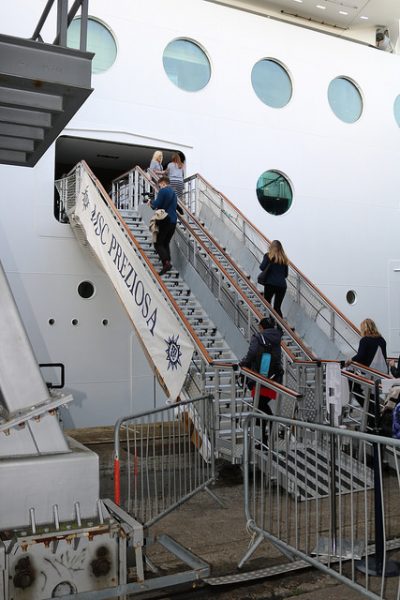 From the above to… this!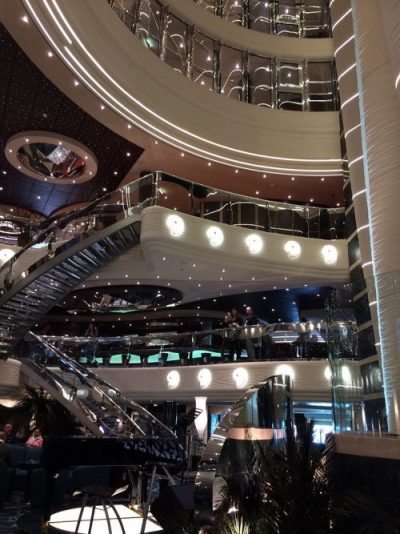 We were all mesmerised by the bling- now who wouldn't? Being bloggers we naturally stopped for photos at every opportunity, annoying our ushers as they were trying to get us all promptly into the 1600-seater Platinum Theatre for our welcome speech. Few curt orders got us back into our groups and into our venue.
I was expecting a small address from MSC UK giving us information on the ship herself, her capacity, dining and entertainment venues but what happened has ended up changing the direction of this blog post completely. We did not get a generic welcome, so no generic ship review post for you either – we got Matteo (I'll explain later).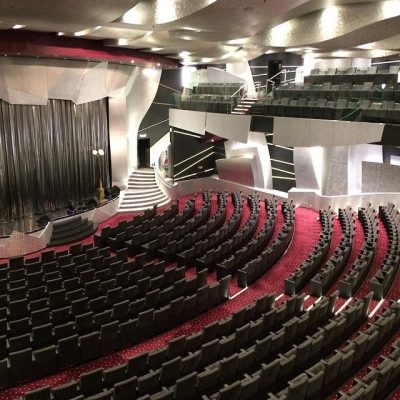 If you have read my blog previously, you'll have noticed I write my posts primarily to adult travellers, professionals like myself. I admit that my blog has very little mention of kids facilities, but this will be my first.. as I have been inspired by our Preziosa visit.
MSC Preziosa #BlogCampOnboard kicks off!
After the brief initial welcome by Sally from Tots100, the corporate youth activities manager Matteo Mancini (for the whole of MSC, I later discovered) took to the stage to welcome us onboard MSC Preziosa. Joining him on stage, Matteo had some of the ship's kids club workers and the two MSC mascots, Doremi and the Lego man.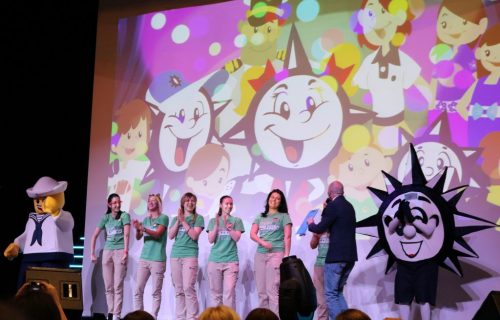 Doremi, the MSC logo character has a total earworm of a theme song. In case you're wondering why you can't quite understand the words, there are at least 6 languages in that song – including English. Apparently, on some departures, you may get up to 35 nationalities of passengers, and kids, onboard!
I am getting flashbacks to my childhood from this video as it reminds me of a TV show I used to watch each year. It was an International children's singing competition from Italy. Does anyone else remember watching it and do you remember the choir supporting each contestant?
Matteo was effervescent and spoke effortlessly about the extensive range of kids clubs MSC offers, their innovative facilities and the partnerships with brands what set MSC apart from the other cruise lines – Lego, Chicco, Samsung and UNICEF. Little more on the final partner at the end of this post.
With the help of some of the mummy bloggers in attendance, Matteo and the entertainment team demoed one of the games played in the kids club. Well done, ladies… very brave and very early in the morning to get on that stage!
We were also told about the web series for kids called Kelly & Kloe onboard, about two sisters and their adventures on a cruise ship. The kids club staff on the stage demonstrated a dance that goes along with it. I'm pretty sure my two nieces would totally approve this show, they would probably want to audition for it too – and there are open auditions for season 2 onboard MSC ships!
Preziosa ship tour
After Matteo's presentation, us BlogCampers were divided into three groups for ship tours – covering slightly different public areas around the atrium and adjoining venues. So many stunning lounges for drinks, music and entertainment.
Such as the Green Sax Jazz bar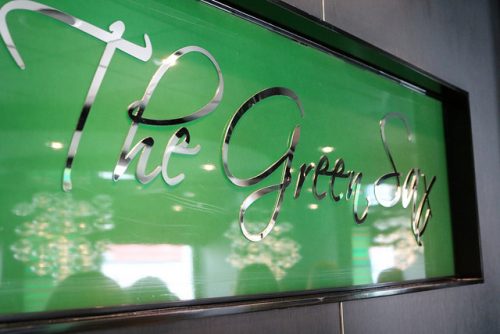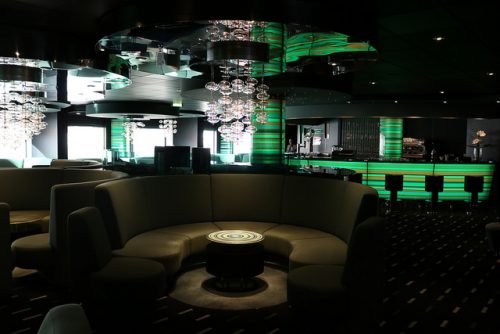 Next door to the Green Sax we found this more casual but fun American-styled Sports Bar and Diner with typical screens and a two-lane bowling alley!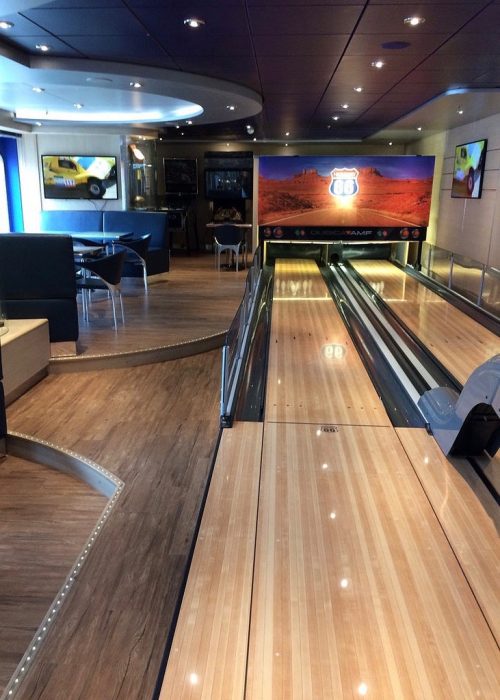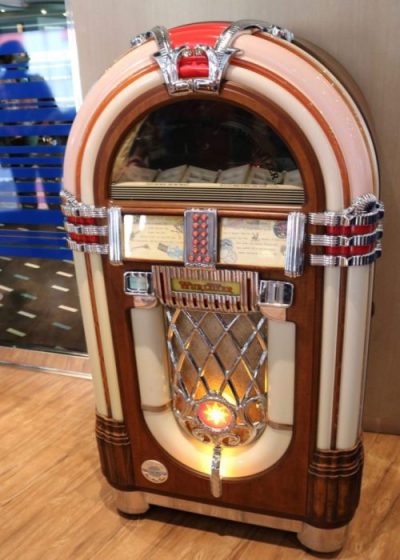 The earthy Safari aft bar & lounge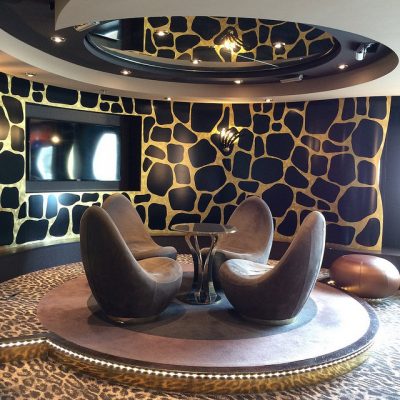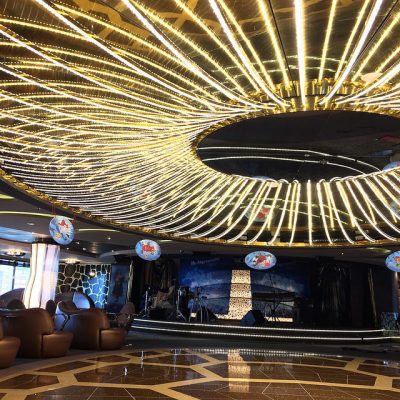 Eldorado Piano Bar: I loved the Art Deco touches and especially the ship-within-the-ship design. Touches like the porthole (like seen here by the bar) and the hull with portholes by the stairs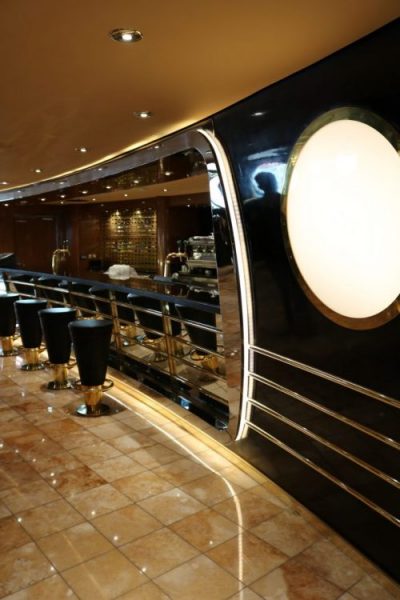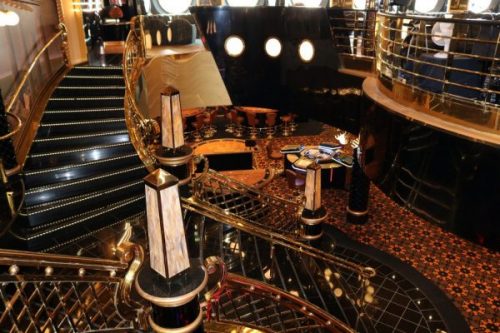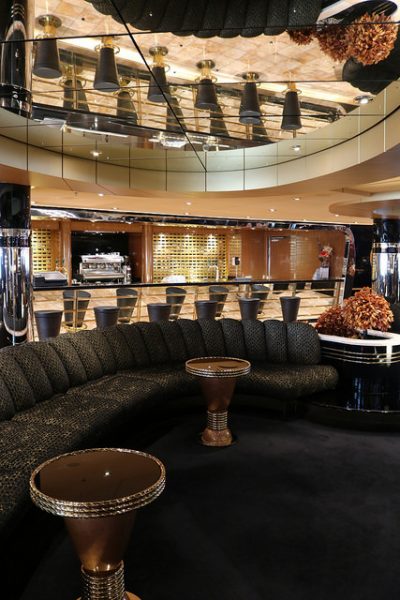 On one of the decks we found a mock town square coffee shop. It even has a painted sky dome roof with starlights. It serves bar drinks, coffee, gelato and fabulous looking cakes & pastries. No vegan options as far as I could tell…unfortunately. Which is a shame as I have had epic vegan dairy-free cakes and gelato in Northern Italy.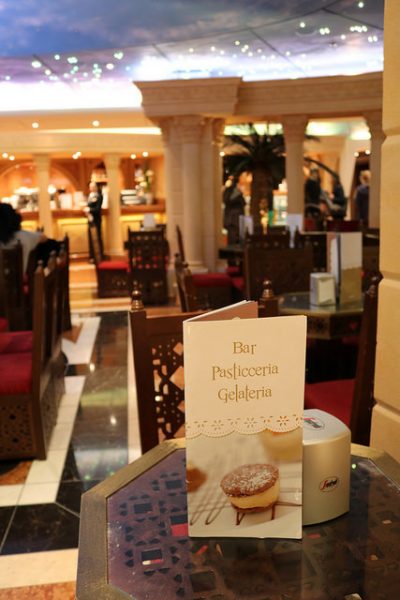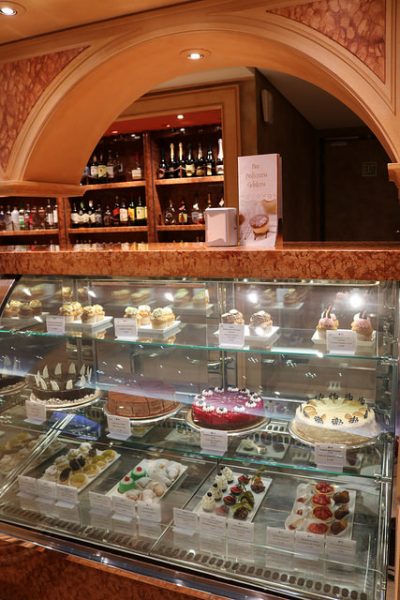 Our tour group was further split to see a make-up and hairdo presentation by the Aurea Spa beauty team. It was a nice idea but the venue (upper level of the indoor pool) did not lend itself to the presentation due to the humidity, noise and poor visibility from the back. Most of us were parched at this point as well. Thankfully, staff arranged some water for us and afterwards we continued our ship tour via the open deck, downstairs to our lunch venue.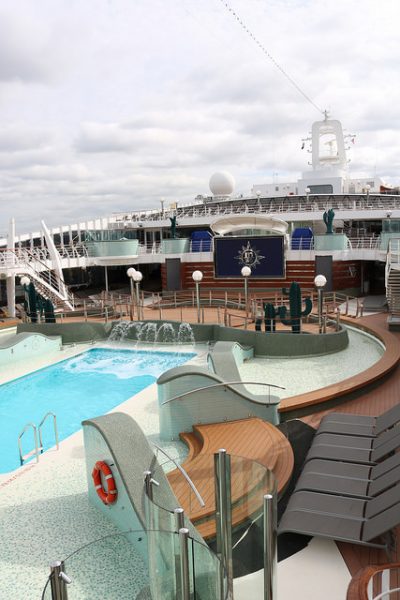 Lunch was served at the Golden Lobster main dining room. We could order from the a la carte lunch menu or help ourselves to the small buffet selection of dishes.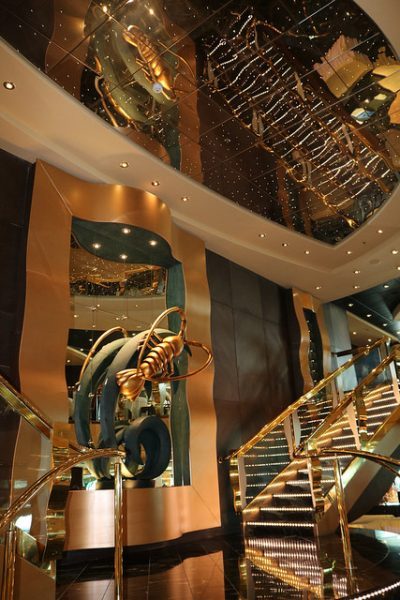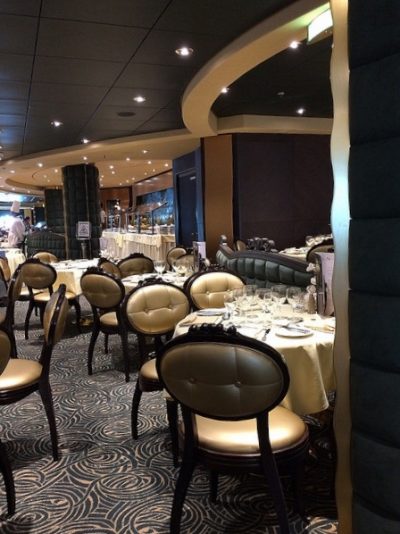 Post-lunch walkabout
After lunch at the Golden Lobster, we cruise bloggers went for a further tour of the ship as our morning group tour was rather short. We did not come across the facilities for the younger kids but we found lots to entertain the teens: arcade games, the F1 simulator and the 4D cinema. And the fabulous teen lounge/nightclub Graffiti's Disco with a real DJ booth, dance floor & seating, table football and more. How cool is it to cruise as a teen these days?!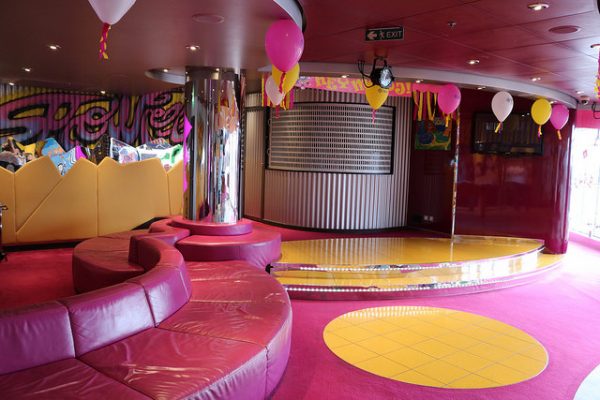 Since cruise ships are cashless, kids over 7 years of age can also have some pre-paid credit on their MSC cruise card. This allows them to make some small purchases onboard such as premium ice cream or drinks – should they not have a daily drinks package.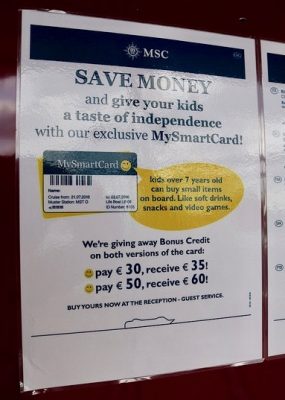 We found the outdoor splash park as well. It's not much use in October in Southampton but on summer cruises it must be a fab place for kids and families!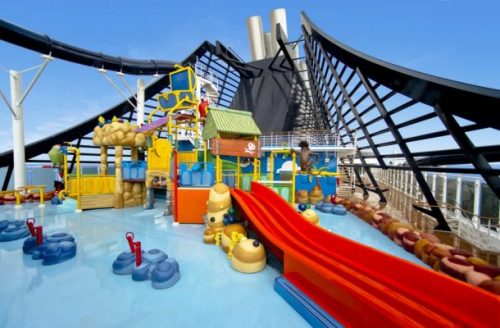 (Stock photo by MSC UK)
Another great MSC first is a separate children's section in the Maya/Inca buffet restaurant. Such a simple thing but surely a great help to parents. I haven't come across a separate kids' buffet section on any of my other cruises to date.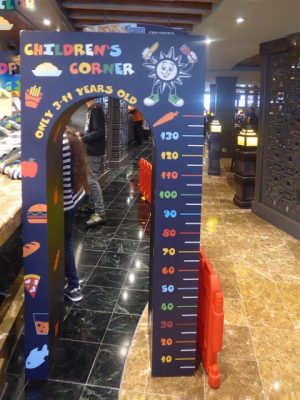 (Children's Corner photo from sister ship MSC Splendida's buffet)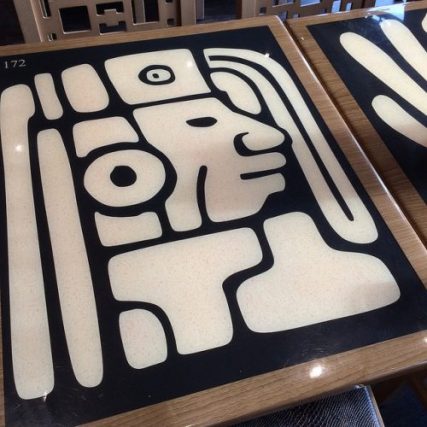 I loved the Aztec influenced designs on the buffet tables…big fan of bold prints.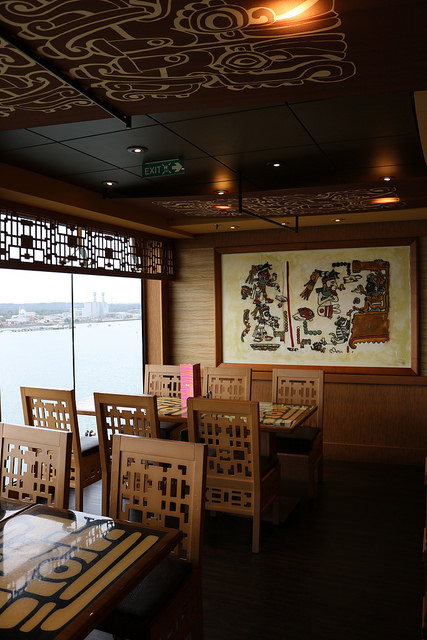 Inspired by #Blogcamponboard day and the memories of cruising as a kid it brought up, I give you…
Five reasons why MSC are fabulous for cruising families!
1) Extensive range of kids facilities:
Free kids clubs for children of ALL ages. The five clubs are:
Baby Club (from 6 months)
Minis (3-6 yrs)
Juniors (7-11)
Youngs (12-14)
Teens (15-17)
These clubs, their activities & sessions run every day from 9 am to 11 pm. These you can find listed in the Daily Programme which is delivered to your cabin the night before. You can pick and choose which ones your kids (and you – if a joint family event) want to attend. There are family discos, family sports activities, treasure hunts and other competitions.. in addition to the traditional 'kids only' sessions.
I was especially impressed by this as on my last cruise on a ship by a large UK cruise & holiday operator, their kids' club though free, was only up until the age of 11.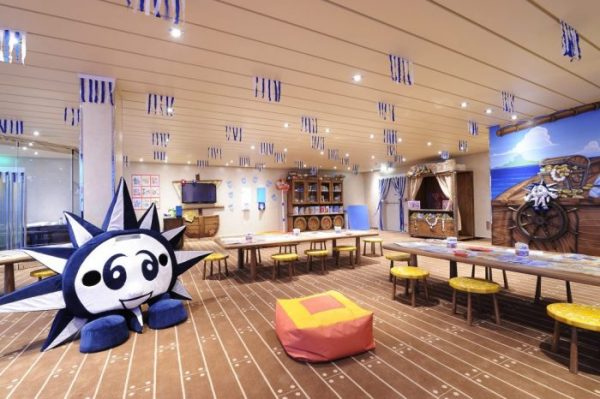 (stock photo by MSC UK)
I briefly mentioned collaborations with brands earlier. The baby club is a collaboration with the famous Italian baby brand Chicco. Older kids will be enchanted by Duplo/Lego rooms onboard. I think I am paraphrasing Matteo if I say 'Lego bricks speak everyone's language'. Kids from many nations can play together even when no common language is present.
During the initial welcome presentation, Matteo (with the help of some mummy blogger volunteers) demonstrated one of the games kids play onboard: a song recognition balloon popping game. Regardless of your nationality, chances are that a child of a certain age will recognise a Disney film song, like the theme song from Frozen.
Another exciting feature we learned about is onboard MSC's latest ship Meraviglia. It is a tech lab where the older kids can play with 3D printers! Quite unlike any holiday kids club I ever got to be in – I'm rather jealous now.
2) Fab new cabins for families and groups
Most cruise ships have adjoining cabins ensuring families larger than 4 can still stay together (as a standard cabin will sleep four). We didn't get to see any cabins on our day as Preziosa was sailing at full capacity and we couldn't intrude on the passengers. But here's a stock photo of a four-person inside cabin. You'll see the top bunks folded out of the way for daytime.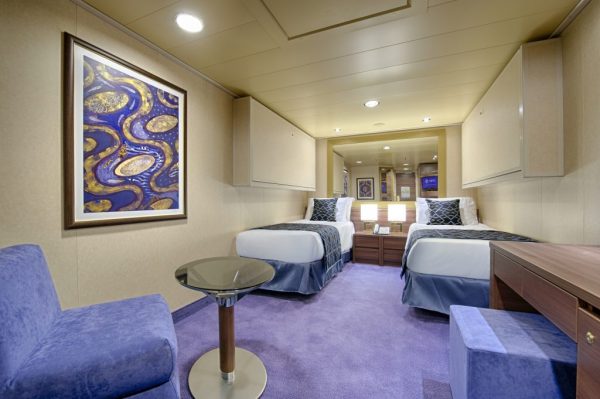 (Stock photo courtesy of MSC Cruises UK )
But on our day onboard we learned about exciting new family/group cabins available on the new ship Meraviglia. These will sleep up to 10 people, by linking up to three cabins. Some of the family cabins will sleep up to five people, while the adjoining family cabins cater for four passengers. The 10th bed is found in the small solo cabin between the two family cabins. This deck plan image below will explain it better. I particularly like the fact that the parents have a double and the kids' bunk beds are in a separate alcove.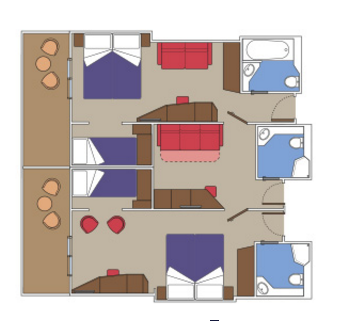 (Image by MSC UK)
3) Great value kids' places
Most cruise lines offer discounted places for the 3rd and 4th passenger in the cabin. The cruise line I mentioned earlier whose kids club ended at 11 years of age, also charge the full adult fare for anyone over 12. So it pays to do your research when pricing a cruise for your family.
I was surprised to find out during our visit that MSC currently has a £99 offer for kids on their 2018 Southampton departures. A week-long cruise for under £100 for your child/teen including their food and kids club activities? Such a bargain I could easily treat my nieces to a cruise. I could even have them test-drive the kids' clubs for my blog.
4) Southampton as home port
While Preziosa has been sailing from Southampton in 2017, which made it possible for us to visit, there is exciting news for 2018. For the first time ever MSC is going to be homeporting Magnifica from Southampton from April to October next year. With this new homeport comes some enhancements to appeal to UK cruisers.
Since many British cruisers enjoy a cuppa in their cabin, kettles, tea and required extras will be added onboard. For a more British feel, Magnifica will also be carrying UK brands like Yorkshire tea and even Marmite. Though personally, I do not know anyone who likes that brown stuff…
Alcoholic drinks onboard Magnifica next year will include British beer & cider brands on draught. MSC will also bring a British cruise director onboard and UK comedians for late night entertainment. This makes perfect sense as I can see the majority of Southampton cruisers being Brits.
For current Southampton 2018 bookings, MSC is also offering free upgrades to balcony cabins*. As the ship was at full capacity we never got to see any. But here's a stock image of Preziosa balcony cabin, set to a double, to give you an idea what to expect.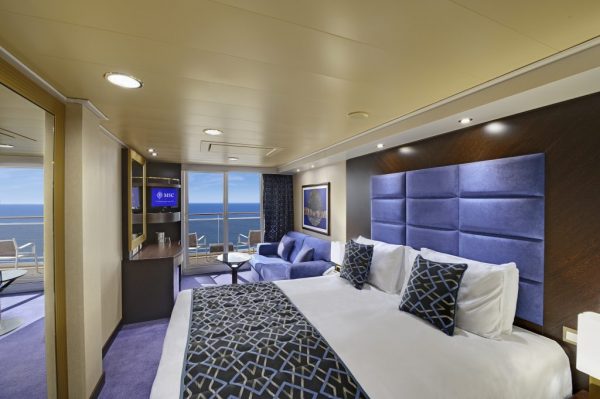 MSC also currently offers free car parking or £99 per person regional flights to Southampton*. Not to forget my reason no 4 above. See the MSC UK website for all the info on the Southampton departures and the existing offers.
5) Focus on the well-being of children
On our tour of Preziosa I was pleased to see a pool attendant/lifeguard posted at the indoor pool. You may not think much of it but cruise ship lifeguards are an exception – very few ships/cruise lines have them. Great job, MSC.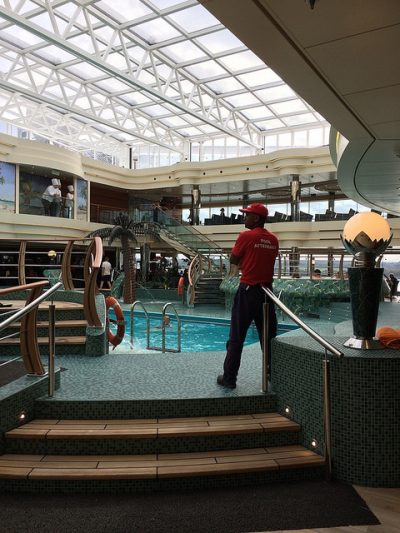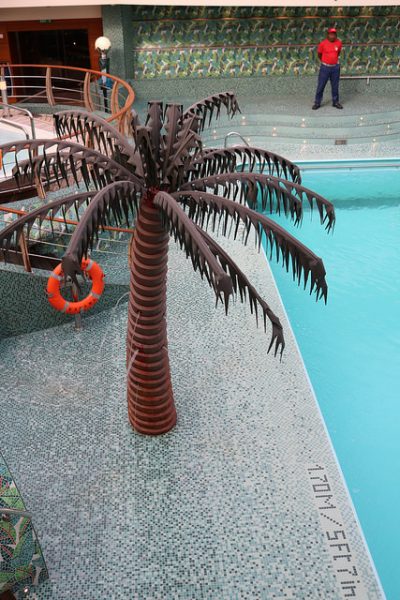 During our blogger Q&A with MSC at the end of the #BlogCampOnboard day, the question of cruising with children who have severe allergies was asked and how MSC kids' clubs handled epi-pens. My ears perked up immediately as I had been doing a little online research on this for a guest post for CruisingWithKids – see here.
What I had learnt was that some cruise lines allow trained children's workers to administer epi-pens in emergencies. Others would insist on calling the ship's medical team to the kids' club should an emergency arise. As staff present at the Q&A weren't 100% sure of the MSC policy, we later received clarification on this. Like on many other cruise lines, MSC children's workers aren't allowed to administer medicines. Instead, MSC position one of the ships nurses in the club when a child with such special needs is present. This is impressive and preferable as calling a nurse or doctor from the sick bay would delay administering vital medication in a real airway emergency.
MSC and social responsibility
But the well-being aspect goes further than the ship and families onboard. I was pleased to discover MSC partners with UNICEF. Their 'Get onboard for children' initiative, via a donation of 1 euro per passenger, has fed over 40,000 children in places like Malawi and Sudan. MSC passenger donations also support UNICEF's Urban platform initiative in Brazil to provide education to children living in favelas.
But this partnership is not just a passive, automatic donation added to the onboard account. Each week onboard an MSC cruise, there is a dedicated UNICEF day. On this day the kids' clubs teach the children about UNICEF's work through a range of educational activities and games. At the end of the day children taking part receive a certificate naming them a Junior Ambassador for UNICEF. And that is pretty awesome for a holiday kids club… and educational too.
Just one more thing…
There you have it – 5 reasons why MSC are great for families. I hope these might tempt a few more young families onboard. You certainly wouldn't be the only ones – as we discovered during the Q&A session that MSC's passenger demographics run a good 10 years younger than those of other cruise lines. MSC average is in the early 40s, whereas the current overall UK average age of cruiser (as reported by CLIA) is still 55. It's coming down gradually as more UK young people and families take up cruising.
As for Preziosa, I loved her decor – I think that'll need a separate, more detailed blog post altogether. More of my usual bars, spas, cocktails, interiors and food onboard compilation post. Meanwhile, If you search the #BlogCampOnboard hashtag on Twitter you'll find us BlogCampers sharing our photography. A lot of photos of the stunning Swarovski staircases in the atrium, as we all loved the bling.
Thank you to Sally from Trips100 (Flea enterprises), the bloggers/speakers and everyone else who made #BlogCampOnboard such a fun day out – and educational too. Many thanks to Antonio Paradiso (the UK & Ireland MD of MSC Cruises) for his time and all the MSC staff who looked after us while onboard.
Any questions on cruising, don't hesitate to ask! Comment below or contact me via my other social media- always happy to talk cruise.
I would especially love to hear from you if you have cruised vegan on MSC – please get in touch! You can read about my vegan dining onboard MSC Splendida in 2016 here.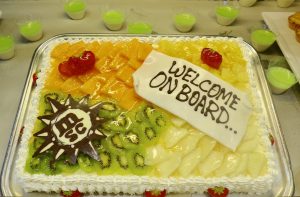 *promotion quoted valid until end Oct 2017, as advertised on MSC UK website.