Celebrity Eclipse ship visit – modern luxury for cruising couples
I have to admit, I am totally smitten with Celebrity's Solstice class of ships. This class consists of five iconic near-identical sister vessels full of innovative design features, stunning venues and the staff to make your cruise holiday something special. Mr Vegancruiser and I sailed on the 4th ship (Silhouette) for our wedding anniversary back in 2014. To this date, that particular Celebrity sailing is my favourite cruise holiday of all time – a fabulous itinerary and the best ship we have been on. So when I found I had two tickets for a Celebrity Eclipse ship visit in Southampton this July, I got very excited. I could not wait to see this beautiful class of ships again and be wooed…again.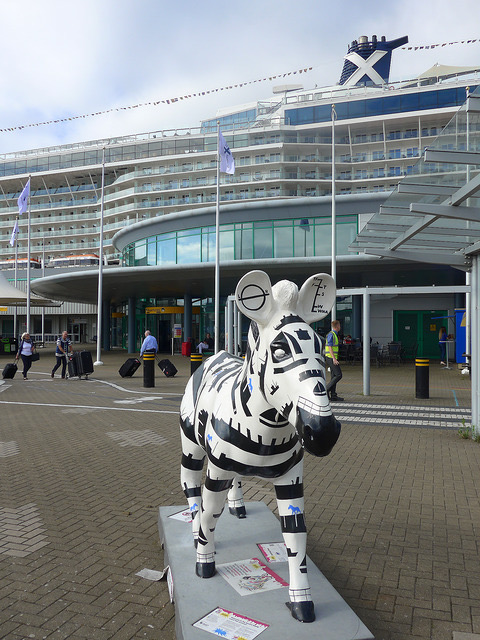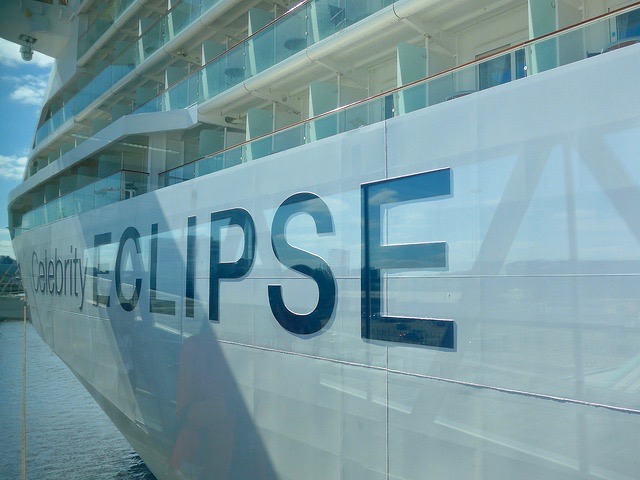 Why Celebrity Eclipse… why Solstice ships?
The Solstice class of Celebrity Cruises ships was launched back in 2008. The Celebrity Eclipse, which we visited (the lovely Emma from CruisingIsntJustForOldPeople & me), is the 3rd sister which joined the fleet in 2010. Since her launch, Eclipse has received a minor refurbishment in 2015 so she still looks sharp and fresh as ever. Hope my photos of the day onboard are proof of this.
Celebrity Eclipse is a stunning ship – like her sister ship MrVegancruiser & I experienced in 2014. I would not hesitate to recommend any of the Solstice class ships to those looking for a lovely romantic cruise getaway. Certainly, if you are looking for that little 'extra something', the Solstice class is for you. Think of it as a comparison between a luxury boutique hotel versus a big multinational luxury brand. Both will be good, but one has more character.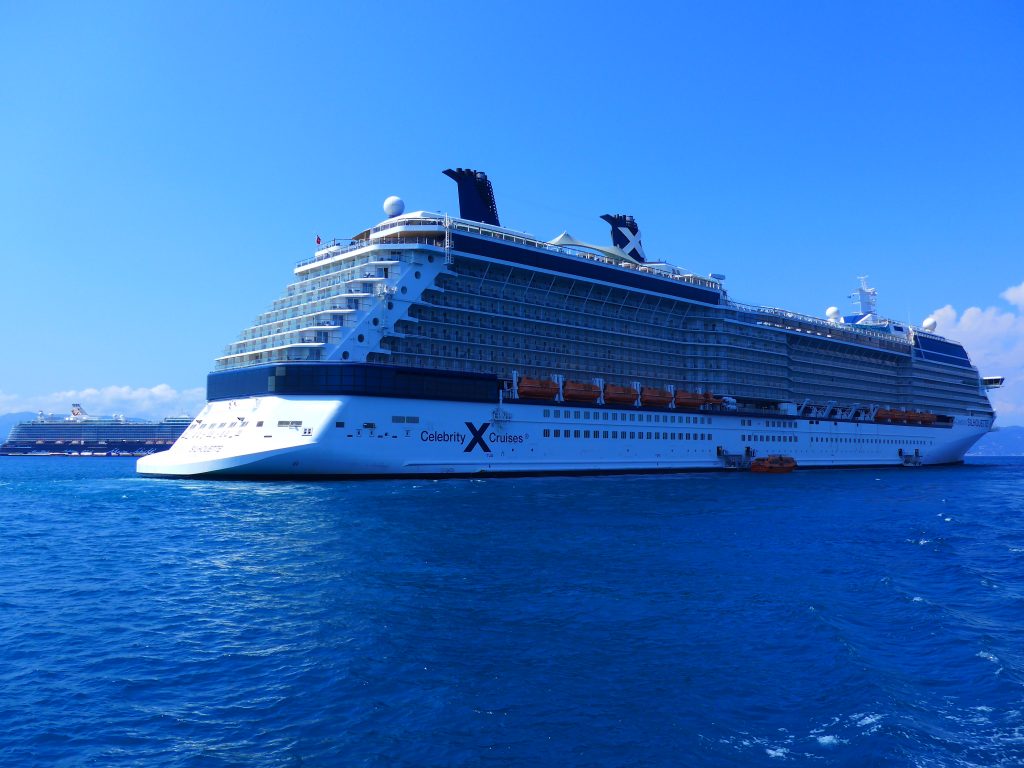 (Another Solstice ship, Eclipse's sister ship Silhouette in 2014)
Our large group of day visitors were first lead to the Sky Observation Lounge forward on deck 14 for some refreshments. This is just one of the many evening & nighttime entertainment venues onboard with live music and dancing each night.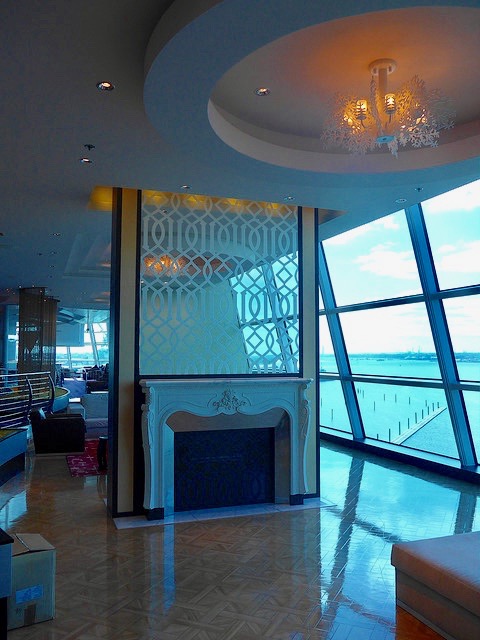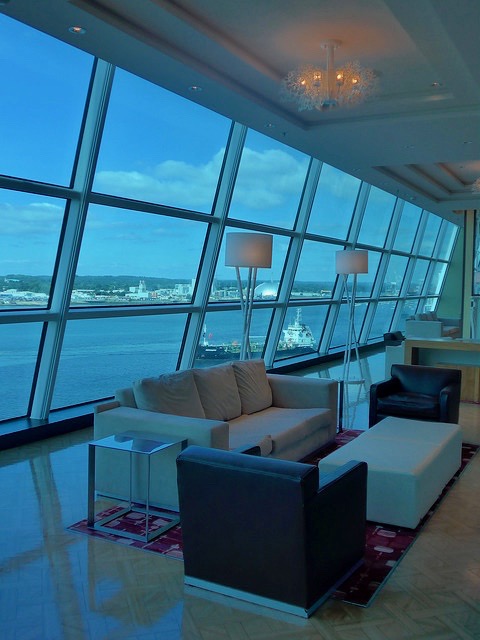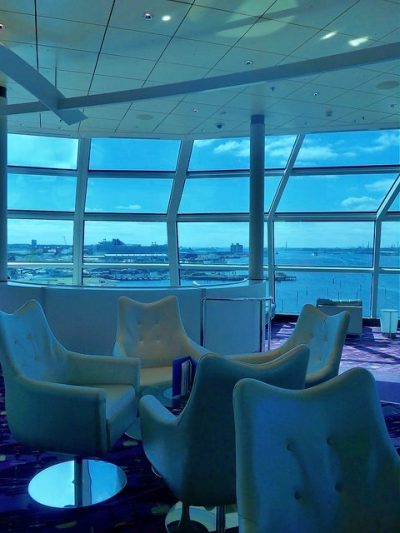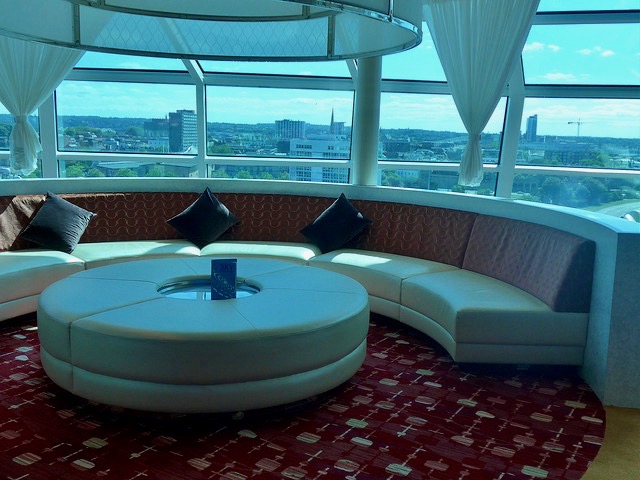 On my 2014 cruise I loved this space for the large windows and views of the seas ahead – and the fresh clean lines of the decor. No outdated pomp here. The seating colours on the Eclipse version of the venue were really light and fresh too, giving the Sky Observation Lounge such an airy feel. Views of Southampton harbour weren't too bad either – as long as you looked out to the sea.
Suite Tour
We were shortly split into smaller groups and given a rare opportunity to explore the best lodgings on board – three of the grandest suites: Royal Suite, Penthouse Suite and the Sky Suite. I could not believe the size and quality of the interiors of these cabins! I managed to take some photos to share of the larger two but unfortunately, the smallest Sky Suite was so busy with us visitors that I didn't manage to get photos of it to show you.
Royal Suite
The Royal Suite has a large open plan dining area that runs into the lounge, which in turn has access to the balcony. The bedroom in this suite to the right but I could not get a photo without a dozen other visitors in it.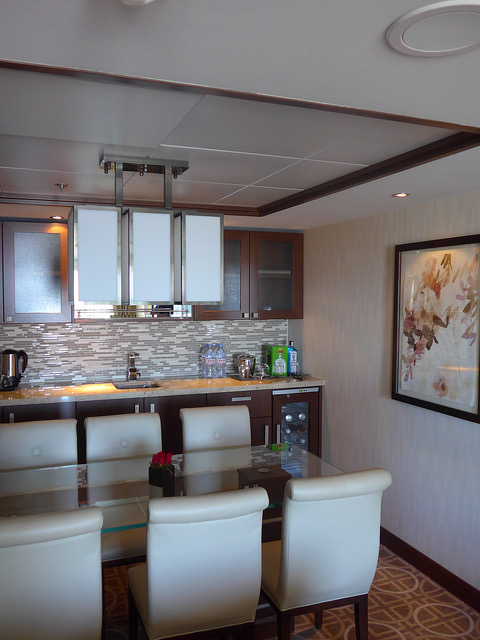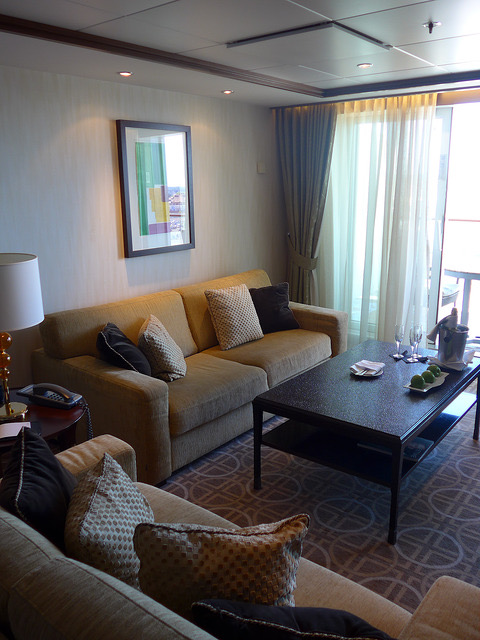 The suite bedroom has two doors leading from it. One takes you to a spacious walk-in wardrobe. Next to it is a fabulous bathroom that hosts both a bath and a shower cubicle.
.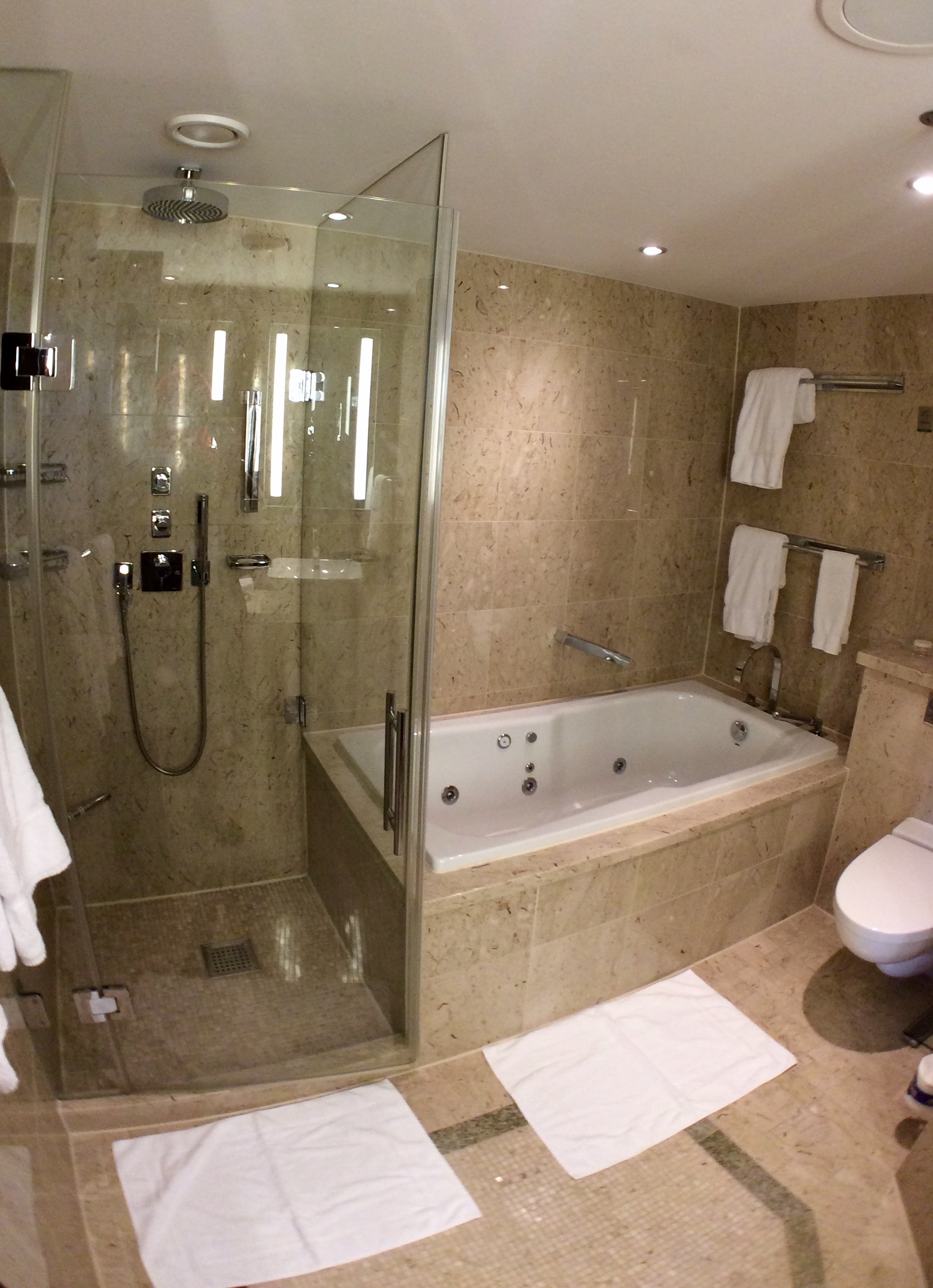 On the other side of the french doors from the bedroom was this!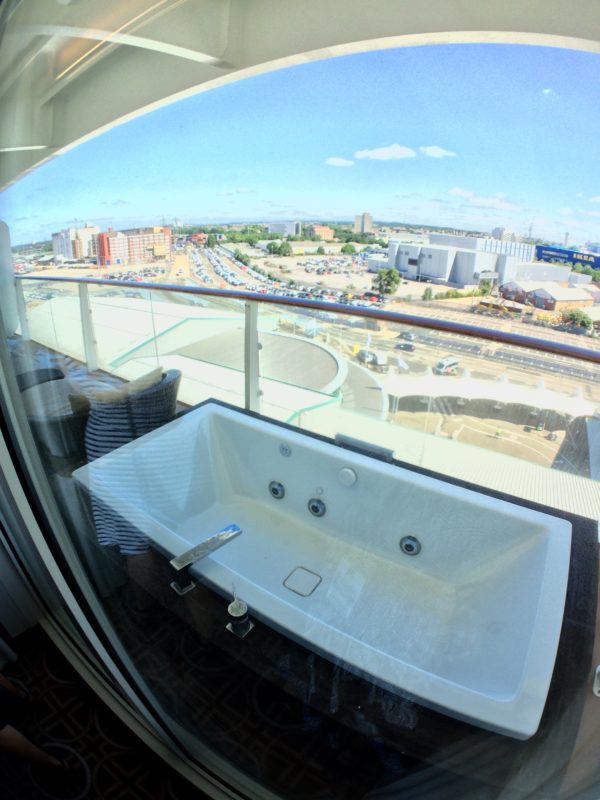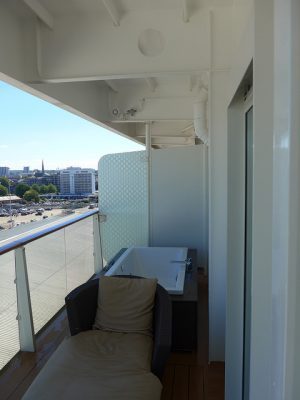 And here is the view of the jacuzzi on the balcony itself, as you step in from the lounge. The full size of the Suite is 55sqm and the balcony adds another 15sqm. Rather swish, right? Well, prepare yourself for more.
The Penthouse Suite
After the Royal Suite, we were treated to the massive and absolutely unbelievable Penthouse Suite. The first thing to greet you is a baby Grand Piano! This divides the large open plan dining and lounge area.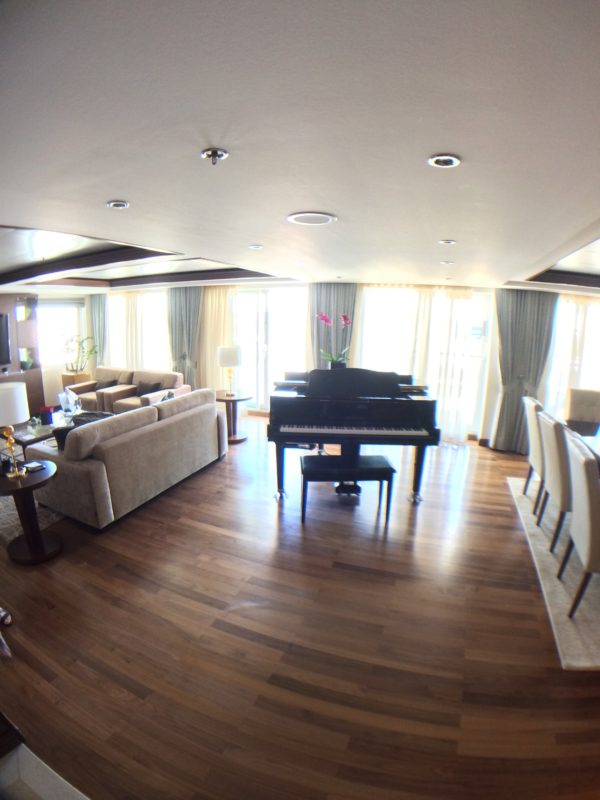 To the left of me, at the back of the lounge there was a large walk-in wardrobe again and a separate toilet, while the bedroom has a large ensuite bathroom.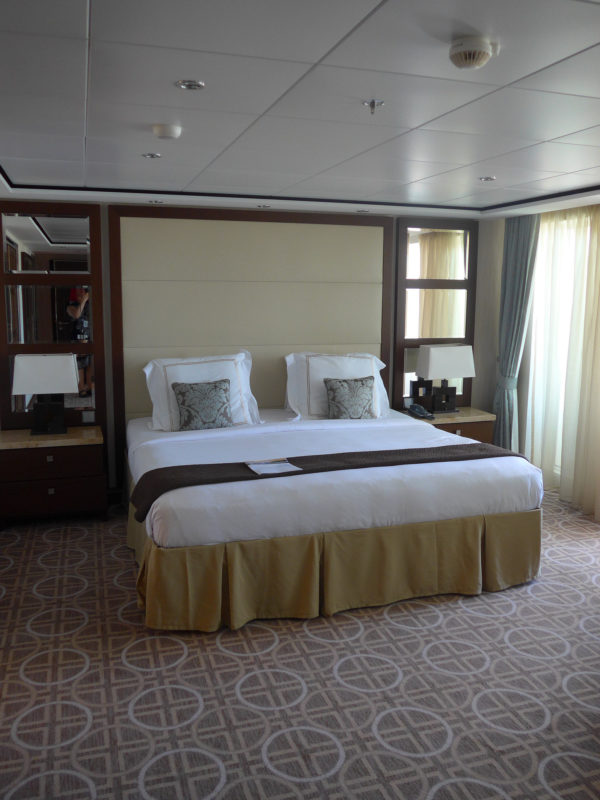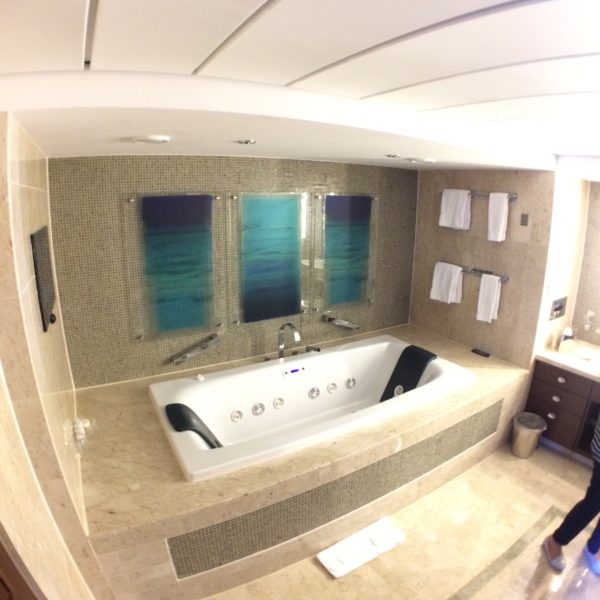 The extensive bathroom has a large jacuzzi bath, am convinced it would fit two people. As you can see below, the toiletries provided are by Bulgari. They may be nice, but not cruelty-free or vegan.
The toilet & bidet is located in a separate room across from the bath & (twin)sink area. Next to this toilet room is a fabulous two-person shower room with glass door/wall. Imagine never having to wait for your partner to finish showering!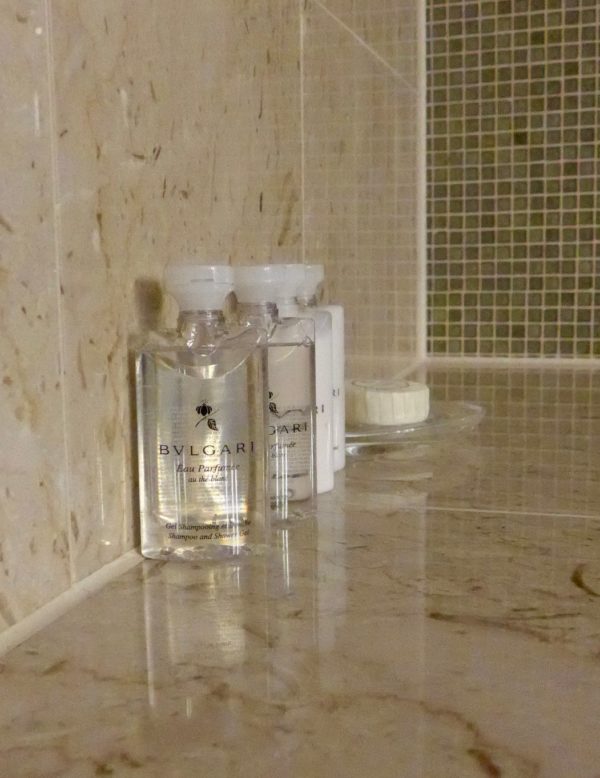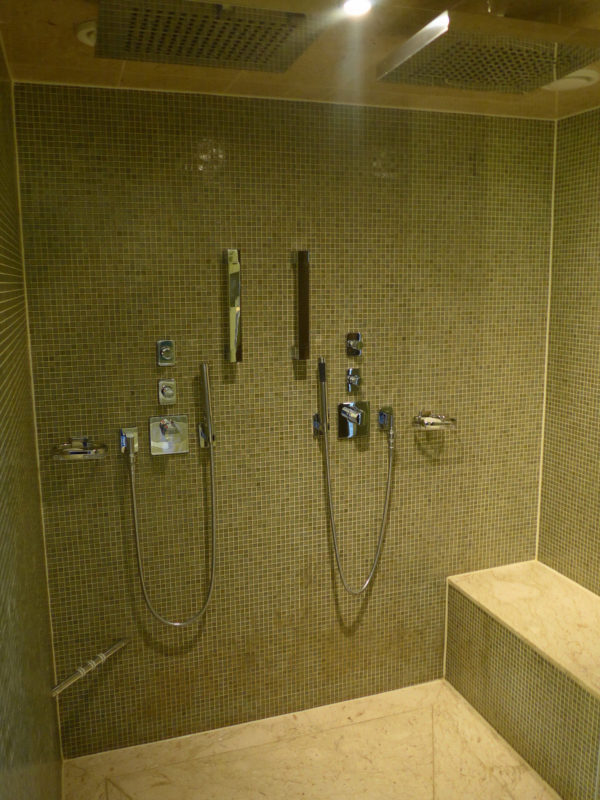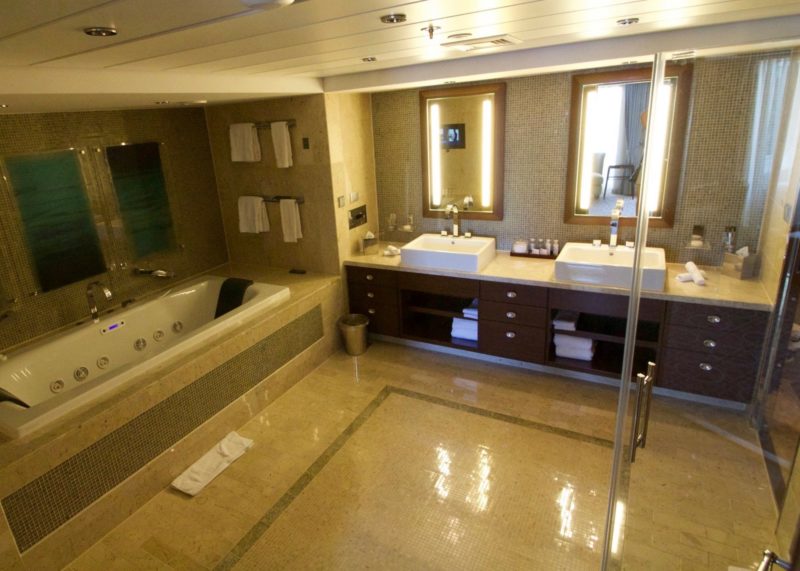 From the bedroom, you gain access to the long balcony which at the master bedroom end has a wide outdoor lounge area with a jacuzzi. At the lounge/diner end, the balcony is a narrower strip but it too has further seating.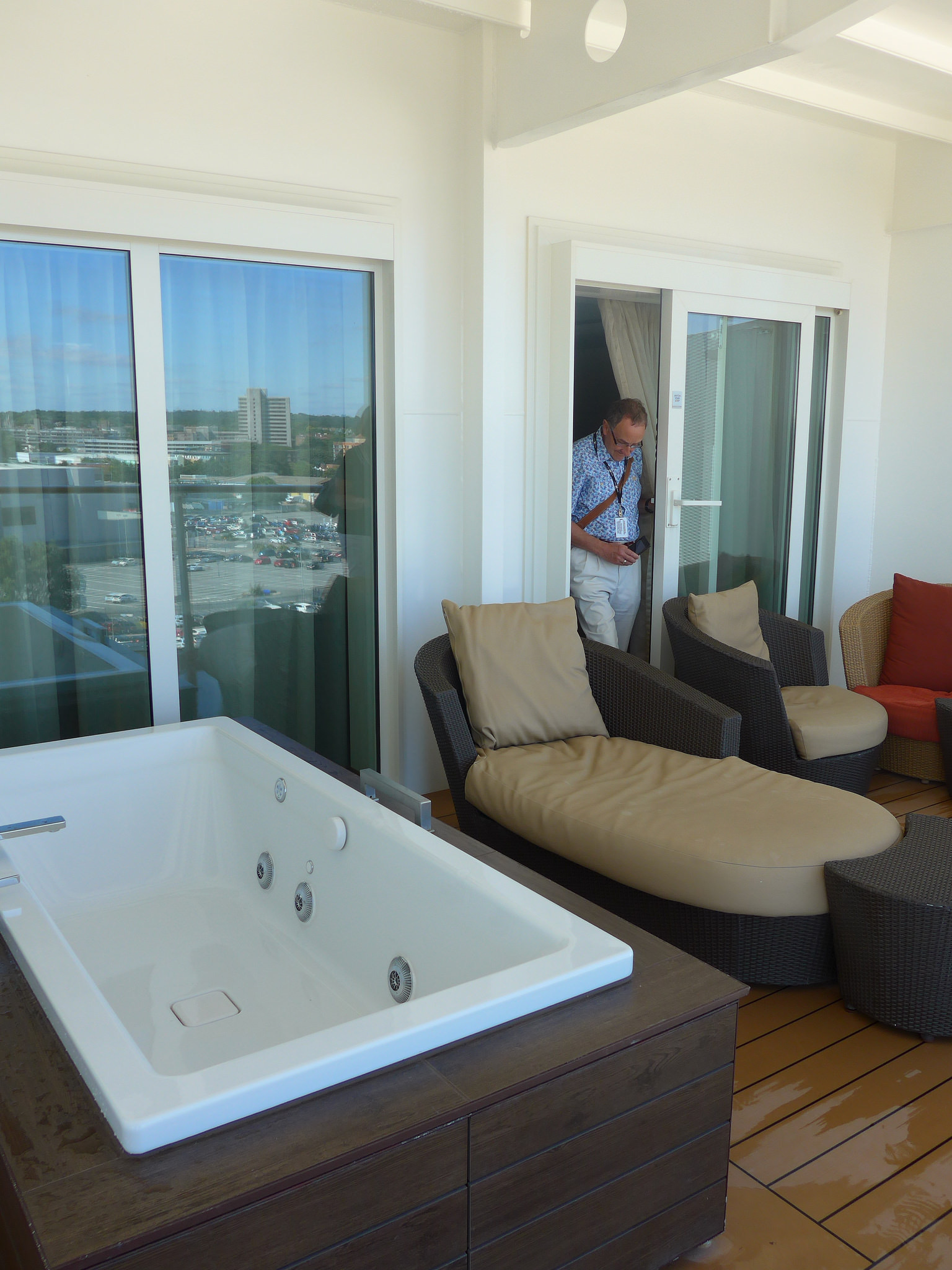 This stunning Suite measures 120 sqm (bigger than our house!) and the balcony too totals another 36 sqm.
Aqua Class balcony cabins
At the end of the suite tour, we got a quick look into an Aqua Class balcony cabin. Aqua Class comes with extra perks such as unlimited Spa access and its own restaurant Blu, which serves healthier options. Aqua Class bathrooms also have a better quality spa shower unit in the shower cubicle – no dreaded shower curtains here. Booking Aqua Class you also get upgraded linen, better fluffy robes & slippers, fruit tea in your cabin and a pillow menu. The Gilchrist & Soames toiletries in the bathroom are cruelty-free and vegan (as reported to me by another vegan cruiser )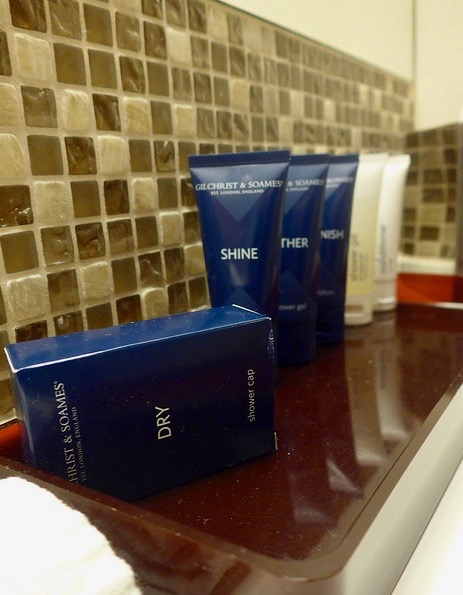 There is ample storage both in the bathroom and in the cabin. Across from the bed is a vanity/desk area with a minibar and an interactive flatscreen tv on the wall. All cabins come with twin beds/double with useful storage overhead. There is a sofabed in the lounge area, some even have a Pullman bed for the 4th person.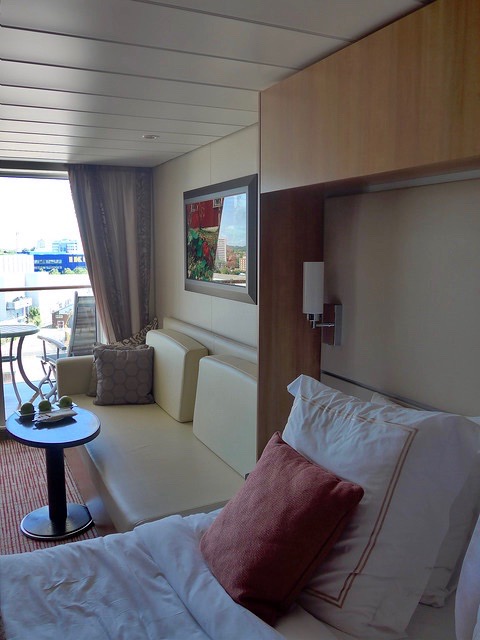 The Aqua Class balcony cabin is the same size as the Concierge and standard balcony cabins with 18 sqm for the cabin and a 5 sqm balcony space. Still to this date my favourite balcony as it is deep enough to get a lounger-like chair in and not just a rigid garden chair.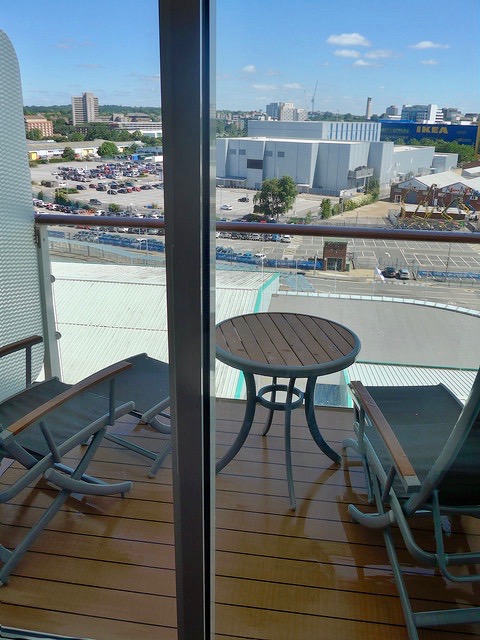 Other cabin options:
Oceanview cabins are slightly smaller at 16sqm and insides depending on cabin vary between 17-19 sqm. All very spacious for their kind – so you don't just get style, but you get space too.
On Solstice ships you can also book Family Veranda (balcony) cabin for 5 people. It offers a lounge space with dining table and a sofabed for one, a separate master bedroom for two people plus a second, smaller bedroom with a twin bed and a Pullman bunk.
Free time onboard: Lido, Lawn Deck & more
After our suite tour ended we were given a complimentary drinks voucher to use in selected venues. We also had about 1,5h to explore the ship on our own before lunch. I had enthused about the stunning half-acre lawn deck to Emma so that is where we headed – via the Lido pool bar. Love, love, love the Solstice class pool deck so much!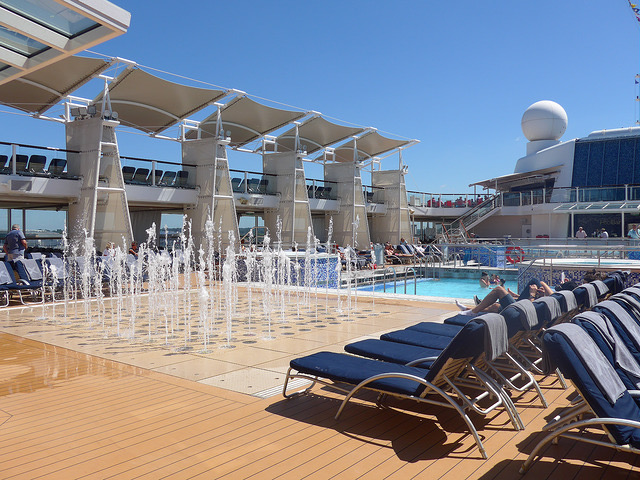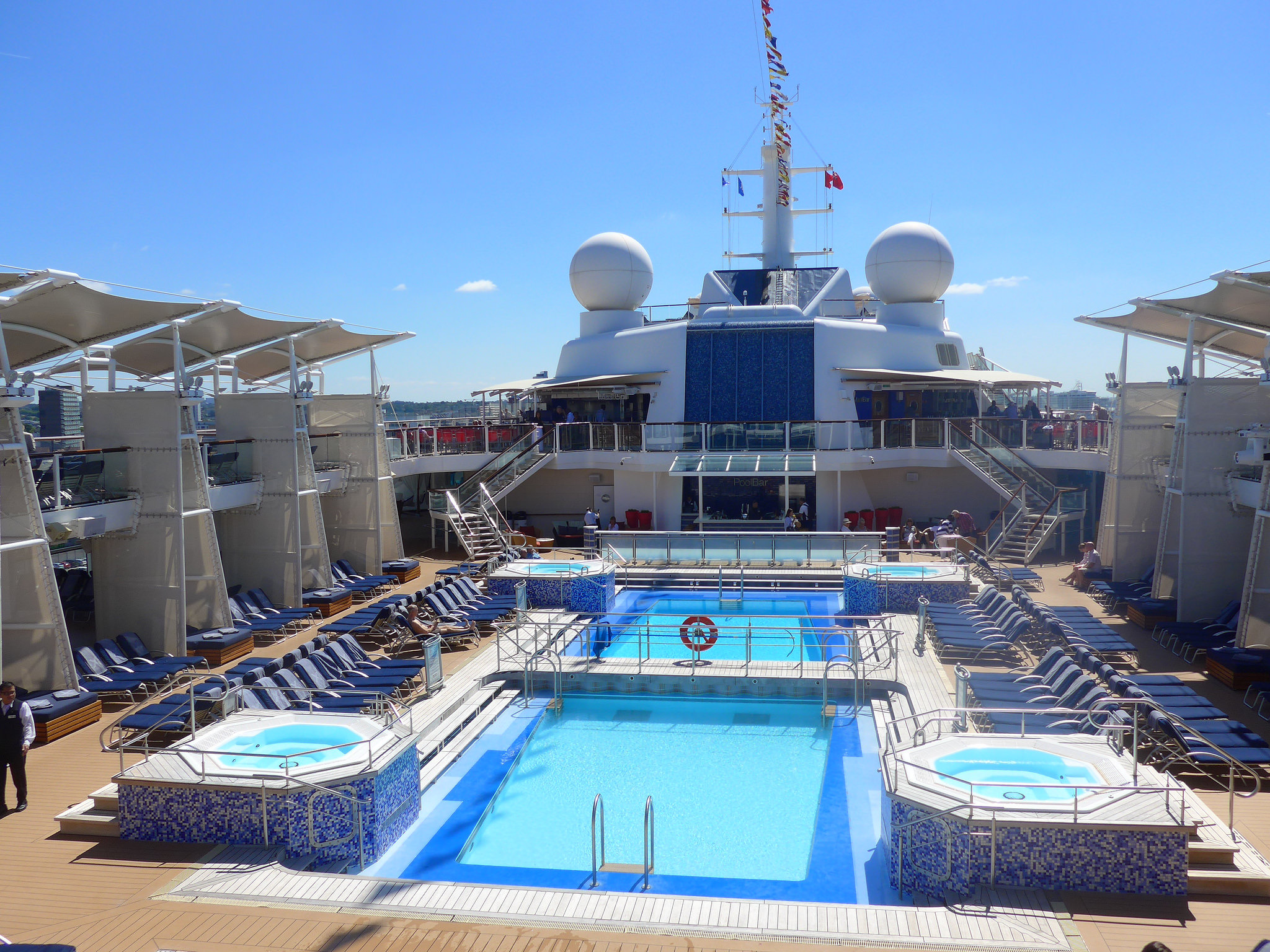 As you can see, there are no water slides or play areas for children here. Some families do travel with Celebrity but passengers are mostly couples or families with older children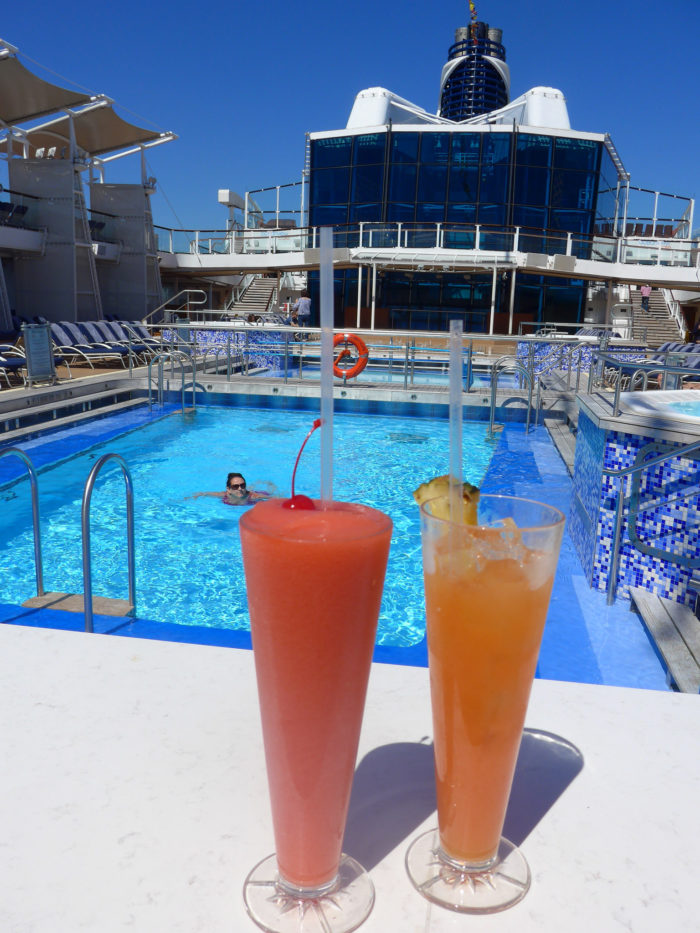 Nothing tastes better than a frozen cocktail by a pool – except a complimentary one! Once we had our drinks in hand, we did a wee bit of wandering, vlogging and photographing this beautiful ship.
Behind the pool bar, you'll find the Adult only indoor pool Solarium with usual pool loungers and other comfortable seating, including large couples' hammocks.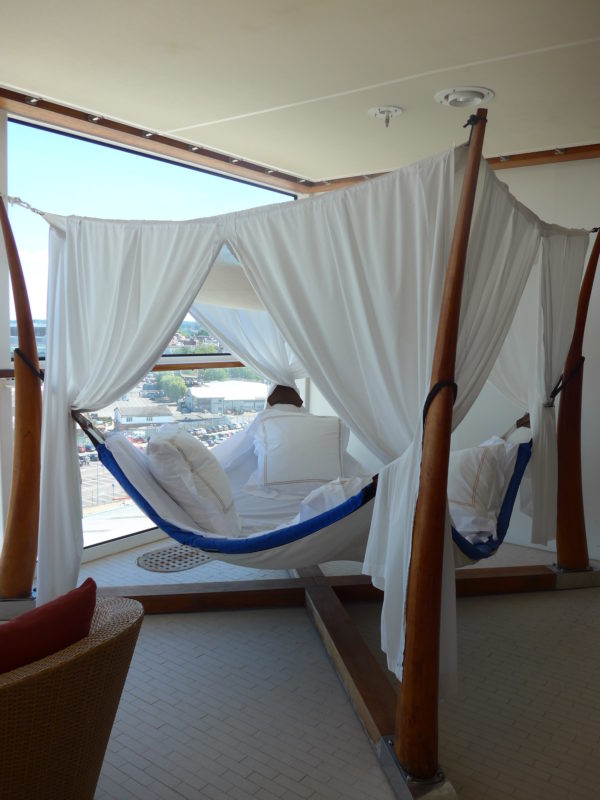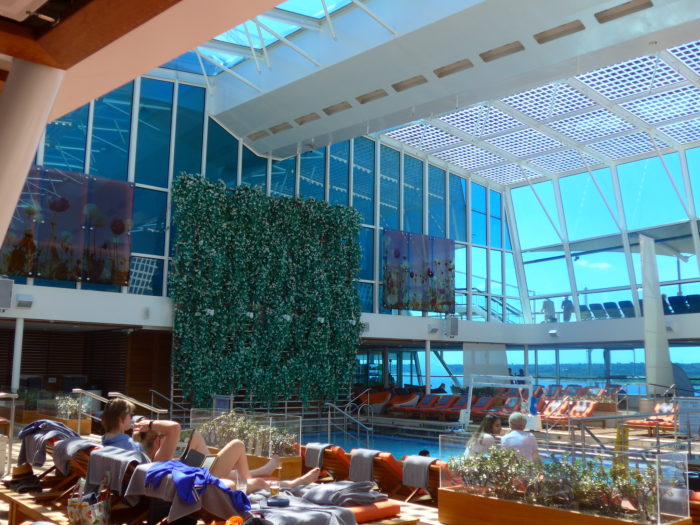 Above it, forward on Solstice deck (deck 16), is the Adult-only sun deck with regular sun loungers plus a selection of superbly comfortable bed-like loungers, and armchairs with footstools.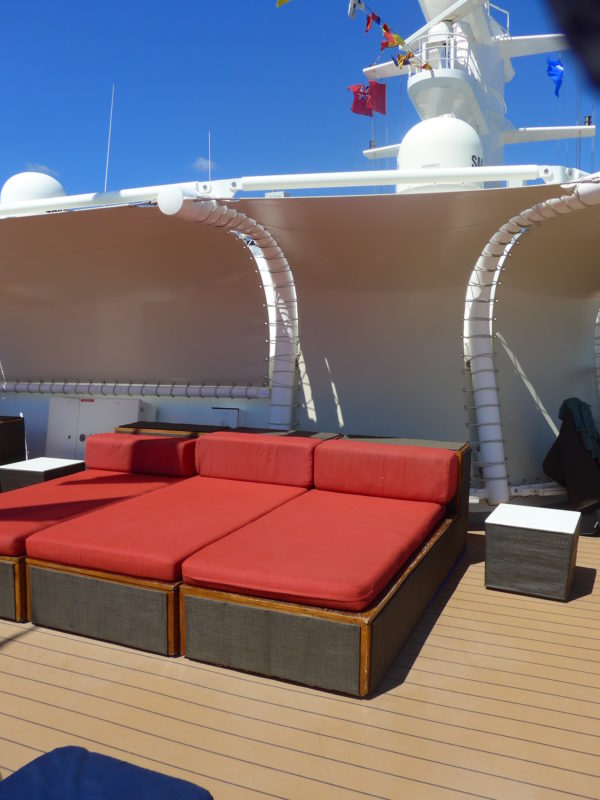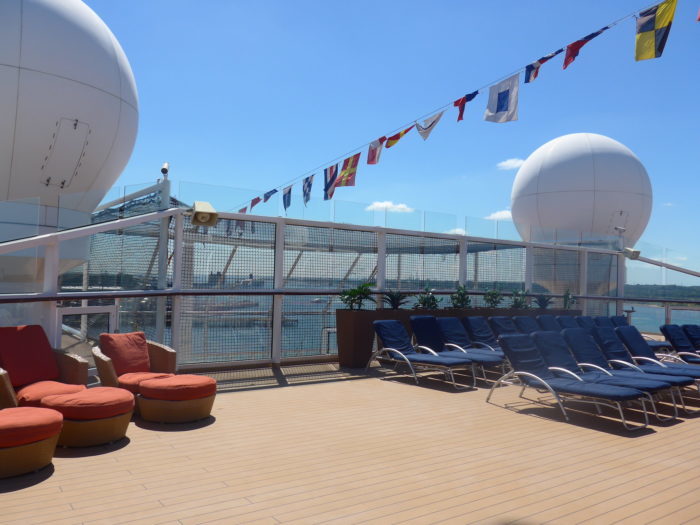 Once you walk down to the Lido level and head towards the aft of the ship you'll find yourself in my favourite spot of them all – the Lawn Deck. Can not convey how much I love this feature. So special!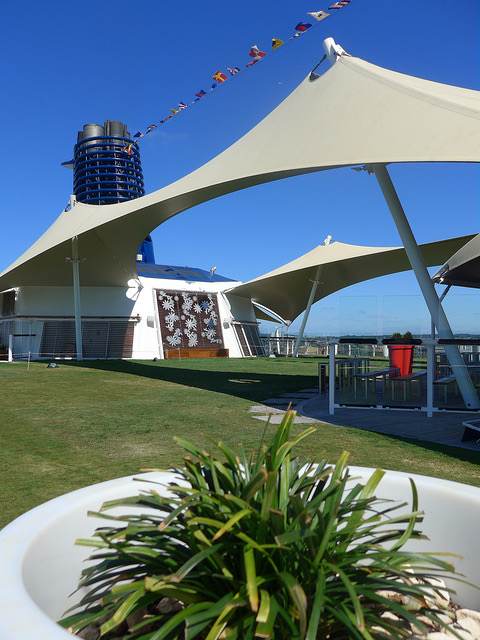 On my Silhouette sailing, this same area of Lawn Deck had some hammocks that were free to use and Alcoves (cabanas) for hire.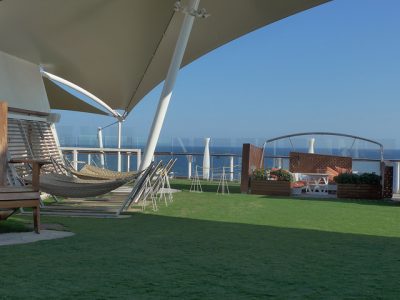 (Silhouette Lawn Deck 2014)
But back to our fresh real lawn on Eclipse with Southampton in the background: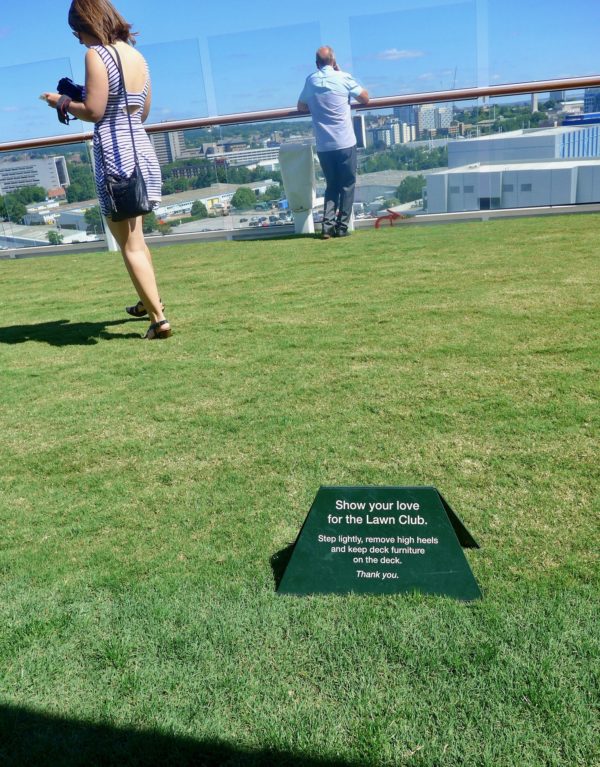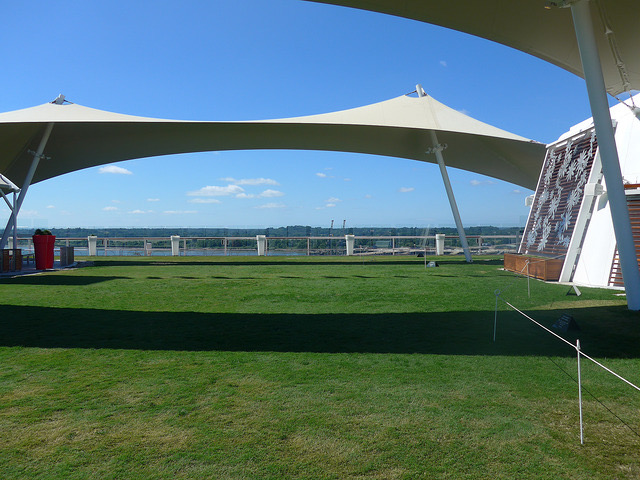 Celebrity provides pool towels and tartan/plaid picnic blankets to use on the lawn. How sweet is that?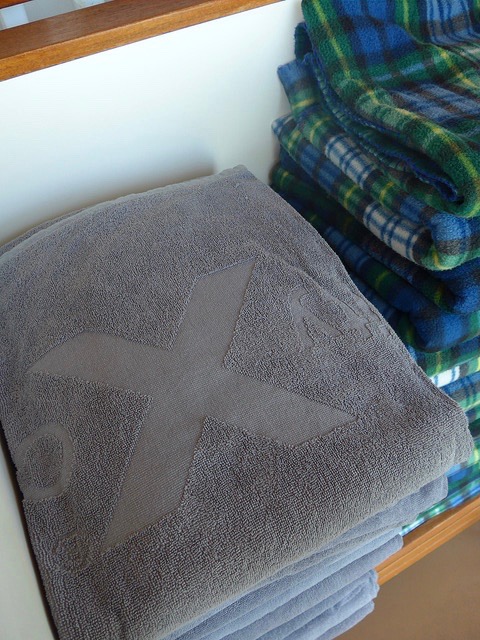 EmmaCruises snapped a photo of me sorting out my selfie stick 😉 And we did enjoy the Lawn and Southampton sun, like many others did. As you can see.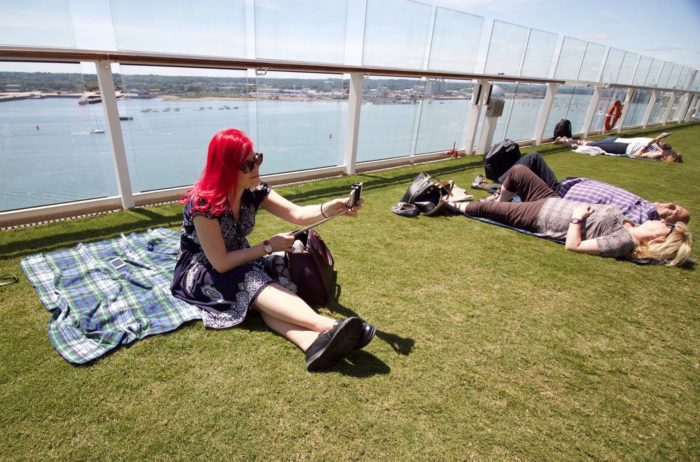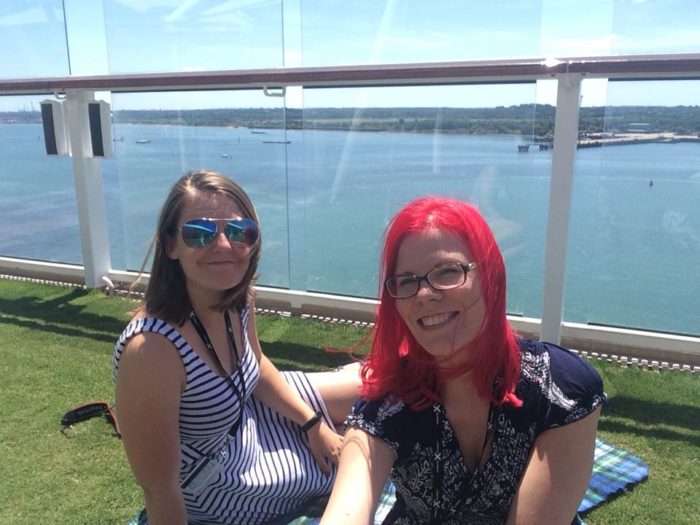 Lawn Club has its own bar, the SunSet Bar with the best aft views there are.. from SunSet Bar you'll also find a set of stairs (and quick access) to the al fresco dining area that is part of the Oceanview Cafe buffet restaurant on the deck below.
I had a quick stroll through it and saw plenty of choice for lunch, provided I was willing to mix and match foods from different stations/lines. The salad bar looked great! I could've eaten so well here!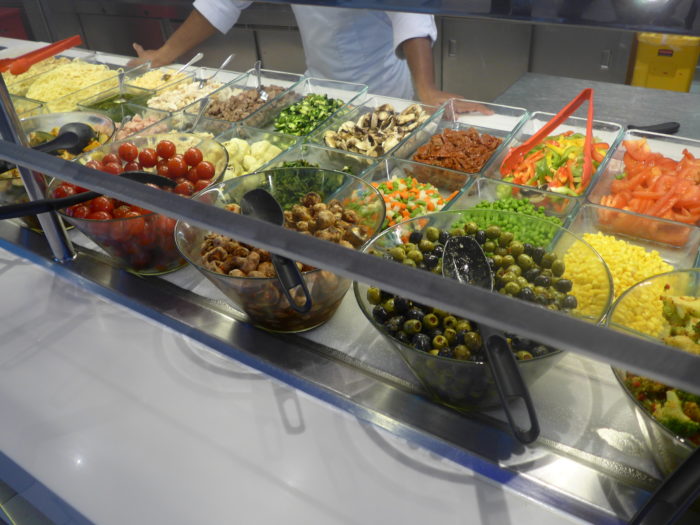 I also liked how each menu card was marked quite clearly firstly with pictograms and secondly in English at the bottom of the card. This soup was marked vegetarian, gluten free, no sugar added and also lactose-free. I found myself wondering if that was meant to communicate dairy-free or just lactose-free so from a vegan perspective I would need to check each dish with staff. Yet dishes like this Butternut Squash Soup looked promising and possibly vegan.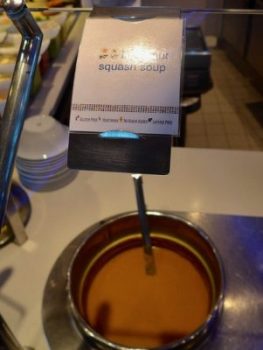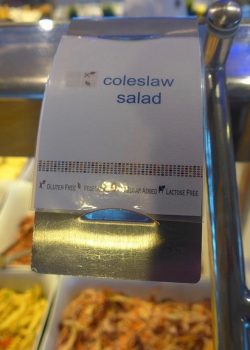 Recent (June 2019) Instagram post by Cruisedorks shows that at least on Celerity Summit there is a separate vegan buffet sections available for guests avoiding meat, dairy and eggs. Hurrah!
The Atrium: floating trees and fab venues
Pretty much every ship has an atrium or a Promenade which is the heart of the ship. And of course, the Solstice class ships have that too. And what a stunning place it is! Every ship has its own wee quirky feature in the tall atrium…a suspended mid-air 'floating' tree planted in a unique pot. Every ship's arrangement is different. When you ride the panoramic lifts up from deck 3 you can admire the tree in its full glory!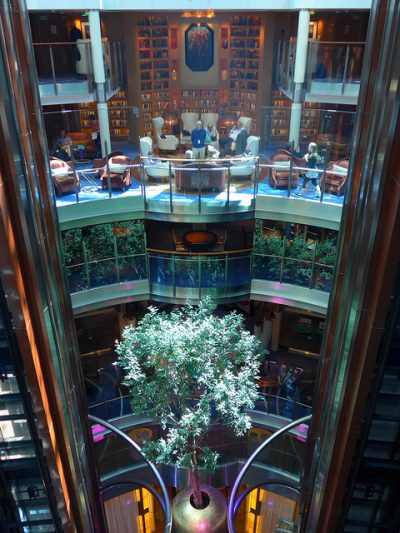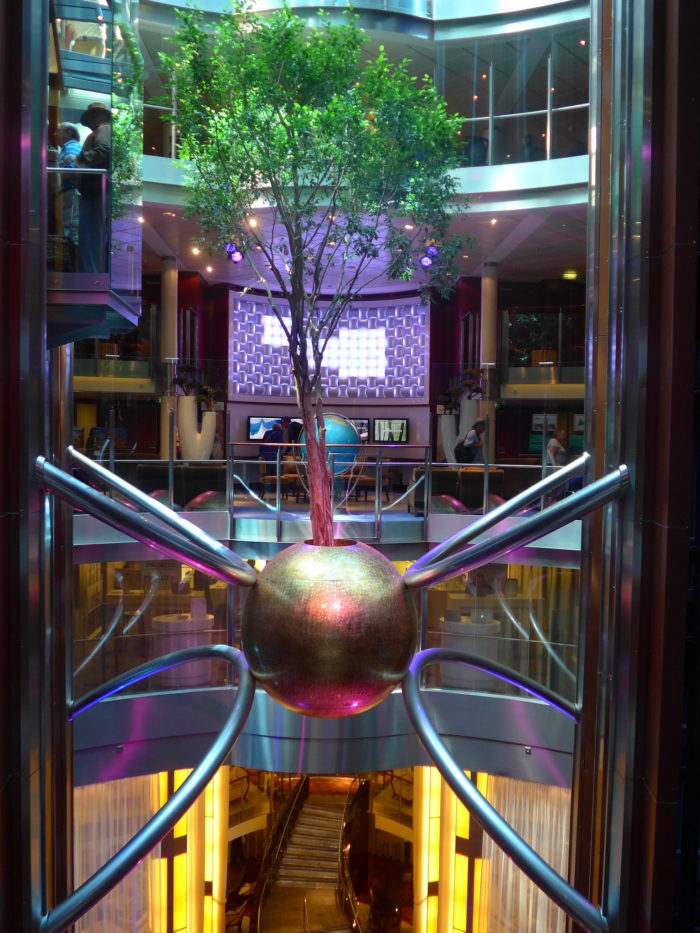 At the bottom of the atrium, in the Grand Foyer between the lifts/elevators there often is musical entertainment – a great spot with the Gastro Bar being there too.
On this embarkation day music was provided by a fabulous twosome: a girl with beautiful vocals and an outfit that reminded me of Florence (of Florence of the Machine). She was accompanied by a slightly Amish-hipster bearded chap on his guitar. And I am not dissing them, oh no. I adored their versions of Britney, Bruno Mars and The Weeknd feat. Daft Punk. Here's a little taster I filmed.
Various venues were are found around the Atrium on different decks.. a wide range of bars, including a Cellar Masters wine bar with Enomatic dispensers and the quirky, frozen Martini bar.
(check out those YT videos of the shows the bartenders do each night – this is just a side drinking area)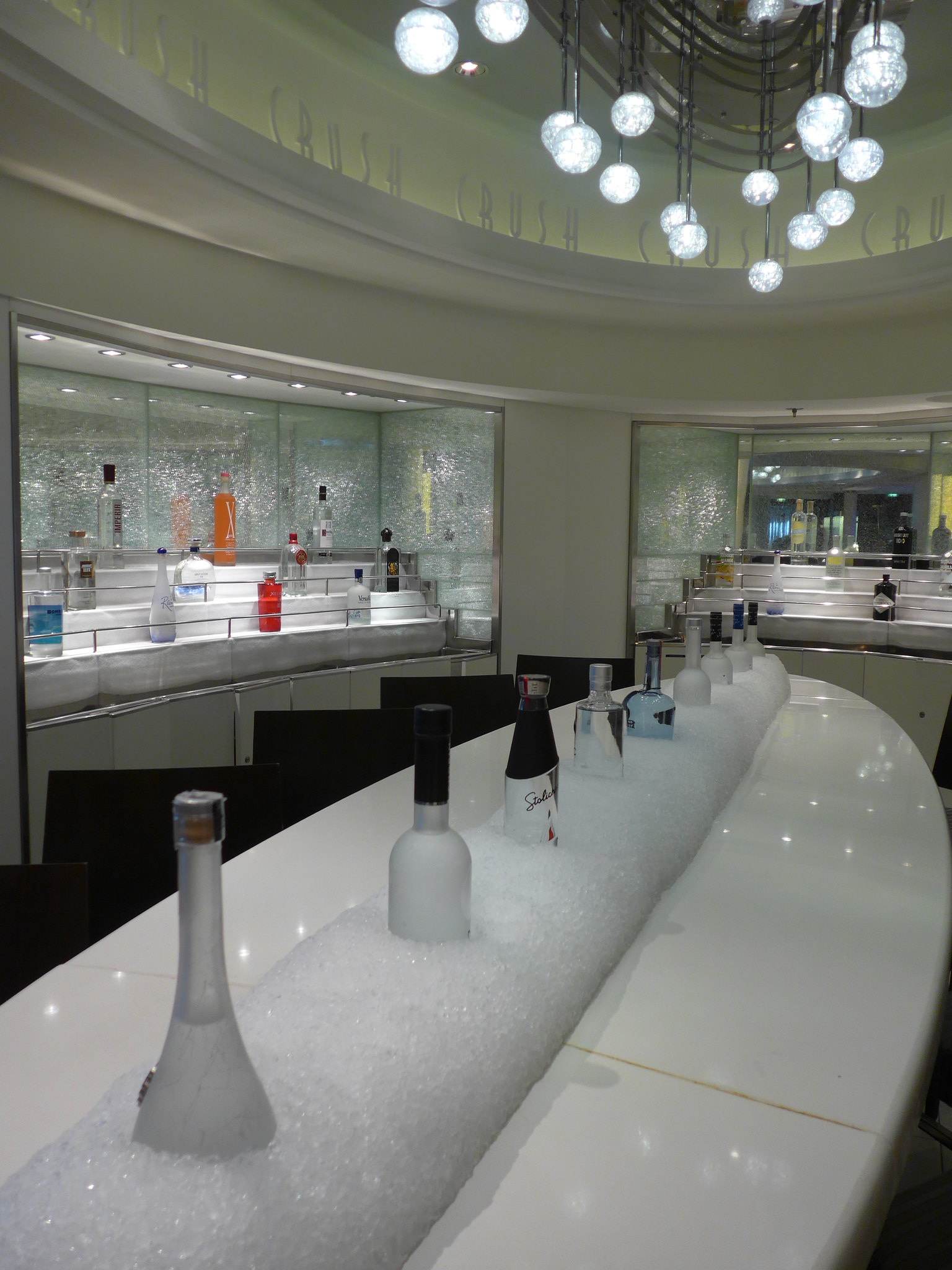 The fabulous Cafe al Bacio is THE place for specialty coffee, sweet treats and people-watching. They have soy milk for drinks, but no vegan treats (cookies, muffins, cakes, ice cream) as far as I could tell, unfortunately. From my pre-vegan days, I remember the cookies were AMAZING.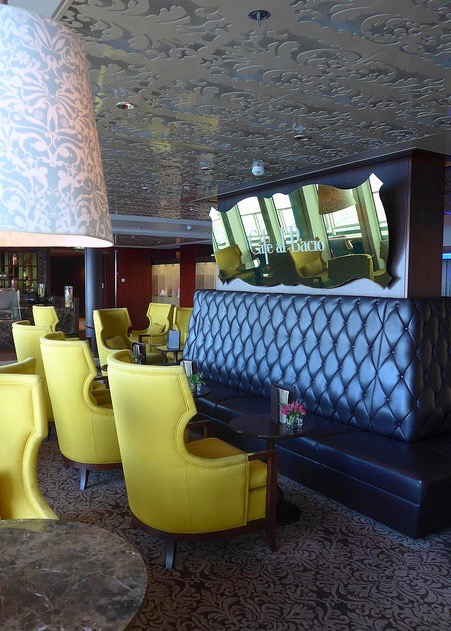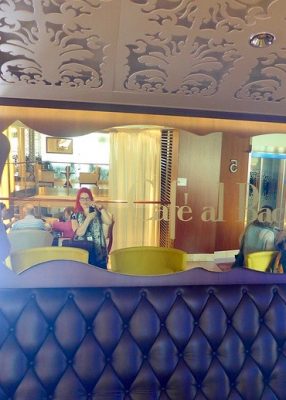 There are dining options off the Atrium like the Sushi on 5 and opportunities for retail therapy, including a Michael Kors shop. There is a stunning looking tall library at tree-top level, a comedy club venue and a full-scale theatre..and of course, the night club Quasar.
Is it just me but…it makes me think of Justin Timberlake's 'Rock With Me'. It's those bulbs, isn't it?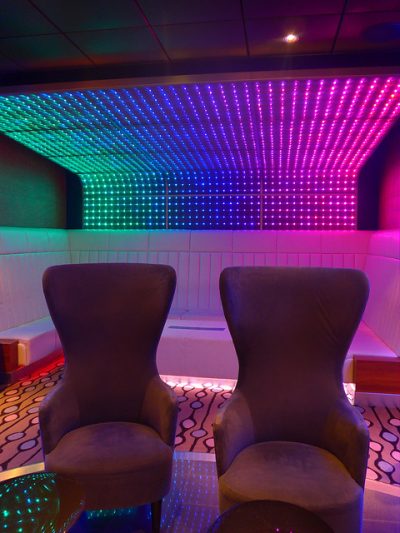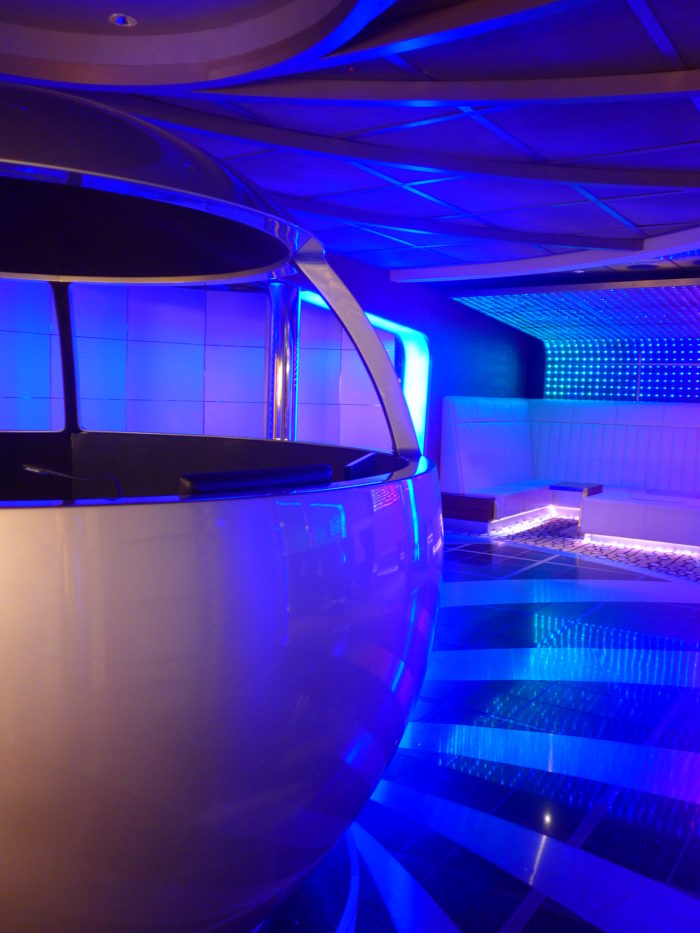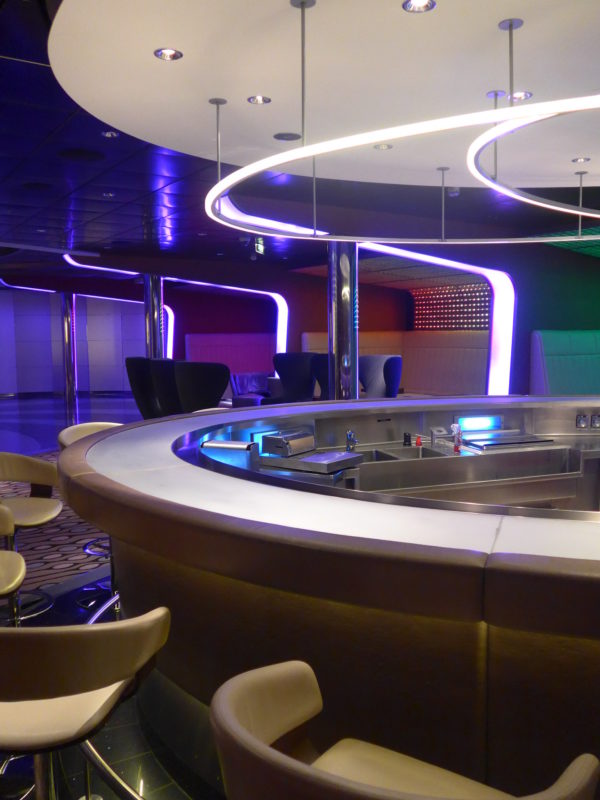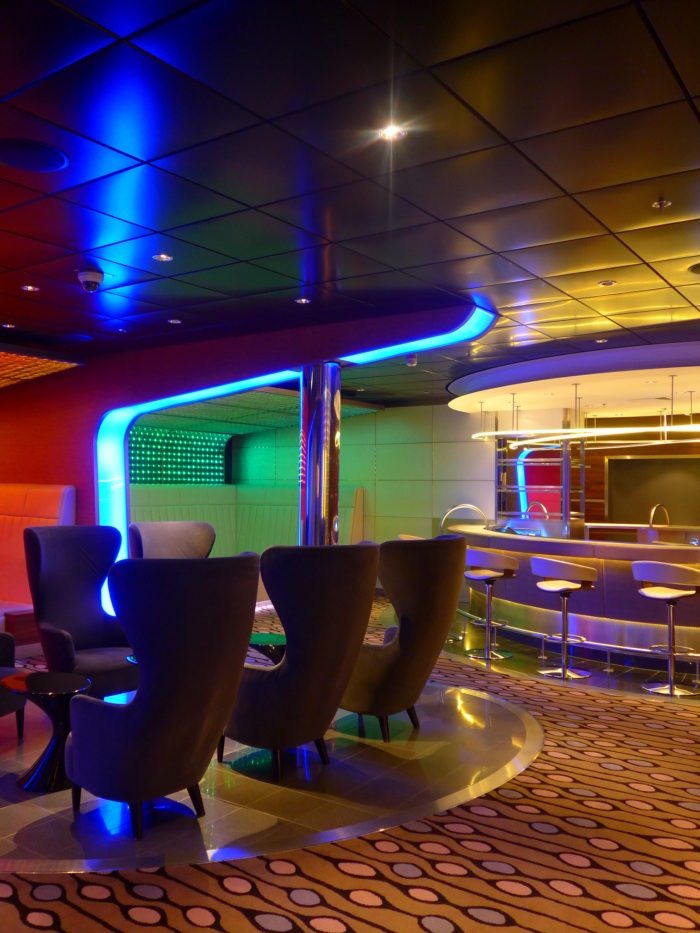 Our free time was over far too quick to get a proper look at the facilities and it was time for us to make our way to the main dining room (MDR) for lunch as arranged for our large group of visitors.
Sit-down Lunch
Here comes the only disappointment of the day. We had passed on our dietary requirements, as requested, almost two months previously. One lactose-free meal for Emma and one vegan for me. Yet on the day there appeared to be no record of the request. The dining room menu initially looked workable – even the apple pie could technically be accidentally vegan, if served without the ice cream. However, that wasn't the case.
(Apologies for the blurred menu)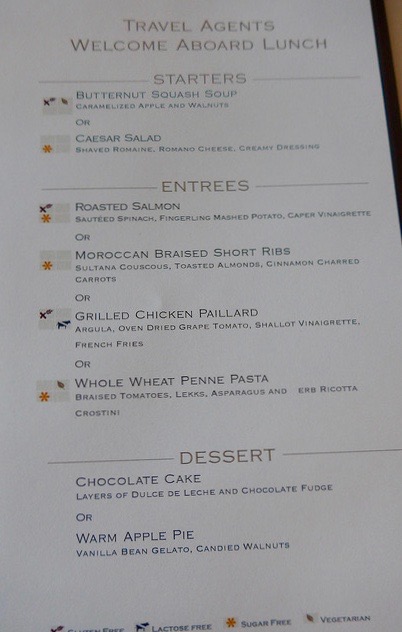 The concise lunch menu listed a Butternut Squash soup, like the buffet upstairs, but this one was not marked lactose-free. Neither of us was able to have it. Our only option was to have was the Ceasar salad with no dairy – essentially just leaves. I challenged the waiter and said that surely the kitchen could add some other salad ingredients. Serving plain lettuce would be rather disappointing. So when the salads turned up, the galley team had added a few tomato & cucumber slices for us. Poor, considering the range of colour and protein options (beans etc) that were available in the buffet salad bar upstairs.
As the staff did not know if any dressings were vegan, so instead we were given bottles of olive oil and balsamic to dress our salads with.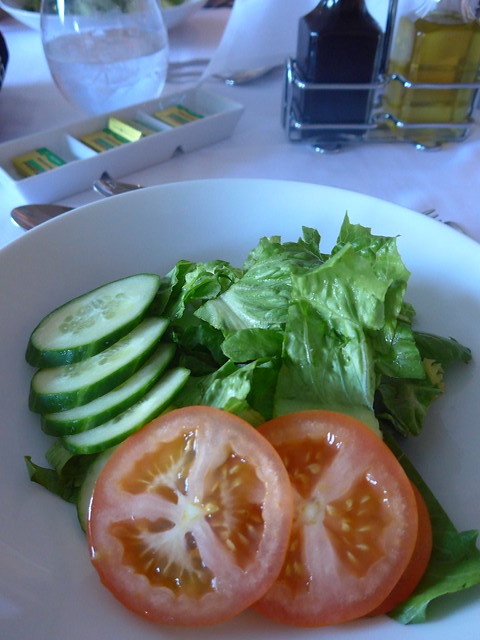 The vegetarian option on the menu was wholewheat penne pasta with braised tomatoes, leeks and asparagus with herb ricotta crostini – clearly not suitable for either of us. I asked if it could be made vegan without the cheese if the pasta was plain pasta and not the eggy kind. The kitchen said it could not be made vegan and instead I was offered an asparagus dish. Unfortunately that it is one of the few vegetables I do not enjoy.
In the end, I ordered the couscous & carrots that came as a side on one of the meat dishes. With hindsight, I should've ordered at least another side dish as the serving was tiny. But I had assumed the galley would at least double the order as that was all I was getting. But no, they plated it as if it was a side for a main course, and then left the meat out.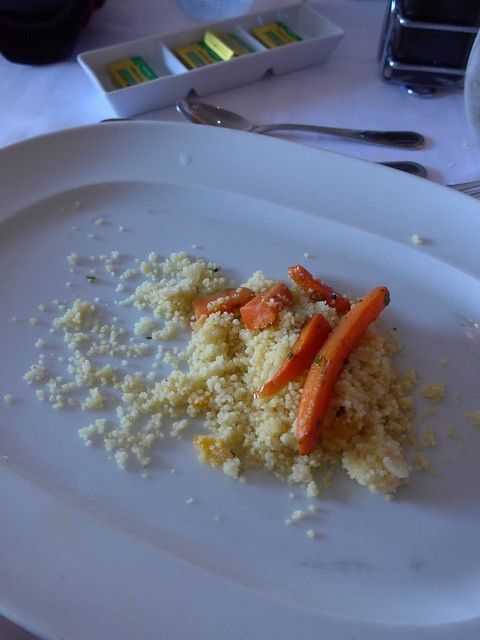 I do have to admit I had two forkfuls of the cous cous and a couple of carrots before I remembered to snap how poor the dish was.
Neither dessert option on the menu was deemed suitable for either of us. Instead, we were given a plate of fruit each. That consisted of the usual fanned selection of melon slices, slice of pineapple and a small bunch of red grapes.
We both felt we would've dined better in the buffet. It was a shame staff weren't prepared despite having been told of our dietary needs. It is impossible to say how well they will cater for vegan passengers based on our short visit, perhaps just as well as their sister company Royal Caribbean does (see my RC review here).
A year later I learnt about a vegan menu onboard near Eclipse's near-identical sister Equinox. But in 2019 after management change onboard it was, disappointingly, withdrawn. My blog post about it is here – it is so disappointing when companies take steps back in dietary provision.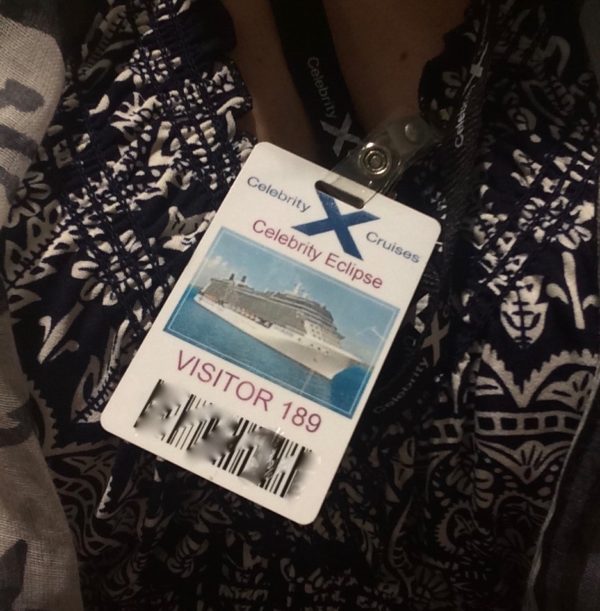 Ship visit conclusion: would I book?
Would I let this one-off dining experience put me off from booking Celebrity? No, definitely not. Mr Vegancruiser & I (though not vegan back in 2014) had a wonderful cruise holiday with them onboard the Silhouette. I love the features, the decor on the Solstice class ships so much that I would gladly book another sailing – should the itinerary work for us. I think I need to, in order to confidently comment on their ability to cater for vegan passengers.
Celebrity Cruises, unlike her sister company Royal Caribbean, also still offers tiered AI drink packages. Also, Celebrity often does promotions where the lowest tier AI drinks package is included in cruise fare – if booking an oceanview or above cabin. On a recent price check for a friend, the difference in a week's holiday between inside and oceanview cabins was £120 per week. Definitely worth paying the difference for a week's worth of free drinks!
Celebrity also no longer do the (dreaded) formal night, instead of opting for Evening Chic which is smart but not traditional. No suits or tuxes required, which many of us younger cruisers can appreciate. So if you are looking for a romantic cruise getaway on a beautiful ship, do consider Celebrity sailings. I know I am. I'm dreaming of sunny days on the Lawn, like what we had in Southampton on our Celebrity Eclipse ship tour day.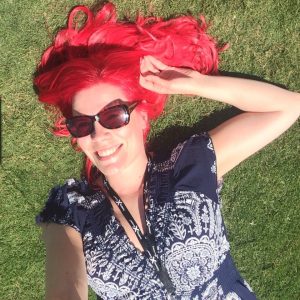 Any questions, please do not hesitate to ask! Comment or send me an e-mail!