Cruising vegan on MSC Virtuosa made easy – 5 tips for your UK Staycation
International travel looks like a dream just out of reach for most of us Brits right now. Only a tiny number of 'green' quarantine-free destinations are available to us. Meanwhile, booking a domestic staycation cruise becomes more tempting every passing day. And why not? UK staycation cruises offer a choice of gorgeous ships as your holiday destination, each with a range of accommodations to suit all desires, and budgets. Not to mention all the all-inclusive meals to enjoy. And should you book the brand new MSC Virtuosa, you will be treated to an all-inclusive drinks package too. You won't have to worry about the drinks bill for the week, or about having to quarantine upon your return home. But if you are vegan and hesitant about booking, let me reassure you. MSC cruises are very vegan-friendly. See my Instagram stories for photos detailing our vegan cruise experience from 2019. I already have a summer 2021 Virtuosa sailing booked. Cannot wait – I know cruising vegan on MSC Virtuosa will be so easy!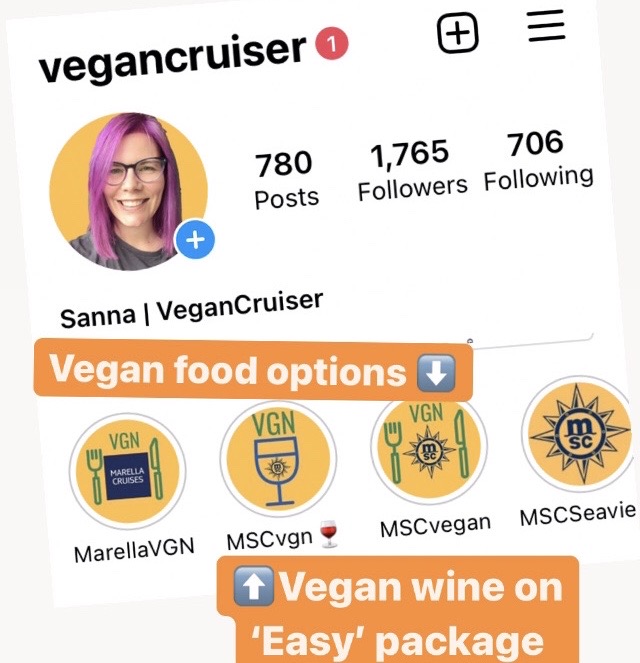 Virtuosa, like any modern cruise ship, is like a huge floating resort. In addition to a range of accommodations from whirlpool suites to simple inside cabins, Virtuosa also hosts a large number of dining & bar venues. Your cruise fare includes the buffet and the main dining room for food, and you can pay extra for the specialty dining venues onboard. These are a sushi & teppanyaki restaurant, a Vietnamese-French fusion venue, a Mexican, and a steakhouse which is of v little interest to us vegans.
No summer holiday is complete without a pool, and of course, Virtuosa has many. Even one with a retractable roof in case our British weather isn't suited for poolside fun. Plus there is a number of hot tubs to enjoy. Like any premium hotel, there naturally is a spa to pamper yourself in, a gym and for the lovers of retail therapy, a selection of shops. You won't have a chance to be bored with ample venues to be entertained in: a theatre, bars & lounges for live music and comedy. Children and teens will be kept busy too: kids clubs, a waterpark, rope course, and many other activities. These staycation cruises mean luxurious travel is within easy reach. You don't even have to travel to Southampton to board Virtuosa, as MSC offers embarkation in Liverpool and Greenock (Glasgow) too. Although at the time of writing it transpired ScotGov had not opened ports for cruise guests so early June cruises from Greenock are unlikely to happen.
Vegan food on MSC Virtuosa & her sisters
If you have been to my blog in the past, you'll have seen me review Splendida, Preziosa and Virtuosa's eldest sister Meraviglia. When I was going on Seaview, I found out about (then) new & improved vegan options and got information from MSC that caused me to write this post below.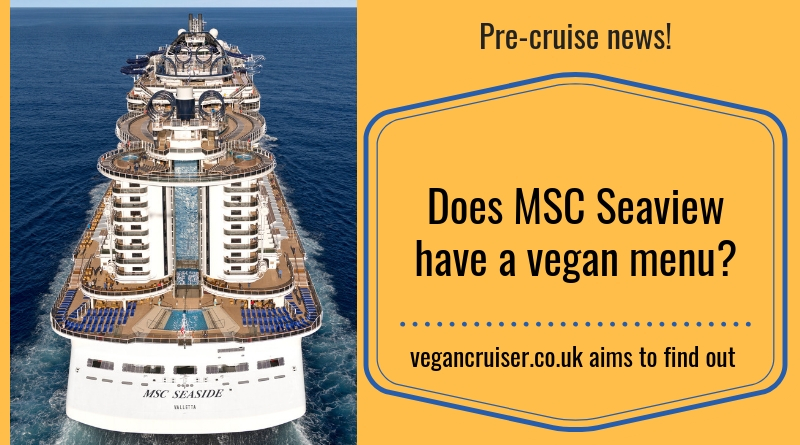 You can check that post here. While there was no separate vegan menu onboard, I was happy with my 2019 options. I always found vegan food onboard, though it relied on me liaising with staff to ensure they were vegan.
Vegan food served in the MSC Virtuosa main dining room
The main dining room aka MDR, has a vegan main course at each lunch and dinner. They are marked with a leafy V whereas vegetarian dishes are marked with a regular (white) V in a black square.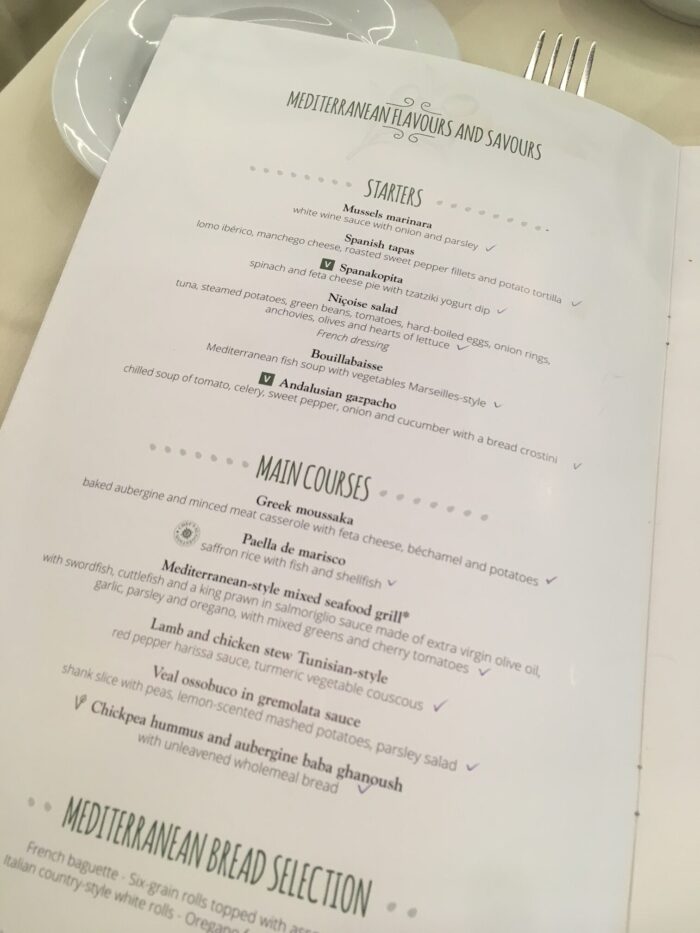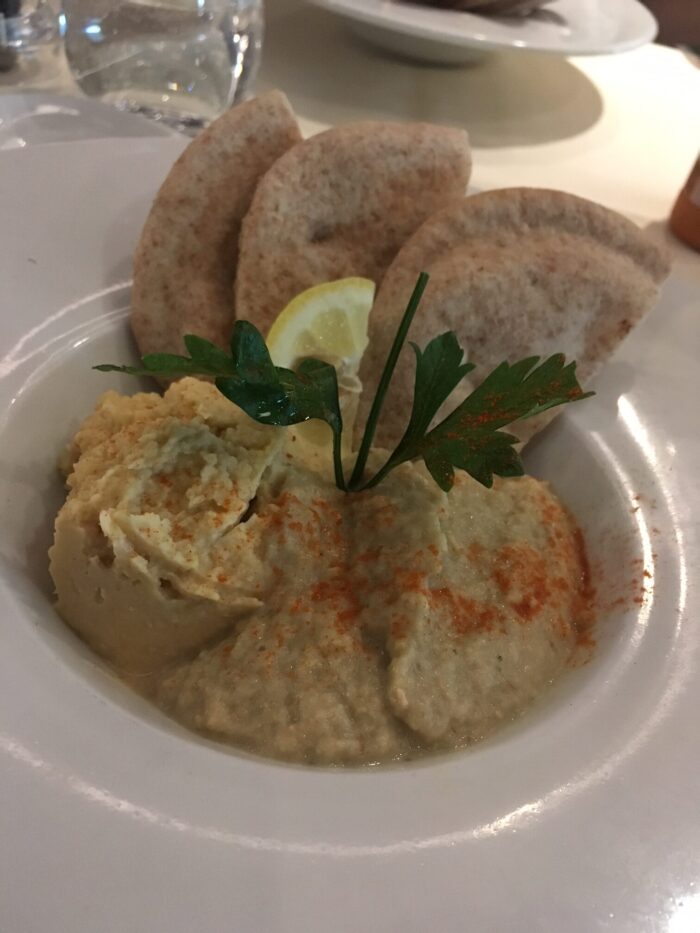 The starters and desserts the MDR chefs will need to improvise each day. I think they did pretty well on our last sailing, just look at these dishes the galley team made for us. Below you'll see just a small selection of vegan starters and desserts. Some of which I had listed in the Seaview vegan menu post above.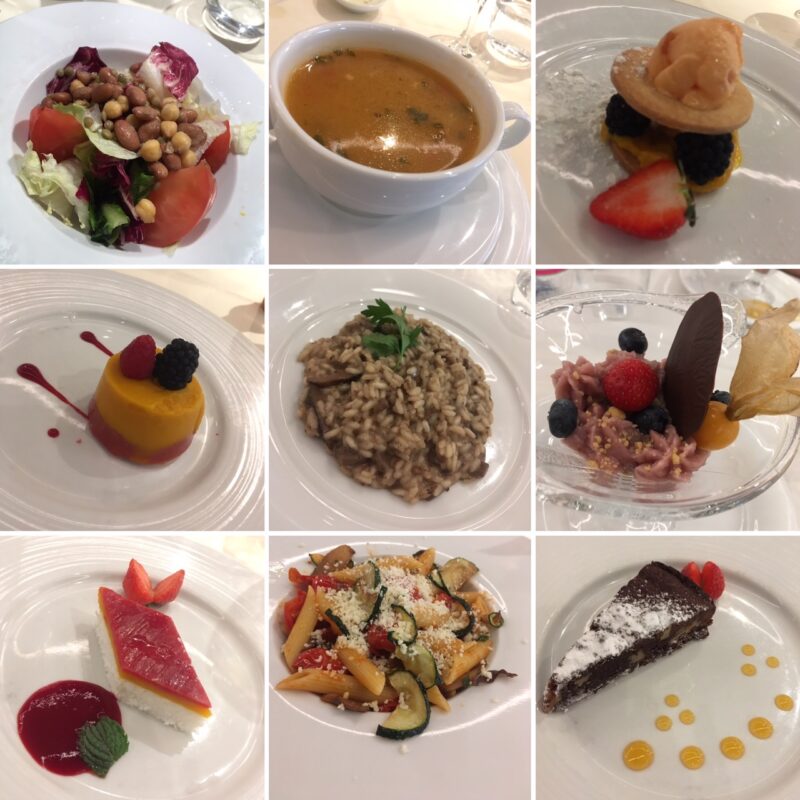 How to go on about getting great vegan food on MSC? I am sure you'll do well if you follow my advice below.
5 tips to getting vegan food on MSC Virtuosa
1) Ensure your booking has a dietary request for vegan food. Either let your travel agent know or if you are booked direct, call or e-mail MSC direct. Though as you can see from my Autumn 2019 IG story – messages like that don't always reach the ship but if they do, it's going to help you along.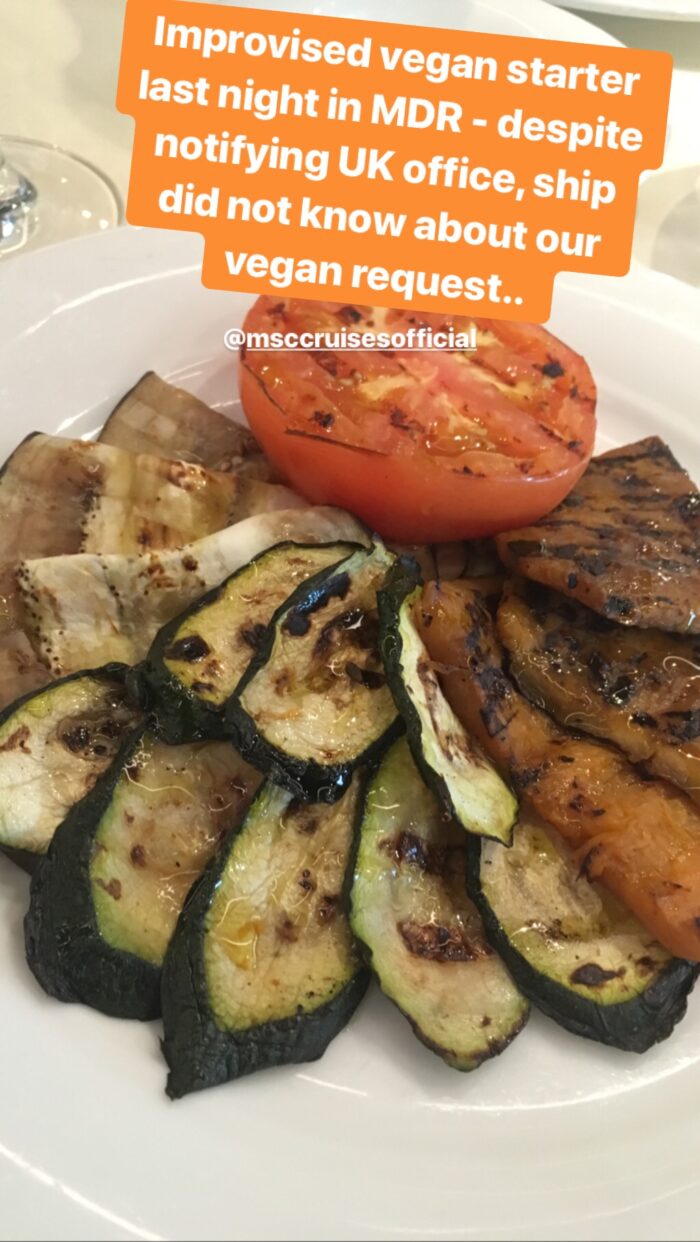 2) Upon boarding, find out where the Maitre'd has a service desk available (for dining time change requests etc) and find out they do indeed have a record of your vegan request. That way it won't be a surprise to them when you come to dine that night. Also, in the past, if you wanted a table just for you & your travel group (no table sharing) you could make that known. Although right now, for Covid reasons, there will is no table-sharing in the MDR unless you are traveling in a 'bubble' with friends and your bookings are linked. We would normally request a table for two. Because we don't like sharing tables with people who enjoy eating our animal friends. The worst is having to listen to the omnivore tablemates describe how a particular body part is cooked. No thanks, I'll stick to a table for two.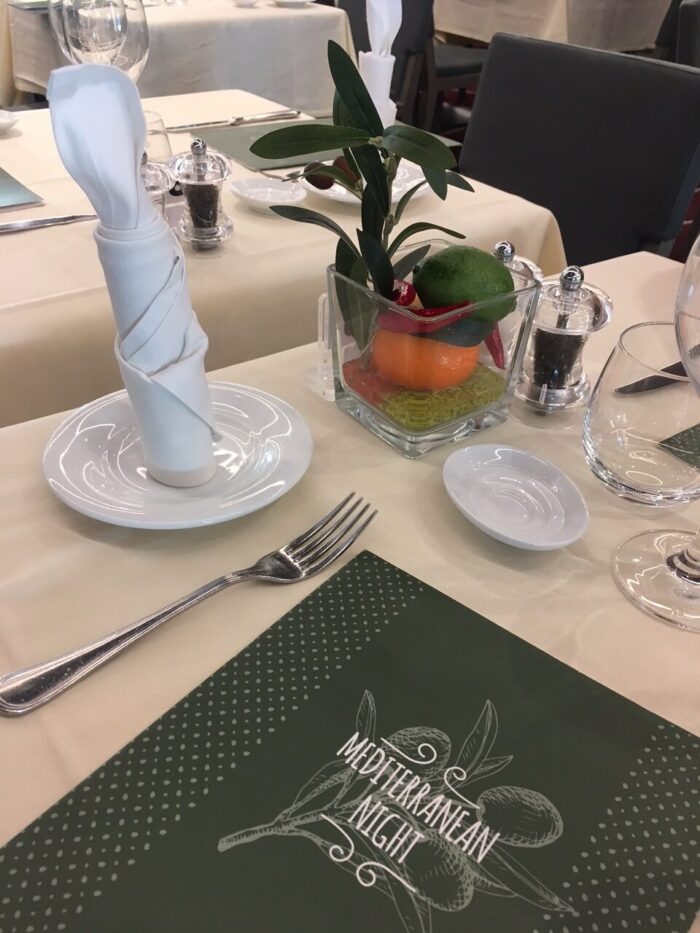 3) In the MDR, you should be served by a senior staff member used to deal with dietary needs. This would be a head waiter/team leader or a similar. At the end of your lunch or dinner, ask them for the next day's menu to see if you're happy with the one vegan option on the menu. If not, request something else. Check out the starters to see if they can be made vegan and see what else they can suggest. You should also be able to get vegan desserts. MSC has recipes for vegan desserts so don't allow yourself to be fobbed off by plain fruit or sorbet – unless you like those.
4) Navigating the buffet may take some time. There is no separate vegetarian section on MSC, the dishes are scattered around the buffet area. Servers behind the line can check ingredients for you (packaging etc). And they will need to, as they rarely know the answer to 'is this vegan?' straight away. Look out for the Buffet supervisor, but they may try to direct you to the MDR for meals for cross-contamination reasons. If anaphylaxis is not a worry, carry on, and ask servers if veggie items have egg or dairy.
Vegetarian items are normally marked on MSC ships with a carrot logo and the word 'vegetarian' on the card above the buffet line. Unfortunately, that doesn't seem to be the case on Virtuosa for some reason. Not sure if it is a new design (hope not) or just an oversight on these UK staycation sailings. Normally buffet dishes are detailed with all main ingredients (in many languages) but current ones are in English only since sailings are limited to UK residents only. Unfortunately, dairy and egg aren't declared, nor are other allergens. Below you can see how the labelling has worked in the past (from our 2019 cruise). Underneath is an example of current 2021 buffet labels by CruiseMummy, from her Virtuosa staycation cruise.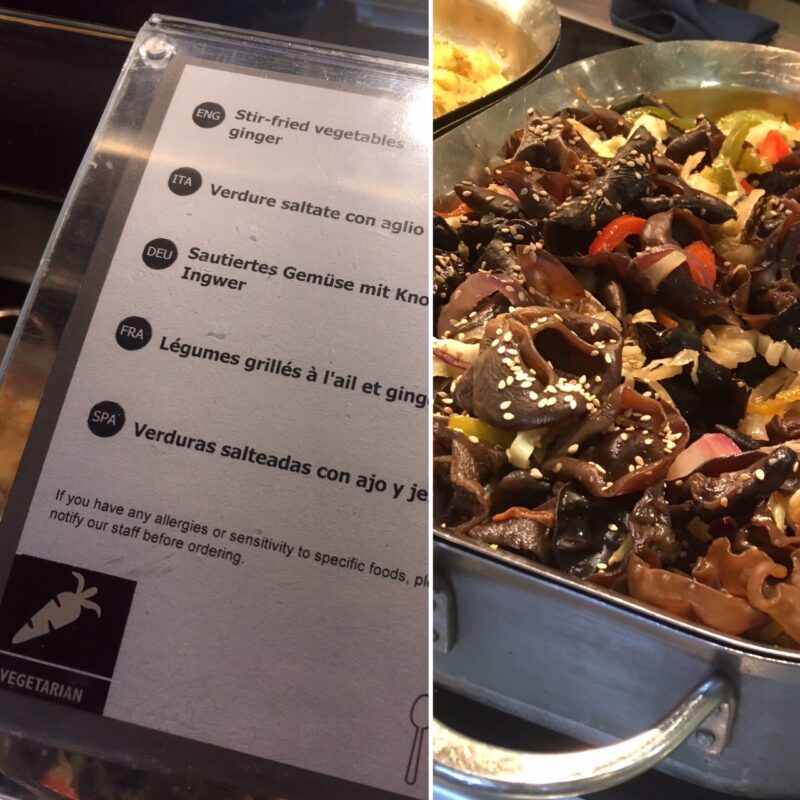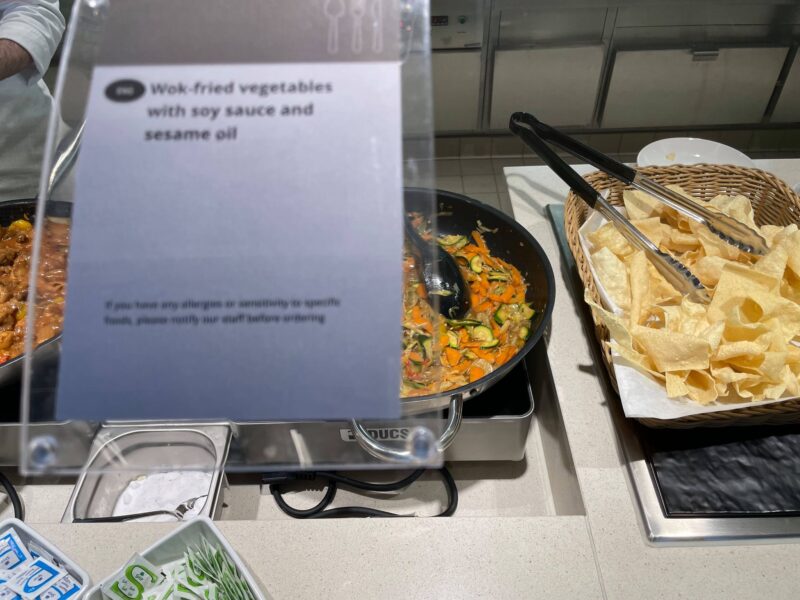 And if you're lucky, your MDR head waiter may work shifts in the buffet during the day. Ask if they do, as they can help you while you're dining in the buffet. My MDR hero got me a vegan pasta dish made-to-order when all premade pasta in the buffet was vegetarian or with meat.
5) BYO. While I have never been able to get MSC to buy in vegan mayo or cheese for me, I have recently found that other guests have been able to request items. I usually pack some vegan cheese so that I can enrich the meal provision brought out to me. A small insulated lunch bag in my checked case works well, and I can keep my goods in the cabin minibar for my own use. I was even able to get MSC Seaview's MDR chefs to make us a pizza each, with our own vegan cheese and V-bites 'ham'.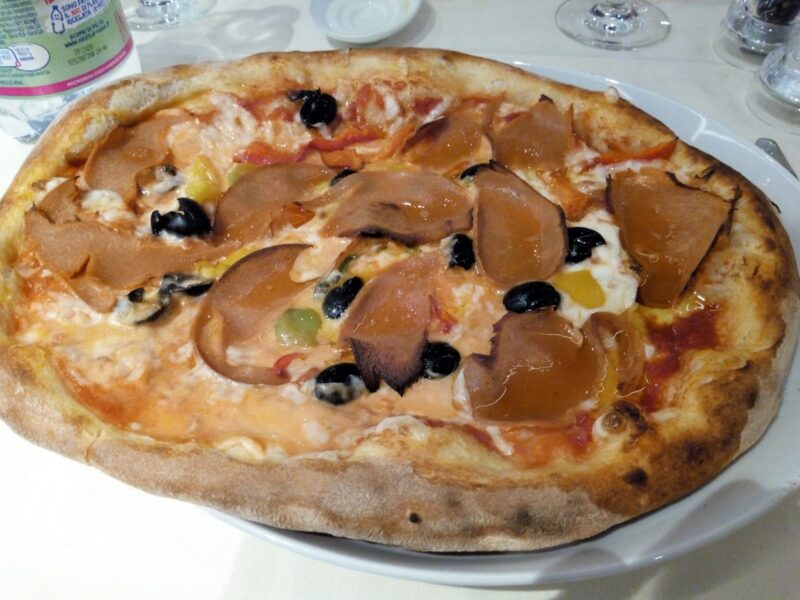 New vegan choice onboard MSC Virtuosa?
One of the brand new (not on any other MSC ship) specialty restaurants, Indochine, has me wondering. The press release for the launch states that Indochine offers "Vietnamese classics with a French twist, combining two delicious culinary heritages". Sounds rather fancy. Menu selection according to MSC's website includes a host of vegetarian and vegan courses. Yet judging by menu images shared by cruisers onboard just now, Indochine menu only includes vegetarian-marked items. Unless there is a separate vegan menu, or all veggie dishes are actually vegan? I look forward to finding out in the next couple of weeks when I get onboard.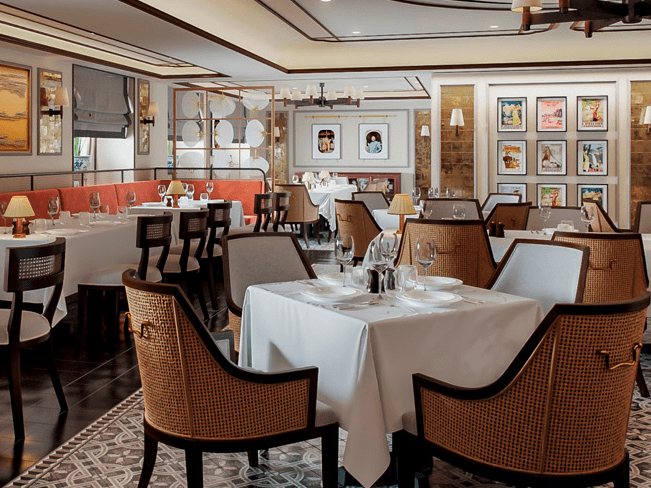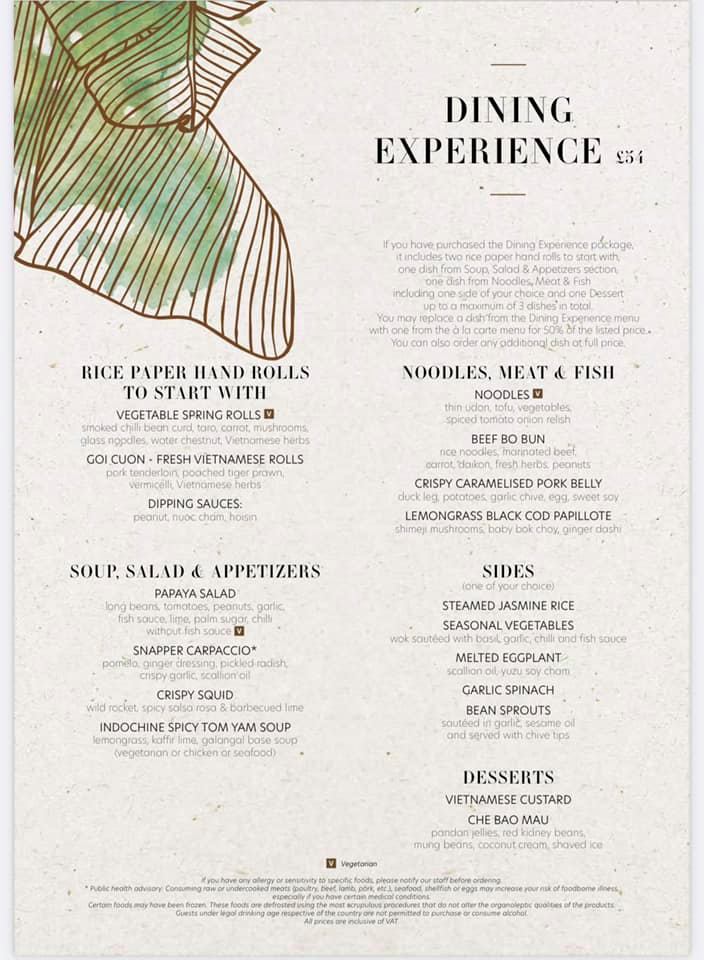 The new Mexican tapas restaurant Hola! also lists vegetarian dishes only, but they should be easily made vegan if not vegan to start with. The all-you-can-eat £16.99 deal (excl. tamales) is excellent value! We will be trying that out too, though vegan choice may be limited for me. I shall post my review in due course!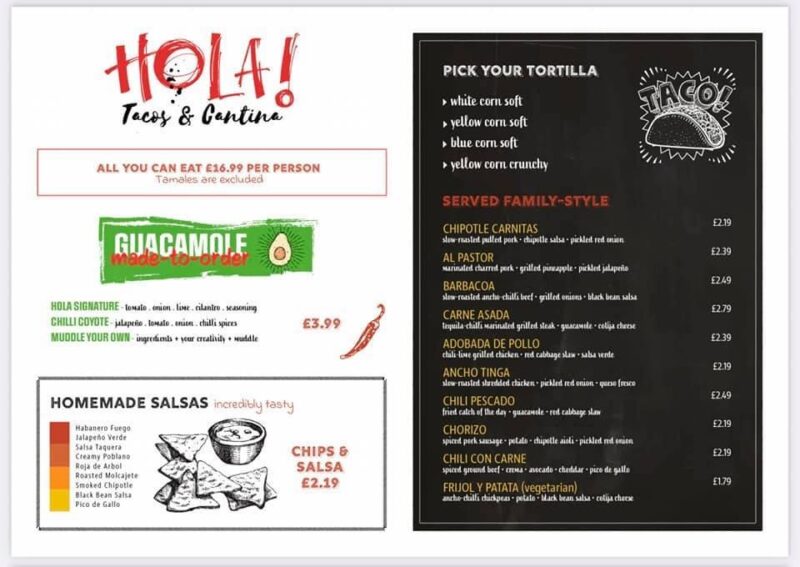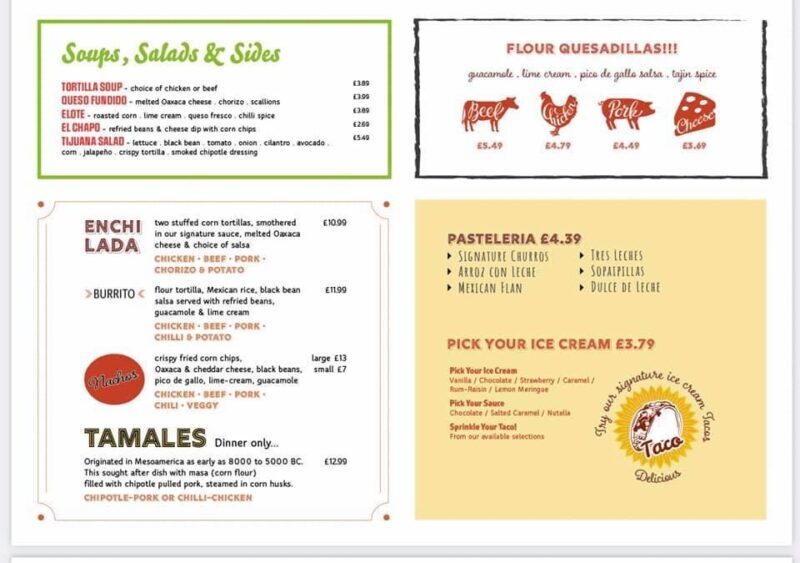 Looks quite good and should be easily made vegan, right? I have high hopes. But even without any specialty dining options (as I normally just stick to the free/included buffet & MDR) I am looking forward to MSC Virtuosa. For the vegan food choice and the proven Covid-safe cruising they offer. And for the chance of an exciting staycation holiday, sailing around the UK this summer.
Not convinced – how about another opinion?
If you want more information on MSC Virtuosa, these UK sailings, AND the vegan food onboard, check out Jenni CruiseMummy's blog. Blogger Jenni recently got back from Virtuosa and shared vegan food finds from her sailing. And of course, Jenni has written a general review of her inaugural Virtuosa cruise. Find Jenni's MSC posts here.
I trust all of the above will reassure any vegans out there about the suitability of MSC for their summer holiday. And of course, I should mention all the eco advances, awards, and initiatives that MSC have launched to make cruising greener. Including making their sailings carbon neutral since 2020! My blog's section on MSC will have more info on all that. Should you have any questions, am happy to help! Come back in July to see my vegan food review from the beauty that is MSC Virtuosa. Including her specialty dining restaurants as I aim to treat myself this time.