Travel tips: How enjoy a lounge layover at Amsterdam Schiphol for free
How to have a relaxing airline lounge layover at Amsterdam Schiphol and not spend a penny?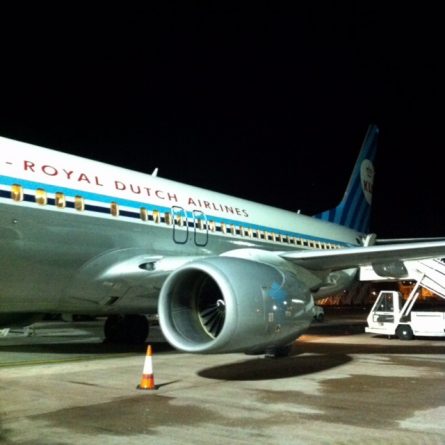 My dilemma:
For my last flight to Finland, I made a mistake with the booking. Instead of my usual 50min transit time between flights & terminals (from UK & rest of the world to Schengen side), I ended up with a four-hour wait at Amsterdam airport. Why? Because I wanted to save £50 on the airfare and didn't check the times properly – only the first outbound one. Oops.
I could have spent the time in the various shops. Done some window shopping, if not retail therapy. Maybe grabbed a coffee from Starbucks. But that would have meant being on the move and spending money, negating the saving made.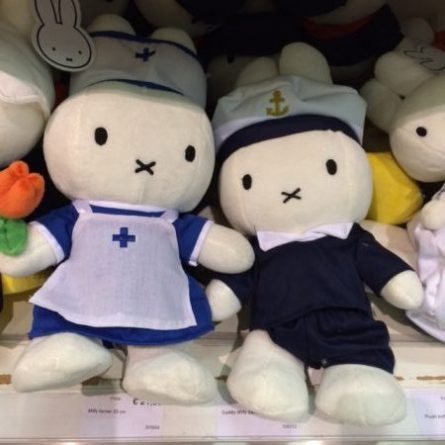 It was being on the move that was the issue for me, as I was flying out of Glasgow on a 6am flight. Departing so early means a 02.30 am wake-up call to get to the airport in time. So you can imagine I wasn't looking forward to 4 hours of milling around Amsterdam Schiphol – or having a hard seat at the gate for hours. Especially as the comfy free reclining loungers Schiphol used to have on the upper level are gone since the recent refit/retail development
Changing flights was uneconomical as I would have had to pay the difference and an administration fee. Thankfully I had another option!
Solution to my problem:
Much like my cruises, I used to fly with various airlines and routes never building loyalty points with one. But in the last few years, I have flown only with KLM and partners via their Amsterdam/Paris hubs. Booking all my holiday and fly-cruises through these two airports means I've made it to Silver level on the Flying Blue loyalty programme now two years in a row. I get better award miles and better checked-in luggage terms.
Being Silver also gives me the option to pay for lounge access (free for higher tiers, they can bring a friend too). So this is what I decided to do for my long layover wait between flights.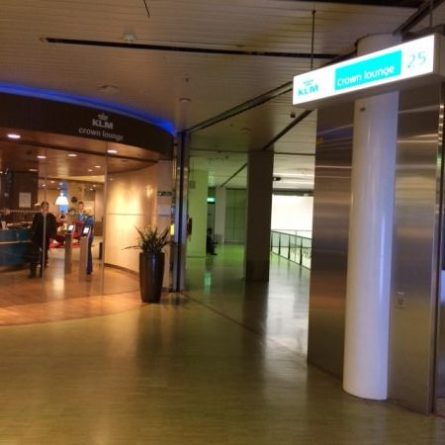 I made my way to the Schengen lounge and presented my Silver card at the lounge reception. You can pay Euros with card only (lounge access is from 25eur) or you can use your Flying Blue Award Miles. Since I don't have enough miles for flights to see family, I used up 5000 of my award miles for lounge access instead.
There are a few lounges at Schiphol and for various airlines. I used the KLM lounge on the upper level of terminal D (the non-Schengen side). It is a calm oasis compared to the world outside. You will naturally find better quality restrooms/toilets and even showers for long haul passengers wanting to freshen up. Toilets were a joy, I must say. The general public ones at Schiphol are utilitarian, to say the least and the toilet paper is appalling(ly rough). Never an issue with cleanliness – just the comfort 😉
The Crown Lounge has several stations to quench your thirst: hot drinks and cold fountain soft drinks. There are fruit and savoury bar nibbles. There also is a light buffet that serves hot breakfast items and cold continental breakfast options. Oddly there were two soups served, perhaps for those passengers living in a different time zone.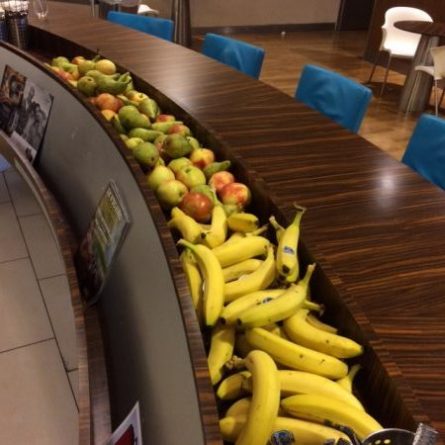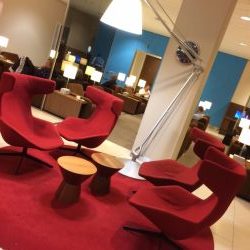 Naturally, the lounge has lots of comfortable, fashionable seating with charging points. Each area had a slightly different feel to it. I especially enjoyed the big egg-chair kind red armchairs. They must have been quite comfortable as one passenger behind me was snoring quietly. There even is some natural light available as the back of the lounge looks to the airy check-in area on the landside. It, in turn, has big windows to the outside.
For those needing to do business, there are computers you can use, a business centre with printers/photocopiers and phones. Media room with TVs, elsewhere it was quiet. And a free, unlimited WiFi.
Even at 25eur access to Crown Lounge is great value considering breakfast options served and unlimited drinks. I was able to have breakfast fruit, bread rolls and spread which was marked vegan. There were corn flakes and muesli but I didn't query if those were vegan as was happy with my breakfast selection.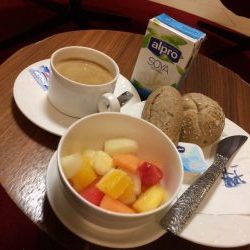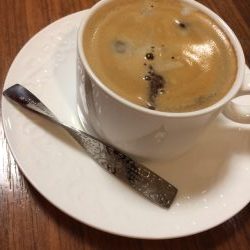 Unlike on their flights, KLM lounge had 250ml soya cartons to have with tea & coffee, so I had one for the lounge and grabbed another for the flight onwards. And a banana – useful as the meal served onboard my connecting flight was veggie pasta with cheese.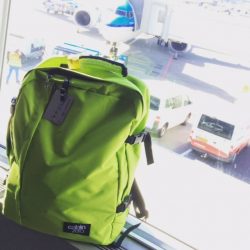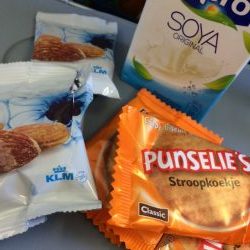 So signing up to the loyalty programme does come handy – check with your chosen programme as you can often earn extra points with associated partners (hotels, retail, credit card). I have even used a survey site and converted their award points to Flying Blue miles. Even if I haven't earned enough points for flights, I have been able to use miles for seat upgrades, extra baggage and now for lounge access.
Maybe I should start cruising with one company to earn perks with them too – rather than be itinerary driven? Let me know what kinds of perks you have enjoyed being high on any of the cruise loyalty programmes!