Can you cruise vegan on Virgin Voyages: pre-launch menu details
Even before Scarlet Lady had been built, Virgin had us all intrigued. So much shiptease, about Virgin Voyages being a totally different cruise product. One of the first positive & promising messages I took from the initial shipyard steel cutting ceremony was Virgin Voyages' aim to be as environmentally friendly as possible. Single-use plastics were banned from the fleet with Richard Branson himself taking a sledgehammer to water fountain bottle to demonstrate it. Since those days, we have learnt about the technological advances onboard that make Virgin Voyages probably the most sustainable of all mainstream cruise lines. I have a post out on that topic, if you're wanting to geek out on their green ethos; see here. But this eco attitude made me believe we vegans might have a chance with VirginVoyages. If this new cruise line professes to be green, surely Virgin Voyages' vegan menu items are a given? Especially for the lower carbon footprint of plantbased foods and for the youthful guests they are targetting themselves to.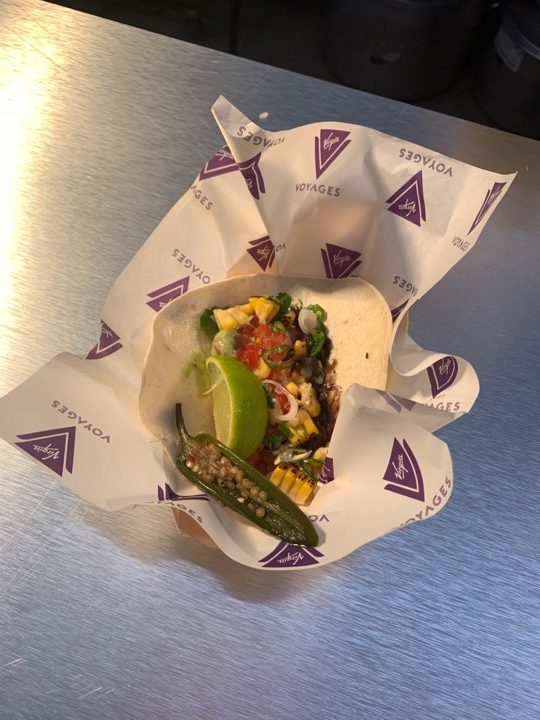 Back in May 2019, when Virgin hosted their fabulous Scarlet party in London (with Mark Ronson DJing), the guests were provided vegan tacos at the party. Another point to Virgin Voyages! And of course, there was the very exciting news of the world's first vegetarian cruise ship restaurant onboard. News of Razzle Dazzle made us veggies and vegans very excited. After all, if you are brand catering for young cruisers, mostly Millenials and GenXers with money to spend, you will have to offer decent vegan choice. A vegetarian menu consisting of cream & cheese would be so very passė. Surely Virgin would do better. And I think they have!
Just in time to their UK ship launch in February, Virgin released more information on onboard dining and we finally have some plantbased menu options to show you. Actual vegan-marked dishes in many of the restaurants onboard. So yes, you can sail vegan on Virgin Voyages. Let me show you what I found out so far.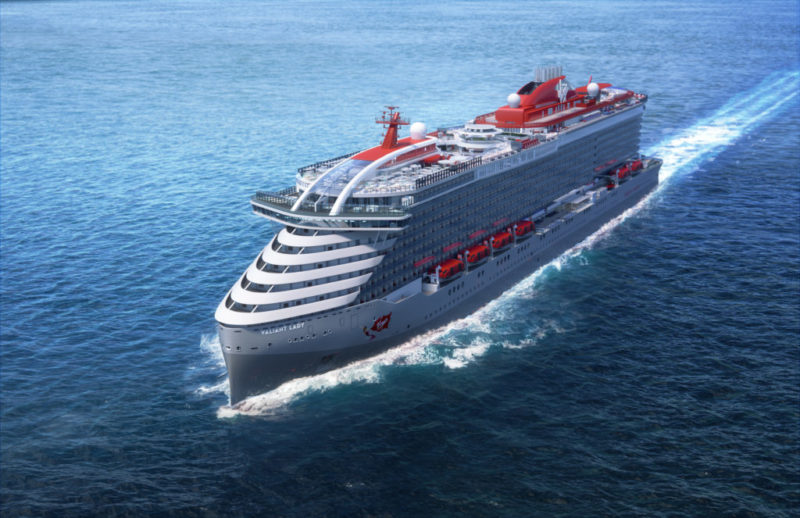 Vegan menu options at Virgin Voyages
Menu teasers for many of the restaurants onboard have some actual vegan options, clearly marked with a (vv) – how refreshing to see this in a mainstream cruise line. Not having to order from a 'special menu' will hopefully entice non-vegans to try some great plantbased food. I had hoped to have more information by now, but the current Covid-19 situation has delayed the official launch of the brand. US pre-launch showcase in New York was planned for March but got cancelled. We were lucky in the UK to have two ship visit stays, and I will have some information to share with you shortly. But before then, take a look at the few vegan menu options announced!
Razzle Dazzle
Razzle Dazzle certainly is dazzling. It's the one venue everyone will have spotted in PR images as it is so instantly recognisable. A strong, bold venue in red, white & black with dazzle camouflage inspired interiors. It appeared to be first advertised as 'the vegetarian restaurant onboard', perhaps just picked up so (incorrectly) by media. Virgin Voyages themselves stated the venue is 'vegetarian forward' which left things a little unclear.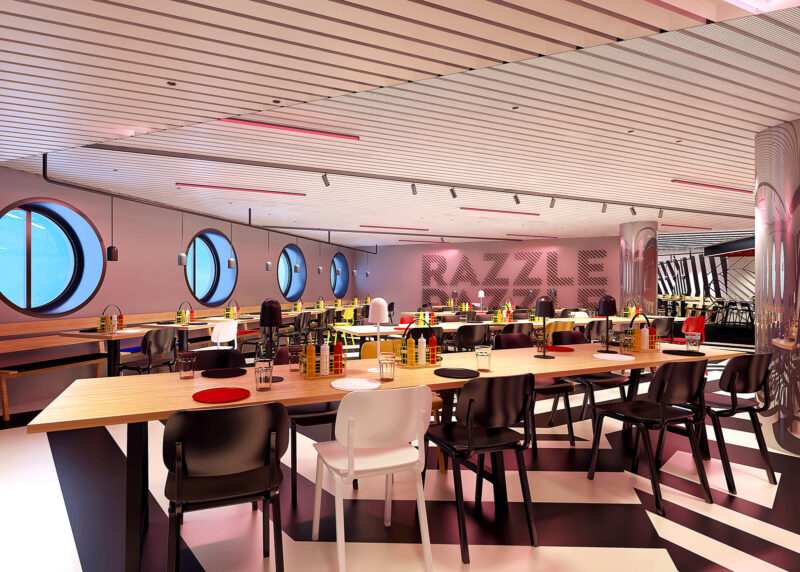 Later more was revealed.. with the Razzle Dazzle menu having a naughty & nice theme. With the naughty items being optional meat sides – clarly to appease those guests who couldn't possibly have one meatfree meal? Even the Virgin Voyages own website blurb dissapointingly hypes up the menus with "choose from one side that skews towards plantbased vegetarian dishes, or the indulgent side – meats, sweets and gluttonous treats". I am sad how poorly chosen those words are. As if plantbased dishes couldn't be indulgent or sweet? Or gluttonuous even? Especially when the Razzle Dazzle menu has items like the fabulously meat-like Impossible Burger and vegan cookies, it is obvious vegan food isn't just leaves and healthy veg. Your vegetarian guests aren't deprived and you don't need meat, dairy or eggs to have indulgent food. And it is dismissive of us to market our food as of something that is 'less than'.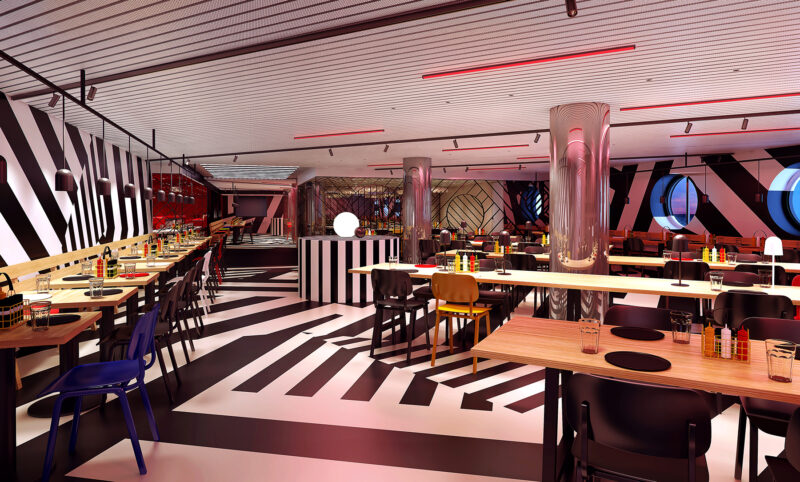 Also I find it frustrating that every item on the highlighted menu could be served vegan. It could be all wonderfully plantbased. Simple things like replacing the dairy ice cream served with the churros. Or serving a wider range of plant dairy options (not just milk) and offering more mock meats But, I do recognise the fact that just for having a 'vegetarian forward restaurant' is a bold move within the cruise industry. I just wish Virgin had been a touch more bolder with it. Having a Drag brunch is cool, but having it all plantbased would be even cooler.
This is just a preview – there are apparently 37 dishes in the Razzle Dazzle menu. Hopefully there are many more plantbased options for those who wish to dine meatfree and without other animal products.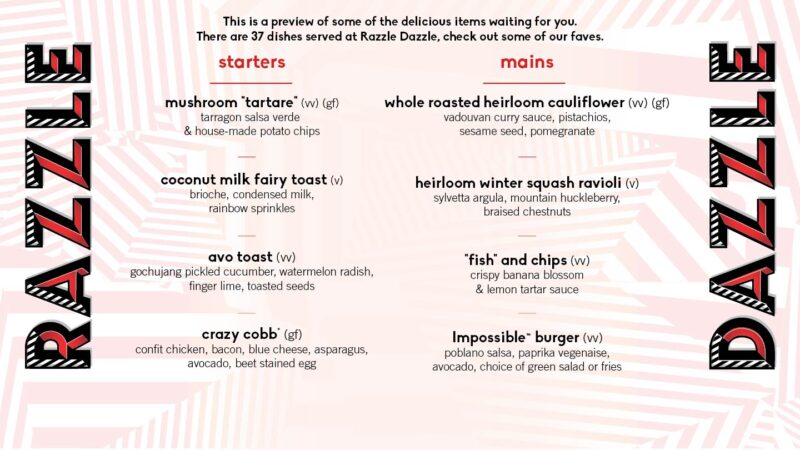 Mushrooms can be beautiful, but I am a little suspicious of the first vegan item on offer. Tartare normally means uncooked and raw, usually a steak dish. I don't think mushrooms really lend themselves to be eaten raw, no matter how finely chopped they may be. Hopefully, I will be proven wrong once I get onboard and get to sample it.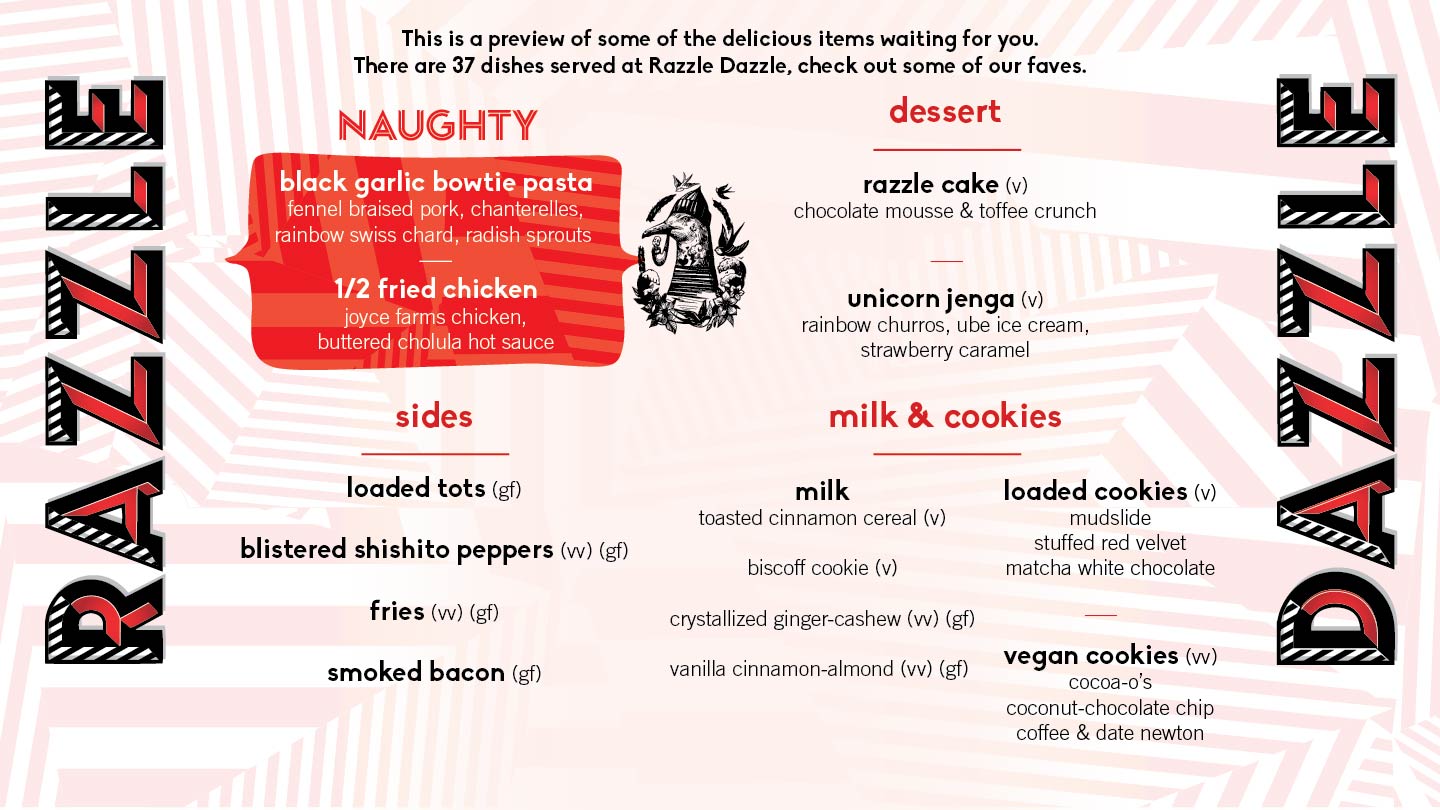 Pink Agave
One of the many inclusive restaurants onboard is a Mexican, which is great news to me as I love Mexican food. Pink Agave too has some vegan options, as you can see from this menu teaser. The full menu contains 20 dishes – hopefully it contains more plantbased choice. Especially as Mexican food can so easily be vegan.. vegetables, rice and beans.. empanadas, tacos, fajitas, burritos and more. At least there is a vegan chocolate dessert here.. though it is gluten-free also, for those who need gf options.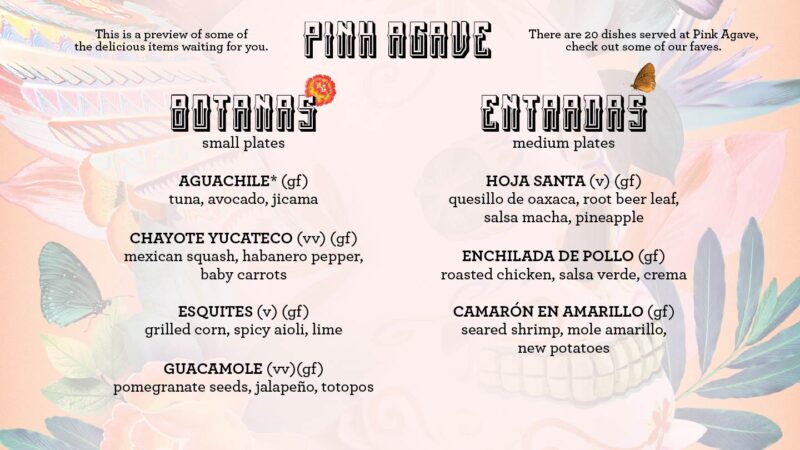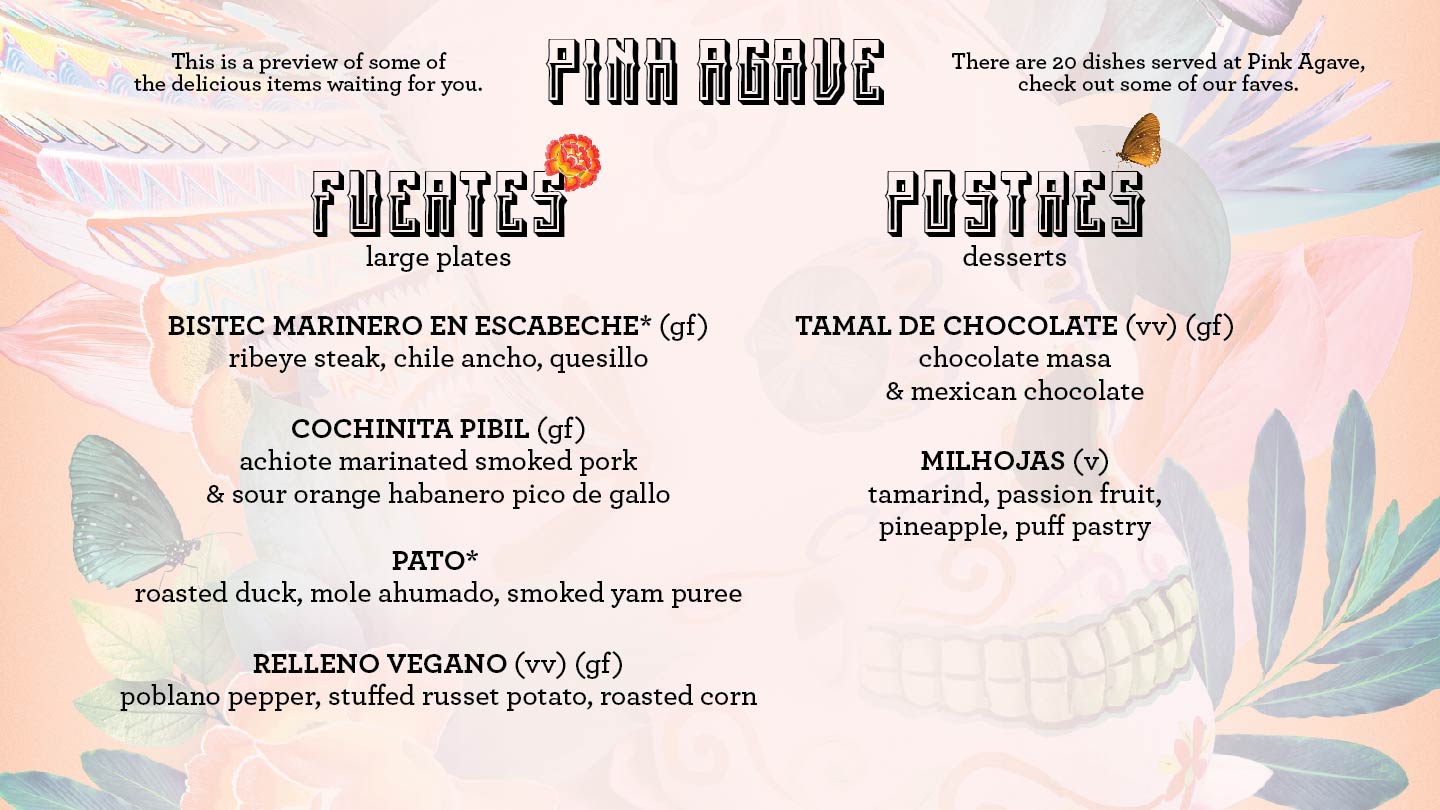 Gunbae
While many cruise ships have pan-Asian or Japanese restaurants onboard, Virgin Voyages in the first mainstream cruise ship (that I know) to have a Korean restaurant. Which is fabulous and I am excited to try it out, as I do enjoy Korean food too. My hometown has a great Korean restaurant that also has a separate vegan menu for the large population of plantbased diners.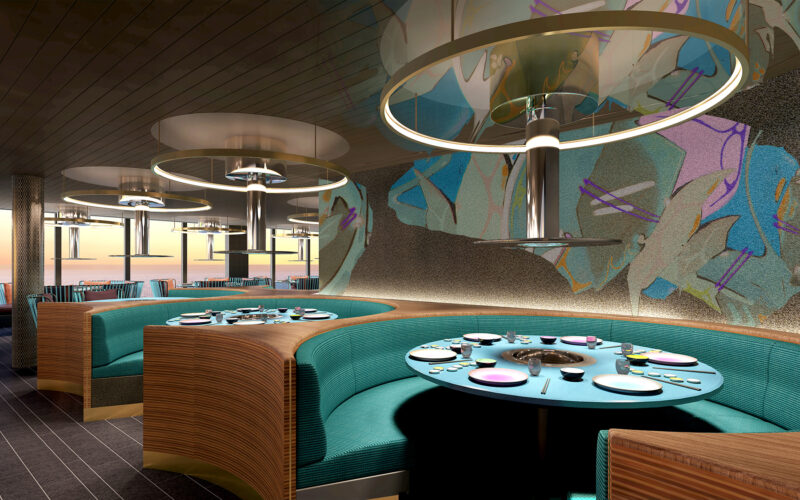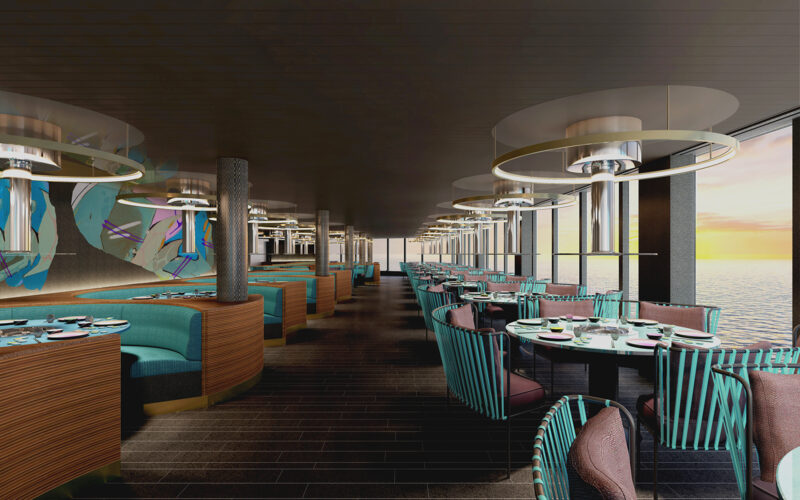 The initial pink sample menus weren't marked with either (v) or (vv) but since they came out the Virgin Voyages website has a new sampler that does list two vegan options. Though there are 18 options and not all of them are listed here so there may be more – we won't find out until someone sails with them.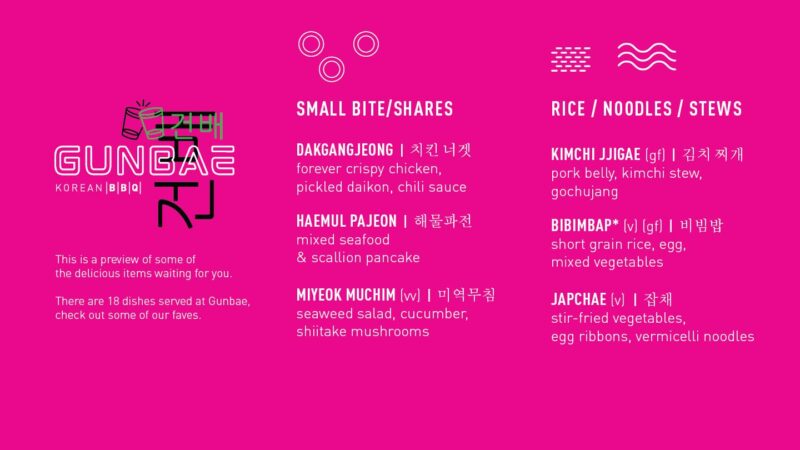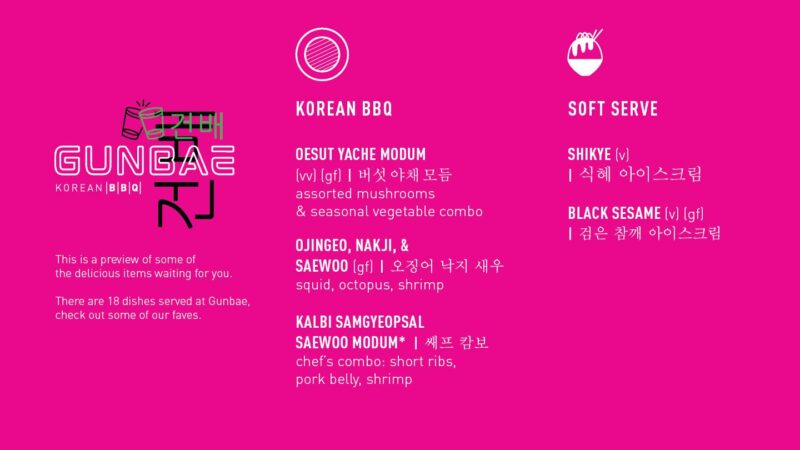 The new menu sampler online now has both veggie and vegan marks against dishes. Mushrooms again, though. A seaweed salad starter with shiitake mushrooms to start with, and an 'assorted mushroom and vegetable combo' BBQ dish. One would hope that maybe some tofu makes it to the menu for more protein.. and that the chefs actually know how to prepare it.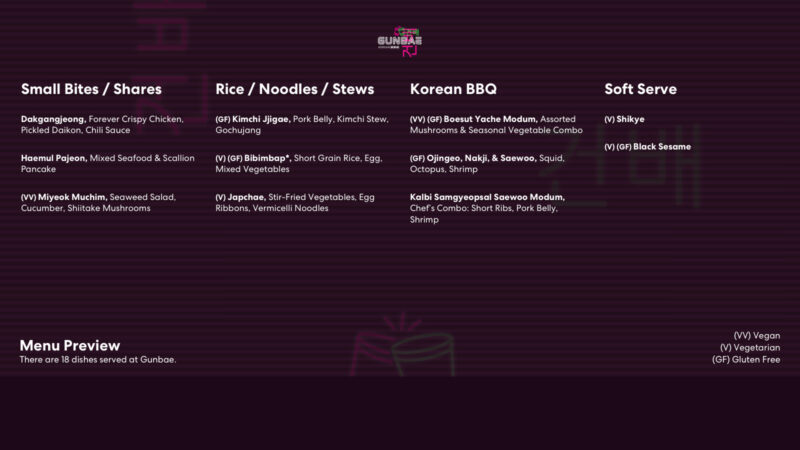 Extra Virgin
Much like cruise ships before her, Virgin Voyages' ships have an Italian restaurant onboard, cheekily named Extra Virgin. The PR blurb calls it a pasta-centric trattoria to worship carbs in. Sounds perfect, right? Most (dry) pasta is vegan, carbs are vegan and every Italian restaurant can easily put together something plantbased. It is not hard to make vegan Italian food and I would imagine Virgin Voyages can do that too.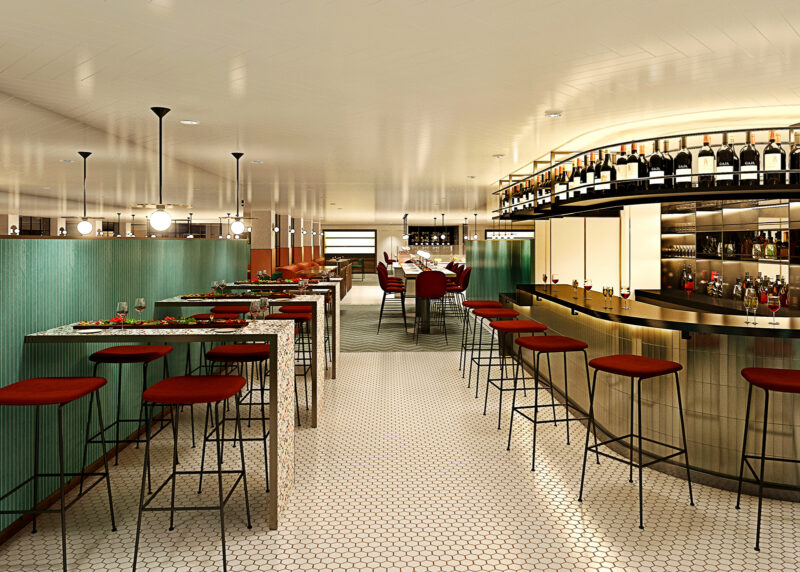 But the sampler menu (showing off a selection of dishes from the 30 item menu) has no vegan marked starters, antipasti or mains. What it does have though, and what makes me super excited once again, is a vegan marked dessert!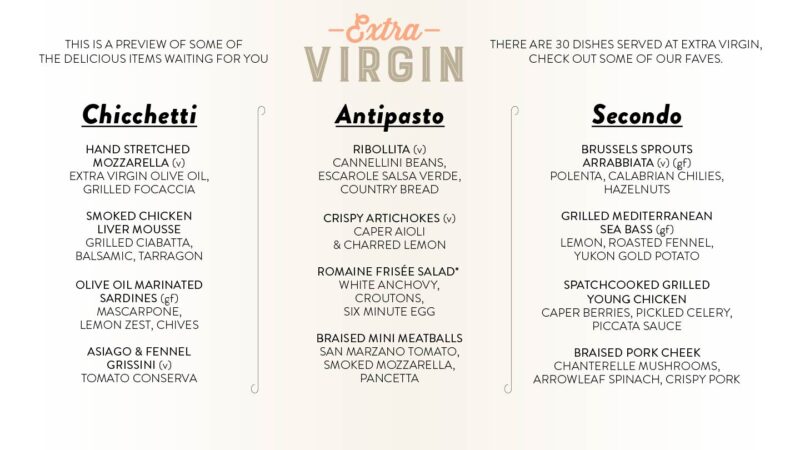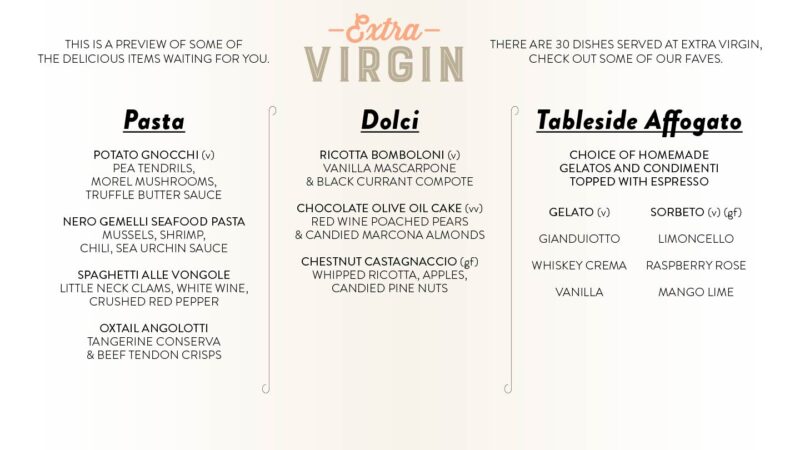 A chocolate olive oil cake, with red wine poached pears and candied almonds. Sounds fabulous! I do wonder about one thing: do the chefs know not all wine is vegan. I have had staff ship raise an eyebrow over me requesting vegan wine. "But wine is made with grapes?" they say, puzzled, as the intricacies of wine filtration (mostly non-vegan) escape them.
Dear Virgin Voyages. There was one thing I already mentioned above (how to make the Razzle Dazzle churro dessert plantbased). Why no dairy-free, vegan-friendly Gelato? Italy is full of the stuff! Not even a vegan-friendly sorbet is listed on the menu as a palate cleanser. Maybe there will be one, we just need to wait for the full menu.
Dock House
casual Mediterranean Restaurant (inside)
& Mezze Lounge & Bar (outside)
You had me at mezze. Not yet failed to find plantbased mezze offerings and Virgin Voyages don't fail here either. There are 16 dishes to enjoy but the only glimpse of the menu we have so far is this of the mezze.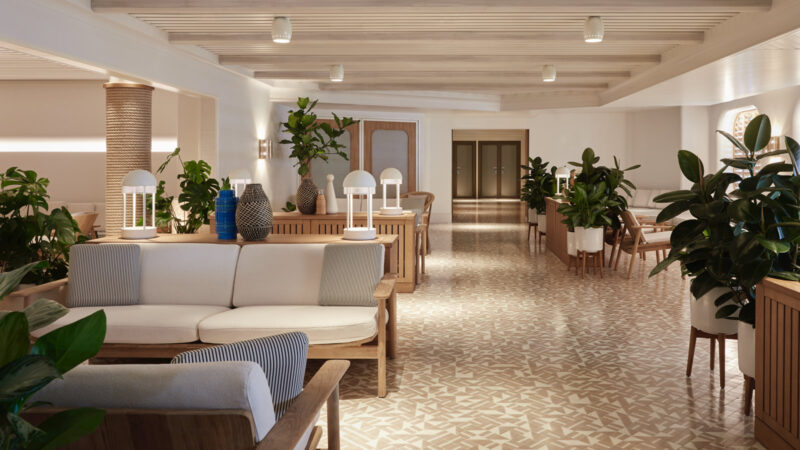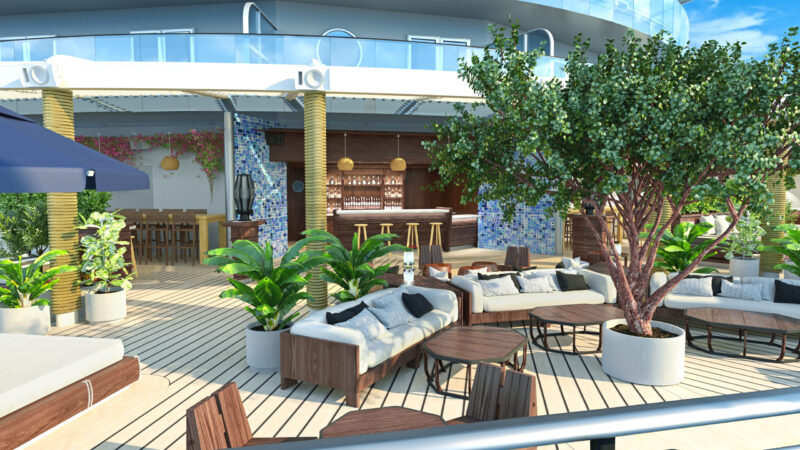 And the little taster of the menu that was initially revealed (but since removed from the VV website) is here. But how on earth can Virgin ruin a perfectly vegan hummus by making it vegetarian only? I sincerely hope this is just a typo. I do love baba ganoush but falafel should always be partnered with hummus. And hummus doesn't come with dairy so what went wrong?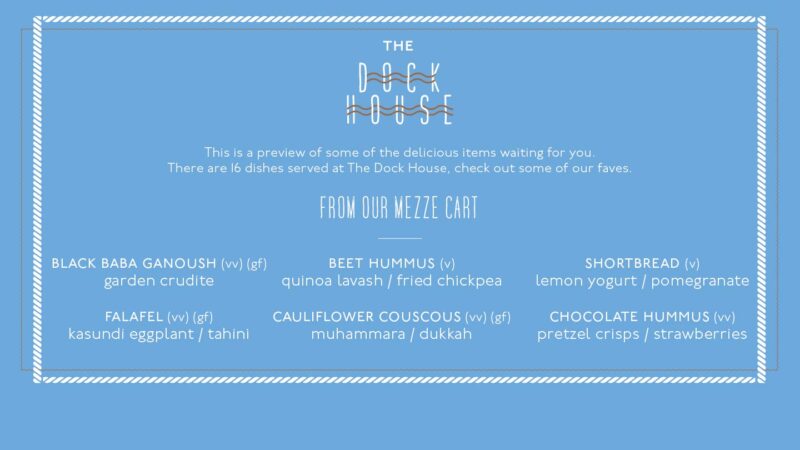 Other restaurants onboard – so many!
There is a huge selection of inclusive dining options onboard, but there is little information on how they cater. Virgin Voyages ships have no buffet but a large food court, the Galley, with made to order dishes from various stands, but no menu details yet. And as expected, there is a separate soup & salad bar.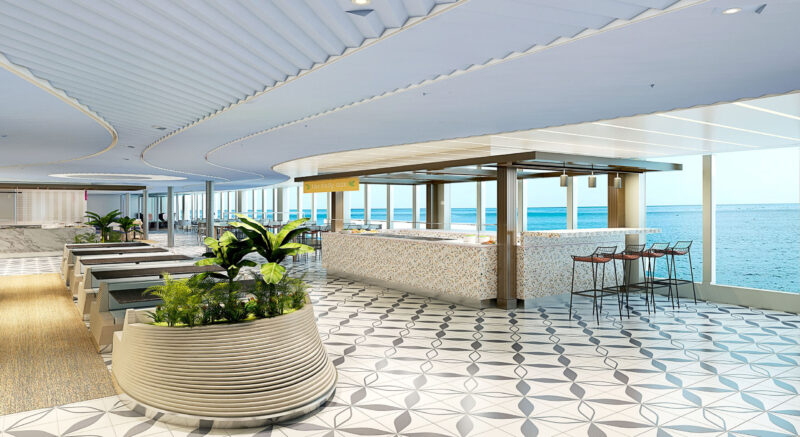 The 'Noodle Around' ramen and miso station could easily have vegan miso, and if not egg-free ramen, at least rice noodles which would be both glutenfree and vegan. The 'Bento Baby' also easily lends itself to vegan options, but it remains to be seen. And surely a sushi station will always have some vegan options?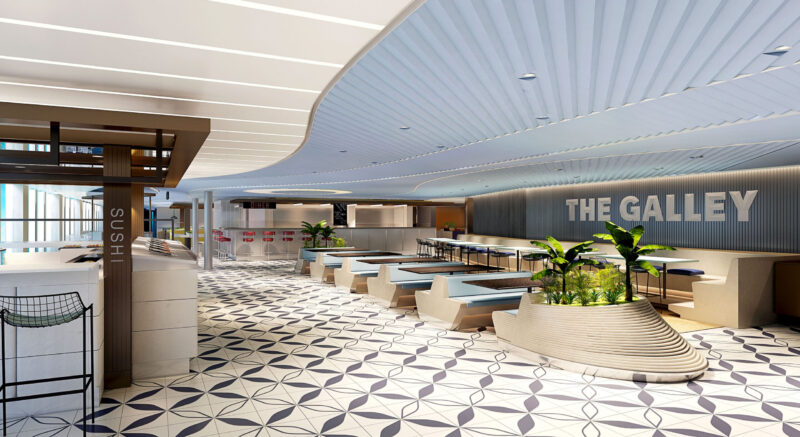 Out of the little menu information out there, it appears to be that the Wake steakhouse only offers a vegan steak sauce and that's it – unless menu has something like a cauliflower steak – an actual seitan one would be preferred though. The Test Kitchen had nothing on the released ingredients that would lend itself to vegan cooking.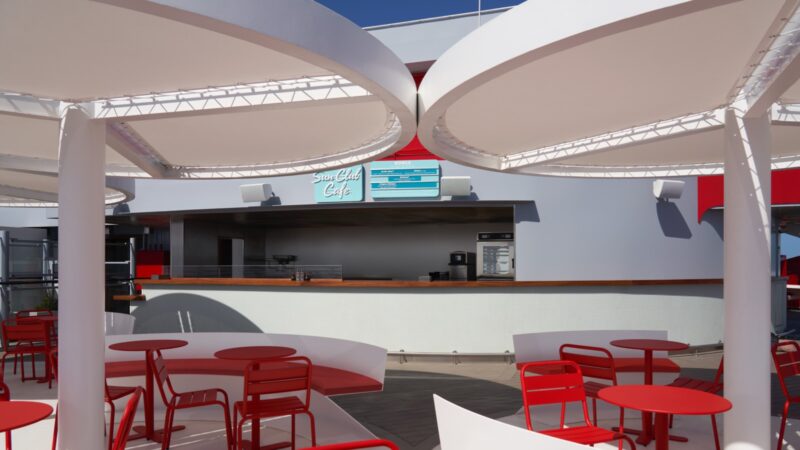 The Sun Club Cafe on the open deck serves Hawaian Poke Bowls, again easily made vegan – if not all premade with fish or meat, and drizzled with non-vegan dressing.
Jenni from CruiseMummy.co.uk visited Scarlet Lady when she called in Liverpool and reviewed vegan options she could find – come back to see her review from this pre-launch visit day. I am so looking forward to having sister Valiant Lady on the Mediterranean as I really want to experience the full Virgin Voyages vegan experience onboard. Even with my criticisms above, I do understand what Virgin Voyages offer is a marked improvement from many other cruise lines out there. I am curious, and hopeful. Excited too, for so many clearly labelled vegan food choices.
If you have booked Scarlet Lady or Valiant, let me know! I am sure readers would love to hear what you thought of the plantbased foods served onboard.