A new course full of money saving cruise tips!
[Ad-contains affiliate link in post] It's fair to say 2020 hasn't been the year any of us expected it to be. After many months in lockdown most of us are eagerly looking at 2021 to come to our rescue. The disappointment of cancelled holidays, the many cruises we didn't get to enjoy. But we remain positive. 2021 will come, and things will get better. This pandemic shall pass, our industry will adapt and we will sail again. We may not get the oceans right now, but we can start looking at booking our 2021 cruises. And there is one course that has just come out that will help you do just that – and cruise more while at it. My friend and fellow cruise blogger Emma has just re-launched her Cruising Isn't Just For Old People University. Her course is all about how to be super savvy with your money and get the best value out there when booking your cruise. And how to spend less, while cruising. The course is full of information I now don't have to put in writing for my readers, as it is so concisely done by her. Thanks, Emma, you saved me a lot of work! I did do 'a brief introduction to cruising' blog post (aka Cruising 101 ) but your course covers that.. and so much more. And Emma's money saving cruise tips are right up my alley – book smart, save money and cruise more often. So, who will benefit from this course and these money saving cruise tips? I think if you're in the next three groups of people, you will.
1. A must for first-time cruise bookers
If you are new to cruising and want your 2021 dream cruise holiday to be the best match for your holiday needs – sign up for the 'How To Cruise For Less' course. It is full of money saving cruise tips but will not just save you money. The course will also help you to choose a cruise line that will work for your holiday style (family vs couple, casual vs formal). 'How To Cruise For Less' will help you navigate options like: which cruise line should I pick? Where should I sail? What kind of cabin should I book? Should I use a travel agent?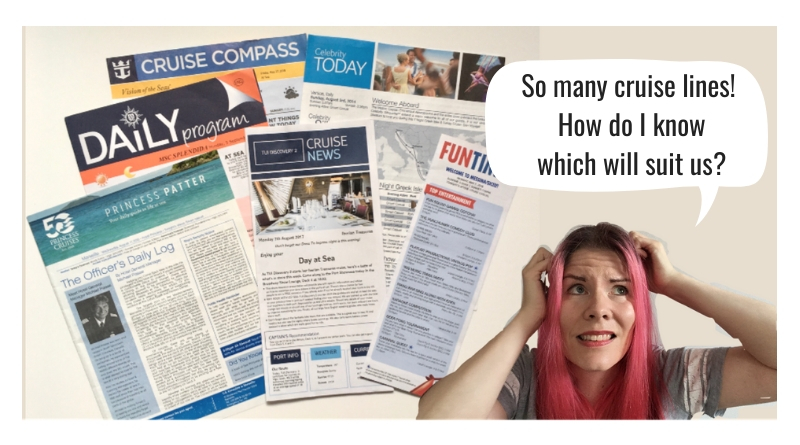 For first-time cruisers, Emma has included helpful segments on pre-cruise planning, even tips on cruise packing. She also covers required documentation, potential seasickness, and even the dreaded disembarkation. These common first-time cruiser topics will make your first cruise less daunting. And it can be, just think back to your first sailing. 'How To Cruise For Less' will certainly stop everyone repeating my first-time booking mistake. Thankfully I didn't make too much of a mess with it and we are avid, seasoned cruisers now.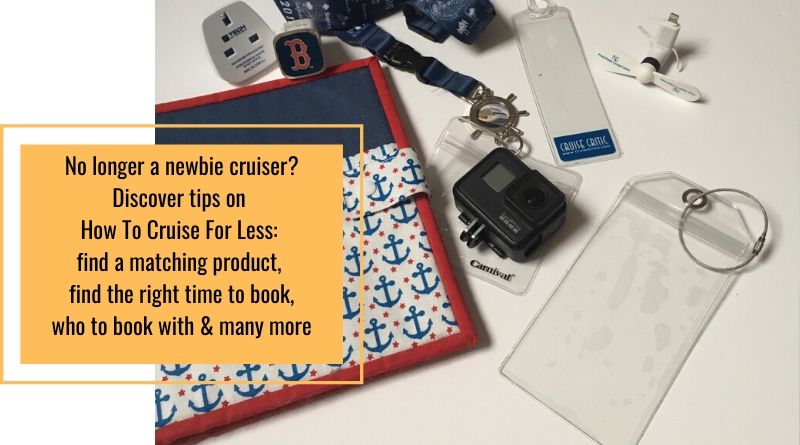 2. A great resource for everybody else!
But the 'How To Cruise For Less' course is not just first-time cruisers. It offers much to those who already have cruised too. After all, who doesn't like money saving tips for booking more cruises? Emma's course is good for everyone because very few of us have experience & knowledge of all of the mainstream cruise lines out there. Since she started cruising as a child with her parents, Emma has amassed a great amount of industry knowledge over the years to know when it is the best time to find cruise bargains. Also, as many cruisers tend to go back to the one cruise line they trust, they miss out on opportunities on other lines that suit their cruising style. Emma's helpful introduction to the mainstream lines will help some seasoned cruisers to widen their horizons. There are other cruise lines that will also fit your personal cruiser profile, in addition to the one you know & love.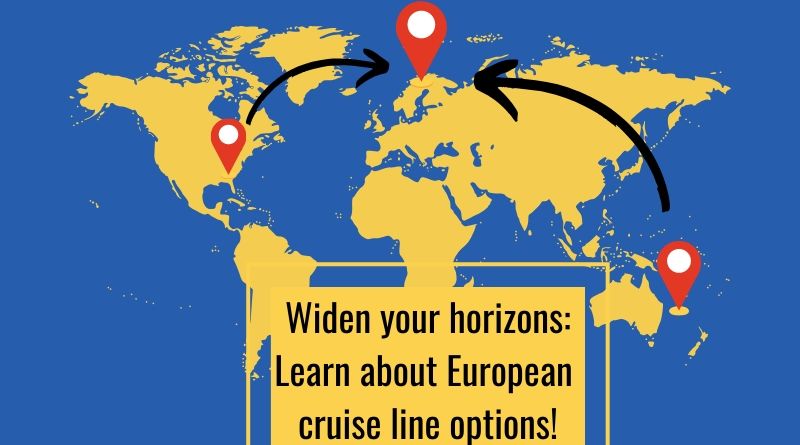 3. A key European resource for all US cruisers
Also included in Emma's detailed online course is a selection of both UK and European cruise lines with whom many of our fellow American or Antipodean cruisers may not be familiar yet. UK's very own Marella or even our UK P&O may escape the mind of many US Princess cruisers, though the products are similar in their offering (for those who like formal nights). But if you are from the US and want to extend your cruising knowledge and travel continental – delve into Emma's course. You will suddenly have a whole new cruising world (of companies) to consider for your next holiday.

What is included in 'How To Cruise For Less' course?
The course material is hosted on an easy-to-use online training portal, and course lessons are easy to navigate. There is an introduction and four interactive, engaging chapters of material to work through. Each chapter is further split into three to five different topics, with videos to watch on each of those topics. There are helpful diagrams and each topic also comes as a downloadable PDF form, if you prefer to keep a paper copy of your course and notes. You can finish your course folder with Emma's '50 ways to save money when cruising' printout.
At the end of the course, after completing the modules, each student qualifies for an audio consultation with Emma. She can further advise you on any cruising topic on which you need further clarification. Talk about personal service indeed!
Sounds good, doesn't it? I certainly appreciate money saving cruise tips and I want my fellow cruise addicts to be educated on them too. Our fabulous industry offers so much choice. And if you don't consider all the options available, you miss out on bargains. So as much as building loyalty is good for a few side perks, trying different cruise lines will certainly open you to bargains you would have otherwise missed. Offers that might suit your style of cruising to a tee.
Whether you are new to cruising or a seasoned regular on one brand, I am sure that 'How To Cruise For Less' course will be helpful. With all the information available here, I am sure you will save more on your next cruise than you'll have spent on this course.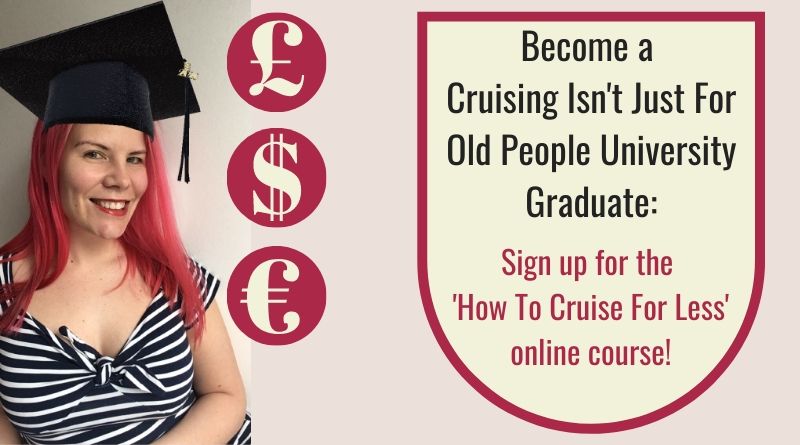 'How To Cruise For Less' is available for an offer price of 39 USD,
approx 31 GBP or 34 EUR using the current exchange rate at the time of writing
Interested? You should be! Emma's course is a great resource. It gives you access to a load of cruise insider tips savvy budgeters like Emma & I have managed to amass over our years of cruising.
Want to know 'How To Cruise For Less'? Learn more – Sign up here!
[The link to course above is an affiliate link. If you do sign up to do the course, I may earn income from the course platform/provider at no extra cost to you. ]

PS. Many thanks for the lovely Emma for letting me review your course!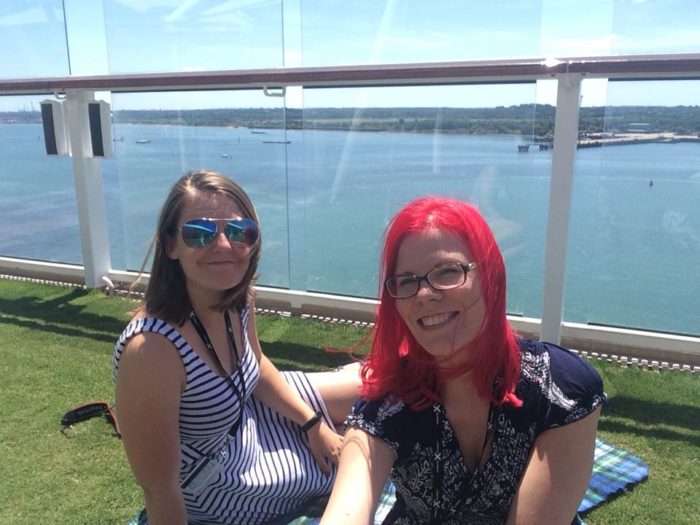 Emma & me enjoying the Lawn Deck on Celebrity Eclipse