Vegan food on Marella Cruises: how does the Explorer cater?
Regular visitors will have seen the helpful Marella Dream vegan food review I received from my lovely reader Alison, back in 2018. The year previous, Mr Vegancruiser and I had sailed on Marella Discovery2 and didn't have it as good. But much has changed in another 12 months! So much so that I couldn't believe the difference when I boarded the Electric Sunsets theme cruise in September 2019. Check out my much-improved selection of vegan food on Marella Explorer below! These have been on my IG Stories since September but now also here on my blog. After a few questions I received, I realised that not everyone does Instagram.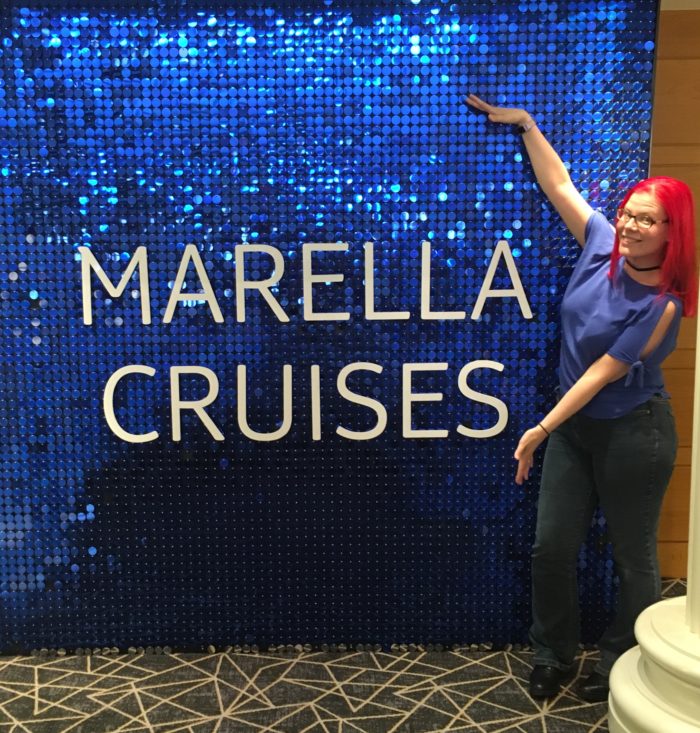 The vegan food difference on Marella
Some of the mainstream cruise lines have no mention of vegan diet on their sites. Many merely speak of provision for allergies, or vegetarian menu choices. But UK's very own Marella Cruises now state on their website FAQ that they offer vegan food onboard. It's fantastic to see that a popular cruise line like Marella is responding to the demand for vegan food. They do not offer a separate menu, like the US cruise line Royal Caribbean do. Instead, vegan options are listed on the main dining room (MDR) menu among the other meals. And unlike on Royal, vegan food on Marella is also available in the buffet. And clearly labelled too! Each venue marks their vegan options differently, but they are marked. Menus mostly feature some kind of leaf motif, while the Marketplace buffet uses 'VE' for vegan options.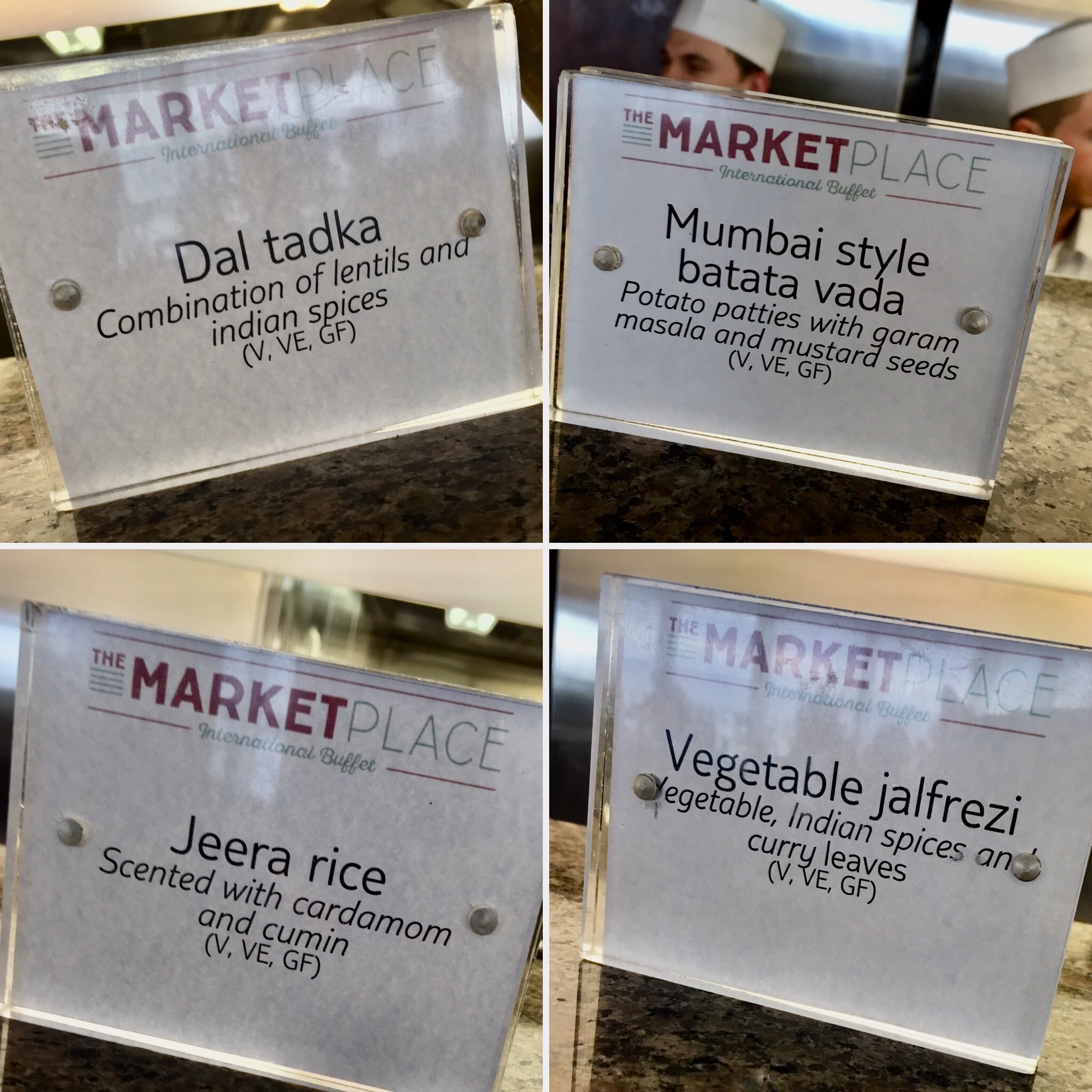 Main dining room vegan food on Marella
What I noticed on our sailing was that the main dining room 'Latitude 53' marked their vegan options using a black circle with a white leafy V logo. They also featured a mirror image white circle with black leafy V for 'vegan option available' when dishes could be easily amended.
Examples of the latter from our cruise were a French Onion Soup, which could be served without a cheese crouton, or the house salad without the non-vegan ingredients.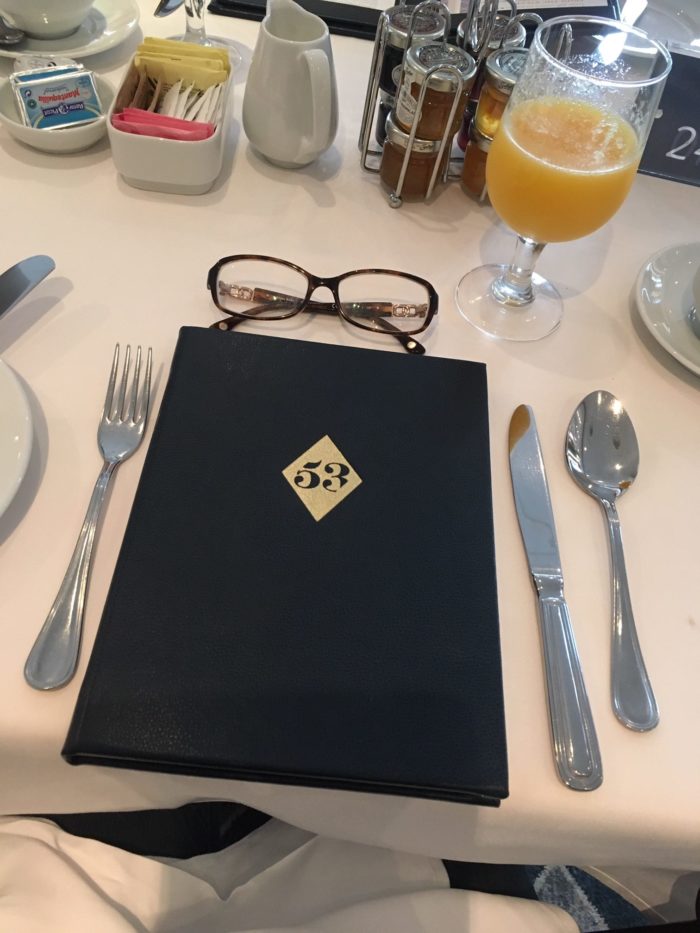 In a similar way, Marella also mark 'Gluten-free' and 'Gluten-free option available' dishes. They rarely are the vegan options though so if you're a vegan coeliac, your dining options will be little more complicated and you may have to pre-order most of your meals.
The only MDR time I found myself with no obvious vegan menu option was on our final disembarkation morning for breakfast. The MDR has some vegan sides listed but the vegan sausages aren't mentioned.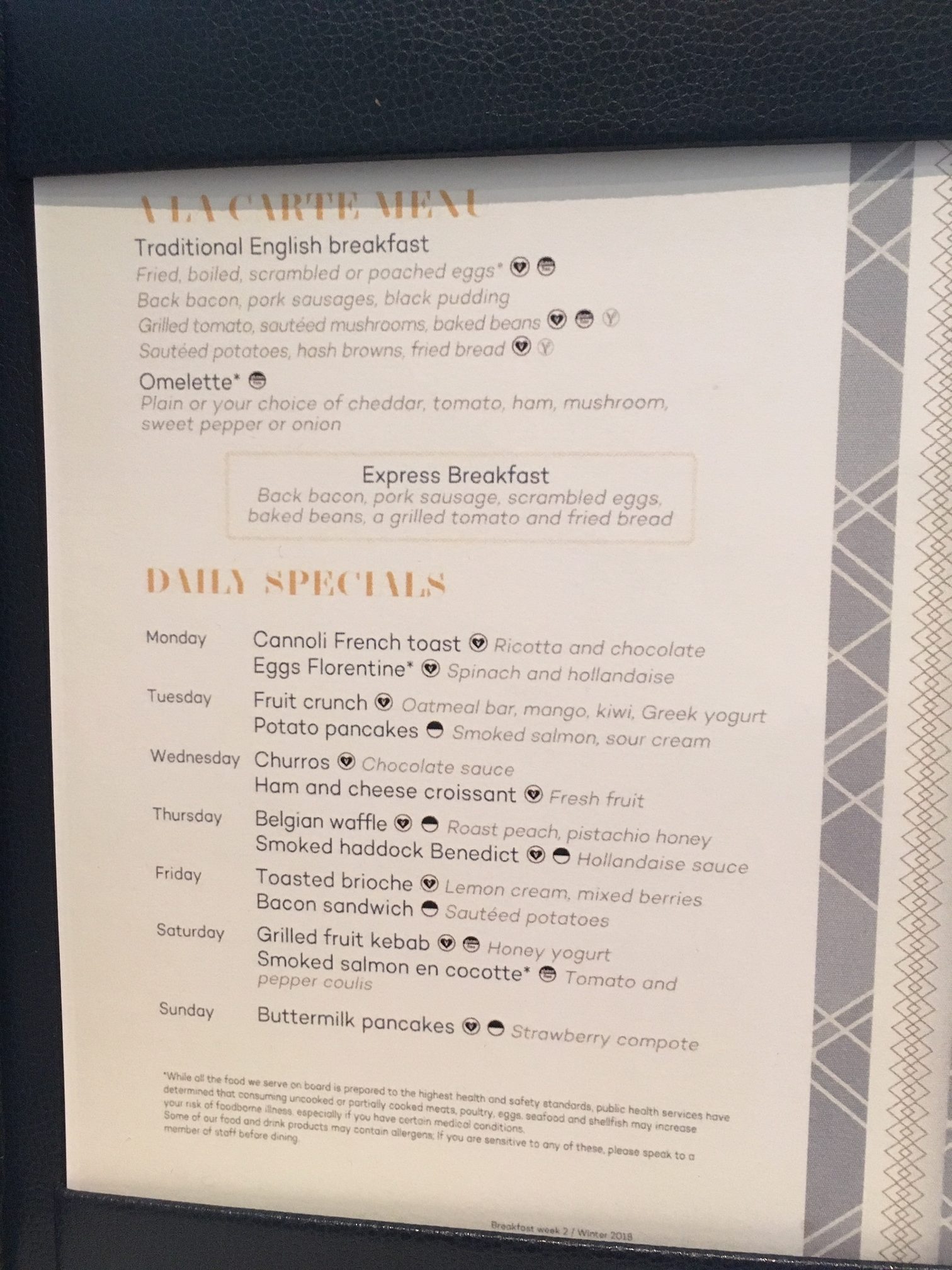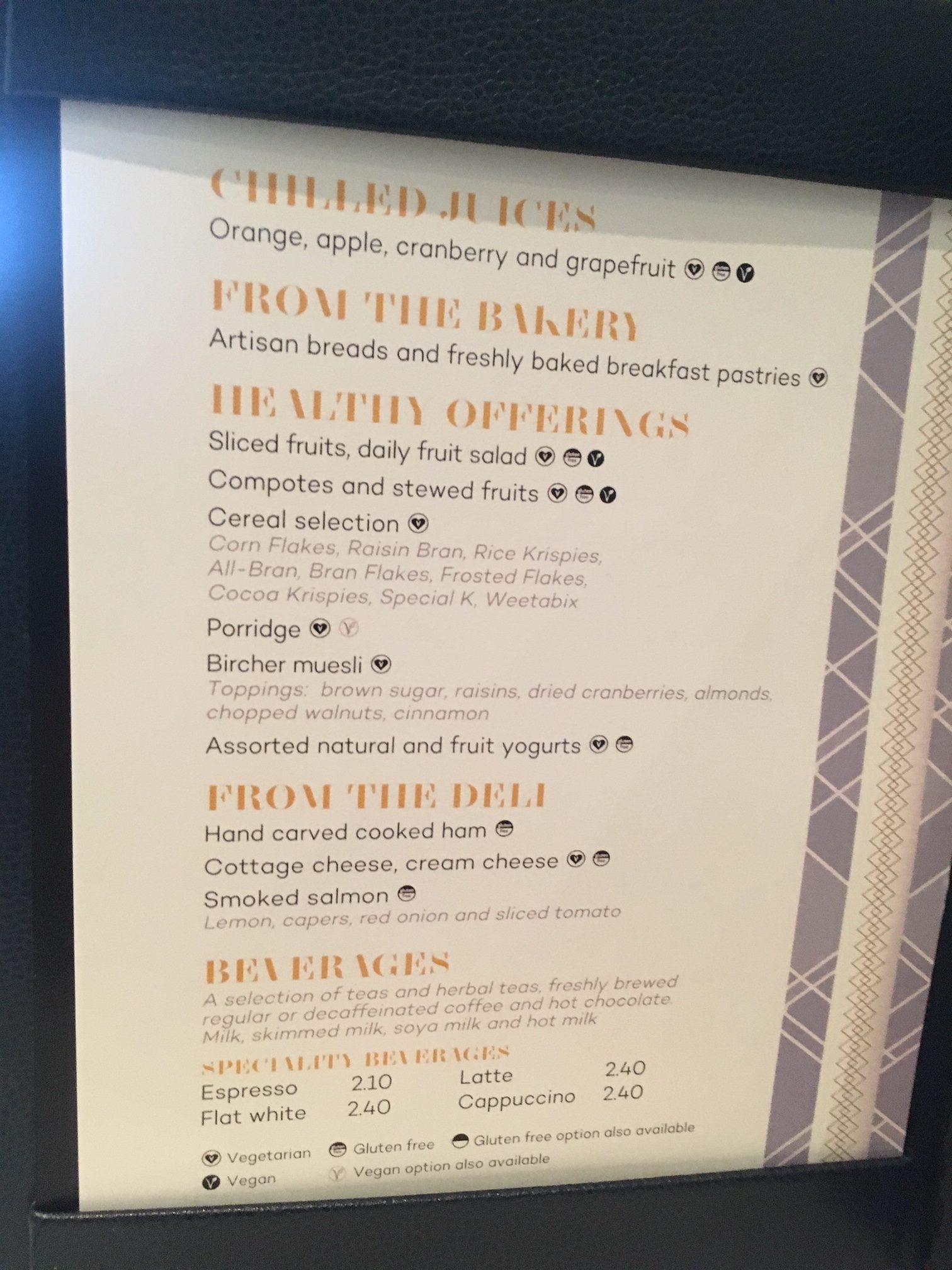 Having had vegan cooked breakfast upstairs in the buffet every other morning, I was able to request the very same in the MDR. But I only knew to request vegan sausages because I had already had them on Discovery 2 two years previous. Menu also offered vegan porridge (oatmeal) and fruit, and the vegan breakfast sides (hash browns, tomato, mushrooms, beans).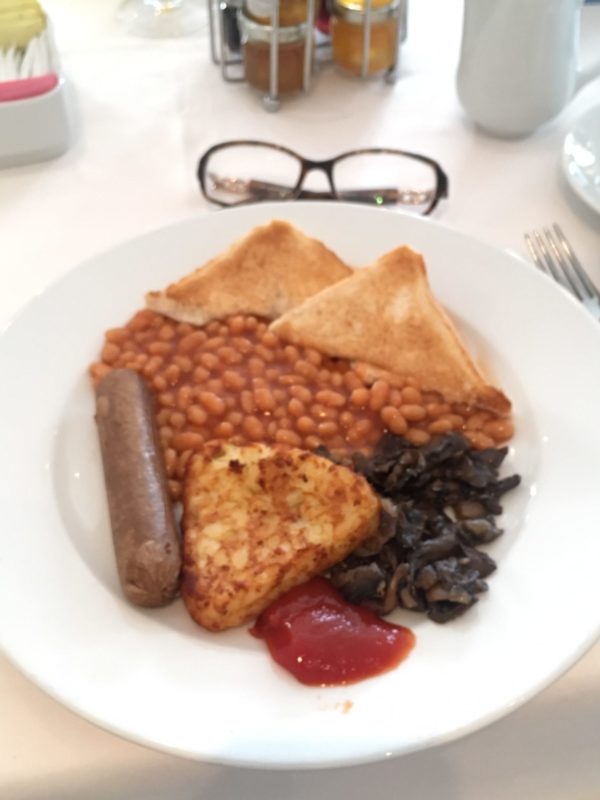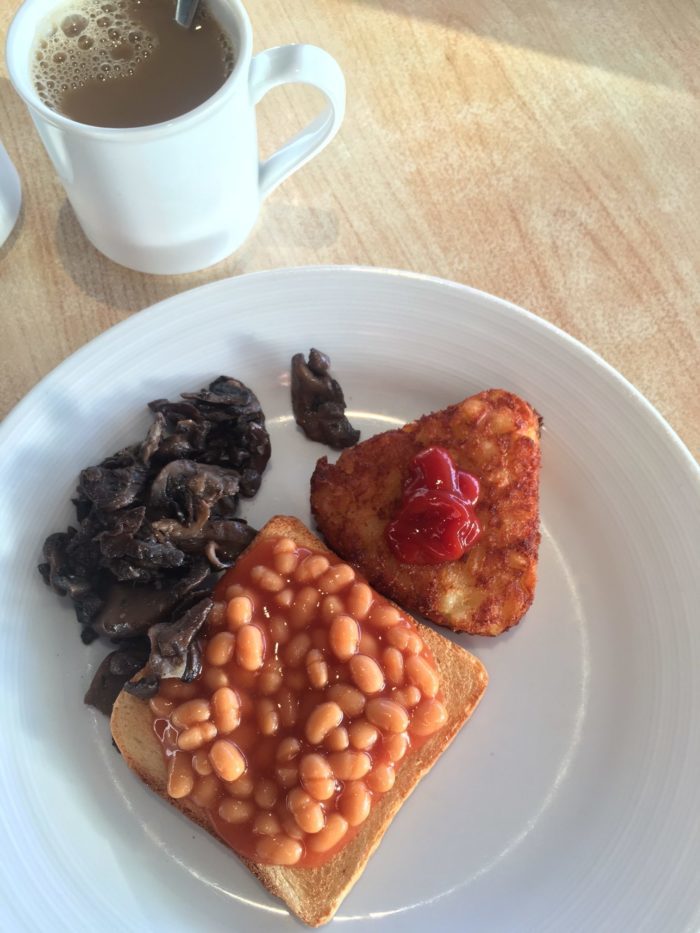 And before you think that's me just being greedy.. this is two sausages each, as I cruised with a vegan friend.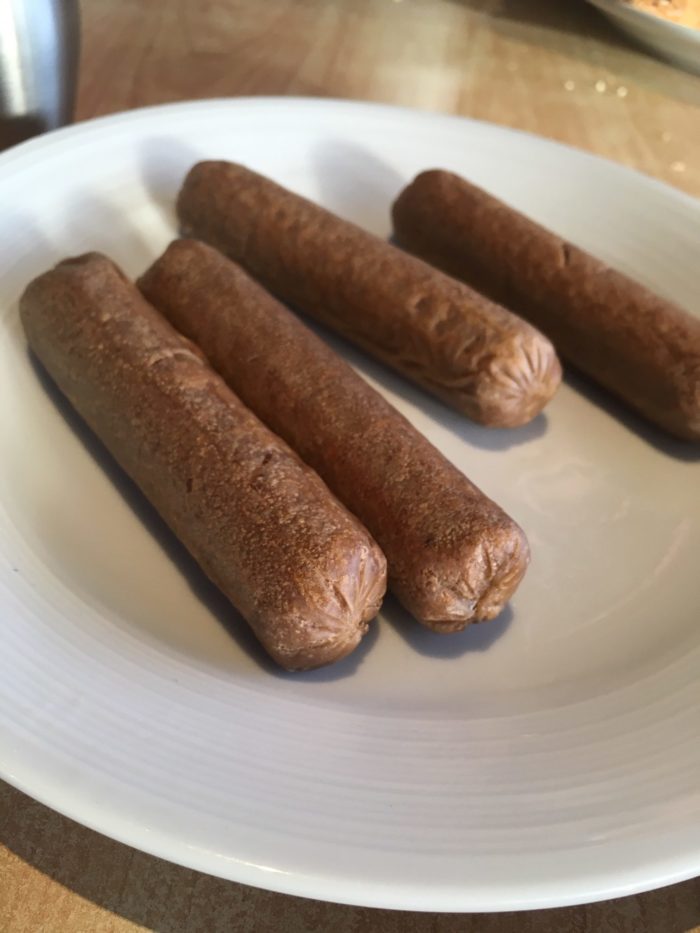 Dinner choice in the main dining room (MDR) always appeared to include two vegan choices.. but as we were on a busy event schedule, my friends and I opted for buffet dining each night. Here are the MDR options from one of the evenings: the grilled Mediterranean vegetable salad, the house salad and the French onion soup for starters. For vegan main courses on this evening, you can see Marella Explorer offered a vegan vegetable pie, or a caramelised onion & veg tarte tatin.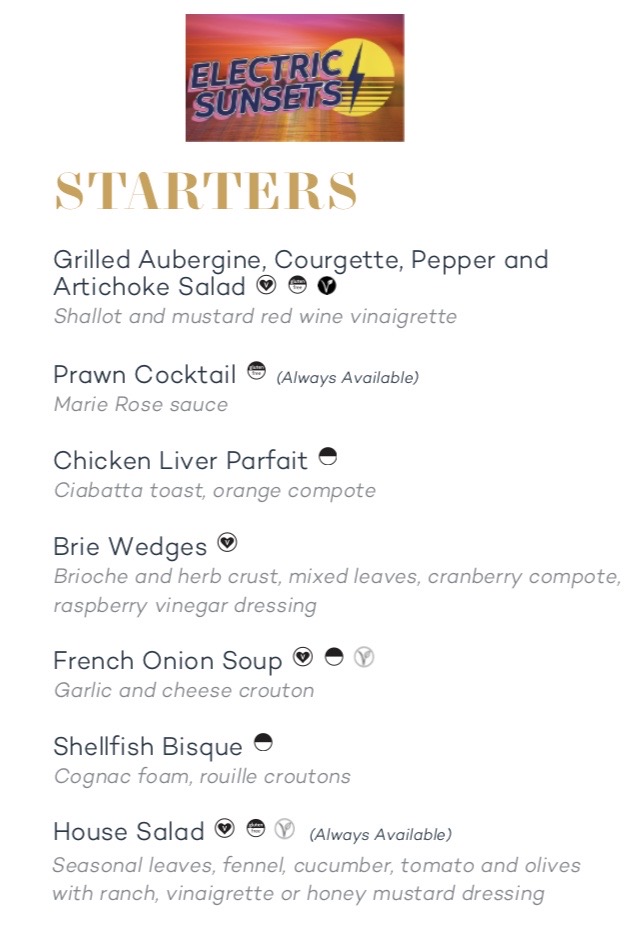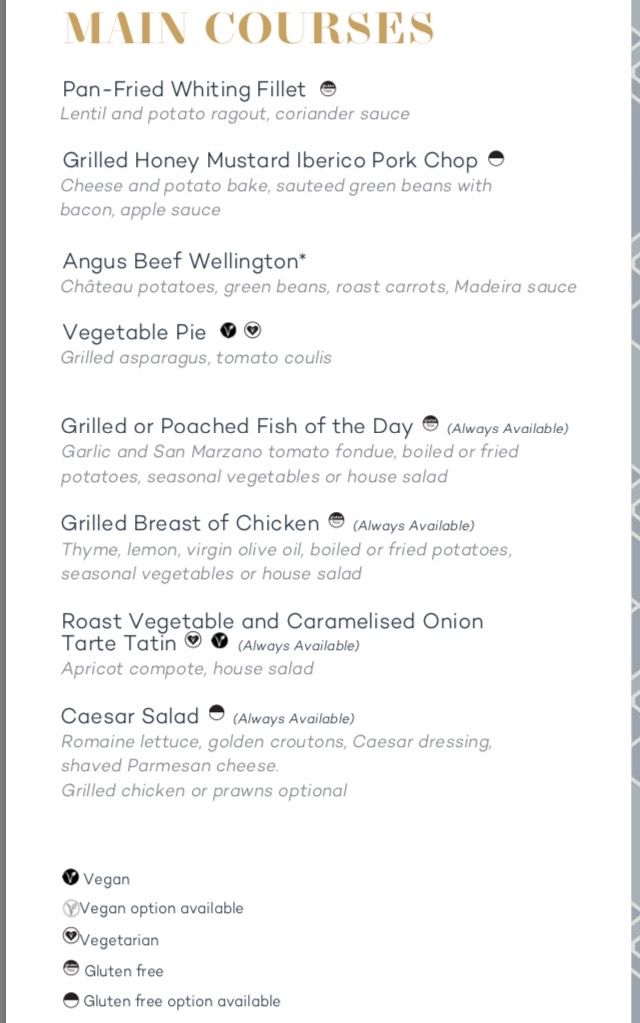 Specialty restaurants on Marella with vegan options
On Marella Explorer, the two free/inclusive specialty options are the Italian-themed Vista and The Mediterranean. The former is located on the upper mezzanine level of the main dining room. Vista has menu options marked vegan (with a black leaf logo).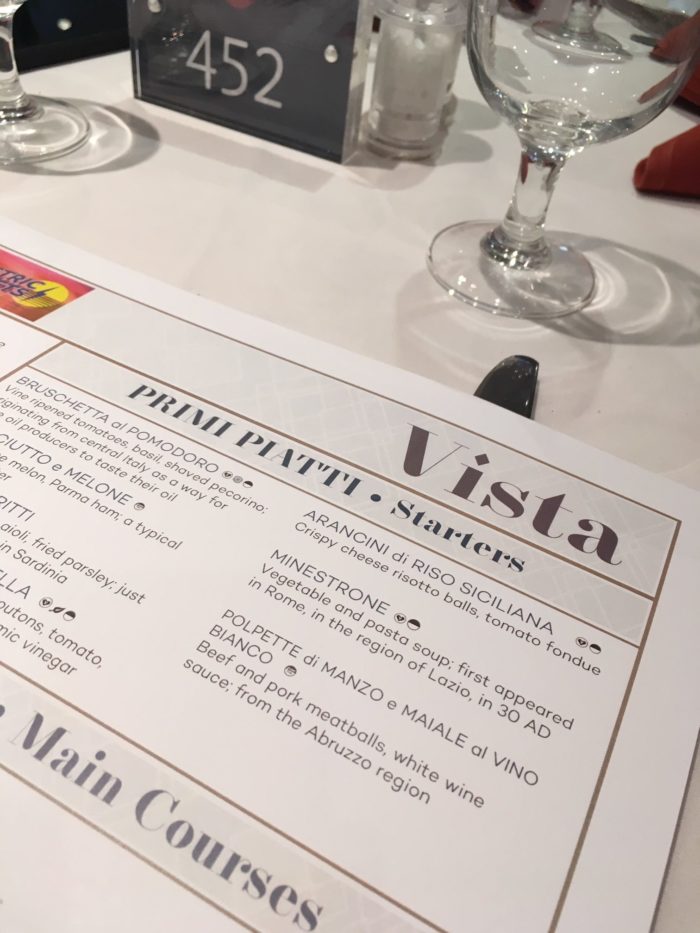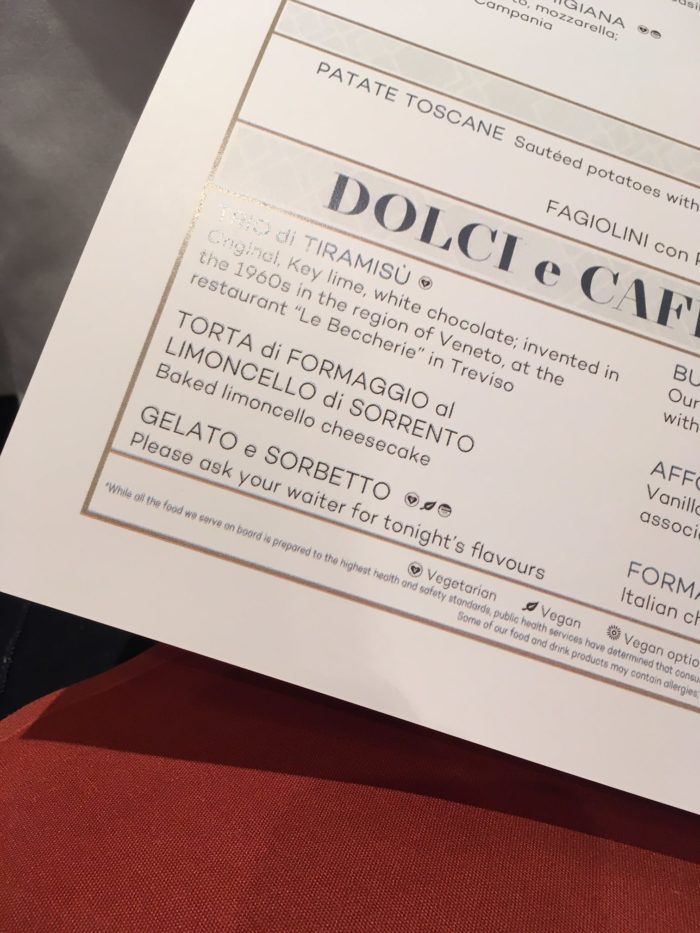 We dropped by the Vista on the first night just to see the menu and have some vegan dessert as the buffet had nothing vegan available for dessert. Vista had strawberry sorbet that night, but it was better than nothing. Plus, strawberry is way better than the dreaded lemon sorbet I have been served on many occasions during my cruises.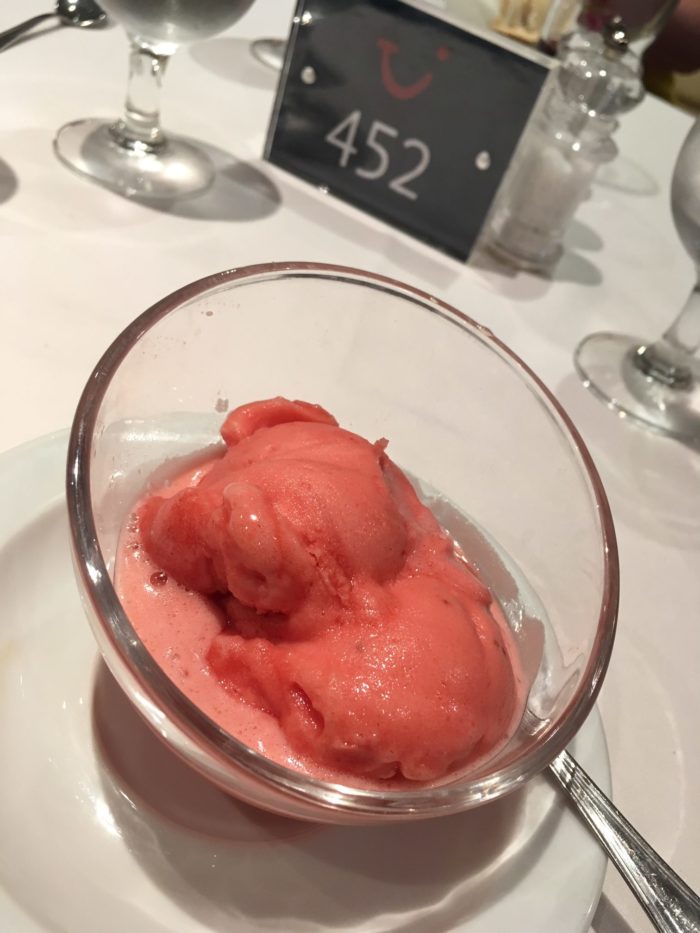 The Mediterranean is located at the back of the buffet. It consists of two separate dining sections. One is for Tapas with a Pizza & Pasta section on the other side of the room. In between is a lovely relaxed bar with comfortable seating. There also is a terrace outside, for beautiful aft views. The Mediterranean offered the fastest bar service onboard, as very few people on our sailing ventured to dine here. Or to enjoy the beautiful aft views.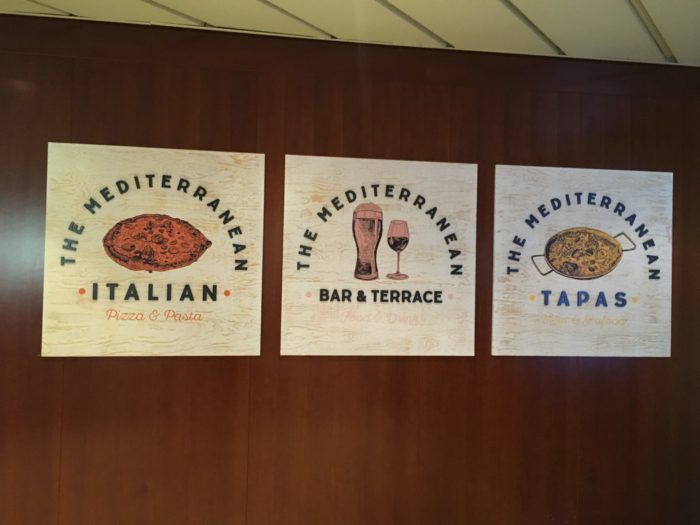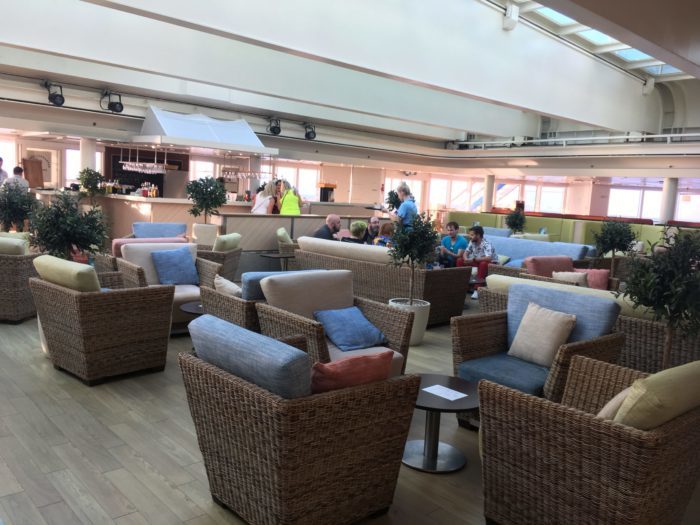 The Italian at The Mediterranean is a pizza slice and pasta bar, with pre-made dishes served by the team behind the counter. We were able to request a separate veggie pizza without cheese to make ours vegan. And on one of the evenings, the pizza chefs kindly used the vegan cheese the Marketplace buffet gave us at breakfast (we had stored it in our cabin fridge). So we had a vegan pizza to share – it got devoured so quickly I had no photos to share. I had however, taken photos of the vegan cheese the ship had.. not a brand we could recognise.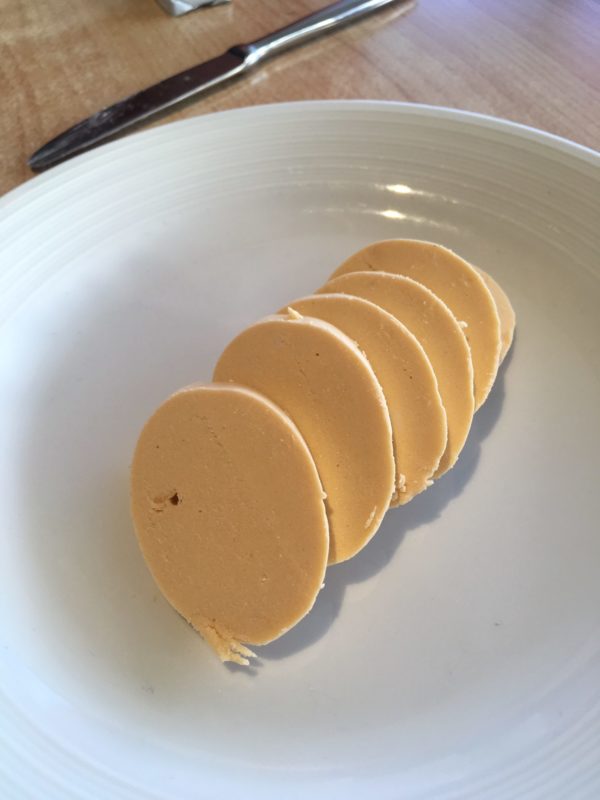 The Mediterranean also offers some late-night snacks in the Tapas area across from the pizza & pasta bar. I had a vegan sweet chilli rice noodle & tofu stirfry one evening. The Tapas section of the venue has an upcharge for meaty skewers but any potentially vegan options on offer are included in the cruise fare.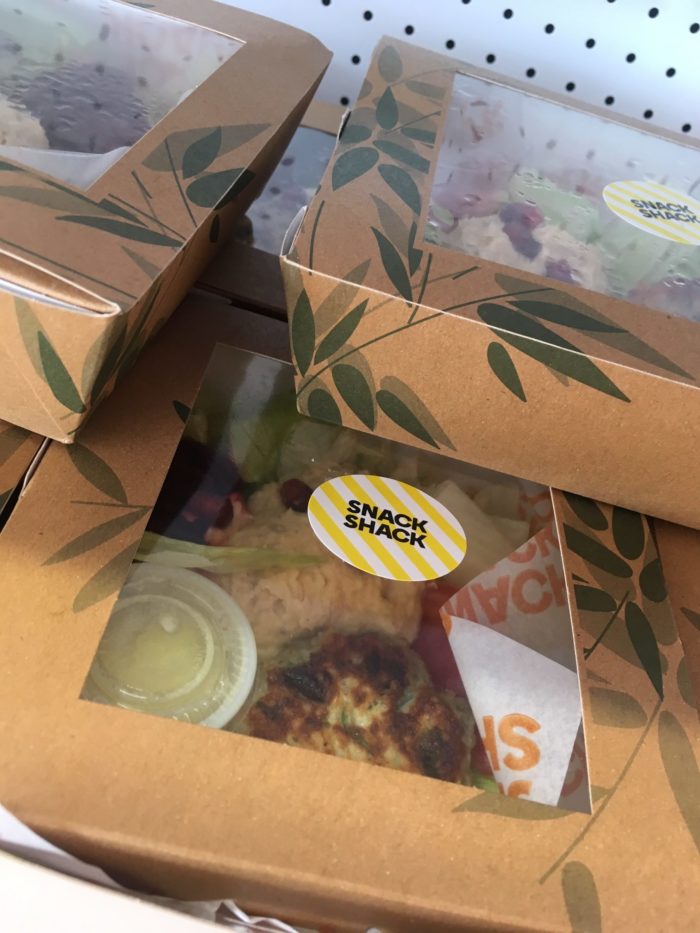 The Snack Shack on the Lido serves a Mediterranean vegan falafel & hummus box. My friend also obtained chips and curry sauce from the Snack Shack grill late on one evening – just what we needed to soak up all those AI cocktails.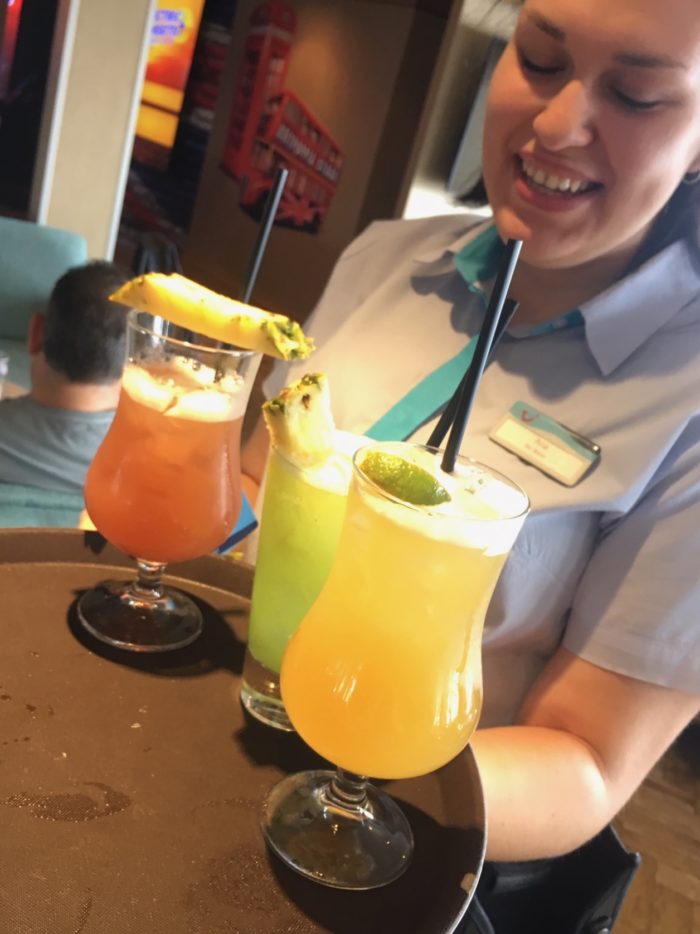 Specialty dining options with a cover charge
For an extra cover charge, Marella Explorer offers four specialty dining restaurants. Two of these are the Surf & Turf and the Asian themed Kora La. Both of which you can also find on sister ships Discovery 1 & 2.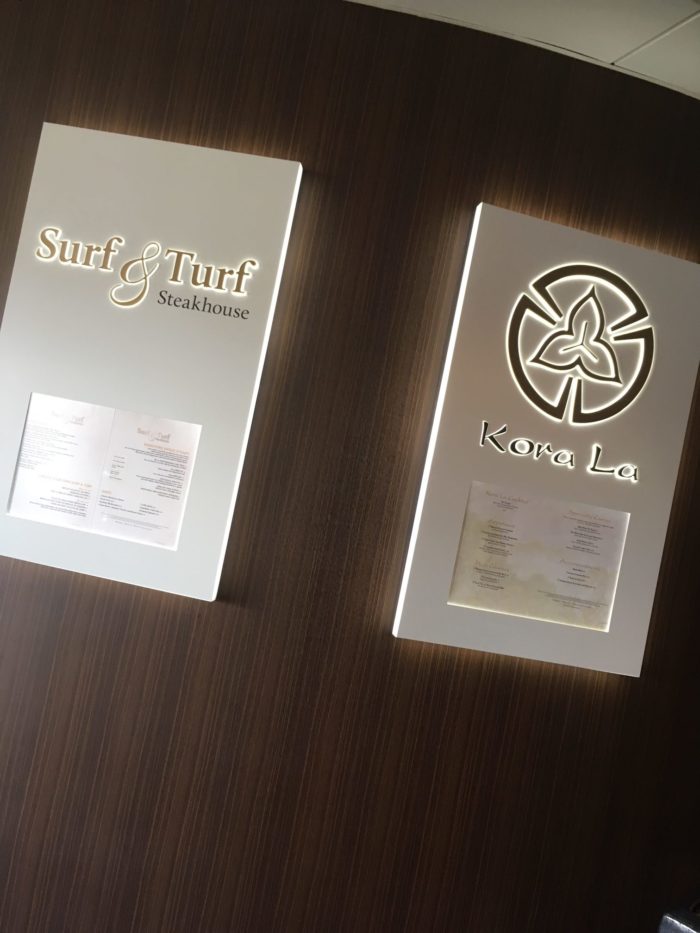 Kora La
Interestingly, there appear to be at least three separate Kora La menus in use across the Marella fleet and shared by past guests. The oldest has no leafy vegan symbol on the menu guide, and has no vegan options. It offers a vegetarian souffle starter that clearly can't be made vegan. Another has a 'fillet of tofu' with soba noodles, presumably vegan-friendly if the basil pesto is removed. There's also an Asian salad on another menu.
The menu with vegan-marked options has a tofu & vegetable spring rolls for a starter option. There is a selection of curries that can be made with vegetables to make them vegetarian – some are vegan. And the upcharge? Kora La has an additional fee of £20 – maybe worth it for omni guests, but value for vegan guests depends on the version of the menu offered onboard.
Surf & Turf
Surf & Turf specialty restaurant and steakhouse also offers vegan options on their menu. There is a vegan-marked spinach & artichoke dip to start with. For the main, Surf & Turf offer a cauliflower steak – plus a selection of suitable vegetable sides. Whether you consider it good value to pay £25 for a cauliflower steak and some dips, I shall leave it to you to decide.
Many thanks for Mark & Marie from Neonbubble travel blog for the recent (late 2019) menu image below.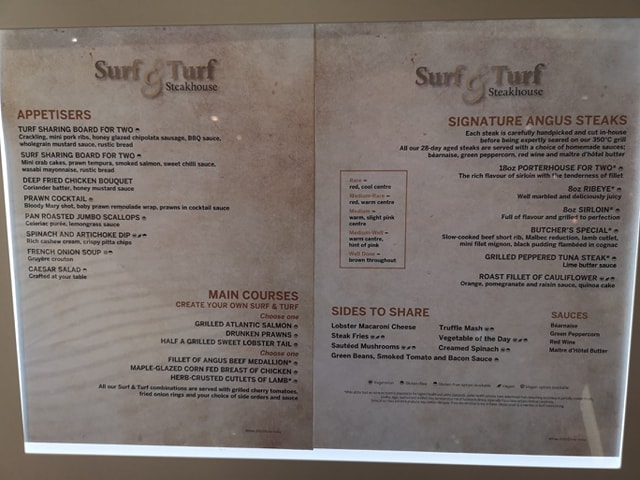 Umi Sushi
The third extra dining option, and new to Explorer, is Umi Sushi. For vegan options, Umi has futomaki rolls and edamame beans. Plus, the menu offers a vegetarian marked tofu miso soup, so it should be vegan as well.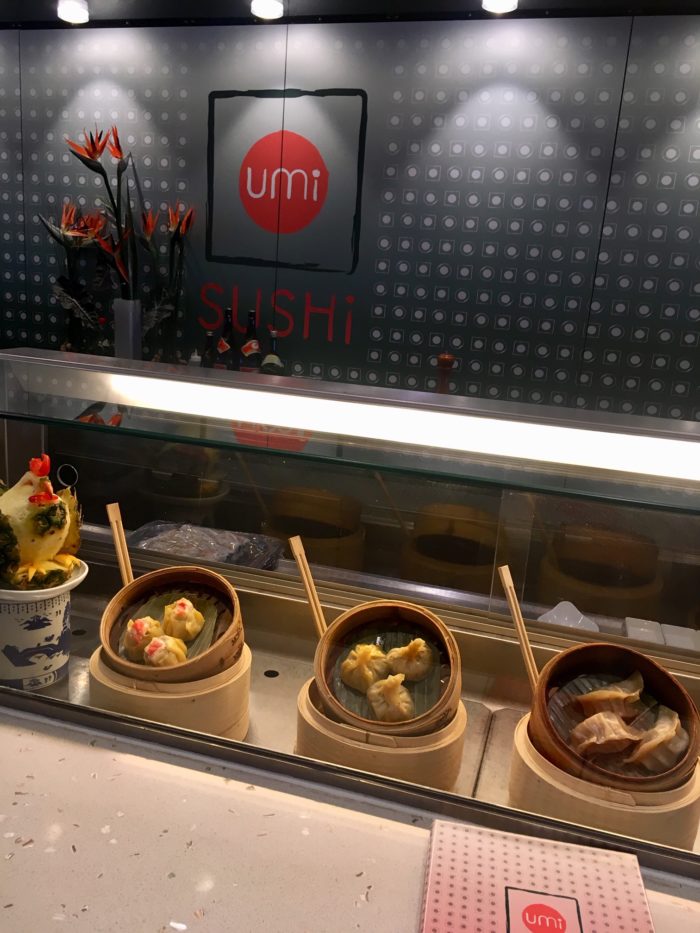 And the one not to bother – if you're vegan
The fourth and fanciest specialty dining onboard Marella Explorer is The Dining Club. A quick glance at their menu of 'molecular gastronomy' did not reveal anything that would make the upcharge (£35/45) worthwhile for vegan guests. No wonder we stuck to the buffet and the MDR for our trip.
Marketplace buffet for vegan food on Marella Explorer
The Marketplace buffet on Marella Explorer to me was really a cruise ship heaven. Never before have I been able to locate vegan options as easily in a ship buffet. The menu is displayed outside the buffet, but is also visible on the Marella App. Most dishes served are marked according to dietary needs. Vegan options were noted with a helpful 'VE' code.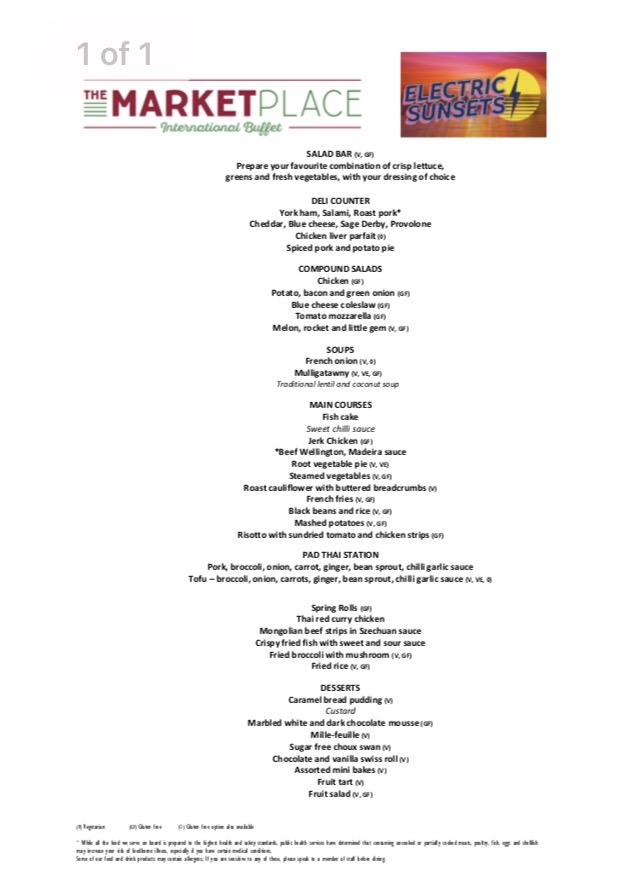 Most mealtimes I was able to obtain a vegan-friendly soup or pre-made salad in the Marketplace. Though, it was disappointing to see how many great salads were ruined with bits of ham or cheese, when it would have been so easy to just serve those on the side.
On those occasions when every pre-made salad was contaminated with curdled breast milk or flesh, there always was the basic 'build your own' salad bar to use. It's just that those rarely were as interesting as the pre-made salads. Two of them were excellent!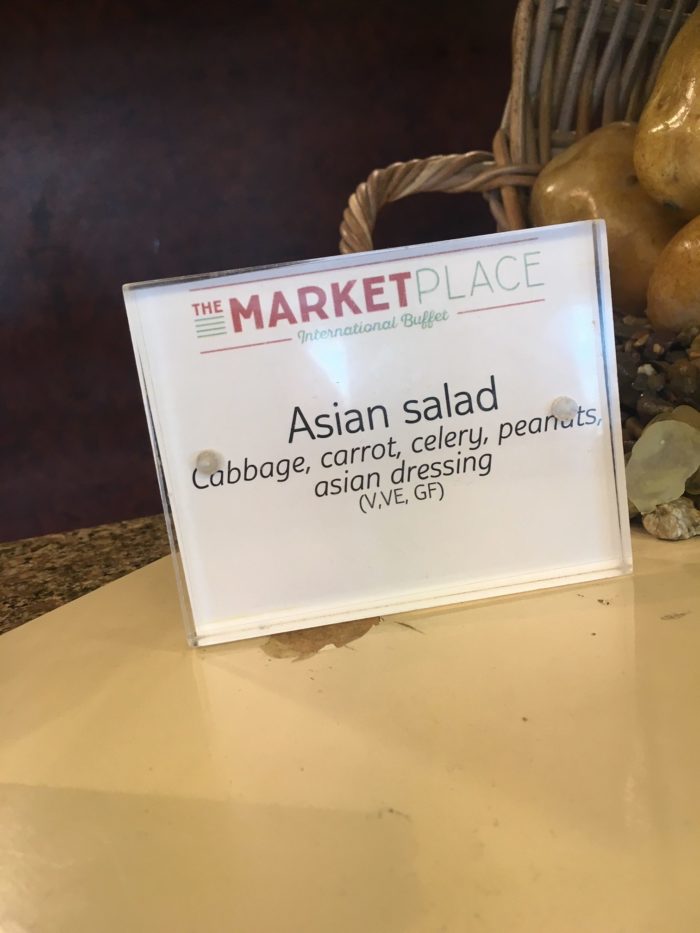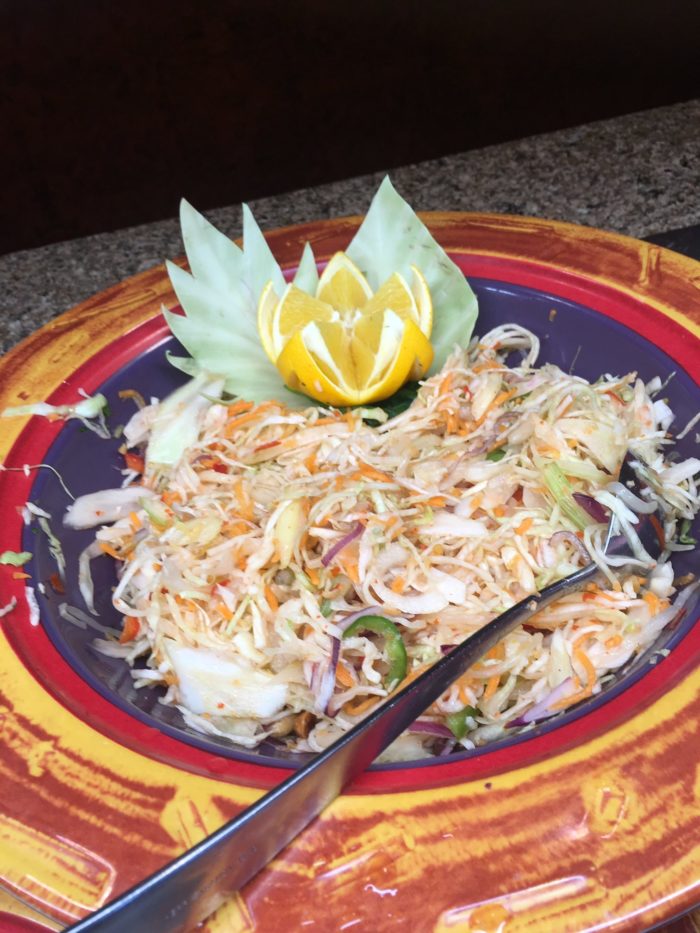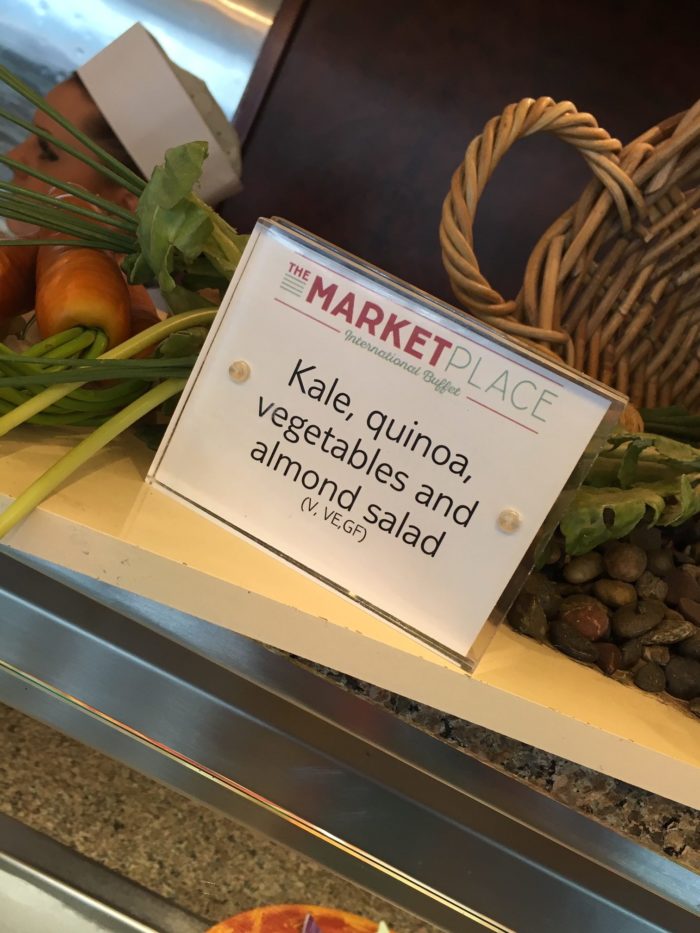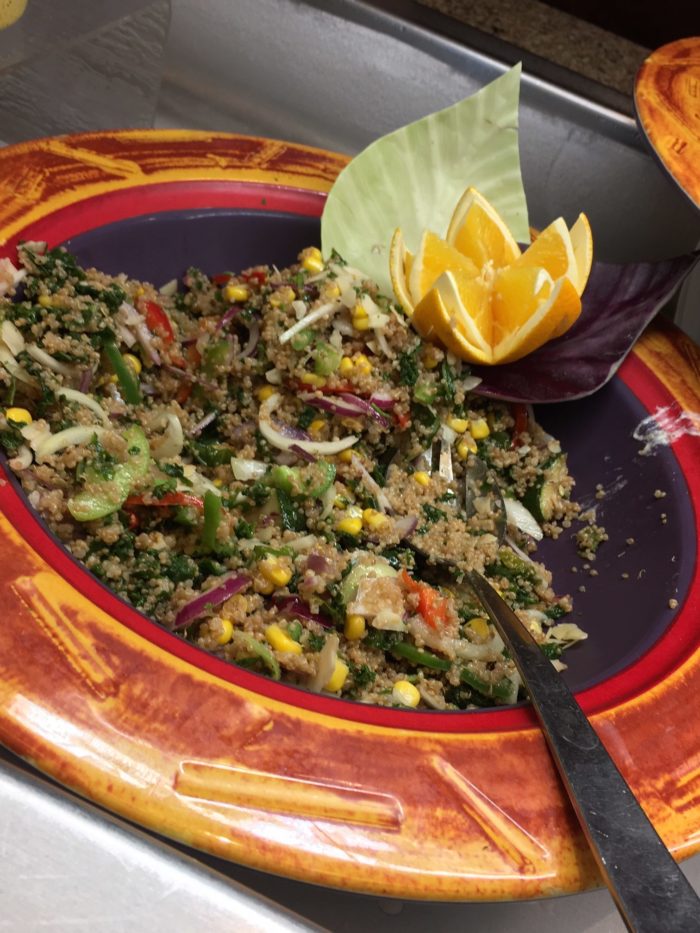 Many side vegetables were vegan-friendly (hurrah!) and not covered in butter. I normally had at least two main course choices in the buffet, one of those was a stir-fry station with great tofu. One of the soups was usually marked vegan as well.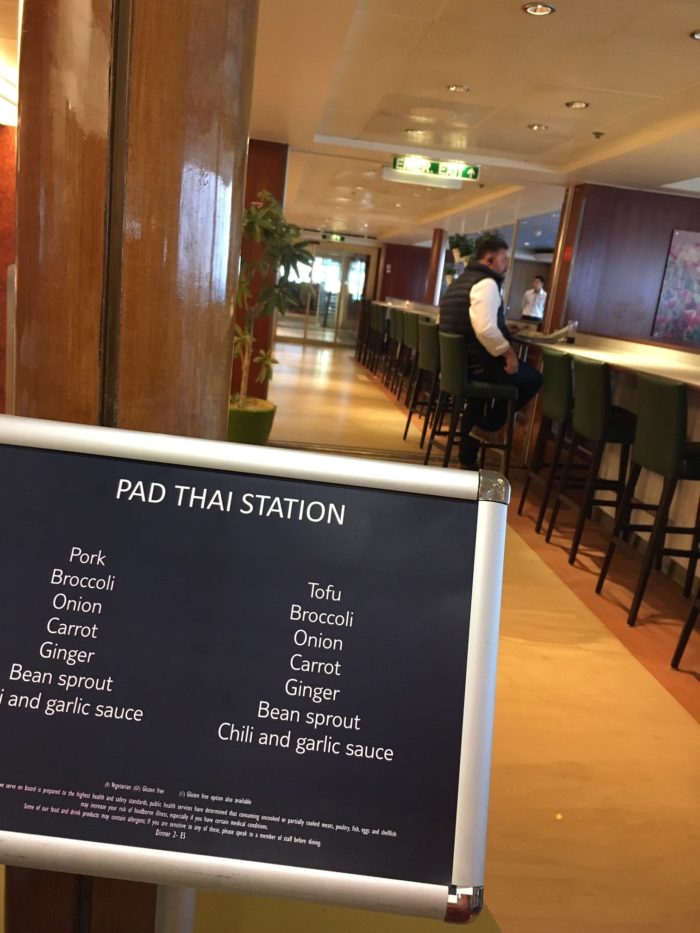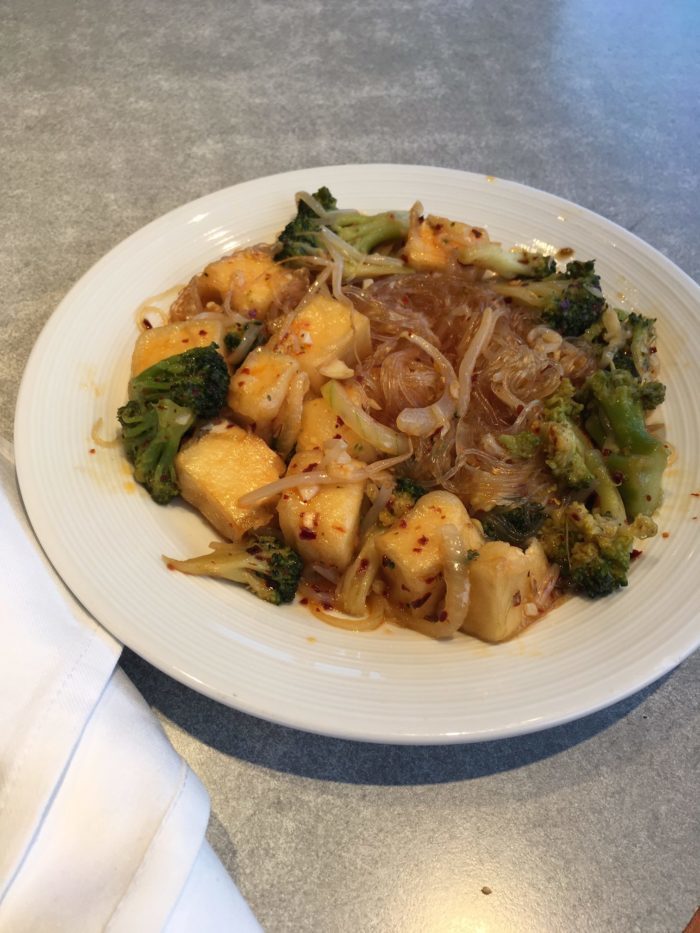 And on the one occasion when the Marketplace had no vegan option at dinner, the chefs made us a special order Thai curry anyway. On that evening we could have easily dined in the MDR and had the vegan lasagna. Yet for speed, we opted for the buffet. There were so many events on that we didn't want to dine in the MDR as it would have slowed us down.
I was super excited at one lunchtime to see tempeh skewers listed on the menu! But I could only find vegetable skewers displayed at either line. Either tempeh had all been eaten, or the ship had not stocked up and hadn't bothered to change the menu. Exciting regardless, to see tempeh listed as an ingredient!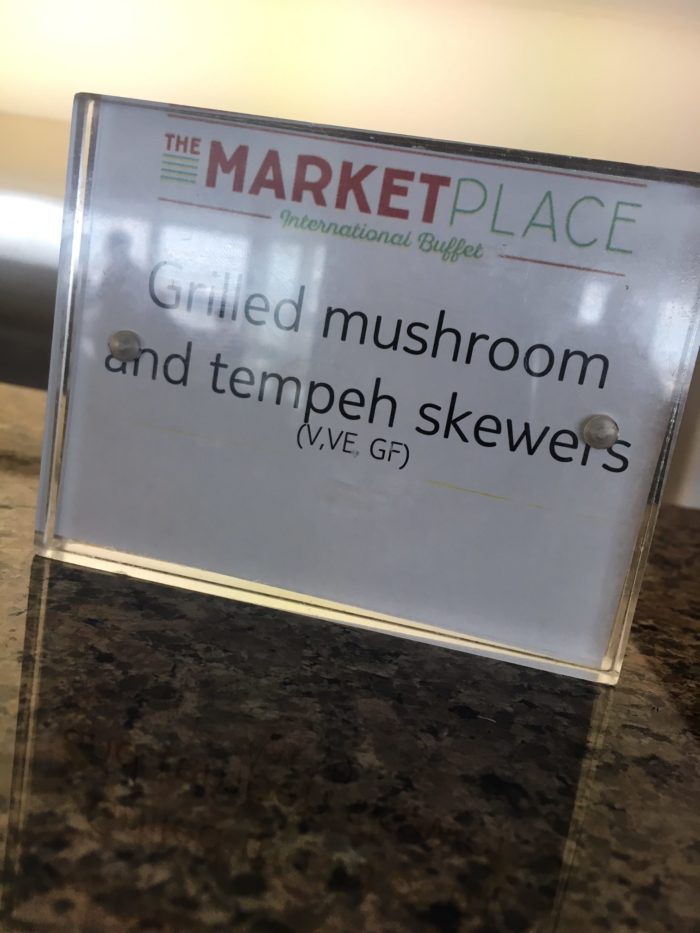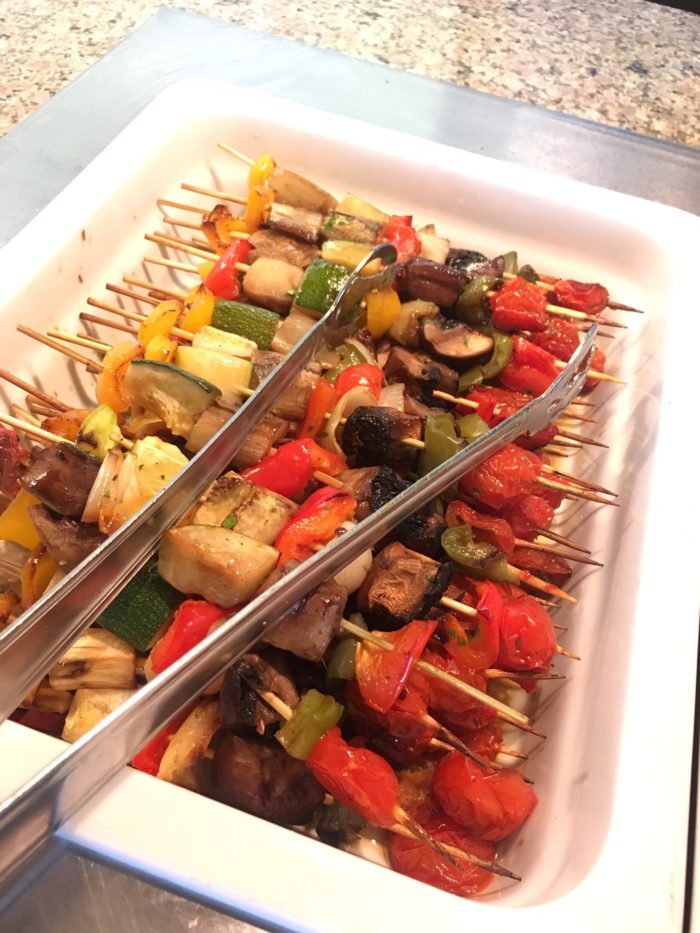 Vegan food on Marella Explorer – overall verdict?
This was my third Marella cruise and I was over the moon seeing the difference in dietary needs provision. Not only for vegan food, but for gluten-free quests too. If you want to learn more about gluten-free provision on Marella, do check out Francesca's Gluten Free Horizons blog. Francesca has a recent post out on Marella Explorer's glutenfree afternoon tea, here.
But for us vegans, it was a joy to see that not only the main dining room (MDR) catered, but that the buffet featured vegan food too. Understandably, buffets have an inherent cross-contamination risk so those with allergies may wish to dine in the MDR. For those of us who dine vegan for choice and/or have intolerances, having clearly-labelled vegan buffet options is refreshing. The free vegan options available in the Snack Shack and the Mediterranean are a welcome surprise. The range of inclusive vegan options are good and varied. And to have vegan specialty upcharge options (at Kora La and Surf & Turf) is an extra feature many cruise lines do not offer at all.
The only thing I found missing was clear information from dining staff. I was able to obtain plant milk easily, just by asking staff. Vegetable spread onboard the buffet was accidentally vegan. But as the buffet galley have vegan cheese for breakfast (though hidden away), it should also be available to the pizza place on the other side of the wall. I as a guest shouldn't have to carry it over to get a vegan pizza.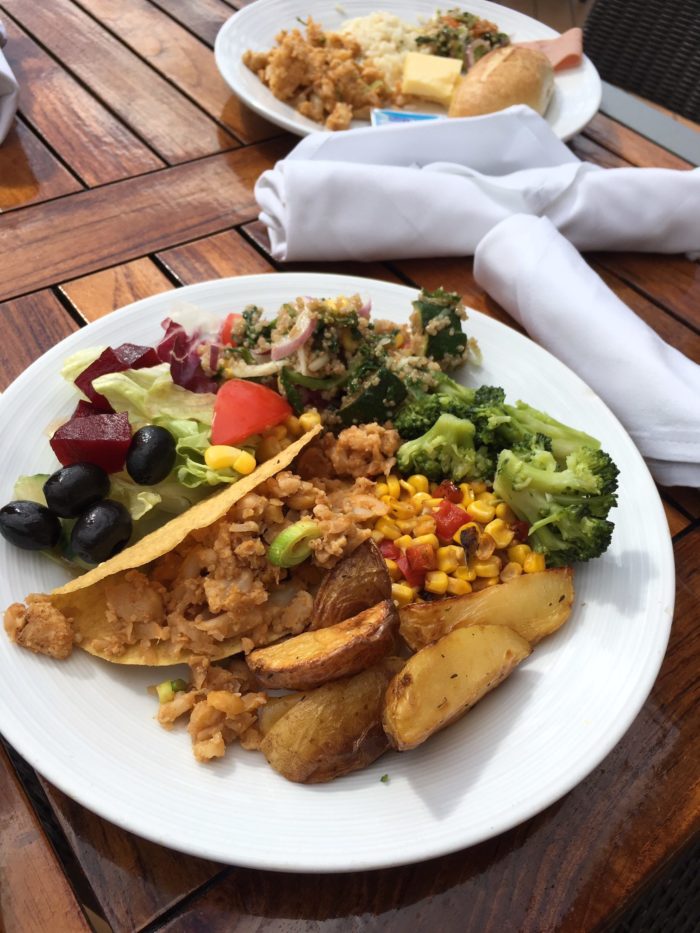 It would be great if we'd been told that from day one that vegan cheese was available at breakfast. So if you sail with Marella, make sure to speak to one of the chefs in the buffet upon boarding to find out exactly what the ship carries for you for the duration of your sailing. I only knew to request sausages from past experience, as the menu had no mention.
But do book and do enjoy, it is so rare to have well-marked vegan food on a cruise. Thanks, Marella Explorer! I can't wait to sail with Marella again and I certainly will. With the range of vegan food Marella menus, you too will be spoiled by the ease of obtaining meals.
Have you sailed vegan with Marella recently? Do share your comments, photos and tips with the other wannabe vegan cruisers – get in touch via sanna @ vegancruiser.co.uk!

PS. Since we were on a 90s themed #ElectricSunsets cruise, can you tell me which 90s indie pop starlet I was dressed as here?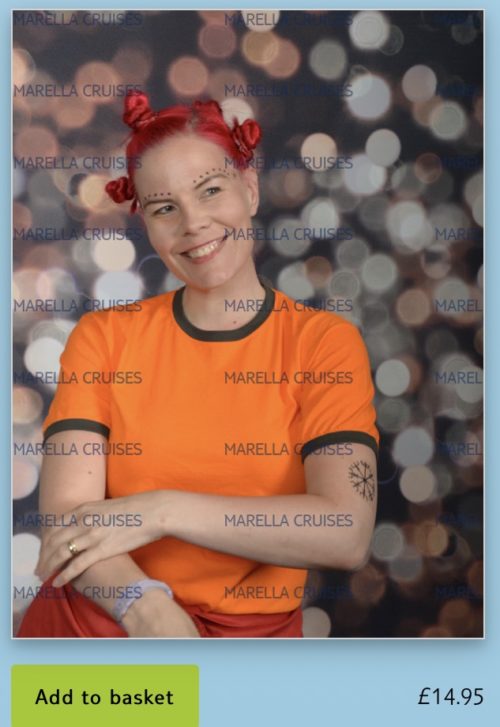 (A screenshot from the Marella app. All of your holiday photos are available for you to view on the app, using facial recognition.
Photographer pro-portraits were charged at £14.95 on our sailing – comparable to US cruise line charges for similar.)