DIY cruise ship excursion: Eco Green Tours Florence
A few years ago Mr Vegancruiser and I visited Pisa and Florence with a cruise ship excursion. We had a nice day, but felt our walking tour was rather short. We were left to our devices to explore the rest as most people in our group had booked a museum visit with our guide. As much as we did enjoy our vegan food finds, I felt it would have been nice to see more of Florence. Our excursion minibus drop-off and pick-up was arranged to a central square in the heart of the city. This is where I saw small electric carts, golf buggy style, with the Eco Green Tours livery. I swore that if I came back to Florence, I would look up the company instead of another group tour. So when I knew I would be back in this beautiful Tuscan city with Carnival Horizon this spring, I immediately looked up Eco Green Tours Florence. So glad I did, as it turned out to be the best way to see Florence on a cruise ship excursion day. Let me share with you why I think that.
Our great DIY shore excursion with Eco Green Tours Florence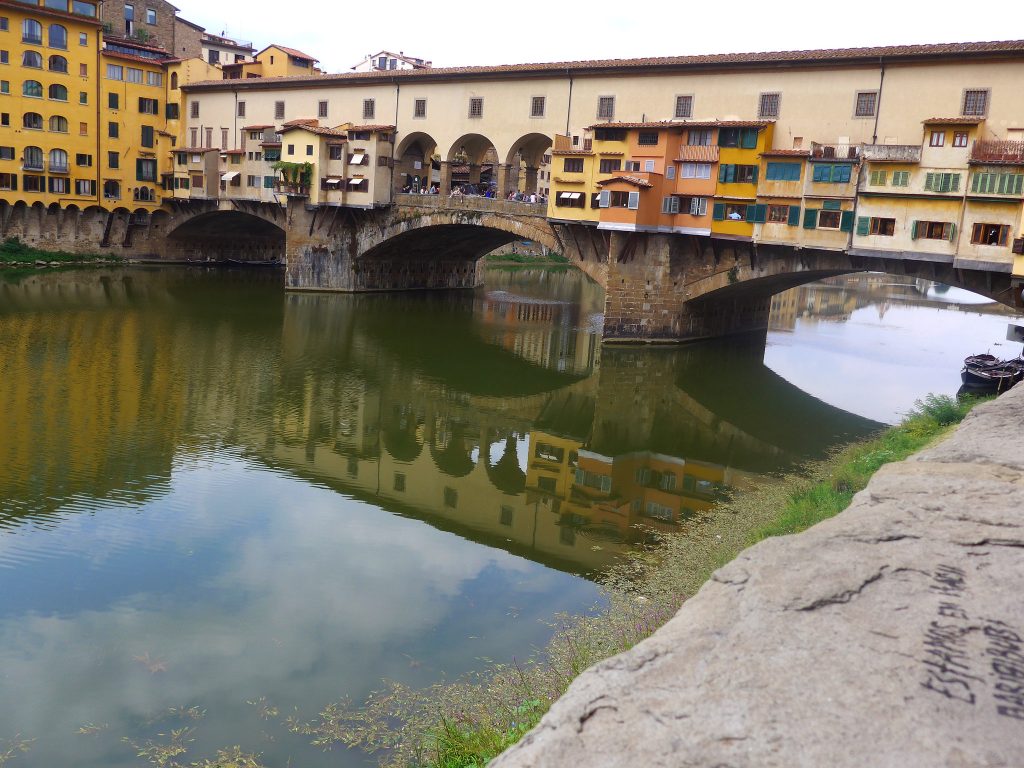 Sometimes smaller is better
A cart tour is a fantastic way to see Florence – especially on a short day excursion from a cruise. Like I said earlier, I had been to this amazing Tuscan city before on a cruise excursion in 2016. But I felt I hadn't really seen enough of it on our group tour. What I did learn on that first visit was that a big Hop-On-Hop-Off (HOHO) bus would not get me into the heart of this old city. A HOHO service does exist but those buses just can't get through narrow streets like the electric carts can. My friend and I ended up on a tour with just the two of us, as we had booked the extended 2h long tour. Some of the bigger carts seat up to seven passengers and a driver. Your cart size depends on the size of your group and how busy a particular departure time is and which tour you book. Naturally, it is possible to book a private cart with a driver. Please enquire directly with Eco Green Tours though.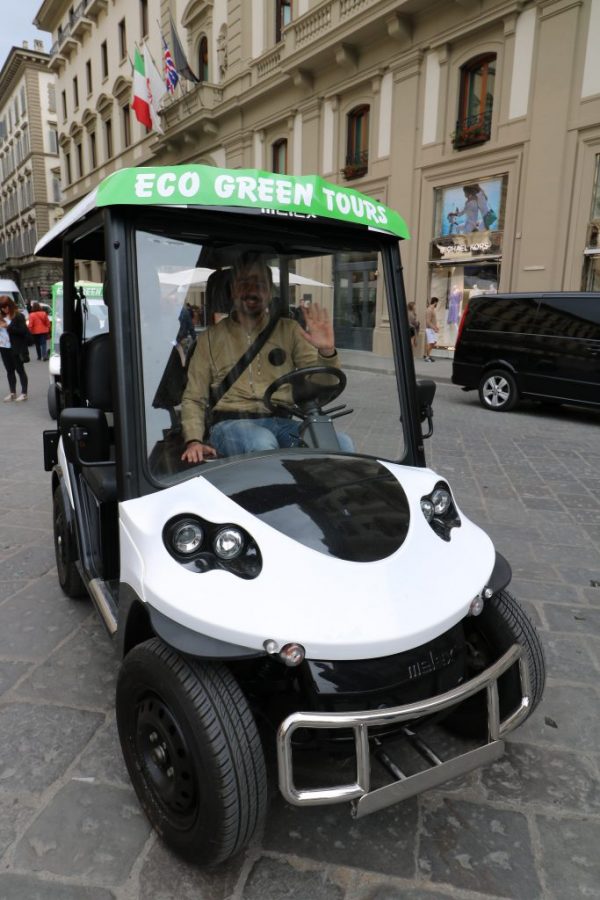 Great personal service
There's no way a HOHO bus can offer as personalised service as a driver with a small golf buggy/cart can. Our driver Luca was a star. He was cute, yes, but also very knowledgeable and so friendly. Excellent English language skills too. Although the main tour is an audio recording much like on a HOHO bus, Luca had lots of additional information to share with us, even insider Florentine tips on dining and entertainment. Unfortunately, we weren't able to put those tips to use as we weren't staying in the city and had to return to the ship. Another bonus of booking a small cart tour was that we were able to ask questions in addition to the recorded audio tour, which on a HOHO bus isn't really possible. Unless you happen to have a guide in front of you.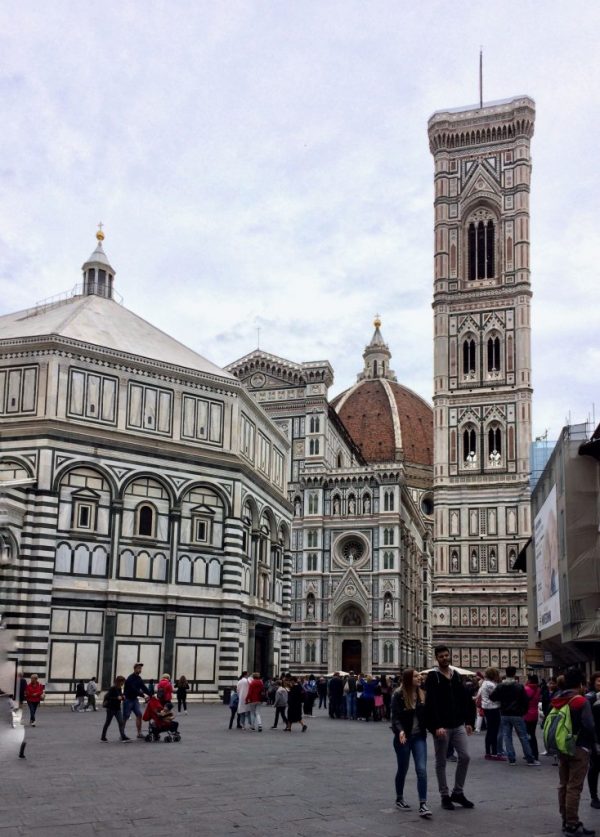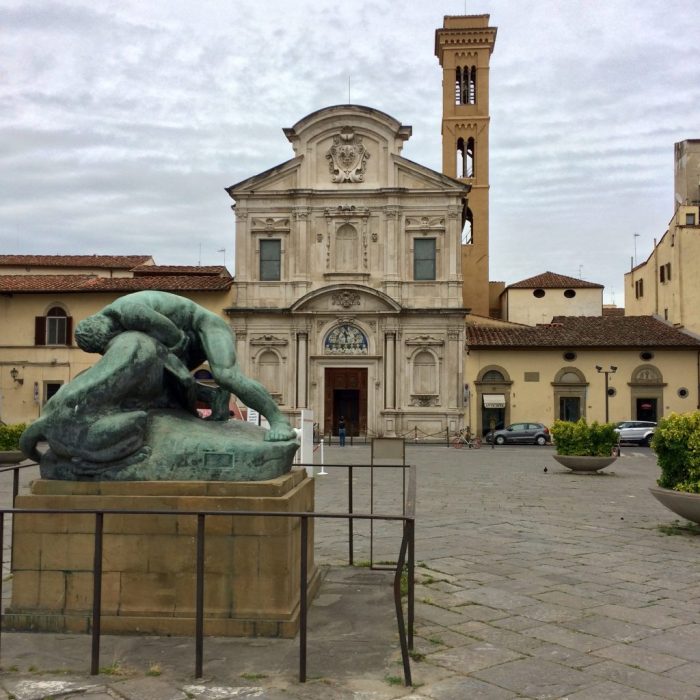 Major sights covered in 2 hours
Our cart tour covered most popular sites in the heart of Florence. Since we had booked the extended tour (2h instead of 1,5h) the lovely Luca also drove us up to Piazzale Michelangelo. It is located up on the hill on the opposite side of the river. This is worth it for the amazing panoramic views over the city – and of course for the bronze replica of Michelango's David. This way you won't pay for the museum entrance to see the original in the city below – and you can still say you've seen the David. I cheekily snapped his behind this time, drawn to it by the love locks attached to the chain fence. There was some beautiful art for sale too at this hilltop square. I was so tempted to buy some pieces.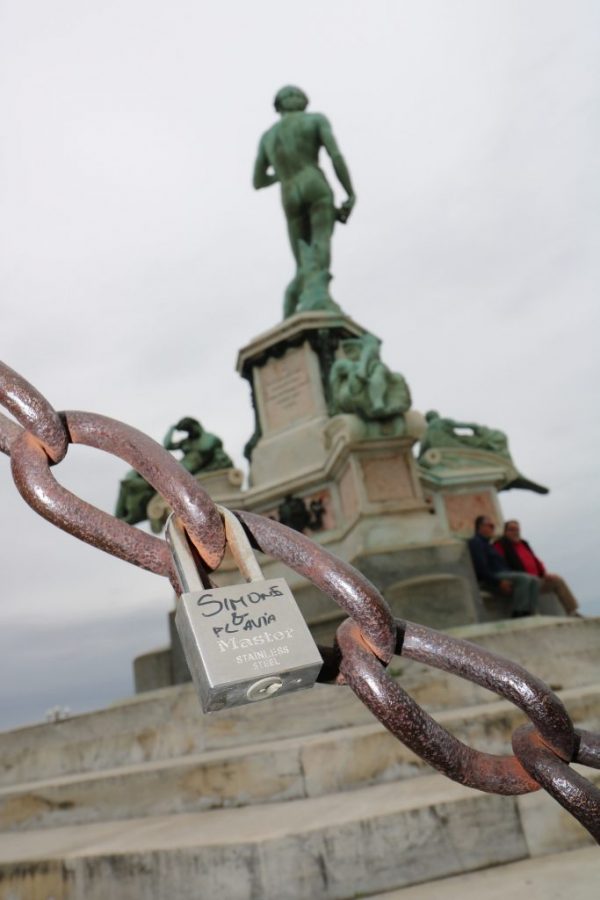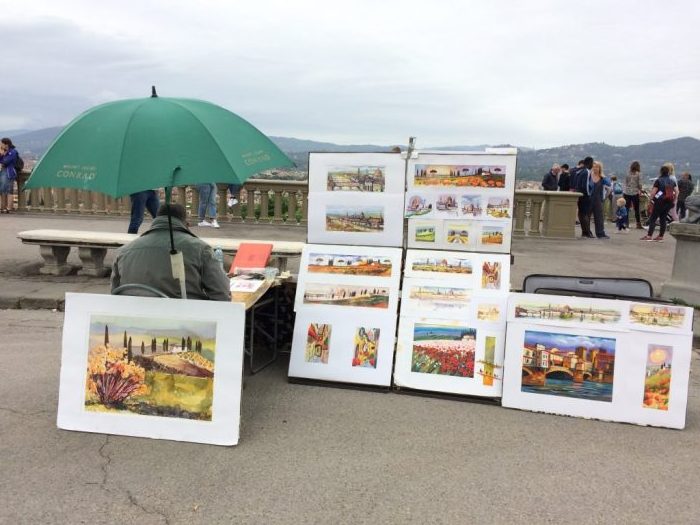 Do note, that if you select the extended tour, instead of fairly sedate pace among pedestrians and slow moving cars in the city centre, the cart has to get on a more busy main road and cross a bridge. Suddenly speeds increase, turns are faster and bumps bigger as you find yourself in regular traffic and up a steep winding hill. But it is so worth the views. Just buckle up, use those seatbelts.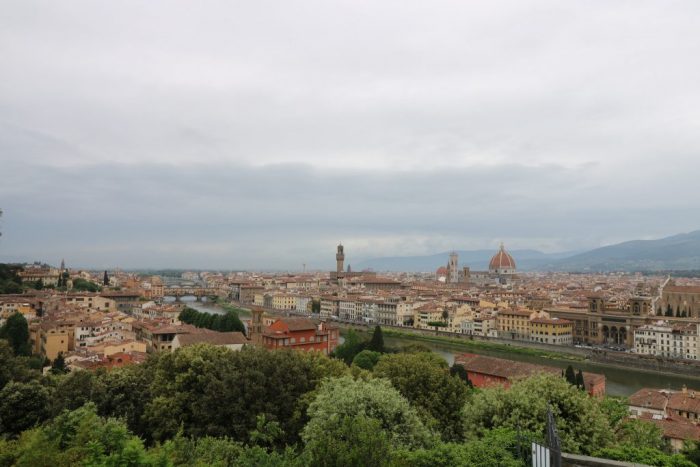 After covering the range of historical sites in town with our cart tour, we knew what areas we wanted to cover more. It also highlighted to us some of the fantastic street art scattered around this beautiful city. We traced our steps back to the bridge leading to Piazzale Michelangelo for a selection of traffic sign art. This is where we spotted a bunch of pieces by French artist Clet – we had to google who was behind this 'vandalism'. There were lots of fabulous wee street art paintings around the city but I only captured a few.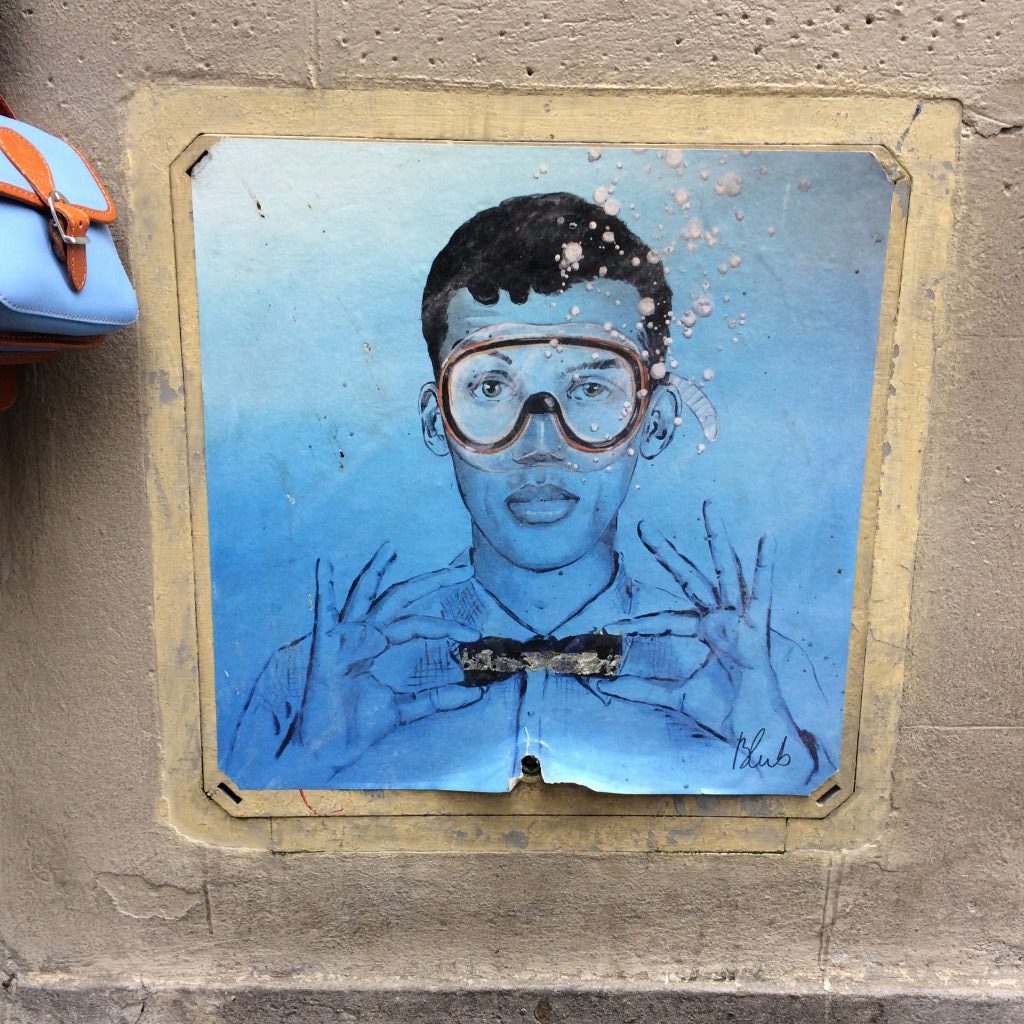 A green way to see the city – and an inclusive one too
As the name says, Eco Green Tours are an environmentally friendly way to tour the city as the carts are electric. If you are in town for a day only like with a cruise ship, and want to cover a lot of the city, a cart tour will speed you through the history, famous residents (like Dante) and the buildings of importance. For anyone with mobility issues, the carts are a welcome relief. There are a few departures to catch as well, so you know you can make your cruise ship transfer bus or onward travel connections with a good time.
On our visit (May 2018), tour departures were at 10am, 12, 2pm and 4pm. The Eco Green Tours website does state departures between 10am-10pm so check availability for your specific date. Depending on the departure time of your shuttle back to Livorno cruise port, you may be able to join the first two or three tours – if operating on timetable similar to ours.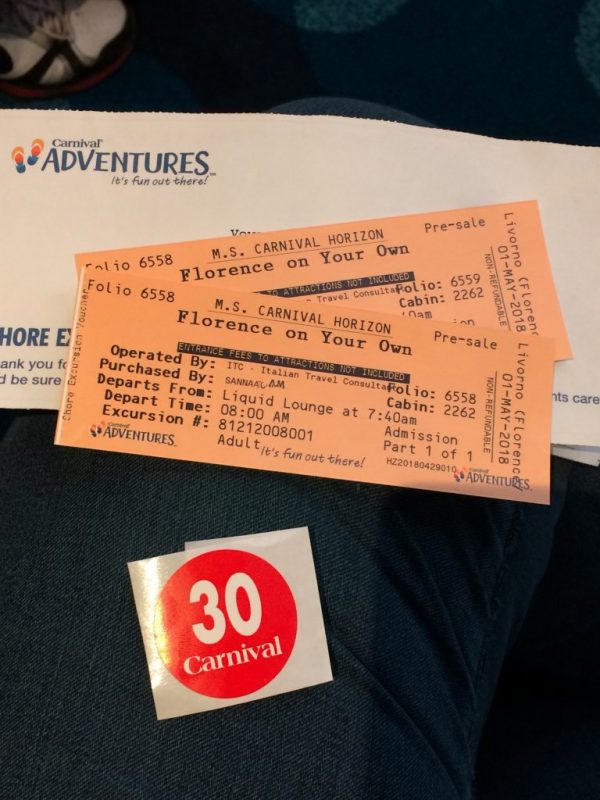 Value for money
Cruise line coach excursions are notoriously expensive. It is definitely cheaper to book a private excursion from the port, like we did on our first Florence visit. But even that minibus tour left us thinking we hadn't seen much of Florence. So this time my friend and I opted for the cruise line transfer from port to Florence and back only. It saved us money while leaving us to do Florence on our own, DIY style.
As I said earlier, HOHO buses do operate in Florence. Their fare for 24 hours retails for little over £20 but those big red buses won't get you deep into the city's narrow streets. When you're on a short day excursion from port, you won't have the opportunity to use it for the full 24hour validity either.
The HOHO alternative audio-guided cart tours by Eco Green Tours still offer great value. Our cart tour was cheaper than the two alternatives mentioned earlier (booking a ship excursion or a private tour from the port). The added cost comparing to HOHO is worth it for the smaller group size and individual service. The standard 1,5h tour costs only 29EUR per person. The extended 2h tour covering Piazzale Michelangelo is 39EUR. Considering our need to see as much as possible in a short time, the cart tour made perfect sense to us. We got a great fast-paced, fun tour of Florence with a fantastic, knowledgeable tour guide. All we paid the cruise line was for a transport to Florence and back to the port. With the cart tour cost added to the shuttle to Florence, we still paid less for than on my previous visit.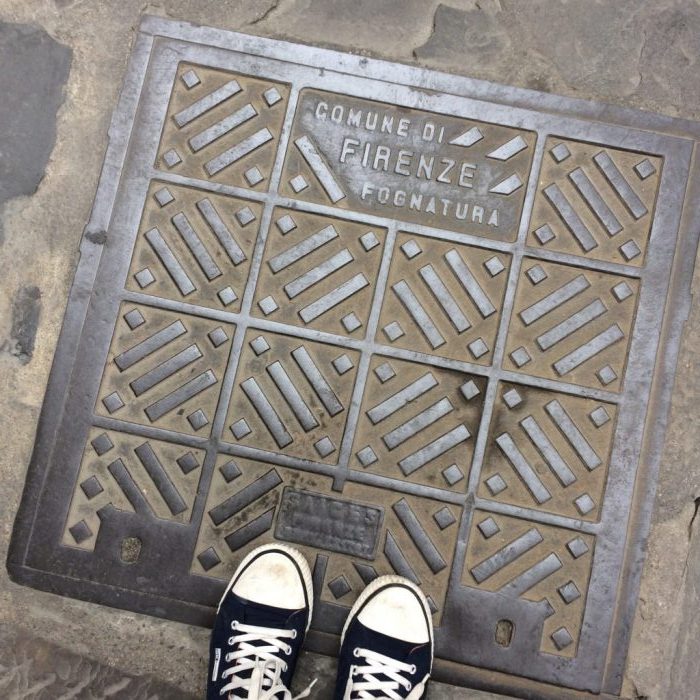 Central tour start location
The starting point for Eco Green Tours is at the side of Piazza della Repubblica. This square is right in the centre of the city within minutes of the Duomo. Other famous landmarks, like the Ponte Vecchio bridge are also within easy walking distance. Once you see the beautiful archway of the Piazza, the square in front of you and the gorgeous old carousel, you know you'll have arrived. The pick-up point will be on your right.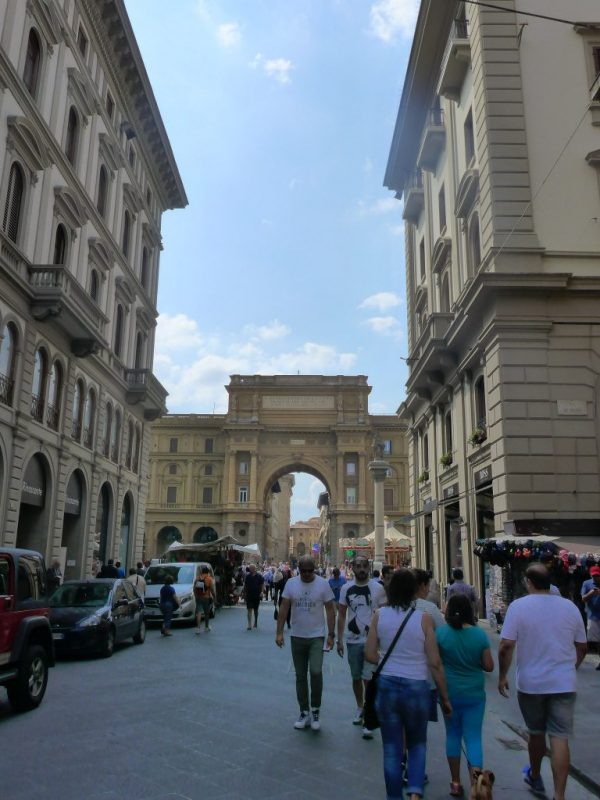 Piazza della Repubblica square where the Eco Green Tours start their tours is gorgeous. It is surrounded with stunning buildings on each side and a large triumphant archway 'Arcone' at the west side of the square. I'm especially a fan of the fabulous old golden carousel. There are cafes and shops littered around the square. Unfortunately, on our May visit, most of the square was dug up for city centre renovations and cordoned off.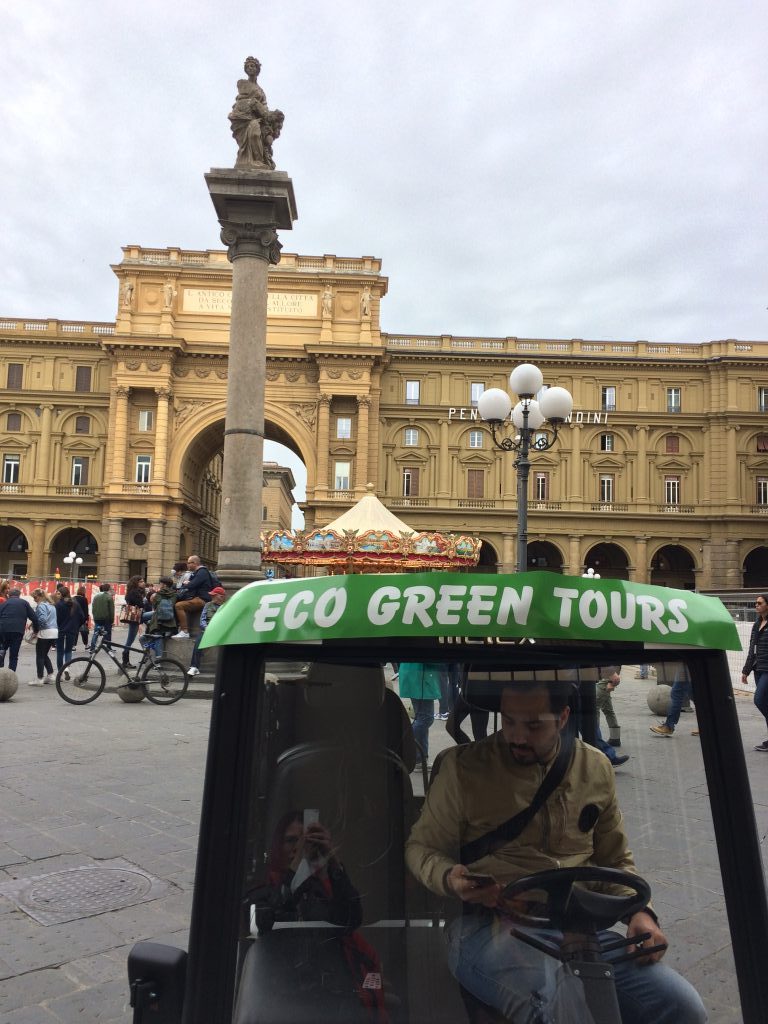 The best vegan gelato (such a range of flavours) is also found a few minutes away from the tour starting point. Festival Del Gelato is literally a block or so away and is a must for any gelato lover, vegan or not.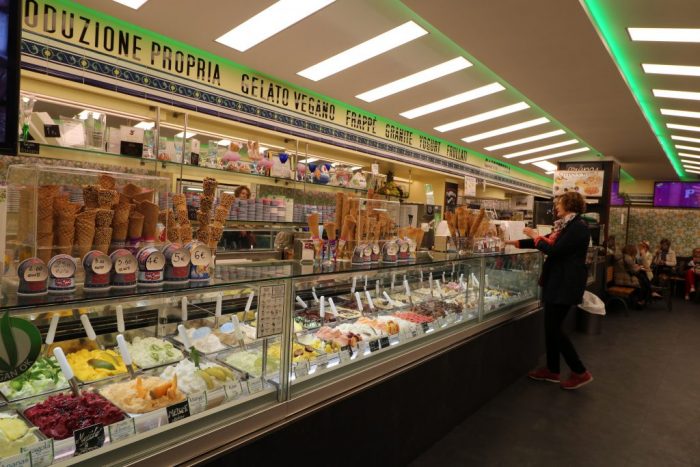 Luca gave us the tip as we stopped by the Duomo on our tour, one we didn't know. Although you can buy a ticket for visiting the Duomo on the day, the time slots for climbing to the top of the dome have to be pre-booked. And that they are often full days in advance during the high season. So for next time in Florence, I know to buy my Duomo entry early and pick a suitable time for the climb. Mr Vegancruiser especially wants to do this – because of Assasins Creed.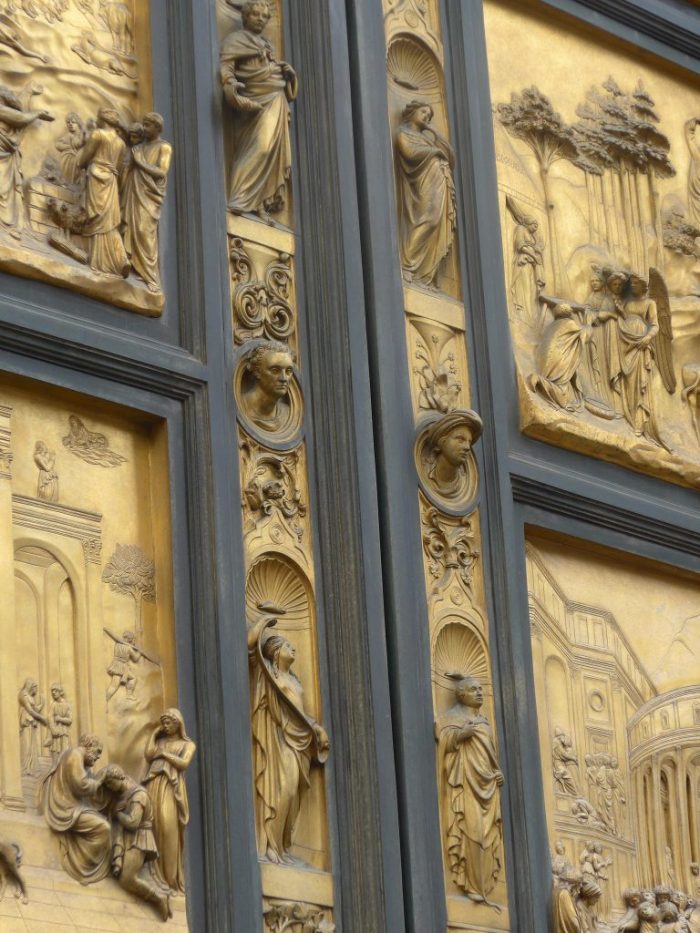 Wee helpful tips
Another Florence tip for anyone on a short visit Diagonally across the road from the tour cart stop is local department store La Rinascente which is good for three things: a little rooftop cafe for views over Florence and the Piazza below, free toilets for customers (handy after your cart tour) and fabulous shopping too. I loved the kitchen and housewares here! The terrace does get busy though – as people want to have a break there or just take photos. Like we did. You can see the dark signage and archways of the department store in question in this photo (grey building on the right).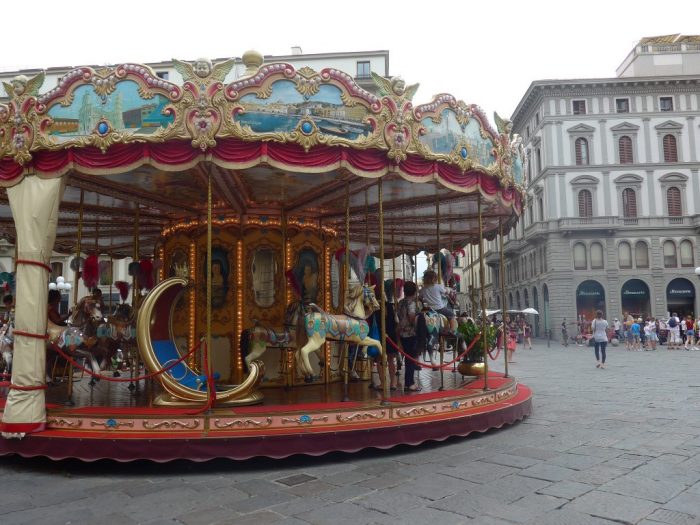 a photo from the La Rinascente roof top cafe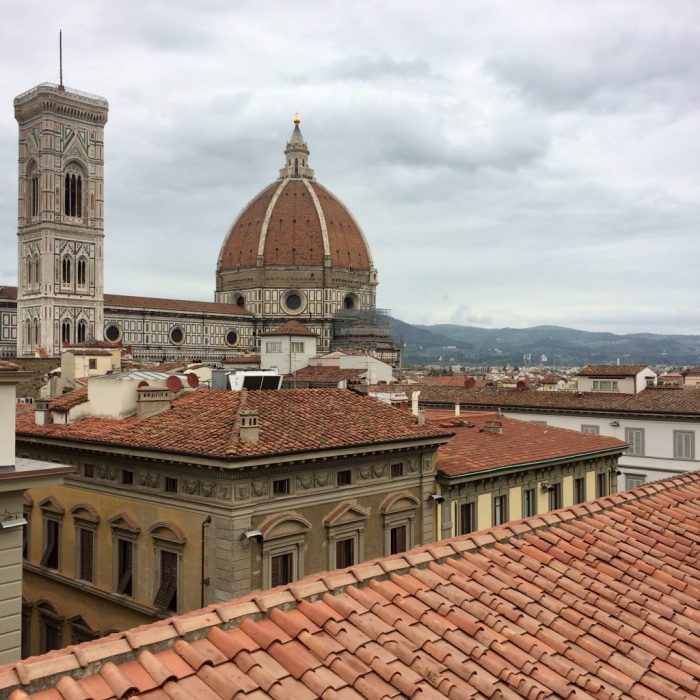 Booking your cart tour
Do check out the Eco Green Tours Florence website for full listing of sites covered for the two tours and e-mail them for the operational times and availability. The extended tour is not listed on their site and cannot be pre-paid, but paying on the day is not a problem. Indeed on our May morning, most other people doing the shorter 1,5h tour appeared all to be walk-ins.
Once you've had your detailed audio tour and gathered some landmarks to orient with, it is easy to continue on foot discovering this beautiful Tuscan town on your own. So many gorgeous old streets, weathered but beautiful houses. All that street art. The many museums and all those cafes, restaurants and gelato stores. You'll be back, I'm sure. I can't wait for my 3rd visit!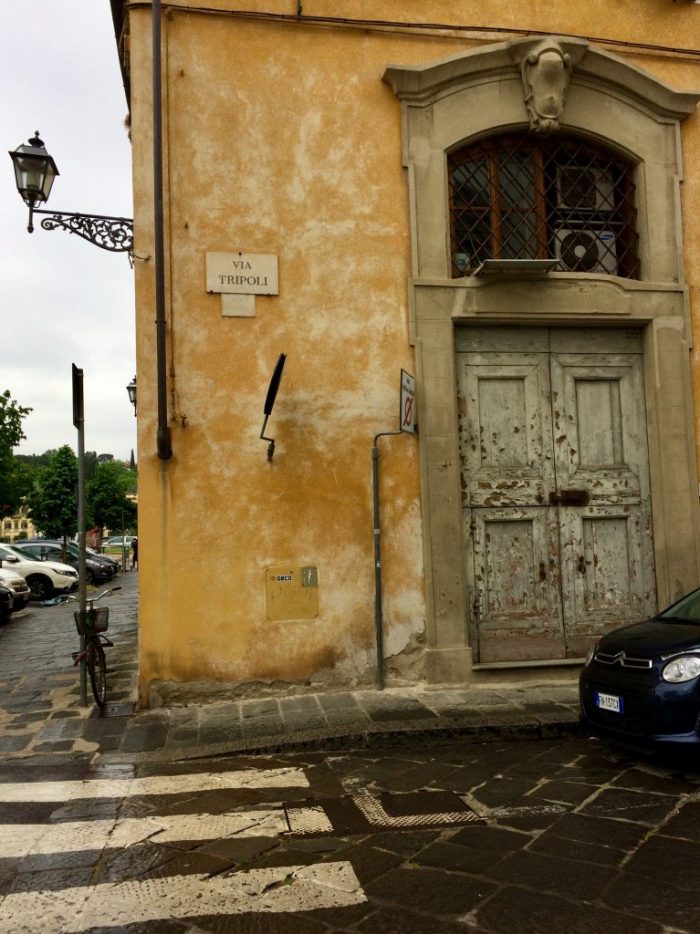 Hope you have a fantastic time in this beautiful city. Florence is full of history, stunning architecture, great Tuscan wine and food… and a LOT of vegan choice too. But that might be another post altogether. Any questions, don't hesitate to ask. Comments, please do leave those too 🙂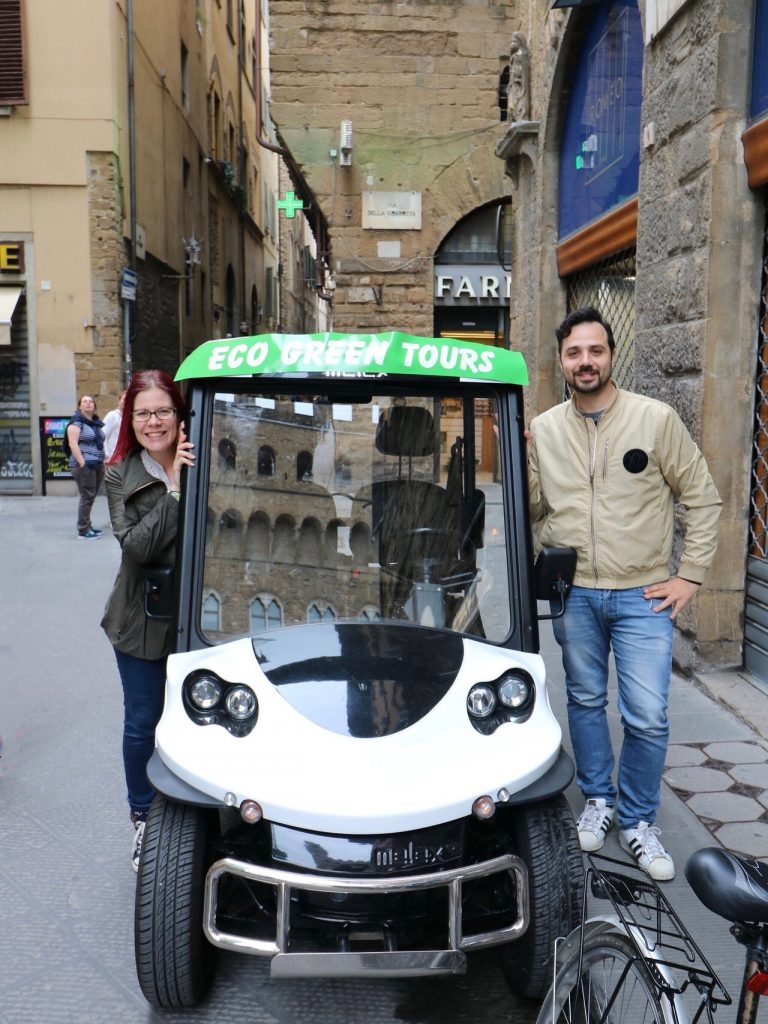 Disclaimer:
This is NOT a sponsored paid post in return for promotion, but I did receive a discount on my tour while my friend paid her ticket fully. I agreed to write a review in return, but my opinion is honest and fully mine.