Can you cruise vegan on Carnival Horizon: Evening dining
Cruise ship dining for vegan or those with dietary needs vary tremendously from one cruise line to others. Allergens in dining room menus or in the buffet are not often that well marked. Vegan menu options generally don't exist either – unless vegetarian but accidentally vegan. Very few cruise lines have official vegan menus (see here) though I've noticed that in the last three years options offered and the awareness of veganism has greatly improved. Yet, clearly labelled vegan options in the Main Dining Room (MDR) are scarce so staff will either try veganise an existing dish for the following day. This is what happens on the majority of Carnival ships (selected few have their own in-house vegan menu). Earlier this year I had the pleasure to sail on Carnival's brand-spanking-new ship on the Mediterranean. This is what the vegan dining on Carnival Cruise Line's new flagship, the Carnival Horizon was like. Be prepared to be pleasantly surprised.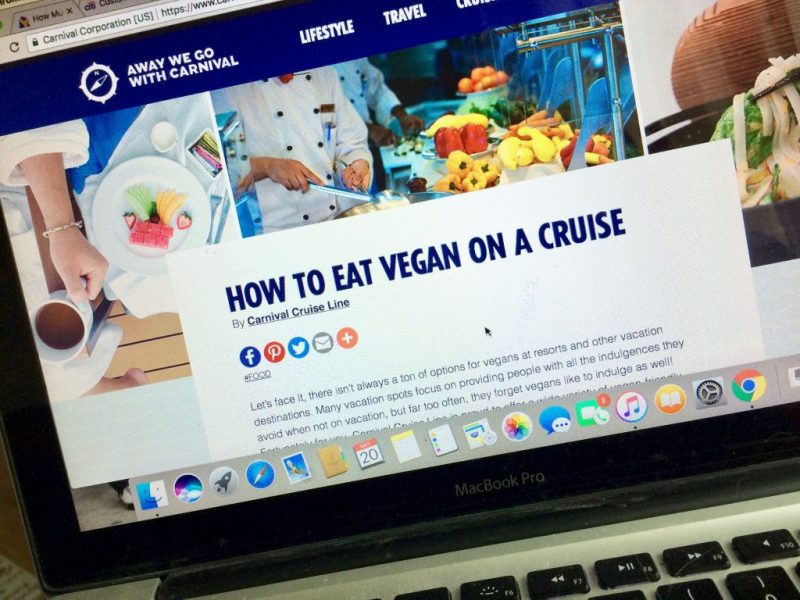 Can you cruise vegan on Carnival Cruise Line?
For those of you who have seen parts I and II of the three-part series (breakfasts & lunches onboard the new Carnival Horizon) already know the answer for those two above mealtimes. Carnival can indeed cater for vegan passengers. But those who have sailed on Carnival, or other cruise lines, know that main dining room (MDR) dining has its own challenges. My evening dining in the Carnival Horizon MDR was mostly victorious, I found some of the dishes served were absolutely excellent on cruise ship standards. Admittedly a few were a little baffling, too. Overall I was very happy with the vegan evening meals provided to me, even if Horizon doesn't offer the unofficial vegan menu some of the ships in the fleet do. Below you will find my MDR meals from the ten days onboard, hope they encourage you: Carnival Horizon does indeed offer vegan dining options at night.
Vegan evening dining venue options?
I did not pay for specialty dining as I couldn't be sure how they would rise up to the vegan challenge, so this post is only about the main dining room (MDR) service. I did note that none of the specialty restaurant menus appeared to have vegan options on them so I wasn't looking to challenge them to create suitable menu options. All our of evening dinners were taken in the Meridian restaurant located in the aft of the ship, mostly located on deck 3 and the mezzanine level on deck 4.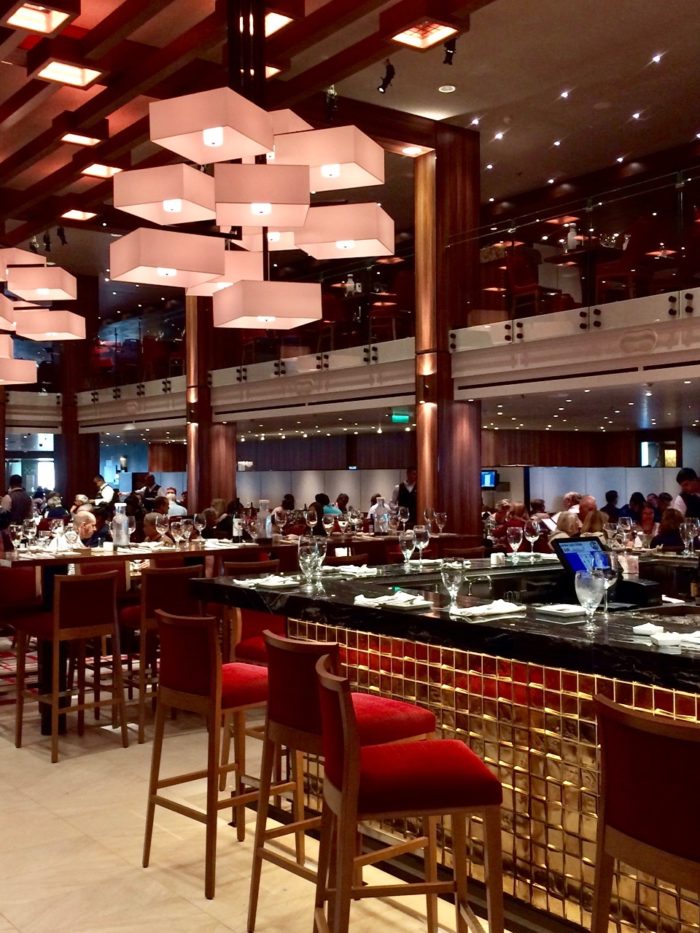 Two of the cover-charge evening venues I tried for free at lunch-time. Both have a menu at night but during lunch time you can build your own dish. The Asian restaurant JiJis is called Mongolian Wok during the day and Cucina del Capitano serves its 'build-you-own-pasta-dish' courses at no extra at lunchtime – see more about those two in my lunchtime post.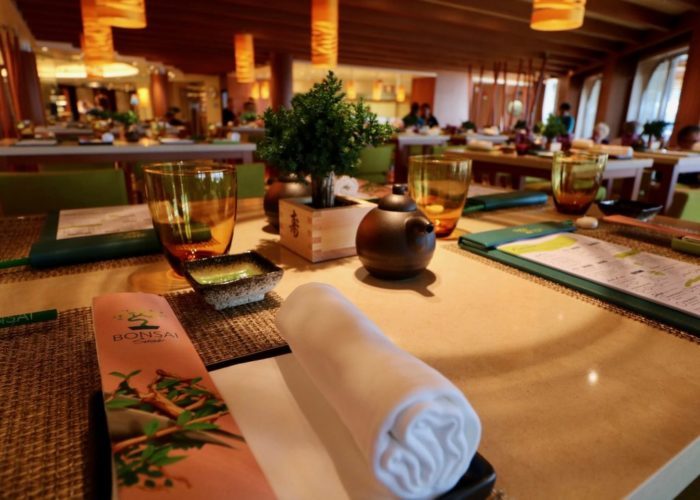 Steakhouse I wouldn't even attempt to dine in, but the Bonsai Sushi can offer vegan options, perhaps even the adjoining Bonsai Teppanyaki. As you can imagine, I stayed well clear of Guy's BBQ Smokehouse as their menu was probably the least vegan-friendly of all. But at least the onboard brewery located here offers all-vegan beers, as confirmed by the lovely brewmaster Colin 'the Beer Admiral' onboard (also beers brewed on sister ship Vista are vegan).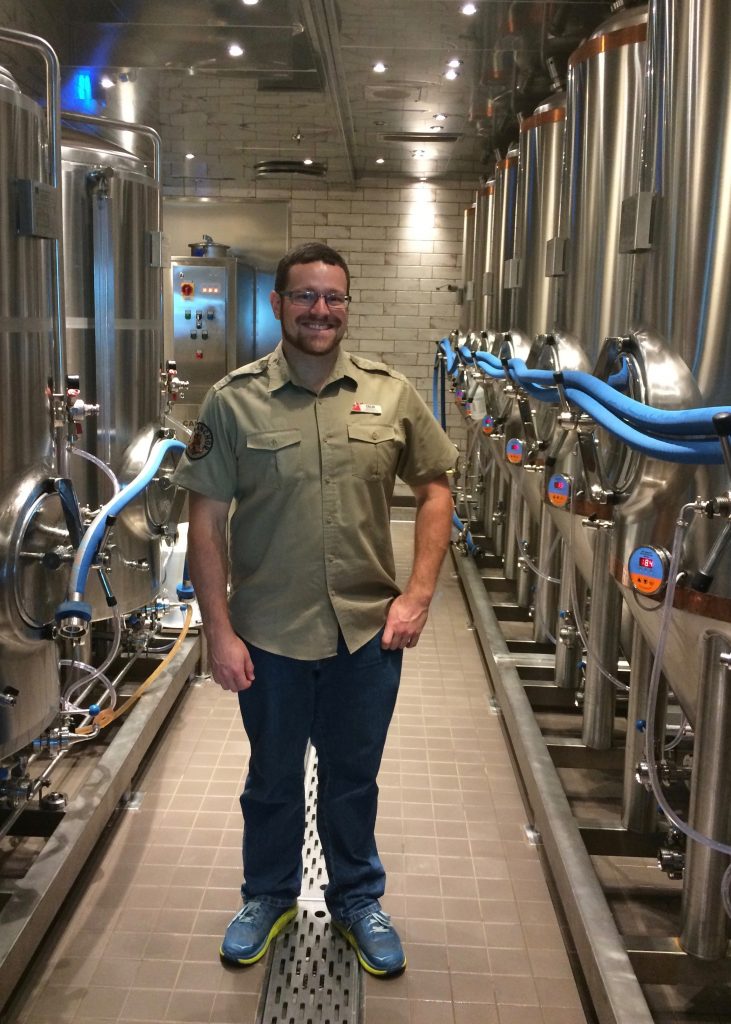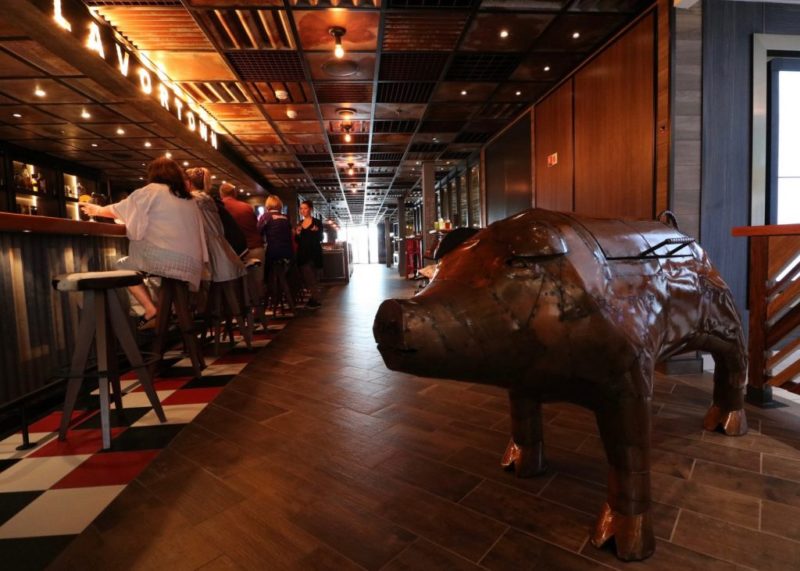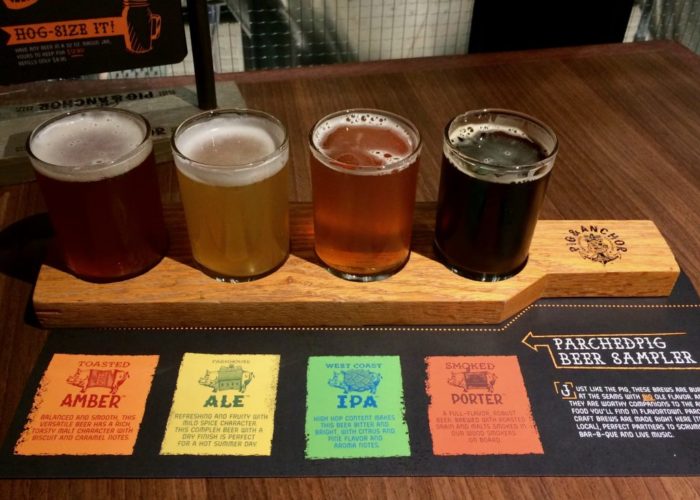 Your Time (Vegan) Dining on Carnival Horizon
On a cruise, you generally have two options for your MDR dining. There is my favourite of all, the YourTime/Anytime dining, which allows you to dine when you prefer. Every cruise line has their own name for this. The other option is to have the traditional set evening dining, either early or late seating. I prefer the freedom of picking the time that suits me – pending on our evening plans or perhaps a late return to the ship from an excursion. I am used to being able to still book a table, for my chosen time, but that is not how Carnival YourTime dining works at all. It totally is first come, first served, no timed reservations are made.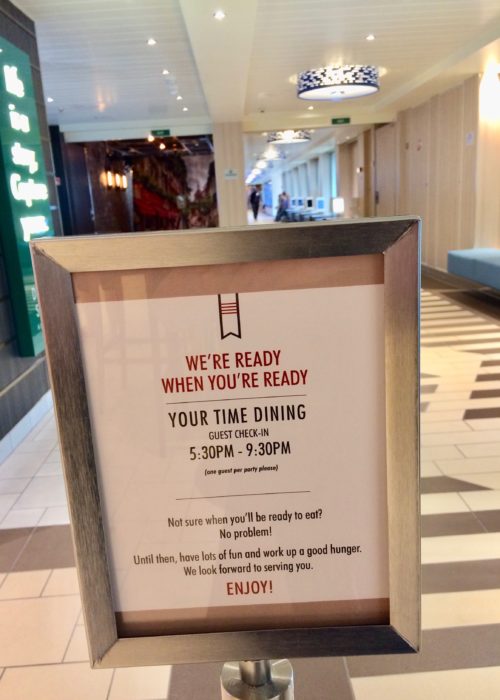 At the desk dining staff would inquire how big of a table we required: were we a part of a group or whether we were we happy to share a table with strangers. Each night we would request a table for two and on most nights we were given a check-in receipt, which we would present to the hostesses in our dining room and be taken to our table. On a handful of occasions, we were given our check-in slip together with a buzzer and asked to report at the MDR when it went off.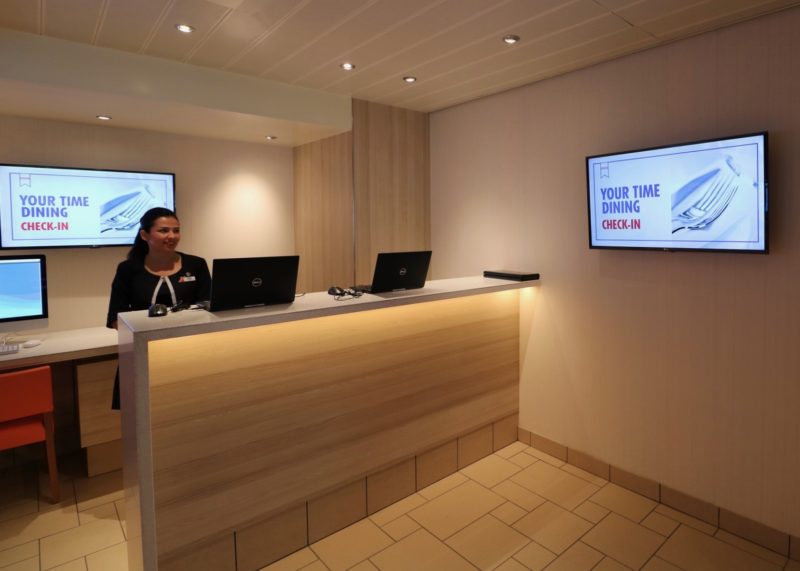 On our first evening after sail-away, I dropped by the YourTime desk as soon as they opened to have a note of my vegan request added to my cabin number. This meant that the staff in the Meridian MDR were alerted to the fact I had a special meal request as soon as I arrived for my meal. Each night a Team Headwaiter for our given seating section would see to my order – not the overall restaurant Maitre 'd /Headwaiter.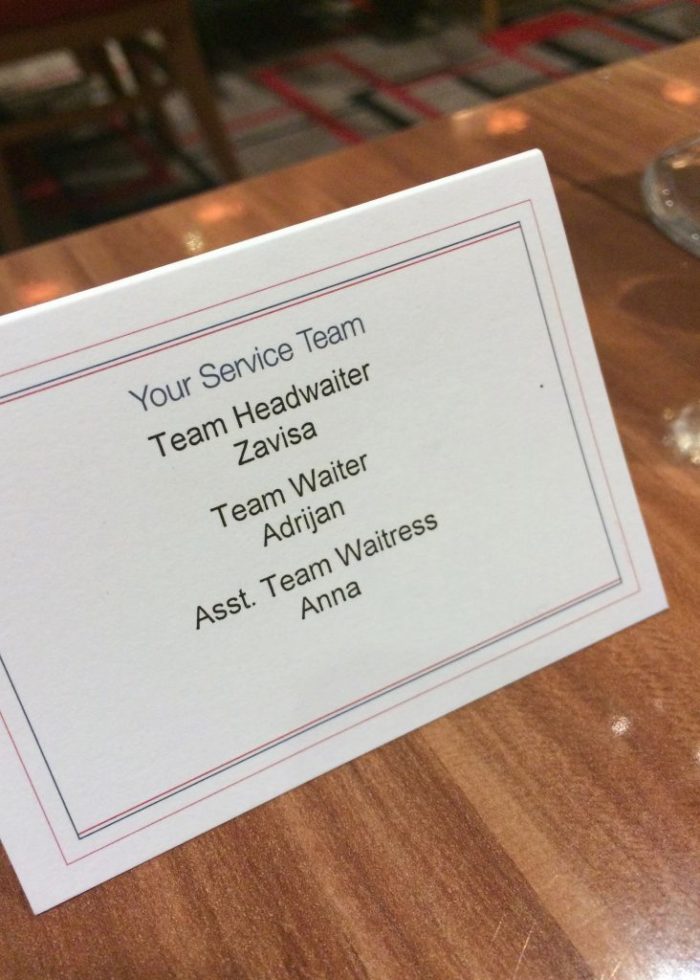 Top TIP!
Zavisa, one of these Team Head Waiters who served and entertained us girls, on our 2nd last night, told me this:
You CAN ask to be seated in a particular section again! As you call at the YourTime Dining allocations desk on deck 5, just ask the hostesses to assign you a table in a particular Team Headwaiter's section if you enjoyed their service. The hostesses may be able to allocate you to the same section, if not the same table. It may take longer to get a table, but if you wish to be served by the same team who know you and your vegan dietary needs, you just need to ask at the YourTime dining desk.
People often say this continuity of the serving staff is why you those with dietary needs should opt for set dining. But at least on Carnival, even on the YourTime dining, you can ask to be served by the same team as the night before. I wish I had met this funny gentleman earlier on our cruise as we would've always chosen to dine in his section.
Pick of the best and worst vegan dinners on Carnival Horizon
To my surprise, my first dinner onboard, despite being 'chef's choice' all the way, was the best first-night offering over my various cruises as a vegan. The galley had prepared a tasty tomato-based vegetable soup for starter. My main course of fried tofu, vegetables and noodles in sweet chilli sauce was absolutely delicious. Spicy, flavoursome, rich in protein and carbs. Once I had devoured my large portion I was prepared to turn down whatever dessert the chefs had in mind for me. But as I was advised my dessert was only berries I decided to finish my third course – I wouldn't have been able to eat anything more anyway. Excellent performance – I was so hopeful after this first night.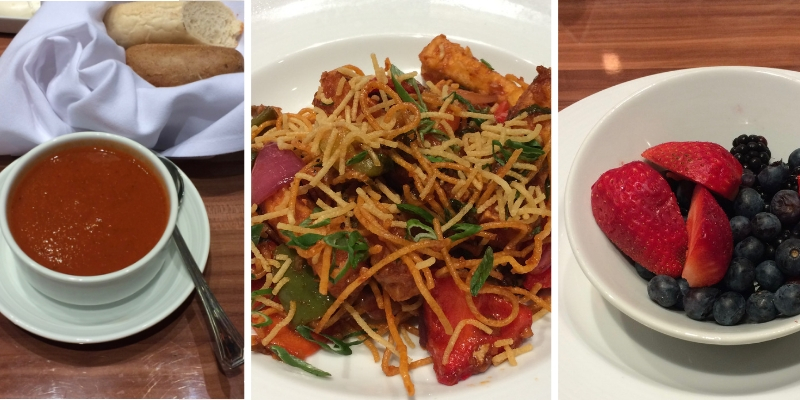 Unfortunately, my excitement from first night quickly disappeared when my courses appeared on day two. I had made requests based on the menu the night before but none of those had been prepared. Instead, I was served chef's choice for all three courses.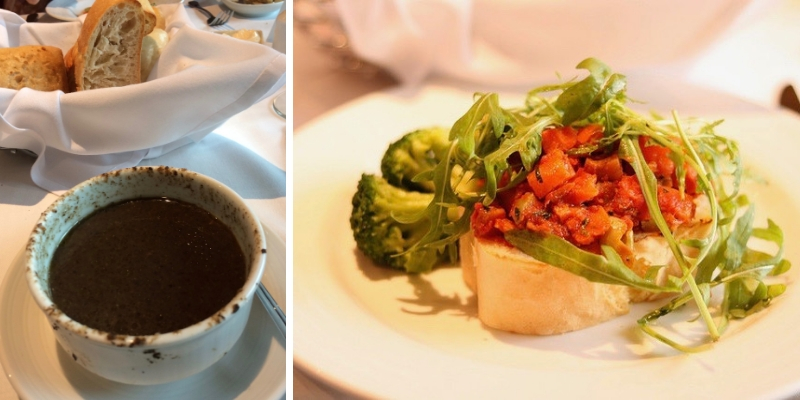 The mushroom soup I was served had my heart sink. It looked grainy, splitting and was served in a bowl that looked like had swum in the actual soup pot. I was willing to overlook the messy appearance if the soup itself was flavoursome but it was disappointingly poor and overly salted.
The main course served was a small slice of soft, ungrilled white bread served in bruschetta style. Topping consisted of mostly courgette and carrot in tomato sauce, with some rocket over and a side of broccoli. I ate the topping but left the soft white bread. And was still hungry. At least my dessert wasn't sorbet or fruit – it was both! I ate both to try to fill up and after dinner made my way to the buffet for some more food, and protein, from the salad bar.
Day three to the rescue
After the sad meal I got the night before, I was dreading day three. Thankfully chefs stepped up and I got the vegan antipasti and an amazing garlic-infused pasta dish. I did improve it with my own vegan parmesan too… and used the remains of my bread to scoop the plate clean. Probably the best pasta sauce I have served in any restaurant, the sauce was fantastic.
I was even offered something resembling a real dessert – a thickened jam-like berry compote with a little mint to garnish. Simple but it wasn't sorbet or fruit so I was happy.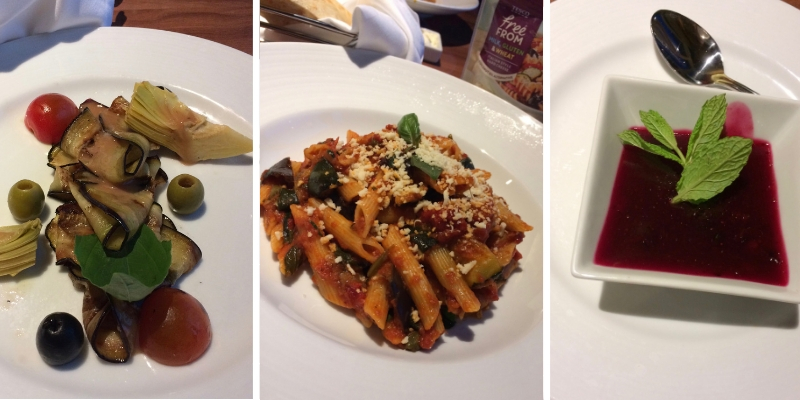 Day 4 of 10 and we're on an upward trajectory
The following day I had another tasty vegetable soup, followed by a dish from the Asian menu. In addition to the printed Western menu, the Carnival waiting staff have a folder that has a rotating Asian (Indian/Pakistani) style menu. It always has a vegetarian option as Hindus are mostly vegetarian. The Asian vegetarian option was easily made vegan by removing the butter from the rice (which is an annoying US habit), leaving out the optional raita and not having a naan bread. I enjoyed my lentil dahl curry sauce and the accompanying dry potato & vegetable curry dish. Super tasty, if you like Indian food.
Dessert was a small crumble (cobbler) where the filling seemed similar to the berry compote dish I had been served the night previous. Still, a marked improvement from the sorbet & fruit from earlier.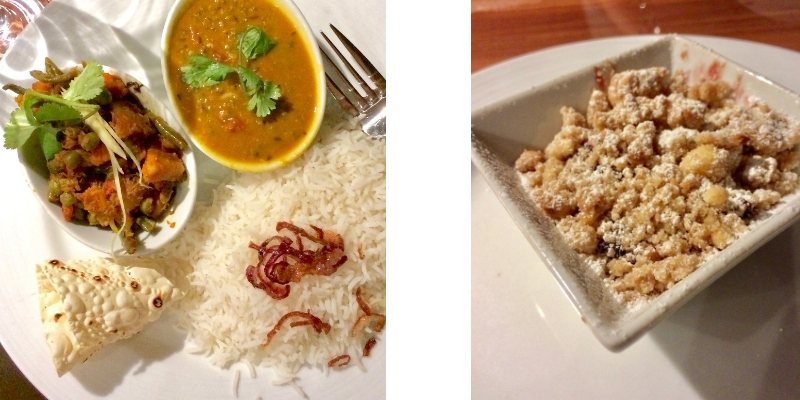 First formal night – dinner no5
On our first formal evening of the cruise, I was able to have a set menu item made vegan – the Greek spanakopita spinach filo pastry tart made without cheese, served with a couscous filled pepper. Tasty and so easily made vegan.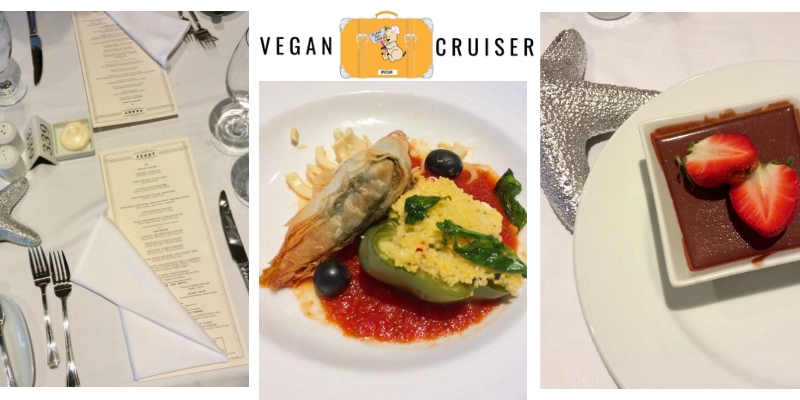 My dessert of the day wasn't on the menu but it was the best vegan dessert of the sailing. I tried asking it again later in on our week but it never appeared. I'm thinking it may have been a tofu based one?
Dinner no6 and awesome avocado
On the following night, I was able to choose from the menu again. The avocado soup was easily made vegan – if it wasn't already. It was served with a morsel of avocado and tomato salsa & coriander on an otherwise empty plate. The waiter would then use a small jug to pour the avocado soup all around the morsel. Such a cute, fancy wee show – am so gutted I couldn't get it on film. If you love avo – you should try this. I mean, if you don't – are you even vegan? (Just kidding)
My main course could be made vegan just leaving out the non-vegan sauce: Tofu steaks with peanut crumb. An interesting idea, certainly looked fabulous on paper. Great source of protein too. Unfortunately, as soon as I bit into my tofu steak, I discovered they weren't marinated at all. Chefs flavour meat and fish dishes – they should do the same with vegetarian and vegan options too. Nobody likes bland food. With hindsight, I should've asked and insisted on a sauce to go with the tofu steak – so if you are ordering something that is adapted, stand your ground and ask for alternatives.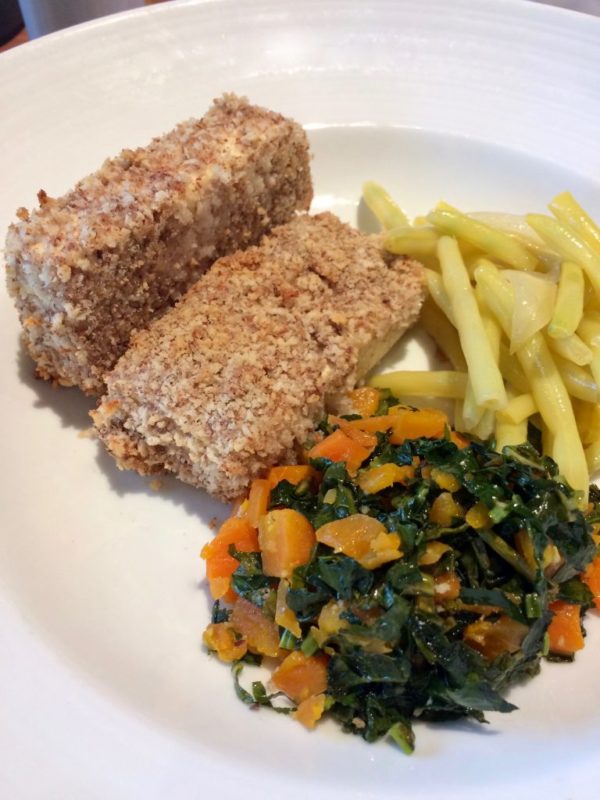 The dry crumb also was lacking flavour, which paired with the sad unseasoned tofu was a bit of a disaster. After a few bites, I gave up and asked our waiter if I could have some vegan-friendly sauce to go with my tofu steaks. I had seen a selection of additional sauces listed on the menu – possibly for the steaks, I can't quite remember other than there were sauces listed. I would even have the marinara sauce, I said, to have some moisture and flavour the tofu steaks so needed.
But to my surprise, my waiter said no vegan-friendly sauce available and that he had nothing to offer me. It was disappointing that the chefs stopped halfway, after producing some excellent dishes on previous nights – sweet chilli tofu on the first night being a great example. Removing items, like a non-vegan sauce, is the lazy option for the kitchen. Offering something else in place of the removed ingredient should be the standard of operation for any restaurant kitchen. Or at least taste the food you send out to ensure it is edible. On this night I ended up eating the side dish vegetables and leaving my tofu steaks untouched. Dessert, again, was another lemon sorbet bowl with some strawberries.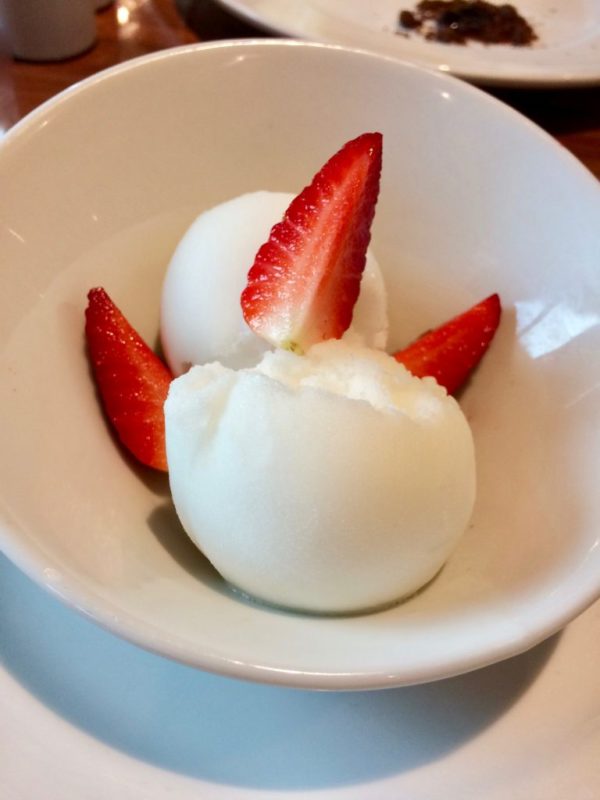 Day 7 brings perfection – with a little guidance
As we were cruising on the Eastern Med and visiting Greek islands, the menu reflected our destinations. I couldn't really see anything I could easily 'veganise', so requested that the meaty souvlaki dish could be served vegan – that the chefs would marinate me some tofu instead. For my starter I asked for a chef's choice vegan soup and dessert, if possible, the same chocolate mousse I had been served a few nights previous. I had more luck with my request than on the 2nd night, when none appeared.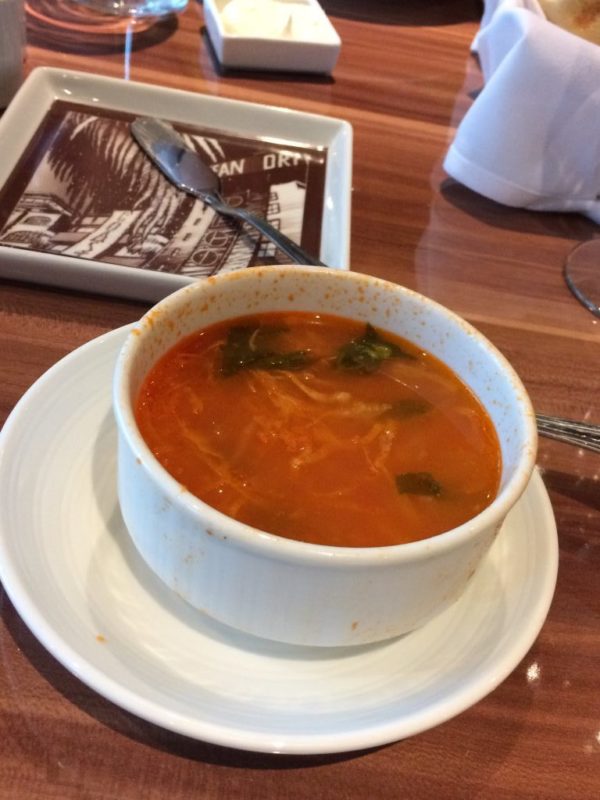 My starter turned was called a minestrone and it definitely was a tomato-based soup. Unlike most minestrone soups I have eaten, this had no pasta through it. Instead, it had thinly sliced cabbage. Perhaps the ship's recipe doesn't have pasta or the chef was worried about a 'may contain egg' warning many regular pasta packets have. Pasta or not, it was a tasty minestrone soup. The first vegan course was a winner. But what would happen to my main course request?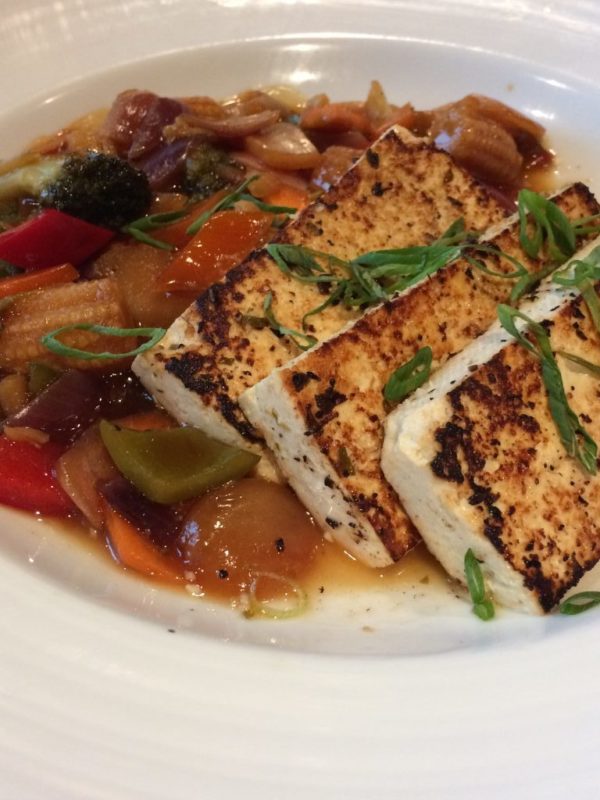 It appeared! I was so pleased to see that whoever was responsible for my meal on this night had decided to attempt my request for souvlaki marinated tofu. Unlike the dry & flavourless tofu steak from a few nights previous, this was tasty, moist and an absolute delight. Oh so good. And I was so pleased the chef was willing to take on my request and try something they might not otherwise have done.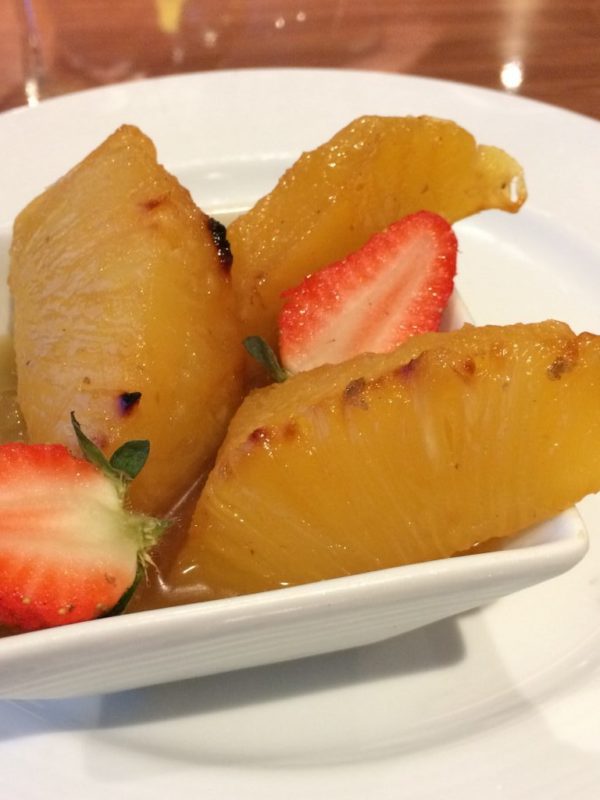 I did not get the lovely chocolate dessert that I requested, instead, the chef had grilled & caramelised some pineapple chunks which were served with syrup and strawberries. Very sweet, and but I have to say this again – it was not sorbet and fresh fruit so to me this is a vegan win. I was pleased to get something resembling a dessert. Some dairy-free ice cream would be heavenly with this, but unfortunately, Carnival do not keep any. Should you travel with UK sister brand P&O, they do (FYI).
Nearing the end our fab Carnival cruise – vegan dining on day 8
On night number eight I was able to order off the menu but still had to put in my order the night before. The two vegetarian options were made vegan for me. The Moroccan Pumpkin Harira soup was made vegetarian and without the cheese crouton.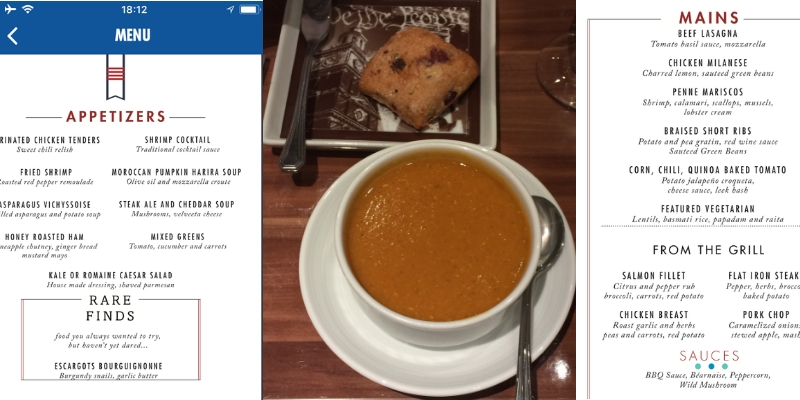 My main course curry was easily made vegan by leaving out the non-vegan raita. I had already ordered from the Asian menu twice before so I knew a curry on the standard MDR menu would be good too. In addition to the lentil dahl and basmati rice, the portion served had another separate portion of curried lentils and the usual poppadom curl. Beware, the chilli chutney in the small ramekin is super hot.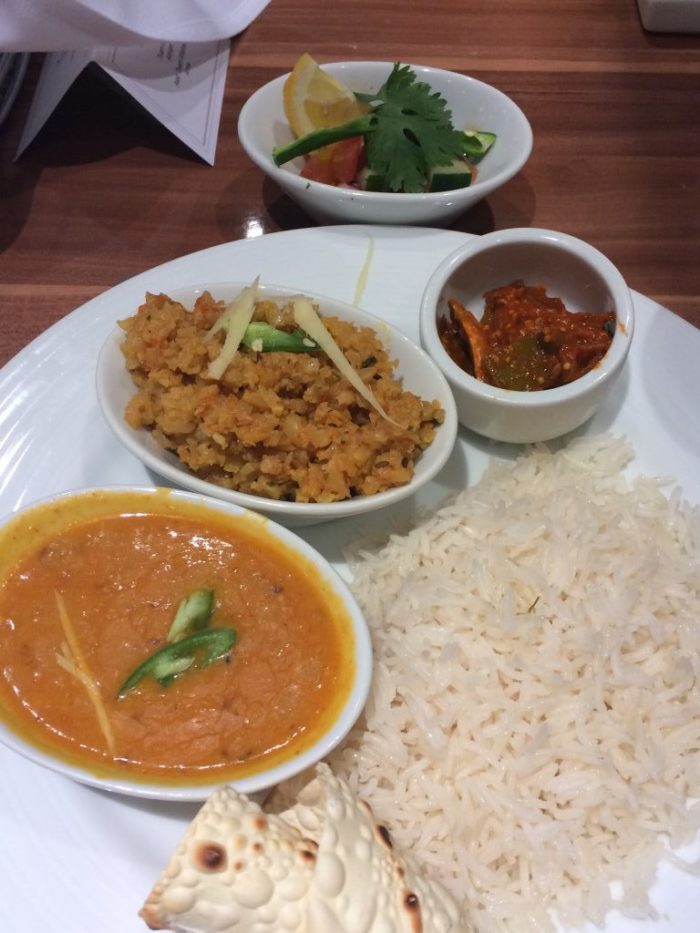 For 'chef's choice' dessert, the galley team had prepared another crumble (cobbler, for you American readers) which was mostly blueberries and possibly other red fruits. I had been served similar earlier in the week but I didn't really mind – it was lovely. Yet again, a little dairy-free custard would be an amazing addition or vanilla ice cream.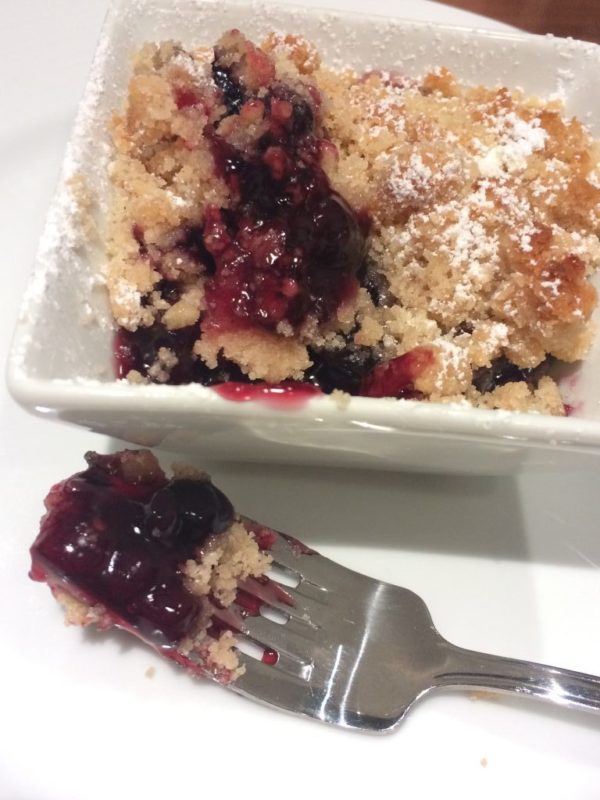 Night no8 was also the day when we met Team Headwaiter Zavisa. It was him who told us that we could always request to dine in the same section if we liked our waiting team. From a dietary-needs angle, it was fantastic news and when I next sail on Carnival I will certainly do that. On this cruise, I only got to sit in Zavisa's section on the last two nights.
Final vegan main dining room dinner onboard Carnival Horizon
All good things come to an end. Last night's dinner is always a sad affair when you're having to go pack your bags and prepare for that trip home. I love Carnival dining room staff for their entertainment – I think we had a little song and dance every second night, and last night was no exception. You'll see shortly.
For my last vegan starter course, I opted for the fruity mango soup. Funnily enough, it was delivered like the avocado soup on day 6. My friend managed to capture this short video of it. The green tub is my own vegan spread.
For my main course on the final night I ordered the Eggplant (aubergine) Parmigiana but without the cheese, obviously. A flavour-rich, tasty vegan dish. Top marks from me again. If you're well hungry, might be helpful to order a side of fries etc to go with it, but the stack was quite high.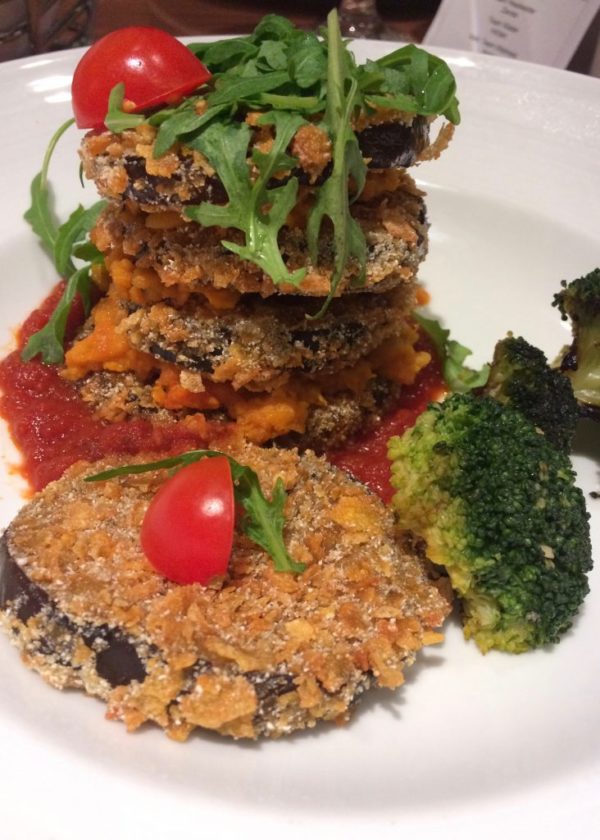 Dessert on this final night was probably the biggest fail after the disappointing mushroom soup and the dry tofu. It certainly looks interesting, and like a real dessert. My waiter said the chefs called this vegan custard, but the dessert was nothing like custard. I could only guess it was cornstarch-set soya milk? No surprise then that I left mine uneaten, though nibbled the berries on top. I attempted to dig out some of the chopped up fruit & berries hidden underneath the 'custard', but it proved difficult. My waiter agreed that is what most people did with this dish and whisked it away.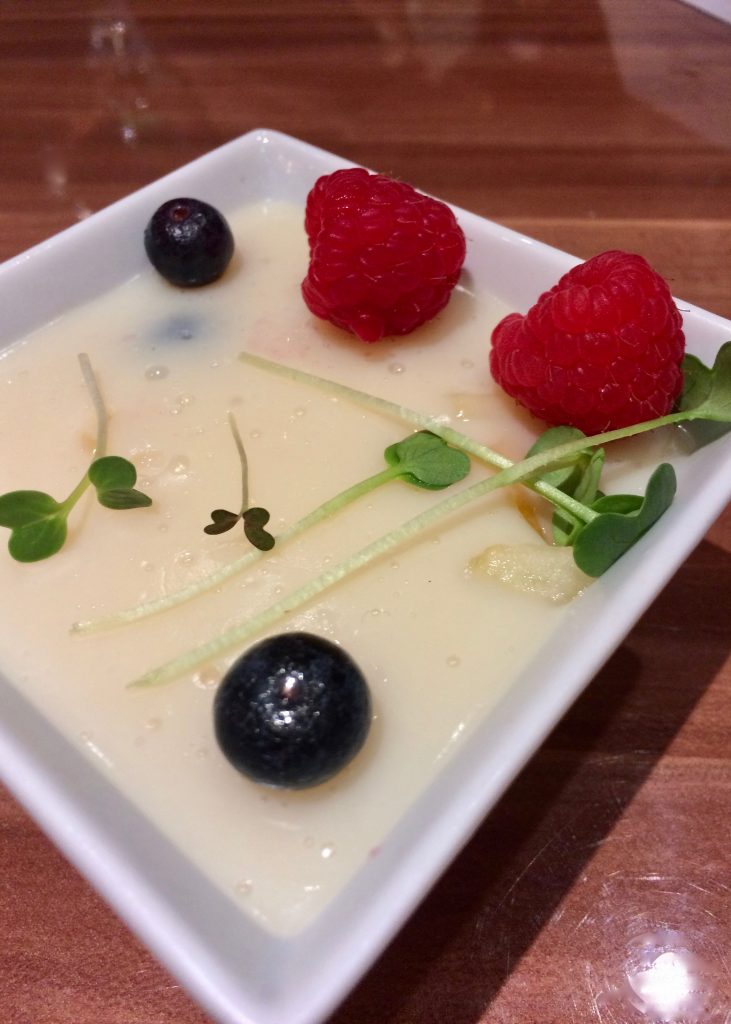 The last word on vegan dining on Carnival:
Despite the three oddities mentioned above, my experience of vegan options onboard the new Carnival Horizon was hugely positive. In the last three years, I have dined vegan onboard various ships and across different companies. Most recently on a Princess, little later this very same year. People generally rate sister brand Princess much higher than Carnival but at least this year Carnival Horizon served me better. The vegan food produced in the Horizon MDR galley was more varied too.
I am aware that service across ships in the Carnival fleet vary. But I still would not hesitate to recommend the Horizon to other vegan cruisers. With a little planning, and bringing in some of your own extras, the vegan dining options are among the best out of all the ships I have sailed on. And I have been on a few – as you can see from my blog reviews. My breakfast and lunch tips for vegan options on Carnival Horizon you can find here.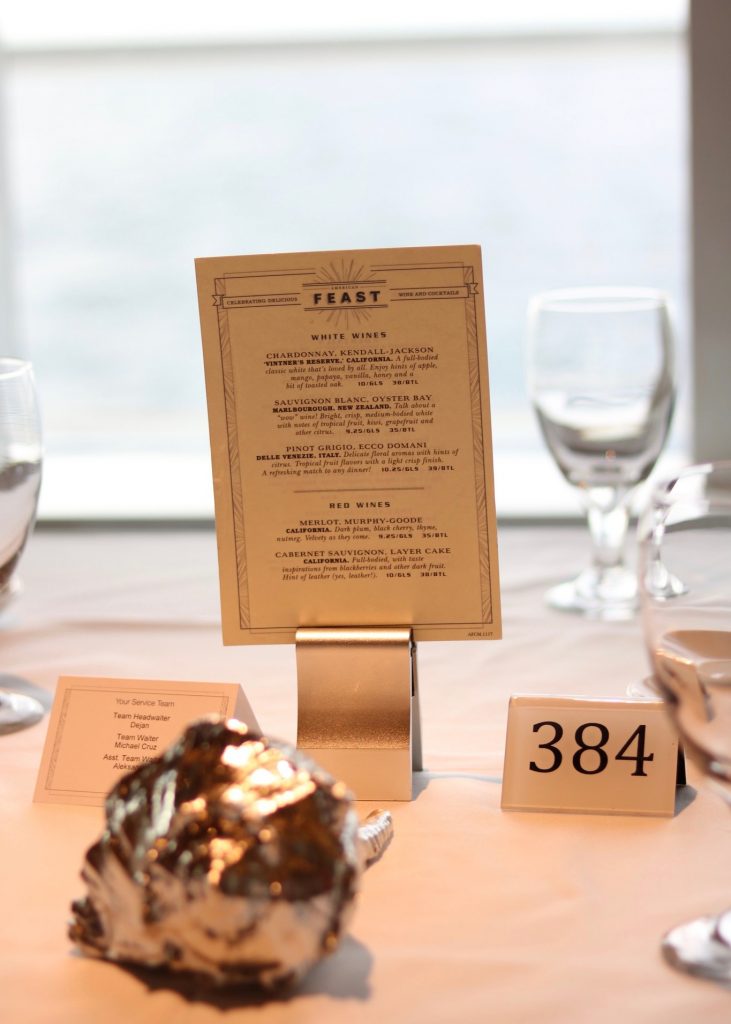 And of course, there is the entertainment, the amazing Carnival FunTeam lead with the star that is Cruise Director (CD) Mike Pack. I haven't previously cared for CDs and could not name a single one from any of my sailings. But Mike made an amazing effort, was a showman and was EVERYWHERE to keep the fun going. But, the main heroes for our holiday were the crew. The smiling cabin attendants who treated us to a towel animal every day in our cabin. They even arranged an amazing take-over of the Lido with towel animals of all kind, everywhere.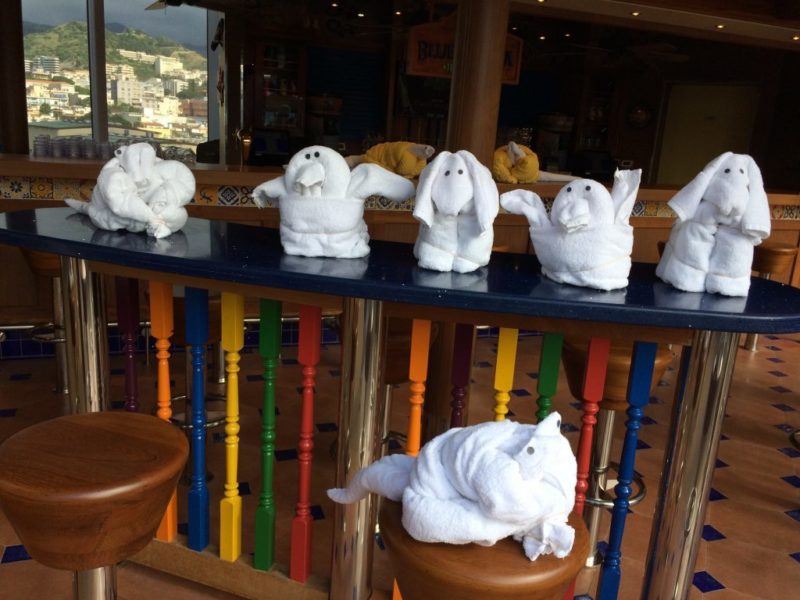 And of course, I cannot forget the bar & restaurant servers who helped me with my vegan dishes AND entertained us on many a night in the MDR. There were exceptional staff members who helped me in the buffet too, the Pizza station or in the specialty restaurants at lunchtime. Here's a video my friend took on the final night from the show by our MDR waiters. There were many over the course of our sailing (every other night, I think) but this final one stays with me.
I've skipped to the start of the song, though the message by the Maitre 'd is important too. Enjoy!
I hope you have enjoyed the photos of my vegan dining on Carnival Horizon. If you have any questions, do not hesitate to contact me or comment below! If you are a regular vegan Carnival cruiser, leave your tips on which ships have the vegan menu for others book. Do tell what dishes the MDR galley team are able to produce, say for breakfast since I only took breakfast on the Lido. I cannot wait to try Carnival again – and all of the vegan options. Do tell me & others what to book next!