Pre-cruise hotel review: Ibis Styles London Heathrow airport
If you stay near a regional airport chances are that in order to get to your cruise, or to your holiday destination, you need to connect via London or via other continental airports. I have had overnight transit in London many times and therefore have sampled a selection of airport hotels before catching my early bird onwards connection. My last one of these was a pleasant surprise in many ways: Ibis Styles London Heathrow.
As I researched our options, I could not believe that one could book a boutique hotel-like airport hotel with such funky decor at such an excellent value price and in such central location. I had thought you would expect to pay more just for that privilege. Bath Road, on which Ibis Styles Heathrow is located, is within minutes from the central bus station and terminal area. This was key as my cruise buddy and I were arriving in London by train and then getting the Underground to Heathrow. Also, as we had an early flight out to catch our ship, we wanted to stay in the vicinity of Terminal 5. Sure enough, our bus in the evening to the hotel from the airport took about 5 minutes. Our return took a little longer, but more on that later.
Ibis Styles London Heathrow: first impressions
Ibis Styles Heathrow was opened to the public in the summer of 2016 so it was still very fresh. Due to the sheer turnaround of passengers (presume most people stay for just one night to allow for onward flight connections), many of the airport establishments I have stayed at previously have been a little worn around the edges. But that certainly wasn't the case with Ibis Styles. The photos online represented the interiors truthfully – quirky, pastel-coloured welcoming lobby furniture and the funky minimalist bedroom designs.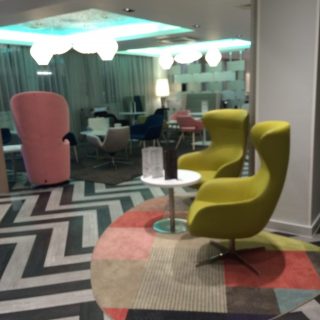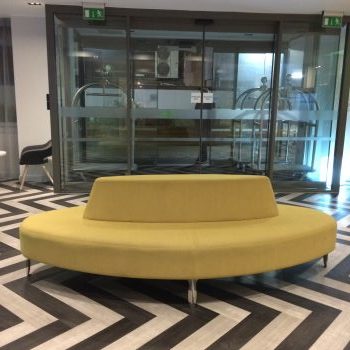 Our evening check-in was fast and friendly. The staff on duty gave us our keys, complimentary Wifi information and advised us of the Westcombe lobby bistro & bar opening times. We did not use either as were late arriving and had already dined in central London. We contemplated celebratory cruise holiday drinks at the bar but opted not to as we had to be up early again. In addition to the bistro and bar there naturally are some vending machines available for soft drinks & snacks.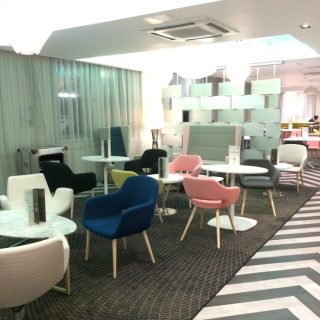 Westcombe lobby bar
Our twin bedroom
Our room was funny, quirky and although small, perfect for our short layover. The carpet had a fantastic multi-tonal blue Galactic/space design to it. Rest of the room complimented it with muted tones with occasional splashes of colour. Mostly colour came from the big canvas art over the bed, the word-art print on the opposing wall and the pastel tones in the soft furnishings – the upholstered, padded stool and chair by the window.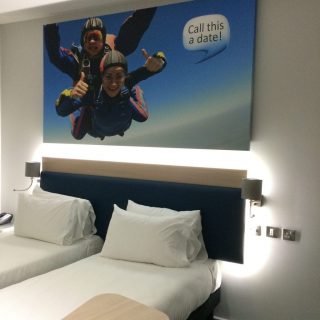 The comfortable twin beds had bedside lamps that were equipped with separate bendy reading lights. Both sides of the bed also had useful USB charging points. At the side of my friend's bed there was a silver trolley cube that doubled as a funky bedside cabinet. On top of it was the room telephone and inside it had a kettle and tea-making extras.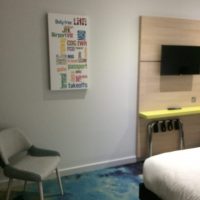 Our twin room had also a pastel coloured stool to use at the mirror, a folding luggage stand and a tall occasional table you could use at the bedside. I did, as I needed something to rest my phone on as it charged. Opposite the beds was a wall-mounted TV and a mirror, underneath it a shelf for storage.
By the entrance door there is a tall hat shelf for little more storage with two hooks underneath. These had a couple hangers for outerwear. There were no drawers or a wardrobe for storing clothing, but as most visitors stay just overnight like we did this was perfectly adequate.
Bath/shower room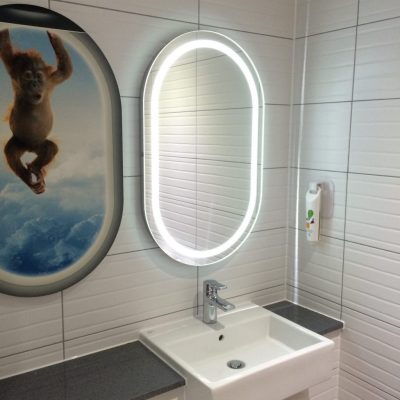 I immediately fell in love with the bathroom upon entering it. It had a large walk-in shower instead of a bath. The shower cubicle, shower unit itself and the white & grey tiling were immaculate. The pressure of the shower was, as expected, much better than I get at home so I could've spent a lot of time in there. Towels were white and fluffy too – just like they ought to be.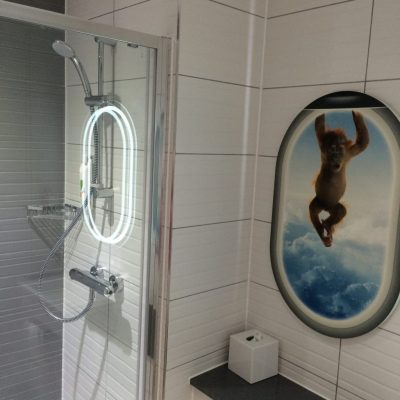 The bathroom was lit by ceiling lighting and a fantastic aeroplane window-shaped mirror light over the square sink. I thought the lit mirror would be fab for applying makeup… except at 4.20 am getting up for a flight makeup was the last thing on my mind.
The quirky art from the bedroom continued into the bathroom… in ours the aeroplane window art to match the mirror had an orangutan peeking in. I have seen other photos from the hotel and there seems to be a whole host of animals out there peeking into people's bathrooms. Got to collect them all?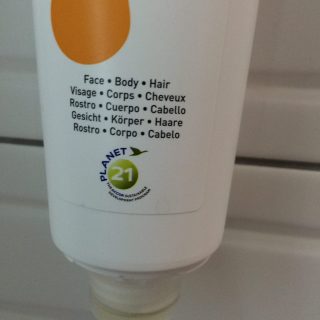 I was quite curious about the toiletries provided by the sink and in the shower. I normally travel with my own as there is no guarantee hotel supplies are cruelty-free or vegan. These, however, were labelled paraben-free and Ecolabel products part of the Accor hotels' Planet21 sustainable development programme. Just the kind of the product you would want to be vegan – but neither bottle was marked to say so. I could not see any evidence of cruelty-free or vegan status so used my own toiletries. After I returned home from this trip I contacted the supplier in Italy and received reassurances that all of their Accor products are both vegan and cruelty-free. Nice thing to know and certainly a reason for me to book Accor branded hotels.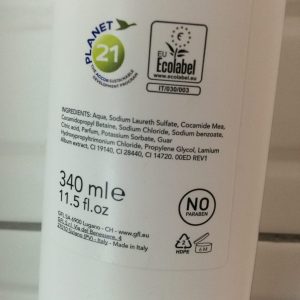 After a brief but comfortable sleep, we were up for our morning flight. Our window had been to the side of the hotel (looking at the petrol station next door) but we had no noise disturbance from it or the road nearby. Unlike most value hotels, Ibis Styles offers a complimentary all-you-can-eat continental buffet breakfast* but we did not get to sample it as it opens at 5am, after we had already left for the airport.
Transport/Connections
My friend and I had originally discussed getting a taxi as Ibis Styles was so close to the airport itself and the fare should have been low. But once we got out of the Underground and into Heathrow bus terminal the staff there advised us that our hotel is in the Heathrow Free Travel Zone and directed us to the next available local bus that dropped us off right outside our hotel. Travel time was only about 5 minutes and the cost – totally free! I cannot remember the number of the bus we took but there are four frequent services* from Heathrow bus station that connect to Ibis Styles London Heathrow and back.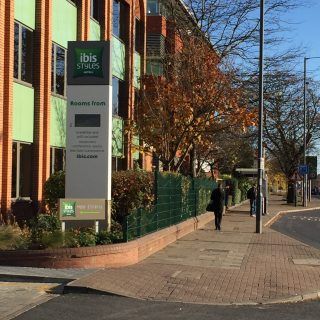 Many thanks for fellow travel blogger AndyBTravels for the above exterior photo of hotel & bus stop. Do check his review and fabulous photos, including the included breakfast we missed
A pedestrian crossing is located at the petrol station for the bus stop going in the direction of the airport. As we had an early flight to catch at Terminal 5, we opted to use the National Express operated Hotel Hoppa shuttle instead. This service was £5 for a single (one-way) when bought from the driver*, but it is cheaper if pre-booked. Hotel Hoppa travel time from Ibis Styles to T5 was around 25 minutes.
You can catch a local bus from the opposite side of Bath Road to T5 for free – along with the four services that connect to the central bus station and terminal area. But for convenience, we opted to pay for the Hotel Hoppa, especially as we weren't sure of the early morning timetable for the regular bus service.
To stay or not to stay? (conclusion):
Would I recommend Ibis Styles Heathrow to others? Would I return myself? Definitely. Based on my experience, if you need a comfortable, clean and modern hotel for that one pre/post-flight stay before continuing your travels Ibis Styles London Heathrow offers excellent value.
See the Ibis Styles London Heathrow website for more information, great photos and pricing info for your required dates.
(Our one-night stay booked directly with Accor Hotels/Ibis cost us £57)
Pros:
I adored the quirky, modern minimalist boutique decor that sets Ibis Styles apart from the other value hotel brands. Loved those pastel colours used in the furnishings and the funky zig-zag flooring in the lobby or the pixelated carpets in bedroom corridors.
Room was clean and in great nick as new-built (2016) hotel. Beds offered comfortable sleep. Excellent, clean bathroom. Vegan toiletries!
The free breakfast and Wifi is certainly a great bonus, though on this stay we only benefitted from the latter.
The neighbouring petrol station has a Co-op store for snacks & soft drinks for onwards travel.
Central Heathrow location with excellent transport links.
Cons:
Did not really note any from our brief stay. Some people may find the art in rooms too much? I certainly enjoyed our orangutan…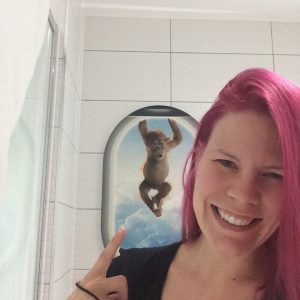 Any comments or questions, please get in touch. Comment, e-mail or tweet me!
*information correct at the time of writing.